This Taco Casserole brings a fun twist on Taco Tuesday! This easy casserole has all the ingredients we love about tacos, baked together in one convenient baking dish – quick to make and quick to clean up!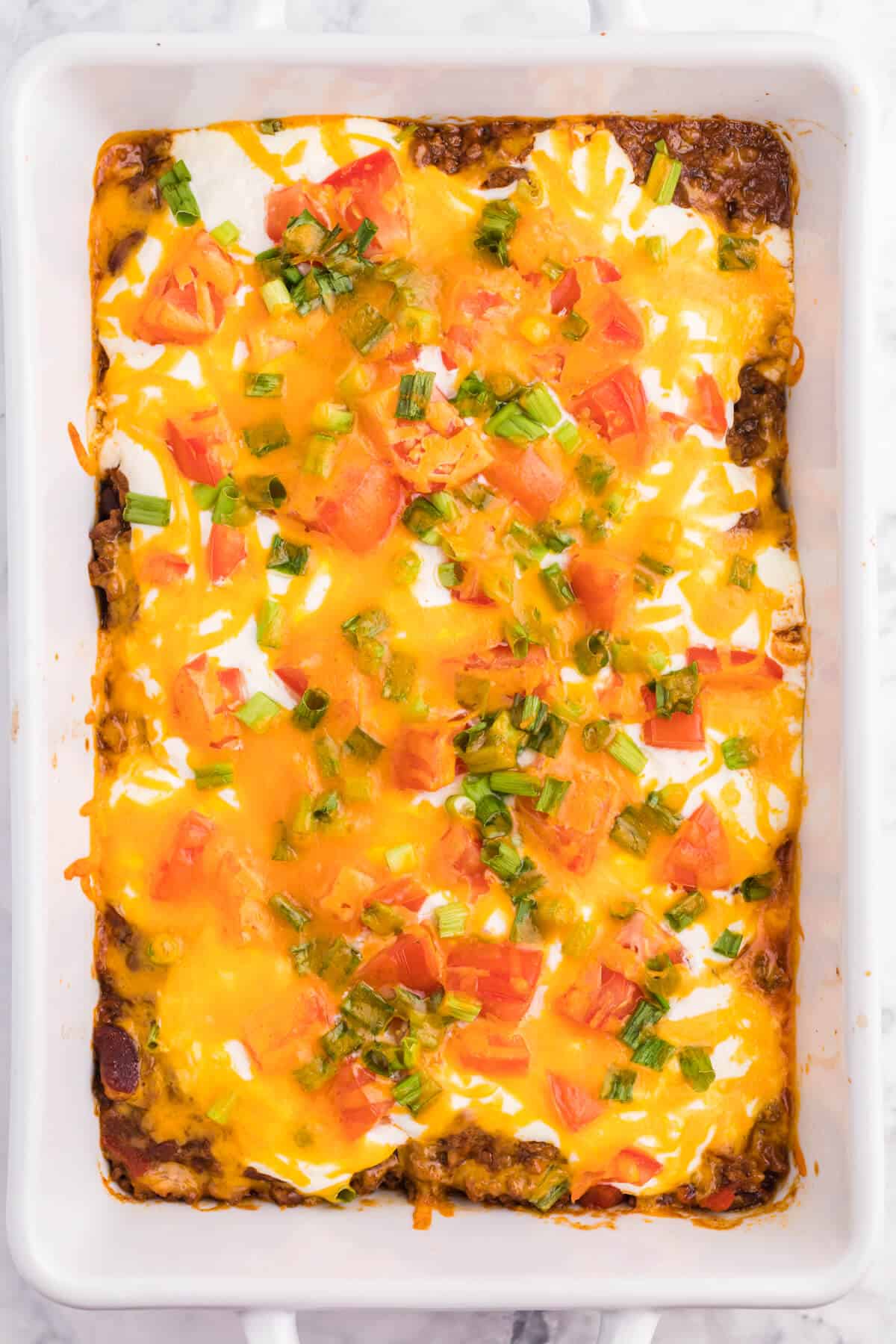 Indulge in the mouthwatering Tex-Mex goodness of an easy taco casserole recipe, served up conveniently in a bowl. It's like enjoying a taco, but with all the flavors and comfort of a casserole.
This recipe is a lifesaver for those busy weeknights when you need a quick and delicious dish to satisfy your entire family. Don't forget to personalize it with your favorite Mexican toppings, making it a cherished family recipe in no time.
Say goodbye to the usual hard shell tacos and give your taco night a delicious new spin with this easy taco bake. It's a guaranteed crowd-pleaser that will leave everyone craving for more.
This family favorite boasts a hearty combination of ground beef, chili, green onions, tantalizing tortilla chips, zesty salsa, creamy sour cream, and of course, gooey cheese! Trust me, it's a flavor explosion you won't be able to resist.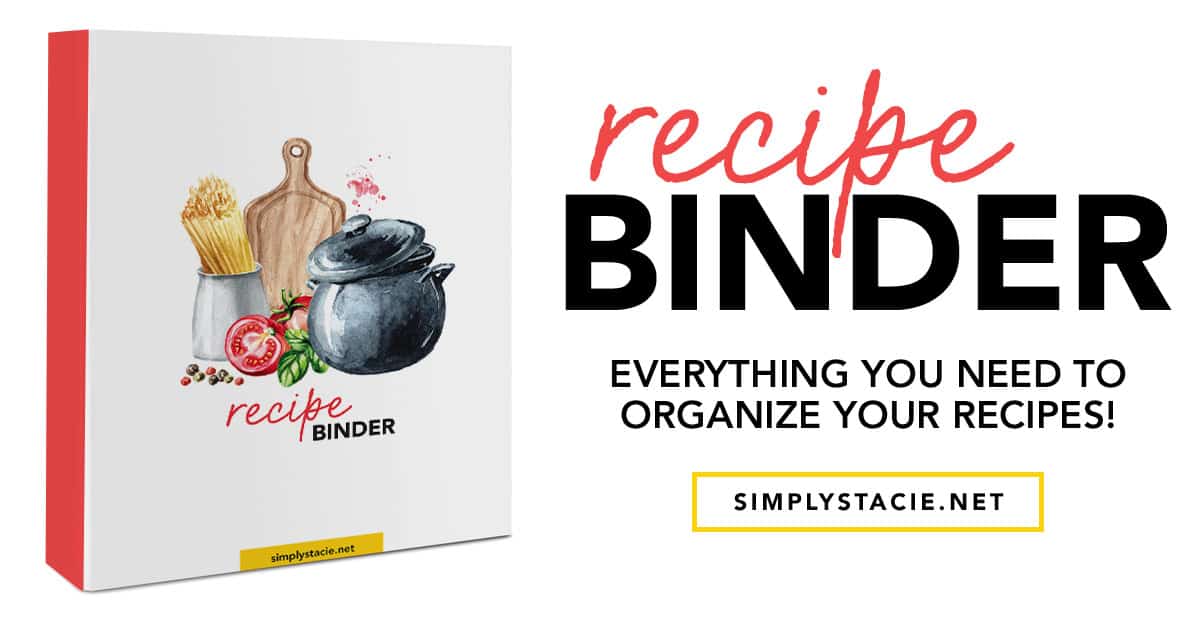 Why You'll Love This Easy Weeknight Dinner
Flavor Fiesta: Taco casserole brings the vibrant and bold flavors of Tex-Mex right to your plate. It's like a fiesta for your taste buds, with all the deliciousness of a taco, but in a comforting casserole form.
Easy Weeknight Winner: When life gets busy, we all need those quick and hassle-free dinner options. It's a fuss-free recipe that comes together easily, making it the perfect dish for those hectic weeknights.
Versatile Easy Dinner: Customize it to suit your preferences and dietary needs. Add your favorite toppings, such as fresh avocado, tangy salsa, or crunchy lettuce, to make it uniquely yours.
Family-Friendly Favorite: It's a dish that appeals to kids and adults alike, making it a surefire hit at the dinner table. Plus, it's a great opportunity to involve the little ones in the kitchen—they'll love layering on the toppings and watching the casserole come to life.
Hearty and Satisfying: This casserole is not only bursting with flavors, but it's also incredibly filling and satisfying.
Perfect for Potlucks and Parties: Need to bring a dish to a potluck or host a gathering? Taco casserole to the rescue! It's a crowd-pleaser that can easily be doubled or tripled to feed a hungry group. Plus, it's a breeze to transport, thanks to its casserole form.
Leftovers for the Win: Taco casserole is one of those dishes that tastes even better the next day. So, if you have leftovers, consider yourself lucky! The flavors meld together overnight, resulting in an even more delicious meal for lunch or dinner.
Comfort Food with a Twist: If you're a fan of comfort food, taco casserole offers a delightful twist on classic favorites. It combines the nostalgia and coziness of a casserole with the exciting flavors of tacos, creating a truly satisfying and comforting experience.
Ingredients
The full printable recipe card with measurements and instructions is found at the bottom of the post.
Lean ground beef
Can of chili
Salsa – Try my garden salsa.
Coarsely broken tortilla chips
Sour cream
Green onions
Tomato
​Shredded cheddar cheese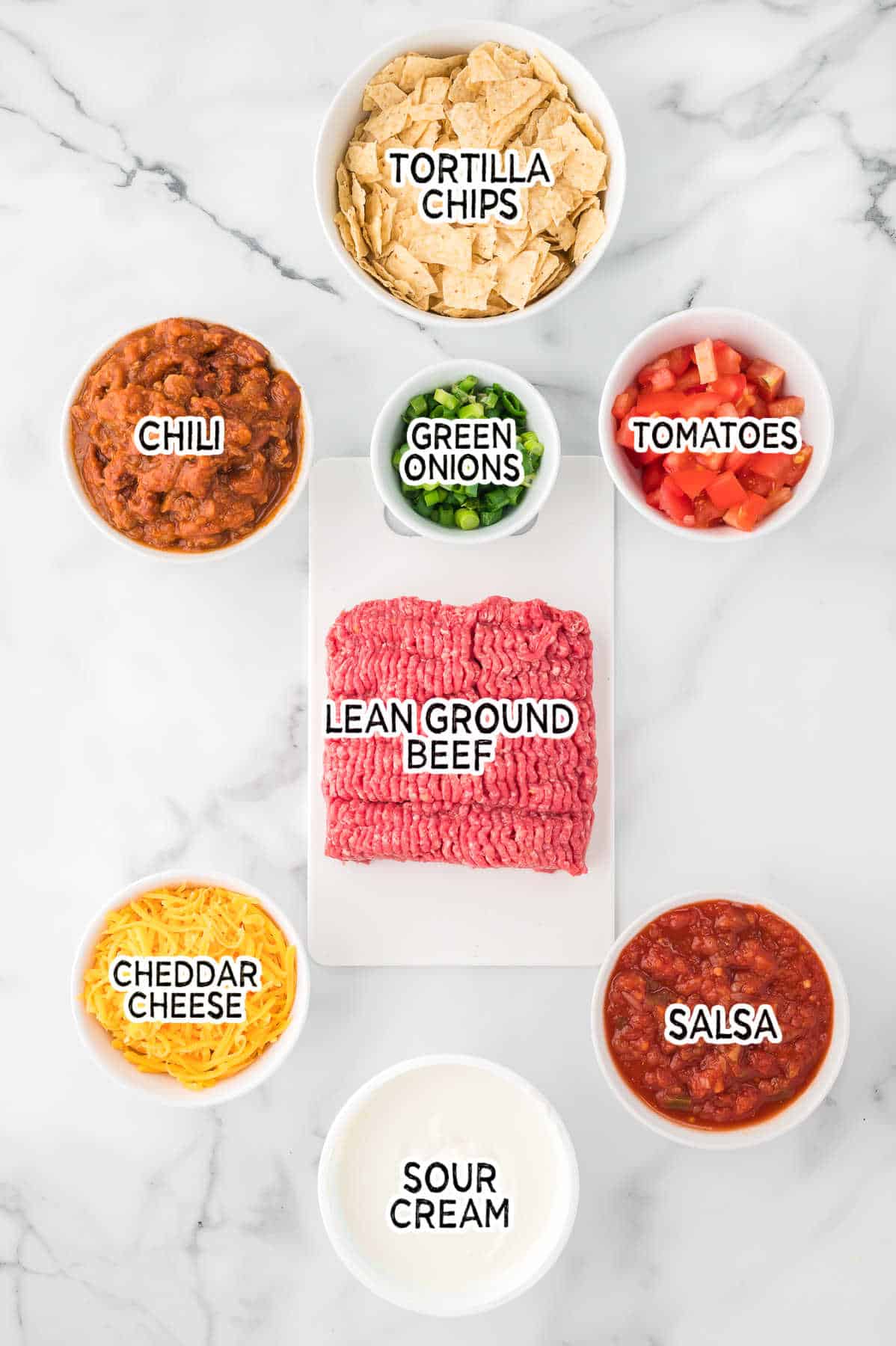 How to Make Taco Casserole
Step One: Preheat the oven to 350°F.
Step Two: In a large skillet, cook ground beef over medium heat for 10 minutes until the beef is browned.
Step Three: Stir in chili and salsa. Heat to boiling. Reduce heat to low. Simmer for 3 to 5 minutes, stirring occasionally.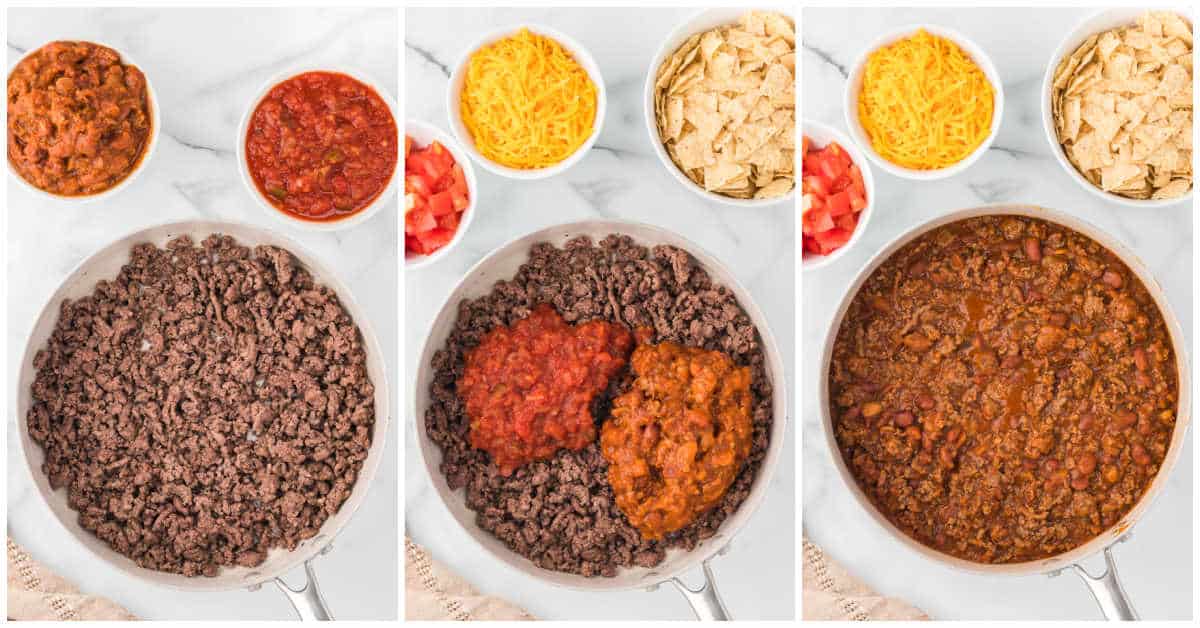 Step Four: In a 9×13 inch casserole dish, spread out broken tortilla chips on the bottom. Top with the ground beef mixture. Spread sour cream on top.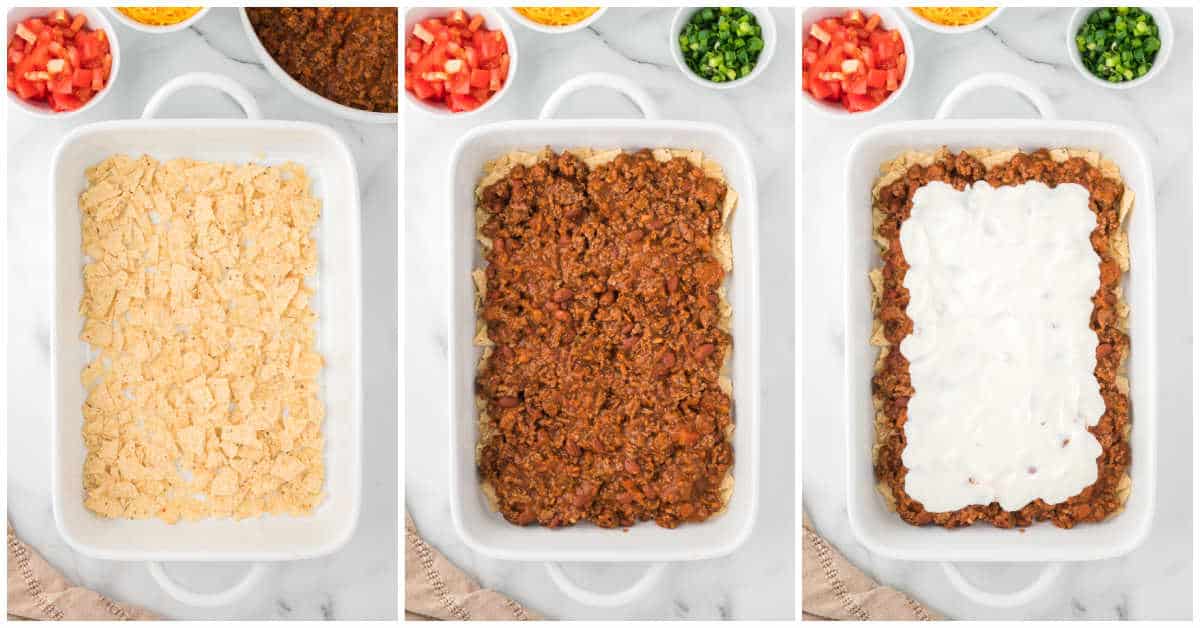 Step Five: Sprinkle with green onions, tomato and cheese.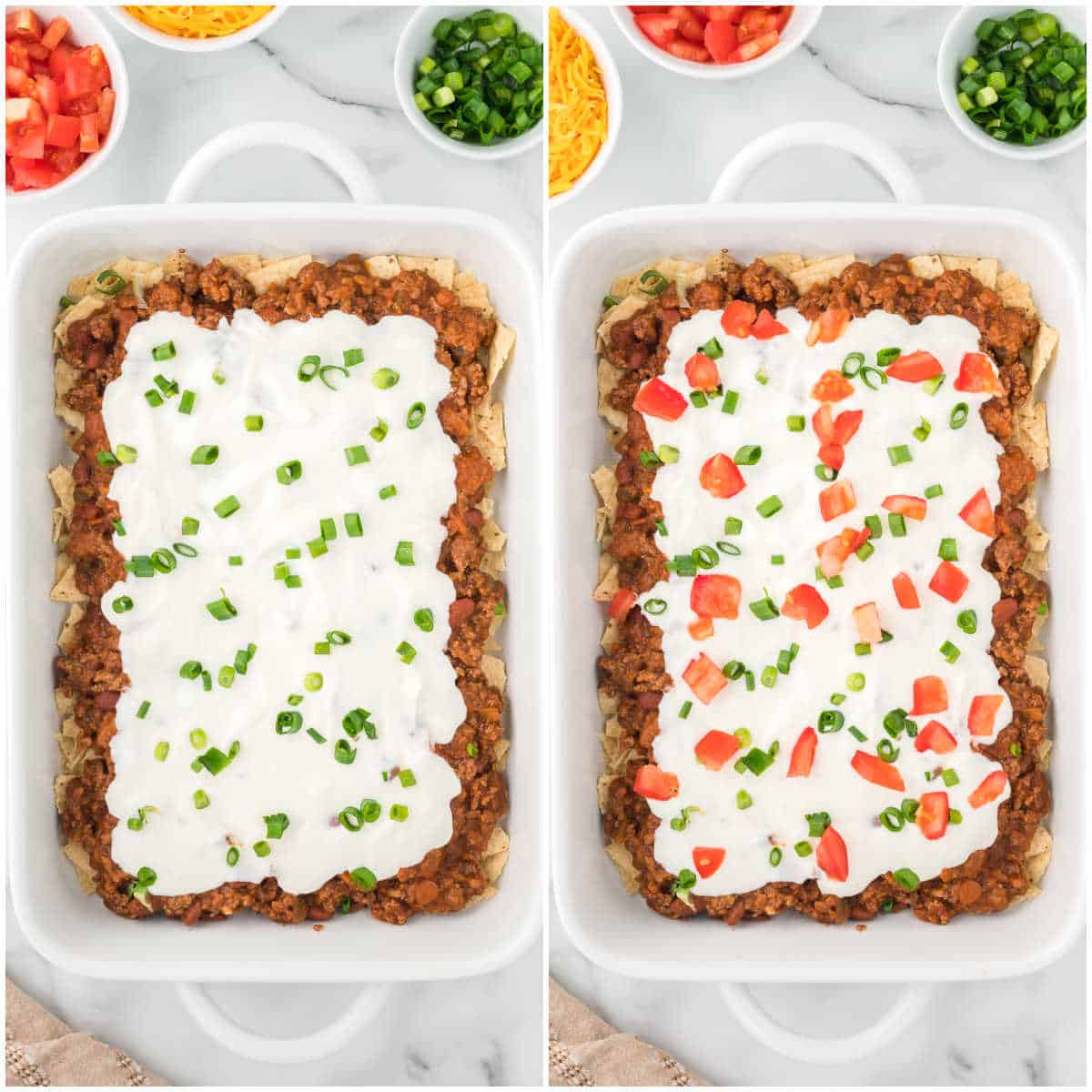 Step Six: Bake uncovered for 20 minutes or until hot and bubbling. Serve with tortilla chips.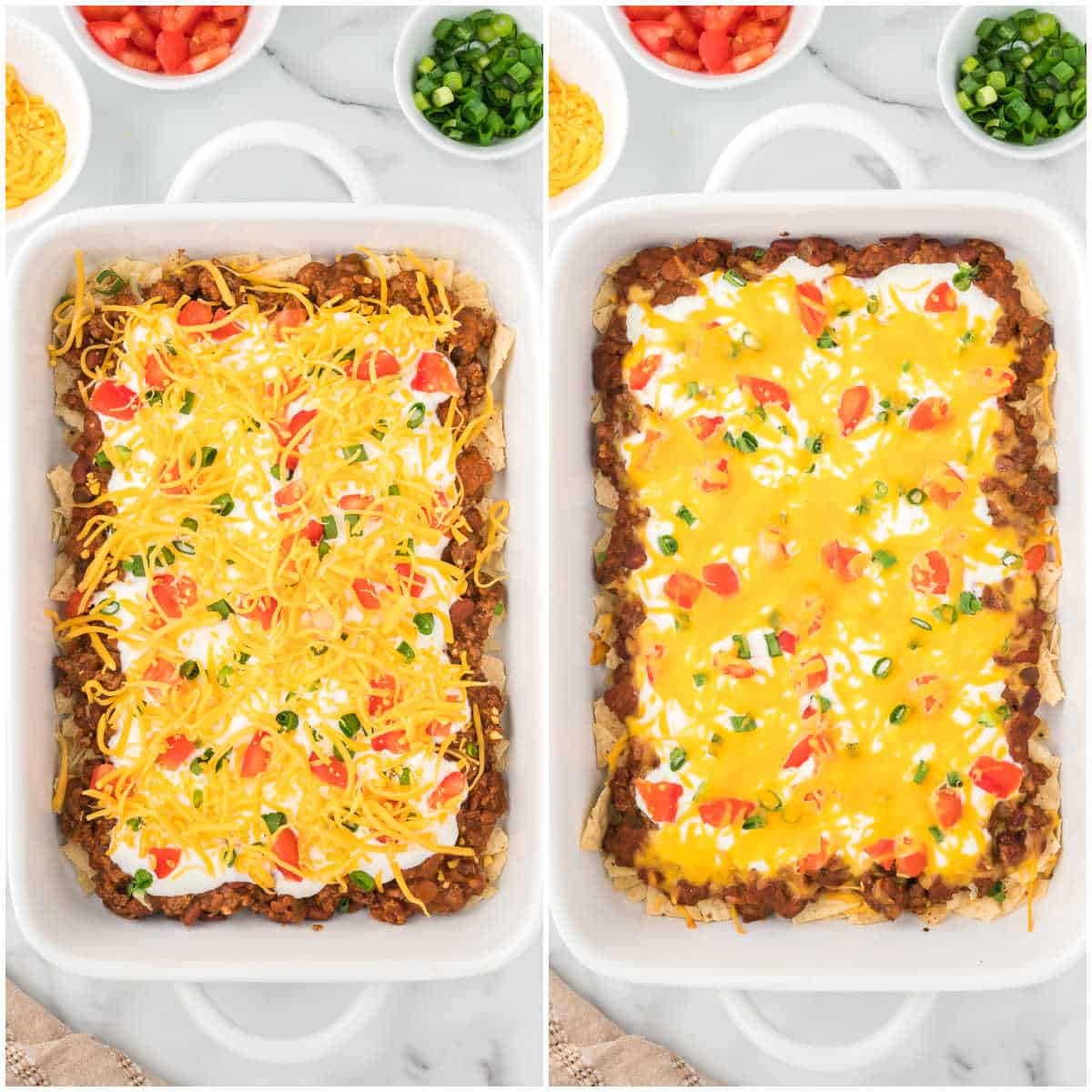 Equipment Needed
This post contains affiliate links.
What to Serve with Delicious Taco Casserole
Fresh and Crispy Salad: Whip up a vibrant salad to complement the flavors of your taco casserole. Toss together crisp lettuce, juicy tomatoes, crunchy cucumbers, and sliced bell peppers. Drizzle it with a zesty dressing or squeeze some lime juice for an extra burst of freshness.
Cheesy Quesadillas: Take your Tex-Mex feast to new heights by serving cheesy quesadillas alongside your taco casserole.
Crispy Tortilla Chips: There's no better way to scoop up all that taco casserole goodness than with crunchy tortilla chips. They're perfect for scooping up the casserole or enjoying on their own. Try my Air Fryer Tortilla Chips. You could also enjoy with corn chips.
Mexican Rice: Complete your taco-themed meal with a side of flavorful Mexican rice. White rice seasoned with a bit of homemade taco seasoning would also be delicious.
Refried Beans: Add a scoop of velvety refried beans to your plate for an extra dose of creamy goodness. Made from pinto beans or black beans, refried beans add a rich and hearty element to the meal.
Refreshing Beverages: Quench your thirst with refreshing beverages that complement the vibrant flavors of your taco casserole. Serve up some ice-cold horchata, a refreshing strawberry agua fresca, or a margarita (for the adults) to round out the meal.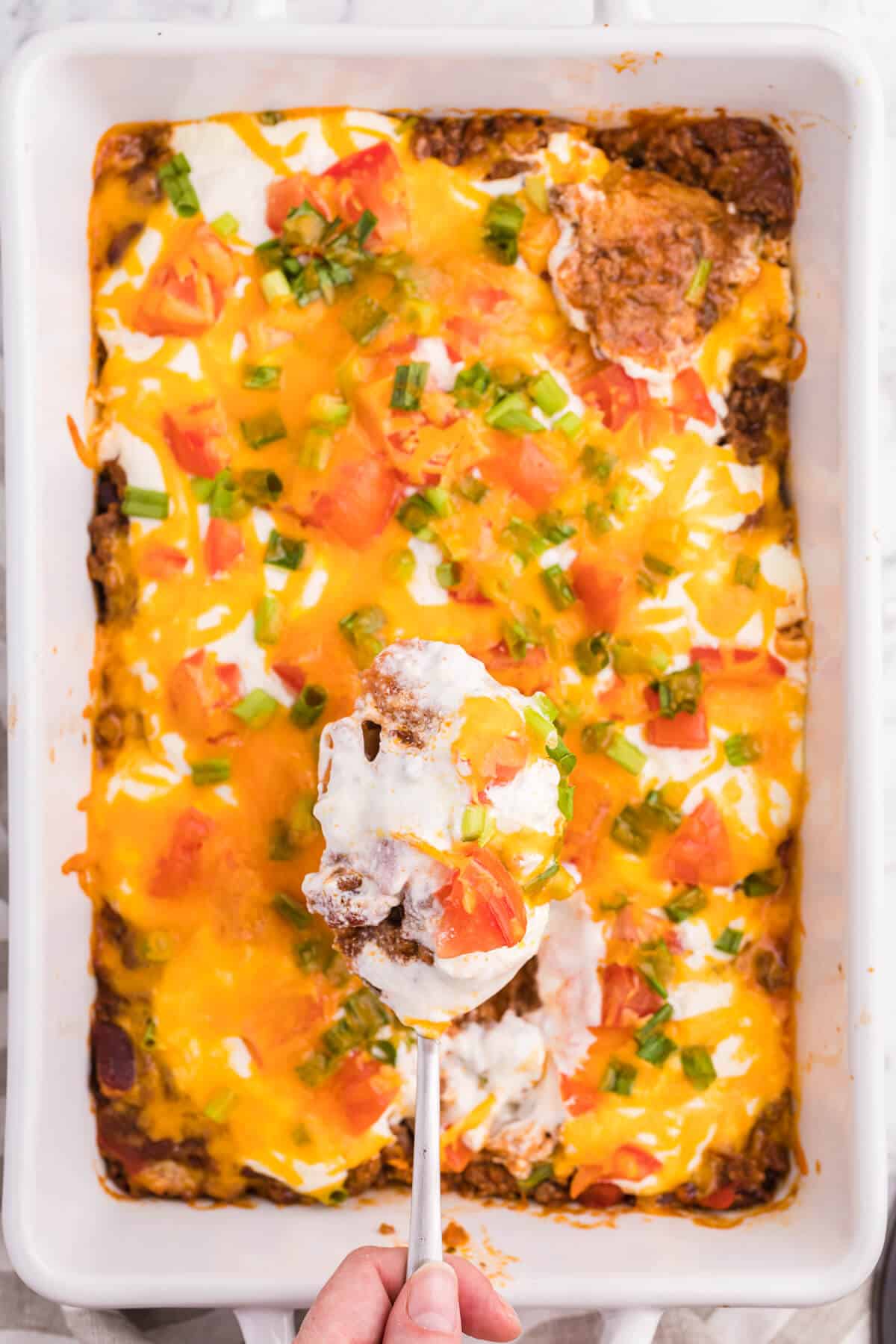 Variations and Substitutions
Protein Swap: Instead of lean ground beef, you can use other ground meat like ground turkey, ground chicken, or even vegetarian alternatives like textured vegetable protein (TVP) or plant-based crumbles.
Bean Bonanza: Amp up the protein and fiber content by adding different types of beans to your casserole. Black beans, pinto beans, or kidney beans make excellent additions. You can use them in combination with or as a replacement for the ground beef. If using canned beans, make sure to drain and rinse them before adding to the casserole.
Homemade Chili: While a can of chili is convenient, you can also try making your own chili from scratch. This gives you full control over the flavors and spice level.
Tortilla Chip Twist: While tortilla chips are a classic choice, you can get creative with your base layer. Try using crushed corn tortillas, crushed taco shells, crushed Doritos for an added crunch, or even a layer of flour tortillas to switch things up.
Veggie Variety: Incorporate additional vegetables into your taco casserole to make it even more nutritious and flavorful. Chopped bell pepper, corn kernels, diced zucchini, or spinach are all excellent options. Sauté or roast the vegetables before adding them to the casserole to enhance their flavors.
Cheese Choices: While shredded cheddar cheese is delicious, feel free to experiment with other cheese varieties. Monterey Jack cheese, pepper jack, colby jack or a blend of Mexican cheeses are a great substitute.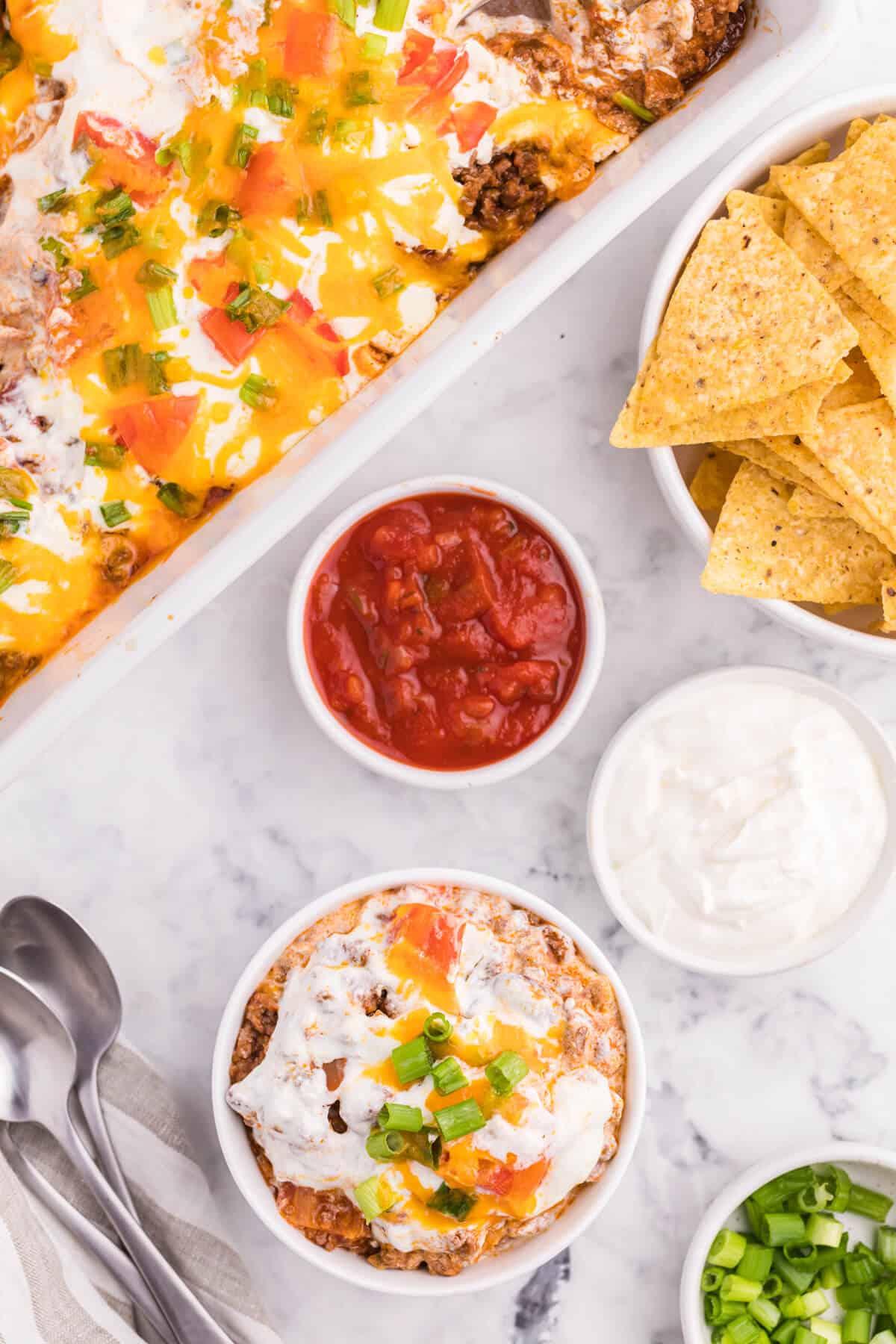 Storage Instructions
Before storing the taco casserole, allow it to cool to room temperature. Transfer the cooled casserole to an airtight container or cover the casserole dish tightly in plastic wrap. Store in the refrigerator for up to 3 to 4 days.
Can I Freeze Taco Bake?
Yes, you can freeze this taco bake. If you know you are planning to freeze it, I recommend leaving out the tortilla chips as the bottom layer. They will become very soggy if they are frozen, thawed and then reheated.
To freeze, cool the casserole completely and place in a freezer safe container. Store in the freezer for up to 3 months.
When you're ready to eat again, thaw the casserole in the fridge overnight. Sprinkle the tortilla chips on top of the casserole. Once thawed, you can reheat the casserole in the oven, covered with foil, at a low to medium temperature until heated through. Alternatively, you can reheat individual portions in the microwave.
Favorite Taco Toppings
Black olives
​More shredded cheese
Mild green chilies
Diced tomatoes
Sliced green onions
Chopped cilantro
Diced avocado
Guacamole
Salsa
Sour cream or Greek yogurt
Shredded lettuce
Corn chips or tortilla chips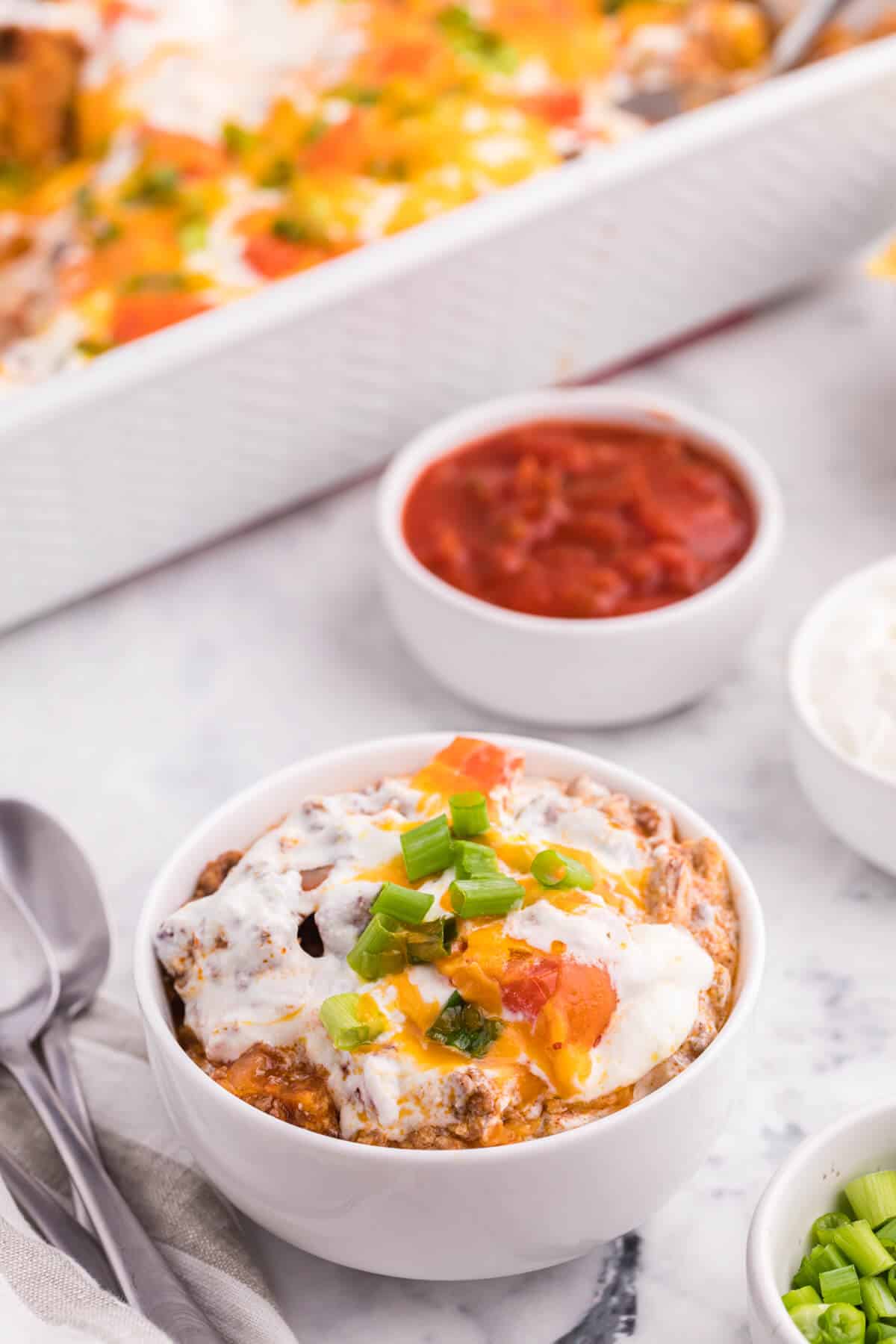 Recipe Tips and Tricks
Flavorful Beef: To make the ground beef even more flavorful, consider adding some additional seasonings while browning it. You can use spices like cumin, chili powder, garlic powder, or even a packet of taco seasoning for an extra kick.
Make it creamier: For a smoother and creamier texture, you can mix the sour cream with a small amount of mayonnaise or Greek yogurt before spreading it on top of the casserole.
Plenty of cheese: Add more cheese if you like, but make sure you shred it yourself. The pre-shredded cheese have extra additives in them and do not melt the same.
Resting Time: After removing the casserole from the oven, allow it to rest for a few minutes before serving. This helps the flavors meld together and makes it easier to cut and serve.
Break up the Tortilla Chips: Add the tortilla tips to large ziptop bag and seal. Coarsely crush them with a rolling pin or your hands.
Drain the fat: If you notice there is lots of grease after cooking the ground beef, drain the fat before adding in the chili and salsa.
Is it Healthy?
You could easily make this taco casserole healthier with a few substitutions.
Lean Protein: Opt for lean ground turkey or chicken instead of beef to reduce the saturated fat content. These alternatives still provide plenty of flavor while being lower in fat.
Whole Grain Tortilla Chips: Choose whole grain or baked tortilla chips instead of regular ones. Whole grains offer more fiber and nutrients, making them a healthier choice.
Reduced-Fat Dairy: Use reduced-fat or light sour cream and cheese to reduce the calorie and fat content while still enjoying the creamy texture and cheesy goodness.
Homemade Salsa: Consider making your own salsa using fresh ingredients. This way, you can control the sodium and sugar content and use more natural, wholesome ingredients.
More Veggies: Add more vegetables to your taco casserole to boost the nutritional value. You can include bell peppers, corn, zucchini, or spinach. Sauté or roast them before adding them to the casserole for added flavor.
Whole Grain Alternatives: Swap regular tortilla chips for whole grain tortillas or corn tortillas. Cut them into strips or squares and layer them in the casserole for a healthier base.
Lighter Toppings: Opt for fresh, lighter toppings like diced tomatoes, sliced avocado, or a squeeze of lime juice instead of heavy toppings like extra cheese or sour cream. These options add flavor and nutrients without adding excessive calories or fat.
Reduced Sodium: Be mindful of the sodium content in canned chili or salsa. Look for low-sodium or no-added-salt versions, or consider making your own from scratch to control the salt levels.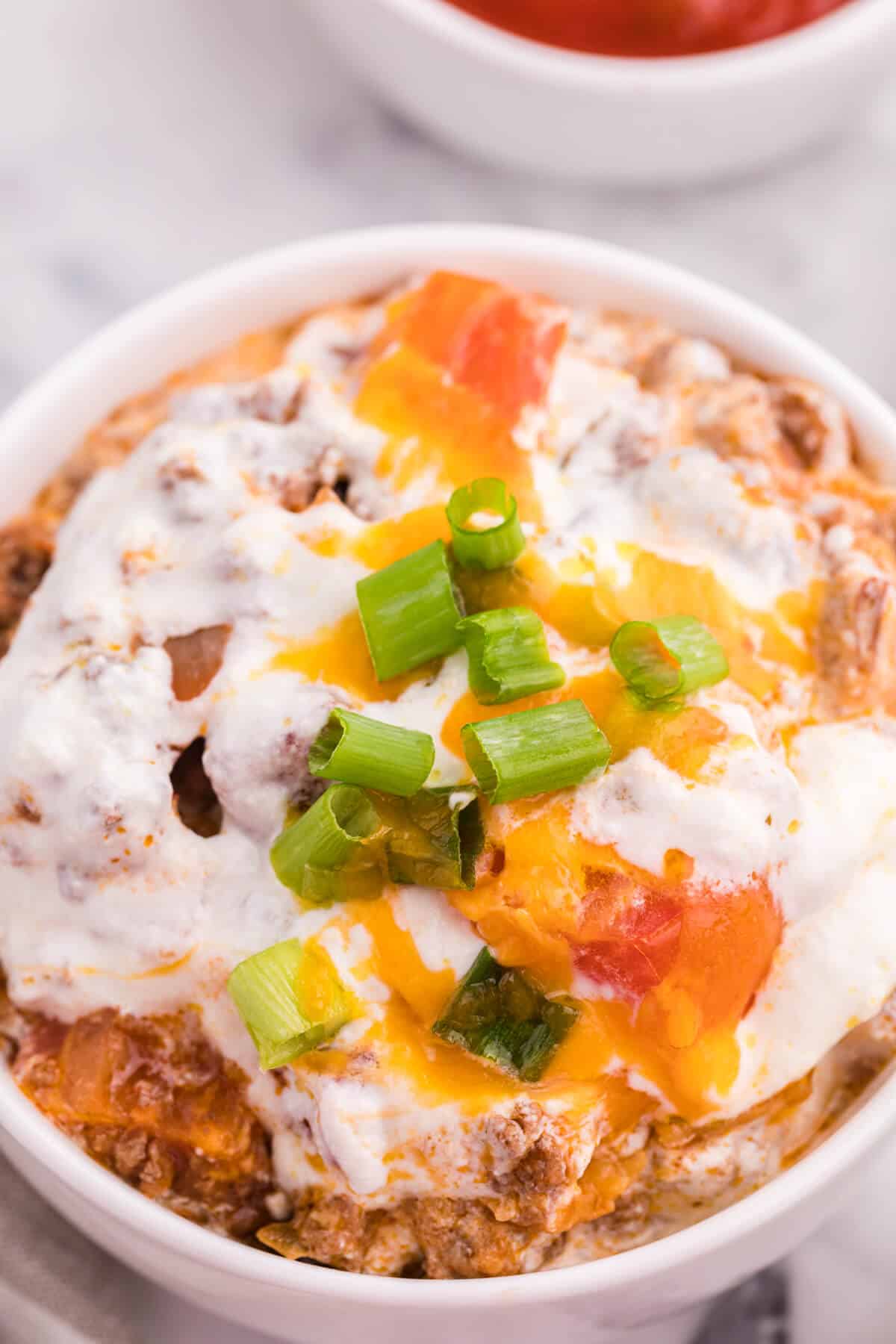 Can I Make Taco Casserole in a Slow Cooker?
Prefer to make in your Crockpot? Try these steps:
Brown the ground beef: In a skillet, cook the ground beef until it's browned. Drain any excess fat.
Layer the ingredients: In the slow cooker, layer the ingredients starting with the ground beef. Add the can of chili, salsa, coarsely broken tortilla chips, tomatoes, and green onions.
Cook on low heat: Set your slow cooker to the low heat setting and cook the casserole for about 4 to 6 hours.
Add final ingredients and serve: Once the cooking time is complete, stir in sour cream and sprinkle the shredded cheese on top. Cover the slow cooker for a few minutes until the cheese melts.
FAQ
Can I use leftover homemade chili?
Definitely! If you have homemade chili made or in your freezer, use that instead of canned chili.
Can I make taco casserole ahead of time?
Yes, for sure! Assemble the casserole as directed, but don't bake it. Instead, cover it tightly in plastic wrap or aluminum foil and store in the refrigerator for up to 24 hours. When you're ready to bake, remove the plastic wrap and bake as directed.
Easy Mexican Inspired Recipes
You'll also like this Tater Tot Casserole.
Follow me on Instagram @simplystacieblog, Facebook at Simply Stacie, TikTok @simplystacierecipes or Pinterest at @simplystacie and let me know how you liked this recipe and my other recipes.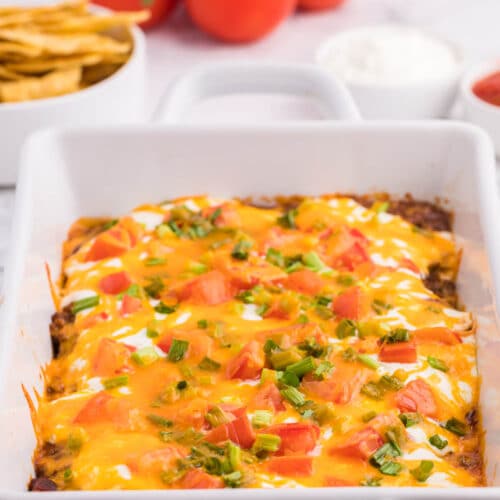 Taco Casserole Recipe
A fun twist on Taco Tuesday! This easy casserole has all the ingredients we love about tacos, baked together in one convenient baking dish – quick to make and quick to clean up!
Print
Facebook
Pin
Share by Text
Share by Email
Rate
Ingredients
1

lb

lean ground beef

1

can

chili

15oz/425g can

1

cup

salsa

2

cups

coarsely broken tortilla chips

1 ¾

cup

sour cream

4

green onions

sliced

1

tomato

chopped

1

cup

cheddar cheese

shredded
Instructions
Preheat the oven to 350°F.

In a large skillet, cook ground beef over medium heat for 10 minutes until the beef is browned.

Stir in chili and salsa. Heat to boiling. Reduce heat to low. Simmer for 3 to 5 minutes, stirring occasionally.

In a 9×13 inch casserole dish, spread out broken tortilla chips on the bottom. Top with beef mixture. Spread sour cream on top. Sprinkle with green onions, tomato and cheese.

Bake uncovered for 20 minutes or until hot and bubbling. Serve with tortilla chips.
Kitchen Tools
Nutrition
Serving:
1
g
|
Calories:
477
kcal
|
Carbohydrates:
18
g
|
Protein:
35
g
|
Fat:
29
g
|
Saturated Fat:
12
g
|
Polyunsaturated Fat:
12
g
|
Trans Fat:
1
g
|
Cholesterol:
121
mg
|
Sodium:
882
mg
|
Fiber:
2
g
|
Sugar:
5
g
The information shown is an estimate provided by an online nutrition calculator. It should not be considered a substitute for a professional nutritionist's advice.
Love Recipes? Join our Free Facebook Group!
Join Mom's Best Recipes to find more delicious family recipes.
Save
Saved!