Shipwreck Casserole is an old-fashioned recipe that sticks to your bones. It's loaded with lots of goodness like ground beef, rice and veggies. It's the kind of food your grandmother would make. My grandma loved her meat and potatoes so Shipwreck Casserole would have been right up her alley.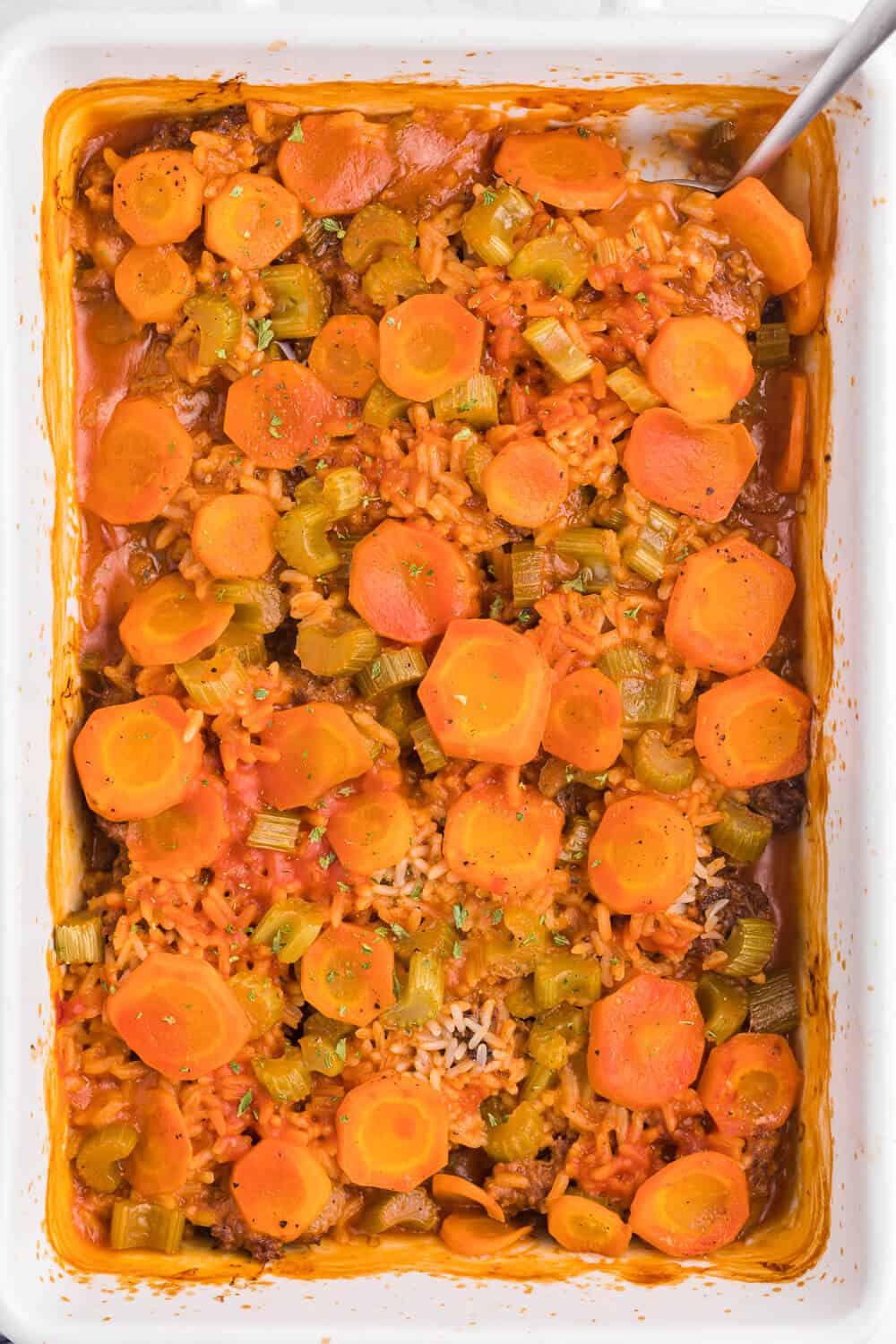 Shipwreck Casserole
The recipe is something to be desired, in my opinion. Shipwrecks have a negative connotation, but this recipe is anything but bad. I'm not really sure why it's called Shipwreck Casserole. Maybe because it's such a mishmash of ingredients that are thrown together a bit like a shipwreck would be? If you know, leave me a comment. I'd love to learn the origin of the name!
A friend of mine came over to help make this recipe. She makes Shipwreck Casserole all the time and uses whatever veggies she has leftover in the fridge. She said her family loves it and that it tastes even better the next day.
How to Make Shipwreck Casserole
This recipe is a layered casserole. All the ingredients are uncooked which makes it really simple to prepare. Yes, even the ground beef goes in uncooked. It will cook in the oven along with the rest of the ingredients.
I used a 9×13 casserole dish – the biggest one I own. Start by layering the onions, potatoes and raw ground beef. It seemed weird to be adding raw ground beef since most recipes have you cook it ahead of time, but my friend said that is how she always does it.
Sprinkle the uncooked rice over the ground beef. Do not use Instant rice here.
Then, top with the celery and carrots. You can season it at the end or do it as you add the layers – up to you.
The sauce is simply a can of tomato soup and a can of water. Easy. Pour the sauce evenly over the ingredients. It will flavour the entire casserole as it bakes.
It bakes for an hour and a half which seems like a long time, but trust me, it needs it. If you bring it out to early, the veggies and rice will be crunchy.
Helpful Kitchen Tools
This post contains affiliate links.
What to Serve with Shipwreck Casserole
Shipwreck Casserole is a meal on its own so it doesn't really need a side dish. If you wanted to have one, you could add a simple tossed salad. I find it hearty and filling enough though!
You could top it with some sour cream if you like. Sour cream goes with just about everything.
For more down home cooking recipes, try my Mom's Macaroni, Pierogi Casserole, Texas Beef Skillet, Chicken Fried Rice, Beef Noodle Bake, Cheesy Hamburger Supper and Cabbage Roll Casserole.
You might also like this Carrot Casserole and Sweet and Sour Carrots.
Have you tried Shipwreck Casserole before?
Shipwreck Casserole
Bake Time:
1 hour
30 minutes
Total Time:
1 hour
45 minutes
The kind of meal grandma used to make! This layered casserole is stick to your bones delicious.
Ingredients
1 large onion, sliced
2 large potatoes, peeled and sliced
1 lb lean ground beef, uncooked
1/2 cup long grain rice, uncooked
1 cup celery, chopped
1 cup carrots, peeled and sliced
1 (10.5oz/284ml) can tomato soup
1 can water (use tomato soup can)
Dried parsley, for garnish, optional
salt and pepper, to taste
Instructions
Preheat oven to 350F.
In a 9x13 casserole dish, layer onions, potatoes and ground beef. Sprinkle rice over ground beef. Top with celery and carrots. Season with salt and pepper.
In a small bowl, stir together tomato soup and water. Pour evenly into casserole dish. Cover with aluminum foil.
Bake for 1 hour 30 minutes. Let cool about 10 minutes before serving.
Recommended Products
As an Amazon Associate and member of other affiliate programs, I earn from qualifying purchases.
Nutrition Information:
Yield:

8
Serving Size:

1 bowl
Amount Per Serving:
Calories:

161
Total Fat:

2g
Saturated Fat:

0.9g
Trans Fat:

0.1g
Unsaturated Fat:

0.9g
Cholesterol:

33.9mg
Sodium:

202.4mg
Carbohydrates:

20.7g
Fiber:

2.6g
Sugar:

5.2g
Protein:

14.5g