Serve up this hearty and total comfort food Beef Noodle Bake! Ground beef, tomato sauce, onions, sour cream, cream cheese, and more come together one incredible dinner fit for any day of the week. Pair with a buttered dinner roll or a crisp green salad and you have a meal the whole family can rave about.
What better way to spend an evening with family and friends than with a big heaping bowl of comfort food. This Beef Noodle Bake hits the spot. It's hearty, filling and packed full of cheesy goodness. You're going to want to make this recipe again and again. I have been making this Sour Cream Beef Noodle Bake for years.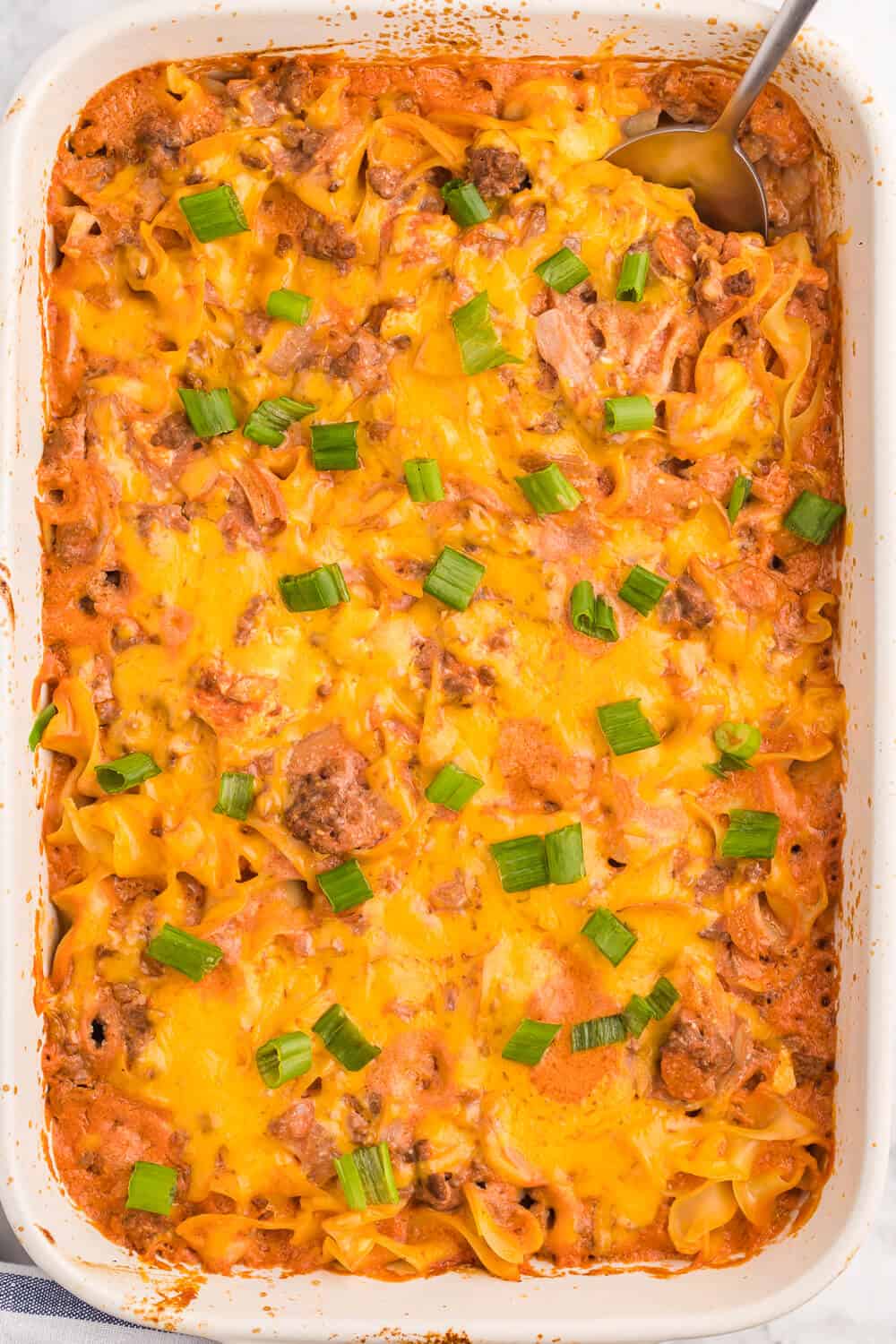 Cheesy Beef Noodle Bake
Casseroles are something I think anyone who spends time in the kitchen can agree on! They are incredible, easy to assemble, and you can kick your feet up and relax as it bakes to golden perfection.
I love the Beef Noodle Bake for the layers of cheesiness. I use sour cream, cream cheese, and then cheddar cheese to top it off. If you can't tell, we love cheese in our home. Best of all this recipe for the Sour Cream Noodle Bake assembles pretty quick so then all you have to wait on is the timer going off to pull it out of the oven.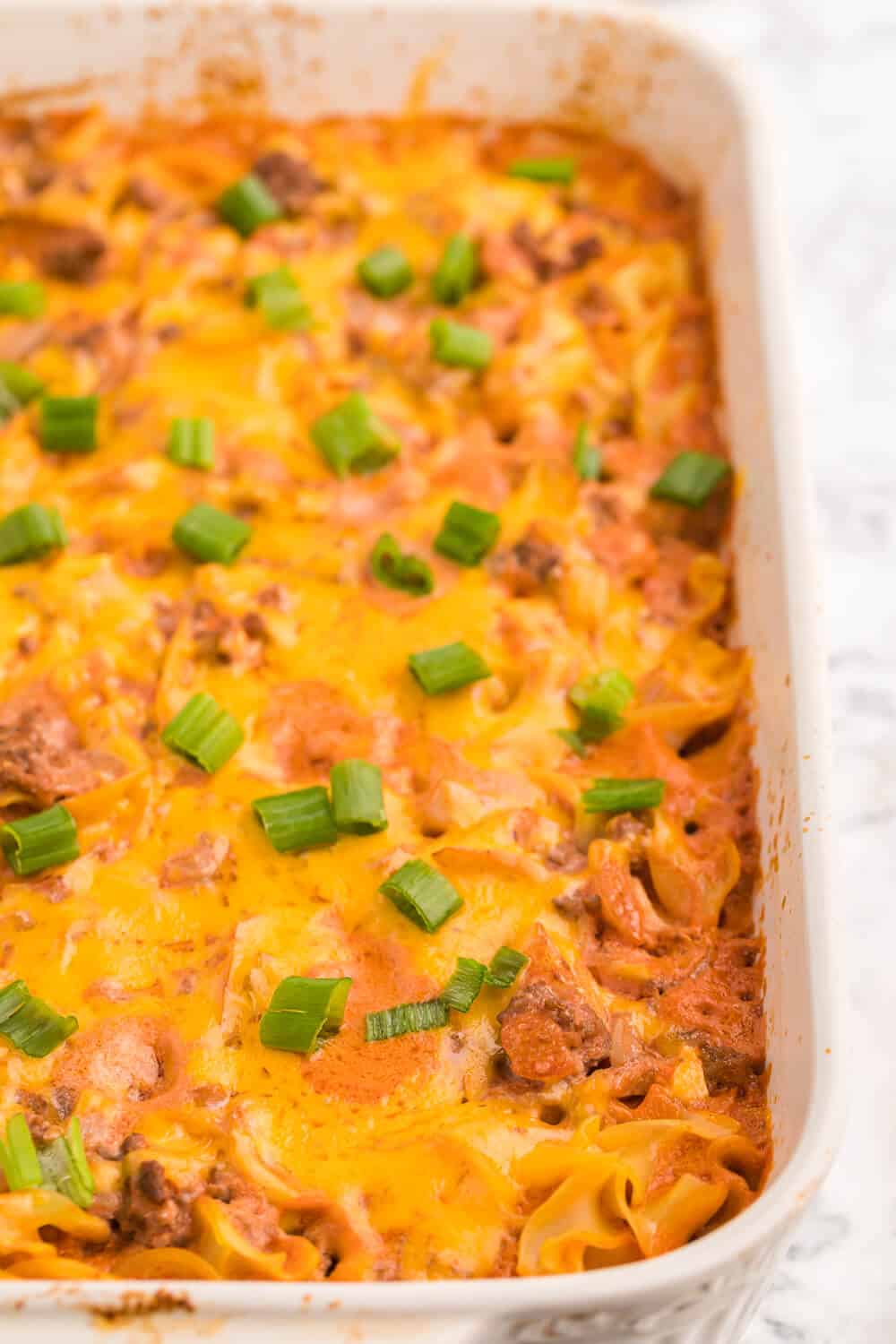 More Tasty Recipes To Whip Up
How To Store Cheesy Beef Noodle Bake Leftovers
If you have some of this Beef Noodle Bake leftover, just put in an airtight container and store in the fridge. If you don't have that place in a bowl and wrap tightly with plastic wrap or even aluminum foil.
When you want to reheat place in microwave to reheat or if you're going to be put in an oven-safe container, and wrap tightly with aluminum foil and heat at 350 degrees until warmed all the way through. The aluminum foil will help prevent the bake from drying out once it reheats.
Will Beef Noodle Bake Freeze Well
Because of the sour cream in the Beef Noodle Bake, it will separate and break down a bit in the freezing process. You will still get the same flavor, but it will offer a different texture. This dish is better served fresh or reheated from the refrigerator.
If you do want to try freezing it, place in airtight container, wrap tightly in aluminum foil and freeze for up to 1-3 months. Then to serve, thaw in the fridge and then warm up in the oven at 350 degrees covered until heated through.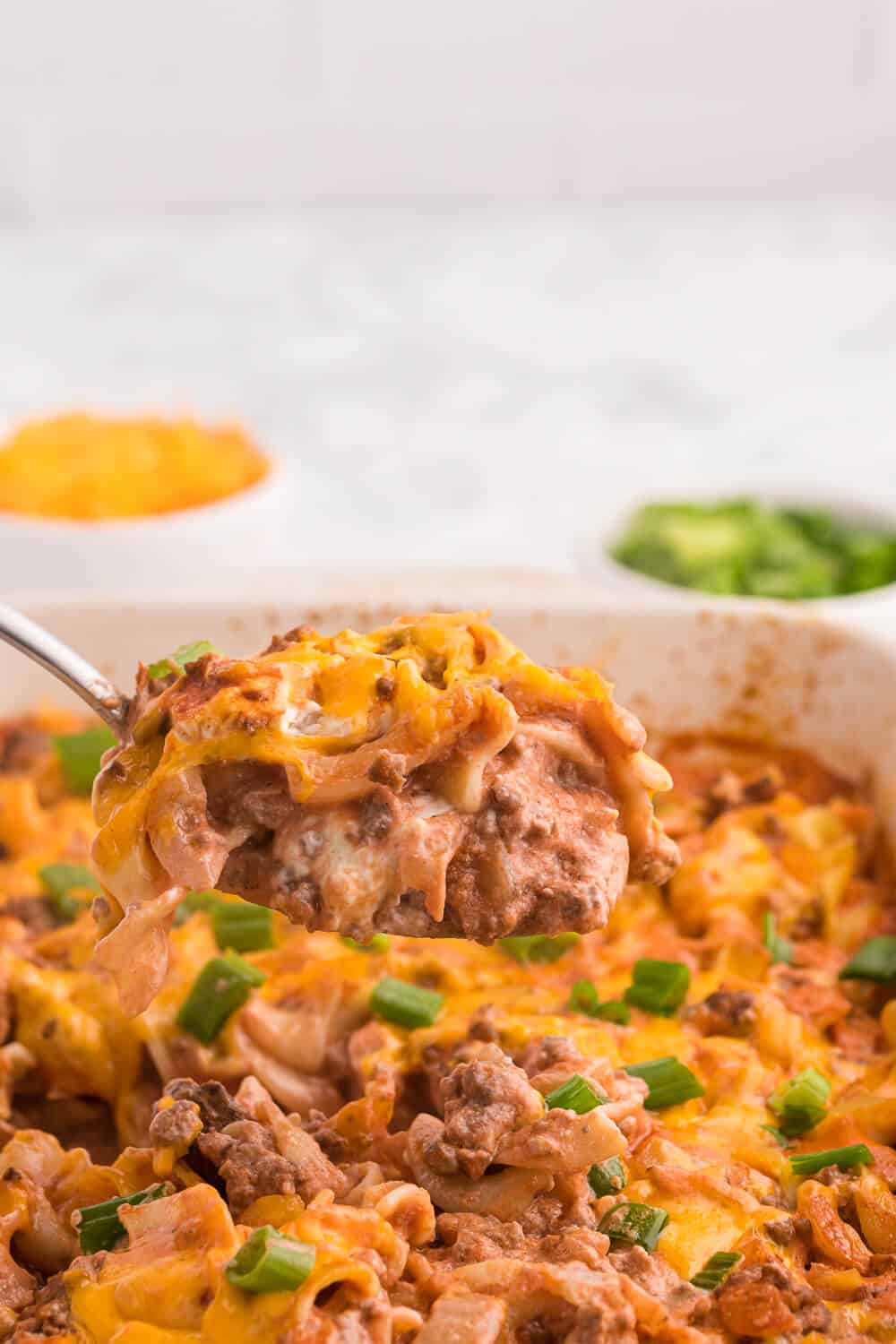 Can You Use Italian Sausage In Replace of Beef in Beef Noodle Bake
Yes. You can do straight Italian sausage or even a half sausage and half ground beef mixture. Granted the name is beef noodle bake, but you can sub for Italian sausage.
I am sure ground turkey and chicken would work as well, with a slight change in flavor, if you were looking for leaner meat to use.
Can You Use Different Noodles for Egg Noodle Bake
If you don't have any egg noodles on hand or maybe aren't a fan, reach for a regular pasta if you want. This will change the texture and flavor a bit, but it will work. Just grab your favorite pasta and cook it up according to the directions on package. Drain and set aside and just follow these instructions on when to put into the casserole.
How to Make Beef Noodle Bake
Start by preheating your oven and cooking your noodles to according to the package.
You start cooking your beef and onions over medium-high heat. Once that is thoroughly cooked through remove from heat.
Toss in other ingredients and pour into a greased 9×13 pan. Do layers of noodles and meat mixture, until you run out. Bake and then after 30 minutes top with cheese and bake a little bit more.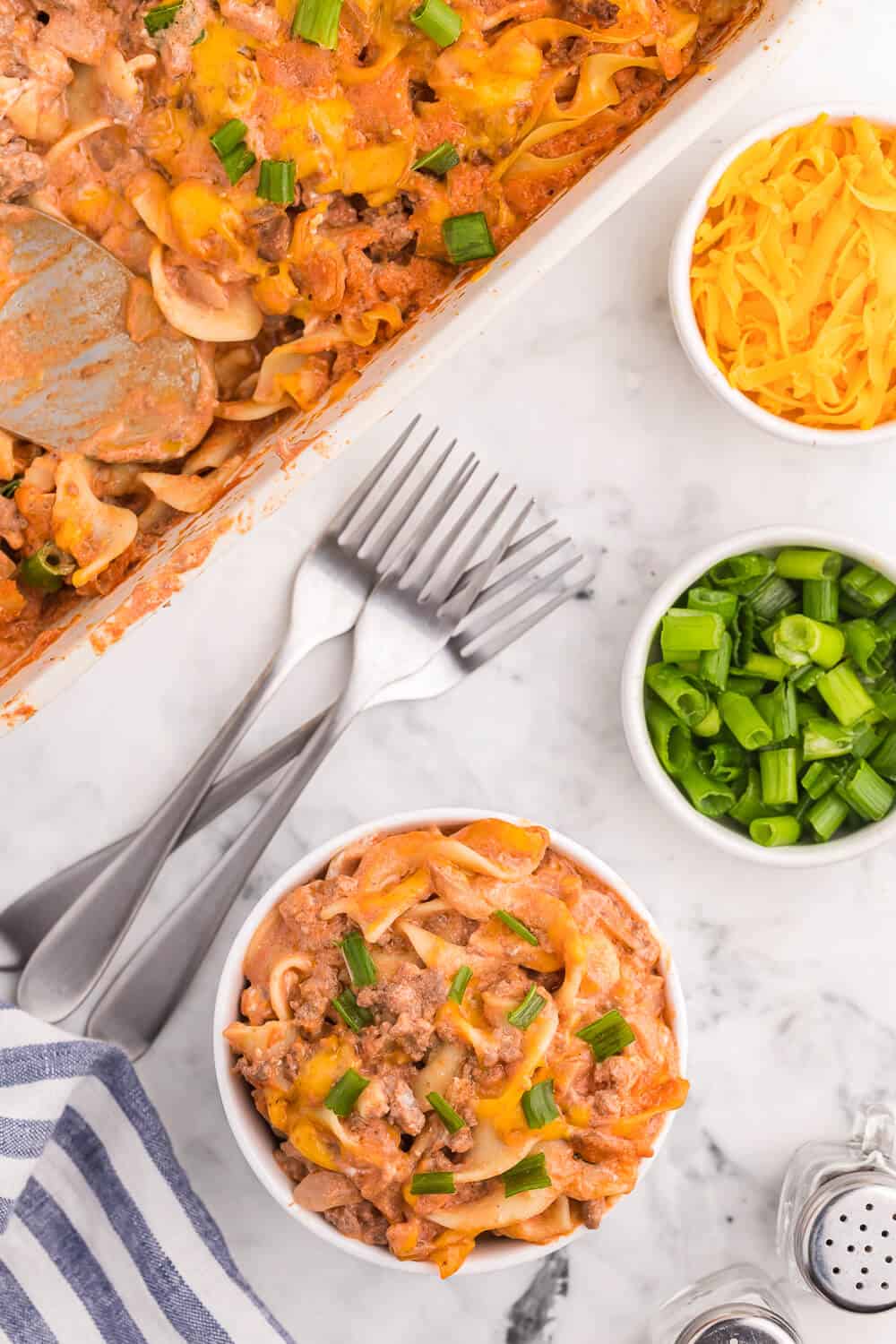 Can You Make Beef Noodle Bake in Advance
You can make Beef Noodle Bake in advance. Just prepare your dish as directed, and then wrap up in plastic wrap or aluminum foil and place in the fridge. You can store this for a night if need be. Then add on 10-15 minutes extra since your casserole is chilled, and then bake as directed.
This is an excellent way to prep ahead if you are having a large crowd and want to have a casserole handy. I have made it in the morning, so at night I just come home and toss in the oven.
Give this super easy Beef Noodle Bake a try today. A comforting and savory dish that feeds a crowd.
You might also like this Cabbage Roll Casserole or Grandma's Goulash.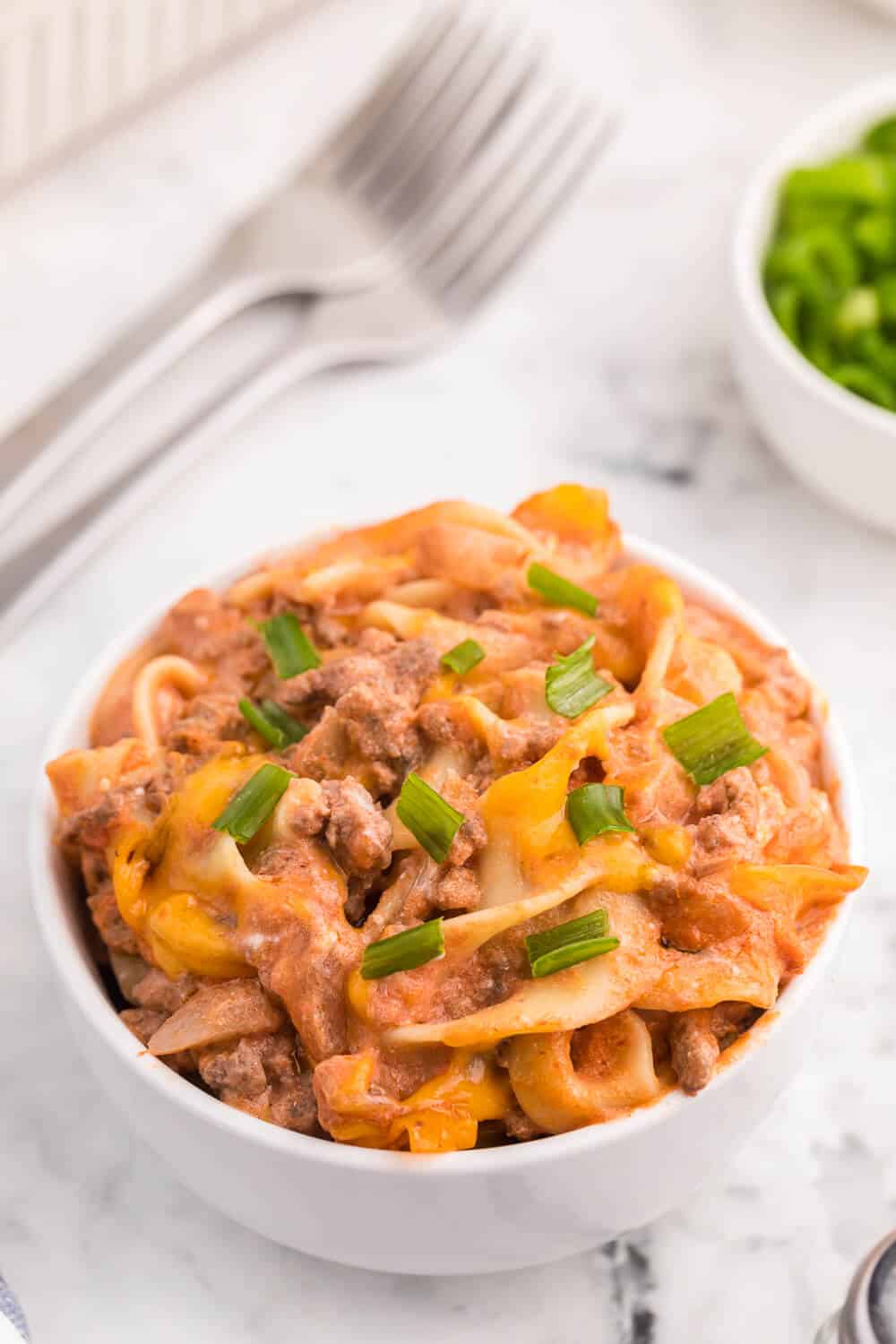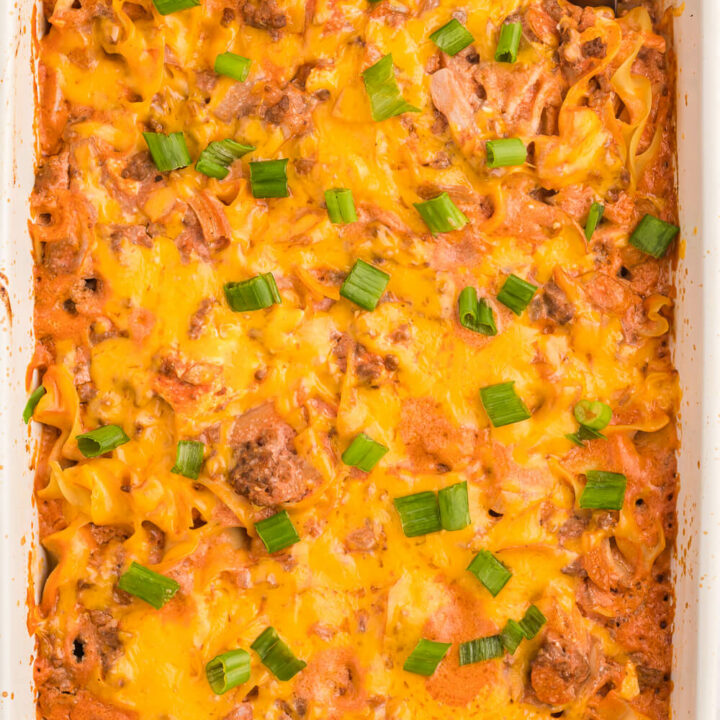 Beef Noodle Bake
This beefy pasta casserole, with crowd pleasing flavours of cheese, garlic and sour cream, is the perfect make-ahead dish for feeding a large group.
Ingredients
1 lb lean ground beef
1 onion, chopped
2 cups tomato sauce
1 cup sour cream
1/2 cup cream cheese, softened and cubed
1 teaspoon sugar
1/2 teaspoon garlic salt
3 cups egg noodles, uncooked
1 cup cheddar cheese, shredded
Green onions, chopped, for garnish if desired
Instructions
Preheat oven to 350F. Grease a 9x13 casserole dish and set aside.
Cook egg noodles according to package directions. Set aside.
In a large skillet, cook ground beef and onions over medium high heat, stirring often, until beef is cooked and onions are softened. Remove from heat. Stir in tomato sauce, sour cream, cream cheese, sugar and garlic salt.
Spread half the noodles along the bottom. Top with half the beef mixture. Repeat layers.
Bake for 30 minutes. Remove from oven and sprinkle with cheese. Bake for 5 minutes. Sprinkle with green onions. Serve hot.
Recommended Products
As an Amazon Associate and member of other affiliate programs, I earn from qualifying purchases.
Nutrition Information:
Yield:

8
Serving Size:

1
Amount Per Serving:
Calories:

411
Total Fat:

26g
Saturated Fat:

12g
Trans Fat:

1g
Unsaturated Fat:

10g
Cholesterol:

111mg
Sodium:

591mg
Carbohydrates:

20g
Fiber:

2g
Sugar:

5g
Protein:

23g