Warm, Italian meatball sub casserole is a delish and easy recipe made in the oven! Layers of fluffy Pillsbury Biscuits are nestled underneath tender meatballs, tomato pasta sauce, and melted mozzarella cheese for the best Italian sub bake you will ever make!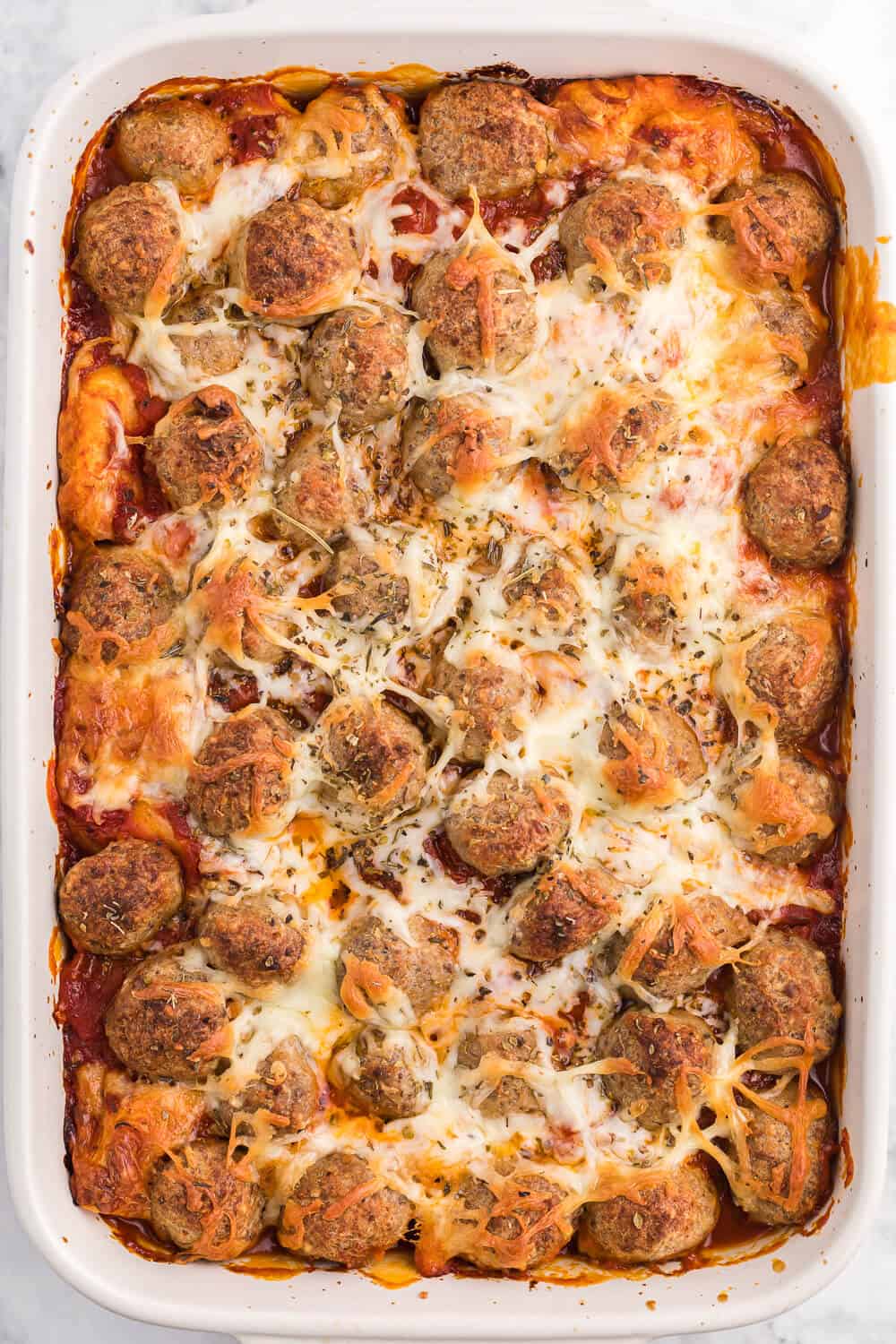 Inspired by the yummy Tasty recipe, I just had to try my hand at this meatball sub dish. This meaty and Italian-style meatball casserole is so easy to make in a baking dish to be baked in the oven until the meatballs are cooked until juicy and just right with the bold Italian seasoning.
Made with frozen meatballs, this meatball sub casserole is one of the easier casseroles to make because all you do is layer everything in the dish and wait! You will know this tasty recipe is ready once the kitchen fills with yummy, rustic Italian notes such as rosemary, thyme, basil, etc.
Casserole recipes are so easy to make with so many different types of ingredients! I like to depend on simple casseroles whenever I'm wanting to make something comforting and the opposite of dull.
This meatball sub bake is way better than most because of the soft, buttery Pillsbury biscuits that soak up all of the delicious Italian flavors. This recipe is the perfect balance of easy, Italian, and comfort-food!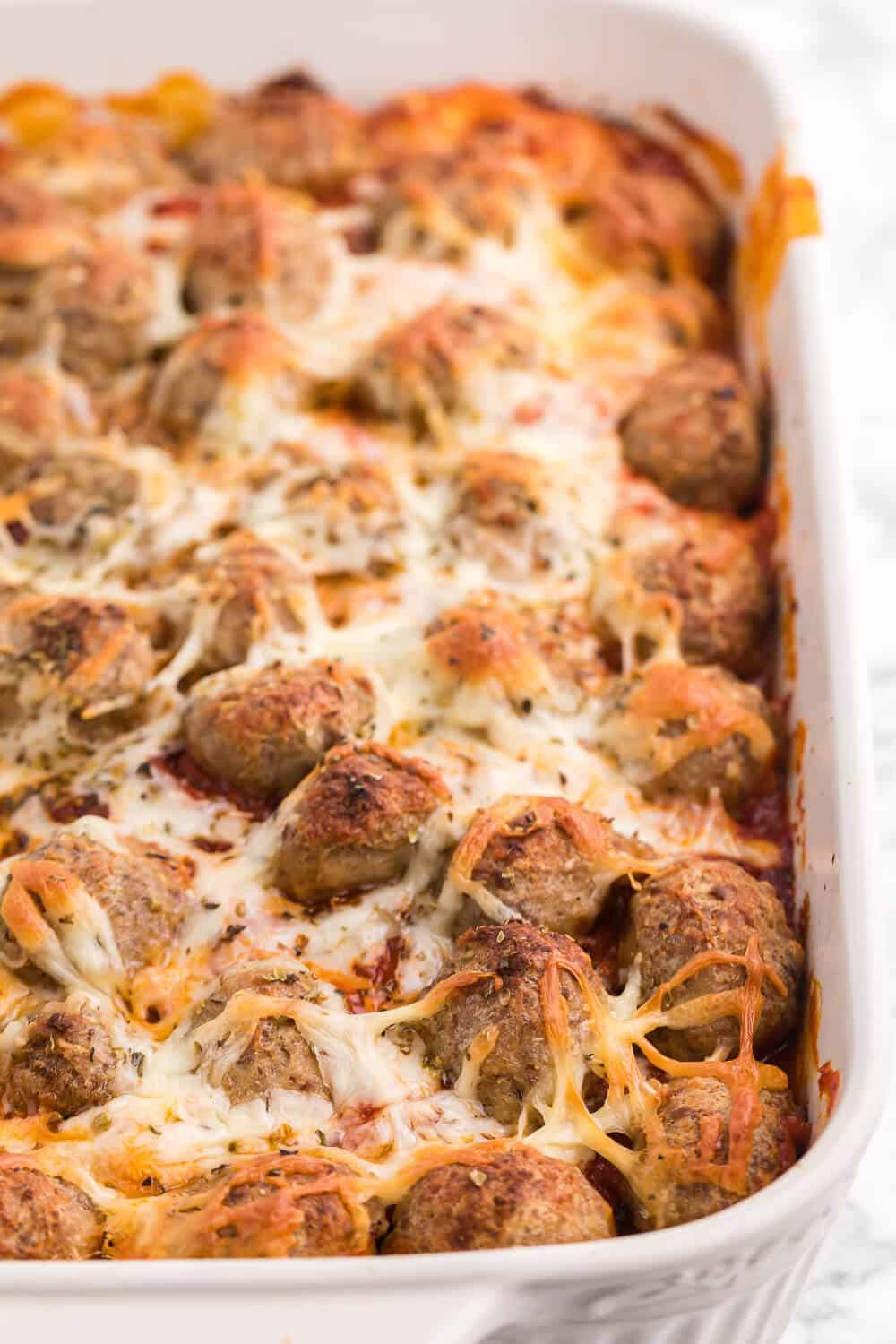 Ingredients
Cooking Spray: Cooking spray is a must for this casserole! If you want to make sure the biscuits don't stick to the casserole dish, then be extra sure to grease it beforehand!
Biscuits: I like to use Pillsbury Refrigerated Biscuits because they are buttery, fluffy, and so soft in this recipe. The delicious biscuits soak up the sauce and the result is out of this world!
Pasta Sauce: Any kind of jar of pasta sauce will be perfect for this Italian sub bake. Using a jar of pasta sauce keeps this recipe super easy, but of course, homemade pasta sauce will also work.
Frozen Meatballs: This recipe couldn't be any easier since it uses frozen meatballs! No need to make homemade meatballs for this recipe. Frozen meatballs are easy to cook whenever you need something quick and easy.
Mozzarella Cheese: Smooth mozzarella cheese adds an extra Italian element to this meatball sub casserole and makes it the perfect blend of cheesy and savory.
Italian Seasoning: Aromatic, dried Italian seasoning provides so much flavor to this recipe–you don't will not want to skip it! Italian seasoning can be found in the spice aisles at grocery stores and is super easy to make at home, too, with dried rosemary, oregano, thyme, basil, and sometimes, marjoram.
What I Used For This Recipe
This post contains affiliate links.
4 Quart Oval Baking Dish: This oval roaster comes with a lid and is perfect for all of my baking needs. Made with stoneware, this durable dish is great for roasting, baking, and storing leftovers in!
Boxed Grater: Boxed graters are perfect for shredding your own cheeses! I bought this box grater because there are several sizes to shred the cheese in plus it is dishwasher-friendly!
Measuring Spoons and Cups: Everyone needs a good set of measuring spoons and cups in their kitchen! This set is really easy to clean and I love it because it is stainless steel.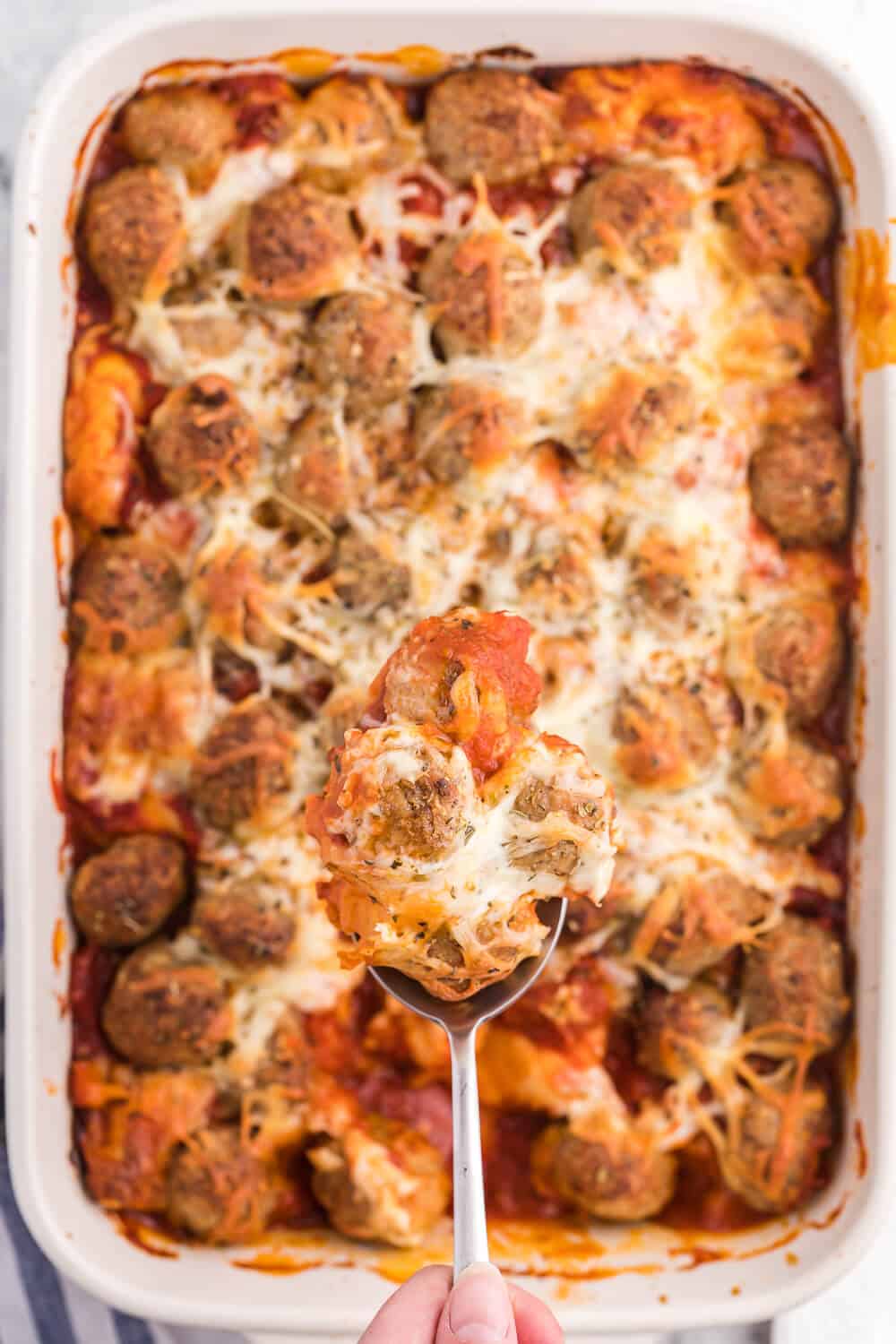 How To Make It
First, preheat the oven to 375 degrees Fahrenheit. Be sure to make sure the oven fully preheats before adding the casserole to it.
Grease the oval dish with the cooking spray or any other cooking oil you may have. This is an important step! The cleanup will be much easier if you grease the dish beforehand.
Next, pour the pasta sauce over the biscuits making sure to coat them well. Toss everything together until well-incorporated.
Spread the frozen meatballs on top of the sauce in an even layer to make sure there are plenty of textures and layers. Sprinkle the meatball bake with mozzarella cheese and Italian seasoning so it smells good while it bakes in the oven.
Bake the casserole for forty to forty-five minutes in the preheated oven. The casserole will be ready whenever the pasta sauce and cheese are bubbly and melted.
Allow the casserole to rest for ten minutes prior to serving so the biscuits and meatballs can absorb the pasta sauce.
Enjoy with chopped fresh herbs if preferred!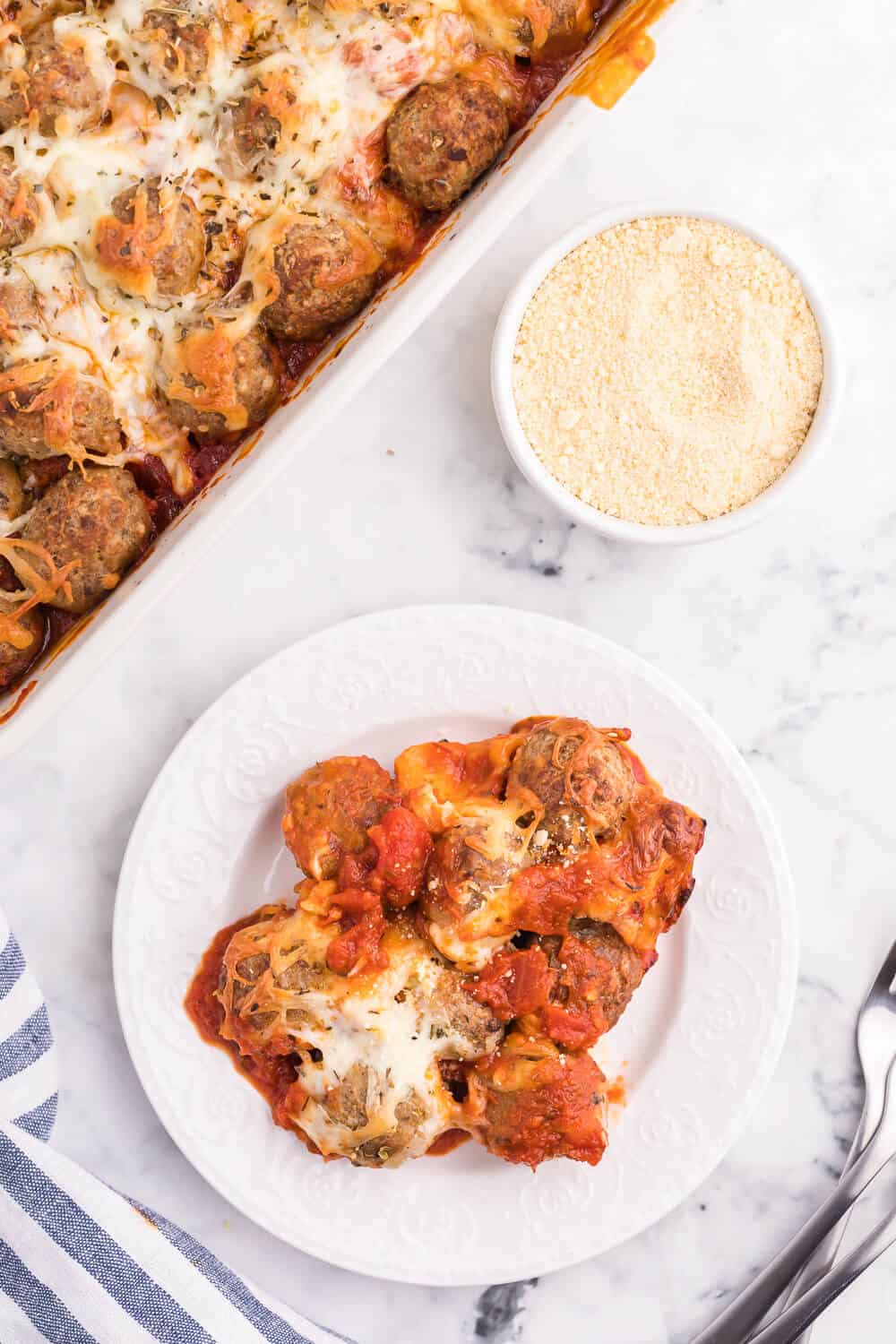 Variations
Use a fresh blend of Italian-style herbs in place of the Italian seasoning for extra fresh flavors.
To make this a meatless meatball bake, use plant-based meatballs. For a vegan version, use meatless meatballs and vegan mozzarella. You can also just leave the cheese off!
Add fresh vegetables to this recipe such as bell peppers, squash, broccoli, mushrooms, etc.
Replace the biscuits with garlic bread for this cheesy meatball sub casserole recipe. You will love the bright flavors!
What sauce goes on meatball subs?
A simple marinara or pasta sauce is perfect for meatball subs and meatball sub casseroles. There are so many options when it comes to tomato sauces, though, so have fun and experiment!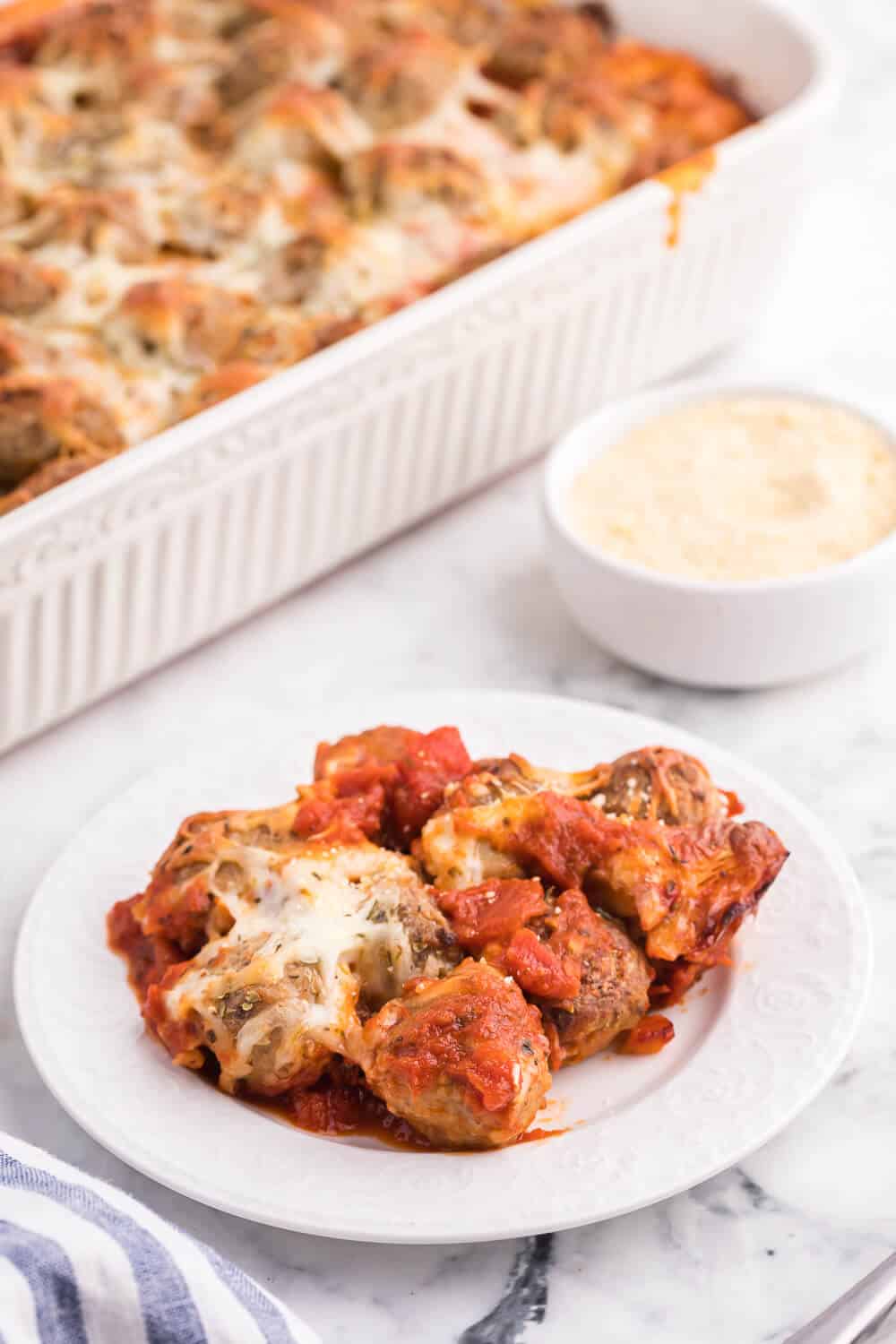 Serving Ideas
Some of my favorite side dishes and salads to serve with this Italian sub casserole include bean salad, winter detox salad, broccoli salad, roasted root vegetables, garlic bread, asparagus, peas, green beans, and much much more.
Casserole Recipes
Do you have any amazing easy casserole dinner recipes? I'm always looking for more recipes to try! Follow me on Instagram @simplystacieblog, on Facebook at Simply Stacie, and on Pinterest @SimplyStacie and let me know how you liked this and my other recipes!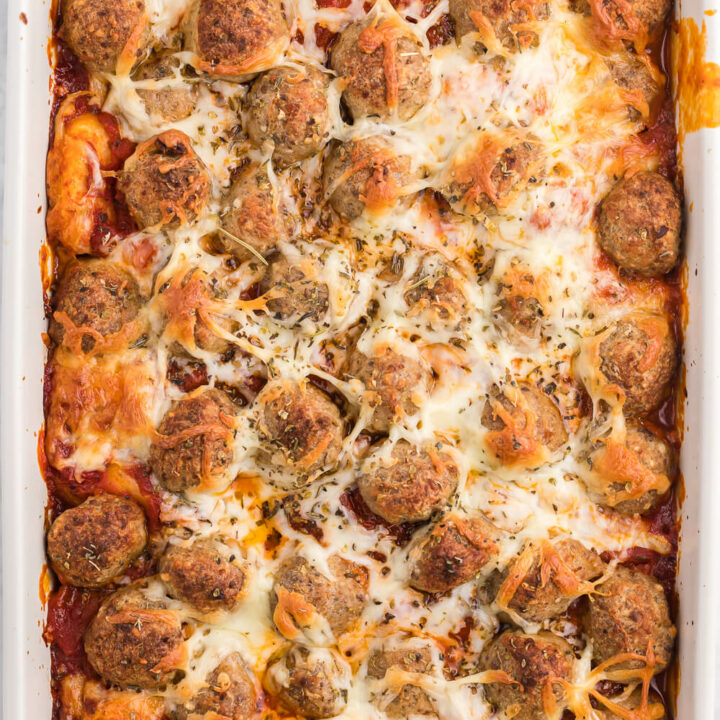 Meatball Sub Casserole
Made with convenient ready-made ingredients, this casserole tastes just like a meatball sub from your favourite sub shop!
Ingredients
1 can Pillsbury Refrigerated Biscuits
1 jar (24oz/650ml) pasta sauce
1 package of frozen, cooked meatballs (about 32 meatballs)
1 cup mozzarella cheese, shredded
1 teaspoon Italian seasoning
Instructions
Preheat oven to 375F. Grease a 9x13 casserole dish with cooking spray.
Cut each Pillsbury Refrigerated Biscuit into quarters (4 pieces). Spread on the bottom of the casserole dish.
Pour pasta sauce on top of biscuits and gently toss to coat.
Spread frozen meatballs evenly on top of pasta sauce. Sprinkle evenly with cheese and Italian seasoning.
Bake 40 to 45 minutes. The cheese will be completely melted, meatballs cooked and it will be bubbly and hot. Let it cool for a few minutes before serving. Store any leftovers in the fridge.
Notes
I used Pillsbury Refrigerated Flaky Rolls*
Recommended Products
As an Amazon Associate and member of other affiliate programs, I earn from qualifying purchases.
Nutrition Information:
Yield:

6
Serving Size:

1
Amount Per Serving:
Calories:

157
Total Fat:

10g
Saturated Fat:

4g
Trans Fat:

0g
Unsaturated Fat:

5g
Cholesterol:

28mg
Sodium:

397mg
Carbohydrates:

8g
Fiber:

1g
Sugar:

2g
Protein:

8g