April is a pretty special month. The snow is finally starting to melt and we get to enjoy the nice spring weather. But there's another reason why I'm glad it's April. Can you guess what it is? I won't leave you hanging – April is home to National Grilled Cheese Day on April 12th! Why settle for just one day though? Let's celebrate this delicious holiday all month long. What do you think?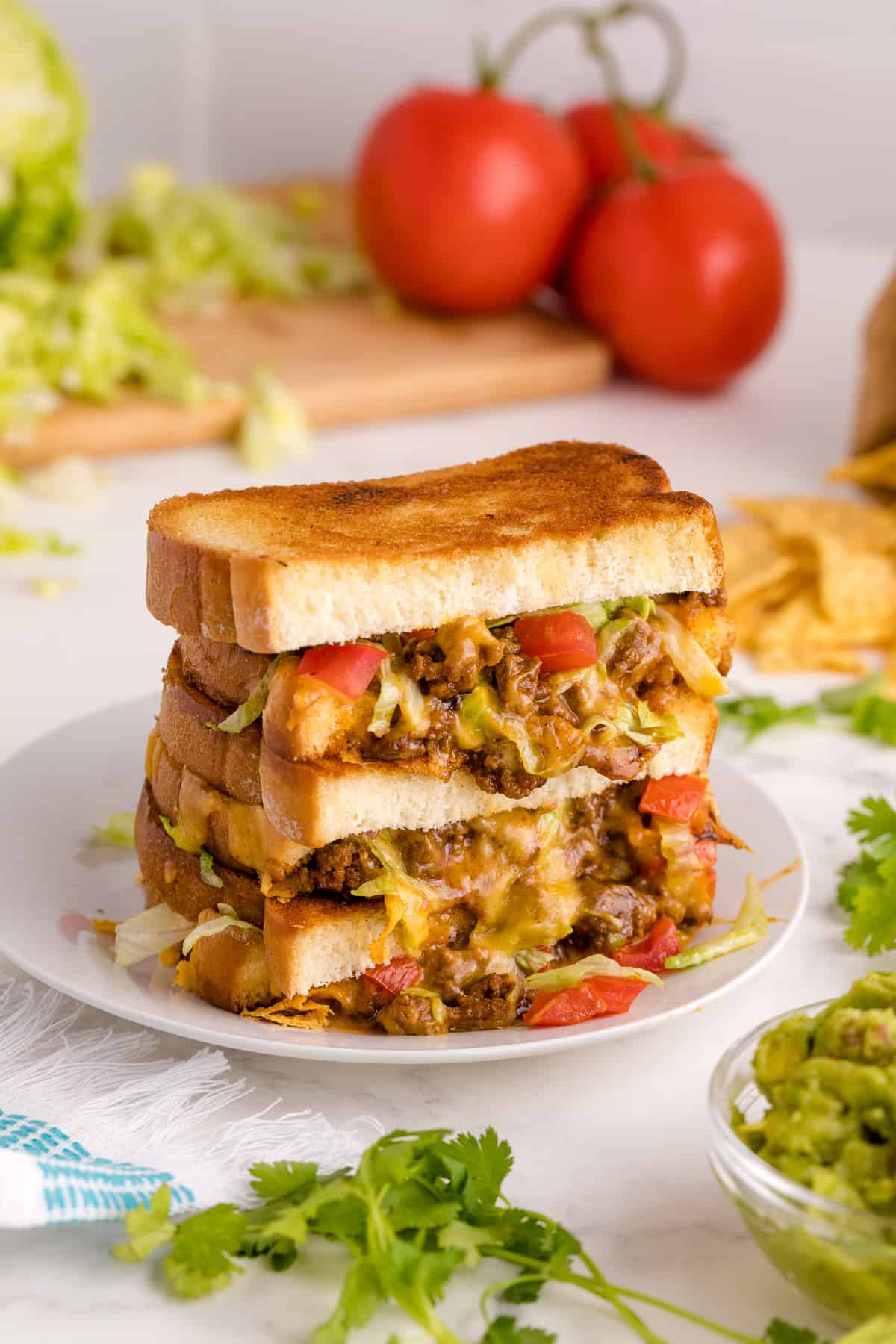 I remember my mom making grilled cheese sandwiches and serving them with a bowl of tomato soup. It's a classic meal that brings back so many fond memories of my childhood. Fast forward to today and I'm making that same comforting meal for my own family. Grilled cheese sandwiches are a common request from my two daughters.
Taco Grilled Cheese Sandwich
For National Grilled Cheese Day, I've partnered with Dempster's to come up with a grilled cheese sandwich with a twist. We all know that a great sandwich starts with the right bread and Dempster's has a fantastic product line for all your sandwich recipes. I choose a classic – Dempster's White Bread to create my new and improved grilled cheese sandwich.
Grab a loaf of Dempster's White Bread from your pantry and let's go on a little foodie adventure. It's a #breadventure!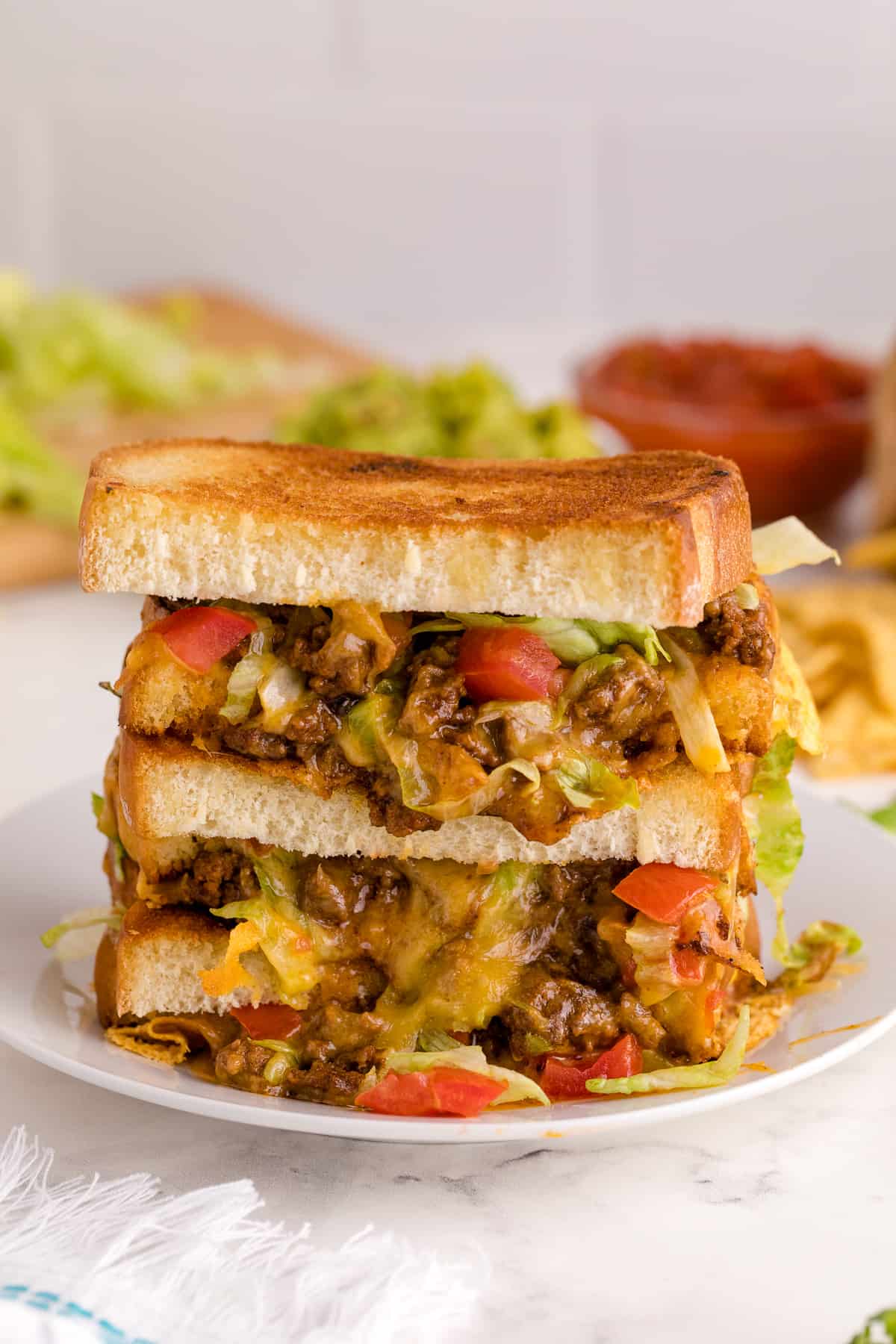 I'm no stranger to creating fun twists on classic recipes. I do it all the time at home to keep things interesting. Add a little adventure to your family's meals with this delicious Taco Grilled Cheese Sandwich. Yes, I'm taking everything I love about tacos and combining it into a classic grilled cheese. And you know what? It totally works!
The beauty of this recipe is its versatility. Use your favourite taco toppings in your sandwich. I used the classic taco ingredients like seasoned ground beef, tomatoes, lettuce and of course, a lot of cheddar cheese. Trust me, you won't miss the taco shell because the grilled buttery bread tastes even better!
Don't forget the dipping sauces. Dunk your sandwiches in sour cream, guacamole and salsa. I like to do a triple dunk and get all three in each bite. No double dipping as my daughter says!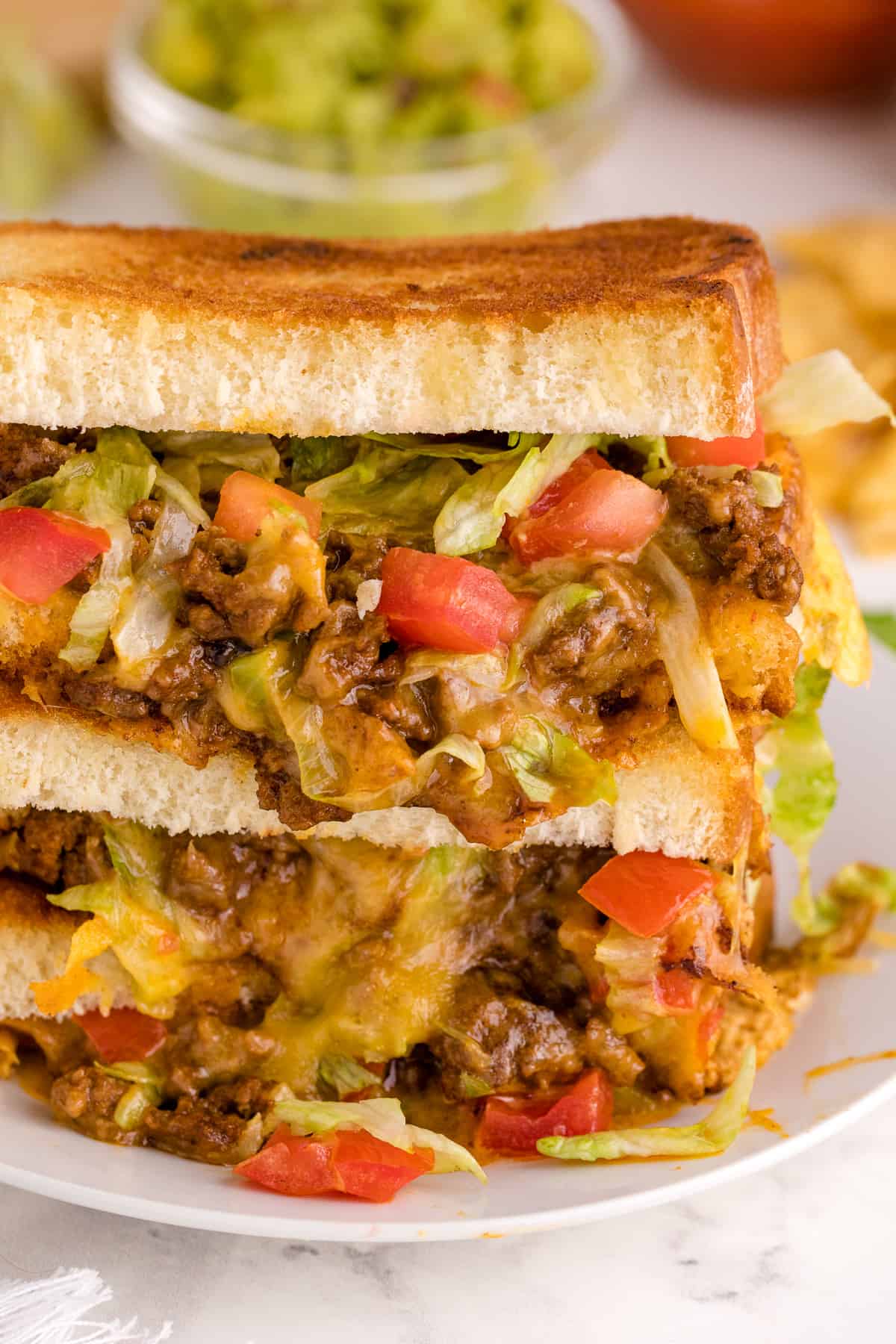 One little cooking tip that I picked up in my travels is to soften the butter first before you try and spread it. Put it in the microwave for about 5 to 7 seconds before spreading it on the bread. You'll find it will go on much smoother and easier.
I think it's an important life skill to learn how to make a proper grilled cheese sandwich so I had my daughter, Bridget, assist me with this recipe. She buttered the bread and helped me stir the ground beef while it cooked. Her favourite part was flipping the grilled cheese in the pan and not letting all the toppings fall out! We had a couple fails at first, but after a few tries she was an old pro! Getting in the kitchen with your kids is an adventure on its own and there is always lots of laughs.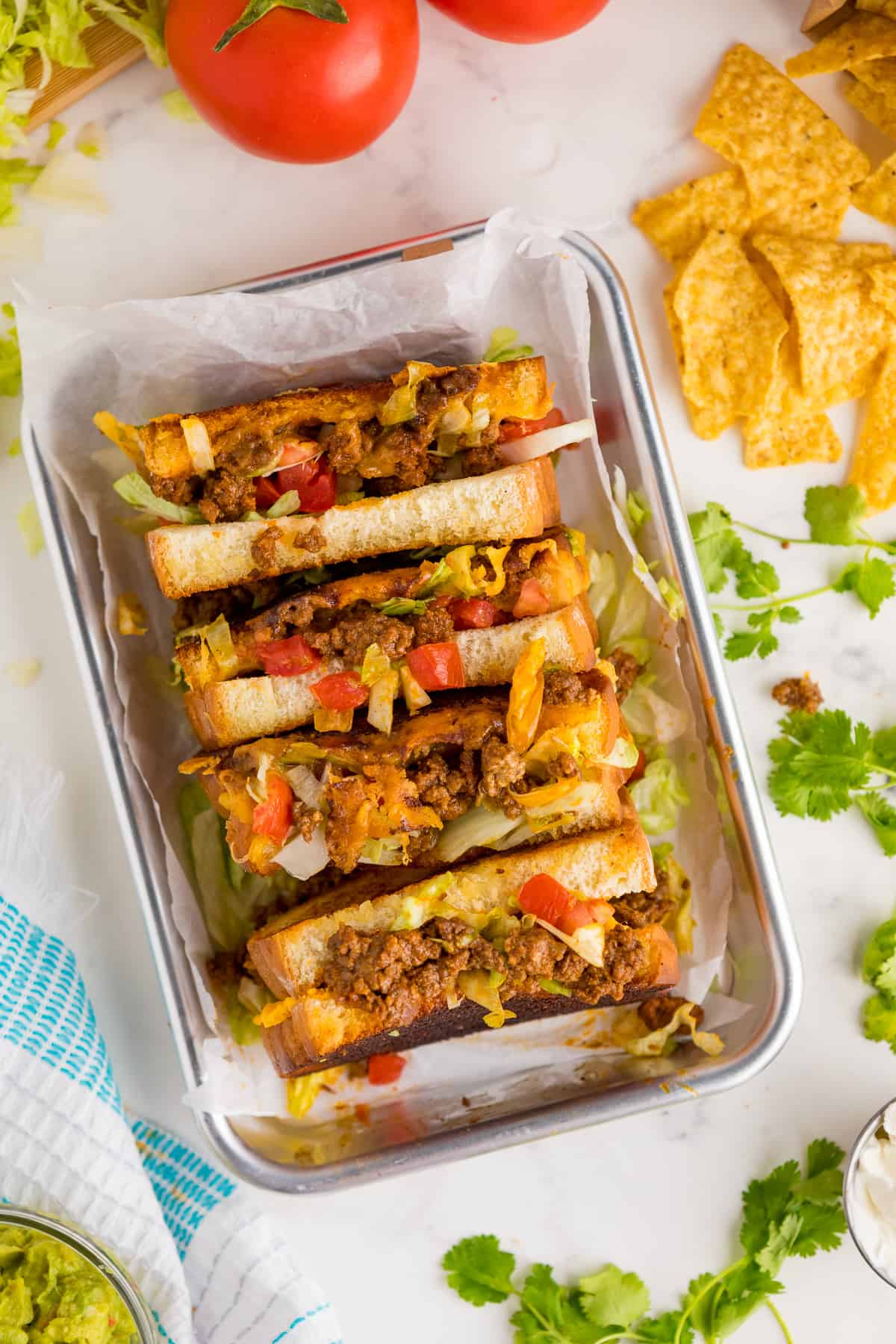 I think we'll be seeing Taco Grilled Cheese Sandwiches on our menu quite often. My family gobbled them up and asked for more. You could also serve them on "Taco Tuesday" to keep things fresh and new.
I encourage you to have a #breadventure with your family and try your own twist on a classic grilled cheese sandwich. Try my Taco Grilled Cheese Sandwich or come up with something totally different!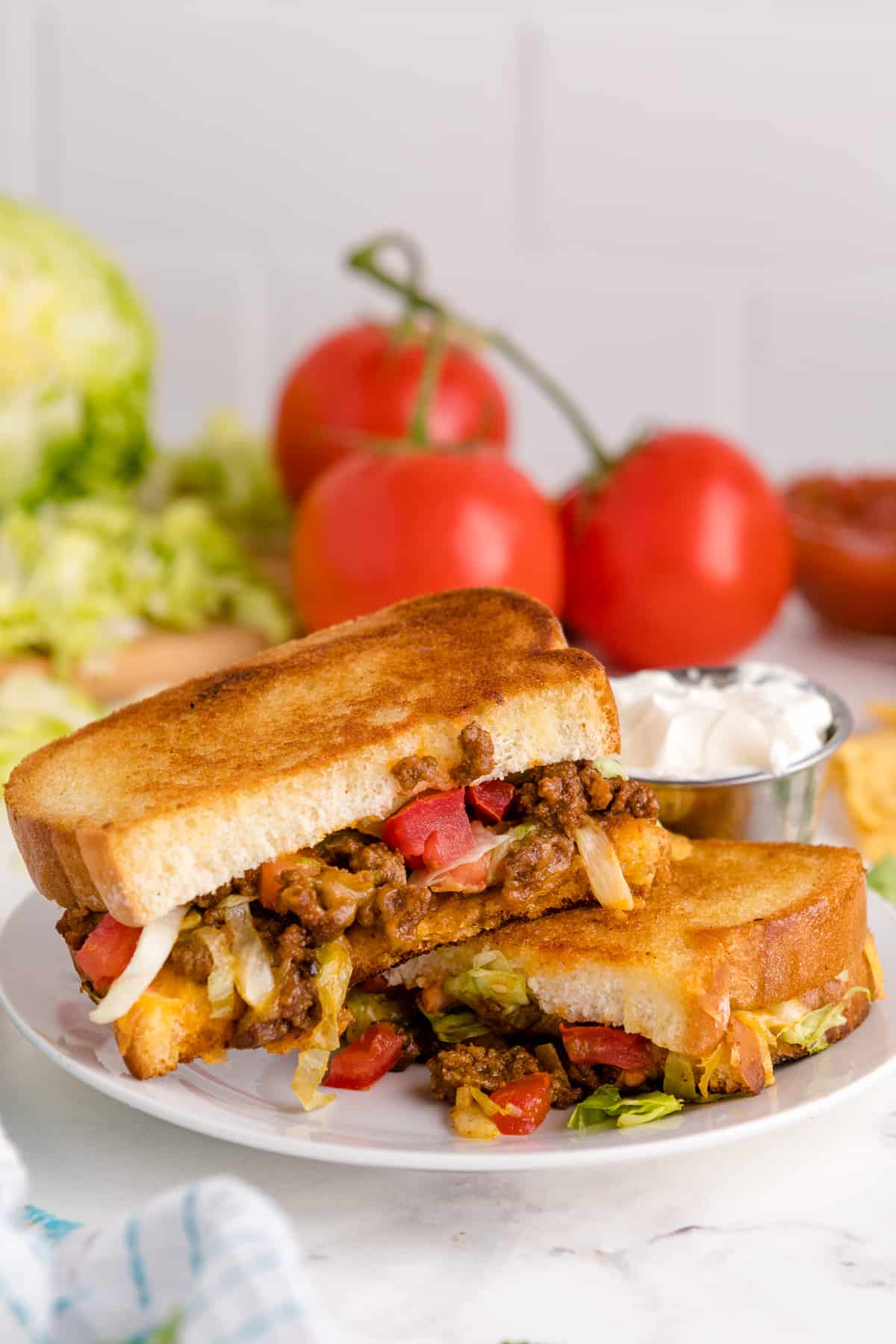 You might also like my Taco Casserole, Taco Soup, Beef Taco Pasta, Taco Pizza and Jalapeno Popper Grilled Cheese.
Learn how to make your own homemade taco seasoning.
What's on your menu for National Grilled Cheese Day?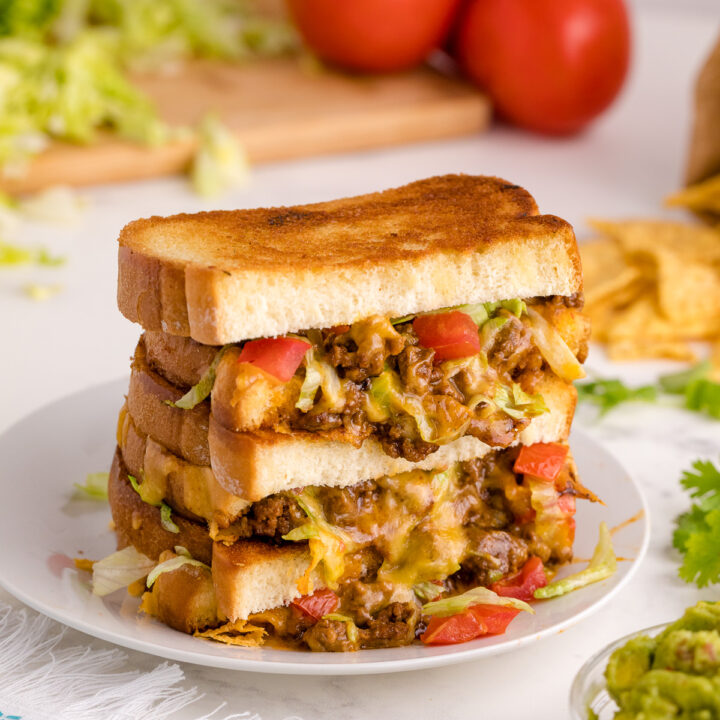 Taco Grilled Cheese Sandwich
Spice up your soup night! This crunchy sandwich is stuffed with seasoned ground beef, lettuce, tomatoes, and gooey cheese for the most filling grilled cheese recipe.
Ingredients
1 lb lean ground beef
1 (1 oz/35g) package taco seasoning
8 slices white bread
4 tablespoons salted butter, softened
1/2 cup iceberg lettuce, sliced thin
1 tomato, diced
1 cup cheddar cheese, shredded
Salsa, guacamole, sour cream, for dipping
Instructions
In a large skillet, brown ground beef over medium high heat. Add in taco seasoning and stir to combine. Remove from heat.
Spread butter on one side of each slice of bread.
On the non-buttered side, add lettuce, tomatoes, ground beef and cheese and cover with other slice of buttered bread. The buttered side should be facing outwards.
Heat a skillet to medium-high heat. Grill each side for 2 to 3 minutes or until desired doneness is reached. Cut in half and enjoy hot. Serve with salsa, guacamole and sour cream for dipping.
Recommended Products
As an Amazon Associate and member of other affiliate programs, I earn from qualifying purchases.
Nutrition Information:
Yield:

4
Serving Size:

1
Amount Per Serving:
Calories:

673
Total Fat:

38g
Saturated Fat:

19g
Trans Fat:

1g
Unsaturated Fat:

15g
Cholesterol:

161mg
Sodium:

880mg
Carbohydrates:

35g
Fiber:

3g
Sugar:

5g
Protein:

45g