Dill Pickle Roast Beef is one of the easiest slow cooker recipes you will find. If you have ever had a German pickled beef like Sauerbraten, you will get what the inspiration is behind this recipe. Grab that jar of pickles, roast, and your slow cooker and get ready for an incredible dinner, 8 hours later.
A friend and I were chatting about slow cooker recipes the other day. She mentioned that she tried roast beef slow cooked in dill pickles at her mother-in-law's place and raved about how good it was. I was intrigued. Could it be that simple as throwing a jar of dill pickles and a cut of beef into a slow cooker? Would it taste too "pickled"? I decided I would find out.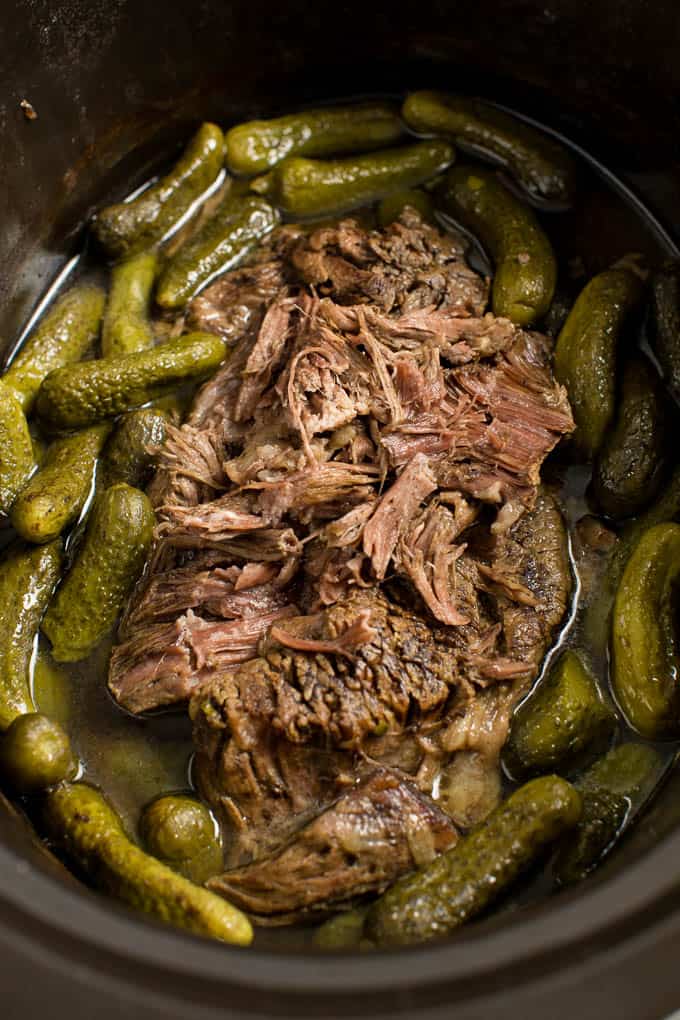 Incredible Dill Pickle Roast Beef Recipe
Once she shared how to make this simple pot roast with pickles, I knew the curiosity would kill the cat if I didn't try it. I ran to the store, grab my roast, pickles, and headed home.
It did feel a bit weird taking a jar of pickles and dumping it on a roast and then leaving it to cook for 8 hours. But, I trusted the process and thought worst case scenario we would order takeout instead. But, I was hopeful.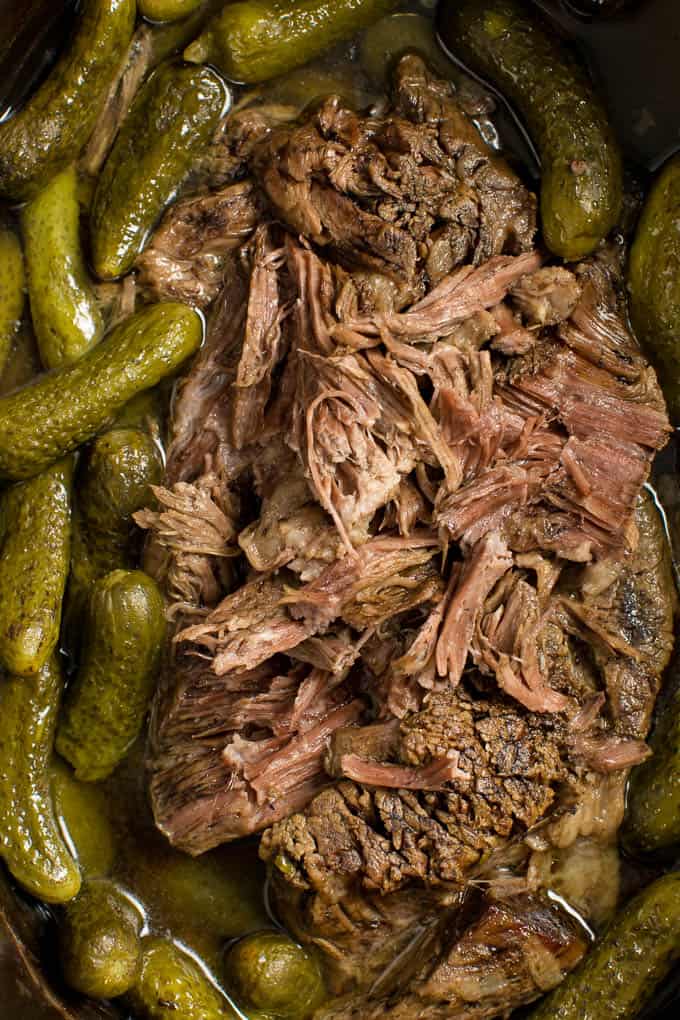 Eight hours later I opened up my slow cooker to the most tender roast. I even plated up a few of the pickles to give them a test run as well. I mean we do eat warmed pickles on a hamburger, how much different could a cooked one taste?
The result was YUM! This roast was something to rave about, and that is why I am writing this today. It had a mild tang of the pickle, but it wasn't overbearing like I imagined it could be. It was the perfect combination of flavor, and the roast was tender and moist.
Next time, you need slow cooker inspiration, look to that jar of pickles in your fridge. You don't need to make a fancy sauce or marinade when a simple kitchen staple will do.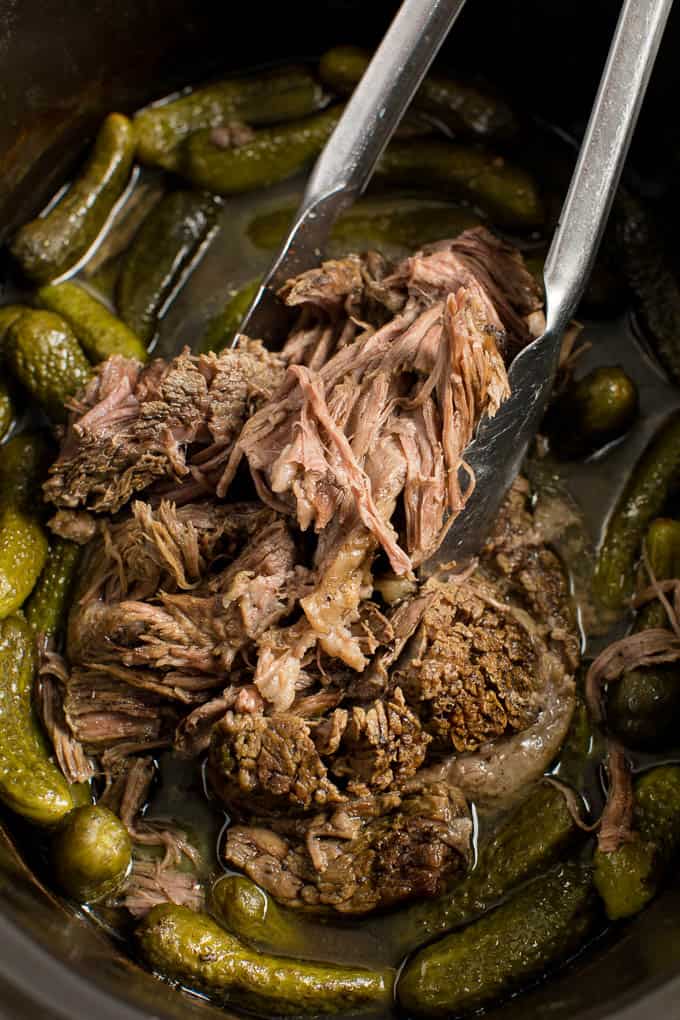 Can You Add Vegetables to Your Pickled Roast Beef
Want to add in carrots and potatoes like a traditional roast recipe? Sure, go for it. Your veggies will pick up some of the pickle juice as well but cook up nicely. Just watch the liquid level you might need to add in a little water or even beef stock to help make sure your beef and vegetables don't dry out.
For recipe inspiration, check out my new Beef Recipes board on Pinterest.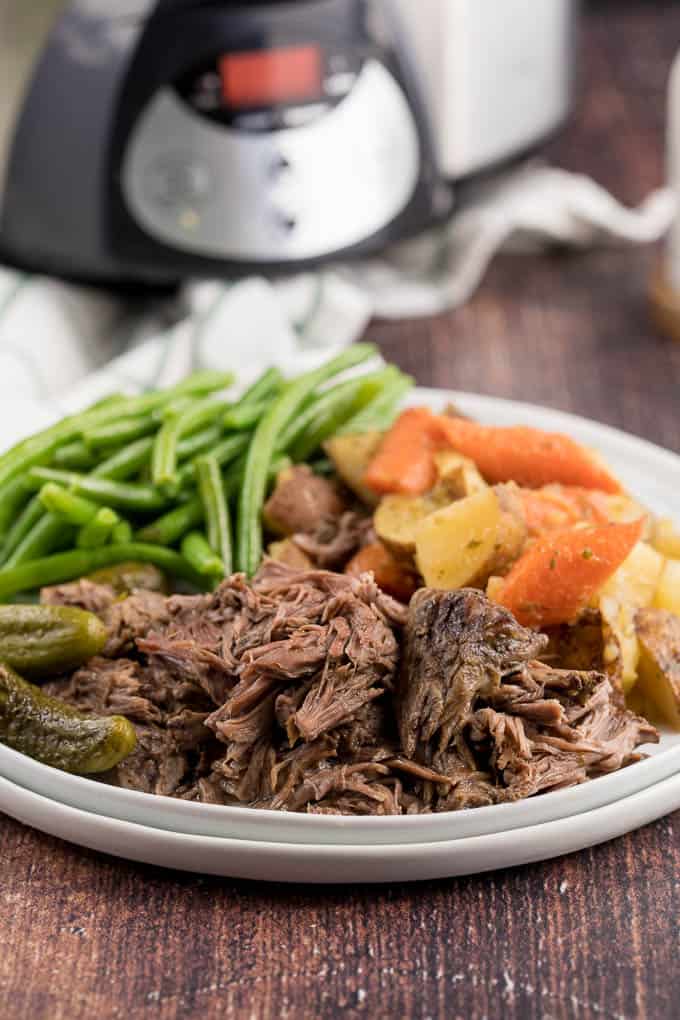 Can You Eat The Pickles In The Roast
Yes! I will be honest I was slightly intimidated to eat the pickles from the roast mixture, but it was pleasantly enjoyable. The flavors of the beef and pickle kind of blend together in the cooking process and it is actually delightful. They also get tender as they cook over the time frame you have in the slow cooker.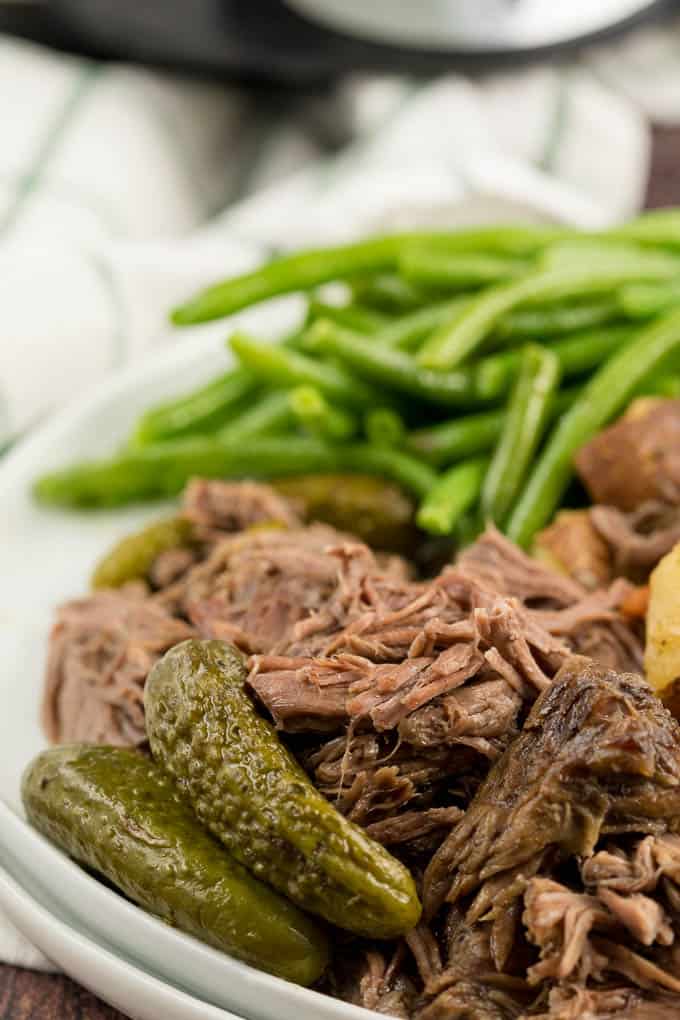 What to Pair With Dill Pickle Roast Beef
Here are some sides you can consider adding to your dinner menu to compliment your pickle roast recipe! Feel free to reach for your favorite sides as well! This is a very versatile recipe.
This post contains affiliate links.
You'll also love these Slow Cooker Recipes for Beginners.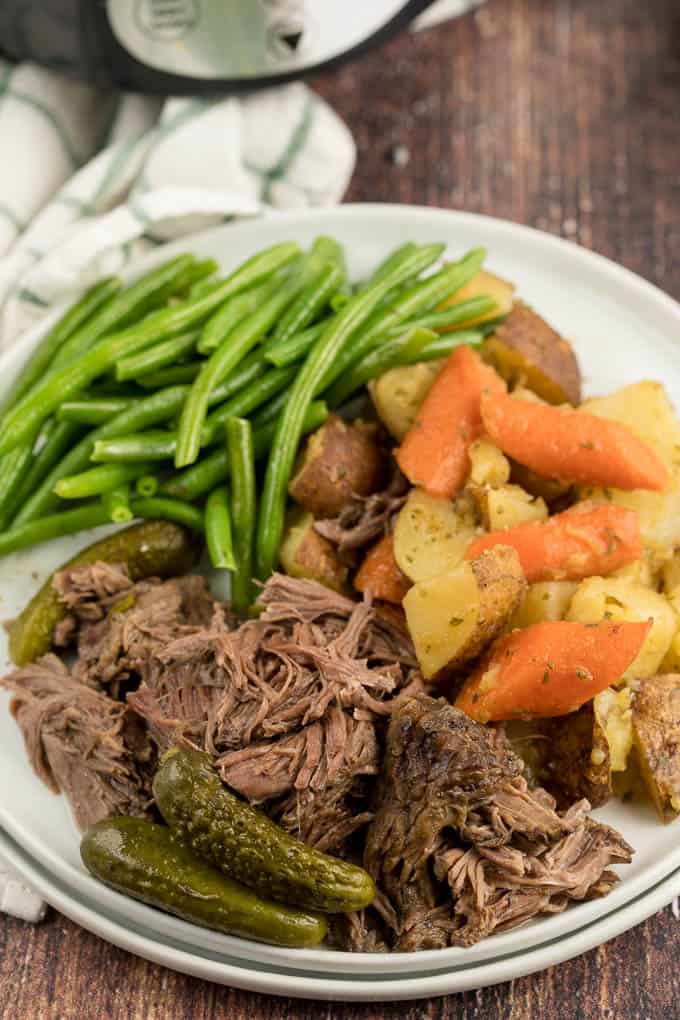 What Is The Best Cut Of Meat For A Roast
I recommend looking for a chuck roast; this offers the perfect amount of marble of fat throughout. This flavors the meat but also leaves you with a tender roast. If you can't find chuck look for a shoulder roast, rib roast, or brisket cut.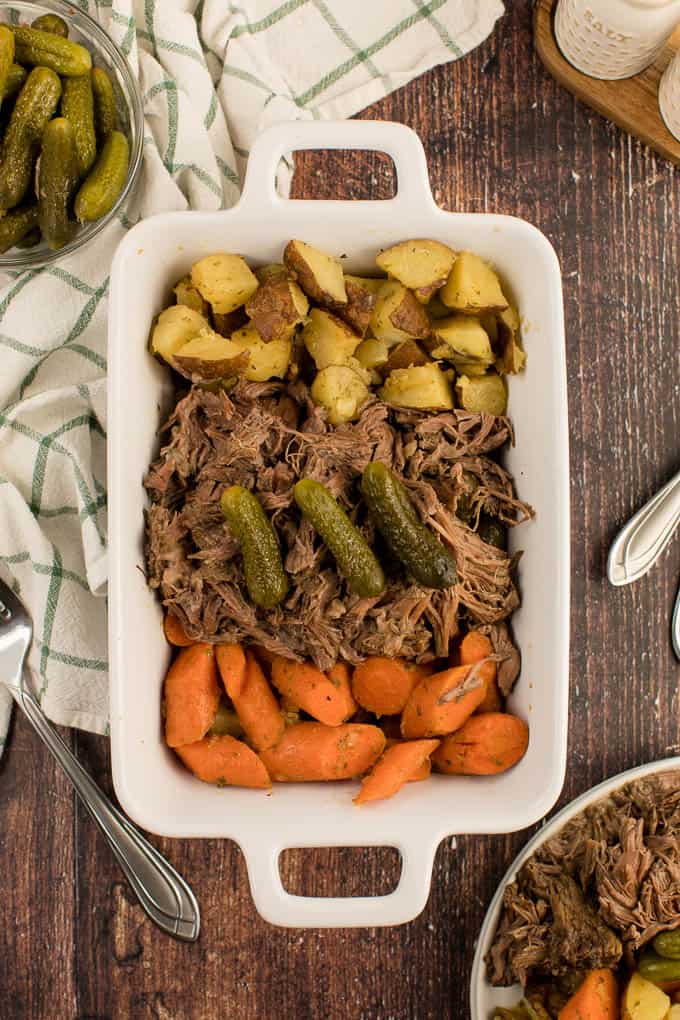 What Does the Pickle Juice Do To the Roast in the Dill Pickle Roast
Pickle juice is great for tenderizing meat. It will add some tang and flavor to the roast, but it also helps tenderize the meat as well which is so lovely.
I think if you are a fan of roast and a fan of pickles. This recipe might be right down the lane you want to go. It is one of the most straightforward recipes and somewhat affordable since you only need two ingredients.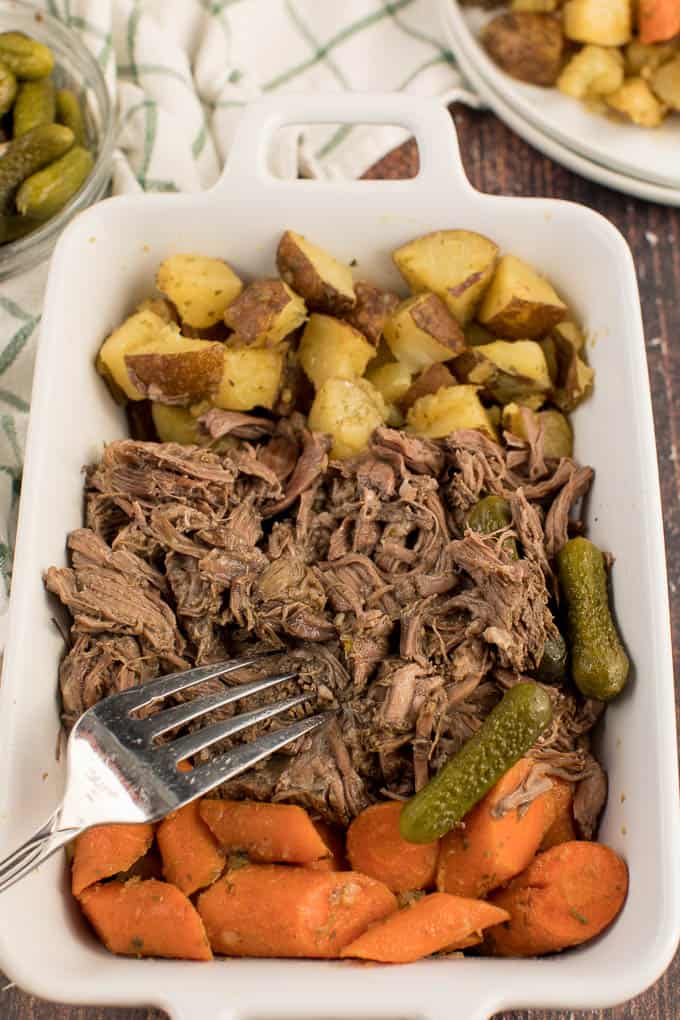 If you make this roast let me know what you think! We have made it a handful of times, and it is something unique and different than a classic roast recipe. The leftovers aren't too bad either!
You'll also love this Classic Meatloaf, Slow Cooker Mississippi Beef Stew, Slow Cooker Beef Stroganoff and Slow Cooker Beef and Noodles.
Have you tried pickles and roast beef in the slow cooker? If not, would you?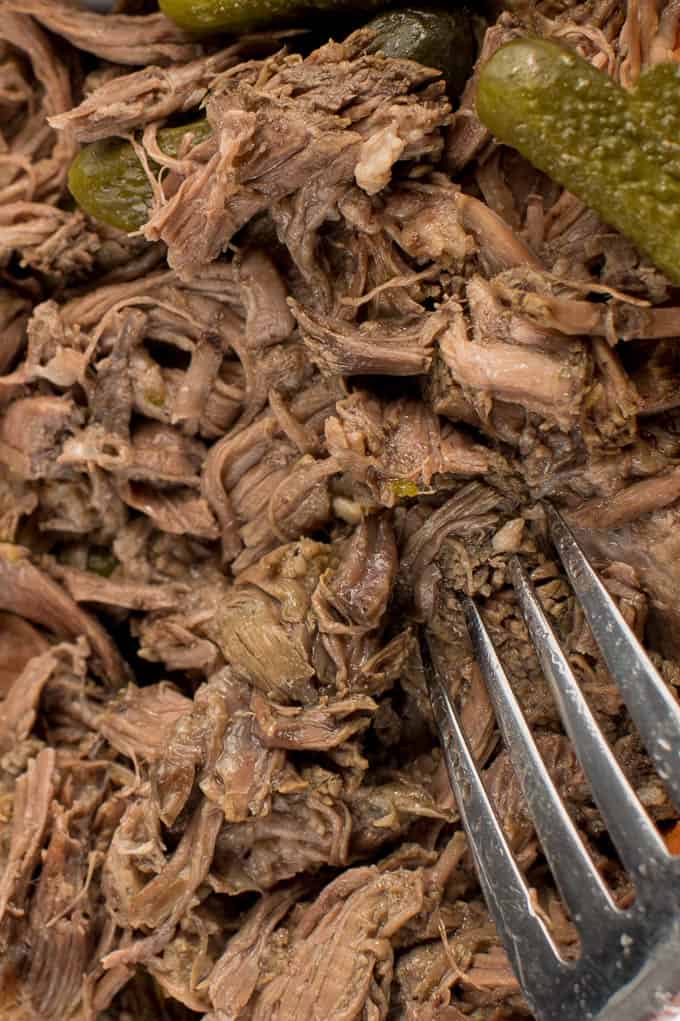 Try Slow Cooker Dill Pickle Soup, Crockpot Pickle Chicken and Dill Pickle Dip.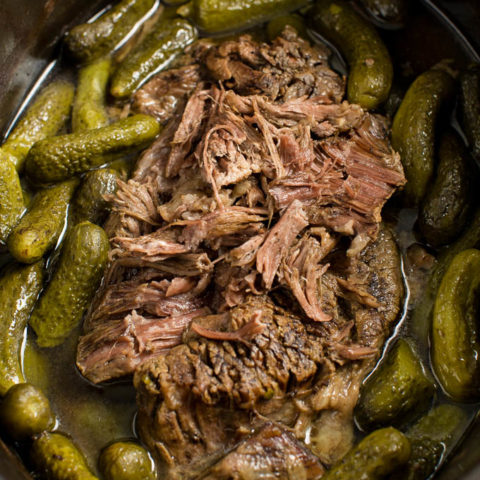 Ingredients
1

beef roast in the cut of your choice

I've used Outside Round and Chuck Roast in the past

1

jar

dill pickles

1 L jar

salt and pepper

to taste
Instructions
Place beef in a slow cooker. Pour on top the pickles, including the juice.

Cover and cook on low for 8 hours. Season with salt and pepper, if desired.
Kitchen Tools
Nutrition
Serving:
1
g
|
Calories:
44
kcal
|
Protein:
4
g
|
Fat:
3
g
|
Saturated Fat:
1
g
|
Polyunsaturated Fat:
1
g
|
Cholesterol:
17
mg
|
Sodium:
104
mg
The information shown is an estimate provided by an online nutrition calculator. It should not be considered a substitute for a professional nutritionist's advice.
Love Recipes? Join our Free Facebook Group!
Join Mom's Best Recipes to find more delicious family recipes.
Save
Saved!