Slow Cooker Ham and Potato Hash is the perfect day-after-Christmas meal! Throw your leftover ham in a Crockpot with some hash browns and onions for an amazing one-pot meal for any time of day.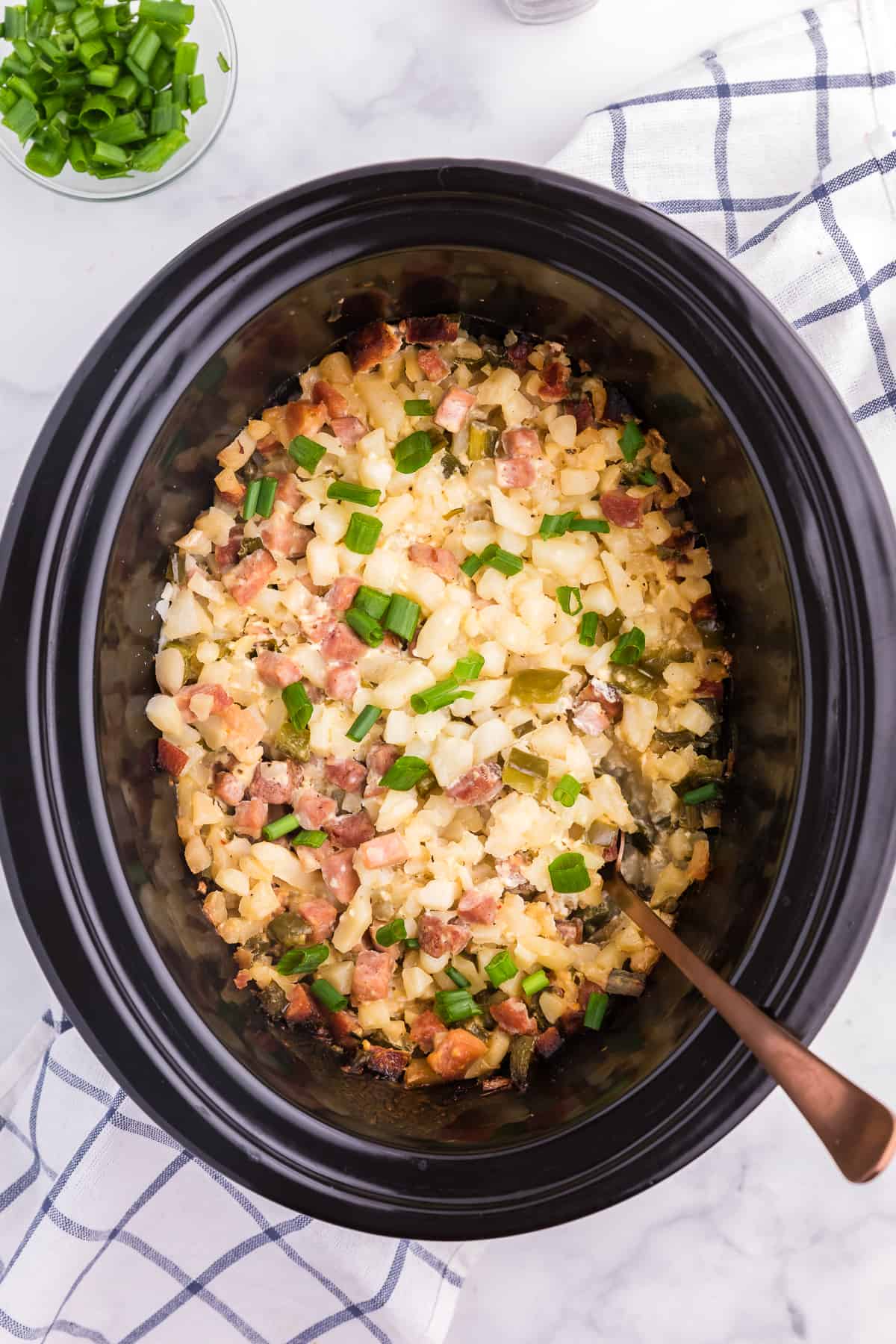 I'm not sure if this recipe for Slow Cooker Ham and Potato Hash is a breakfast recipe or dinner main dish. I think it's both! It's definitely a tasty way to use up leftover ham and doesn't require much prep work.
Plus, it's a Crockpot recipe and it's that time of year again. I love that it doesn't require a full day of cooking time. You could put it on at lunch and it would be ready to serve in a few hours!
You might also like this French Fry Casserole! I always keep frozen potatoes on hand for comforting, cozy recipes like these.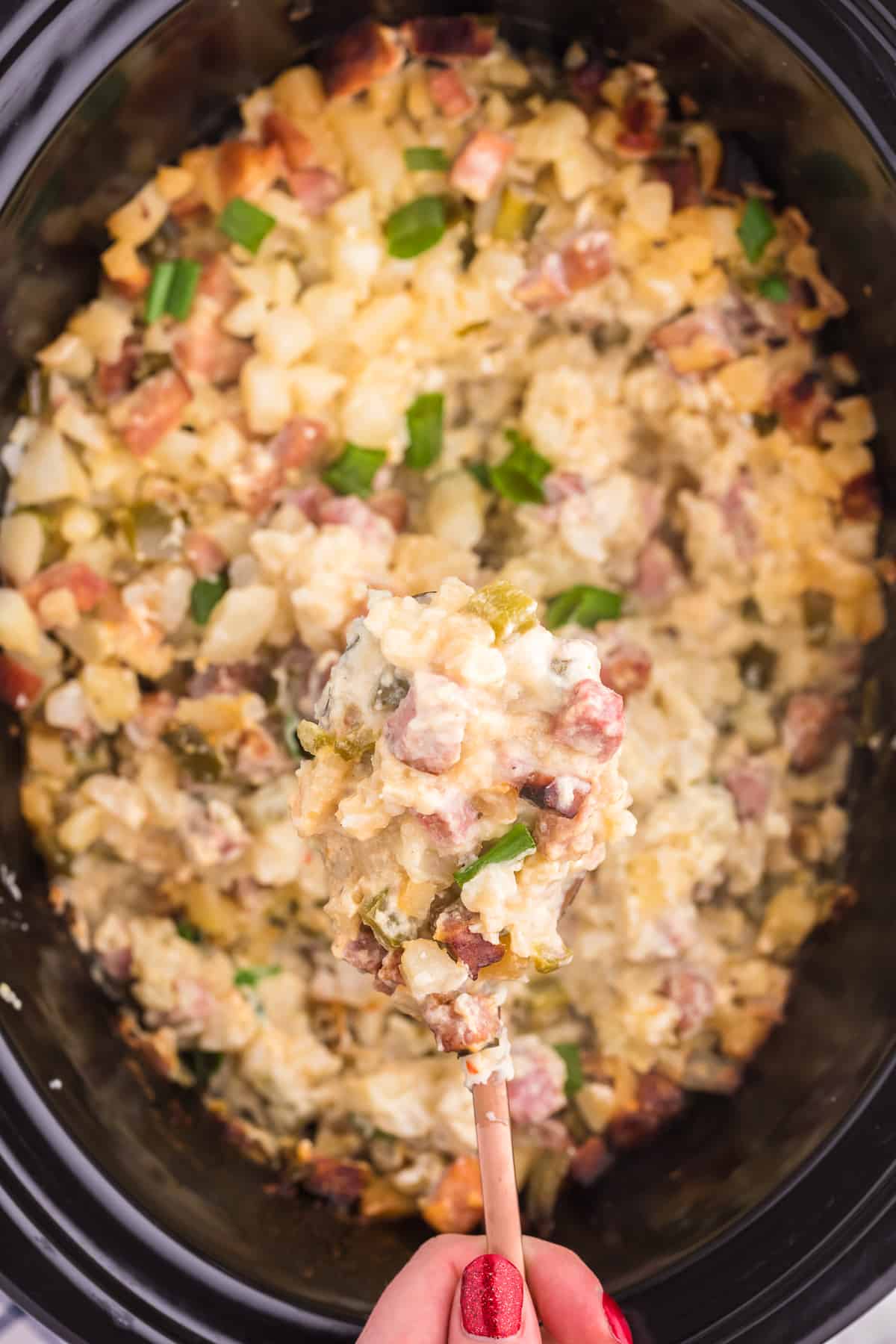 Frozen hash browns are so versatile and cheap! It's easy to turn frozen potatoes into a great breakfast dish or fast and filling dinner (like this Lasagna Tater Tot Casserole).
Ingredients
Hash browns — You can use frozen or shred your own potatoes!
Green bell pepper
Green onions
Cooked ham
Cream cheese
Milk
Dijon mustard
Garlic powder
Garlic pepper
Ham and potato hash is one of those empty-the-produce-drawer recipes for me! You can add white onions, other peppers, shredded cheese, diced tomatoes, or even make it a sweet potato hash!
What I used for my Crockpot Ham and Potato Hash
This post contains affiliate links.
Cutting board: Slicing a ham is serious work! I use leftover ham for this recipe that is diced or torn into smaller, bite-size pieces.
Measuring cups: You barely need to measure for this recipe, but these handy measuring cups will help.
Crockpot: If you're thinking about splurging on a Crockpot with a snap-on lit, DO IT! It's such a great feature for taking your dinners to potlucks and parties with no worries of a spill in the backseat.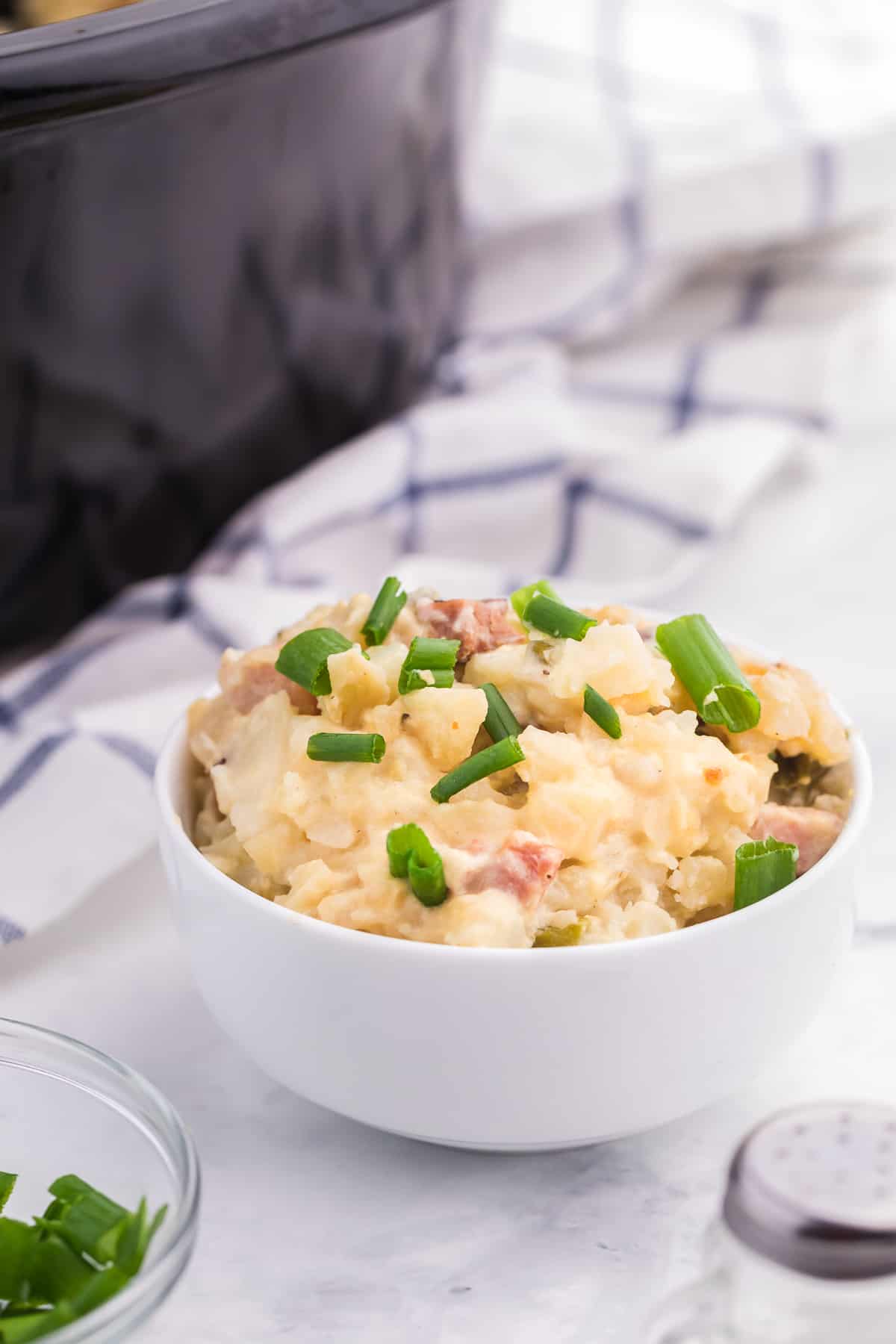 How to Make Slow Cooker Ham and Potato Hash
First, thaw your frozen hash browns! You can thaw them on the counter for a few hours or, if you're out of time, pop them in the microwave.
Then, mix the hash browns, bell peppers, green onions, and ham in the slow cooker. Save some of the green onions for a garnish, too!
Now, mix the cream cheese and milk together and heat it through until it's smooth when whisked. Once it's creamy, add the mustard and spices.
Next, pour the cream cheese mixture over the hashbrowns but don't stir it. Resist the urge!
Finally, cook the ham and potato hash covered on low until the potatoes are cheesy and tender. Now you can stir!
Serve warm garnished with green onions, shredded cheese, or a dollop of sour cream.
There are never any leftovers when I make this Crockpot recipe! Creamy potatoes, salty ham, and a bit of veggies makes this comfort food a winner in my book.
When you DO have leftovers, they'll last up to 4 days in the fridge. I don't recommend freezing this hash casserole because the potatoes have already been frozen once.
You can easily reheat the ham and potato hash in a skillet or in the oven! Just check every few minutes until it's heated through.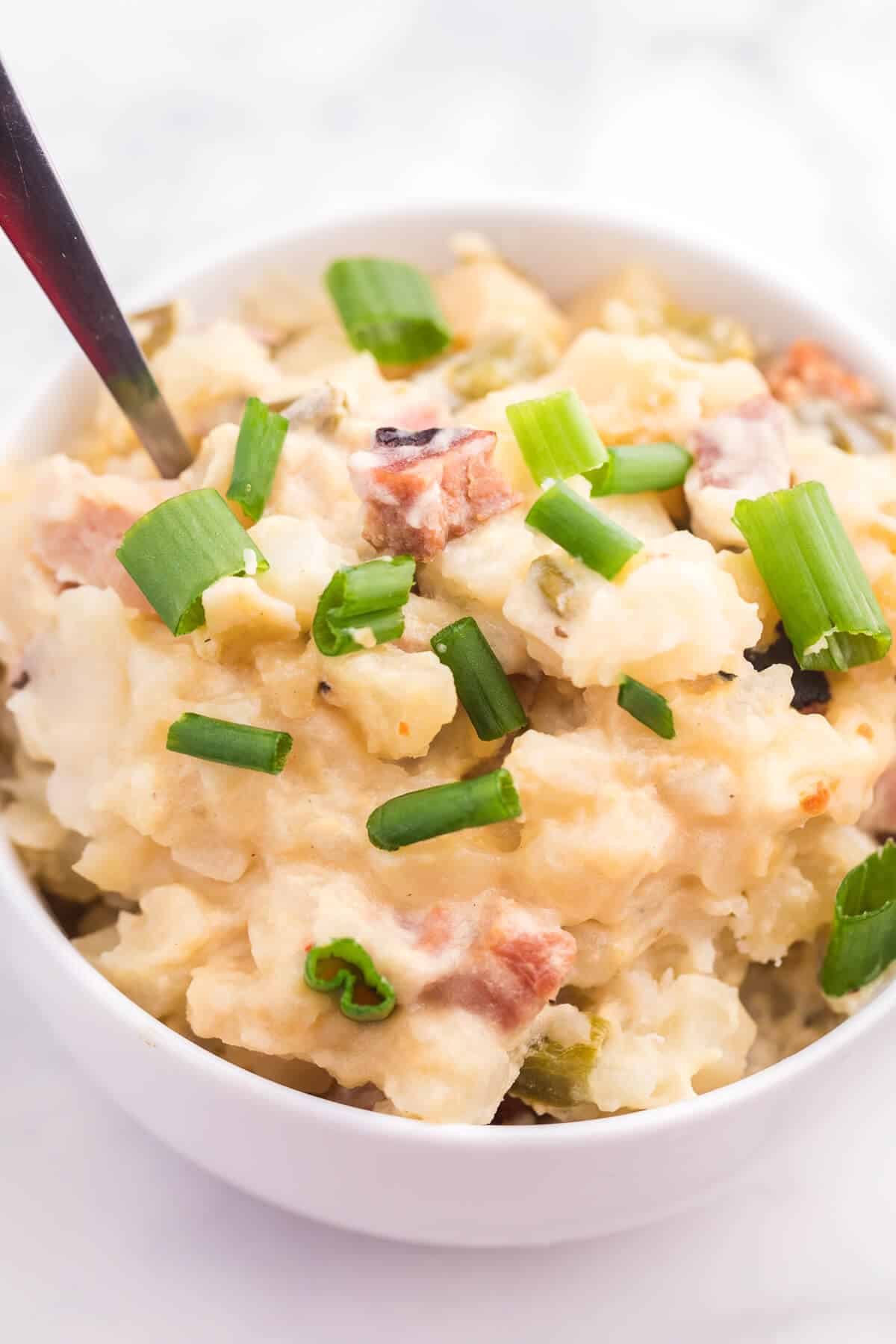 Can You Put Raw Potatoes in a Slow Cooker?
You can put anything in the Crockpot! Literally, it's such a great kitchen tool for slow roasted meats, simmered soups, and decadent desserts like this Chocolate Peanut Butter Cheesecake.
Raw potatoes are easy to cook in the slow cooker. These frozen hash browns cook in a flash since they're so thin. However, you can make whole raw potatoes in a Crockpot, too!
Like all Crockpot recipes, you need some liquid in the pot to help create steam. For small potatoes, you want to cook them on high for about 4 hours or on low for at least 6 hours.
The larger the potato, the longer it will take to cook! You can tell potatoes are done if you can pierce through the center without resistance.
What to Serve with Ham and Potato Hash
I always make Slow Cooker Ham and Potato hash for brunch the day after Christmas. There's no better way to use leftover ham!
There's no more perfect brunch dish than quiche. It's got EVERYTHING: eggs, veggies, and a flaky crust. I love a classic Quiche Lorraine, but sometimes there's nothing better than a super simple crustless quiche with bacon, spinach, mushrooms, and of course cheese.
I grew up eating this Mediterranean Brunch Bake on Christmas morning. It's so flavorful with olives, zucchini, red peppers, tomatoes, and feta cheese all bound together with fluffy scrambled eggs.
French toast is a breakfast favorite in my family, but it's hard to serve it for a crowd. French toast casserole takes the guesswork out of servings! This one's as delicious as apple pie but acceptable for breakfast, of course.
Need an overnight brunch recipe? Try this overnight bacon breakfast casserole that's so savory and delicious with loads of bacon and plenty of cheese.
Other amazing recipes to try…
Do you have any amazing leftover ham recipes? I'm always looking for more recipes to try! Follow me on Instagram @simplystacieblog, on Facebook at Simply Stacie, and on Pinterest @SimplyStacie and let me know how you liked this and my other recipes!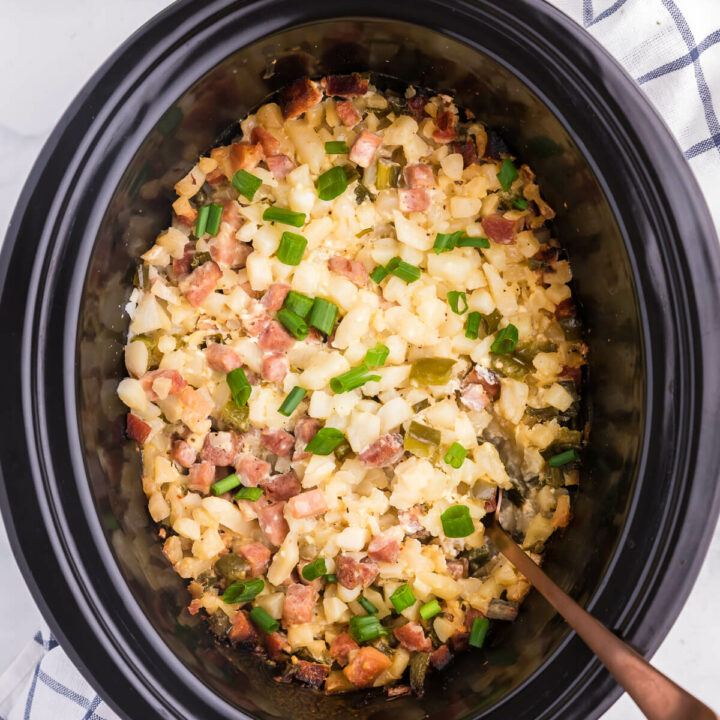 Slow Cooker Ham & Potato Hash
Total Time:
6 hours
20 minutes
Creamy potatoes, salty ham and veggies make a winning recipe my family loves!
Ingredients
1 bag (32oz/900g) of frozen hash browns
1 green pepper, chopped
6 green onions, chopped
3 cups cooked ham
1 8 oz package cream cheese, softened
1 1/2 cups milk
3 tablespoon Dijon mustard
1/2 teaspoon garlic powder
1/2 teaspoon garlic pepper
salt & pepper, to taste
Instructions
Microwave the frozen hash browns on high for 4 minutes to partially thaw. Or else let them sit on the counter for a few hours before you are ready to use them.
Combine the hash browns, green pepper, green onions and ham in a slow cooker and stir to mix. Save some green onions for the garnish (about 1 tablespoon).
Blend the cream cheese and milk together and then heat in a microwave for 1 to 2 minutes or until smooth when whisked. Add the mustard and spices and stir to blend.
Pour cream cheese mixture evenly over hashbrown mixture. DO NOT STIR.
Cover and cook on low heat for 5 to 6 hours or until the potatoes are tender. Carefully stir. Garnish with the remaining green onions and serve hot.
Notes
If you can't find garlic pepper, you can use a garlic seasoning.
Recommended Products
As an Amazon Associate and member of other affiliate programs, I earn from qualifying purchases.
Gorilla Grip Original Oversized Cutting Board, 3 Piece, BPA Free, Dishwasher Safe, Juice Grooves, Larger Thicker Boards, Easy Grip Handle, Non Porous, Extra Large, Kitchen, Set of 3, Black
Nutrition Information:
Yield:

6
Serving Size:

1
Amount Per Serving:
Calories:

284
Total Fat:

19g
Saturated Fat:

9g
Trans Fat:

0g
Unsaturated Fat:

7g
Cholesterol:

86mg
Sodium:

1061mg
Carbohydrates:

10g
Fiber:

1g
Sugar:

3g
Protein:

20g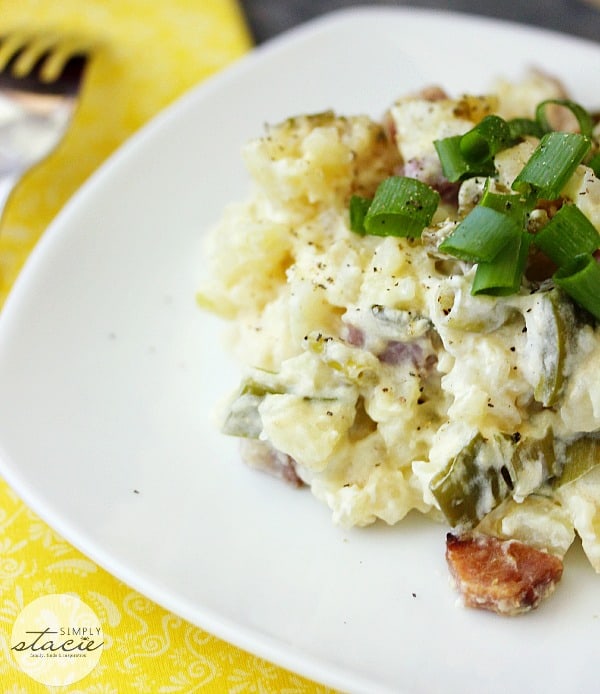 .