Mexican Tater Tot Casserole
I originally intended to make a hashbrown casserole, but that did not pan out. Do you know how hard it is to find shredded hashbrowns in Canada? To me, it feels impossible! I checked every single store in my area and came up empty. They only had the diced hashbrowns. Then I saw the Tater Tots and a new idea was born. Scrap the hashbrown casserole idea and hello Tater Tot casserole. It was a huge hit!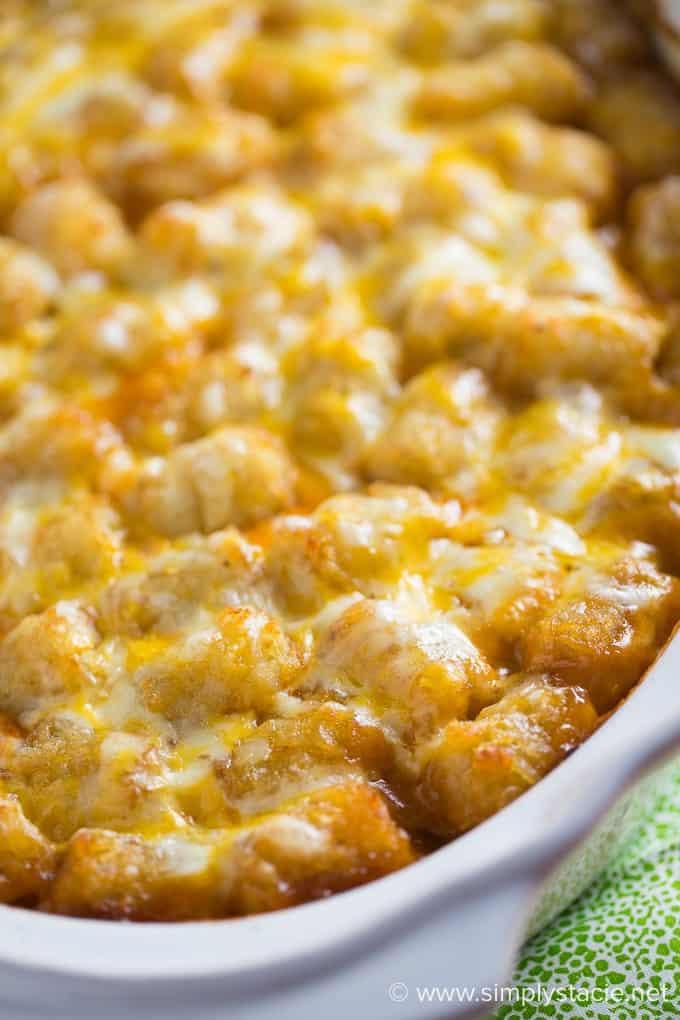 This post contains affiliate links.
I'm sure you've seen Tater Tot casseroles before and probably have even made them yourself. This was my first attempt. I decided to give mine a Mexican flair using taco seasoning, peppers and queso. Hello Mexican Tater Tot Casserole!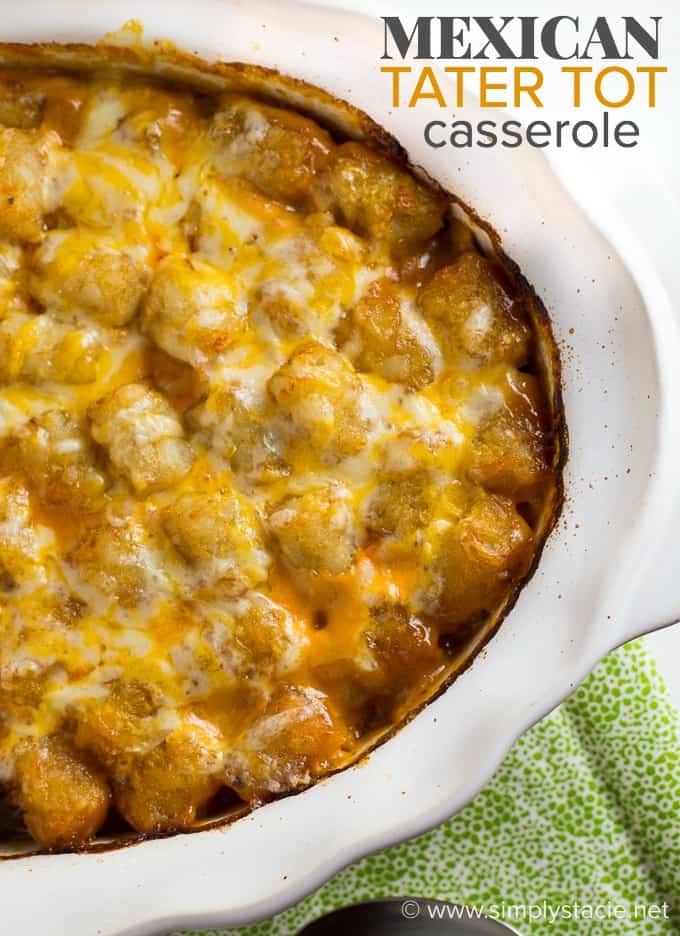 The bottom layer is a mixture of spicy ground beef, peppers and onions. It tastes like you would expect – the filling for a taco. Then I topped it with an entire jar of queso. Queso is basically melted cheese sauce with chiles. Look for it in the chip aisle with the tortilla chips and salsa. The one I used was Tostitos brand.
Frozen Tater Tots covered the top of the casserole dish. Don't worry, they will thaw and cook in the oven. During the last five minutes of baking, I added shredded cheese. If you had this at the beginning, it will burn. You only want it to melt on the top.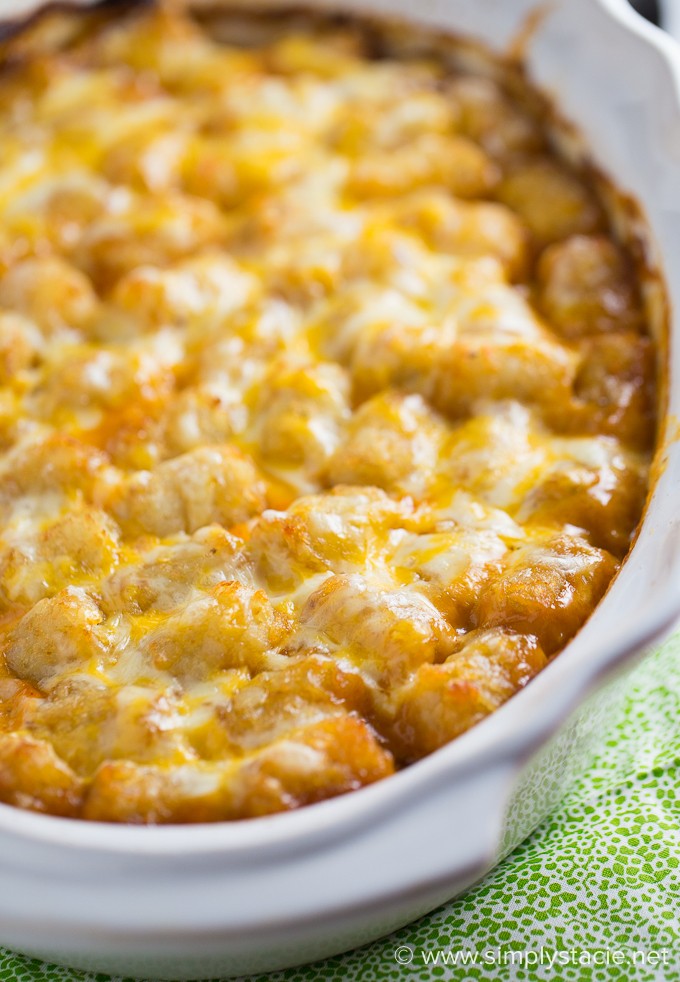 It's a little spicy, hearty and a yummy comfort food to fill your belly. John told me it's one of his favourite meals I've made. I'll be adding this recipe to our meal plan regularly! I may try other combinations to experiment a little. If I find any good ones, I'll share the recipe, pinky promise.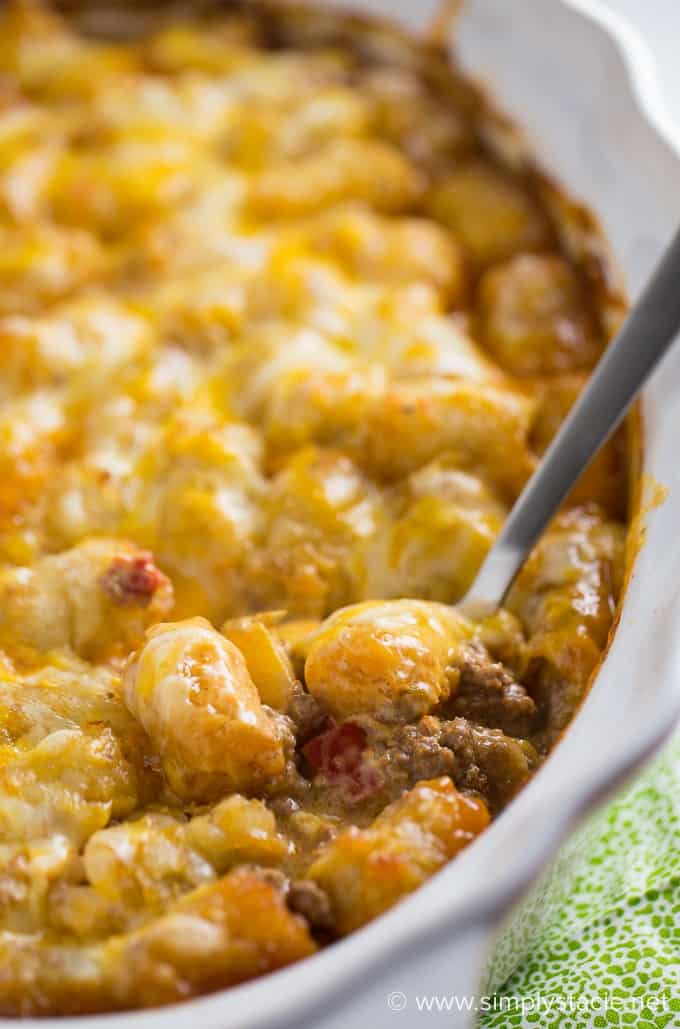 If you are looking for more comfort food casseroles, try my Slow Cooker Ham & Potato Hash, Santa Fe Chicken Tortellini Casserole and Spaghetti Pie. I also have a Casserole Pinterest board.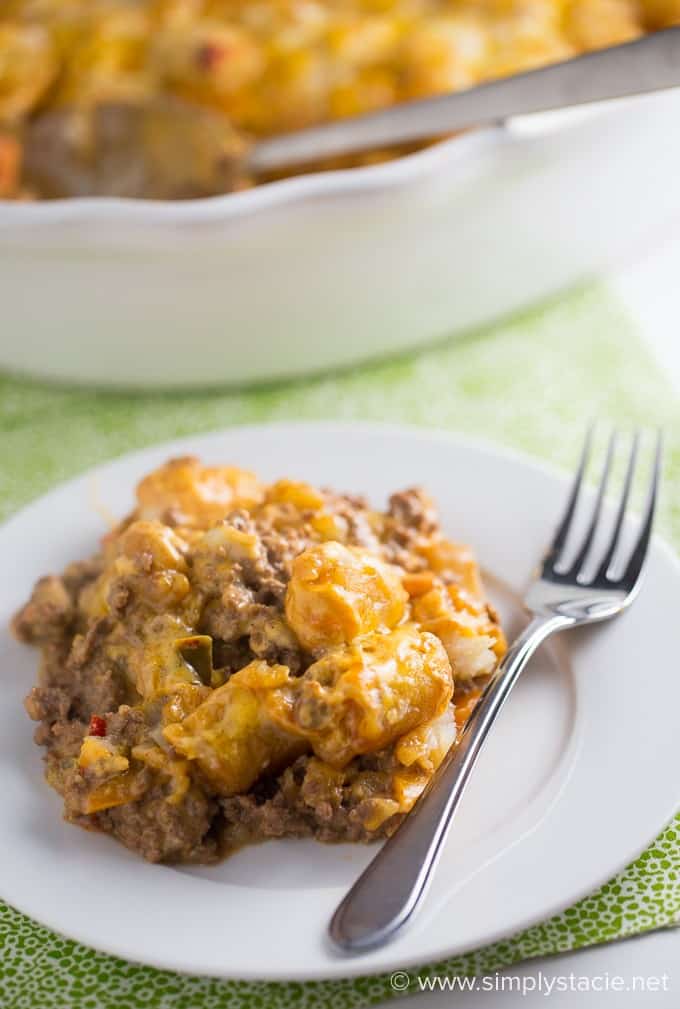 Do you make Tater Tot casserole?

Yield: 6 to 8
Mexican Tater Tot Casserole
This Mexican Tater Tot Casserole was a hit with my family! It was spicy, hearty and tasty. Comfort food for the win.
Ingredients:
1 lb lean ground beef
1 onion, chopped
1 red pepper, chopped
1 orange pepper, chopped
1 yellow pepper chopped
1 package Taco Seasoning
1 jar queso (394 ml)
3/4 of a 1 kg package of frozen Tater Tots
1 cup cheddar cheese, shredded
Directions:
Heat a large skillet over medium heat. Add onions, peppers and ground beef. Cook until beef is no longer pink and onions and peppers are softened, about 7 to 8 minutes. Stir in taco seasoning.
Preheat oven to 400F. Grease a large casserole dish with cooking spray. Spread the beef mixture on the bottom evenly. Pour queso on top and spread to cover beef mixture. Cover with Tater Tots. Bake for 40 minutes. Remove from oven and sprinkle with cheddar cheese. Bake an additional 5 minutes, or until cheese is melted. Serve hot.