Have you ever tried a slice of Cheeseburger Pizza? It's surprisingly good! National Hamburger Day is May 28th and I figured why not do something different and make my recipe for cheeseburger pizza.
It uses ketchup instead of pizza sauce and toppings like ground beef, onion, cheese and tomatoes. You could also add some mustard and pickles if you like. I've seen recipes that mix mustard and ketchup together to make the sauce. I bought a "fancy ketchup" and like the taste of it all on its own.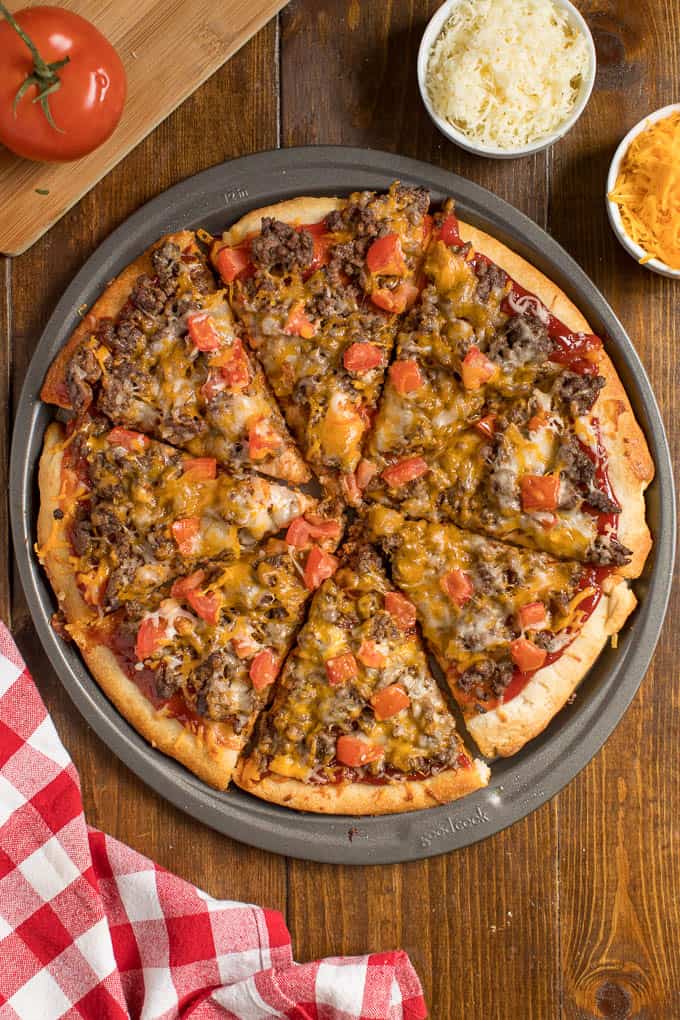 Cheeseburger Pizza
Pair your favorite meals into one, pizza and cheeseburgers! This is a unique and tasty homemade pizza that will be a treat for kids and adults.
What Type of Crust to Use for this Cheeseburger Pizza Recipe
To get dinner on the table quicker, I used a refrigerated pizza crust. If you have time or have a preference for a homemade crust, you could do that too.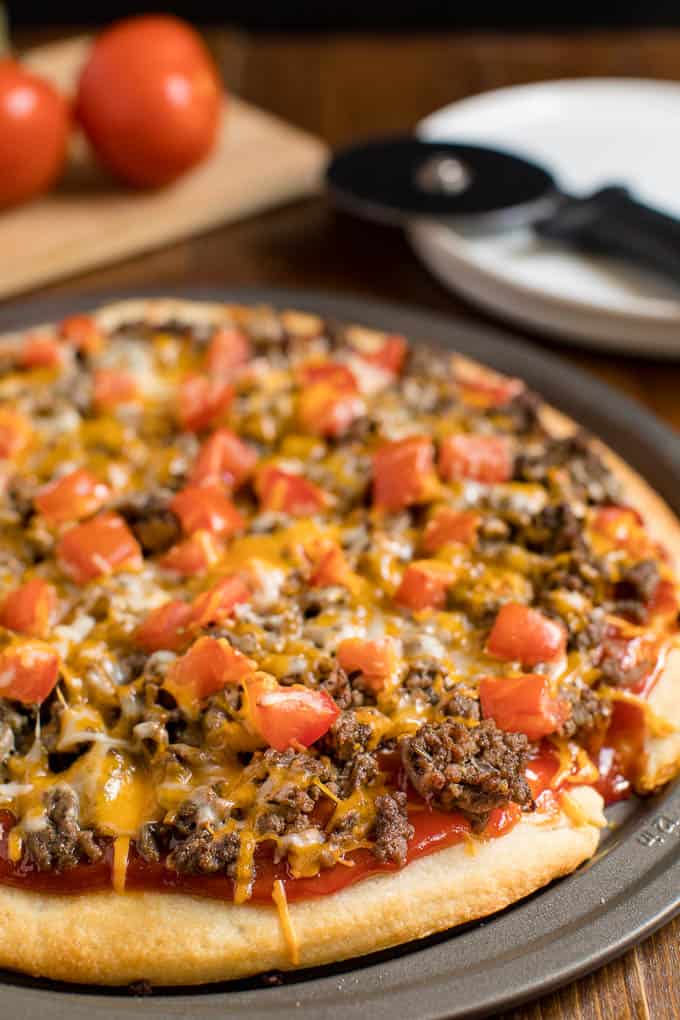 Now if you have a favorite homemade pizza crust recipe, go for it! I am the type that sometimes enjoys cutting a few corners when I whip up a homemade pizza.
Are you a pizza lover? Here are more ideas.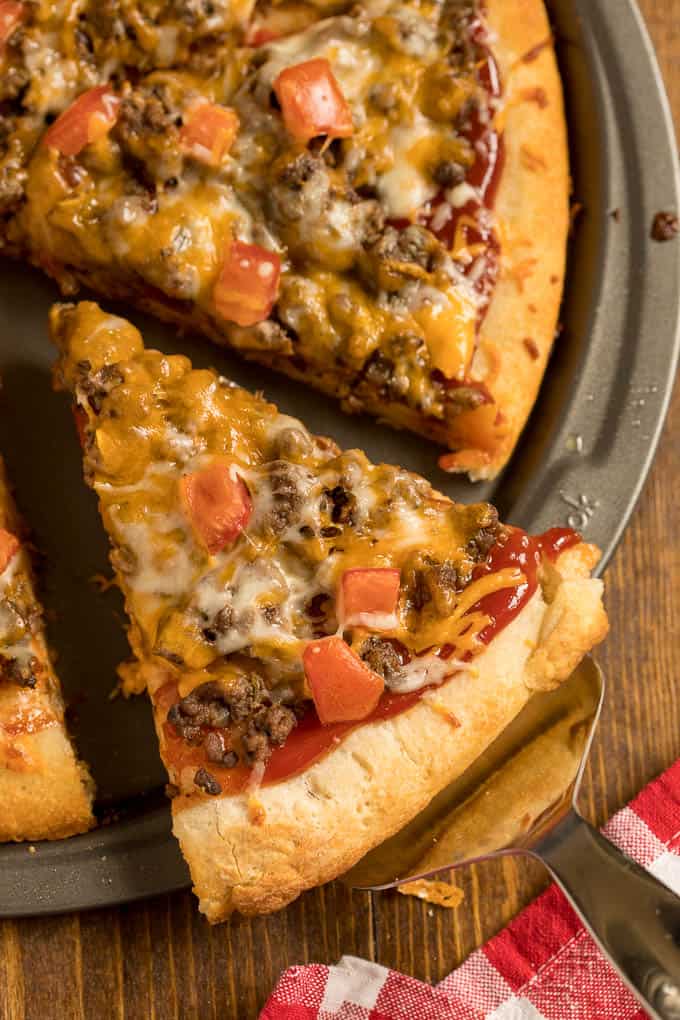 Can I Use Ground Turkey to Replace Ground Beef
Of course. If you want to use ground turkey or even ground pork or chicken go ahead. I love a good ground beef pairing but you can easily swap. Just cook the meat until it is ground up and cooked all the way through, then assemble the pizza as directed in the recipe card below.
With the tang of the ketchup and the loads of gooey cheese, this pizza is a hit for cheeseburger lovers!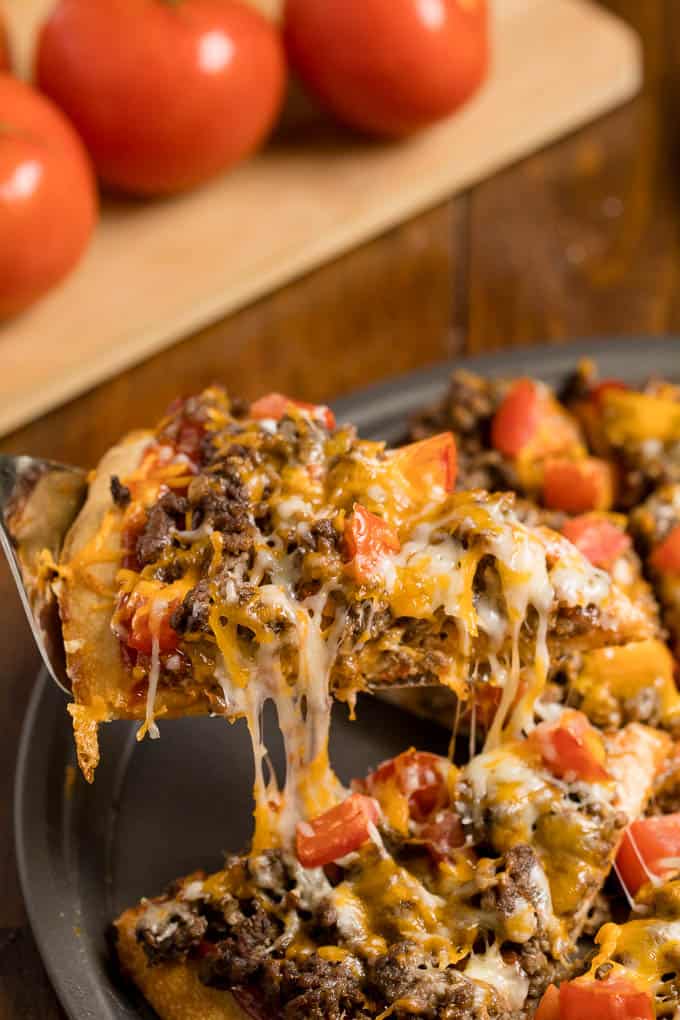 Craving More Ground Beef Recipes
Toppings For Cheeseburger Pizza
You can add your favorite cheeseburger toppings if you would like. Whether you do chopped tomatoes or even sliced pickles. Get creative or do simple and basic toppings. Either way, it is tasty.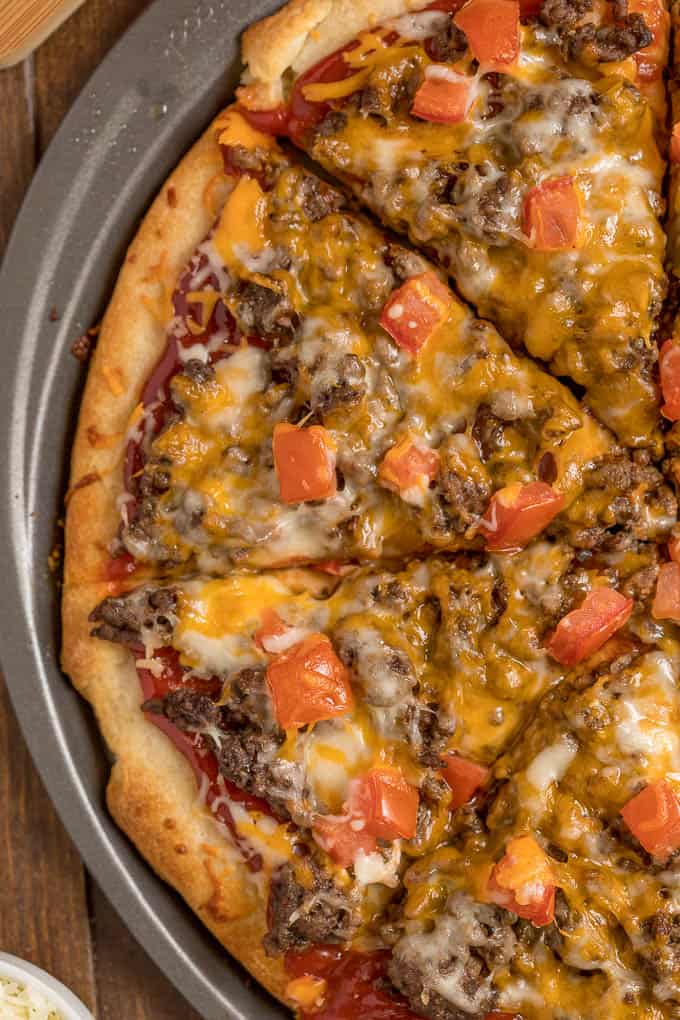 What Sauce Do You Use for Cheeseburger Pizza
So, instead of using a classic pizza sauce you are going to reach for a bottle of ketchup. It will give you that classic burger taste, and pair well with the ketchup.
If you are a huge fan of mustard you could even do a light drizzle as well to give it that ketchup and mustard pairing if you would like.
Can I Make This Pizza Ahead of Time
You will find that this burger pizza is best when served fresh. Just like with any pizza it is going to be best when served warm. Since it is a quick prep you could cook the meat ahead of time, and then assemble the pizza and bake later.
That will shave off some cooking time if you pre-cook your hamburger meat ahead of time.
How Long Can You Store Leftover Cheeseburger Pizza
You will want to only store this in the fridge for up to three days. Since the meat will spoil first you will want to eat before the three-day mark.
Eat it cold or reheat it with your favorite method.
Best Way To Reheat Leftover Pizza
You can toss in the microwave for a quick reheat. Or if you want you can warm up in a skillet on low heat, and allow it to warm the pizza up slowly. Or preheat the oven to 325 degrees, and then toss your pizza in on a cookie sheet to warm up.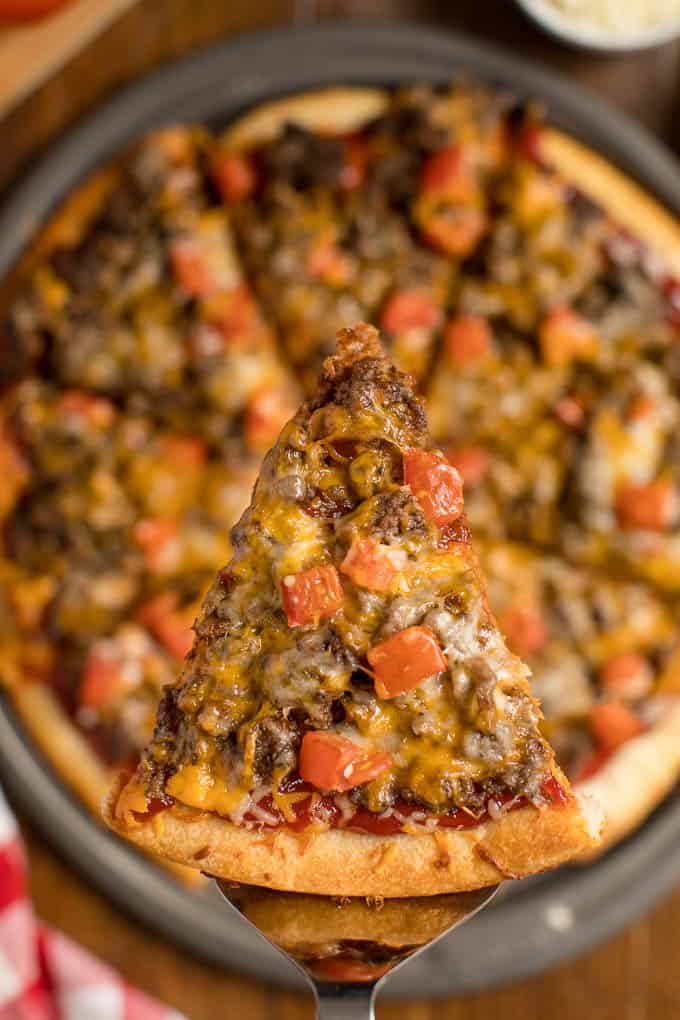 I have found the skillet or oven method allows you to have a fresher and crisper crust vs the microwave. The microwave can kind of makes the crust tastes rubbery on the texture.
But, who doesn't enjoy a cold slice of pizza?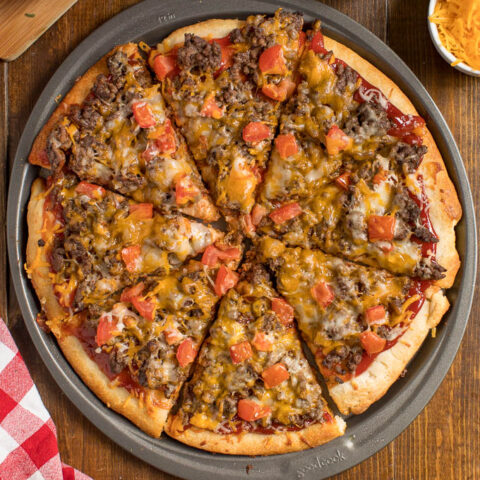 Cheeseburger Pizza
Two American favorites in one! Your kids will ask for this homemade pizza recipe again and again.
Ingredients
1 Pillsbury Pizza Crust (or your own homemade pizza crust/other brand refrigerated pizza crust)
1 onion, chopped
3 garlic cloves, minced
1 lb lean ground beef
½ tsp oregano
1 tomato, chopped
3/4 cup ketchup
1 cup mozzarella cheese, shredded
1 cup cheddar cheese shredded
Instructions
Cook the pizza crust according to package directions. For the Pillsbury Pizza Crust I used, I greased a pizza pan and spread the dough to fit. Then I baked for 8 minutes in a 400°F oven.
In a large frying pan over medium heat, cook ground beef, onions, garlic and oregano until beef is completely cooked and onions are softened (about 10 minutes or so). Set aside.
Remove your pizza crust from the oven and spread ketchup evenly over crust leaving about a ½ inch gap around the edges. Spread ground beef mixture over sauce. Top with chopped tomatoes and cheese.
Bake an additional 9 to 11 minutes or until crust is golden and cheese is melted.
Recommended Products
As an Amazon Associate and member of other affiliate programs, I earn from qualifying purchases.
Nutrition Information:
Yield:

6
Serving Size:

1
Amount Per Serving:
Calories:

585
Total Fat:

25g
Saturated Fat:

10g
Trans Fat:

0g
Unsaturated Fat:

12g
Cholesterol:

101mg
Sodium:

976mg
Carbohydrates:

53g
Fiber:

2g
Sugar:

9g
Protein:

37g