If you are a fan of apple pie and french toast, you will go nuts over my apple pie french toast casserole. It is like apple pie, and french toast collided to make an irresistible breakfast casserole. Tender raisin bread that is paired with apple pie filling, and warm spices, for the ultimate french toast casserole.
I've been on a sweet breakfast casserole kick these days. They are just so easy! Plus, I'm craving comfort food this time of year, and I would certainly classify this recipe as comfort food supreme.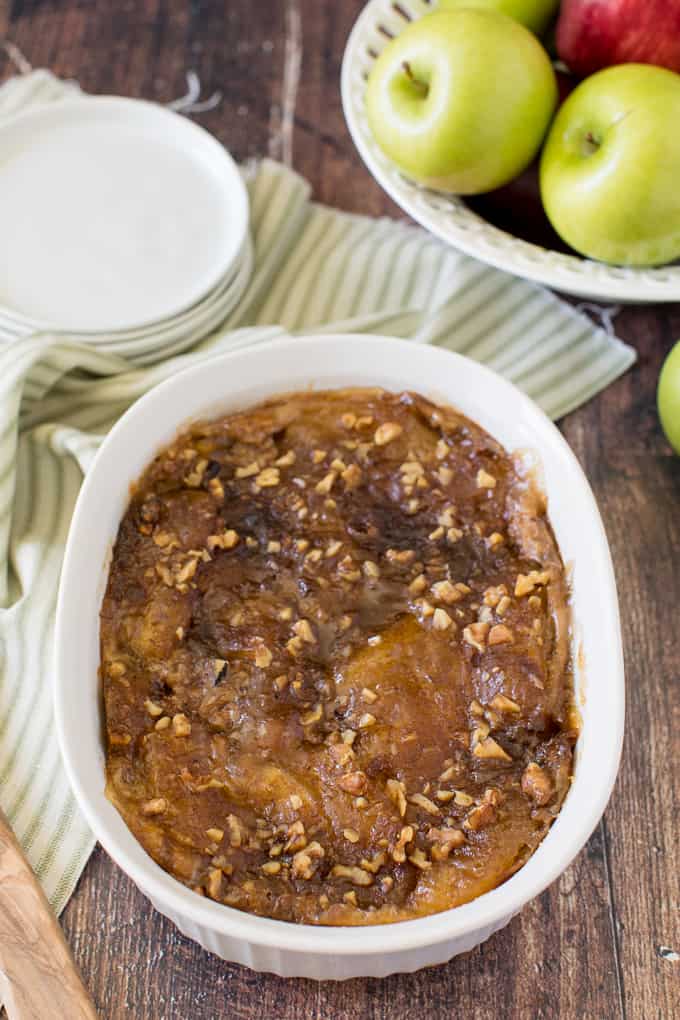 I so wish there was a scratch and sniff feature. The smell that flows through your home as this glorious french toast casserole bakes is phenomenal.
The Best Apple Pie French Toast Casserole Recipe
Biting into tender french toast that has real apple pieces throughout is genuinely a dream come true. This recipe came about when I had a can of apple pie filling in my pantry and some raisin bread that was nearing the expiration date.
I knew I had to come up with something, or else that lone ranger can of apple pie filling would get devoured by the spoonful. Don't judge.
I am so glad I created this recipe because now I make it for holidays mornings, brunches, and of course, the occasional Saturday or Sunday morning breakfast.
Crowd Worthy French Toast Casserole
The beauty of a french toast casserole is it is magnificent for serving a crowd. You have minimal prep that is required and then toss in the oven to let it bake up. No operating the stove making an abundance of french toast that will feed your family and friends.
I am the casserole queen around the holidays. Minimal prep and then I can sit and spend time with my family instead of cooking at the stove for an extended period.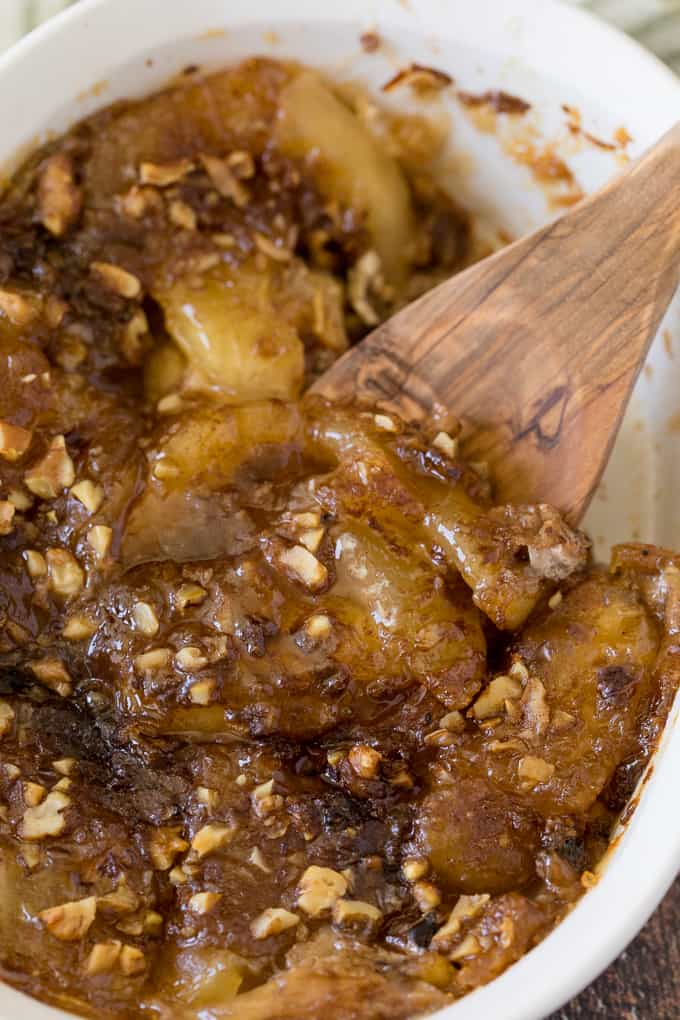 I find that using simple ingredients and my handy canned apple pie filling helps me tremendously on prepping. Within no time you can have this french toast in the oven. You can never go wrong with a breakfast casserole in my opinion.
More Breakfast Casseroles to Feed A Crowd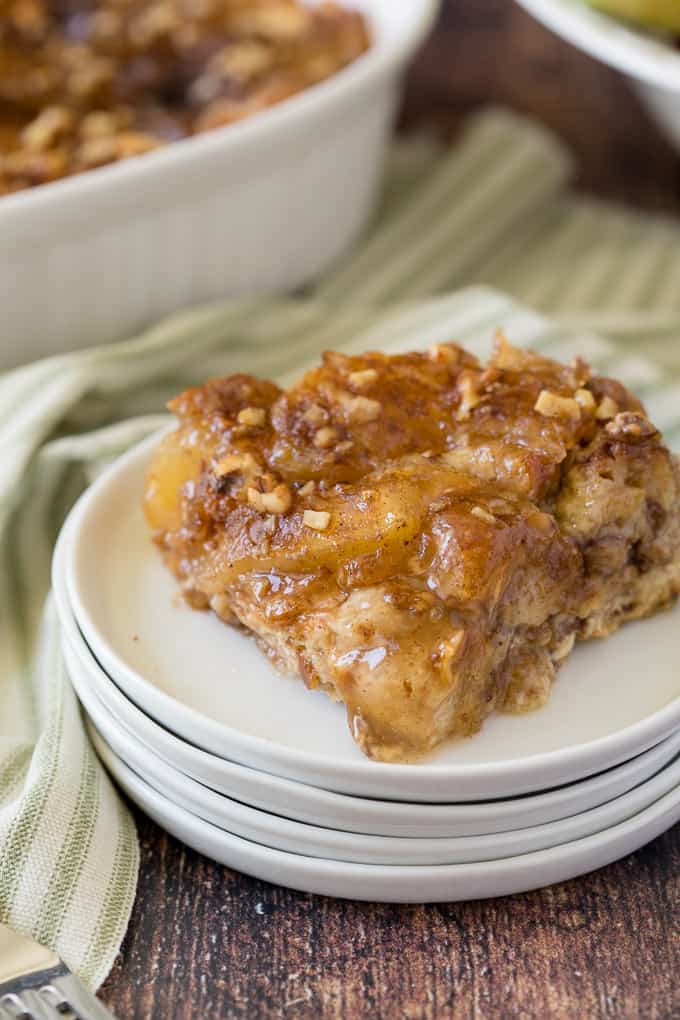 Tips for Making The Best Apple Pie French Toast Casserole
Stale Bread | Try to reach for a bread that is a bit stale. With your bread being stale it will help to soak up the custard for that sought after texture. If you use fresh bread, it can lean on the mushy side.
One tip I do is set the bread out on the counter the night before to allow it to try up some. If you don't have overnight to wait, toss your bread in a 200-degree oven, and check every 5 minutes until it begins to dry out. You want it to start to dry out, but not harden up like a crouton.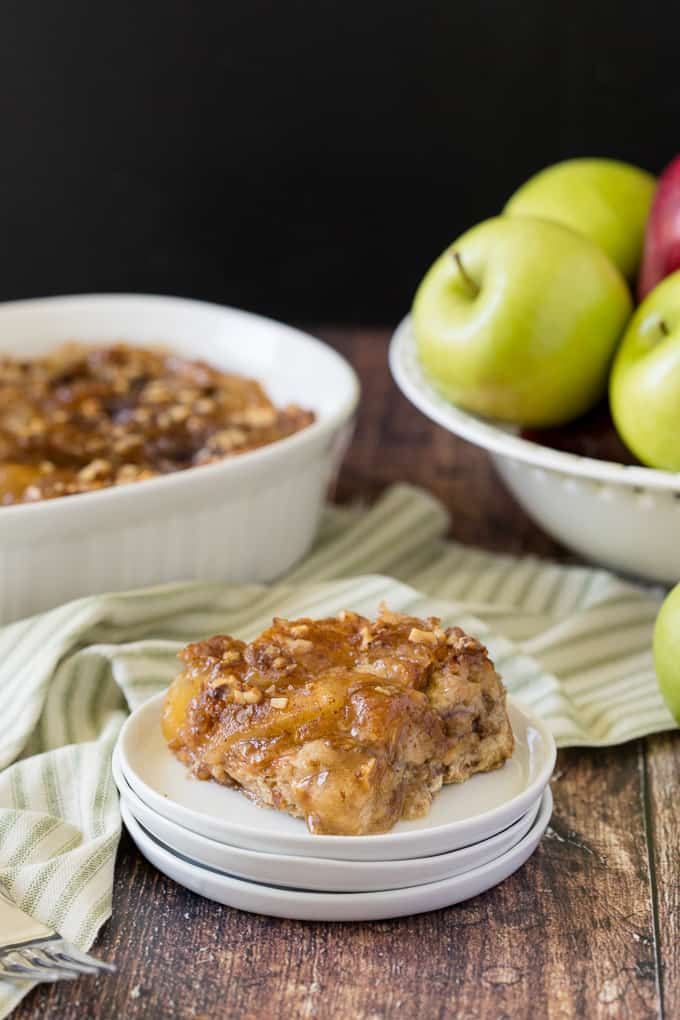 Milk | I opt for whole milk when I make french toast. I find that it will help give the custard a creamier texture once it bakes up. Using a skim milk can cut out some fat, but it does slightly affect how creamy your custard filling will be in the apple french toast casserole.
Resist The Maple Syrup | Before you drizzle on your favorite maple syrup, try this apple french toast casserole alone. The reason I say this is because of the raisin bread next to the apple pie filling, you will find this is a pretty sweet casserole as is. Our family prefers to eat it without anything added to it.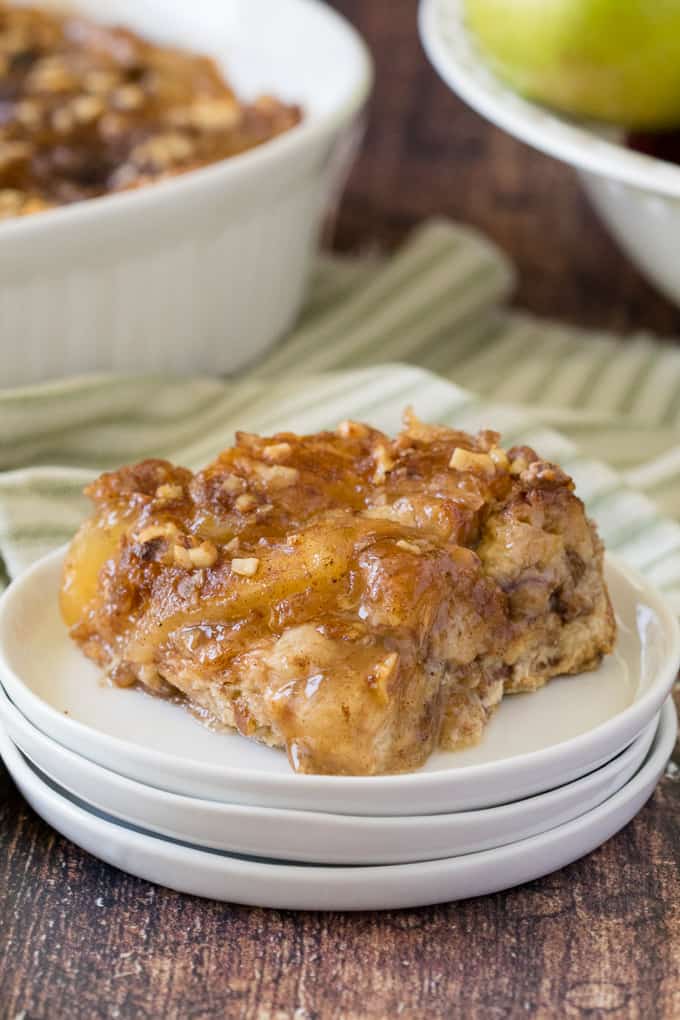 Can I Freeze Baked French Toast Casserole
Absolutely!
Just take your cooled apple pie french toast casserole and cover with aluminum foil or place in a freezer friendly container and toss in freezer. When you are ready to eat, thaw in the fridge overnight.
Cover with foil and bake in a 350-degree oven for 20 minutes or until you find it is warmed all the way through.
Can I Use Plain Bread in The Apple Pie French Toast Casserole
Yes! You do not have to use raisin bread if you don't want. I love the flavor pairing, but if you don't have any on hand, or are not a fan of raisins that is okay. Reach for a sturdy loaf of bread, over a basic sandwich bread. You don't want a bread that is super soft, as it will become mush in this recipe.
Alternatives to Raisin Bread
Sourdough bread
French bread
Croissants
Challah
Brioche
A simple apple pie french toast casserole that can win over any family or crowd. Pair with a bowl of fruit, sausage or bacon, or eat alone. You and your family will enjoy this easy breakfast casserole. I know it is a popular one for anyone that has tried it over the years.
You'll also like these French Toast Cups or Baked French Toast.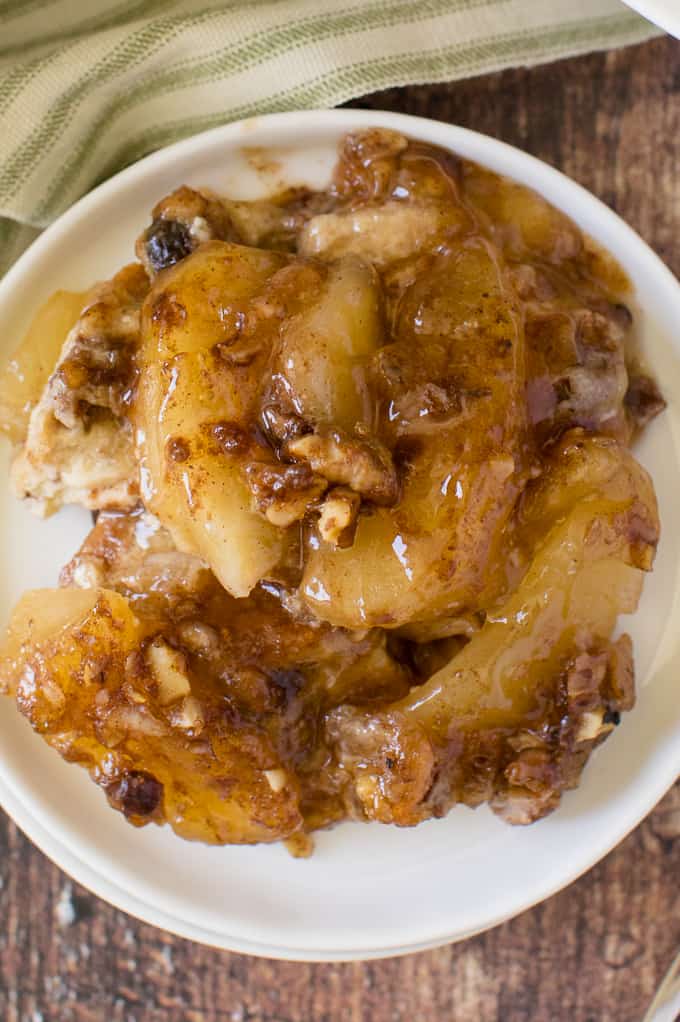 Have you tried an apple pie french toast casserole before?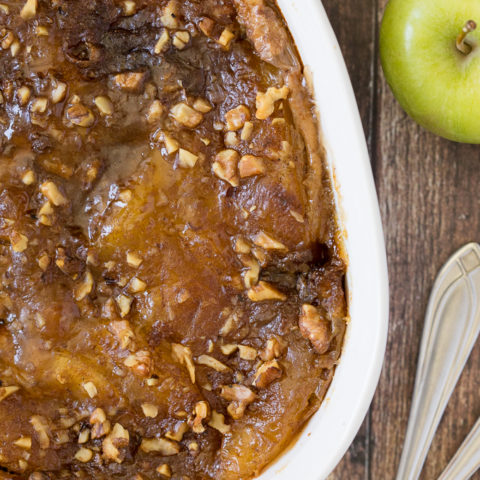 Apple Pie French Toast Casserole
Total Time:
1 hour
10 minutes
A cross between apple pie and French toast, you will feel like you are eating dessert for breakfast....or breakfast for dessert! Chock full of delicious apples and cinnamon with a creamy, custardy bread layer, this is a satisfying beginning to the day, or end of a meal!
Ingredients
Cooking spray
4 slices of raisin bread
540 ml can apple pie filling
3 eggs
1 cup milk
1 tsp vanilla extract
1/4 tsp nutmeg
1/8 tsp salt
1/8 tsp allspice
1/8 cup brown sugar
1/4 tsp cinnamon
1/8 cup chopped walnuts
Instructions
Preheat oven to 350F. Spray a 1.5 quart casserole dish with cooking spray.
Rip up raisin bread into bite sized pieces and spread out evenly on the bottom of the casserole dish.
Spread apple pie filling evenly over top of the raisin bread pieces.
In a large mixing bowl, whisk together milk, eggs, nutmeg, salt, allspice and vanilla extract. Pour over top of apple pie filling.
In a small bowl, stir together brown sugar, walnuts and cinnamon. Sprinkle over top the egg mixture. Cover.
Bake for 30 minutes, covered. Then remove cover and bake for an additional 30 minutes or until egg mixture is set. Serve hot.
Recommended Products
As an Amazon Associate and member of other affiliate programs, I earn from qualifying purchases.
Nutrition Information:
Yield:

6
Serving Size:

1
Amount Per Serving:
Calories:

209
Total Fat:

6g
Saturated Fat:

2g
Trans Fat:

0g
Unsaturated Fat:

4g
Cholesterol:

96mg
Sodium:

202mg
Carbohydrates:

34g
Fiber:

2g
Sugar:

20g
Protein:

6g