Mini French Toast Cups are a delicious way to kickstart your morning. French toast that is topped with ricotta cheese and fresh berries. Add a drizzle of honey or syrup and dish up your easy french toast cups. This french toast recipe is quick to whip up, and the toppings give it a beautiful display.
I was looking for Valentine's Day recipes, and I found a recipe for French Toast Cups on the Food Network Canada site that looked divine! It's a perfect Valentine's Day breakfast to serve to your sweetheart. Not only is it easy to make, but it also tastes decadent. It makes four individual cups so if you need more than I would double the recipe.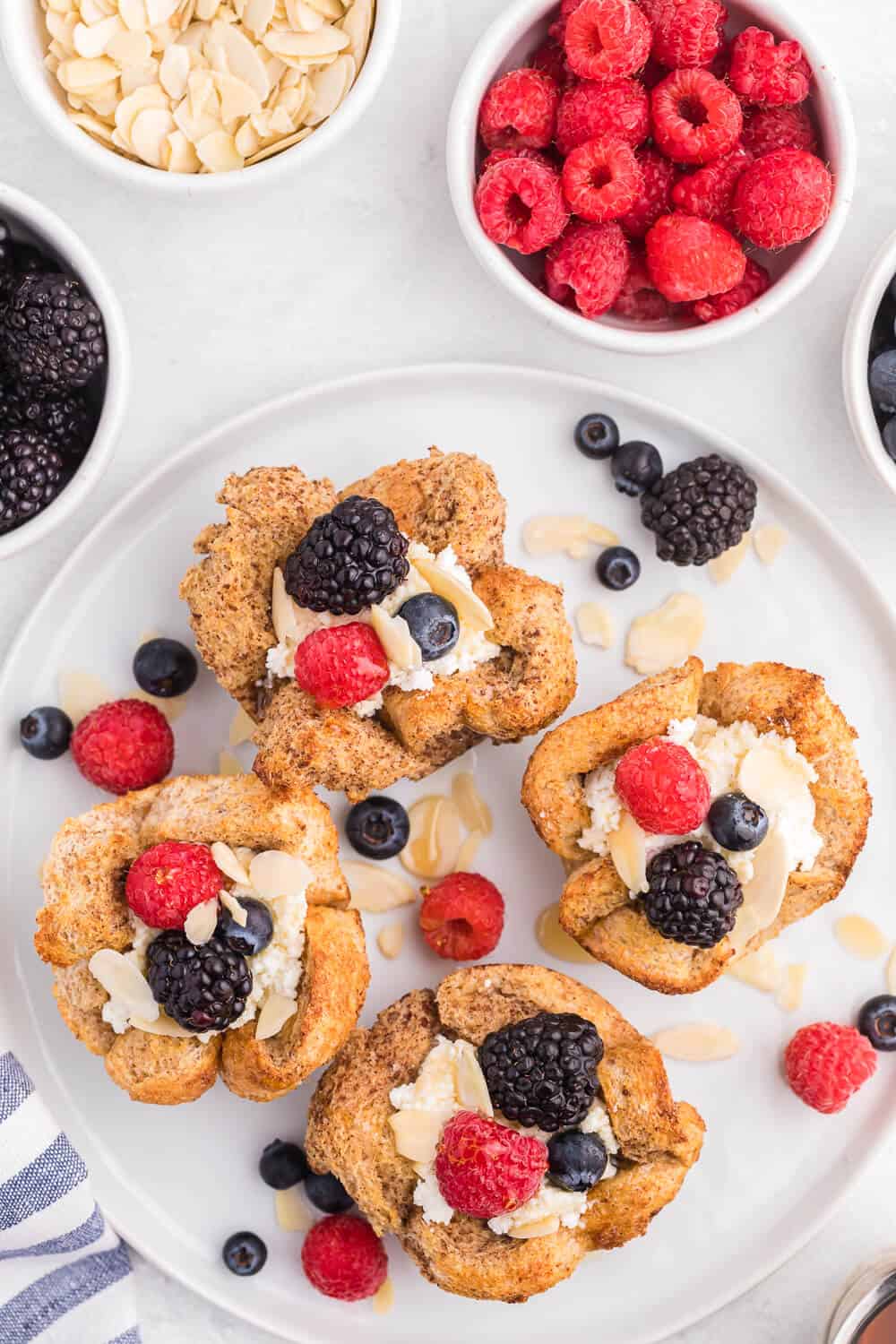 Easy French Toast Cups
Brunch, breakfast, or even dinner, these easy french toast cups will win over young and old. I have made these so many times, and let me say they never get old! If you are a fan of french toast, give this recipe a try today.
Can I Use White Bread Instead of Wheat in French Toast Cups
Absolutely! You can swap out the wheat bread for what type of bread you have on hand. We enjoy wheat bread in our home, so it is what we had on hand. You could even use a croissant or something like that, just try to flatten it out so it can be formed into a cup shape.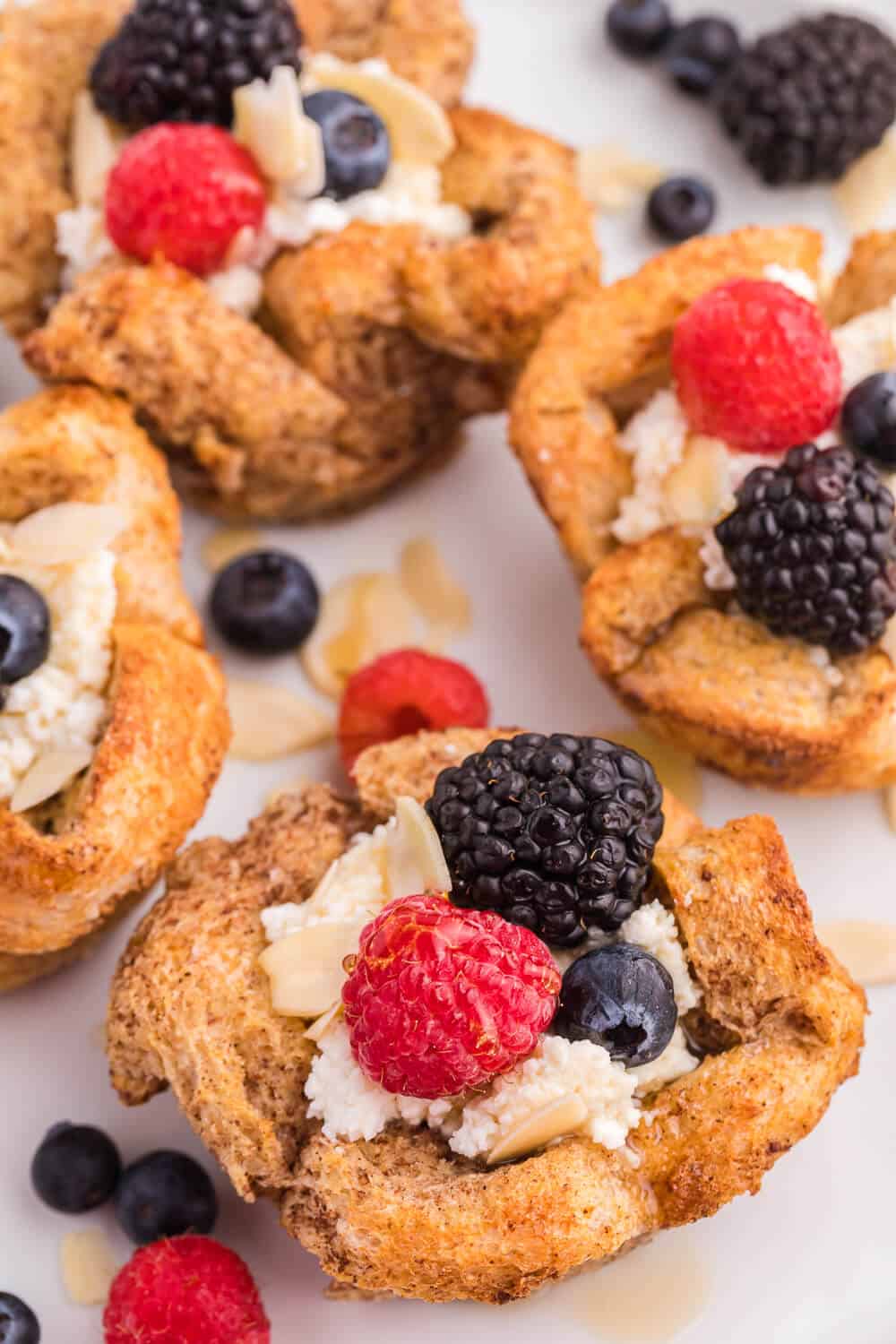 Can I Substitute the Ricotta Cheese in French Toast Cups
Okay, so you either love ricotta cheese, or you hate it. You are welcome to swap out the ricotta cheese for some softened cream cheese if you like. Just spread on a little and then top with berries like you would with the ricotta cheese.
Other Variations for French Toast Cups
Feel free to change up the berries you use on top, add in other fruits like pineapple, coconut shreds or skip the fruit. I am a massive fan of the fruit, it adds a subtle sweetness to the mix, but omit if you prefer.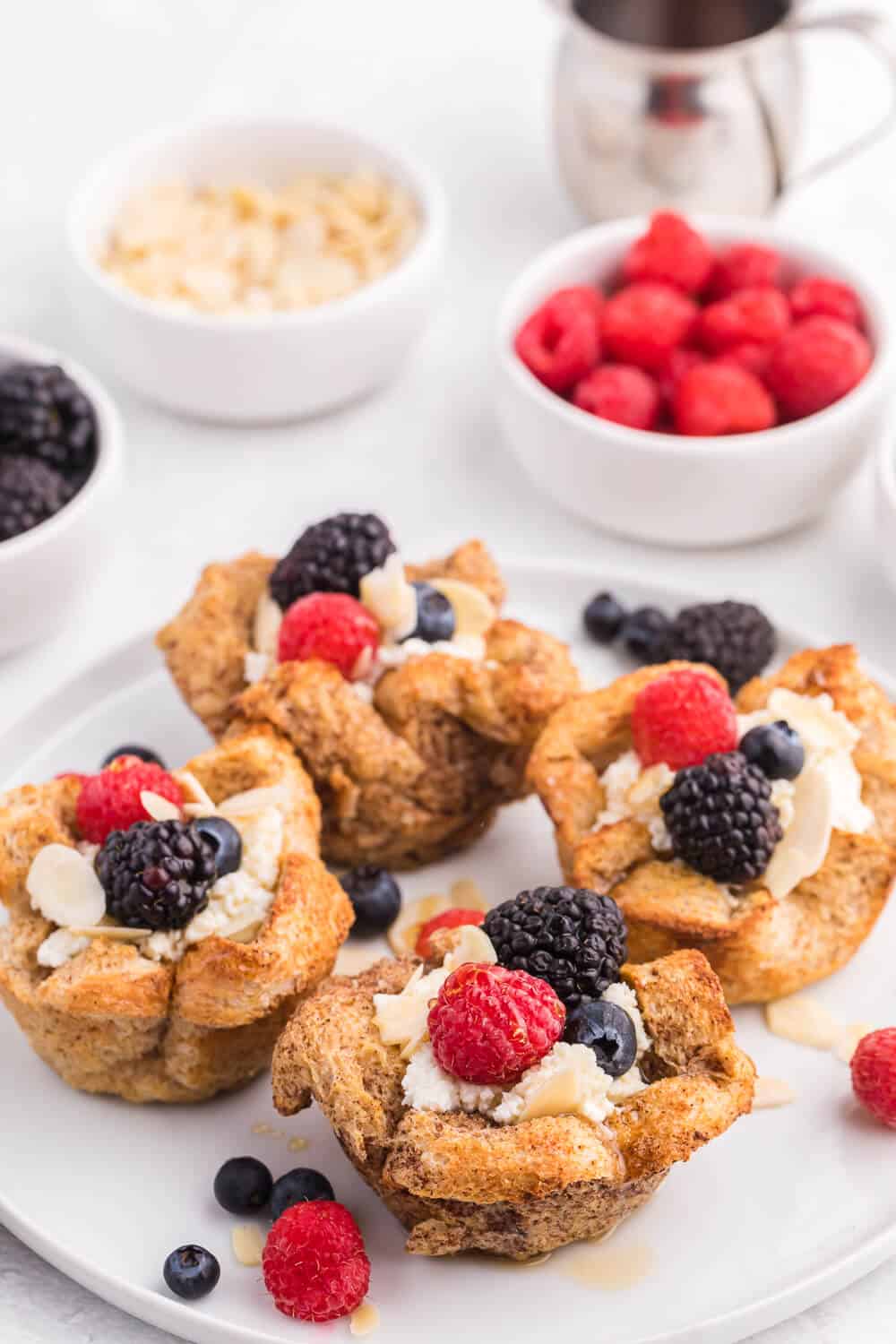 Here are some tasty toppings for your French Toast Muffin Cups.
Nutella
Peanut Butter & Jelly
Strawberries
Pineapple
Mango
Bananas
Plain with syrup
Truly anything goes, so feel free to add or take away ingredients to fit the flavors you enjoy with French toast.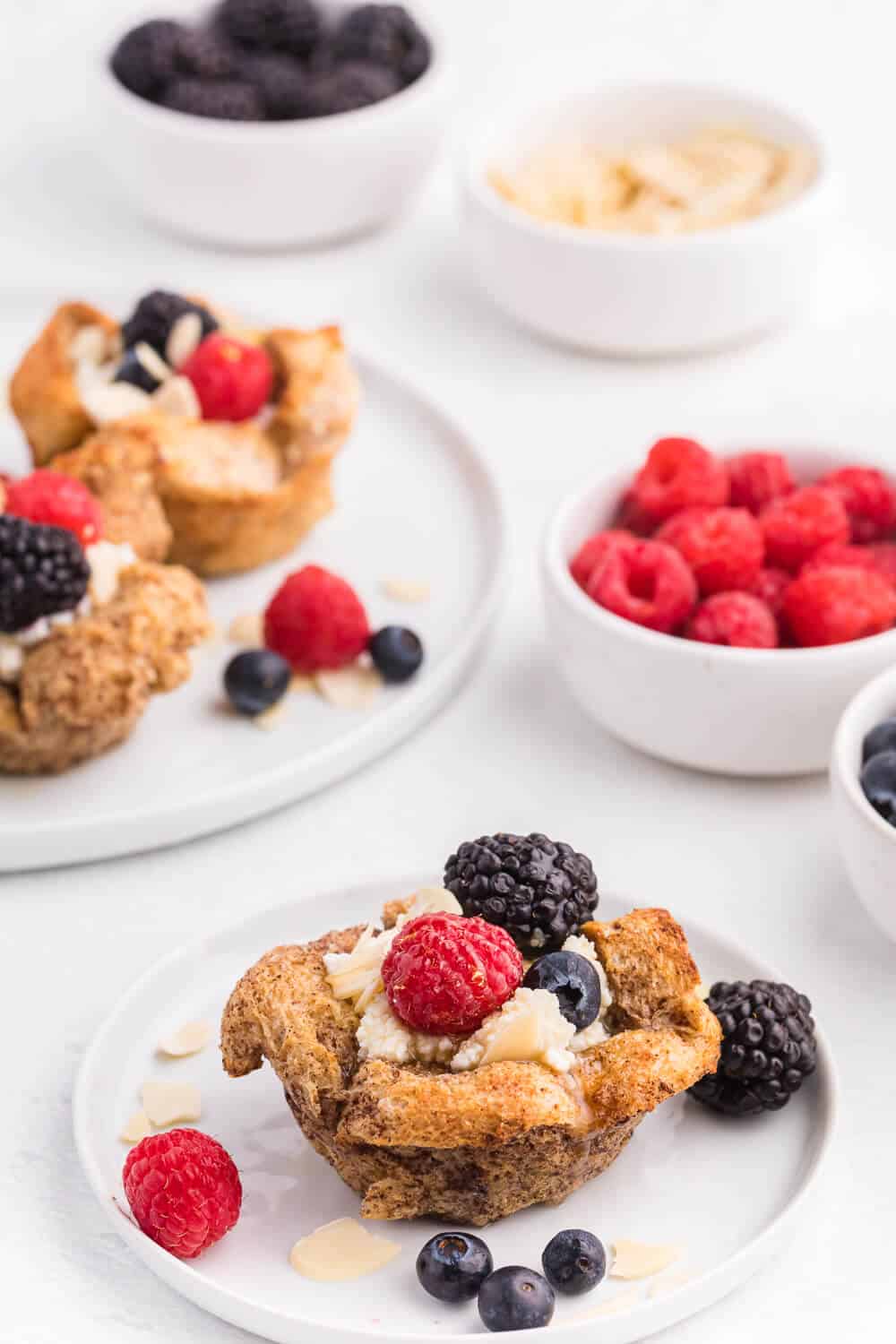 Could I Substitute Almond Milk for Regular Milk
Yes, you could use any type of milk you prefer. If you prefer soy, it will work. Just add in the same amount of milk as what the recipe calls for. It could slightly change the flavor but not by much since you only use a little milk.
What To Serve With French Toast Muffin Cups
Sausage & Butternut Squash Breakfast Casserole | If you have some guests over, this is a super easy casserole that you can whip up to feed a crowd. We love making this in the summer with fresh squash from the garden.
Oven Scrambled Eggs | I love making scrambled eggs in the oven. You get light and fluffy eggs that require minimal effort on your part. It makes for a quick side to pair next to this french toast recipe.
Sausage or Bacon | Whip up a batch of sausage or bacon to pair for a savory option!
Best Way to Store Leftover French Toast
Take what you have leftover and place in an airtight container and place in the fridge. Unfortunately, your french toast can become a bit soggy as it chills in the refrigerator, but the flavor is still delicious. You can store it in the fridge for two days.
Just don't add the ricotta cheese or fruit to the top of your french toast, and store it plain. Then after it is reheated then add in your toppings.
How to Reheat French Toast Cups
The way I reheat is just in the microwave. Now if you have the ricotta cheese and fruit on top, I don't recommend reheating as it will ruin the toppings. You can also place back in the muffin tin and bake in the oven until warmed through.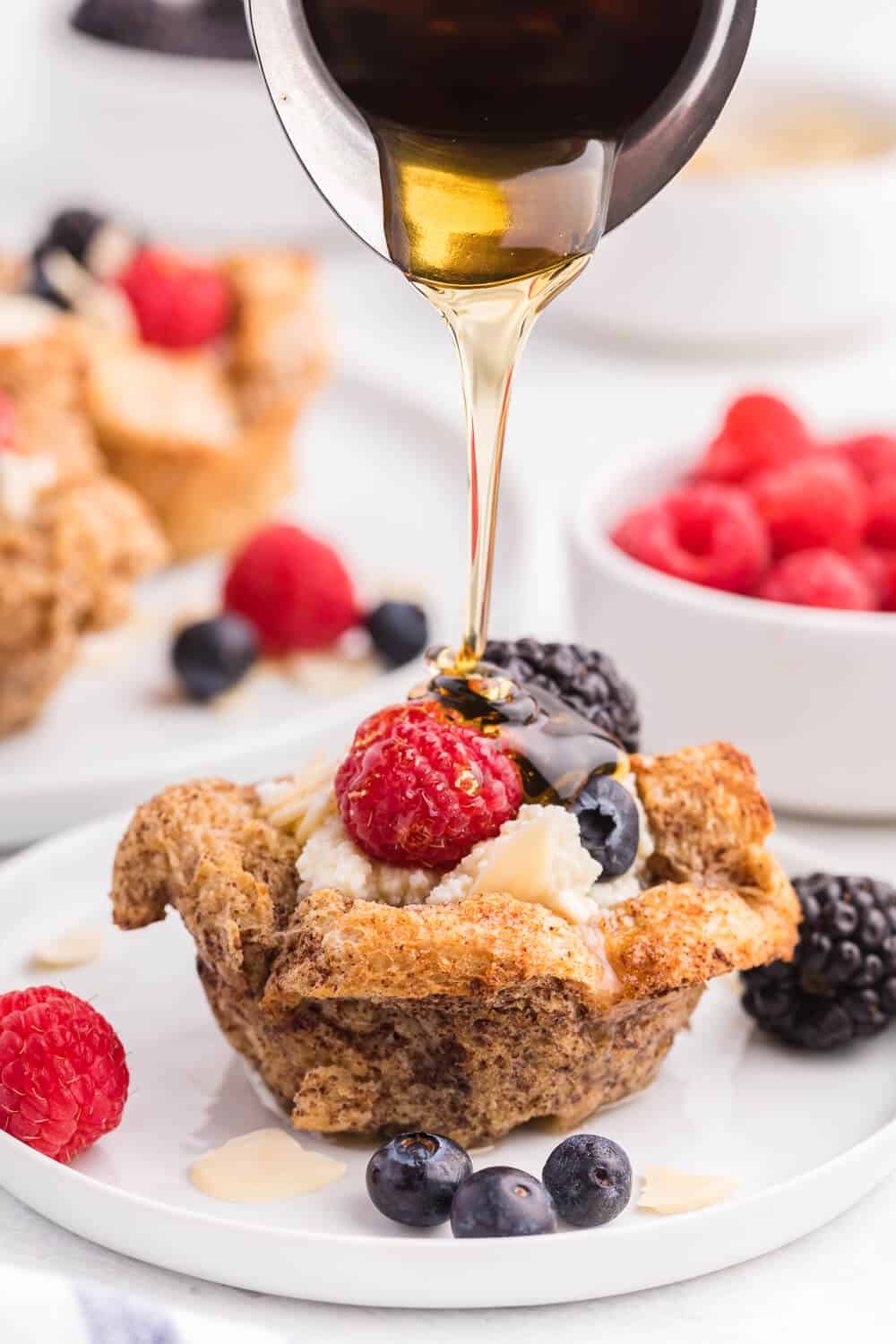 Easy Breakfast Recipe
This truly is an easy breakfast recipe that is great for your family or guests. Within no time, you can have a sweet dish to serve up! Plus if you are serving a crowd, it doesn't require you to hover over the stove, and it is affordable to make. Give this recipe a try today and let me know how you like it!
You'll also like this Baked French Toast.
Have you ever tried French Toast Cups with fruit before?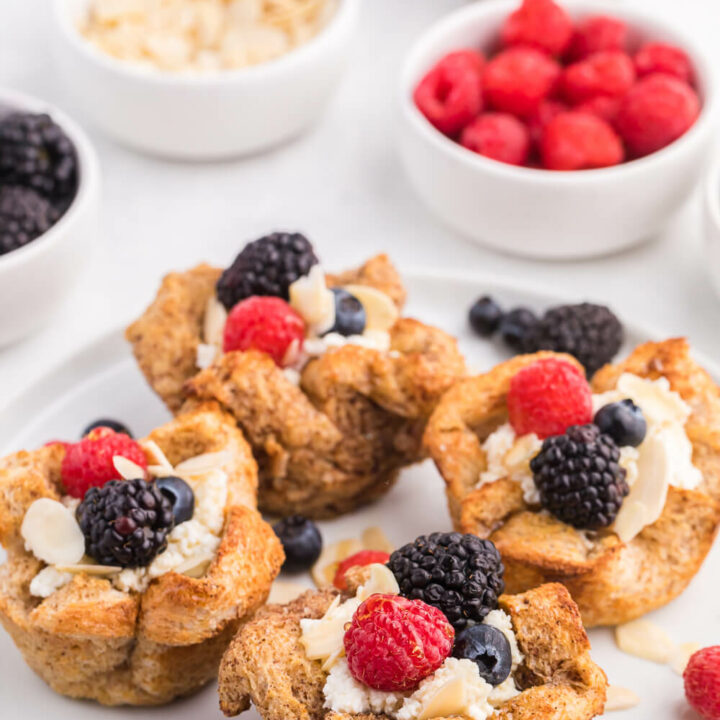 French Toast Cups
This easy breakfast recipe is the perfect sweet start to your day. Creamy ricotta with fresh berries and a drizzle of honey or maple syrup are a delicious breakfast treat.
Ingredients
4 slices whole wheat bread, crusts removed
1 whole egg
1 egg white
2 tablespoons milk
1/2 teaspoon cinnamon
1 teaspoon honey
1 cup berries
1/2 cup ricotta cheese
2 teaspoon sliced almonds
1 tablespoon maple syrup
Instructions
Pre-heat oven to 375°F. In a bowl whisk together the egg, egg white, milk, cinnamon and honey.
Grease four spots in a muffin tin with cooking spray. Dip each slice of the bread into the egg milk mixture and press it into the muffin tin. Bake the bread for 12 minutes until crisp.
Spoon equal amounts of the ricotta cheese into each of the bread cups, top with berries, sliced almonds and lastly, a drizzle of maple syrup on top.
Notes
I used raspberries, blueberries and blackberries.
Recommended Products
As an Amazon Associate and member of other affiliate programs, I earn from qualifying purchases.
Nutrition Information:
Yield:

4
Serving Size:

1
Amount Per Serving:
Calories:

191
Total Fat:

6g
Saturated Fat:

2g
Trans Fat:

0g
Unsaturated Fat:

3g
Cholesterol:

57mg
Sodium:

213mg
Carbohydrates:

25g
Fiber:

4g
Sugar:

8g
Protein:

11g