Tender chicken breasts are mixed with fresh asparagus, onions, cheese, and more to create an appetizing and super easy creamy chicken asparagus bake. This casserole is easily one of my favorite asparagus recipes!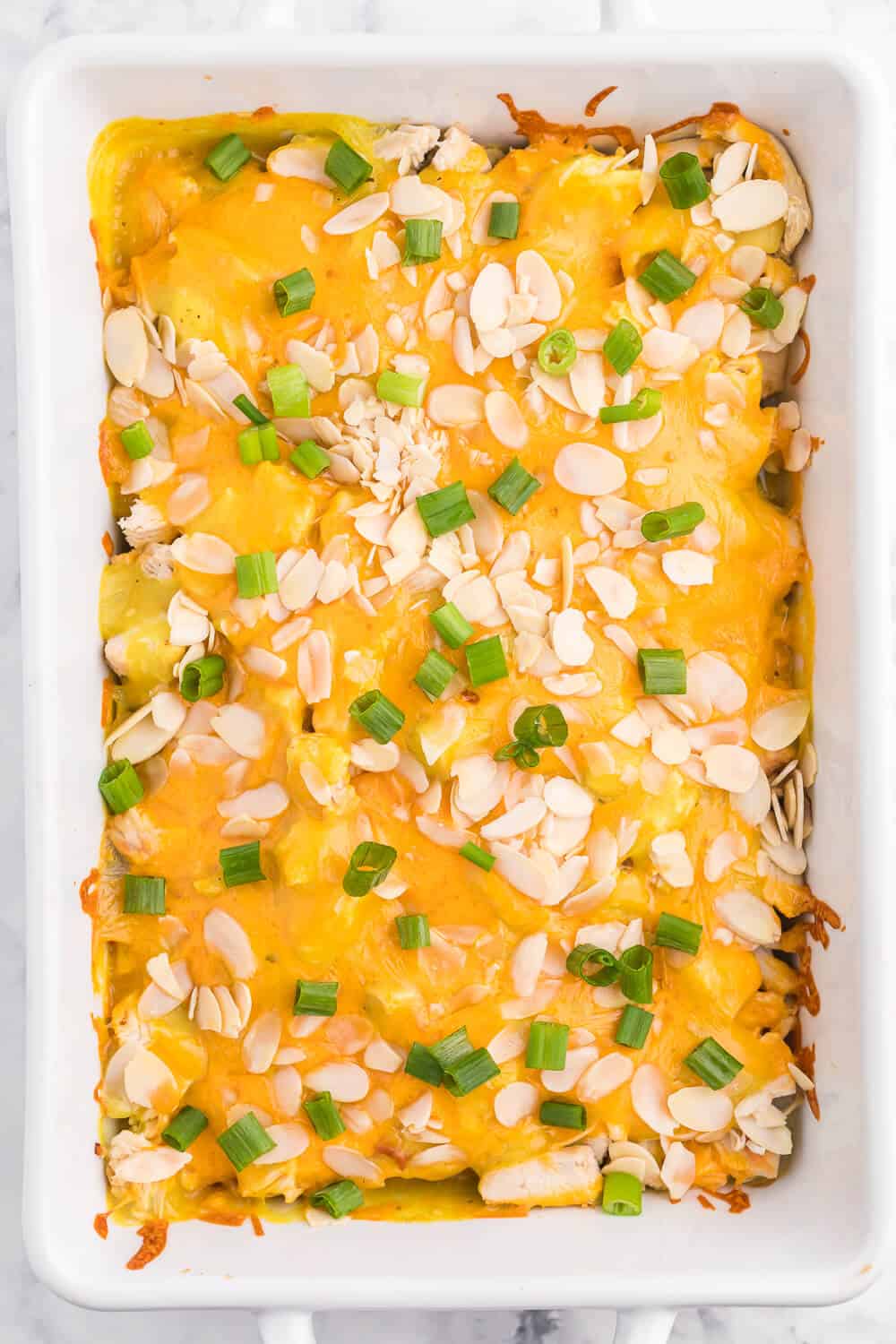 This chicken and asparagus bake is loaded with comforting, cheesy, and savoury flavours that create the ultimate creamy chicken casserole. A little healthier than most due to the sliced almonds, this baked chicken and asparagus is a great way to satisfy the craving for a hearty casserole.
I love this recipe because it is an incredibly easy way to introduce a little bit of asparagus to your kids without it being too asparagus-heavy. Shredded cheddar cheese, chicken, and the yummy sauce coat the asparagus to make it like it is not even there!
Disclosure: I am participating in the Chicken Farmers of Canada campaign. I received special perks in exchange for my participation in this campaign. The opinions on this blog are my own.
If you are looking for more easy chicken casserole recipes, then you will be able to find a ton at the Chicken Farmers of Canada website. I make a ton of their recipes including this modified Crockpot Cowboy Chicken Casserole. This creamy chicken recipe with asparagus is perfect as an easy weeknight dinner when dinner needs to be ready in about 30 minutes. There is nothing better than smelling the delicious aromatics from the fresh onion, curry powder, and chicken broth as this recipe bakes in the oven!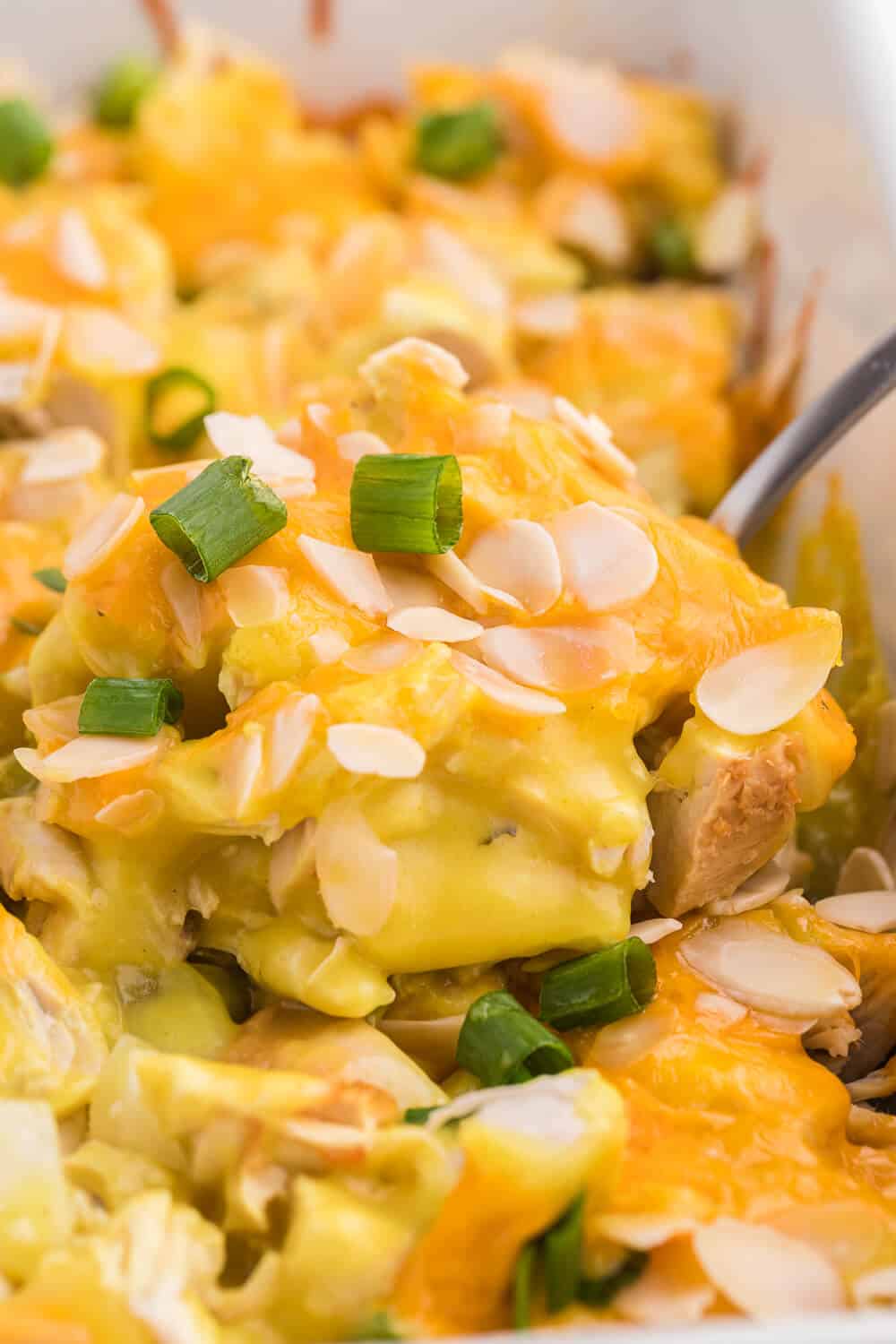 Ingredients
Asparagus: I steam my fresh bushel of asparagus and chop it into small one-inch pieces for this casserole. The asparagus adds the perfect amount of crunch.
Onions: Either a yellow or white onion can be used for this recipe in the base. You will also need green onions for the topping!
Chicken: Cooked boneless, skinless, chicken breasts are cut into smaller pieces and mixed throughout the yummy creamy sauce. Leftover cooked chicken will also work for this asparagus and chicken bake, too.
Flour: All-purpose flour is used to mix with the sauce.
Chicken Broth: Savory chicken broth adds richness and plenty of flavor to this recipe. You can also use vegetable broth.
Italian Dressing: Your favorite type of Italian salad dressing is great for this recipe and adds total brightness that is well worth it.
Lemon Juice: Fresh citrus is a must for this recipe to make it truly stand out. Asparagus and lemon are perfect together!
Curry Powder: Rich and warm curry powder adds just enough spice to this bake to make it filled with aromatic comforting flavors.
Salt: Sea salt is all you need!
Cheese: Cheddar cheese allows this asparagus bake to be cheesy and delicious. Grate your own cheddar cheese for the best flavors.
Almonds: Sliced almonds are used in place of breadcrumbs or crushed crackers to give this recipe a healthier twist.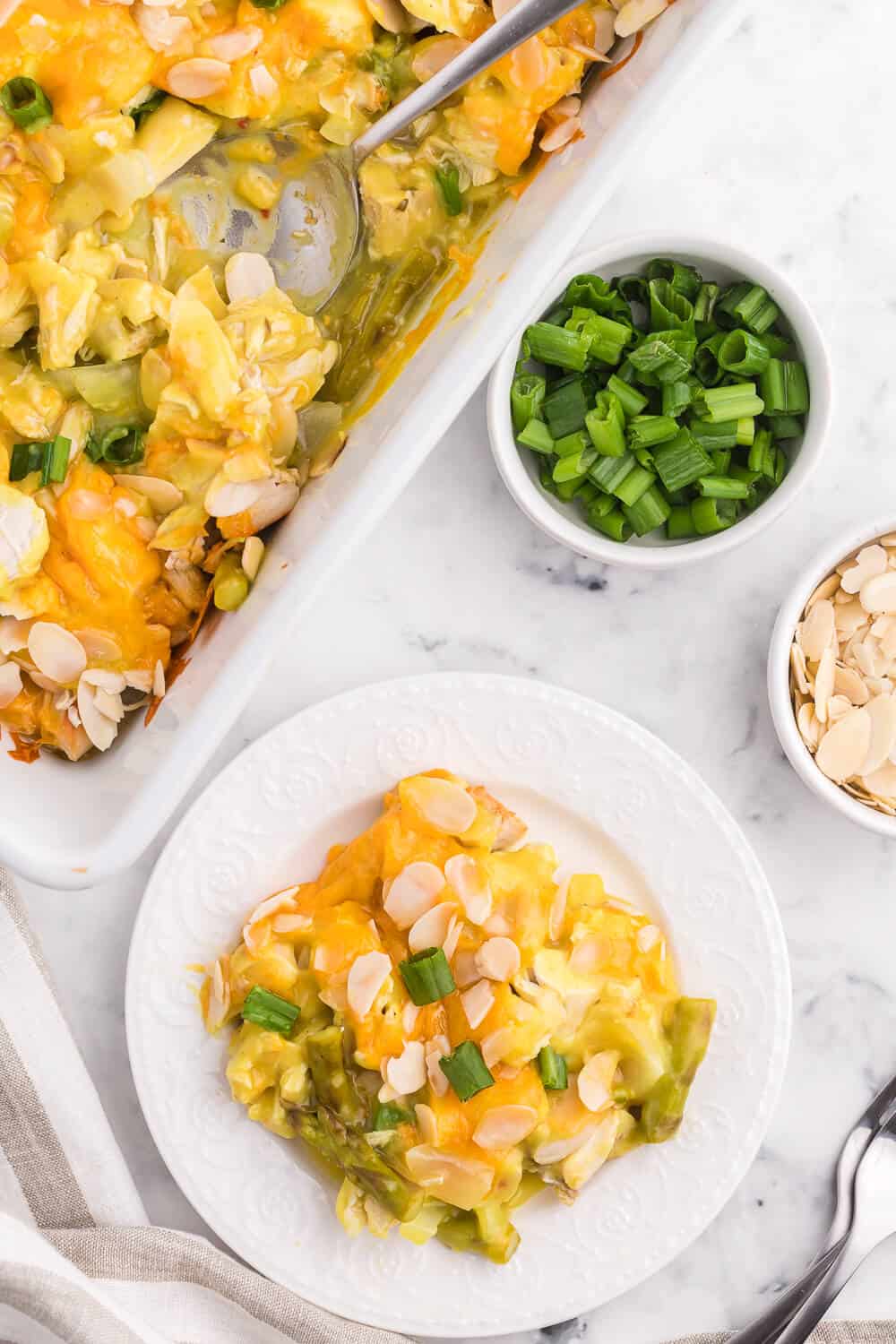 What I Used For This Recipe
This post contains affiliate links.
Saucepan with Cover: This one quart saucepan is the perfect size for making bases and sauces. I love it because it is nonstick and great for a variety of different recipes.
Measuring Cups and Spoons: I love these stainless steel measuring cups and spoons because they are easy to clean, use, and create the best results every time.
Box Grater: This box grater is perfect for shredding any kind of cheese! Easy to wash, use, and lots of different ways to shred cheese.
How To Make It
First, spread the cooked chopped asparagus to the bottom of a 9×13 casserole pan. Top the asparagus with chopped onions and spread the cooked chicken cubes over the asparagus and onions making sure everything is evenly dispersed.
In a saucepan on the stovetop, mix the flour with a little bit of chicken broth to create a roux. Whisk until no more lumps remain in the mixture.
Next, add the rest of the chicken broth, Italian dressing, lemon juice, curry powder, and salt. Heat everything until the mixture boils and thickens.
Pour the sauce over the chicken and asparagus making sure the entire surface is covered.
Top the mixture with the shredded cheese and sliced almonds. Cover the pan with aluminum foil and bake for twenty minutes at 350 degrees Fahrenheit.
Remove the foil and bake the asparagus bake for ten more minutes. Top the baked casserole with sliced green onions if desired.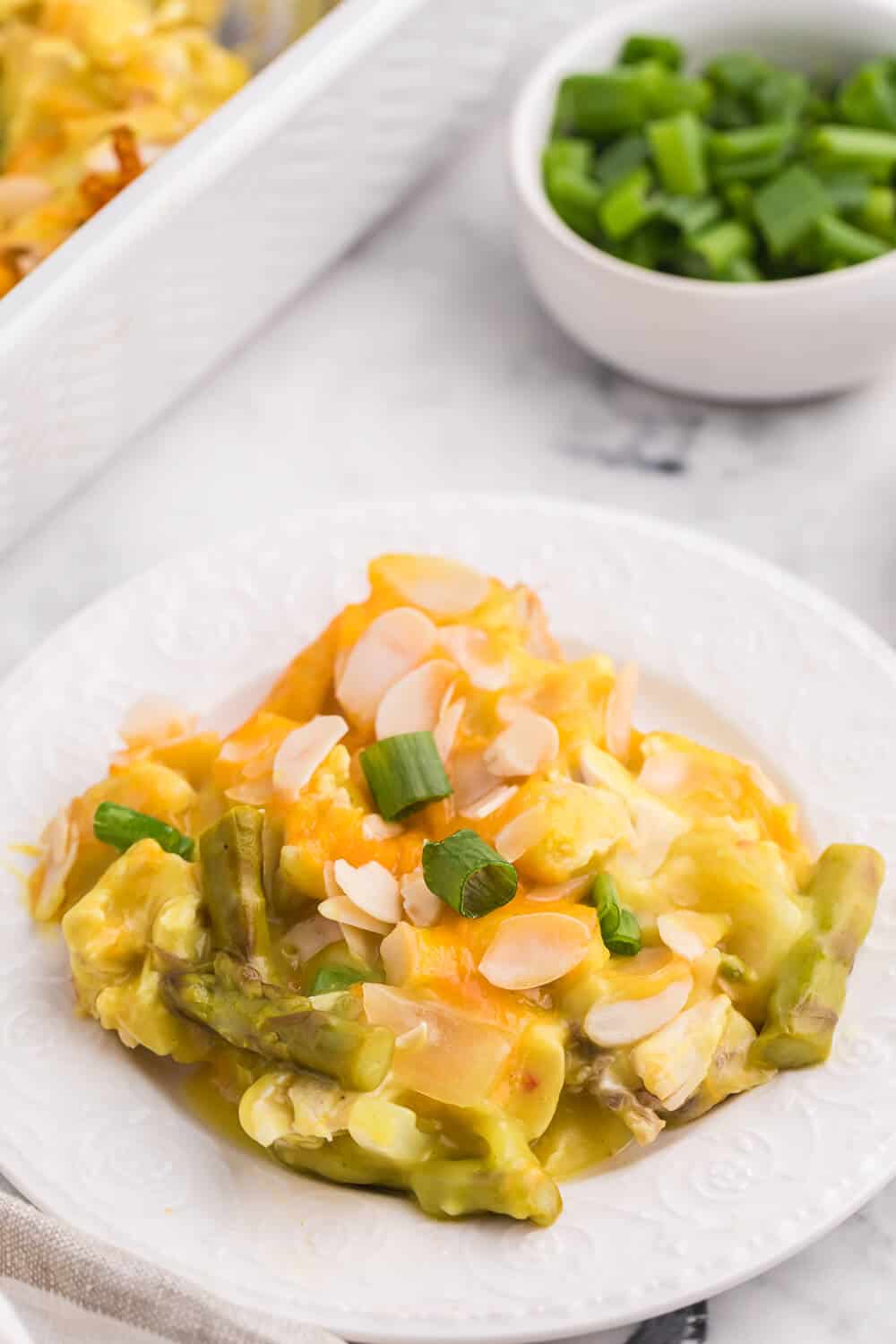 Variations
Shredded rotisserie chicken will work in place of the chicken breasts.
Use cream of mushroom soup or cream of chicken for extra creaminess.
Top this casserole with crispy cooked bacon for extra flavour and texture.
Add sliced mushrooms to this recipe for chicken, asparagus, and mushroom bake.
Instead of sliced almonds, top the casserole with buttery toasted breadcrumbs or crushed crackers.
Storage
Store the leftover chicken bake in the refrigerator for up to four days.
Freeze the casserole by placing it in a freezer-safe, airtight container and freezing it for four months.
What To Serve With This
This chicken and asparagus recipe is delicious served with a variety of side dishes snacks, veggies, salads, and simple air fryer recipes.
More Easy Recipes You'll Love
Do you have any amazing easy chicken and asparagus recipes? I'm always looking for more recipes to try! Follow me on Instagram @simplystacieblog, on Facebook at Simply Stacie, and on Pinterest @SimplyStacie and let me know how you liked this and my other recipes!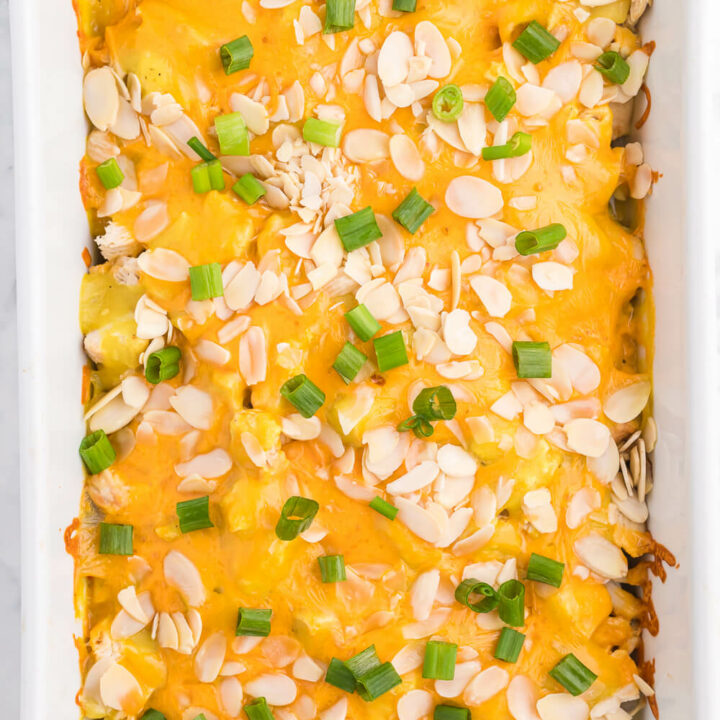 Chicken Asparagus Bake
Easily one of my favourite casserole dishes! It's loaded with asparagus, chicken, creamy curry sauce and smothered in cheese and sliced almonds.
Ingredients
4 boneless, skinless chicken breasts, cooked and chopped
1 bushel of asparagus, trimmed and steamed, cut into 1 inch pieces
1 onion, chopped
1/2 cup flour
2 cups chicken broth
1/2 cup Italian salad dressing
2 teaspoons lemon juice
1/2 teaspoons curry powder
1/4 teaspoons salt
1 cup cheddar cheese, shredded
1/2 cup sliced almonds
2 green onions, thinly sliced, if desired
Instructions
Spread the cooked asparagus on the bottom of a 9x13 casserole dish. Top with chopped onions. Spread chicken cubes over top of asparagus and onions.
In a saucepan on the stove top, mix flour with a little bit of the chicken broth until no lumps remain. Then add in the rest of the chicken broth, Italian salad dressing, lemon juice, curry powder and salt. Heat to boiling stirring often until it thickens. Pour mixture over top of the chicken.
Top with shredded cheese and almonds. Cover with aluminum foil and cook for 20 minutes at 350F. Then remove foil and continue to cook for another 10 minutes. Top with green onions, if desired.
Recommended Products
As an Amazon Associate and member of other affiliate programs, I earn from qualifying purchases.
Nutrition Information:
Yield:

6
Serving Size:

1
Amount Per Serving:
Calories:

361
Total Fat:

18g
Saturated Fat:

5g
Trans Fat:

0g
Unsaturated Fat:

11g
Cholesterol:

88mg
Sodium:

784mg
Carbohydrates:

15g
Fiber:

2g
Sugar:

4g
Protein:

33g