Do you ever get in a dinner rut? It happens to me more often than I'd like to admit. I tend to stick to old favourites that I know my family will eat. One of those weeknight dinners is stir-fries. I know that my picky kids will eat it for the most part. They may pick out some of the veggies, but overall, it's a weeknight win.
The beauty of a stir-fry is that it's easy to customize with a few simple tweaks. You can switch up the veggies you use, change the sauce and try a different meat. Recently, I made a stir-fry that I'm calling a winner. Why do I say that? Because my family ate every last bite. I loved it because it had an extra spicy kick and loads of delicious flavour. I know your family will love my Spicy Stir-Fry, too.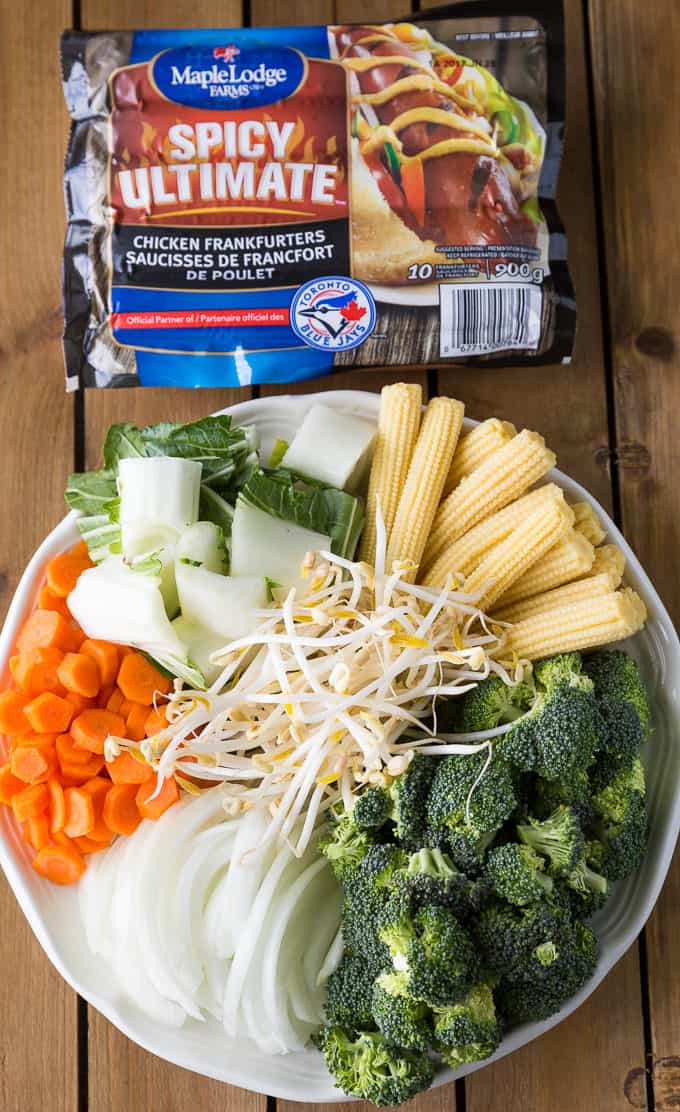 This recipe is an outside-the-box type of stir-fry. Yes, it has the typical stir-fry veggies like broccoli, carrots, onions, bean sprouts, baby corn and Bok Choy. It also has a secret ingredient that totally makes the dish: Maple Lodge Farms Spicy Ultimate Chicken Frankfurters made with chicken! These frankfurters are a new product and one you are going to want to stock up on this summer. Not only will you want to use it in this stir-fry recipe, but you're going to also want to put them on the grill this summer.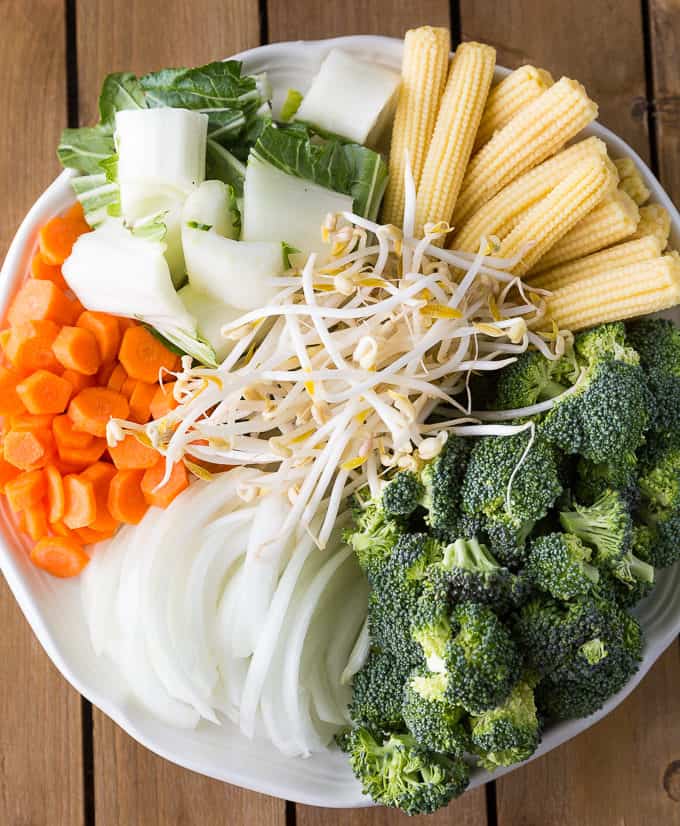 They aren't your ordinary frankfurters which would work fine in this recipe, I'm sure. The spicy variety adds an extra element of yummy flavour that makes your taste buds sing. Combined with a fiery stir-fry sauce, prepare for a meal you won't forget anytime soon.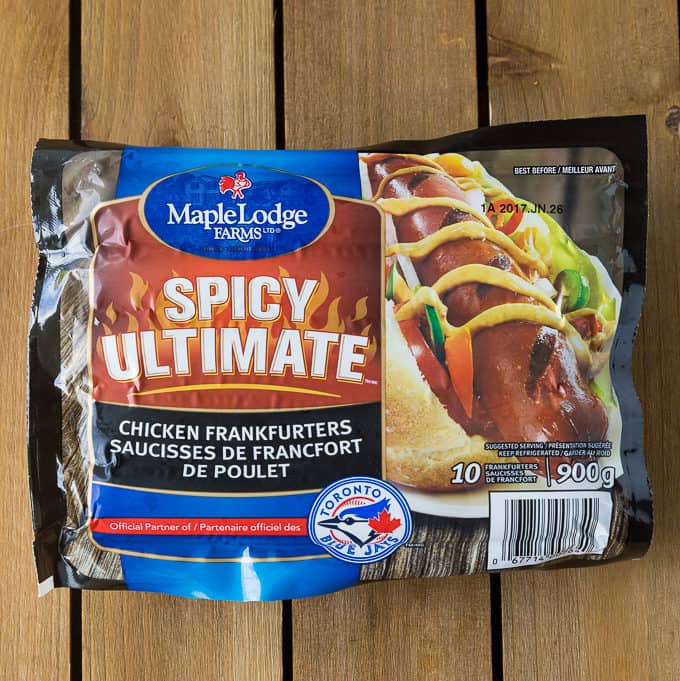 For this recipe, you'll need 5 chicken frankfurters from the package of 10. Save the other five for the grill or make this recipe again the next night.
To make bite-sized pieces that are stir-fry friendly, I cut the frankfurter in half lengthwise and then into 1-inch pieces.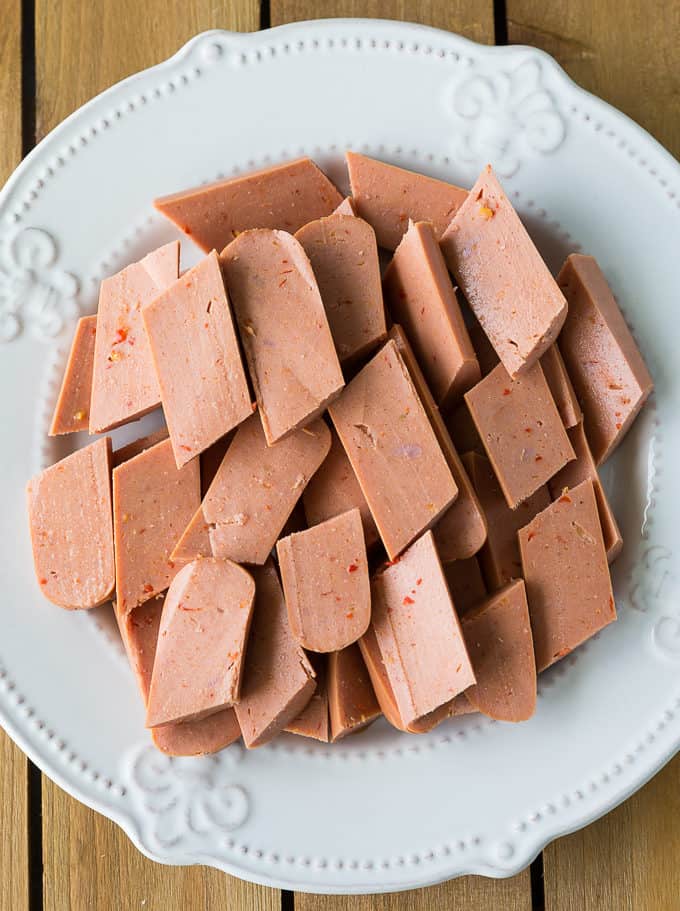 Though they come fully cooked, you are going to brown them on the stove for about 5 to 7 minutes to give them a nice toasty colour.
For my spicy sauce, I used soy sauce, ginger, garlic, Hoisin sauce and chili paste. If you like prefer an extra spicy sauce, add another teaspoon of chili paste. I thought about adding more since I love anything spicy, but I didn't want to overwhelm the kids.
After you've cooked your frankfurters to your desired doneness, set them aside for now and get started with the veggies. I cooked the harder veggies first since they will take longer to cook than some of the softer ones.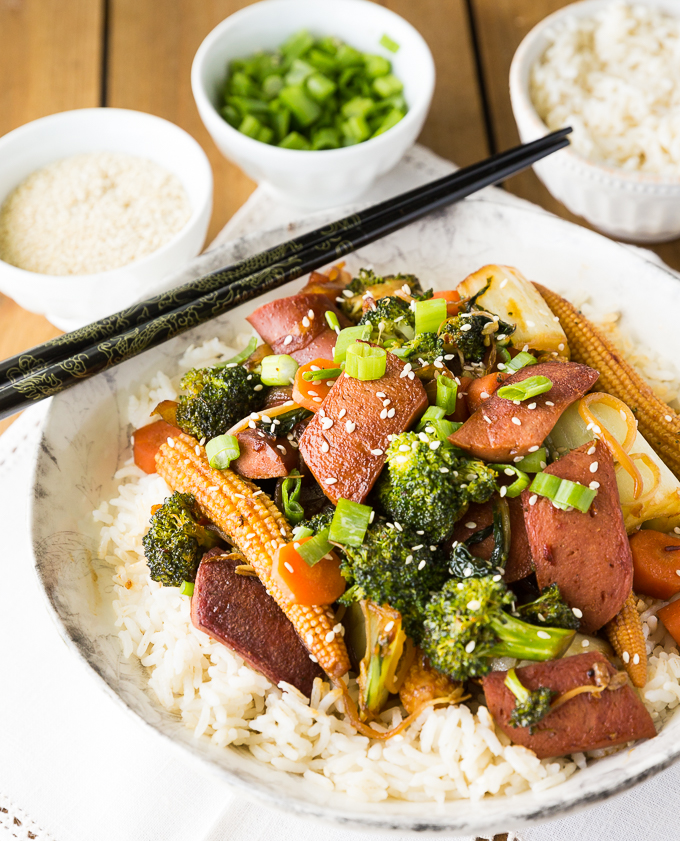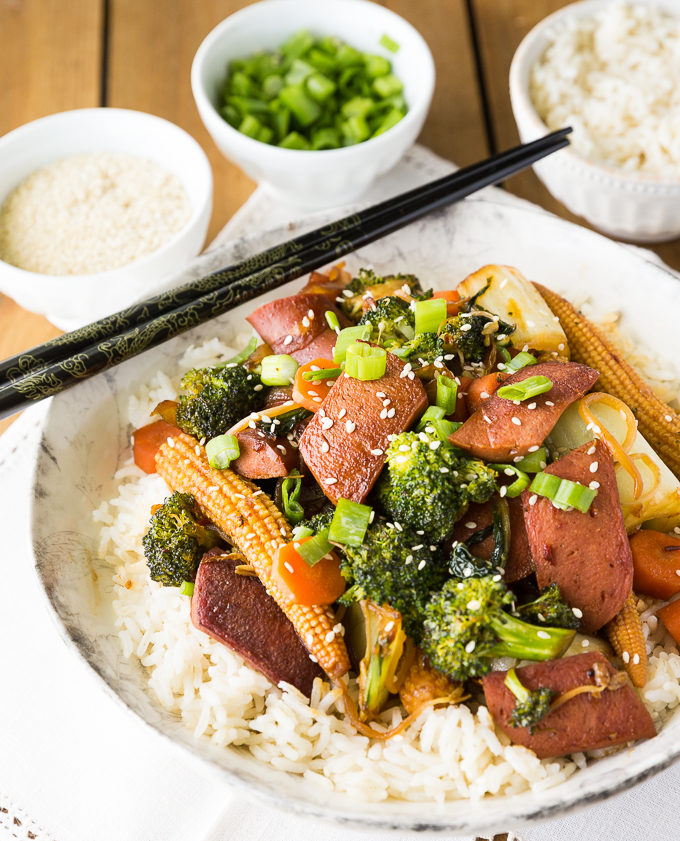 Once your veggies are softened, add in the sauce and cooked Maple Lodge Farms Spicy Ultimate Chicken Frankfurters and stir to combine. Heat everything up for a few minutes in your skillet or wok and then it's ready to eat.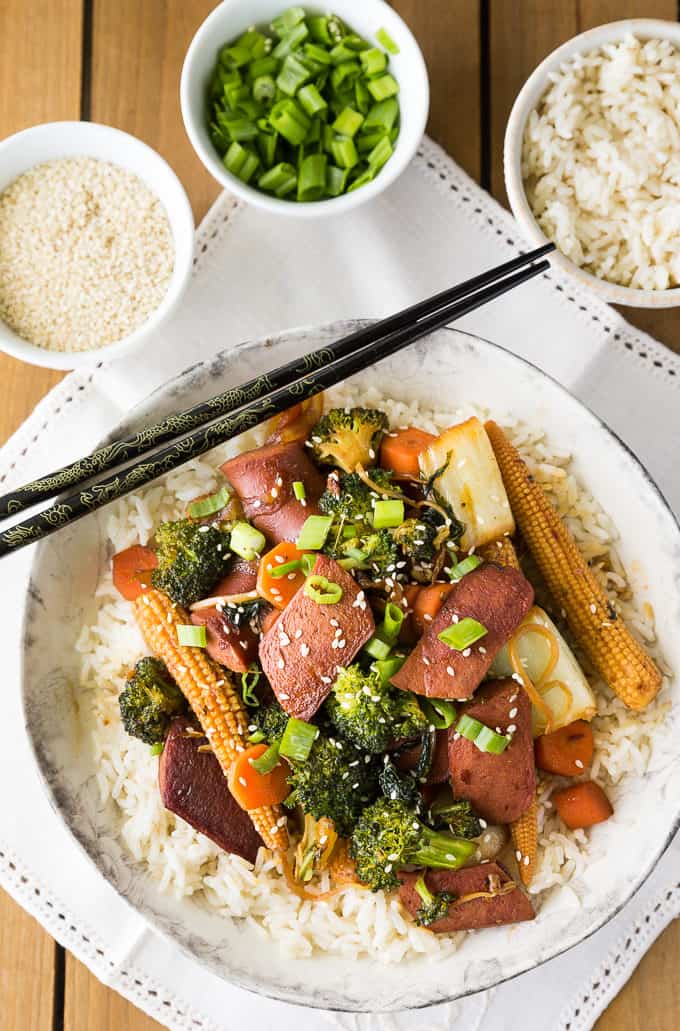 I had to hold myself back from eating the frankfurters right out of the pan. They looked so good and tasted even better. My family wouldn't be happy if I just made a veggie stir-fry so I held myself back from eating them all!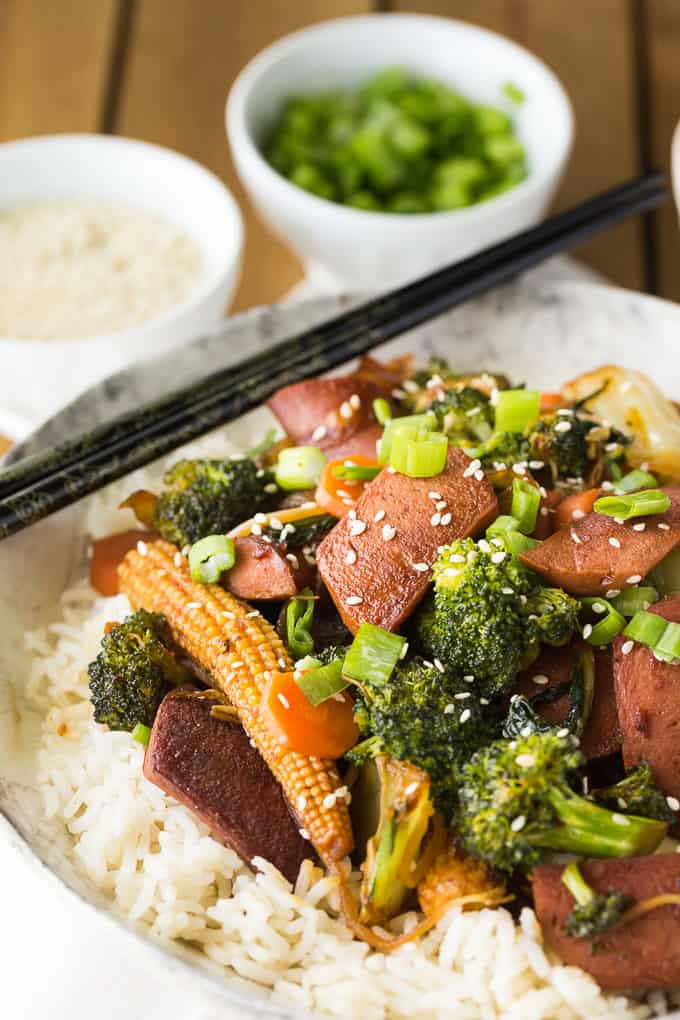 To serve, add some cooked rice to a bowl or plate and top with your Spicy Stir-Fry.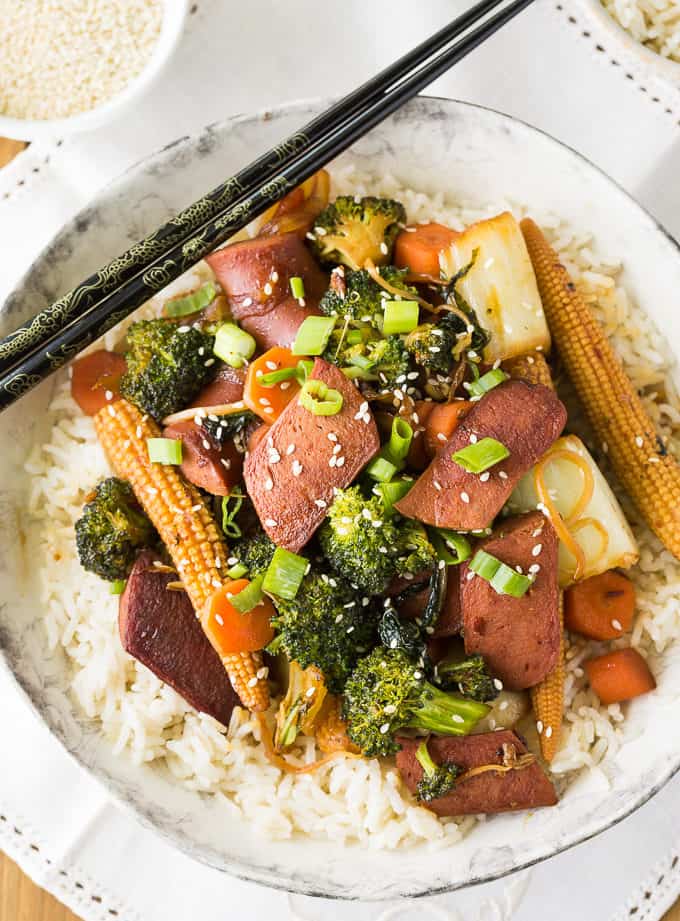 Now this is what I call the perfect family dinner recipe! It's packed with flavour, easy to make and satisfies hungry appetites. This was my first time adding frankfurters to a stir-fry, but it won't be my last. They paired beautifully with the veggies.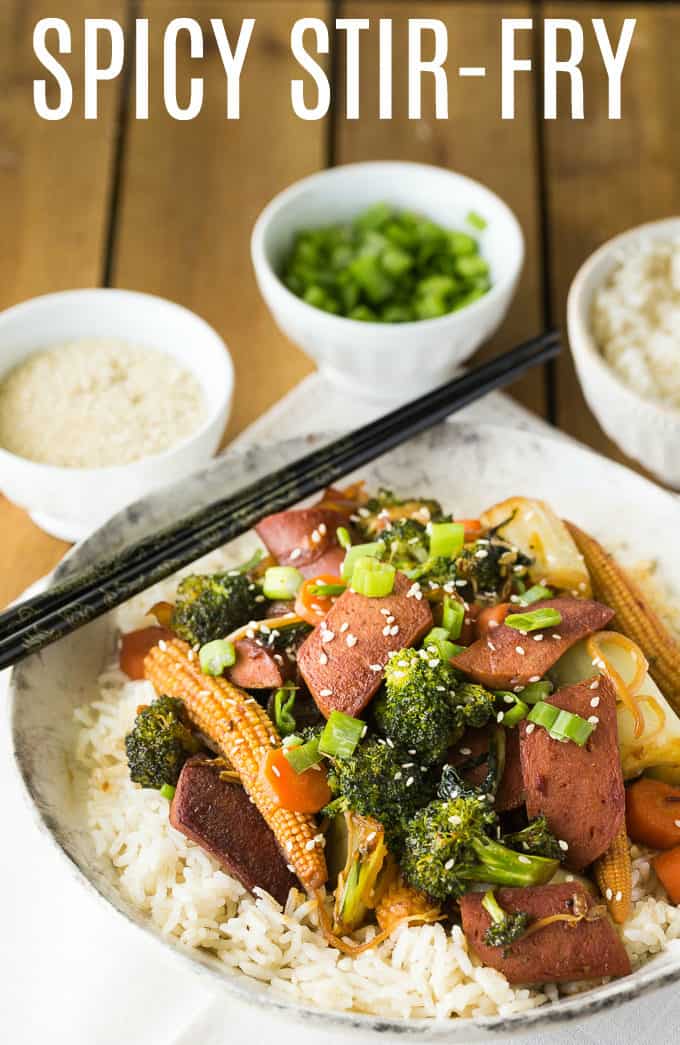 A sign of a great recipe is when there are no leftovers. Everyone cleaned their plates and sadly, I had none to eat the next day. I guess I should be happy about that, but I was hoping I could save some for lunch, too! That just means I'll have to make it again.
Look for Maple Lodge Farms Spicy Ultimate Chicken Frankfurters the next time you are out grocery shopping and pick up a couple packs. Try my recipe and save some for the barbecue!
Connect with Maple Lodge Farms on Facebook, Twitter and YouTube.
Spicy Stir-Fry
Spicy chicken frankfurters add an extra kick of fiery flavour to a stir-fried vegetable medley.
Ingredients
5 Maple Lodge Farms Spicy Ultimate Chicken Frankfurters, cut in half lengthwise and cut into 1 inch pieces
2 tbsp vegetable oil, divided
1 broccoli, cut into florets
1 cup carrots, peeled and sliced into thin rounds
2 cups Bok Choy, cut into 1 inch pieces
1 cup bean sprouts
1/2 large onion, sliced
398ml can baby corn, drained
1 tsp fresh ginger, minced
2 cloves garlic, minced
1/4 cup soy sauce
1 tbsp chili paste
1 tbsp Hoisin sauce
3 green onions, sliced
1 tbsp sesame seeds
Instructions
Add 1 tbsp vegetable oil to a large skillet or wok over medium-high heat. Add chicken frankfurters and cook for 7 minutes, stirring often. Remove chicken frankfurters from skillet and set aside.
Add 1 tbsp vegetable oil to the same skillet or wok over medium-high heat. Add broccoli, carrots, Bok Choy and onions and cook for 5 minutes, stirring often.
Add in baby corn and bean sprouts and cook an additional 3 minutes.
In a small bowl, stir together soy sauce, ginger, garlic, chili paste and Hoisin sauce. Pour mixture into skillet and stir.
Add chicken frankfurters back to skillet and stir to combine. Cook for an additional 3 minutes or until mixture is heated through.
Serve hot on a bed of cooked rice. Garnish with sesame seeds and green onions.
Recommended Products
As an Amazon Associate and member of other affiliate programs, I earn from qualifying purchases.
Nutrition Information:
Yield:

6
Serving Size:

1
Amount Per Serving:
Calories:

131
Total Fat:

7g
Saturated Fat:

1g
Trans Fat:

0g
Unsaturated Fat:

6g
Cholesterol:

7mg
Sodium:

894mg
Carbohydrates:

14g
Fiber:

3g
Sugar:

6g
Protein:

5g
Disclosure: I was compensated for this post. All opinions on this blog are my own.