My Grandma June made the best family dinners. You could always count on her to put out a good spread of food. Two of her favourites were meat and potatoes. She said that was what her husband, Clarence, would always request. He was a beef farmer so you can guess what the meat typically was. As for the potatoes, his favourite way to eat them was mashed with butter. Good old-fashioned comfort food is what she would say. Whenever I make meat and potatoes for my family, I always think of her.
Grandma's mashed potatoes were great, but very traditional. Don't get me wrong – I loved her cooking. Sometimes, it's fun to change things up a little. You can still keep the "bones" of a recipe, but add in a little zip to make it more interesting.
Almond Breeze had a mashed potato recipe that caught my eye. I've cooked both sweet and savoury recipes with Almond Breeze before with great results. This would be my first time using it in a mashed potato recipe. How would their recipe for Olive Oil Mashed Potatoes with Kale & Herbs compare to the classic? I was about to find out.
The first thing you need to do is pick up some Almond Breeze Original Unsweetened. They have sweet varieties too, but I like using the unsweetened versions in savoury recipes. Use it the same way you would milk. You can substitute it cup for cup which makes it easy to switch out ingredients when you are cooking.
It's dairy-free, lactose-free and gluten-free so if you are making a recipe for someone with food intolerances, it is a fabulous alternative. It's easy to update old and new recipes with Almond Breeze and add a lovely bit of almond-y flavour to your dish.
Olive Oil Mashed Potatoes with Kale and Herbs
The first step is to cook the potatoes. I liked that I didn't have to peel them. Leaving the skin on adds an additional layer of flavour and gives the dish a more rustic feel. Plus, the recipe directs you to cook them in the microwave – something I've never done before. I love easy!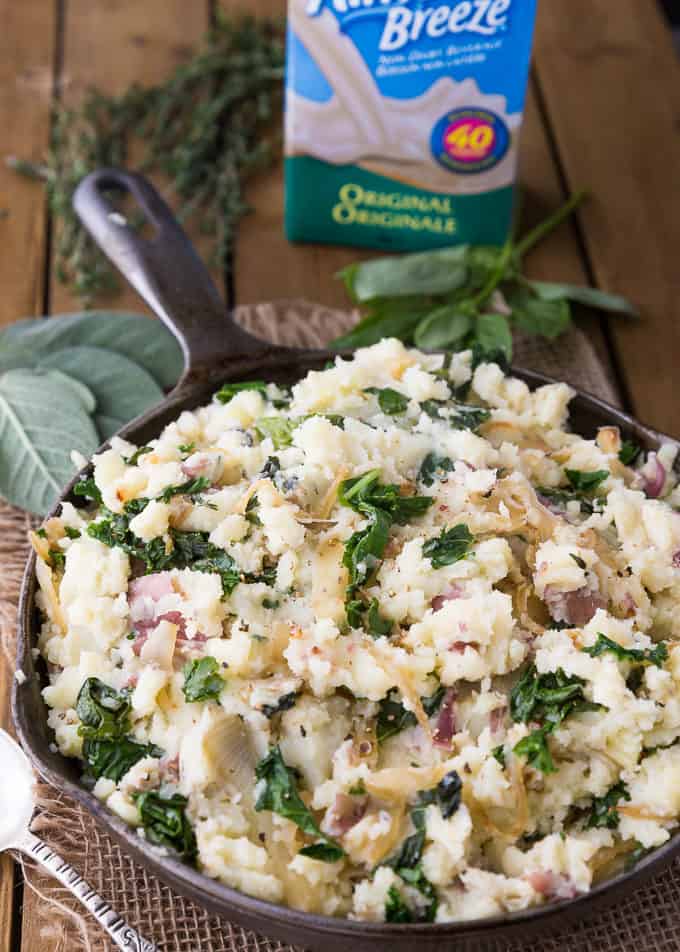 While the potatoes are cooking, grab a skillet and caramelize the onions in olive oil. I love cooked onions – they have such a lovely, sweet flavour. I had to stop myself from grabbing some from the pan to taste test over and over.
It takes a good 15 minutes to cook the onions until they are soft and browned. Add in some garlic and fresh kale and this step is complete once the kale is wilted.
By the time your onions are cooked, your potatoes should be done and ready for the next step. Mash them up. This step is a bit therapeutic. Then, mix in Almond Breeze and fresh herbs. I used basil, thyme and sage, but they also suggest rosemary or marjoram. I think whatever fresh herbs you can find should work ok.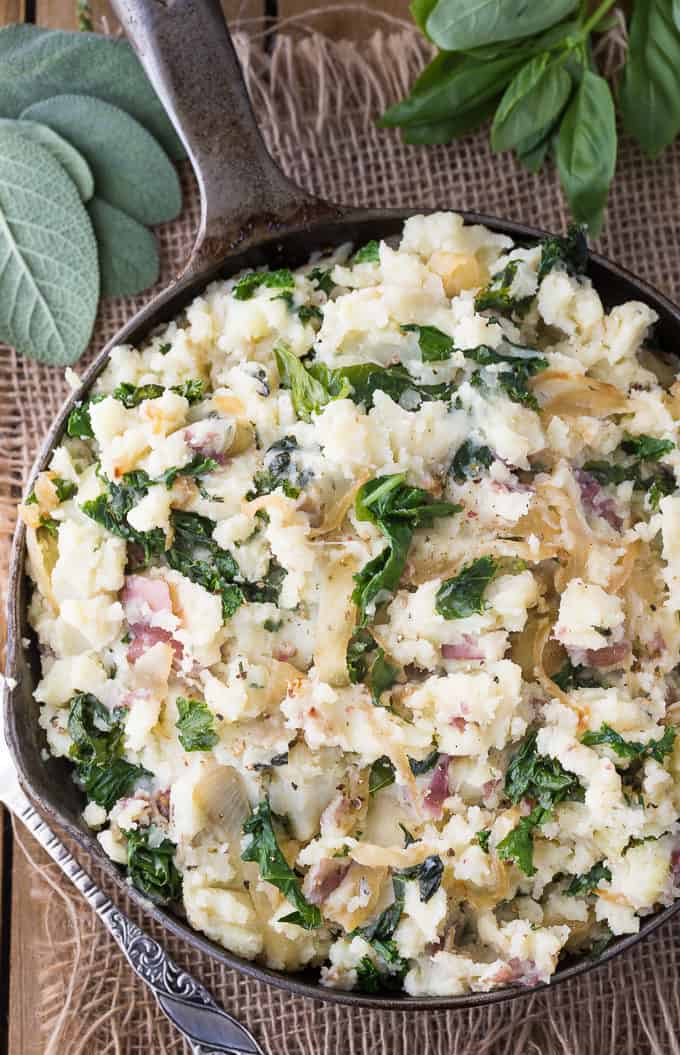 Almond Breeze makes the potatoes creamy and easy to stir. Without it, you'll have lumpy potatoes so don't skip this important step!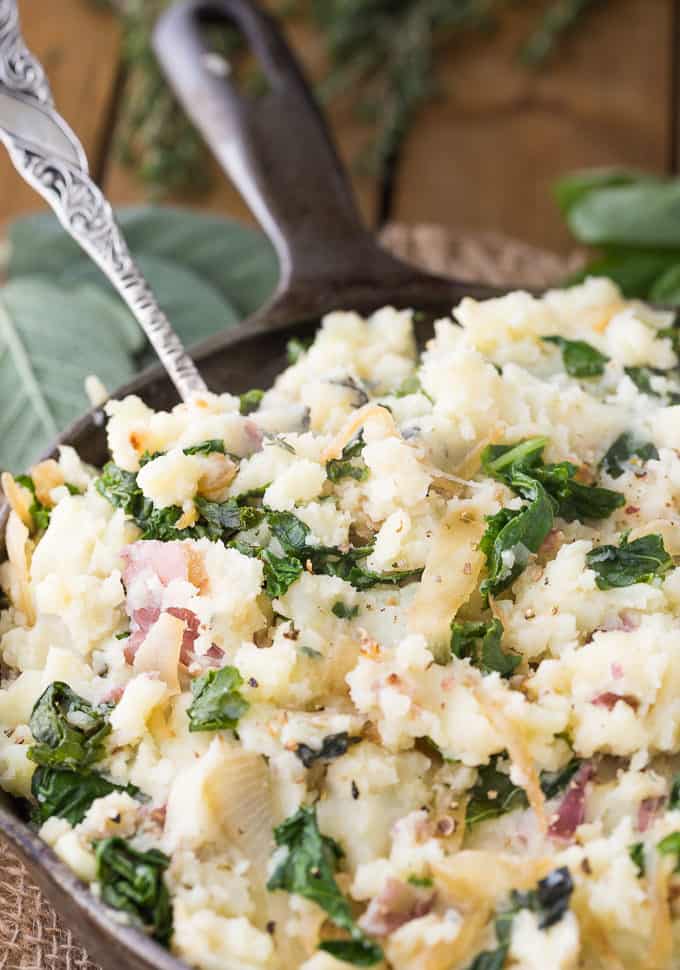 Lastly, you'll mix your onion and kale mixture with the mashed potatoes and serve. My kitchen smelled amazing while I was cooking this recipe. My whole family was salivating before dinner and couldn't wait to try it.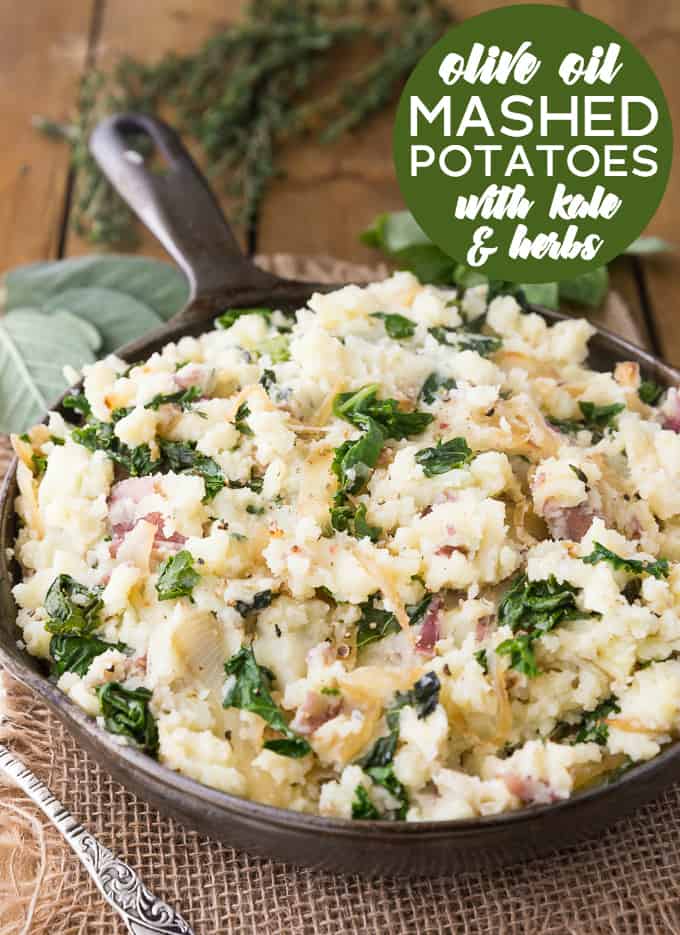 Pair it with some roast beef and you have a hearty meal that would make my grandma proud. I know she would have loved this recipe. The flavours really pop. I especially loved the creaminess the Almond Breeze adds and the savoury flavour of the sweet onions and fresh herbs. Even John who isn't a fan of kale loved this recipe. I can easily see myself making it again.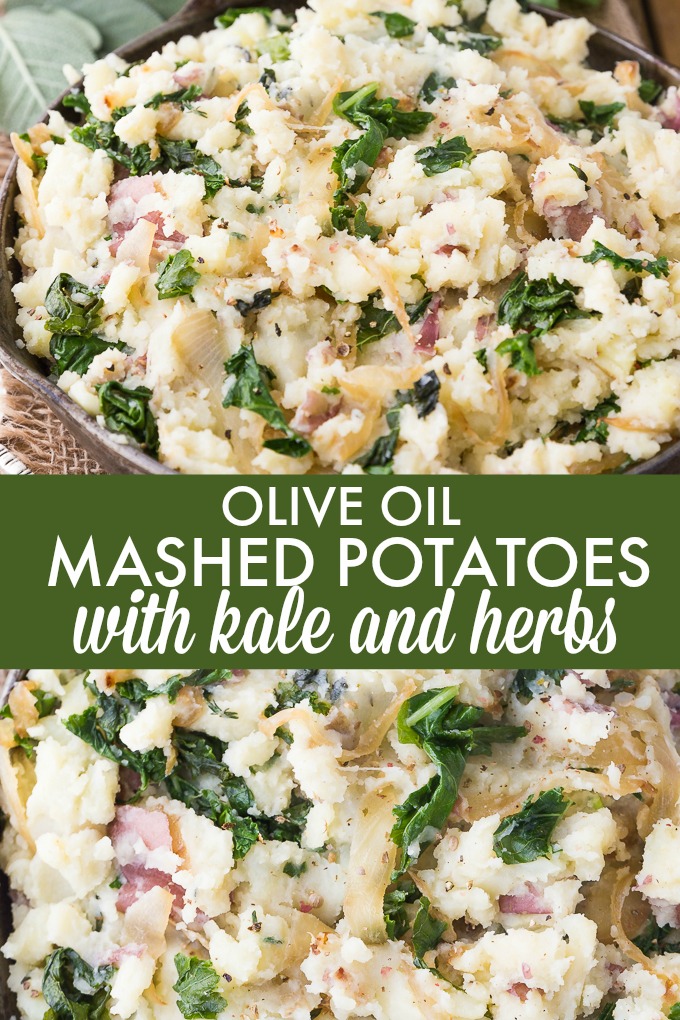 If you're in a dinner rut and want a recipe that is a bit "outside the box", this is perfect for you to try. It makes for a beautiful presentation and hearty side dish your family will love.
You might also like these Loaded Mashed Potatoes, Party Potatoes, Irish Potatoes or Mashed Potato Casserole.
What are your favourite ingredients to add to your mashed potatoes?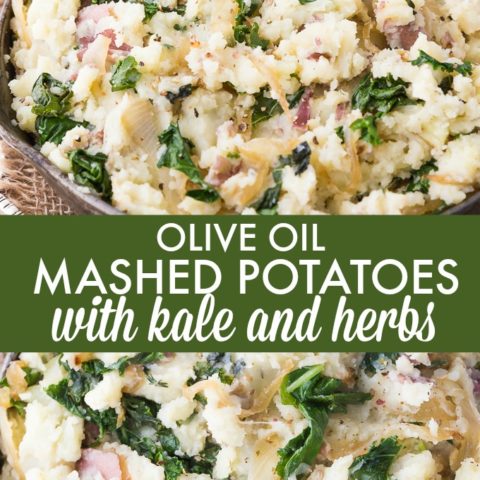 Olive Oil Mashed Potatoes with Kale & Herbs
Skip the dairy for these garlic & herb mashed potatoes. This flavorful side dish is great for holiday dinners or weeknight meals.
Ingredients
1 lb yellow potatoes, cubed
1 lb red potatoes, cubed
1/2 cup chicken broth
3/4 cup Almond Breeze Unsweetened Original
2 tbsp chopped fresh herbs
Sea salt and pepper, to taste
3 tbsp extra virgin olive oil
1 large onion, quartered and sliced
4 cloves garlic, minced
4 cups fresh kale, coarsely chopped
Instructions
Add potatoes and chicken broth in a large microwave-safe bowl and cover. Microwave on high for 15 minutes or until soft when pierced with a knife. Mash. Stir in Almond Breeze, herbs, salt and pepper.
While the potatoes are cooking, heat olive oil in a large skillet over medium heat. Add onions and cook for 15 minutes, stirring frequently. Add in garlic and stir. Cook 5 more minutes.
Add kale to skillet and cook for 2 minutes until wilted, stirring frequently. Add kale mixture to potatoes and stir to combine. Transfer to a serving bowl and serve hot.
Notes
I used fresh basil, sage and thyme.
Recommended Products
As an Amazon Associate and member of other affiliate programs, I earn from qualifying purchases.
Nutrition Information:
Yield:

8
Serving Size:

1
Amount Per Serving:
Calories:

254
Total Fat:

12g
Saturated Fat:

1g
Trans Fat:

0g
Unsaturated Fat:

10g
Cholesterol:

0mg
Sodium:

187mg
Carbohydrates:

32g
Fiber:

5g
Sugar:

4g
Protein:

7g
Disclosure: I was compensated for this post. All opinions are my own.