This Zucchini Bread is moist, sweet and delicious. My grandma's recipe is the best zucchini bread recipe ever!
I was going through a drawer the other day and I found a handwritten recipe from my Grandma June for Zucchini Bread. It brought tears to my eyes because I miss her so much.
It still seems unreal that I'll never see her again. She passed away in 2012. I knew right there and then, I was making her zucchini bread recipe and wanted to share it with everyone. Grandma would have loved that.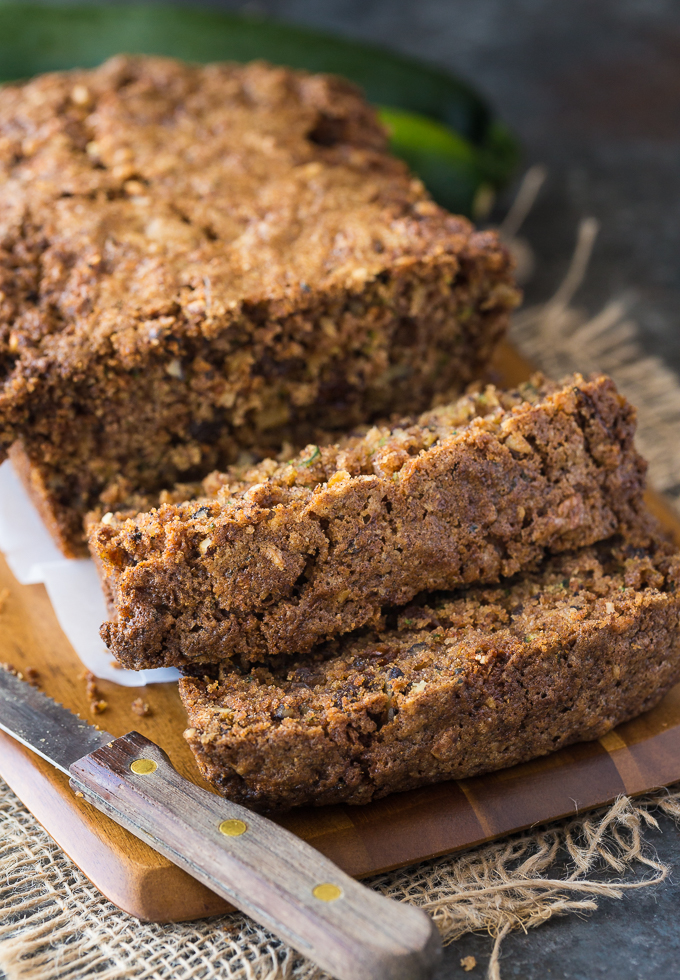 Zucchini Bread
My mom and aunt say that Grandma makes the best zucchini bread. I remember her making it when I was a child and I wouldn't try it.
I was a zucchini hater (ok, I hated all veggies) and the thought of it in a bread was not appetizing to me. Little did I know that I was missing out big time. Grandma's zucchini bread is sweet and not savoury like I thought it would be.
Even if you aren't a zucchini fan, I think you'll like this recipe. The zucchini pretty much melts into the other ingredients and all you taste is its sweet, delicious flavour.
It's perfectly moist and you don't even need to spread anything on top unless you want it. It's good as is.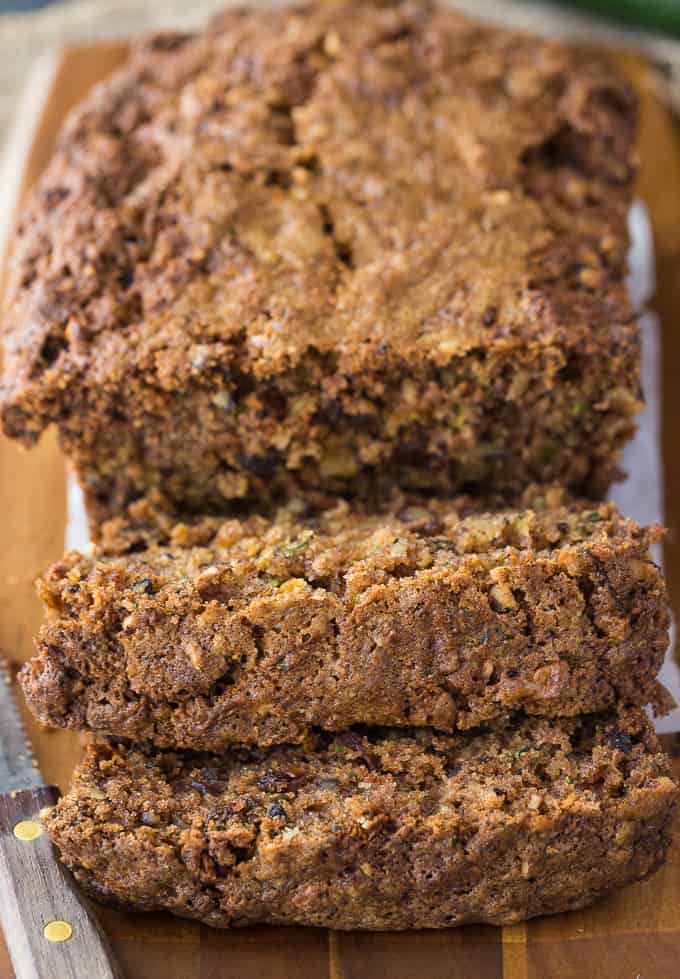 I brought a loaf over to my parent's house to share. My mom and sister were so surprised that I'd found Grandma's recipe. Laura, my sister, gave a piece to her son, Emmet, who is 18 months old. He loved it. I think Emmet ate more than any of us. He was gobbling it up like crazy. Grandma June would have loved that!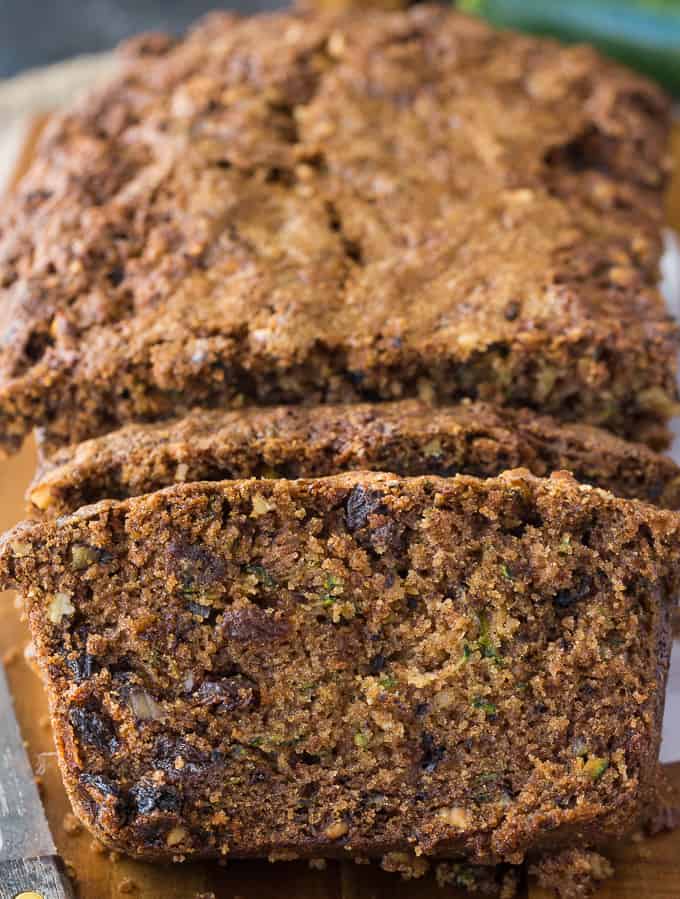 Do You Peel a Zucchini for Zucchini Bread?
Let's get into more details about the recipe and answer a few questions. My answer here is no, you don't need to peel the zucchini.
Like I mentioned, the zucchini melts into the bread, peel and all. The green flecks you see throughout are characteristic of a classic zucchini bread recipe.
I hate peeling veggies anyways so I'm glad I saved myself an extra step here.
This post contains affiliate links.
How to Grate Zucchini for Bread
Whenever a recipe calls for something grated, I bring out my trusty ol' cheese grater. You don't need a fancy tool to grate zucchini. Use a cheese grater. Just watch your fingers as you get towards the end. Otherwise, ouch! Been there, done that.

How to Make Zucchini Bread
This recipe makes two loaves of zucchini bread. You could try and put it in one loaf pan if you wanted to, but it will be quite full and will probably take longer to bake completely.
One trick I like to do with quick bread recipes is to line the loaf pan with greased parchment paper. It makes for easy removal.
Grandma's recipe says to just throw all the ingredients in a bowl and stir to combine. Yes, that easy. You don't have to separate out the wet and dry ingredients like you'd typically see in a recipe. You are blending them all together anyways so why not save a dish?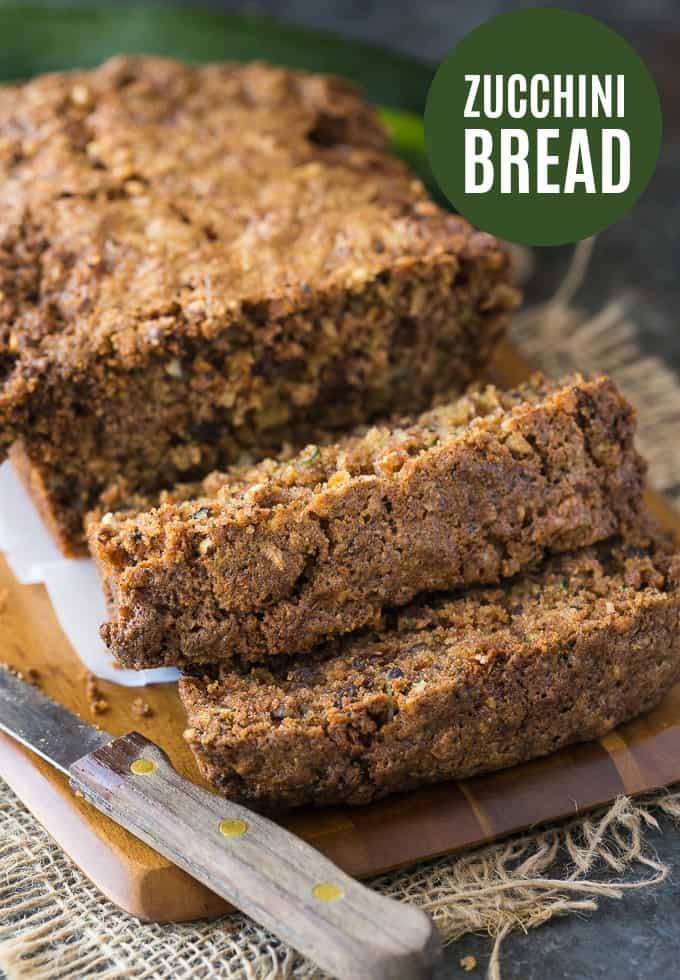 Bread recipes typically take longer because they are so dense. At the one hour mark, check your loaves with a clean toothpick inserted in the center of your loaf. If it comes out clean, your bread is ready to come out.
Cool the bread on a cooling rack before you attempt to cut it into slices.
I enjoy eating the zucchini bread as is, but if you wanted to spread something on top, try some softened butter. It's especially yummy if it's still warm from the oven because the butter melts right into the bread.
Helpful Kitchen Tools
Can You Freeze Zucchini Bread?
Grandma June has us covered in her instructions. She says it freezes well. Take that second loaf and wrap it up for the freezer if you aren't ready to eat it now. You'll have a delicious snack to enjoy down the road.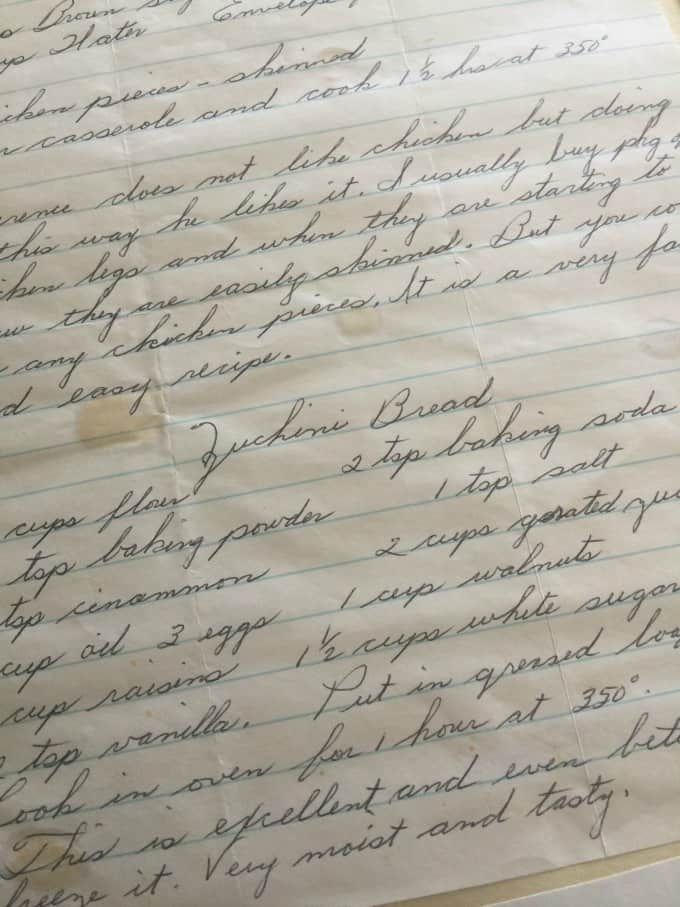 One interesting tidbit I learned recently is that zucchini has another name. In Britain, it's called courgette.
Canada usually follows British English, but I'd never heard of courgette before. It's zucchini here.
I was watching a video from a British food blogger and she kept talking about courgette and I had to google it. Who knew?!
For more zucchini recipes, try Lemon Zucchini Bread, Chocolate Zucchini Cake, Cheesy Zucchini Bake and Baked Zucchini.
For more bread recipes, try Blueberry Bread, Strawberry Bread, Apple Cheddar Bread, Chocolate Zucchini Bread, Pineapple Cheese Bread, Pumpkin Ribbon Bread and Carrot Loaf.
Did your grandma make zucchini bread, too?
Zucchini Bread Recipe
A moist and delicious zucchini loaf for all the veggie haters! This sweet bread is filled with zucchini, raisins, walnuts, and cinnamon. It's my grandma's recipe!
Print
Facebook
Pin
Share by Text
Share by Email
Rate
Ingredients
1

cup

vegetable oil

3

eggs

2

tsp

vanilla extract

1 ½

cup

sugar

2

cups

all-purpose flour

¼

tsp

baking powder

2

tsp

baking soda

1

tsp

salt

1

tbsp

cinnamon

1

cup

raisins

2

cups

grated zucchini

1

cup

walnuts

chopped
Instructions
Preheat oven to 350°F. Grease two loaf pans and set aside.

In a large bowl, add all the ingredients and stir to combine. Divide mixture between two loaf pans.

Bake for 1 hour or until a toothpick comes out of the center clean. Let cool before cutting into slices.
Kitchen Tools
Nutrition
Serving:
1
slice
|
Calories:
338
kcal
|
Carbohydrates:
39.2
g
|
Protein:
5.3
g
|
Fat:
19.8
g
|
Saturated Fat:
11.9
g
|
Polyunsaturated Fat:
6.7
g
|
Cholesterol:
34.9
mg
|
Sodium:
318.6
mg
|
Fiber:
3
g
|
Sugar:
24.4
g
The information shown is an estimate provided by an online nutrition calculator. It should not be considered a substitute for a professional nutritionist's advice.
Love Recipes? Join our Free Facebook Group!
Join Mom's Best Recipes to find more delicious family recipes.
Save
Saved!