Are you looking for more holiday baking recipes? You are in for a real treat today! I've partnered with the Peanut Bureau of Canada to share a mouthwatering holiday dessert recipe plus interesting tidbits of info about my favourite nut: peanuts!
I should correct myself because peanuts are actually legumes and not nuts. Who knew?! Either way, peanuts have lots of health benefits. They have more protein than other types of nuts and contain many vitamins and minerals including magnesium, fibre, iron, thiamine, Vitamin B6 and zinc. It's no wonder that 91% of Canadians believe peanuts or peanut butter to be a healthy choice, because they are!
Our family eats peanut butter on a regular basis. We enjoy it for breakfast on toast, at lunch in sandwiches and in our dinners (think Thai Flank Steak Kebobs). And just like 35% of Canadians, I regularly use peanut butter (and peanuts) in my dessert recipes. In fact, peanut butter outranks all other nut butters as the most commonly used spread in baking. I used both peanuts and peanut butter in my recipe for Mini Peanut Butter Cheesecakes with Chocolate Peanut Butter Sauce. It's a peanut lover's dream dessert!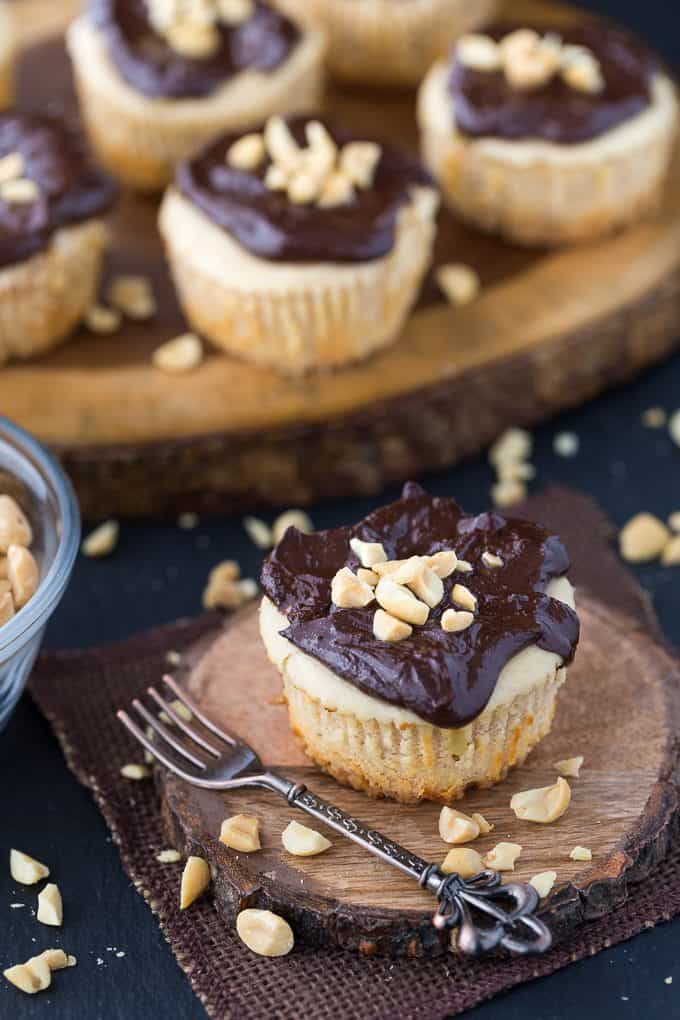 The crust is made from shortbread cookies and melted butter to give it a holiday feel. You could use any type of cookie you want though. If you have homemade peanut butter cookies, substitute those in its place.
The peanut butter cheesecake filling is rich, smooth and packed full of decadent peanut flavour. I wanted the peanut butter to really shine in the filling so I used 1/2 cup. You can taste it in every bite.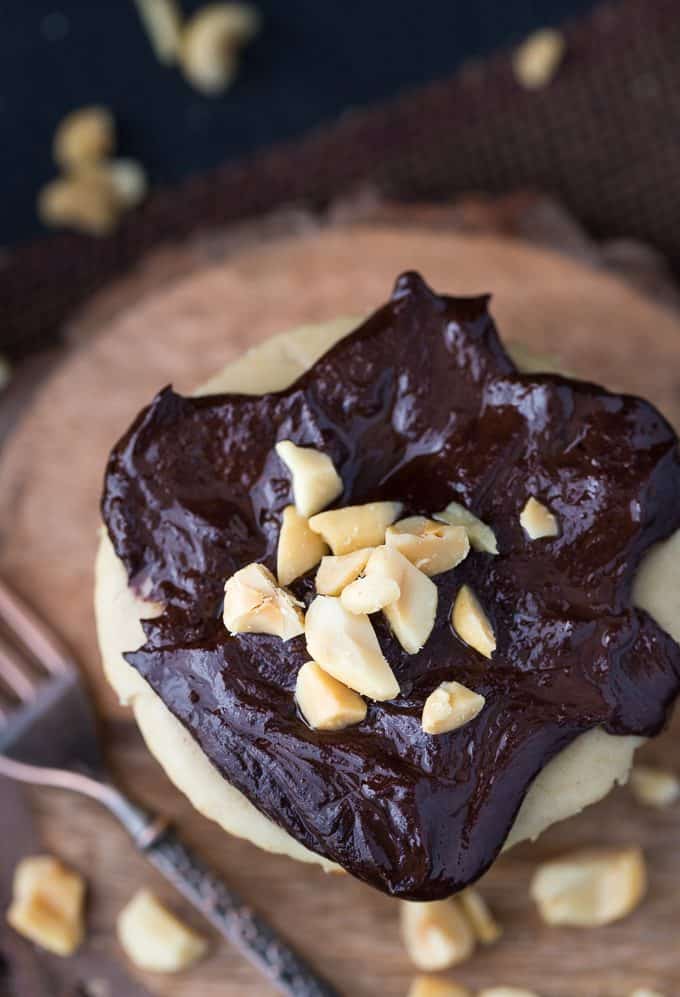 I pretty much exclusively use the dry baking method for cheesecake. The wet baking method involves placing the cheesecakes in a water bath to bake in the oven. Since I was planning to top mine with sauce, I knew that cracks at the top wouldn't be a big deal.
I used smooth peanut butter in the filling, but if you wanted to try crunchy peanut butter, go for it. I'd love to hear about how it turned out for you.
The topping is a silky sweet blend of dark chocolate, cream and peanut butter. Spoon it over top of the cheesecakes after they've had a chance to cool. Add a few chopped peanuts for garnish.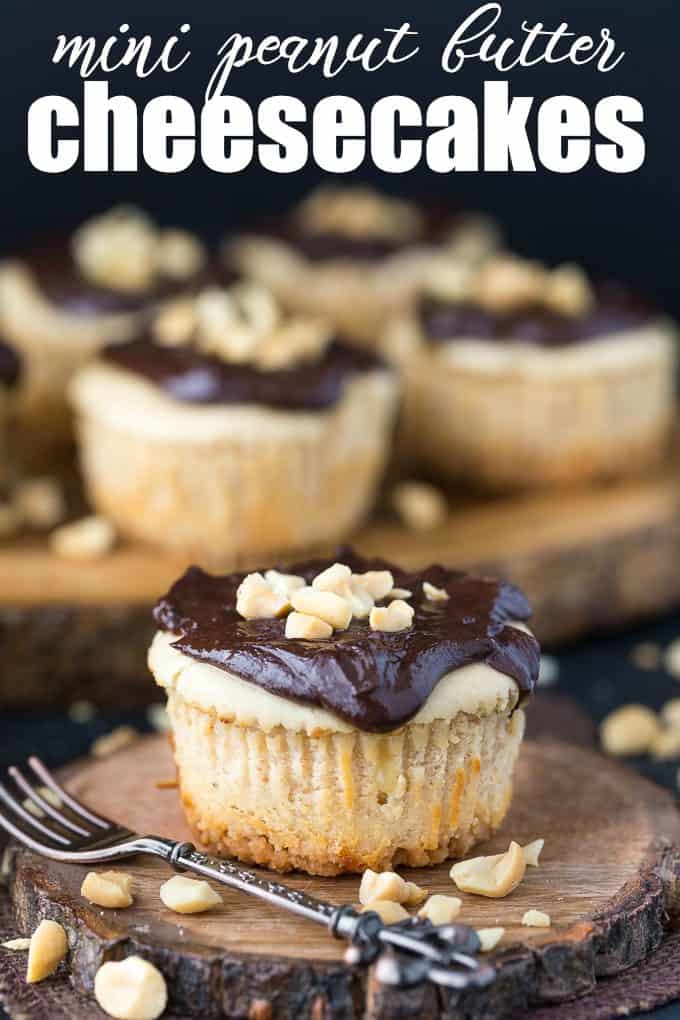 Add this recipe to your holiday table and I guarantee they'll be eaten quickly! My family gobbled up a dozen in what seemed like a blink of an eye. I was glad to see they were a hit. I'll be making them again soon.
Take that jar of peanut butter sitting in your pantry right now and start planning to make this easy recipe. If your family is like mine, I'm sure they will love every last sweet bite!
You might also like this Cranberry White Chocolate Cheesecake and Pecan Pie Cheesecake.
Connect with the Peanut Bureau of Canada on Facebook and Twitter.
How do you use peanuts and peanut butter in your holiday baking?

Mini Peanut Butter Cheesecakes with Chocolate Peanut Butter Sauce
You'll swoon over these mini cheesecakes! A shortbread cookie crust is topped with a rich, sweet peanut butter cheesecake filling and topped with a smooth and silky chocolate peanut butter sauce.
Ingredients
Cookie Crust
6 shortbread cookies, crushed
3 tbsp butter, melted
Peanut Butter Cheesecake Filling
2 250g packages cream cheese, softened
1/2 cup sugar
1/2 tsp vanilla extract
1/2 tsp salt
1/2 cup smooth peanut butter
2 eggs
Chocolate Peanut Butter Sauce
1 cup table cream (heavy cream)
1 1/2 cups dark chocolate, finely chopped
1 tbsp smooth peanut butter
1/8 cup peanuts, chopped
Instructions
Cookie Crust
Line a muffin tin with paper liners.
Mix shortbread cookies and melted butter in a small bowl. Press mixture into the bottom of the muffin liners (about 1 to 2 tsp each).
Peanut Butter Cheesecake Filling
Preheat oven to 350F. In a large mixing bowl, beat cream cheese, sugar, vanilla, salt and peanut butter on medium speed until combined.
Add in eggs, one at a time, on low speed. Mix until combined.
Fill muffin tin with cheesecake mixture about 3/4 way full. Bake for 20 minutes. Cool to room temperature and then refrigerate for 1 to 2 hours.
Chocolate Peanut Butter Sauce
Heat table cream in a small saucepan over medium heat until it starts to steam. Turn off the heat and add in dark chocolate. Ensure the chocolate is completely covered by the cream by gently shaking the saucepan. Let sit for 3 minutes.
Add in peanut butter and stir until it's melted and smooth. Let it cool for 15 minutes and stir again. Spoon over top mini cheesecakes. Garnish with chopped peanuts.
Recommended Products
As an Amazon Associate and member of other affiliate programs, I earn from qualifying purchases.
Nutrition Information:
Yield:

12
Serving Size:

1
Amount Per Serving:
Calories:

548
Total Fat:

42g
Saturated Fat:

22g
Trans Fat:

0g
Unsaturated Fat:

16g
Cholesterol:

105mg
Sodium:

359mg
Carbohydrates:

36g
Fiber:

3g
Sugar:

26g
Protein:

9g
Disclosure: I was compensated for this post. All opinions are my own.