Maple Syrup Cheesecake is the ideal fall dessert. This super simple cheesecake swaps the refined sugar for maple syrup and sits in a sweet cookie crust!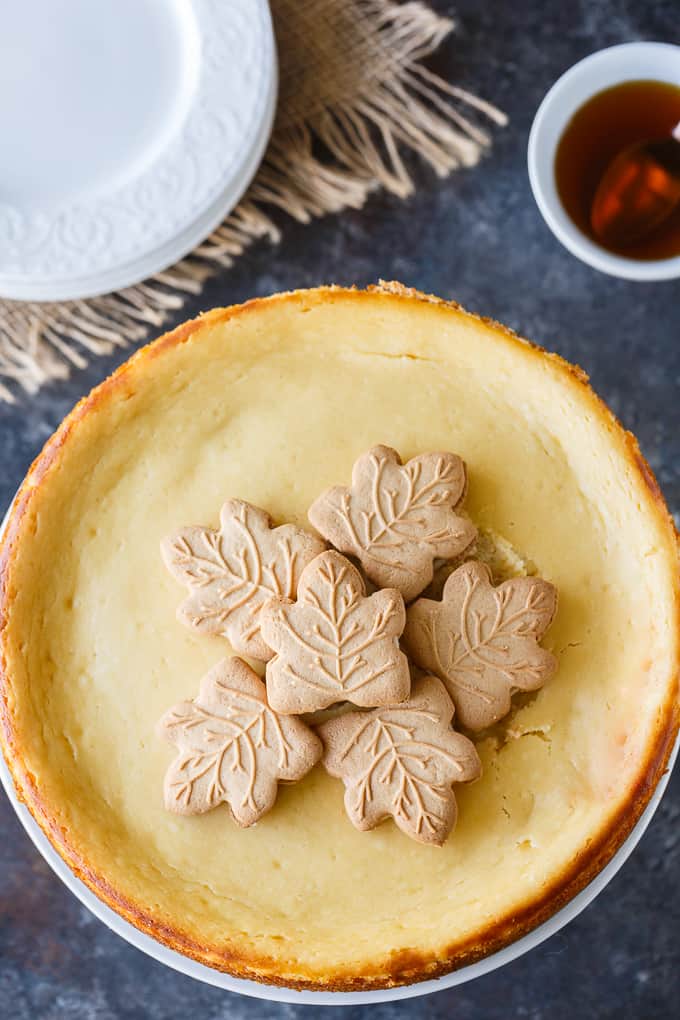 I love a good cheesecake. The creamy center and crunchy cookie crust is the best dessert combo, and this Maple Syrup Cheesecake has double the maple flavor!
I use maple syrup in the cheesecake base instead of white sugar, and I crushed Maple Leaf Cream Cookies for the crust! My family starts asking for this every fall and continues through the holiday season. It's a perfect Thanksgiving dessert for everyone who doesn't love pumpkin or pecan pie.
Double the maple desserts this holiday season with this super creamy Maple Pecan Ice Cream. No churn needed for this amazing ice cream.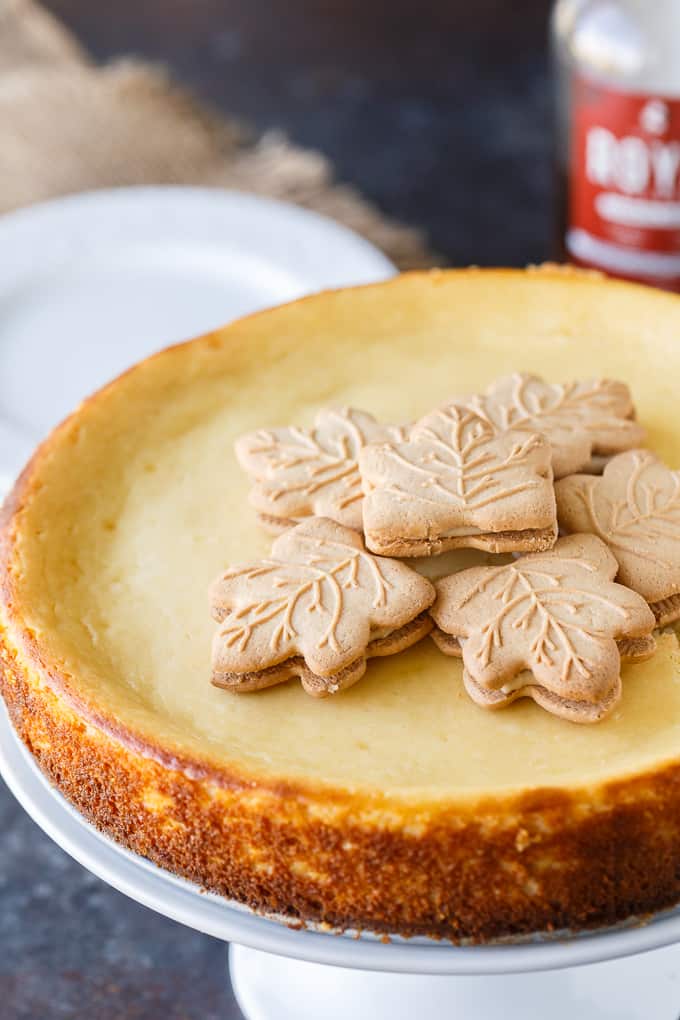 The cheesecake filling is smooth, creamy and not overly sweet. It's a basic baked cheesecake filling but instead of adding in white sugar, I used maple syrup. I also drizzled some maple syrup on top to finish off each piece.
Ingredients
Maple Leaf Cream Cookies
Butter
Cream cheese
Maple syrup
Eggs
The cream cookies are for the crust and give the cheesecake a deeper maple flavor. If you can't find them, crushed graham crackers will also work or any cookies you like!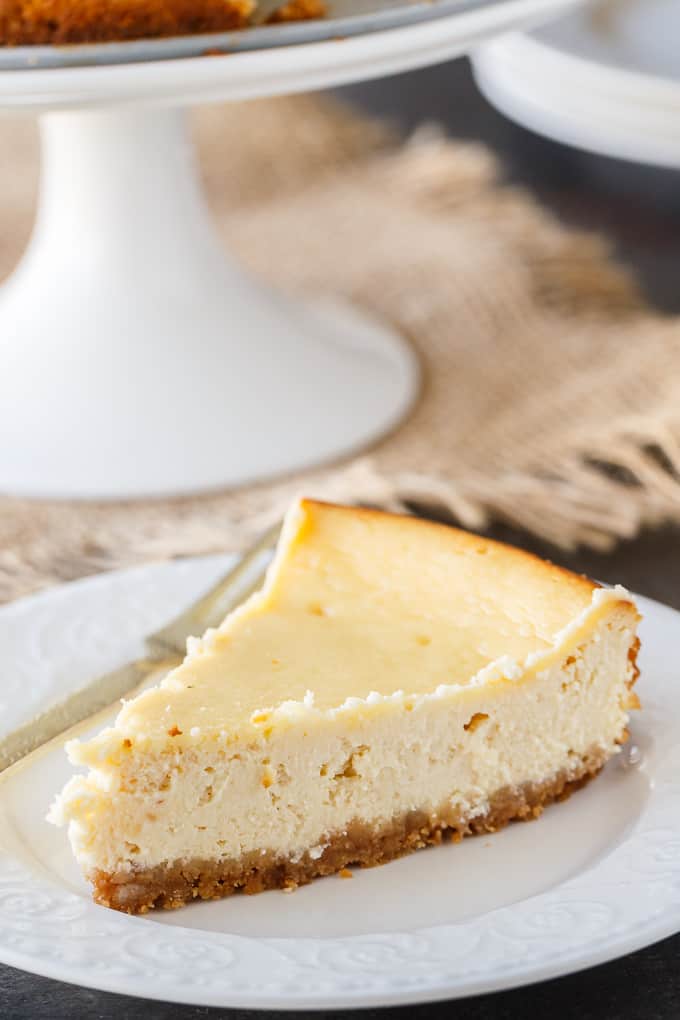 What I used for my Maple Syrup Cheesecake
This post contains affiliate links.
Springform pan: This pan releases from the side for perfect tarts and cheesecakes every time.
Rolling pin: French rolling pins are all the rage, but I love a standard rolling pin with handles I can use for flattening chicken, crushing cookies, or rolling dough.
Stand mixer: You don't have to be a professional to enjoy a stand mixer! This delightful machine makes baking a breeze and can do tons of other things like knead bread, roll pasta, and cut zoodles!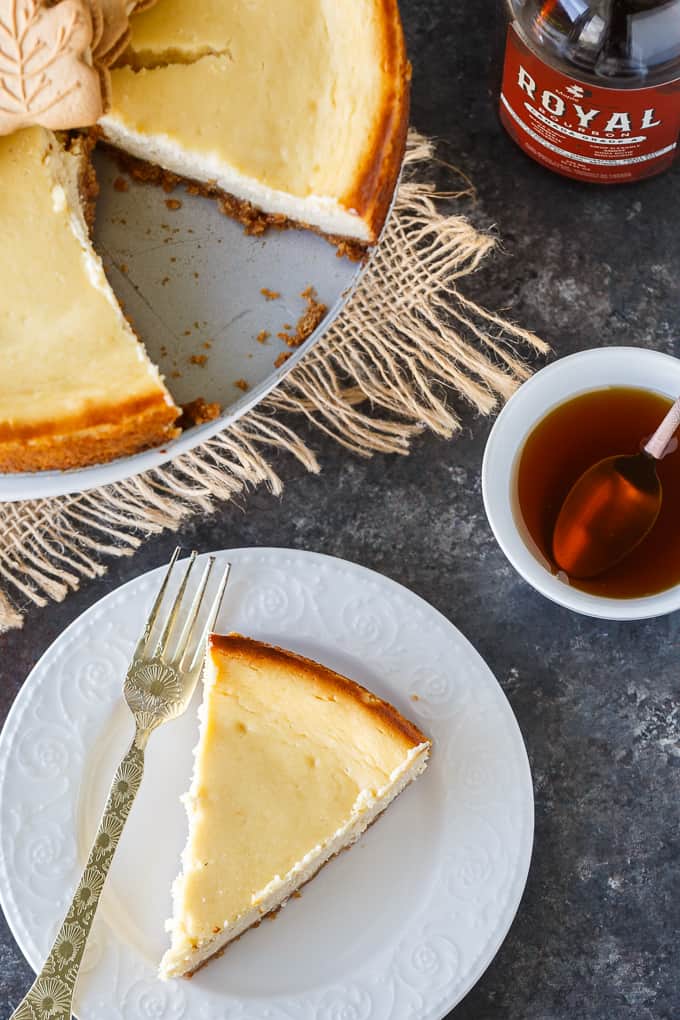 How to Make Maple Syrup Cheesecake
First, crush your cookies for the crust and mix them with butter. Press the crust into your pan.
Then, beat the cream cheese and maple syrup with a mixer on low until combined. Add the eggs and keep mixing and add to your crust.
Now, bake for about an hour at 350 degrees F or until it's set. Let fully cool before removing it from the pan and refrigerate a few hours before serving.
You can also add a scoop of vanilla ice cream on top and a drizzle of maple syrup. Delish!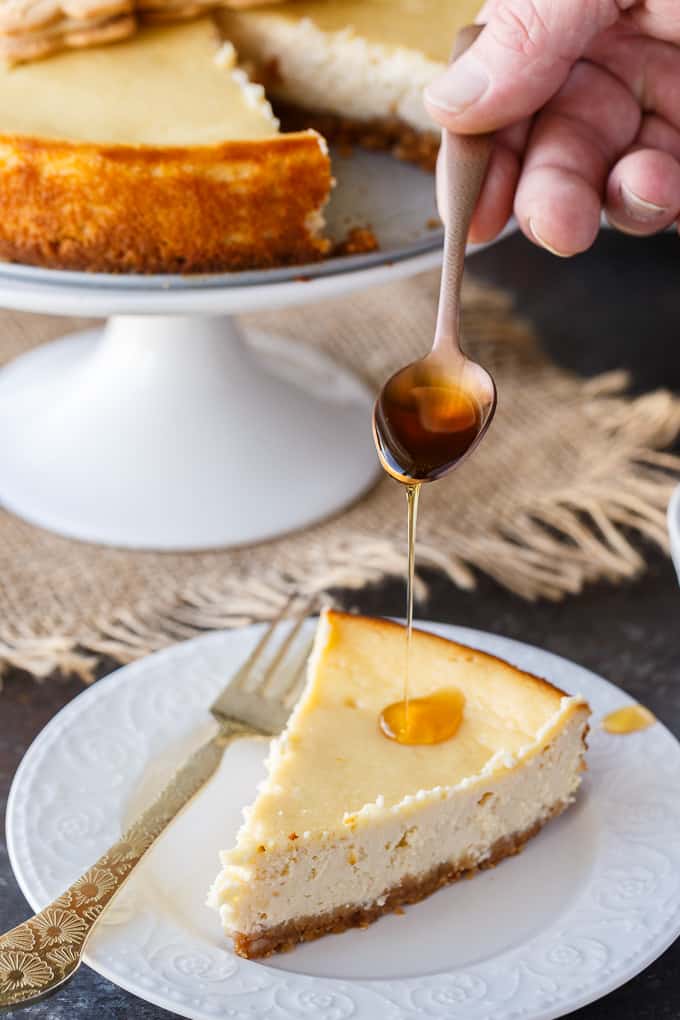 Benefits of Maple Syrup
I love to swap refined sugar for maple syrup whenever I can. I love the flavor, but I also love this healthier sweetener.
Pure maple syrup is very different than most maple-flavored pancake syrups. The real stuff, straight from maple trees, is high in antioxidants and has nutrients like riboflavin, zinc, magnesium, calcium, and potassium.
Compared to honey, one of the other common sweetener alternatives, maple syrup has 52 calories per tablespoon while honey contains 64 calories.
I'm not trying to convince you this cheesecake is HEALTHY by any means, but consider swapping more of your refined sugars for pure maple syrup!
Looking for a good maple syrup? Try Maple Lifestyle. Soooo yummy!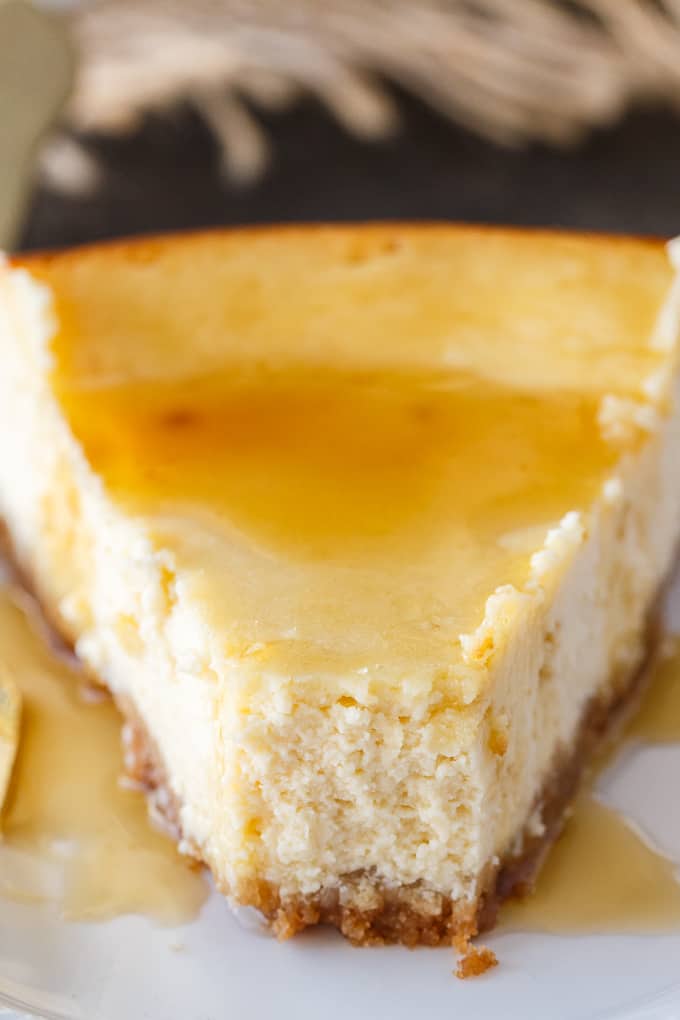 How to Store Leftovers
Maple Syrup Cheesecake leftovers will last up to 4 days in the fridge if your family doesn't devour it before then! I recommend putting it in an airtight container versus covering it with foil because it helps protect from absorbing fridge smells.
Since cheesecake is served cold, it's also easy to freeze and thaw later!
Cool and refrigerate the cheesecake until it's completely chilled. Then, slice it or keep the cheesecake whole. Put it in a freezer-safe container for up to 1 month for optimal flavor and 2 months total.
To serve, simply thaw and eat! You can thaw it overnight in the refrigerator or on the counter for a few hours. A thawed cheesecake needs to be chilled after 2 hours maximum.
Other amazing recipes to try…
You'll also like this Maple Almond Popcorn.
Do you have any amazing cheesecake recipes? I'm always looking for more recipes to try! Follow me on Instagram @simplystacieblog, on Facebook at Simply Stacie, and on Pinterest @SimplyStacie and let me know how you liked this and my other recipes!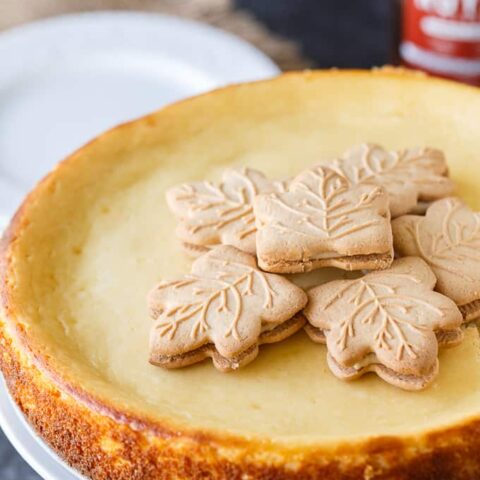 Maple Syrup Cheesecake
This might be the most Canadian cheesecake ever made! Using maple syrup to sweeten the cheesecake batter, and with maple syrup drizzled on top before serving, this smooth and creamy cheesecake is a great year round recipe – and perfect for a Canada Day celebration.
Ingredients
18 Maple Leaf Cream Cookies (I used Dare Ultimate Maple Leaf Creme Cookies)
1/3 cup salted butter, melted
3 (8oz/250g) packages cream cheese, softened
1 cup maple syrup
3 eggs
Instructions
Crush Maple Leaf Cream Cookies with a rolling pin and add to a mixing bowl. Stir in melted butter. Press mixture into a 9-inch spring form pan and set aside.
In a KitchenAid Stand Mixer or with a handheld electric mixer, beat cream cheese and maple syrup on low until combined. Add in eggs and mix on low until smooth. Pour cheesecake mixture over top of your maple cookie crust.
Bake for 1 hour in a 350°F oven or until the cheesecake is set. Let cool before removing the springform pan. Refrigerate for 3 to 4 hours before serving.
To serve, drizzle maple syrup over top of each slice.
Recommended Products
As an Amazon Associate and member of other affiliate programs, I earn from qualifying purchases.
Nutrition Information:
Yield:

6
Serving Size:

1
Amount Per Serving:
Calories:

442
Total Fat:

21g
Saturated Fat:

9g
Trans Fat:

0g
Unsaturated Fat:

10g
Cholesterol:

125mg
Sodium:

253mg
Carbohydrates:

60g
Fiber:

1g
Sugar:

46g
Protein:

5g