Ham and Eggs in a Muffin Tin make for that perfect quick and easy breakfast that will keep you full through the day. A ham slice stuffed in a muffin tin and then topped with an egg and cheese and baked to perfection! An easy breakfast to serve up or make ahead of time for meal prepping for the week.
I am all about a savory breakfast that is loaded with protein. It is a great way to keep me full as I kickstart the day. Whether I am finishing up some work on the computer or out running errands, I know I will feel nice and full for a while until lunch rolls around or I need a mid-morning snack.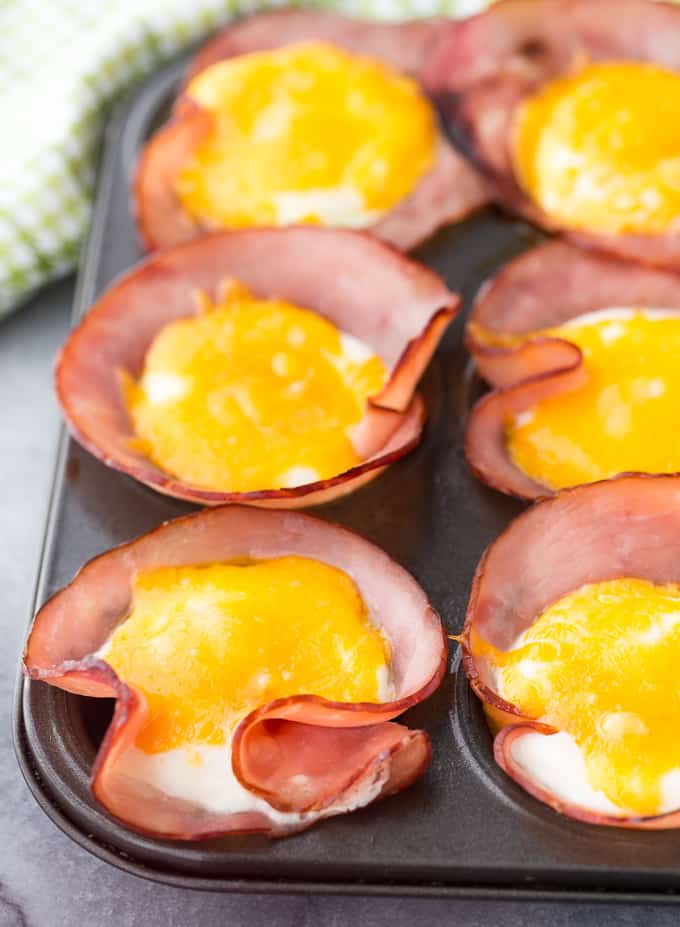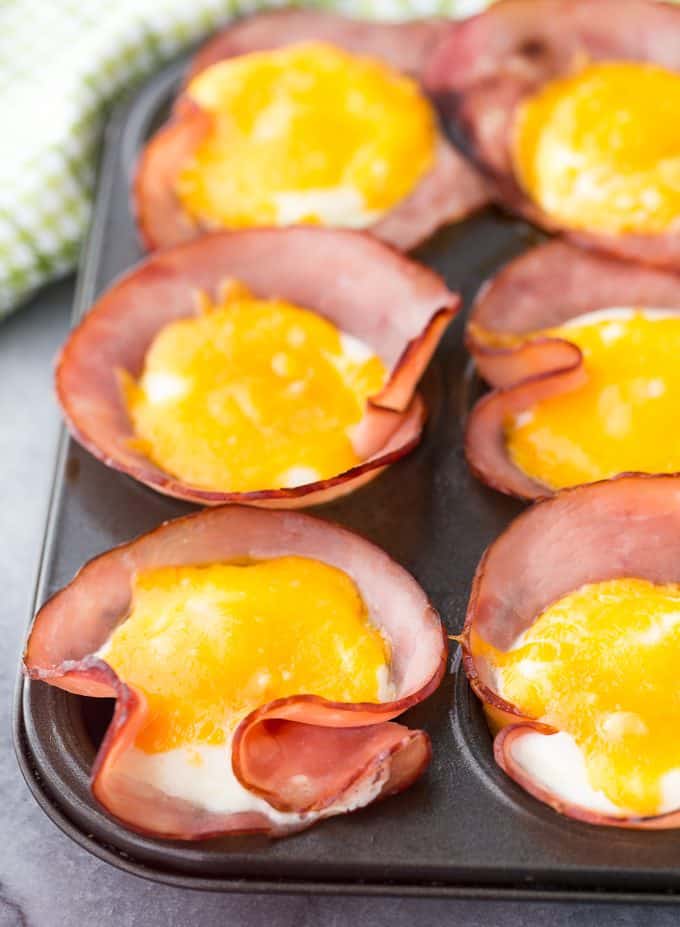 Protein Packed Ham & Eggs in A Muffin Tin
This post contains affiliate links.
After I was finished breastfeeding Bridget, I started following the Suzanne Somers diet. The diet focuses on food combining and limiting your carbs and sugar. I started back on it this winter, and I'm now down 40 lbs. It's slow, but I'm getting there, and I don't feel like I'm depriving myself of foods I love to eat.
One of the recipe ideas I found in one of Suzanne's books was this delicious Ham and Eggs in a Muffin Tin. It's quick and easy to make and hits the spot!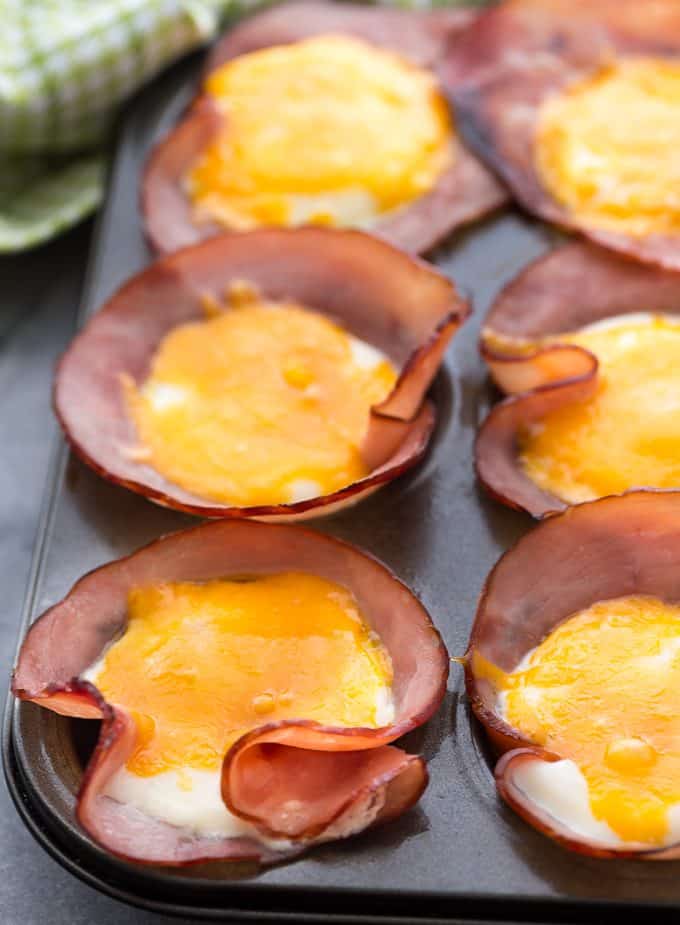 How Do You Make Ham and Eggs In A Muffin Tin
You will be surprised at how easy these ham and eggs in a muffin tin are to make. Just butter or spray your muffin tin down to prevent sticking. Then lay down a piece of ham, pressing it into the muffin tin.
Then put one egg in each muffin spot. Top with cheese and bake away. Simple and easy is what this recipe is all about.
Here are More Delicious Breakfast Ideas
How Long Will Egg Cups Last In Refrigerator
These ham and egg cups will last up to 3-4 days in the refrigerator. Which is great to eat during the week. Just pop one or two in the microwave to warm it up.
Can you Freeze Ham and Egg Cups
Yes! You can free ham and egg cups. Just allow the Ham and Eggs in a Muffin Tin to cool down slightly then place in single-serve freezer bags, and toss in the freezer. Or do an airtight container. Then grab one or two eggs and put in the fridge the night before or re-heat them straight from the freezer.
They warm up nicely in the microwave. The one thing to watch is not to overcook them in the microwave, or you will get a more rubbery texture of the egg.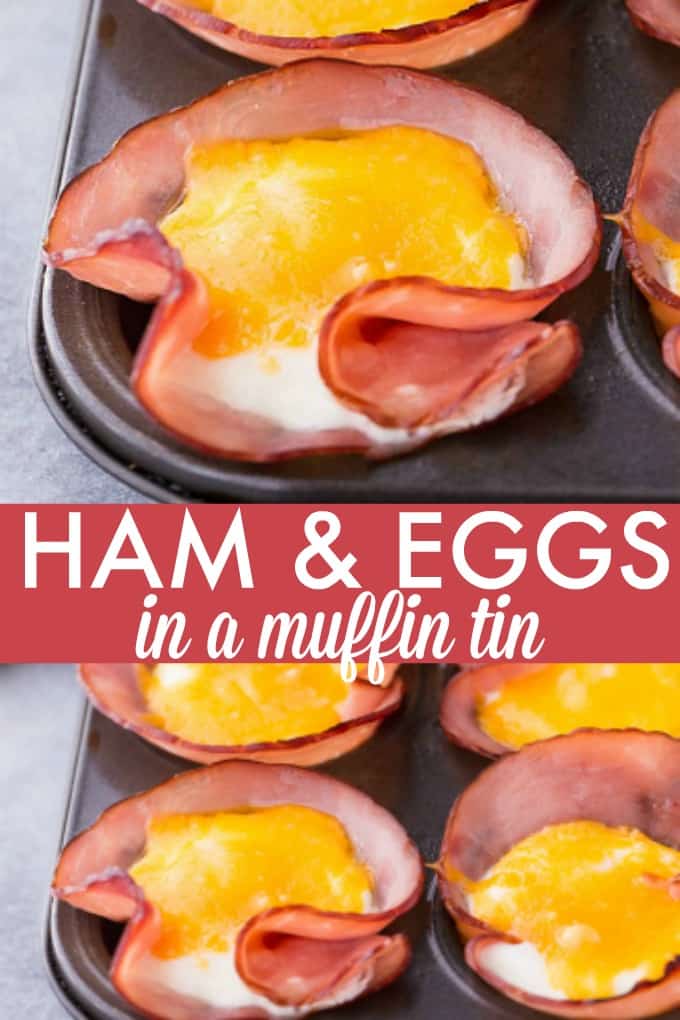 Variations of Ham and Egg Muffins
You can add in other meats, veggies and such, that I will list below. This recipe is so easy to adapt to fit your liking. You can either add these ingredients in to cook with your eggs or make them as toppers.
Fresh mushrooms
Peppers
Tomatoes
Rotel (drained)
Onions
Sausage
Bacon
Canadian Bacon
We play around with what veggies I need to get used up before they go bad. I have made these muffin tin eggs so many ways and each time is a total winner. Give them a try and feel free to play around with ingredients.
Just make sure you don't overfill the cups, or they will spill over as it bakes, and could make a mess.
Tips For Making Ham And Eggs in a Muffin Tin
Grease Pan | This is a must if you don't want your muffin eggs stuck. Whether you grease with butter or cooking spray, it is a must.
How Full To Fill | I recommend filling your eggs about 1/2 to 3/4 full. You need to ensure your egg can have room to expand as it cooks. Otherwise, it overflows.
Veggies | If you choose to opt to add other meats or vegetables in the tins, make sure you dice them up small. It saves space in your muffin tins.
Seasonings | Feel free to add a dash of pepper and salt. Or kick up the heat with say cayenne pepper or red chili flakes. It also adds a bit of color to your eggs.
These are great the day of or save and eat for a quick breakfast to kickstart the day. I love this recipe and make it over and over again. I think a lot of you will enjoy this recipe as well and the ease of making it!
Try Asian Chicken Lettuce Wraps.
Are you a fan of muffin tin eggs?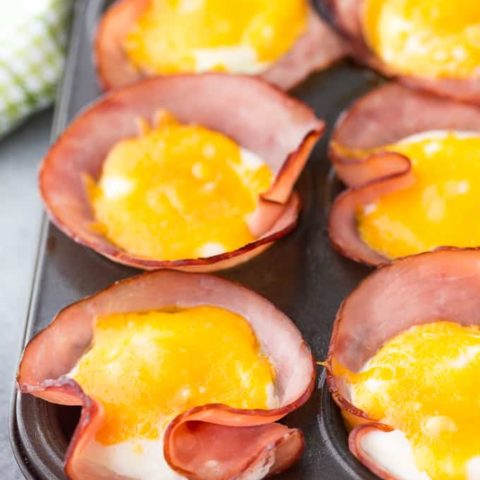 Ingredients
butter

to grease muffin tin

deli ham

sliced

eggs

cheese

shredded
Instructions
Grease muffin tins with butter.

Line each muffin tin with a slice of ham.

Add one egg to centre of each piece of ham.

Place in the oven for about 7 minutes. Then remove and top with shredded cheese and put back in the oven for an additional 7 minutes.

Add salt and pepper to taste and serve hot.
Kitchen Tools
Nutrition
Serving:
1
g
|
Calories:
61
kcal
|
Carbohydrates:
5
g
|
Protein:
2
g
|
Fat:
4
g
|
Saturated Fat:
1
g
|
Polyunsaturated Fat:
2
g
|
Cholesterol:
24
mg
|
Sodium:
85
mg
|
Sugar:
3
g
The information shown is an estimate provided by an online nutrition calculator. It should not be considered a substitute for a professional nutritionist's advice.
Love Recipes? Join our Free Facebook Group!
Join Mom's Best Recipes to find more delicious family recipes.
Save
Saved!