Oven Scrambled Eggs
Making breakfast for a large crowd is tiring! We usually only have a full house a couple times a year and it's mainly around the holidays. Instead of slaving over the stove making multiple batches of scrambled eggs, I can get them done in one shot when I prepare them in the oven.
The result is deliciously creamy scrambled eggs cooked to perfection. They also are piping hot! I despise eating cold eggs.
You can prepare the white sauce the night before and store in the fridge. In the morning, put it in the microwave to get it to room temperature. This recipe is the way to go when preparing scrambled eggs for a crowd! It's the only way I make them when we have company over.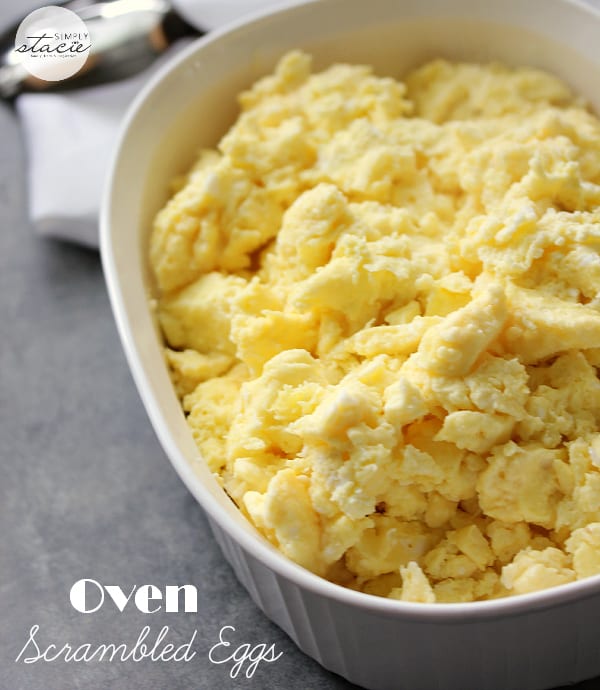 For more egg recipes, check out the following posts: Spinach & Cheese Egg Muffins and Ham & Eggs in a Muffin Tin.
Have you ever made scrambled eggs in the oven?
Oven Scrambled Eggs
Yield: 8
Prep Time: 15 minutes
Cook Time: 25 minutes
Total Time: 40 minutes
These oven baked eggs are the perfect solution to cooking eggs for a crowd. No one likes cold eggs, especially the chef!
Ingredients
18 eggs
3 tbsp butter
3 tbsp flour
¾ tsp salt
1½ cups table cream
salt & pepper, to taste
Instructions
In a saucepan on the stove, melt 3 tbsp butter over medium heat. Add in the flour and salt and stir constantly for 3 minutes. Gradually add in cream while whisking. Whisk constantly till sauce comes to a boil and is thick. Remove from heat and cover in plastic wrap. Place in freezer to bring the mixture to room temperature (about 8 to 10 minutes).
Preheat oven to 400°F. Whisk eggs in a large bowl and in cooled cream mixture. Whisk together.
Pour egg mixture into a greased baking pan. Cook uncovered for 10 minutes and then stir the mixture with a spatula. Cook another 5 minutes and then stir again. Repeat the process until eggs are cooked and reach the desired firmness. Season with salt and pepper to taste.
Recommended Products
As an Amazon Associate and member of other affiliate programs, I earn from qualifying purchases.
Nutrition Information:
Yield: 8
Serving Size: 1
Amount Per Serving:
Calories: 362
Total Fat: 31g
Saturated Fat: 17g
Trans Fat: 1g
Unsaturated Fat: 12g
Cholesterol: 480mg
Sodium: 461mg
Carbohydrates: 4g
Fiber: 0g
Sugar: 2g
Protein: 16g