Bring Indian seasonings to the breakfast table with these Indian Scrambled Eggs! This quick morning staple is packed with cumin, onion, green chiles, tomatoes, turmeric, and cilantro.
This post contains affiliate links.
Indian food is an incredibly exciting cuisine, and with this new edition of Suneeta Vaswani's bestselling first cookbook, Easy Indian Cooking, it's easier to make than ever. All of the dishes are richly flavored but are not complicated to create at home. You'll be absolutely delighted and amazed by the authentic flavor of this easy-to-prepare fare.
Featuring 30 new recipes, Suneeta's collection of 150 exciting and inspired dishes includes classics from northern and southern India, as well as her personal favorites, all of which have been adapted for North American kitchens. These savory and tantalizing recipes bring the innovative flavors of India into your kitchen.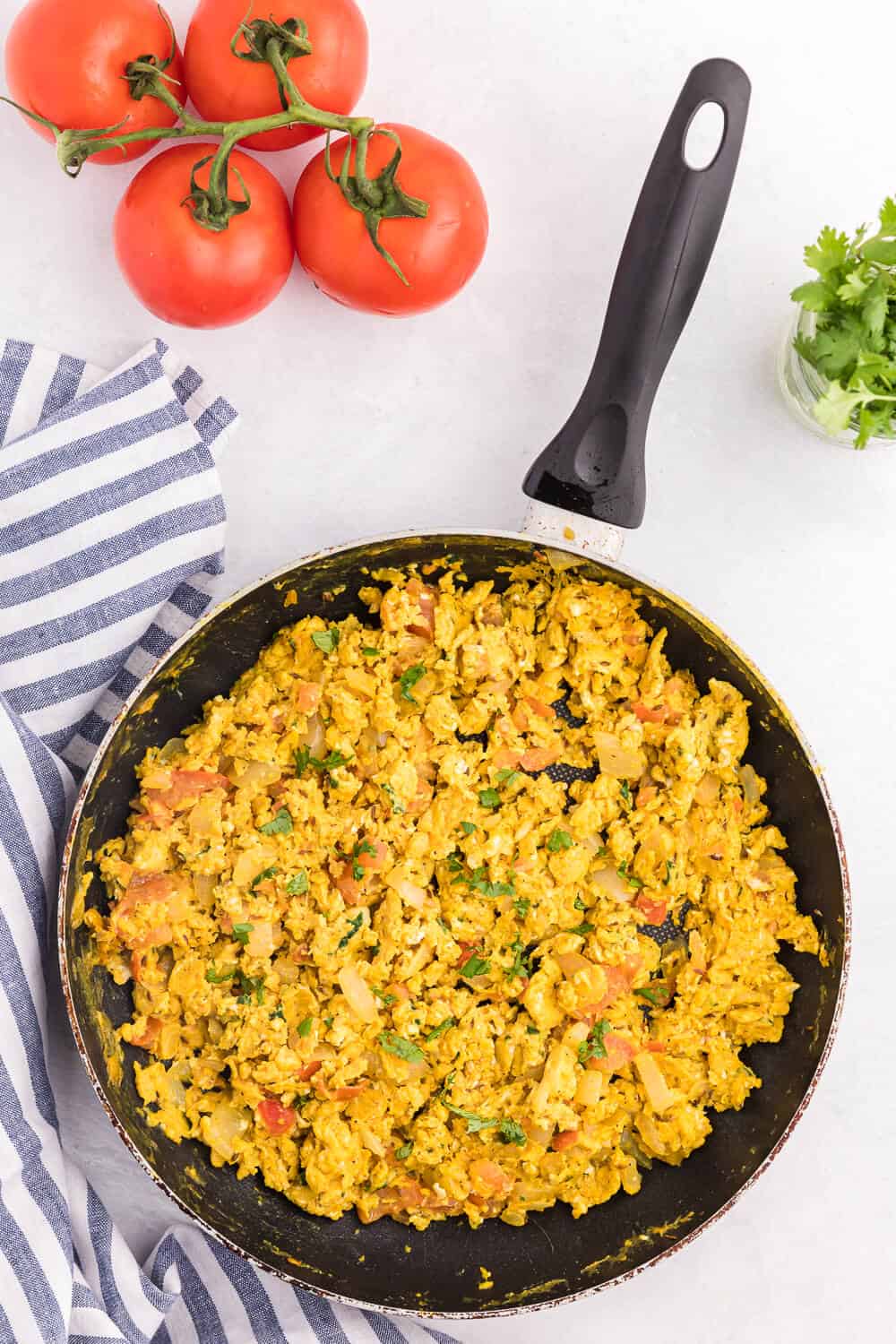 I've been trying my hand with Indian food for the past couple months at John's request. It's not a subject I know much about, but I'm learning and thanks to cookbooks like Easy Indian Cooking by Suneeta Vaswani. It's the newest addition to my Indian cookbook collection. I liked that it features recipes that aren't too complicated to prepare and with ingredients that you should be able to find locally.
This is the second edition of the book and the author has added 8 additional photos and 30 new recipes. In total, there's 150 recipes in the book. Not every recipe has a picture though so some of them you will have to try to picture in your head what they will turn out like.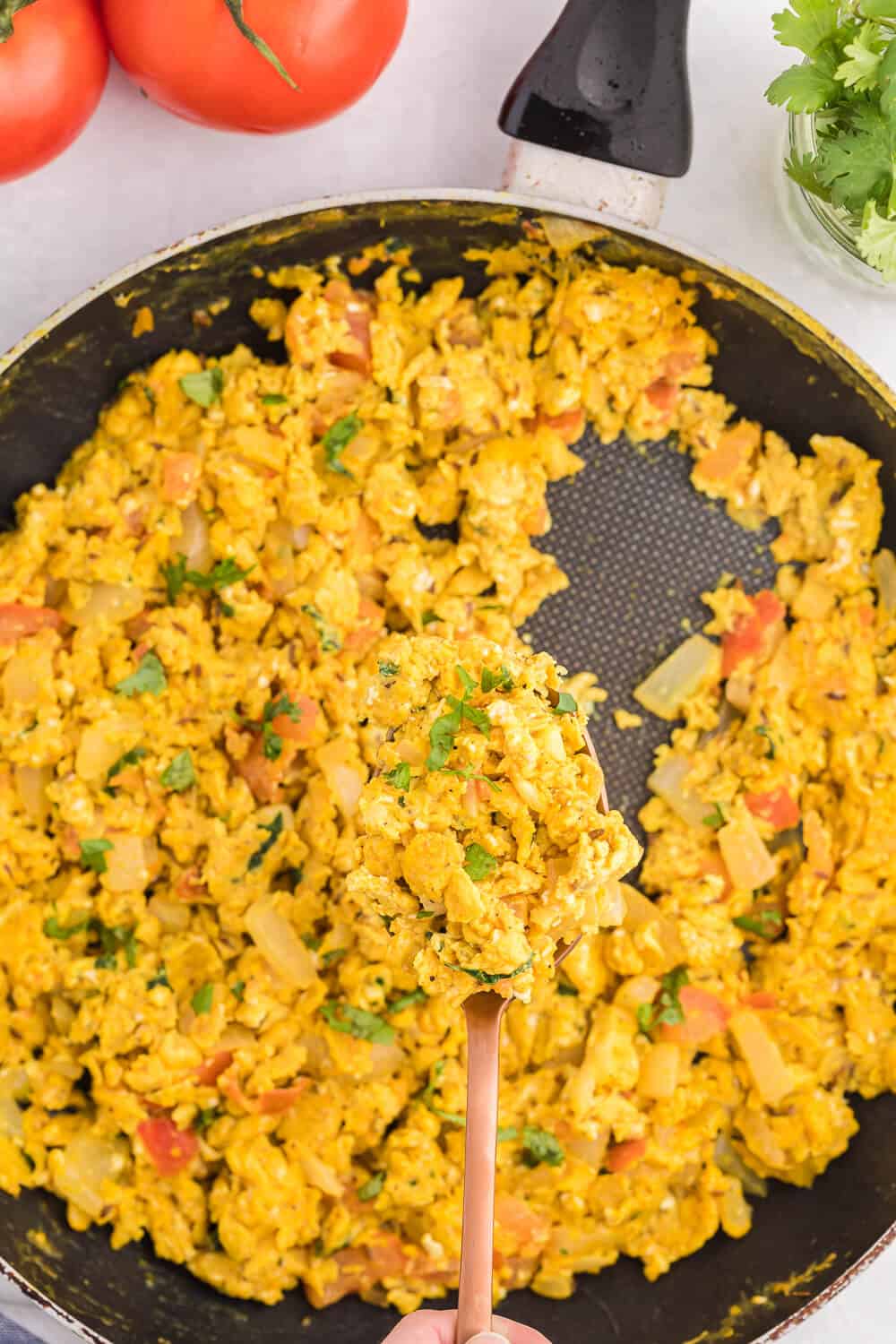 The book begins with an Introduction to Indian food that lists out common ingredients, spices, herbs, basic techniques and more. Many of the ingredients were new to me and I would probably only be able to buy them from an Indian grocery store in the city. My local grocery store doesn't carry many ingredients for ethnic cooking.
Then it's the recipes! They are broken down into different chapters like Snacks and Appetizers, Beans and Lentils, Poultry and Meat, Fish and Seafood, Raitas and Chutney, Sweets and Beverages and more. I liked that most of the recipes had ingredients that I could find locally (or easily substitute) and were on the healthy side. The desserts were ones I had never heard of before like Caramelized Carrot Pudding and Mango Lassi.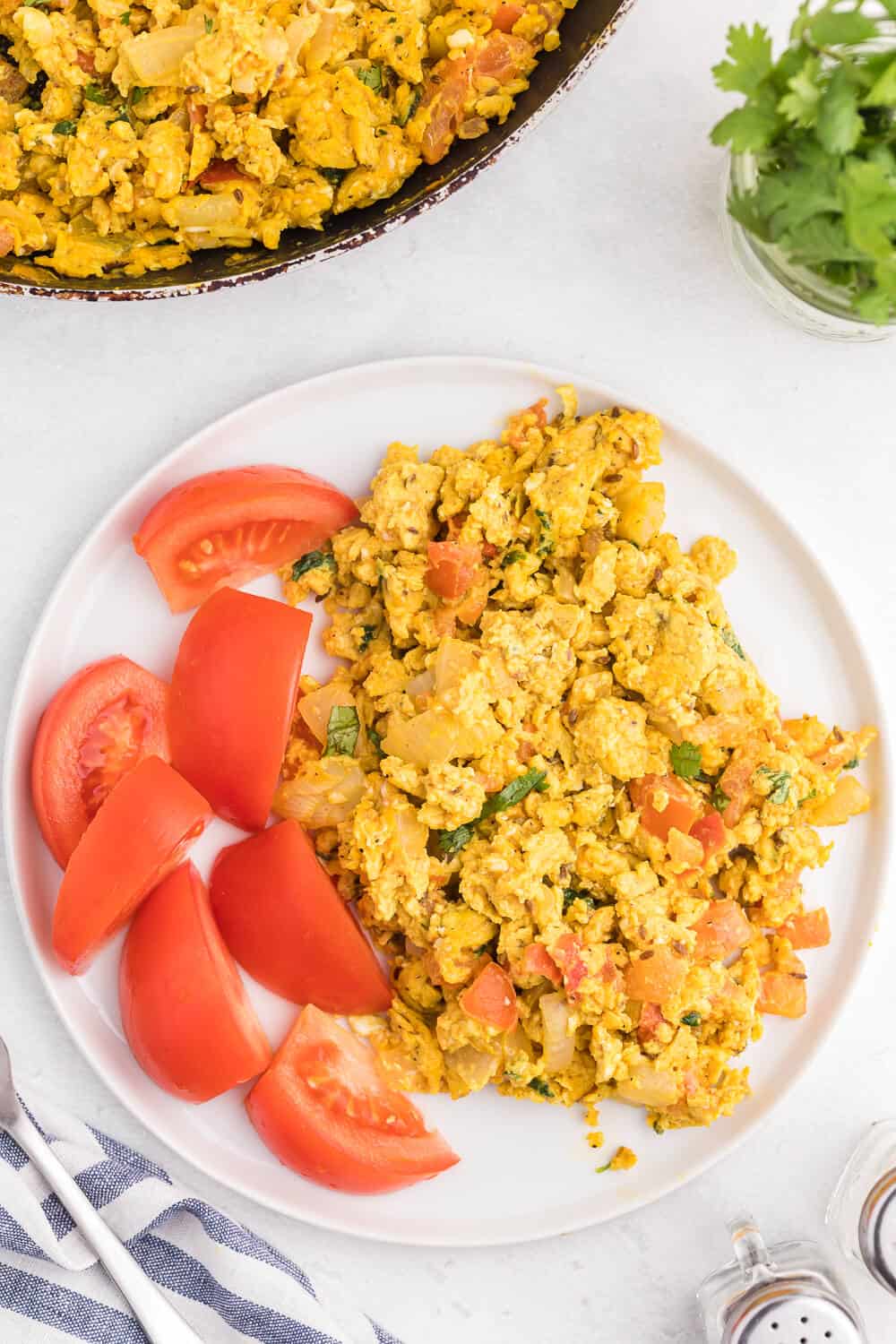 I ended up making a recipe out of the Vegetarian Entrees chapter called Indian Scrambled Eggs (Akoori). I eat scrambled eggs a lot on my low carb diet so I was interested in seeing what the Indian version would be like. I had to change a few ingredients though because of local availability. I used cumin instead of cumin seeds and omitted the cilantro. My grocery store had no cilantro! It's times like this that I wish I lived closer to the city.
However, the dish still turned out great. I didn't find it too spicy or hot. The book suggests piling the eggs on buttered toast or in a pita. We just ate them like they look on the plate. They were simple to make and one I'll be making again.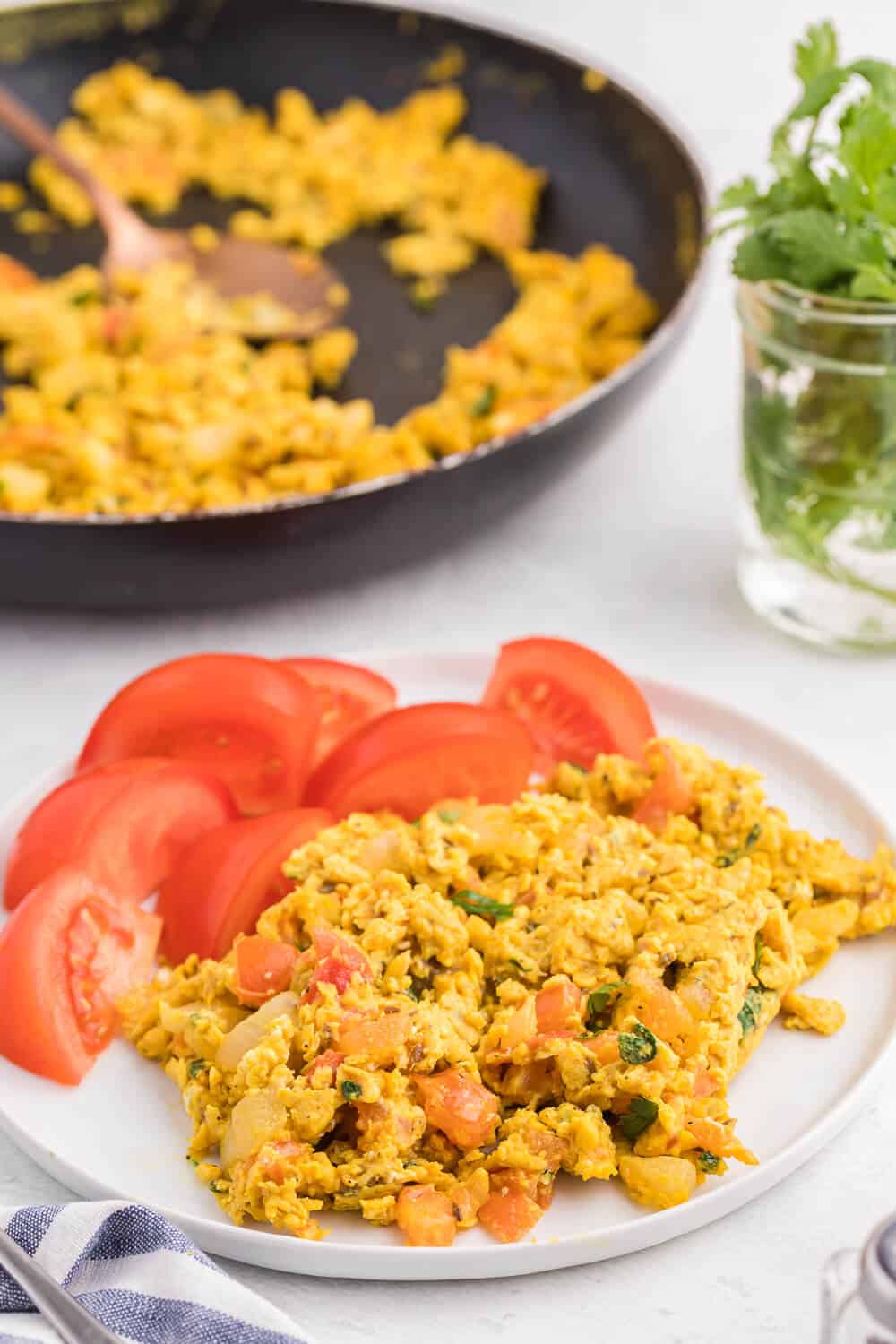 If you are looking to try your hand at Indian food, Easy Indian Cooking is the perfect place to start. It's one I know I'll be coming back to again to keep John's cravings for Indian food satisfied.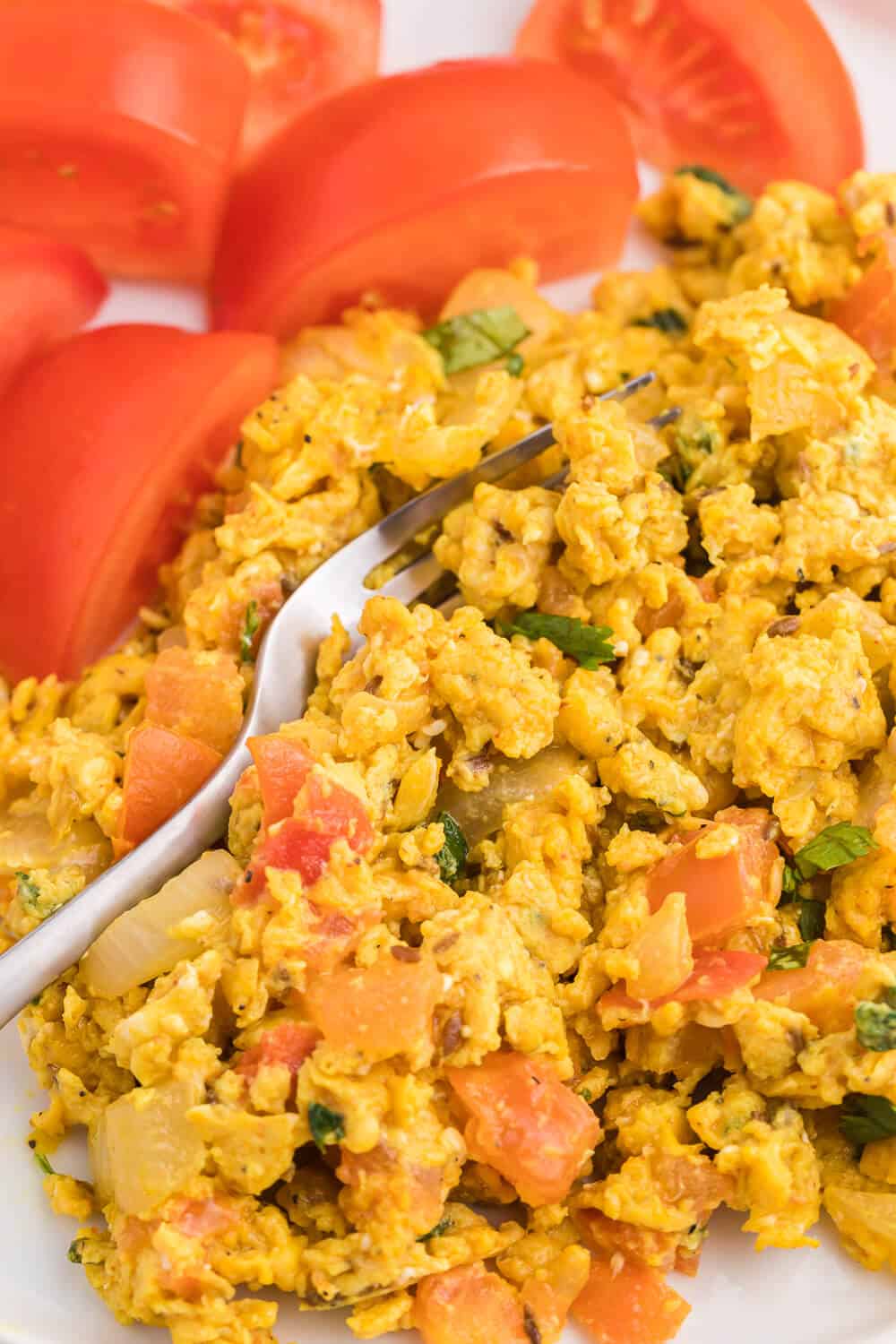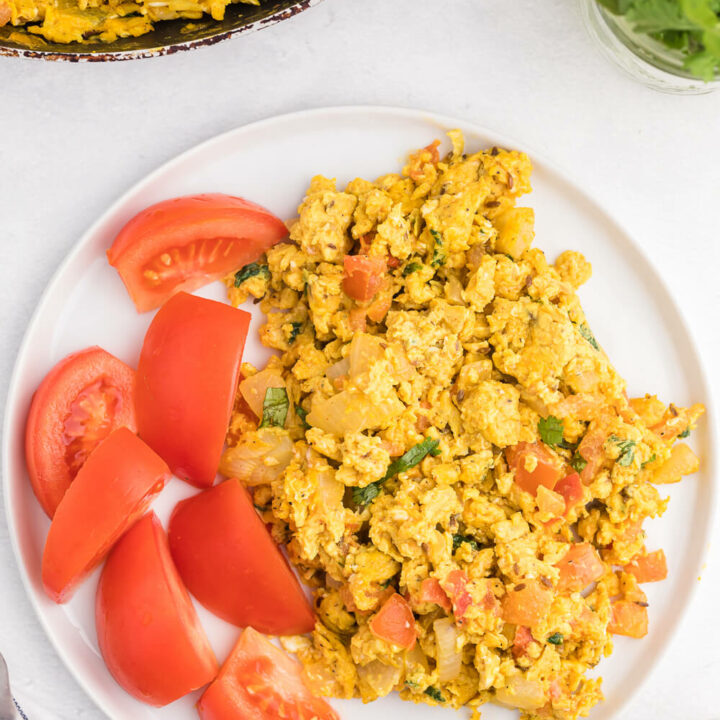 Indian Scrambled Eggs
Bring Indian seasonings to the breakfast table! This quick morning staple is packed with cumin, onion, green chiles, tomatoes, turmeric, and cilantro.
Ingredients
8 eggs
1 teaspoon salt
1/4 teaspoon black pepper
3 tablespoons vegetable oil
1 teaspoon cumin seeds
1 cup onion, chopped
2 teaspoons green chilies, finely chopped
1 cup tomato, chopped
1/2 teaspoon cayenne pepper
1/4 teaspoon turmeric
1/4 cup cilantro, chopped
Tomato wedges and cilantro sprigs, for garnish
Instructions
In a bowl, gently whisk eggs, salt and pepper. Do not beat.
In a large skillet, heat oil over medium-high heat and add cumin seeds. Stir in onion and green chile and saute until golden, 3 to 4 minutes.
Add tomato and saute, stirring continuously, for 1 minute. Stir in cayenne, turmeric and cilantro. Cook for 1 minute longer. Reduce heat to medium-low, and slowly add egg mixture.
Cook, stirring gently, until eggs are soft and creamy, 3 to 4 minutes. Do not overcook.
Serve garnished with tomato wedges and cilantro springs.
Recommended Products
As an Amazon Associate and member of other affiliate programs, I earn from qualifying purchases.
Nutrition Information:
Yield:

4
Serving Size:

1
Amount Per Serving:
Calories:

278
Total Fat:

20g
Saturated Fat:

4g
Trans Fat:

0g
Unsaturated Fat:

15g
Cholesterol:

372mg
Sodium:

731mg
Carbohydrates:

10g
Fiber:

2g
Sugar:

5g
Protein:

14g