One of my biggest pet peeves is wasted food. To me it feels like I'm throwing away money. Did you know that according to a recent report that the value of food thrown away by Canadians each year is $31 billion! Staggering, right? I had no idea that much food is wasted. It's truly mindboggling.
Fruit is notorious for spoiling quickly. It seems like I just buy the containers from the store and a few days later, they've gone bad in the fridge. It's a shame because fruit isn't cheap anymore, but what can you do? I'm not about to serve mouldy berries and mushy fruit to my family. It almost makes me not want to even bother buying it because it won't keep long.
That was my thought process until recently. I've discovered a revolutionary food storage container system from Rubbermaid, a brand that has stood the test of time for almost 80 years, that will change your life. Well, maybe not your life, but it will change how you store your produce and how long you can enjoy it!
Rubbermaid's FreshWorks Produce Saver containers are a game changer. I've been testing them out for the past couple of weeks and have been blown away with the results. My fruit is staying fresher, much longer! Needless to say, I've been buying fruit a lot more than before thanks to these handy BPA-free containers.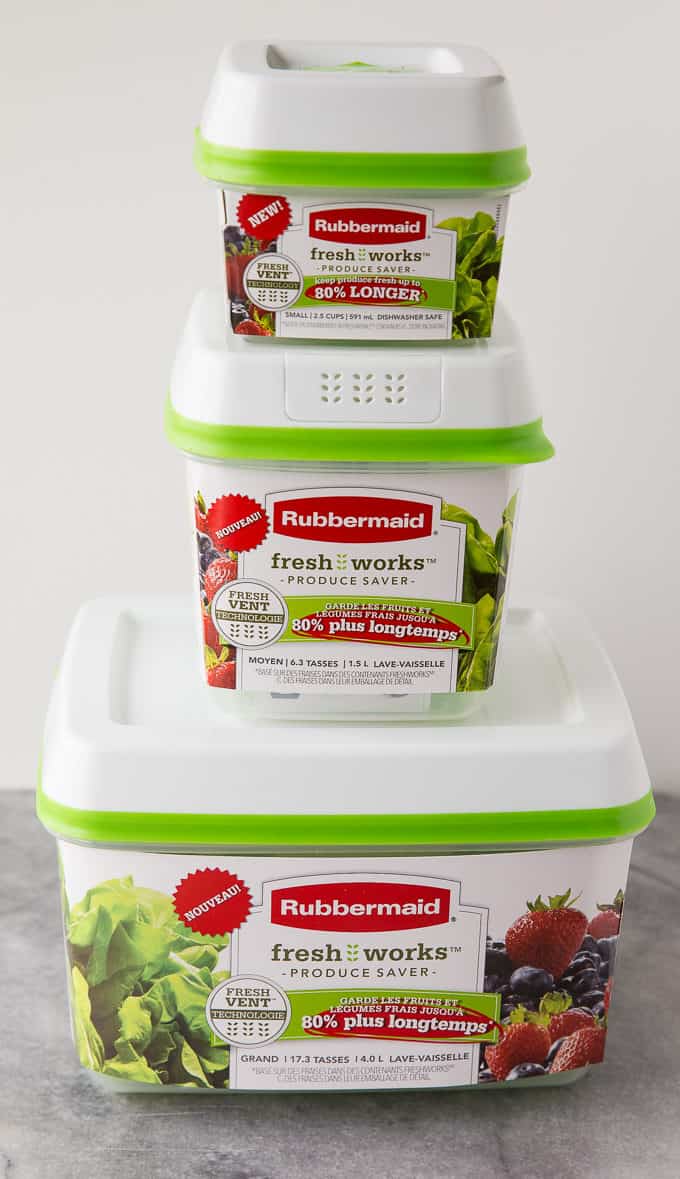 Though these containers may look similar to others you'd find at the store, I can tell you they have some key differences. For starters, they feature FreshVent technology: a unique vent that regulates the flow of oxygen and carbon dioxide in and out of the container. You won't find this special technology in any other storage container on the market.
The CrispTray goes at the bottom of your container and also helps with airflow. It keeps produce elevated to reduce moisture.
FreshWorks is available in three sizes. The small size is perfect for fruit like blueberries and raspberries. The medium fits a package of strawberries perfectly. The large is great for bigger fruit like pineapple or bunches of grapes.
Rainbow Fruit Salad
I made a Rainbow Fruit Salad for the Canada Day long weekend and wanted to put the containers to the test. I transferred half my fruit to the FreshWorks containers and left the other half in the regular store packaging.
The blueberries went into the small sized container while the strawberries were stored in the medium size. It's recommended for best results to not cut or rinse your fruit before you store it. Simply take it out of the store package and place it in your FreshWorks containers. Easy peasy.
I wasn't ready to make the salad right away so I stored the containers in my fridge. They easily stack on top of each other.
My only issue was keeping John and the kids away from the fruit! They kept going into the fridge to grab some to eat.
Strawberries are notorious for spoiling quickly. FreshWorks keeps produce fresher up to 80% longer than the traditional packaging*. I noticed a difference after a few days. The strawberries in the store packaging were starting to look old and shrivelled. The strawberries in my FreshWorks container were keeping their colour and texture and just looked much more appetizing. I ended up composting the strawberries in the store packaging and using the ones in my FreshWorks container in my fruit salad.
My fruit stored in my FreshWorks containers was ready for me to make my fresh and vibrant Rainbow Fruit Salad with Coconut Lime Dressing.
I tried to utilize fruit from all colours of the rainbow including strawberries (red), pineapple (yellow), grapes (purple), kiwi (green), blueberries (blue) and mandarin oranges (oranges). I sprinkled a little bit of coconut on top to represent the clouds. It's a beautiful salad that is almost too pretty to eat!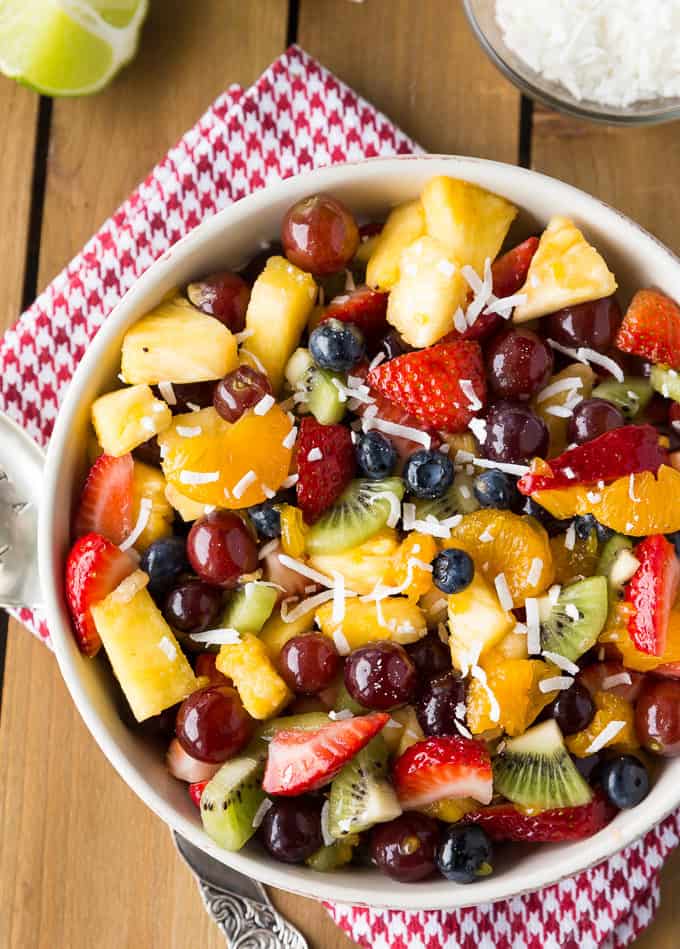 The most labour intensive part is cutting up the fruit. I recommend serving it shortly after you make it so it doesn't become soggy. I never have any leftovers when I make it because it's always a hit.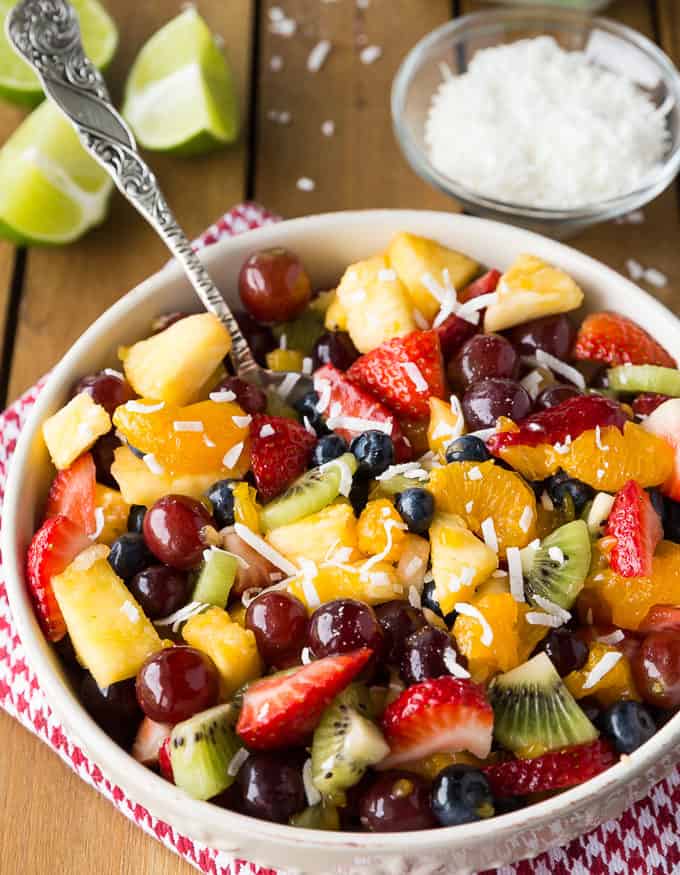 The sweet dressing is a blend of lime juice, coconut extract and honey for a hint of sweetness. I love the tropical flavour it adds to the salad!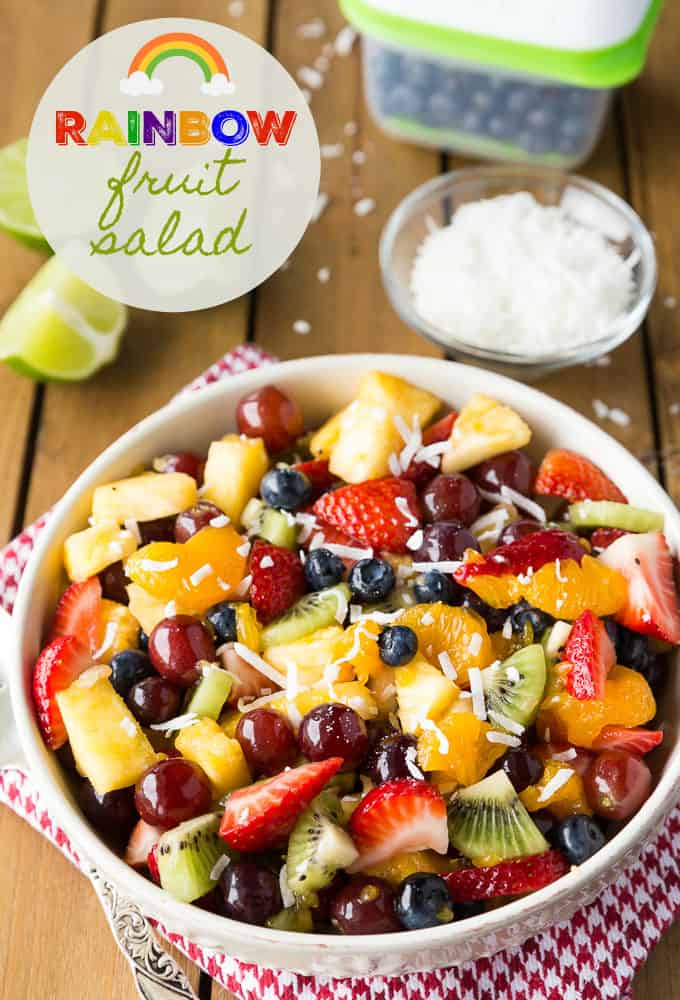 I highly recommend you pick up some FreshWorks containers to store your produce including the fruit you use to make this salad. That way, you don't have to make it right away and worry about anything going bad quickly in the fridge. Food waste drives me bonkers!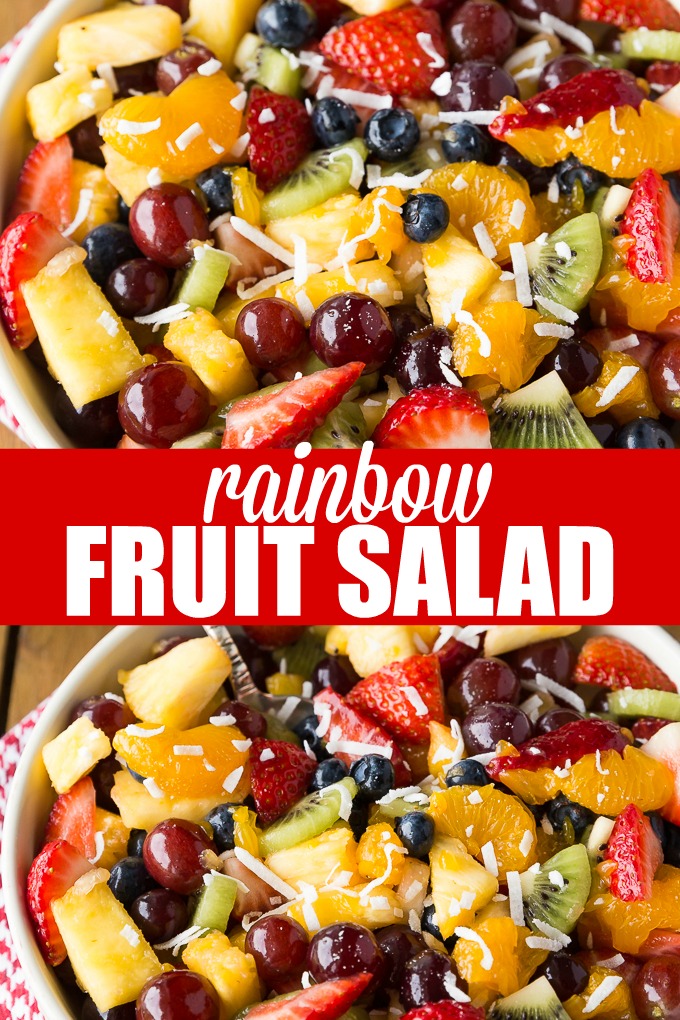 Look for FreshWorks nationwide at Loblaws, Real Canadian Superstore, Walmart, London Drugs, Canadian Tire and other retailers. They are affordably priced, ranging from $9.99 to $17.99, depending on which size you buy. I know they'll be a game changer for you, too. Visit Rubbermaid to learn more.
What will you store in your FreshWorks containers?
*Based on strawberries in FreshWorks containers vs. store packaging at day 21.
Connect with Rubbermaid on Facebook, Instagram, Twitter and YouTube.
You might also like this Sunshine Salad or Fruit Cocktail Dessert.

Rainbow Fruit Salad
The most beautiful recipe! Every color is represented with a sweet coconut lime dressing for the most uplifting fruit salad.
Ingredients
1 cup blueberries
2 cups strawberries, hulled and quartered
3 kiwi, peeled and chopped
1 284 ml can mandarin oranges, drained
2 cups pineapple, chopped
2 cups red grapes
2 tbsp sweetened shredded coconut, for garnish (optional)
Coconut Lime Dressing
2 tbsp lime juice
1/2 tsp coconut extract
1 tsp honey
Instructions
Add fruit to a large bowl and toss to combine.
In a small bowl, stir together lime juice, coconut extract and honey. Pour into fruit bowl and toss to combine.
Refrigerate until ready to serve. Sprinkle coconut on top prior to serving.
Recommended Products
As an Amazon Associate and member of other affiliate programs, I earn from qualifying purchases.
Nutrition Information:
Yield:

8
Serving Size:

1
Amount Per Serving:
Calories:

108
Total Fat:

1g
Saturated Fat:

0g
Trans Fat:

0g
Unsaturated Fat:

0g
Cholesterol:

0mg
Sodium:

8mg
Carbohydrates:

27g
Fiber:

4g
Sugar:

20g
Protein:

1g
Disclosure: Product and compensation was provided to me by Rubbermaid. All opinions expressed on this blog are my own.