A vintage Jell-O treat! Stunningly green and one of the easiest desserts you can make for holidays or any special occasion. This fruit cocktail dessert is so creamy, sweet and full of yummy fruit flavor!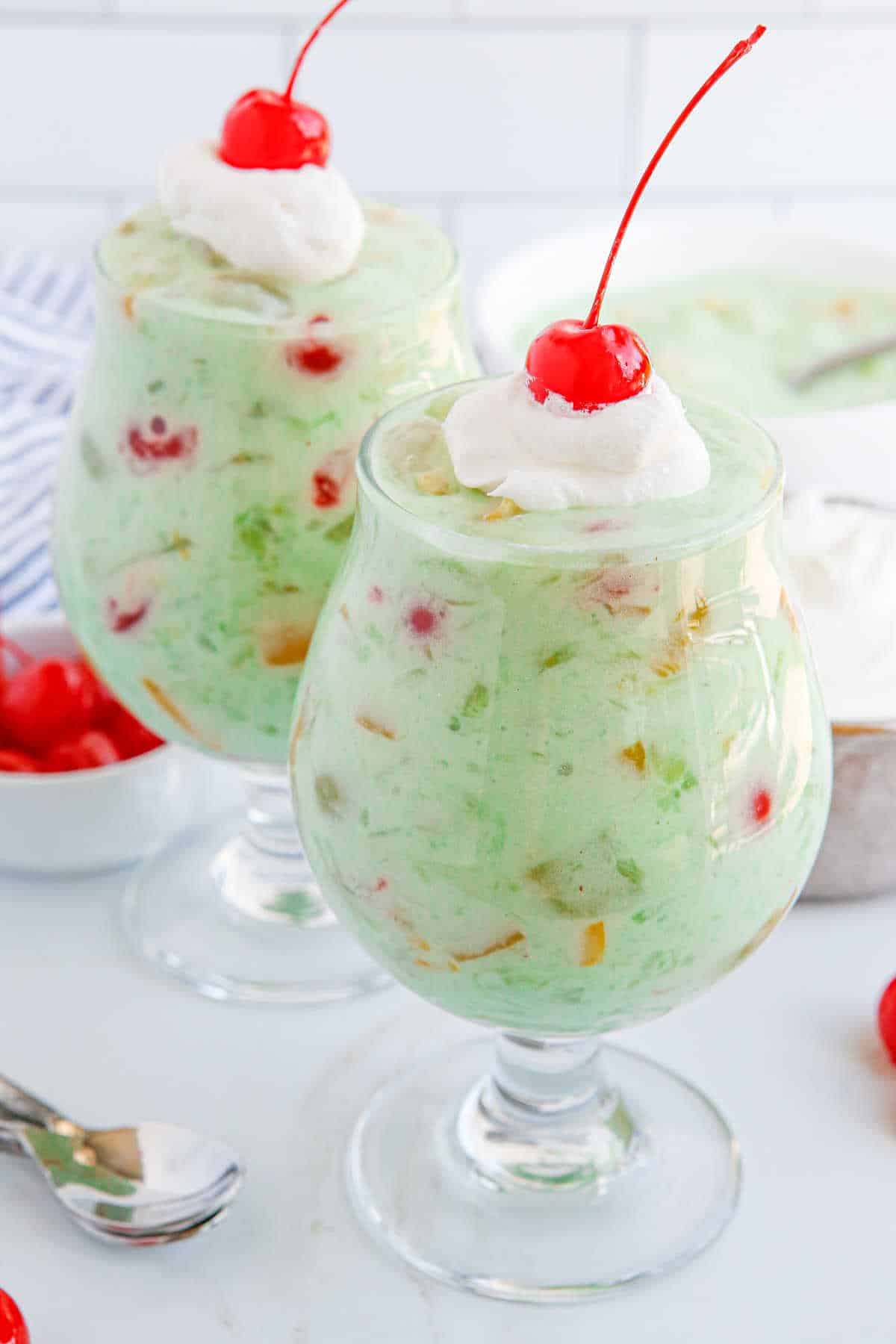 If you know that company is coming for dinner and you need an easy dessert, this one's for you. All you'll need is a can of fruit cocktail, a can of crushed pineapple, a box of Pistachio pudding mix, and creamy Cool Whip. Throw it all together in a bowl and let it sit for a few hours in the fridge. This will help it thicken up a bit.
It reminds me a bit of those dessert salads that were so popular in the past. I guess this could be served as an old-school fruit salad too, but I think it's more like a dessert. I put it in parfait dishes and top with whipped cream and a cherry. So festive! If you love easy recipes using simple ingredients, this is the recipe for you!
The pastel green with bright red cherry pieces scattered throughout make this fluff salad perfect for Christmas, but it's great for Easter, too.
Why You'll Love This Fruit Cocktail Dessert
It only takes 5 minutes of prep to get this dessert in the fridge to set.
The color is green and festive, perfect for Christmas and other winter holidays.
This fluff salad is sweet, creamy, and full of fruity flavor.
Easily adaptable recipe by swapping out the type of fruit cocktail or adding ingredients like marshmallows, nuts, or coconut flakes.
Great throwback recipe that will remind guests of childhood favorites.
Ingredients
Fruit Cocktail: Canned fruit cocktail is a mix of diced sweet and tart fruits in water, fruit juice, or a light syrup. This is usually a mix of peaches, pears, grapes, cherries, and pineapple, though you may find different varieties such as tropical fruit cocktail. I've used the standard version here. If you can't find a large can, two cans of fruit cocktail (14.5 oz) will work in place of the 28 oz. can.
Crushed Pineapple: You could also use pineapple tidbits in place of the crushed pineapple.
Pistachio Pudding: Do not mix the pudding according to package instructions. You're going to add the dry mix to the undrained fruit.
Cool Whip: I only use a couple of tablespoons for this recipe, but feel free to add more whipped topping for a creamier version.
Cherries: Maraschino cherries are delicious, but they can turn your dessert red if you put them on top too soon. Wait until right before serving before topping with the cherries. Rinsing them also helps keep them from dyeing the whipped topping red.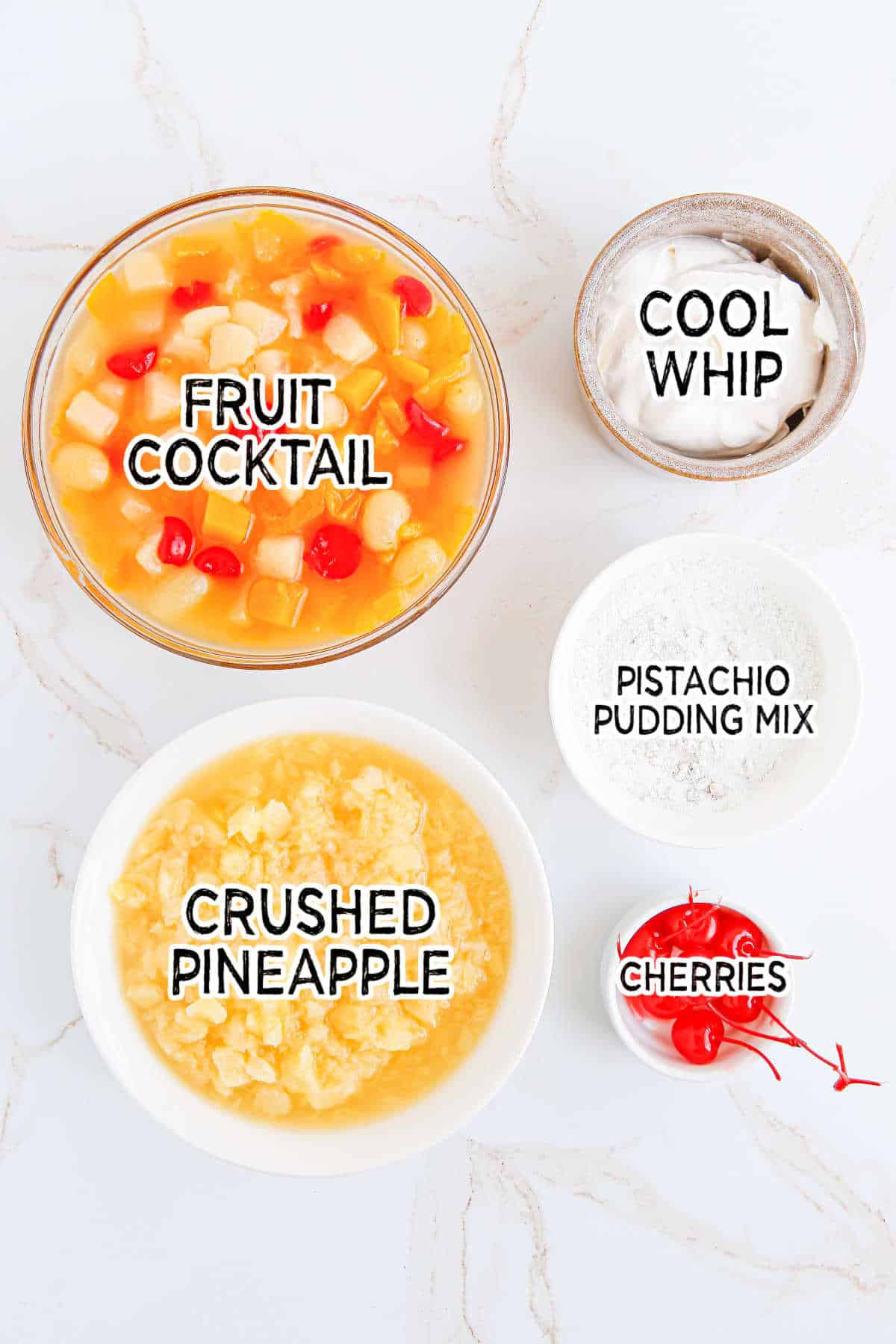 How to Make Fruit Cocktail Dessert
Step One: Combine the undrained fruit cocktail, crushed pineapple, and pudding in a large bowl. Let set for 1 hour.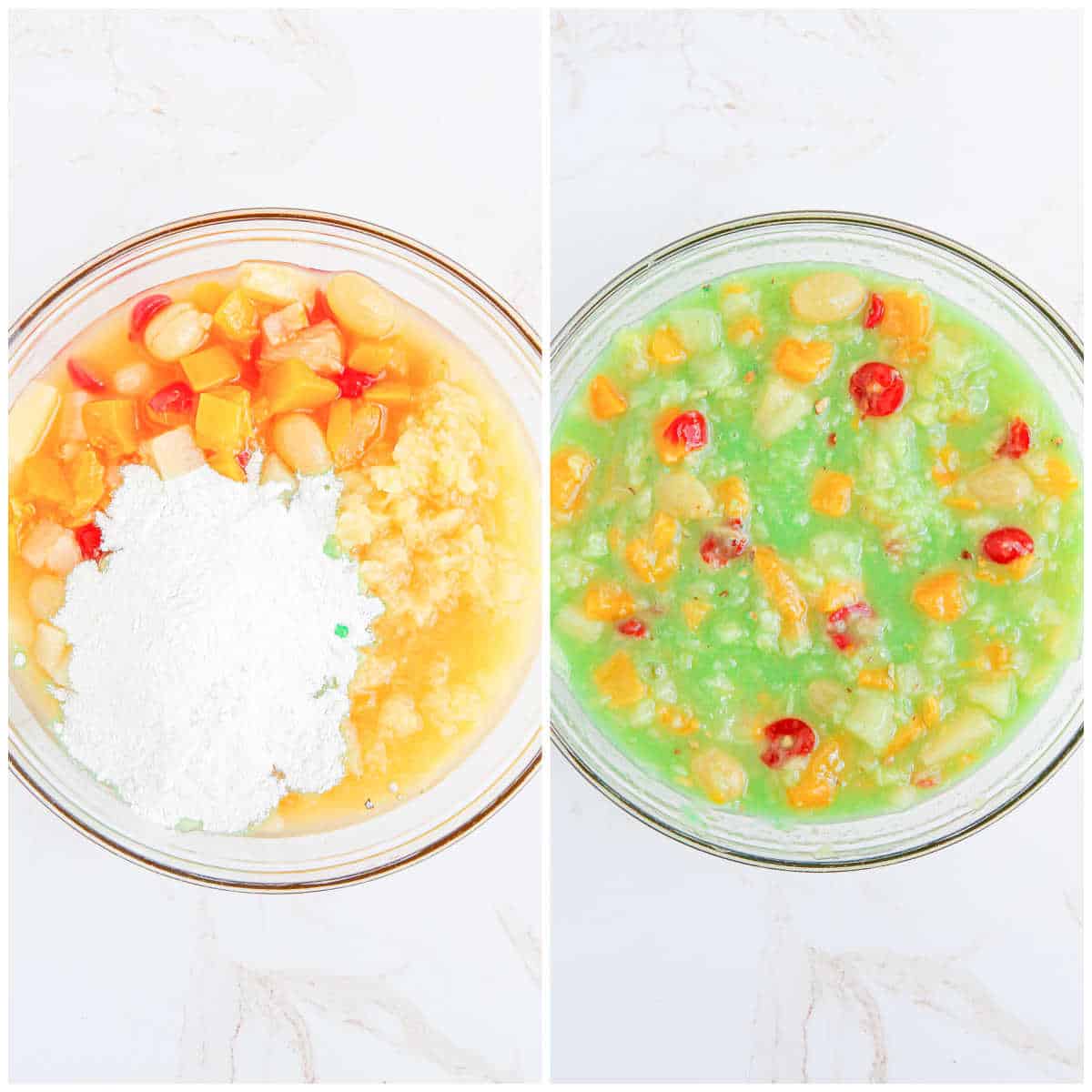 Step Two: Fold in Cool Whip.
Step Three: Refrigerate for 3 to 5 hours until thickened. Top with Cool Whip and cherries, if desired.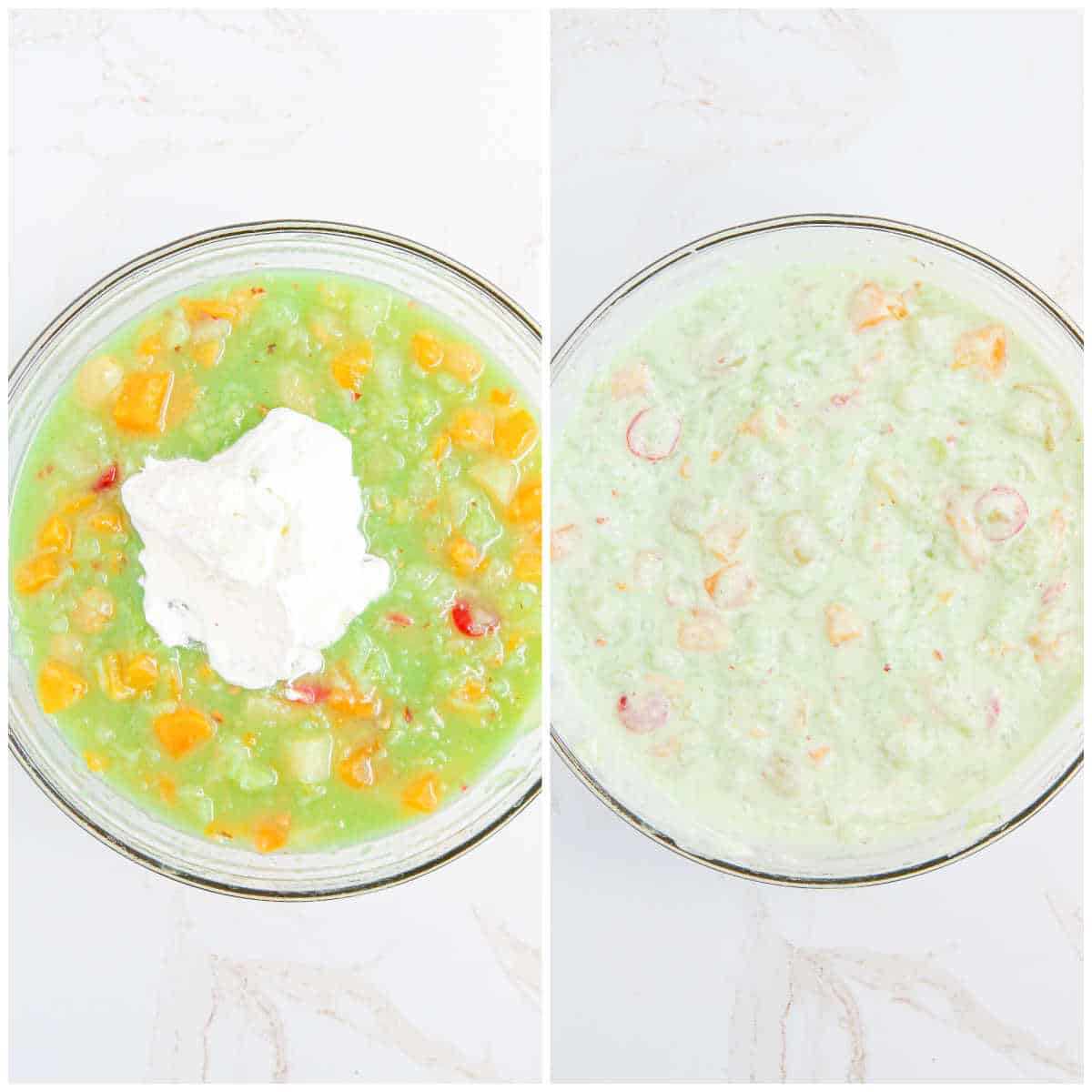 Equipment Needed
This post contains affiliate links.
Other Names for This Simple Fruit Salad
A dessert by any other name is just as sweet! But just in case you're wondering, here are a few of names you may have heard for this yummy treat:
Pistachio salad
Pistachio fluff
Pistachio fruit salad
Watergate salad
Fruit cocktail salad
Fluff salad
Fruit cocktail delight
Fruit salad with Cool Whip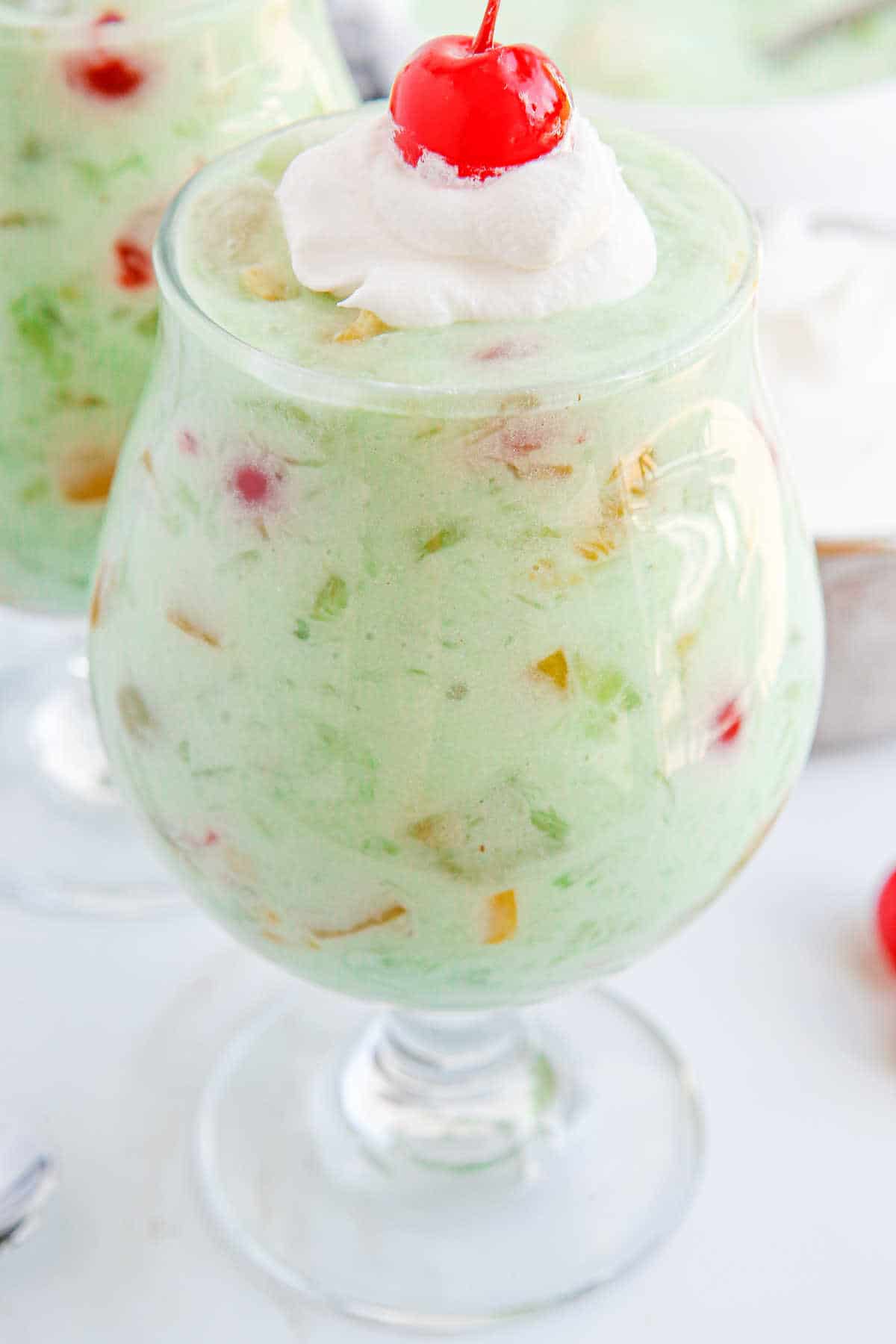 What to Serve with Fruit Cocktail Dessert
Since this old fashioned recipe is such a wonderful dessert for the holidays, we recommend serving it with your favorite holiday dishes. For Thanksgiving or Christmas, serve it with a roast turkey, simple stuffing, and rosemary garlic mashed potatoes.
It's so easy, though, that you can enjoy it for dessert after any meal. Just set it and forget it until you're ready to serve!
Fruit Cocktail Dessert Tips and Tricks
Did you forget to grab the Cool Whip? Make this homemade stabilized whipped cream to use instead.
Wait until the last minute to add your whipped cream and maraschino cherries on top. If you put them on too soon, the cherries will turn the whipped cream red.
Double the recipe to serve this in a large bowl topped with whipped cream for guests to serve themselves, such as at a family gathering or at church potlucks.
Do not overmix the ingredients; mixing too much will cause the fruit cocktail salad to lose its fluffiness.
Add a couple drops of green food coloring if you want to amp up the color for the holidays.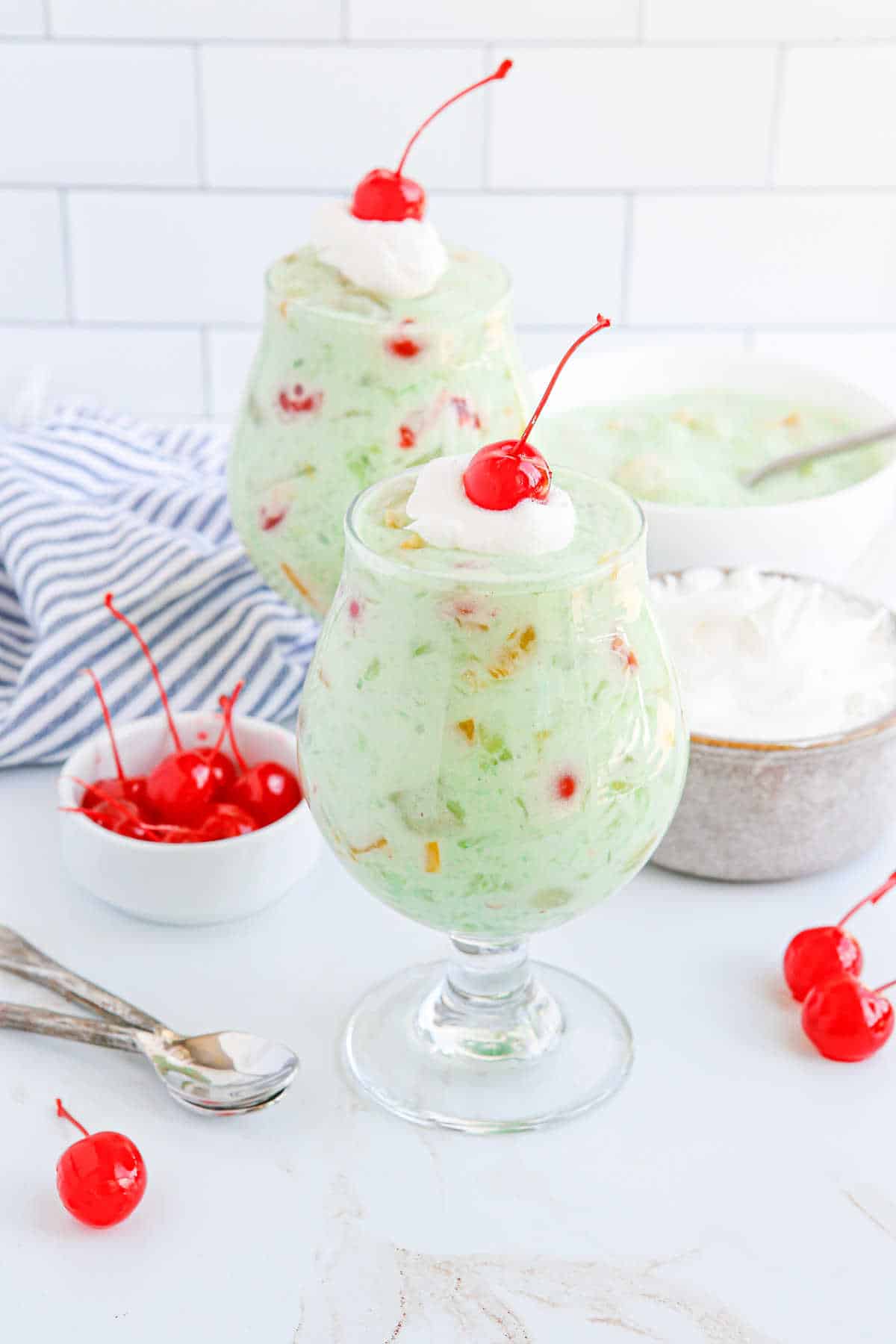 Variations and Substitutions
Add mini marshmallows or coconut flakes. Make it a marshmallow fruit salad for extra sweetness. The coconut adds lovely texture, too.
Top with nuts. Give the fruit salad a bit of crunch with chopped nuts. Pecans, walnuts, pistachios, or cashews would all be tasty.
Make this easy fruit salad extra fluffy. We like ours with just a little Cool Whip, but you can easily add half a container or even a whole one if you want to go lighter on the flavor and fluffier on texture.
Garnish with mint. In addition to the cherries, add a sprig or two of fresh mint on top to make the fruit cocktail dessert look extra festive.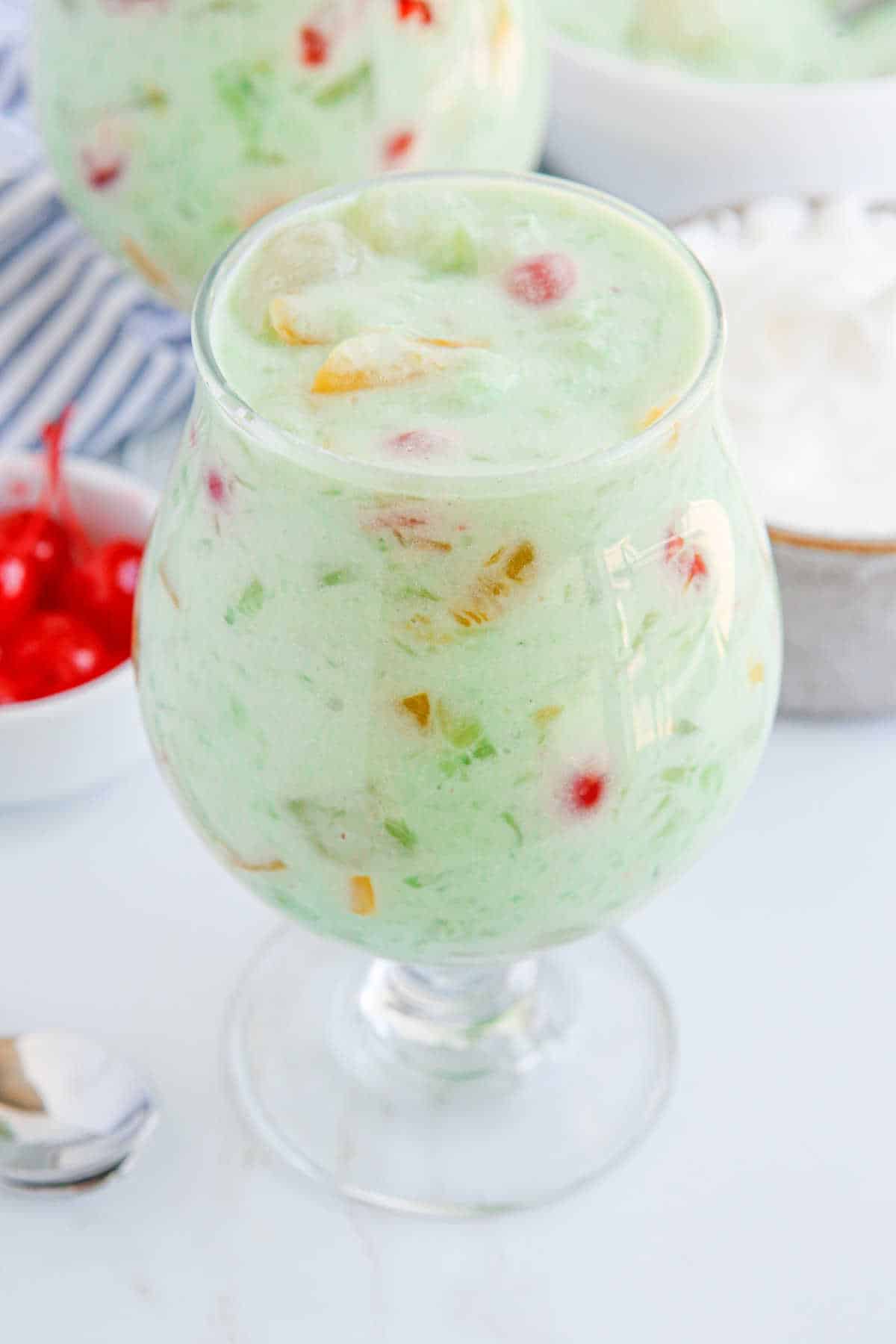 Fruit Salad Recipe Storage Instructions
Do not let this dessert sit at room temperature for more than 2 hours.
Store this creamy fruit salad tightly wrapped with plastic wrap or in an airtight container in the fridge for up to 3 days.
Can I Freeze Fruit Cocktail Dessert?
I do not recommend freezing and thawing this fruit cocktail salad because the ingredients will release water as they thaw, causing the fruit and pudding mixture to break down. However, you can freeze it and serve it frozen, like ice cream. That's a great option!
Fruit Cocktail Dessert FAQs
What does fruit cocktail have in it?
In the United States and Canada, fruit cocktail is usually comprised of diced peaches, pears, pineapple, grapes, and cherries.
You may find different versions, such as tropical fruit cocktail with pieces of pineapple, red papaya, and yellow papaya in fruit juices.
Why is it called fruit cocktail?
We typically think of drinks when we hear the word 'cocktail', but this fruit mixture doesn't contain any alcohol. According to The Nibble, the cocktail refers to a mixture of diced foods. Fruit cocktail also sounds way more fun than mixed fruit.
Do I need to drain the canned fruit?
No, do not drain the fruit cocktail or the crushed pineapple. You need the juices to mix with the instant pudding. It will get fluffy and creamy as it sets up.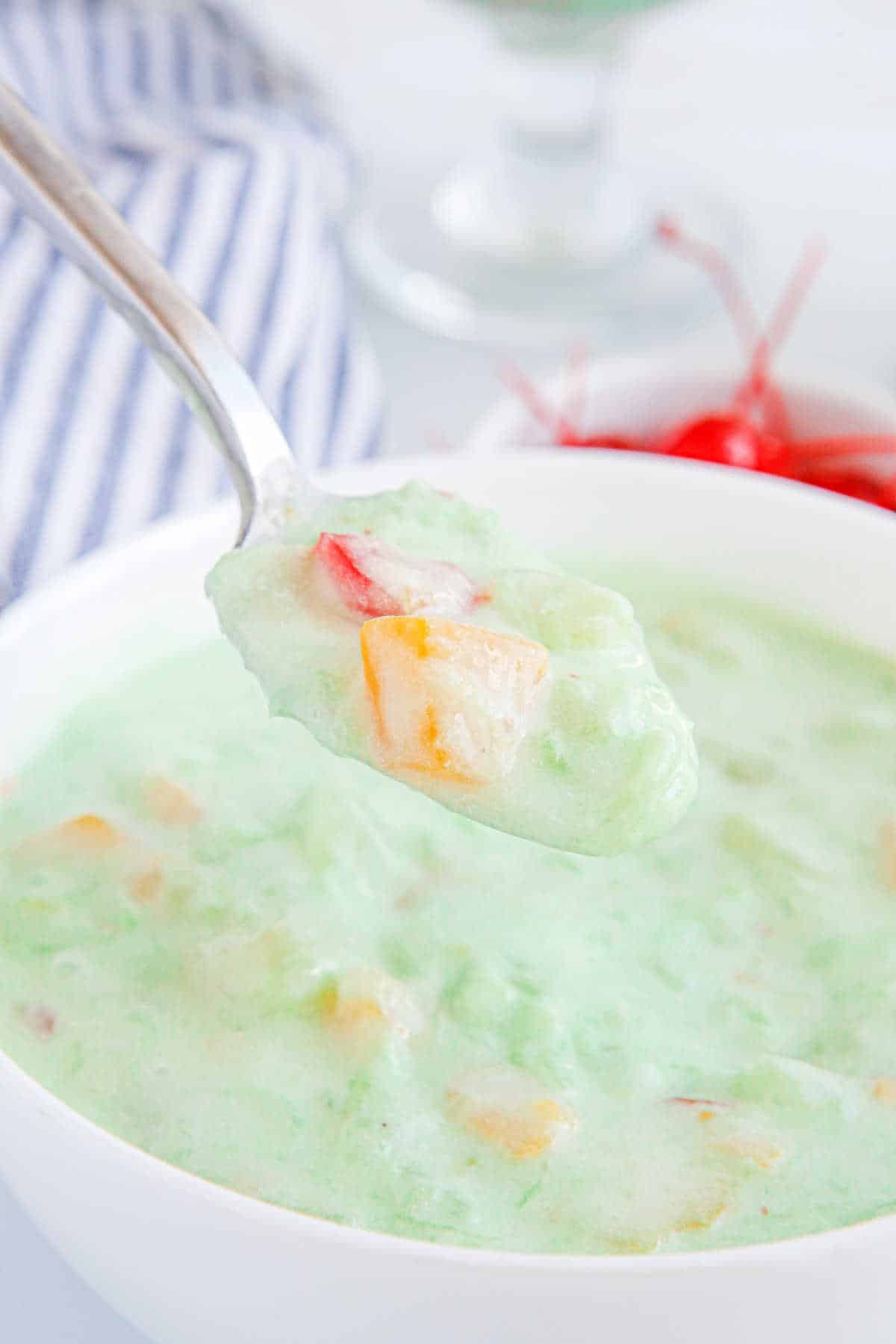 Dessert Salads
Craving more dessert salads to satisfy your sweet tooth or take to a party or gathering? Try one of these easy recipes!
Follow me on Instagram @simplystacieblog, Facebook at Simply Stacie, TikTok @simplystacierecipes or Pinterest at @simplystacie and let me know how you liked this recipe and my other recipes.
If you make the recipe, rate it on the recipe card below and tag me on Instagram and use #simplystacie. I like sharing the photos on my Instagram stories!
Fruit Cocktail Dessert
Total Time:
4 hours
5 minutes
A vintage Jell-o treat! Stunningly green for your easy holiday dessert. It's so creamy, sweet and full of yummy fruit flavor!
Ingredients
1 (28oz) can fruit cocktail, undrained
1 (19oz) can crushed pineapple, undrained
1 (99g) package pistachio pudding (4 serving size)
2 tablespoons Cool Whip, thawed
Cherries, Cool Whip, for garnish (optional)
Instructions
Combine fruit cocktail, crushed pineapple and pudding in a bowl. Let set for 1 hour. Fold in Cool Whip.
Refrigerate for 3 to 5 hours until thickened. Top with cherries and Cool Whip, if desired.
Recommended Products
As an Amazon Associate and member of other affiliate programs, I earn from qualifying purchases.
Nutrition Information:
Yield:

6
Serving Size:

1 bowl
Amount Per Serving:
Calories:

88
Total Fat:

1g
Saturated Fat:

1g
Trans Fat:

0g
Unsaturated Fat:

1g
Cholesterol:

0mg
Sodium:

30mg
Carbohydrates:

19g
Fiber:

1g
Sugar:

17g
Protein:

1g