Thanksgiving is coming up this week for Americans and I'm sure my feed will be filled with turkey dinners and all the fixins'. In Canada, we celebrate our Thanksgiving at the beginning of October. In our family, we normally have turkey a few times a year: Easter, Thanksgiving and Christmas. These are the days where I want to wear my stretch pants because I'm so full after eating all the delicious food! I have to try everything at least once.
It's funny that I look forward to eating turkey dinners now because as a kid I dreaded them. I was a picky eater and the only thing I'd ever eat would be my mom's stuffing and gravy. The rest I moved around my plate to make it look like I was eating or hid it in a napkin to give to the dog under the table. My tastes have changed thankfully because I was missing out on some good food.
As for the actual dinner preparation, I'm not as enthusiastic. They are a ton of work so I'm glad they are only a few times a year. I'm also a bit squeamish handling the turkey!
We make our stuffing inside the bird which requires some up close and personal time. I hate sticking my bare hand in the turkey. First you have to remove the giblets and make sure it's empty and then there's the stuffing to deal with…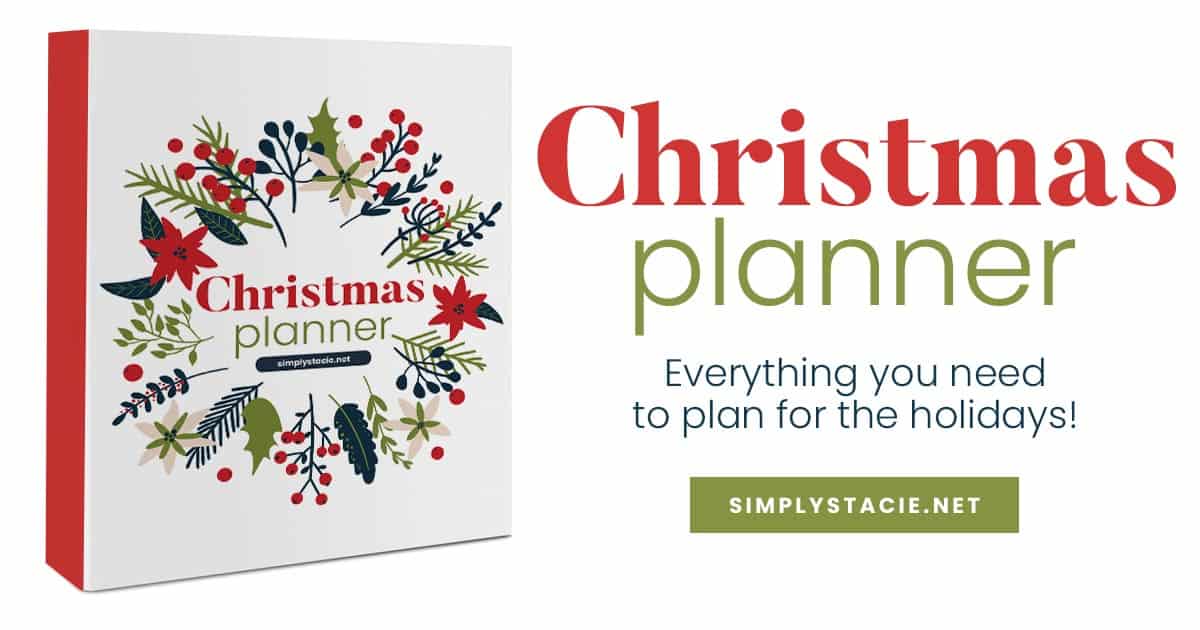 The worst part for me is removing the giblets. The first time I made a turkey, I didn't take them out and was in for a big surprise…not my finest hour, for sure!
Thankfully, there is an easy fix. Wear gloves! I don't ever want to stuff a turkey without them.
We had our own little turkey dinner this past week. I wanted to share a stuffing recipe with you for the holidays. My mom has been making this recipe for as long as I can remember. It's SO easy that you'll be able to commit it to memory after making it once.
It all starts with bread. I'd recommend using day-old bread so it holds up better inside the bird. My mom always gave us kids the job of ripping the bread into pieces. Her turkeys were ginormous so we used a couple loaves. My little turkey only needed about 3/4 of a loaf.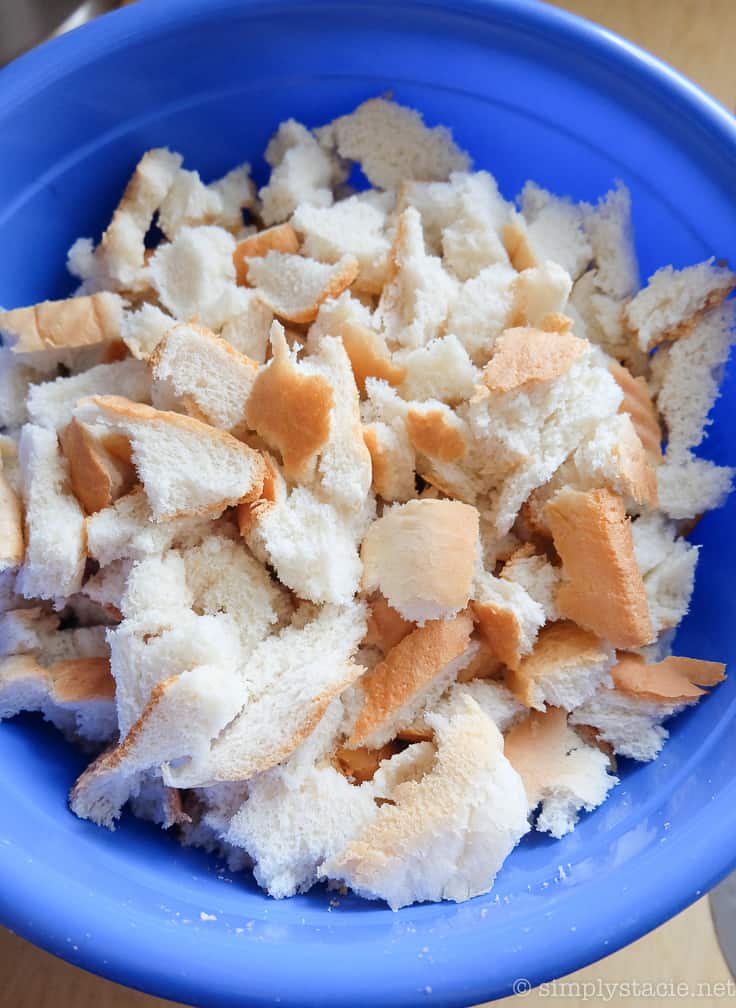 The next step is cooking the onions in butter to soften them. It looks like a lot of butter, but you'll need it to moisten the bread.
This post contains affiliate links.
Add the onions and butter as well as two tablespoons of savoury to your bread. My mom uses "Summer Savoury" that she buys locally. I found "Savoury" in the spice aisle at Food Basics so that's what I've been using. I also found some on Amazon.com if you can't find it at your grocery store.
Add in the melted butter to help to moisten it more and then season with salt and pepper. Give it a little toss to combine.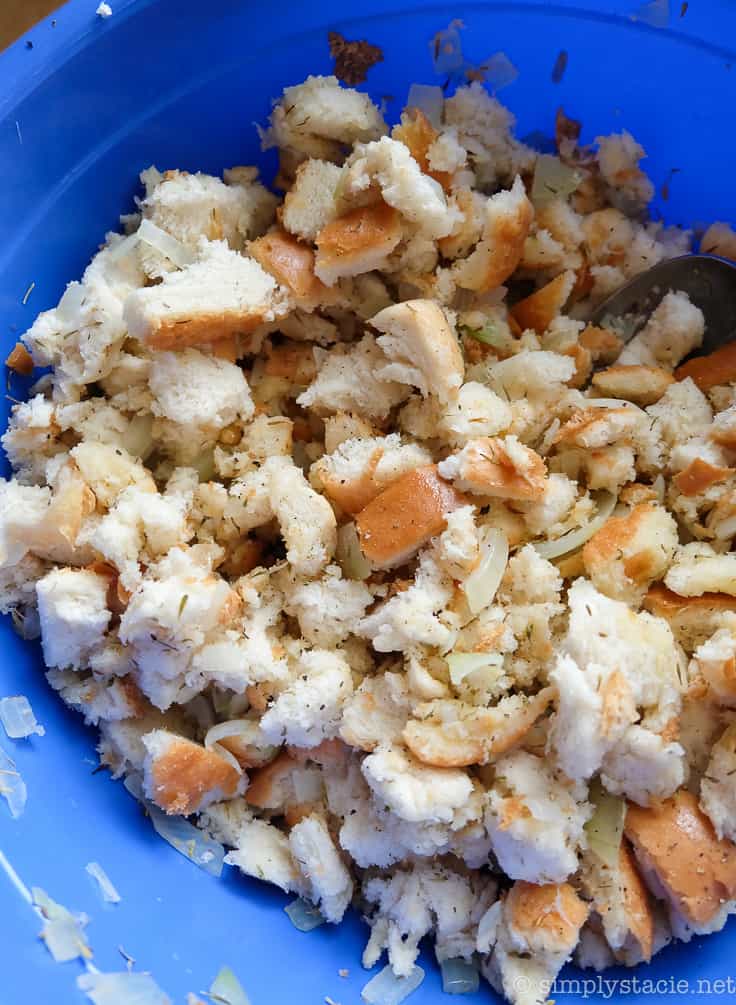 The next step you'll want to don your gloves! I like Clean Ones Kitchen Essentials Disposable Gloves for all my kitchen prep work. They are awesome to use when you're handling meat, working with hot peppers (ouch!) or doing regular cleaning tasks like the dishes or the oven.
Wearing gloves makes preparing a turkey a much more enjoyable experience.
The Kitchen Essentials Disposable Gloves are comfortable to wear, easy to put on and take off and tear-resistent. They are made from a high quality vinyl material that is:
Latex Free
Powder Free
Phthalate Free
BPA Free
I don't mind sticking my hand inside to clean out the giblets!
With poultry, I prefer to wear gloves so there's less risk of cross-contamination. I'm sure my family would rather I not stick my bare hands inside dinner anyways.
This particular turkey had a plastic tag inside that I had to pull out too.
Thank goodness for gloves. Stuffing a turkey isn't the best job in the world, but with gloves, it's not all that bad.
Hours and hours and hours later, my turkey and stuffing are cooked to the proper internal temperature! I let John carve it though. That's one job I don't do! I figure I cooked it, he can carve.
I scoop out the stuffing with a serving spoon though. It would be way too hot for hands.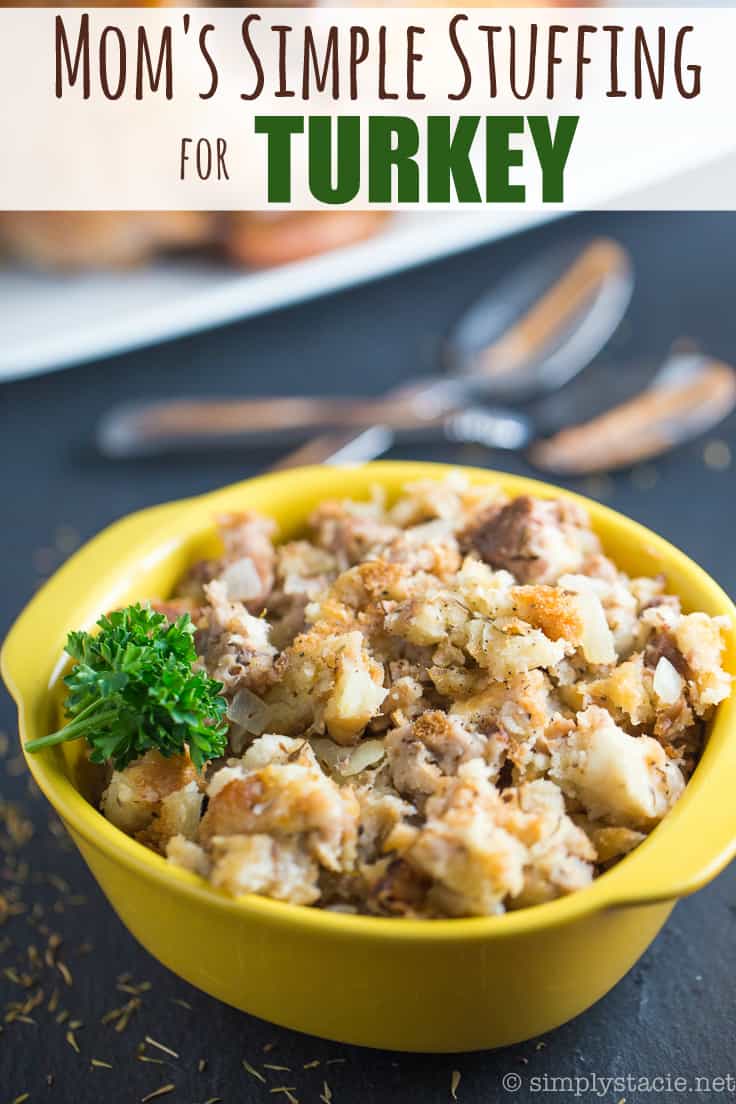 We always have leftover turkey, but never have leftover stuffing. It's the one dish I always get seconds.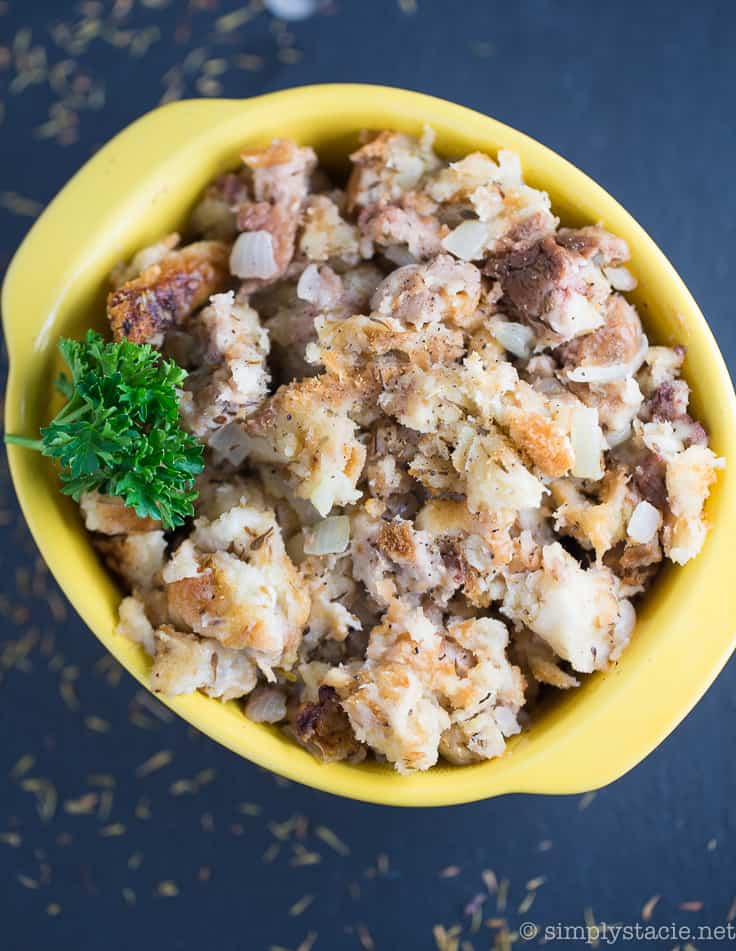 I told you this stuffing recipe is seriously easy. John asked why I don't put sausage or other veggies in the recipe. My answer was simple. Because my mom doesn't make it that way. Case closed.
For your next turkey dinner, try using a pair of Clean Ones gloves in the kitchen. Find a store near you that carries them or buy online on Amazon.
Do you wear gloves when you're preparing a turkey?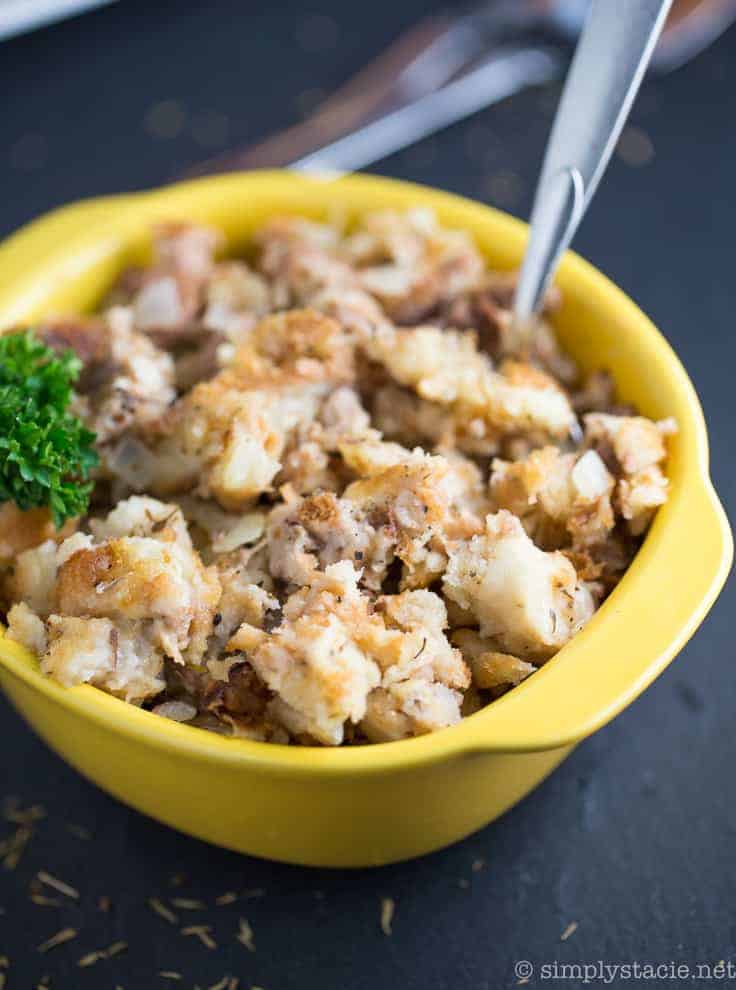 Try this Leftover Turkey Soup.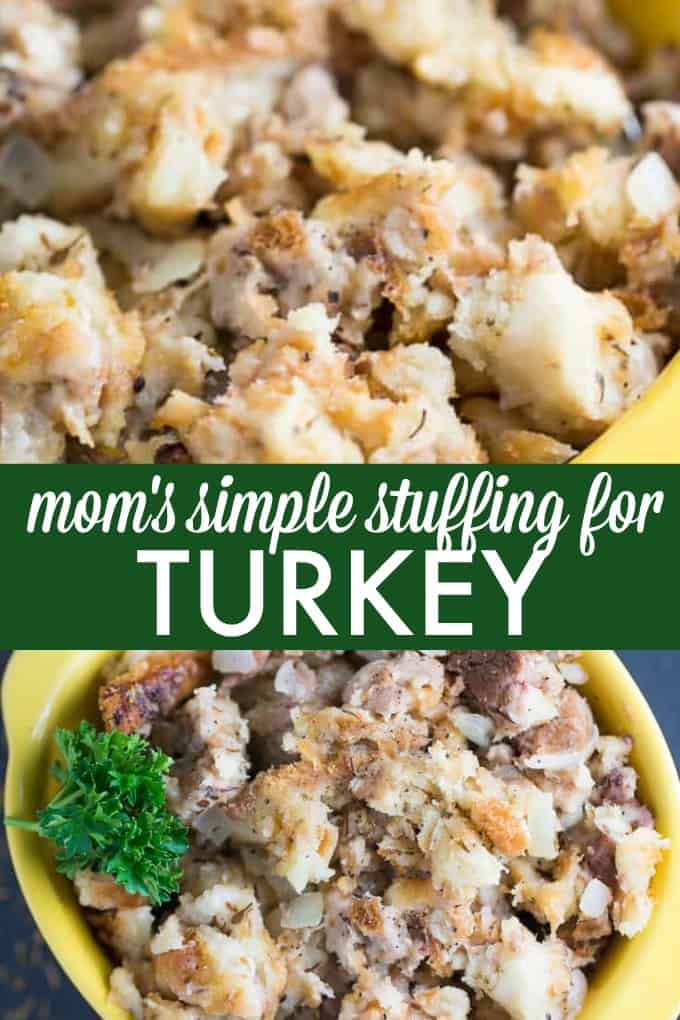 Mom's Simple Stuffing for Turkey
Total Time:
3 hours
15 minutes
Super moist and delicious! Fill your Thanksgiving turkey with this traditional stuffing recipe for the best holiday side dish.
Ingredients
3/4 loaf of day old bread, ripped up into bite sized pieces
2 onions, chopped
1/4 butter + 2 tbsp melted butter
2 tbsp savoury
salt & pepper, to taste
Instructions
Melt 1/4 cup butter in a frying pan, Add onions and cook for 5 minutes to soften.
In a large bowl, add bread, savoury, salt and pepper, cooked onions and 2 tbsp melted butter. Toss to combine.
Add the stuffing into the turkey cavity. Make sure to not pack it in too tight. The stuffing cooks inside the turkey. It's ready when it reaches an internal temperature of 165F. Remove stuffing promptly and place in a serving dish.
Recommended Products
As an Amazon Associate and member of other affiliate programs, I earn from qualifying purchases.
Nutrition Information:
Yield:

6
Serving Size:

1
Amount Per Serving:
Calories:

386
Total Fat:

9g
Saturated Fat:

4g
Trans Fat:

0g
Unsaturated Fat:

4g
Cholesterol:

11mg
Sodium:

700mg
Carbohydrates:

65g
Fiber:

4g
Sugar:

9g
Protein:

12g
Disclosure: I was compensated for this post. All opinions expressed are my own.