This Orange Creamsicle Salad satisfies my dessert cravings AND is light enough to serve as a barbecue side dish! No matter the time, it's a great fluffy, sweet compliment to any meal!
Is it a salad or is it a dessert? You decide. This Orange Creamsicle Salad is an old-fashioned favorite that pleases even the youngest crowds. It's perfect for a light, summery dessert, and it goes great alongside a heavy holiday meal. There's no time you can't serve this salad!
The tang of the juicy mandarin oranges surrounded by sweet cream makes this dessert salad feel decadent and rich without heavy and too much after a meal! I like to make this for a quick weekend dinner because it's half fruit salad, half healthier dessert option!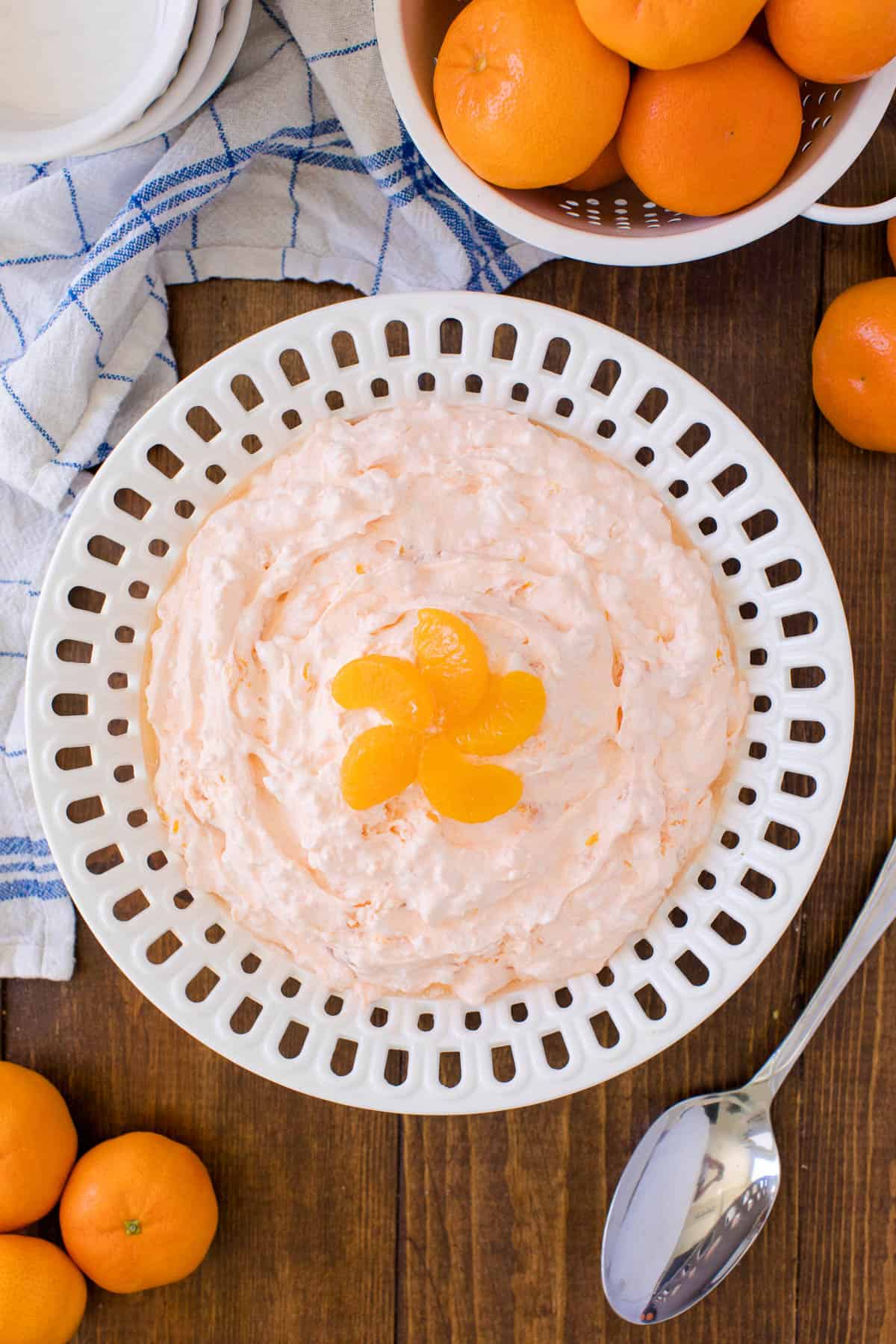 Looking to use more mandarin oranges but less dairy? Try my Sunshine Salad, a deliciously fresh and acidic tropical fruit salad with bananas and pineapple!
Did I mention this Orange Creamsicle Salad is only FOUR ingredients? You can throw this recipe together quickly if you need an extra side for dinner or want to add a bit of sweetness to the meal.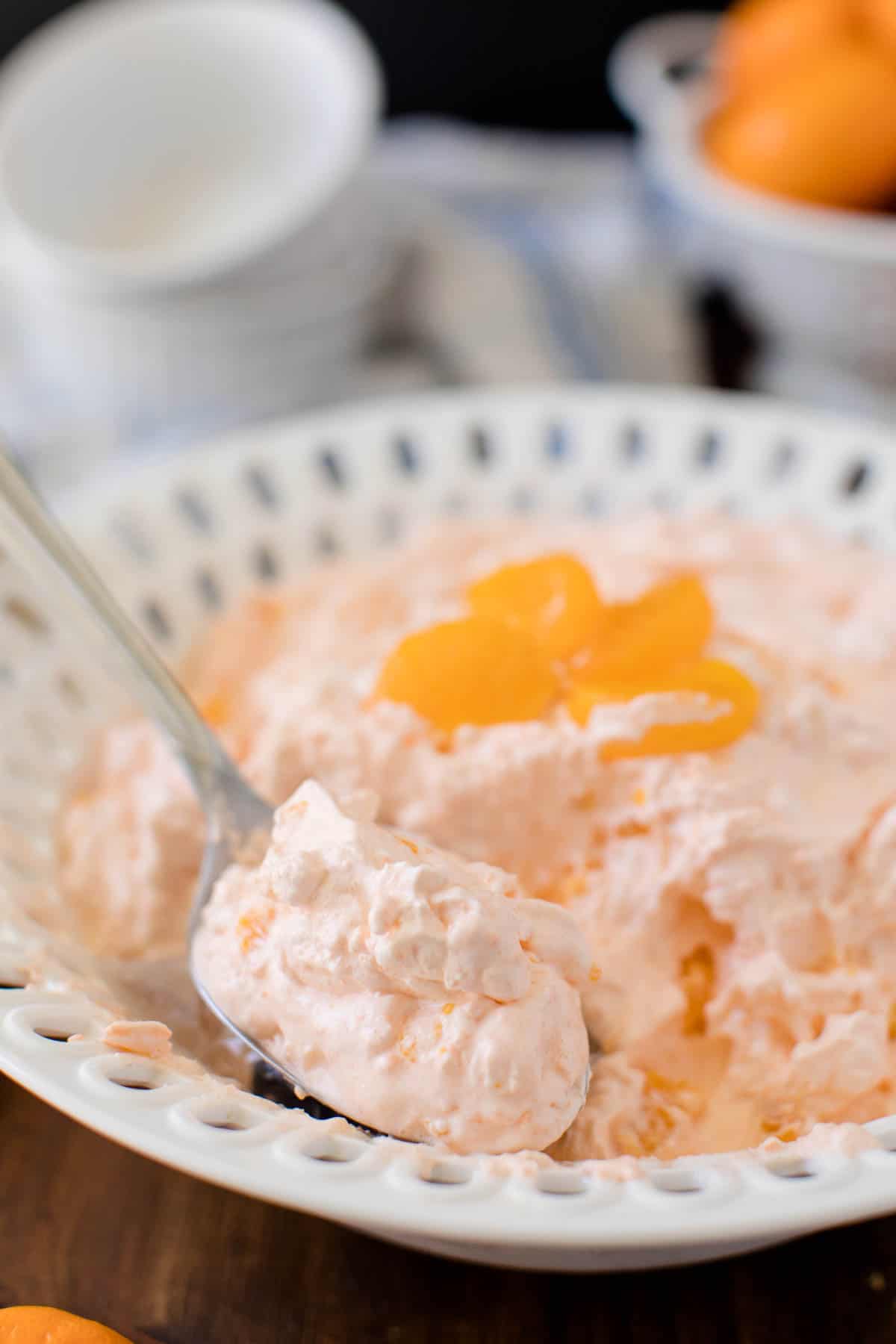 Ingredients
Cool Whip — you can also use whipped cream here, but I find the Cool Whip is lighter in flavor and calories. Make your own homemade Cool Whip if you like.
Cottage cheese
Orange Jello
Can of Mandarin Oranges
My favorite part is when I bite into the juicy mandarin oranges that are mixed throughout! The mix of the acidic oranges and the sweet cream reminds me of the quintessential orange creamsicles of childhood.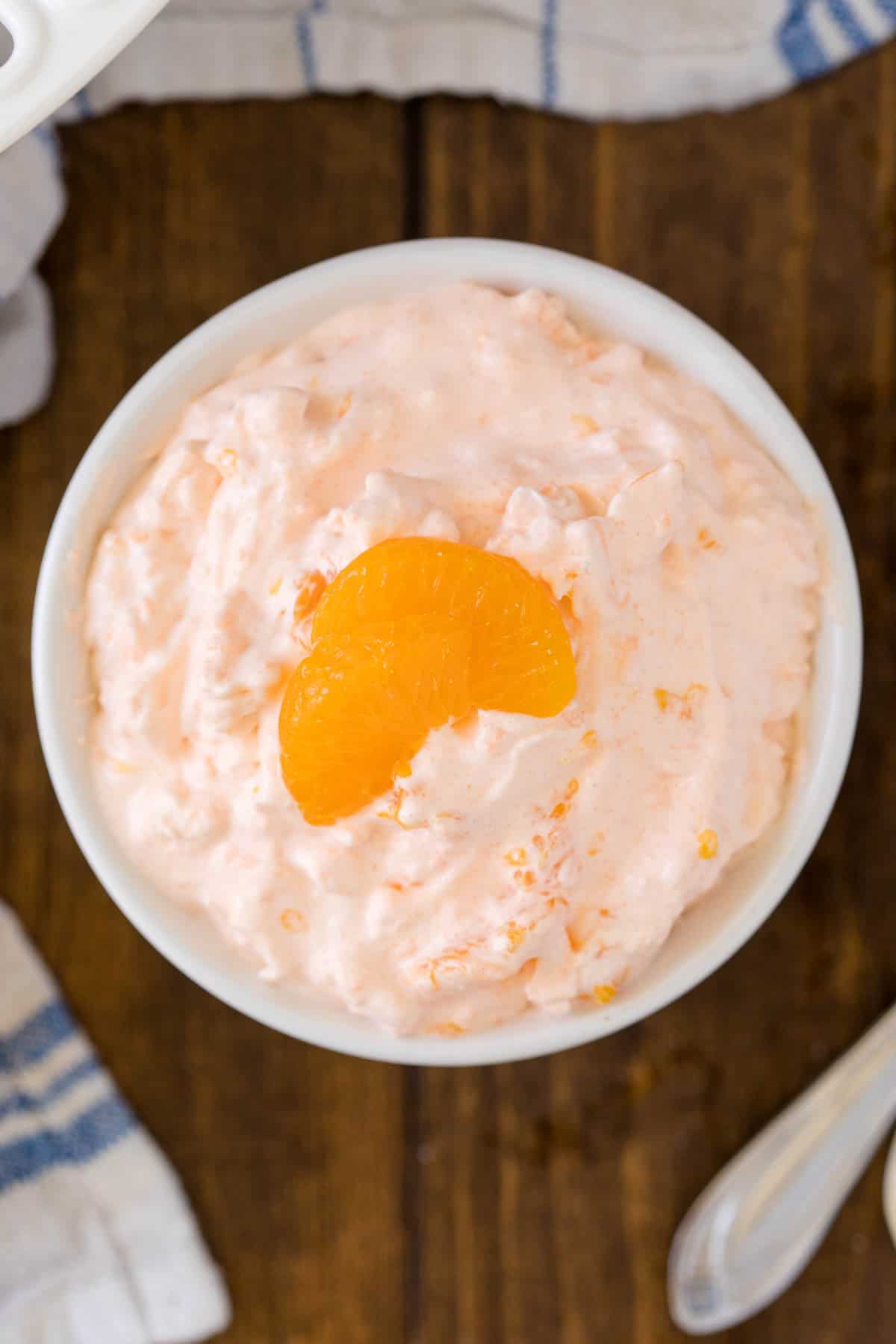 What I used for my Orange Creamsicle Salad
This post contains affiliate links.
Colander: This colander is great for straining and washing! The handles make it easy to use and the holes are big enough to drain your liquids off while keeping the food in the colander!
Measuring spoons and cups: Everyone needs a good set of measuring cups and spoons, and these are excellent! The handles make the measuring tools easy to attach and stay together, so no more losing that tiny teaspoon in your drawer!
Mixing bowls: These glass mixing bowls are beautiful and practical. I love being able to see all my ingredients through the bowl and they nest inside each other for space saving!
This recipe barely needs a recipe, it's so easy. Combine, stir, and you're done!
How to Make Orange Creamsicle Salad
Mix cottage cheese and orange Jello together in a large bowl.
Add Cool Whip and stir.
Set five mandarin oranges aside for garnish. Add in remaining mandarin oranges and stir. Refrigerate for 2 hours.
Garnish with mandarin oranges before serving.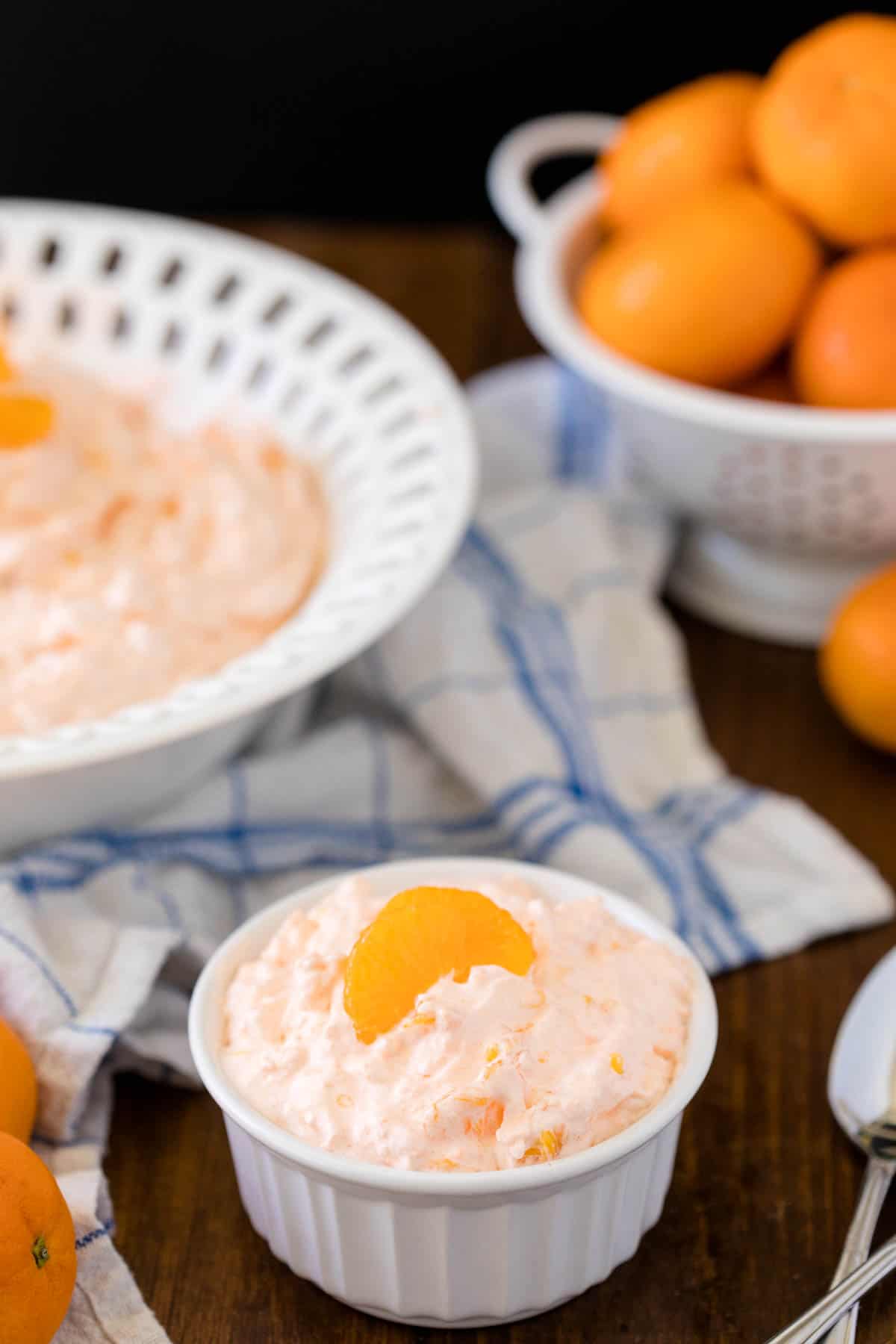 Versions of this recipe have been made for generations! In my family, it's typically served at special occasions like Thanksgiving or Christmas dinner. It's sweet, creamy, fluffy and delicious without being too rich or heavy.
What to serve with Orange Creamsicle Salad
Anywhere you would serve a fruit salad, you could definitely have this! My kids like to have this plain, nothing but a bowl and a spoon, and eat it like ice cream. Nothing wrong with that! It's delicious on its own and goes great with other dishes, both sweet and savory!
My family loves this as a weeknight dinner treat alongside a quick dinner like my Salsa Chicken or these Savory Pork Chops with tomatoes, garlic, olives, and green peppers.
This dessert, much like an Ambrosia Salad, is great served alongside an unfrosted cake, like a buttery Lemon Bread or as a complement to this delicious Blueberry Tea Cake.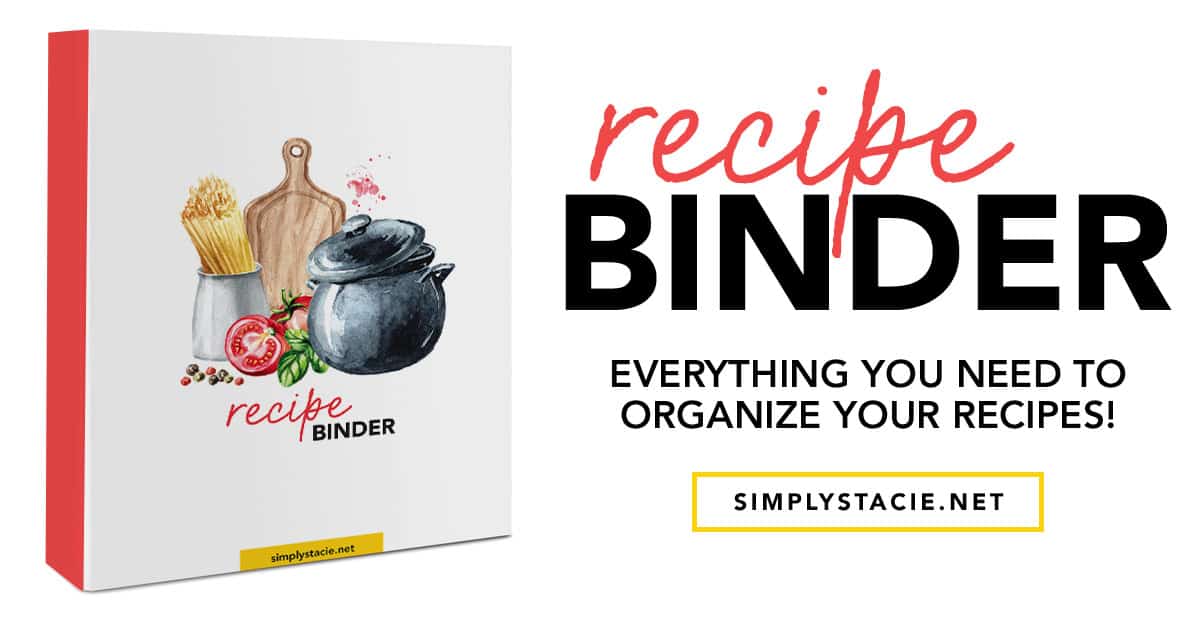 How to serve Orange Creamsicle Salad
I like to serve this simply, in a large serving bowl with a decoration of a handful of mandarin oranges fanned across the top for decoration as well as a sprinkling of toasted coconut.
Looking for a little more presentation? Serve Orange Creamsicle Salad over a slice of angel food cake with an extra dollop of Cool Whip and toasted coconut on top for the ultimate fluffy, flavorful summer dessert!
How long does Orange Creamsicle Salad last?
This dessert salad, as with many creamy fruit salads, will last about five days in the refrigerator, so this is a perfect make ahead dish! The longer the flavors sit together, the more they meld together, so feel free to make this the day before your next pool party or barbecue for an even fresher flavor the next day!
I prefer to decorate my Orange Creamsicle Salad within about half an hour of serving to keep the mandarin oranges from drying out in the air or to keep from losing the coconut topping to the mixture.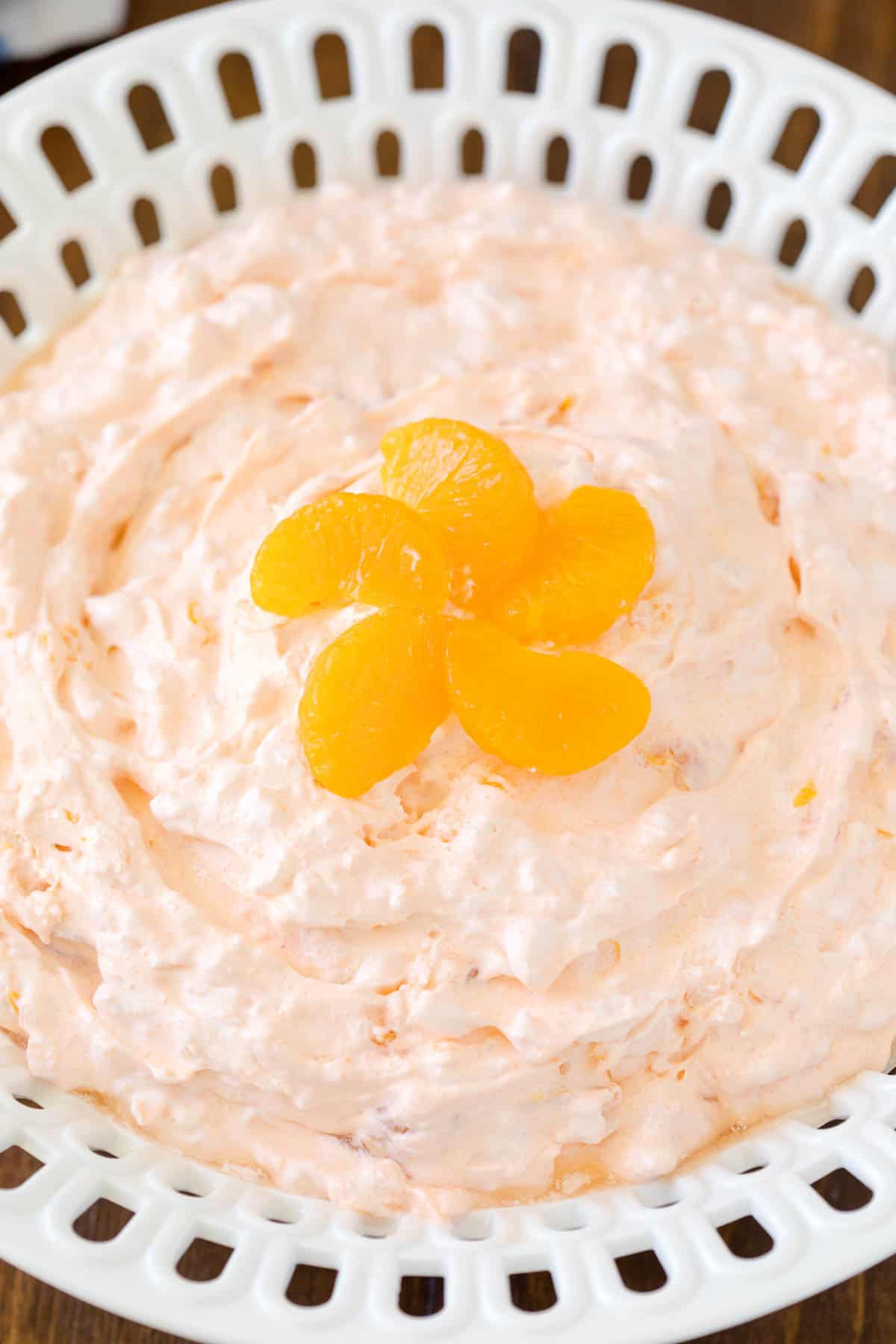 Other delicious dessert recipes to try…
Try my Orange Creamsicle Cookies.
Do you have any recipes for dessert-like salads? I'm always looking for more recipes to try! Follow me on Instagram @simplystacieblog, on Facebook at Simply Stacie, and on Pinterest @SimplyStacie and let me know how you liked this and my other recipes!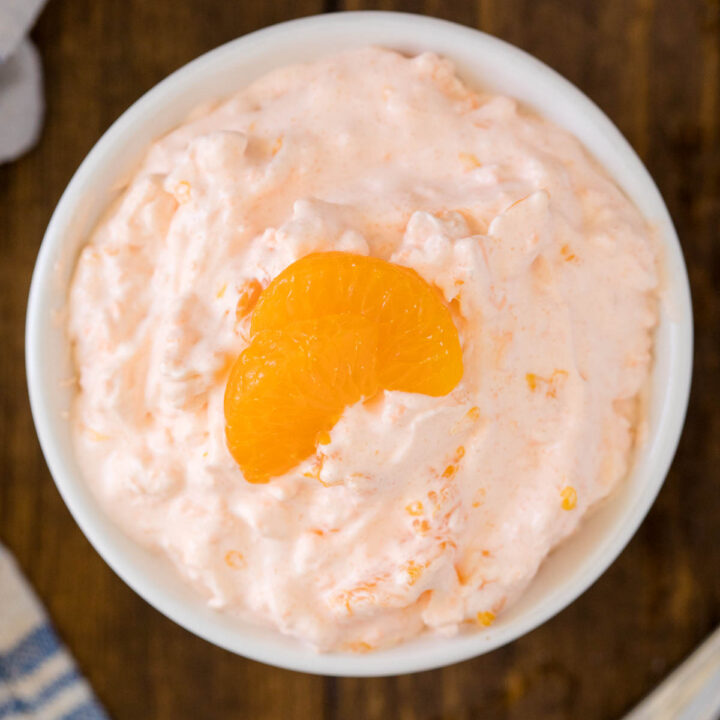 Orange Creamsicle Salad
Total Time:
2 hours
5 minutes
The fluffiest dessert! You'll dream about your childhood ice cream cravings with this creamy fruit salad with cottage cheese, Jello, and mandarin oranges.
Ingredients
2 cups cottage cheese
2 cups Cool Whip, thawed
1 orange Jello (4 serving size)
1 1/4 cup canned mandarin oranges, drained
Instructions
Mix cottage cheese and orange Jello together in a large bowl.
Add Cool Whip and stir.
Set five mandarin oranges aside for garnish. Add in remaining mandarin oranges and stir. Refrigerate for 2 hours.
Garnish with mandarin oranges before serving.
Notes
Use the jello powder straight out of the box.
Recommended Products
As an Amazon Associate and member of other affiliate programs, I earn from qualifying purchases.
Nutrition Information:
Yield:

4
Serving Size:

1
Amount Per Serving:
Calories:

559
Total Fat:

37g
Saturated Fat:

29g
Trans Fat:

0g
Unsaturated Fat:

4g
Cholesterol:

21mg
Sodium:

514mg
Carbohydrates:

42g
Fiber:

1g
Sugar:

41g
Protein:

16g