Jalapeño Ranch Pasta Salad is one creamy and flavor-packed pasta salad. Tender pasta, homemade Jalapeño Ranch Dressing, and loaded with your favorite veggies.
Do you like pasta salad with a creamy dressing or an oil & vinegar-based dressing? I like BOTH because I'm crazy about all kinds of pasta salad. I've shared enough pasta salad recipes already and have a Pinterest board dedicated to this fabulous summer side dish.
Jalapeno Ranch Pasta Salad
This Jalapeno Ranch Pasta Salad has a creamy, homemade ranch dressing with a kick of flavour. It's loaded with veggies and black beans to give it a southwest edge. This recipe makes a great dinner side dish, or whip up and bring to a potluck event.
What Pasta is Best for Jalapeño Pasta Salad
Use whatever kind of noodles you have on hand. Fusilli, rotini or even bowtie pasta is nice for presentation purposes. You can do anything from spaghetti-style noodles to bowtie, wagon wheels, and the list goes on.
Check out my other pasta salad recipes
Also, check out my Pasta Salad board on Pinterest.
You'll also like this Pico de Gallo.
Does the Jalapeño Ranch Need to be Made Ahead of Time
The sauce needs to be made at least 20 minutes ahead so it can blend in the fridge. Make it the night before your event and store it in the fridge. It tastes even better after the flavours have a chance to mingle together. So anywhere as little as 20 minutes to up to 24 hours for allowing the sauce to blend in its own bowl before you mix with pasta.
Can I Add Chicken to Jalapeño Pasta Salad
You can absolutely add in shredded or chopped pre-cooked chicken to your salad. This will give it that meal in one if you want to eat as a main dish instead of a side dish.
I have used leftover rotisserie chicken, used frozen shredded chicken, and it all taste great. You just don't want an overly seasoned chicken.
Other Meats that would Taste Good
Ground beef
Ham
Pepperoni
Shrimp
Crabmeat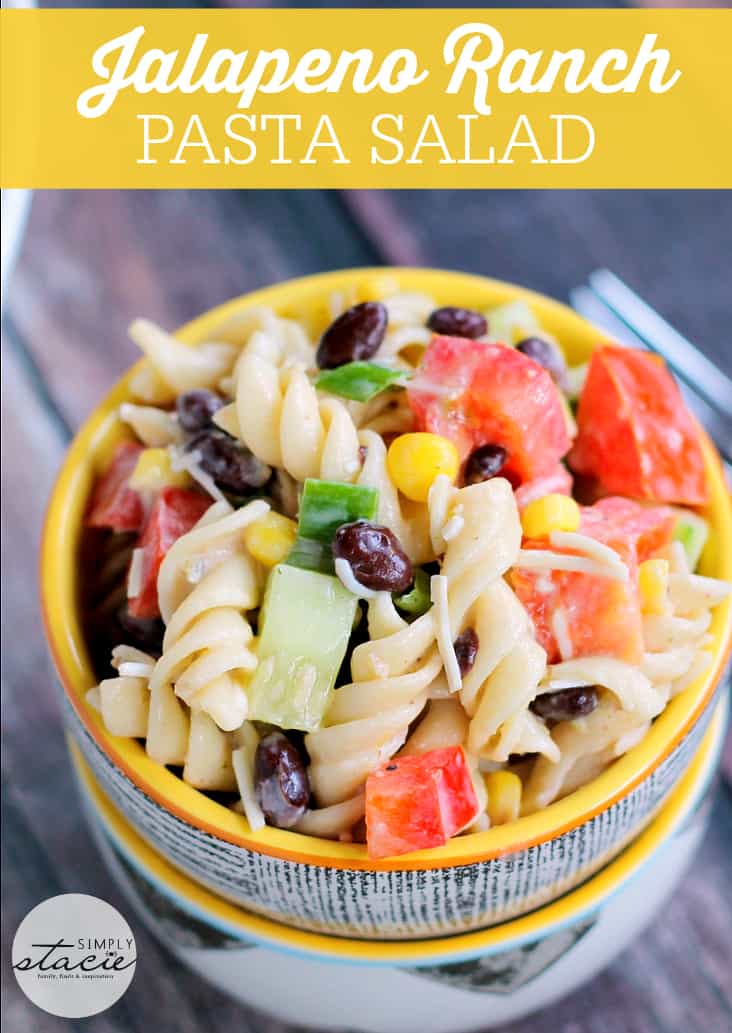 How Do You Cook Pasta for Pasta Salad
You will follow the directions on the back of the box of pasta you purchase. Depending on size and shape of pasta will depend on how fast the pasta will cook.
You want to cook to around al dente, the pats will soak up the jalapeño ranch and soften as it sits in the fridge.
Do You Rinse Pasta for Pasta Salad
I do rinse my pasta after I drain it. Using cold water will stop the cooking process but also cook down the pasta. I find the hot pasta can soften the crisp veggies if tossed with hot pasta.
So just rinse under cool water until the pasta is cool to the touch, I normally run cook water with pasta in a strainer and then stir here and there.
How Long Does Pasta Salad Last in Fridge
You can store pasta salad in the fridge for 3-4 days. Use your best judgment in terms of quality. Give the pasta a good stir in between serving to incorporate the sauce.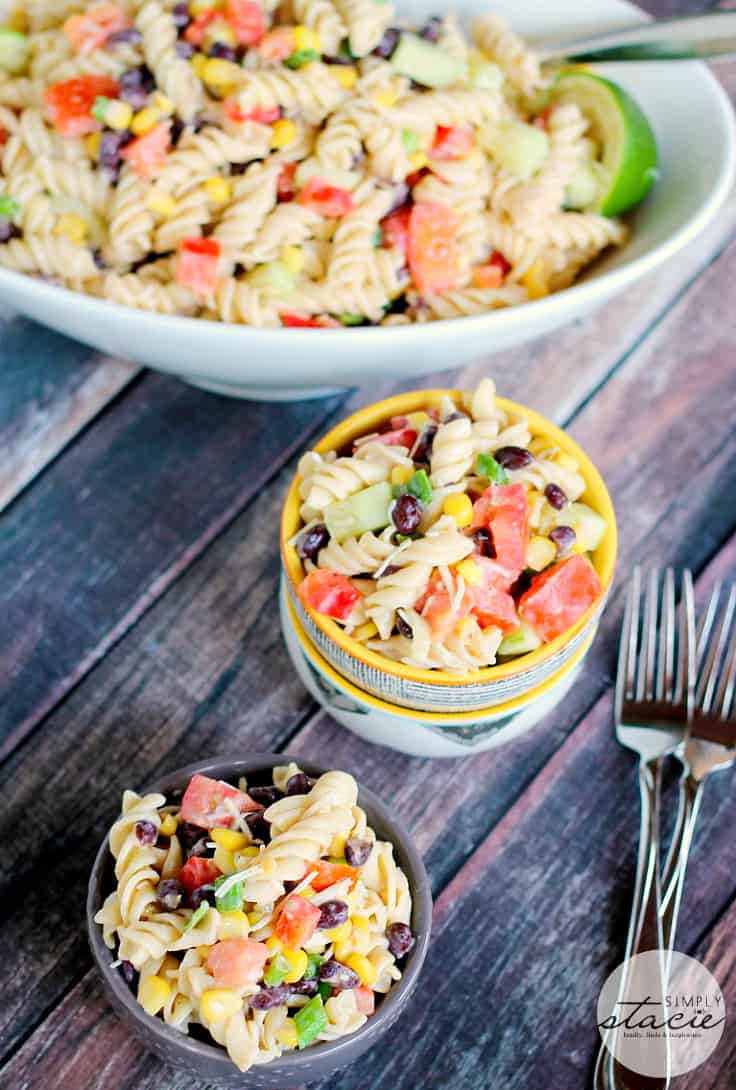 How to Make Jalapeño Ranch Pasta Salad
Grab your food processor or blender and start by making your dressing. Slice and chop jalapeños, add in milk, mayo and ranch packet. Blend until creamy, then pour into container and store in the fridge.
Now work on cooking pasta according to the package. When the pasta has about a minute left, pour in black beans to warm them up. Drain and rinse pasta and beans. Then comes tome to chop your veggies for the salad. Add it in with pasta and beans. Pour over some sauce, stir, and refrigerate an hour before you plan to serve.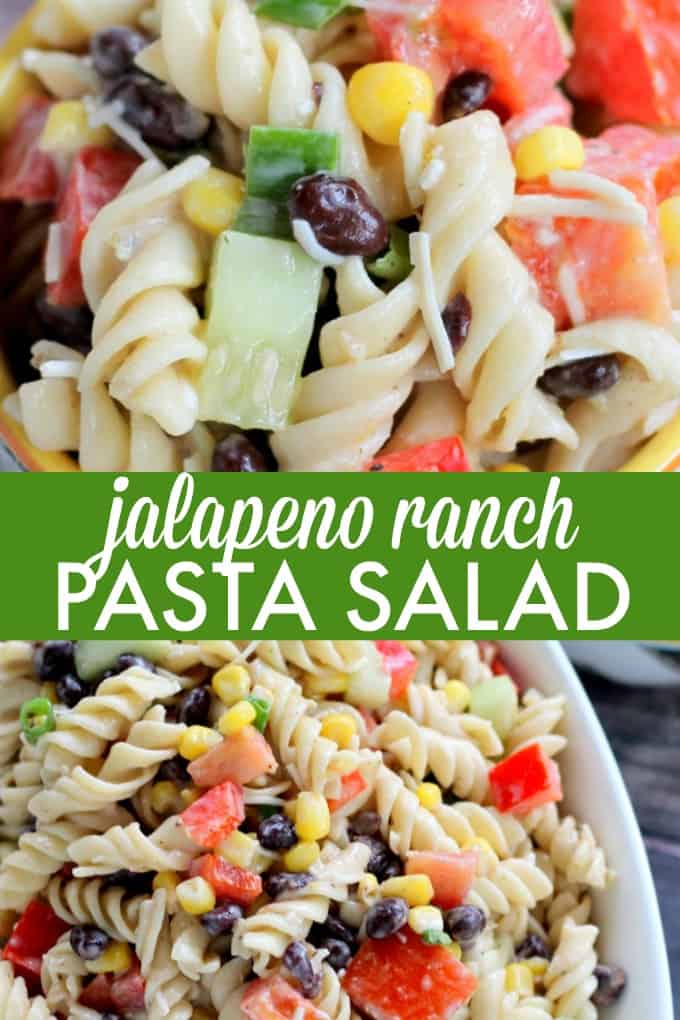 What Main Dishes Pair Well with Pasta Salad
Chicken Recipes | Chicken is a very versatile recipe that is great for pairing with pasta salad. We love chicken in our household so whether it be a creamy casserole or simple baked chicken it will work great.
Pork | Pork chops, tenderloin, or even a pulled pork sandwich would make a fantastic main next to this pasta salad recipe.
Steak | Steak is another fantastic protein that I tend to serve next to pasta salads. Great for summer cookouts and entertaining.
Pretty much any and every protein will work next to the salad. These are my favorites, but feel free to try any other type of meat whether it be seafood or even say a pepperoni or salami style dish.
You'll also like this Watermelon and Feta Salad and Cheese Stuffed Jalapenos.
Do you like your pasta salad creamy or oil & vinegar based?

Jalapeno Ranch Pasta Salad
Smothered in a creamy, homemade ranch dressing with a kick of flavour. It's loaded with veggies and black beans to give it a southwest edge.
Ingredients
3 jalapenos, stems removed and seeded
1 packet dry ranch dressing mix
1 cup mayonnaise
1 cup milk
1 pound fusilli/rotini pasta
15 oz. black beans, rinsed and drained
1 cucumber, peeled and chopped
1 red pepper, seeded and diced
3 plum tomatoes, chopped
1 cup corn
6 green onions, chopped
4 oz, freshly grated Parmesan or Asiago cheese
1/8 tsp freshly ground black pepper
1/8 tsp salt
juice from 1 lime
Instructions
In a food processor, add milk, mayonnaise, ranch seasoning, and jalapenos; process for 30 seconds, scrape down sides, and process for a few more second. Place bowl into fridge while you continue making the salad (this needs to set at least 20 minutes in the fridge – can easily be made ahead of time and stored in fridge).
Cook pasta according to package directions, making sure not to overcook. Add black beans last minute of cooking. Drain, rinse with cold water, set aside.
In a large bowl, add cucumbers, red pepper, tomatoes, and corn; stir gently to combine. Add pasta and black beans, fold to combine. Add cheese, green onions, salt and pepper; folding again to combine.
Pour 1 cup* of the jalapeno ranch dressing into the salad, fold carefully to evenly coat salad ingredients. Taste and add additional salt and pepper, if desired.
Refrigerate for at least 1 hour** before serving. Squeeze lime juice over the top before serving.
Notes
This salad is much better if left at least half a day or overnight. The flavours meld together and it becomes even more delicious.
If you feel it's saucy enough after sitting overnight in the fridge, add a little more ranch.
The recipe above will yield about 2 cups of jalapeno ranch- this should be stored covered tightly in the fridge, and should last for about 3 weeks. It's delicious on pretty much anything!
Recommended Products
As an Amazon Associate and member of other affiliate programs, I earn from qualifying purchases.
Nutrition Information:
Yield:

8
Serving Size:

1
Amount Per Serving:
Calories:

503
Total Fat:

27g
Saturated Fat:

7g
Trans Fat:

0g
Unsaturated Fat:

19g
Cholesterol:

29mg
Sodium:

814mg
Carbohydrates:

48g
Fiber:

8g
Sugar:

4g
Protein:

18g