Chicken Caesar Pasta Salad is the perfect summer side to your grilled meat and veggies. Pasta Salad is the epitome of summer and I always eat loads of it. I even have a Pasta Salad Pinterest board. I know, I'm obsessed. I love Caesar Salad and a Chicken Caesar Pasta Salad may even be better.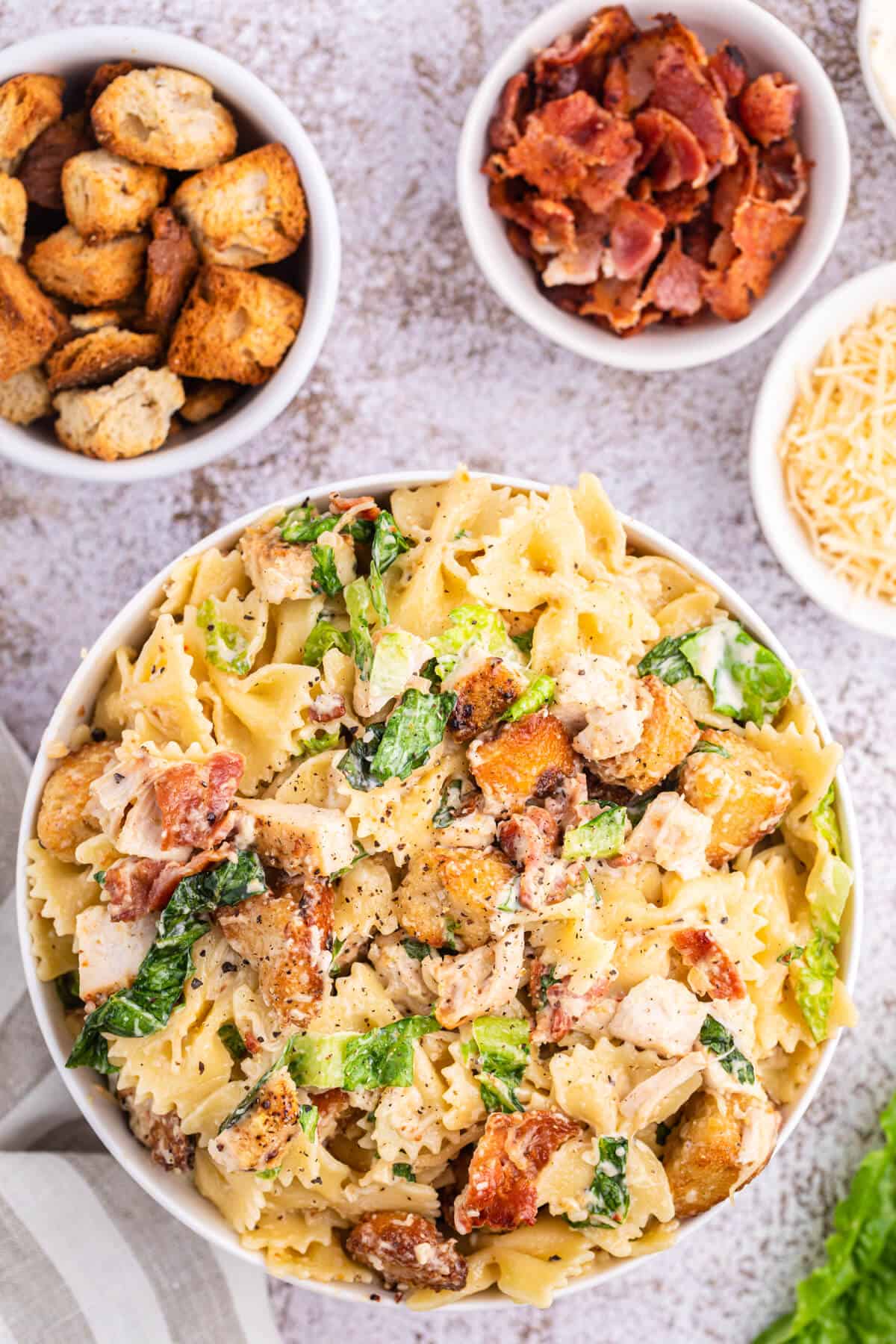 Backyard entertaining will soon be here. Although I'm not sure how much entertaining I'll be doing at my house for the next month. They are doing construction on my road and it's going to be a huge MESS. I'll be glad that the potholes will be gone, but I hate having to live in a construction zone. Soooooo I've told all my family and friends that they need to invite me over to their places for some outdoor summer fun. I'll even bring the food.
Both my parents and sister live on the Ottawa River so the views there are simply gorgeous. There's nothing better than watching the sun set with a delicious meal and a cold drink surrounded by the people you love. They always request I bring a dish and this Chicken Caesar Pasta Salad will be on the dish rotation for sure.
So I'm sure you are wondering what it tastes like? That's easy to describe. Like a Chicken Caesar Salad with tender bowtie pasta noodles sprinkled in. I used all the same ingredients: chicken, croutons, bacon, Parmesan cheese, Caesar dressing and even bits of Romaine lettuce to give it the true Caesar flair.
Disclosure: I am participating in the Chicken Farmers of Canada campaign managed by SJ Consulting. I received compensation in exchange for my participation in this campaign. The opinions on this blog are my own.
Craving more pasta salads? After you try my recipe (I hope!), check out these yummy recipes from my friends at the Chicken Farmers of Canada:
Are you hungry yet? They have a whole recipe box with scrumptious chicken recipes and I encourage you to check them out and print out the recipes you want to try.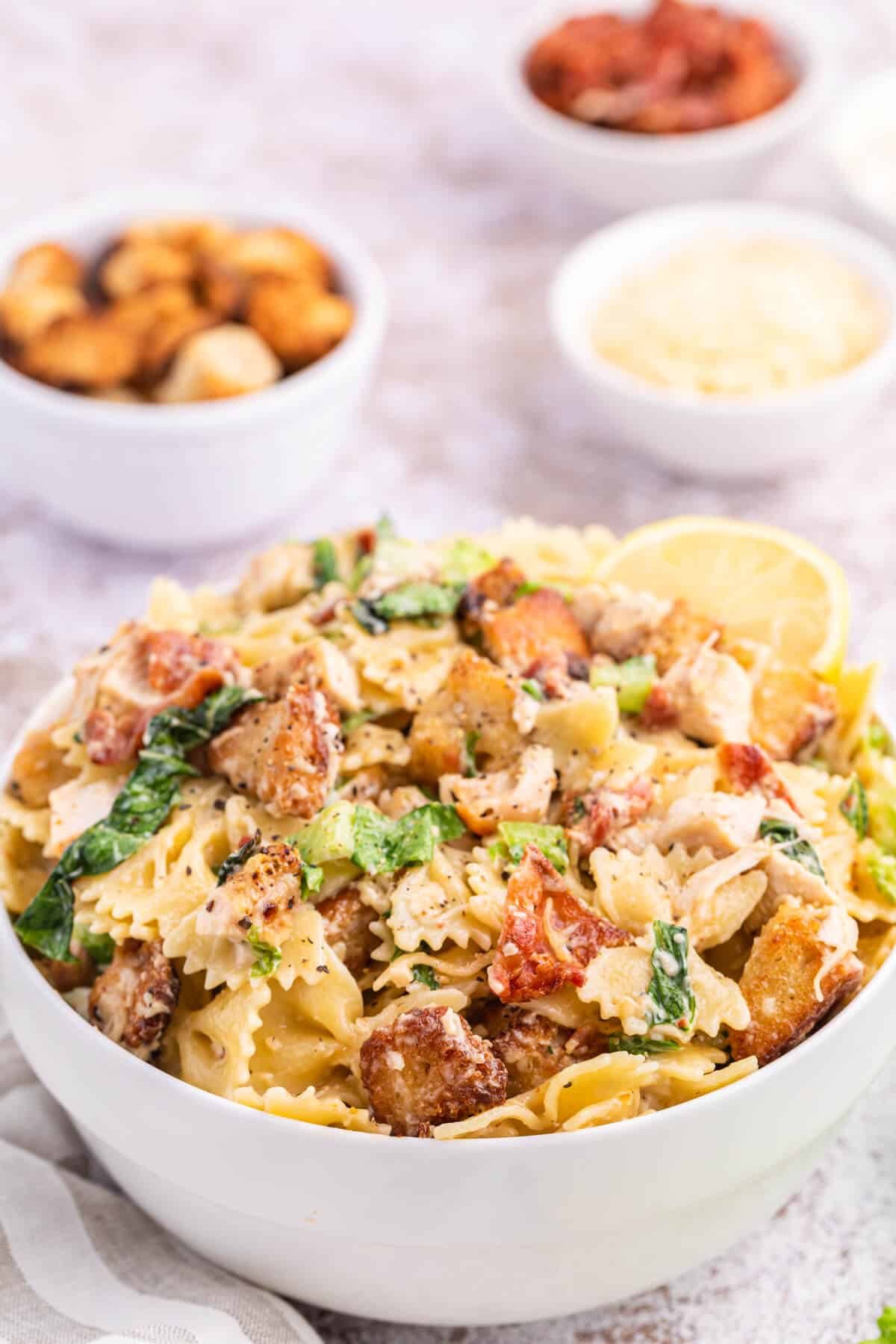 How to Make Chicken Caesar Pasta Salad
This is a great recipe to prep ahead of time and assemble before serving. You'll need to cook two chicken breasts. I did mine in the oven, but you could also grill them if you choose.
Cook the bowtie pasta noodles according to the package directions.
You can also make the bacon ahead of time or cheat like I did and use those ready-to-serve real bacon bits (not the fake ones!).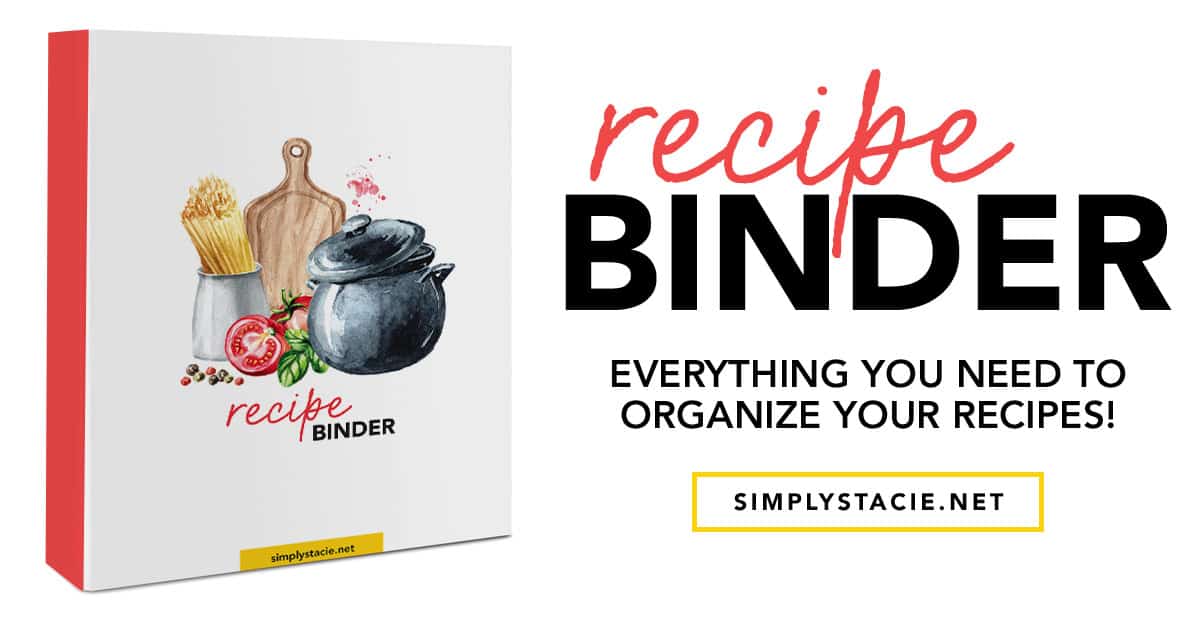 Helpful Kitchen Tools
These kitchen tools will help you make this recipe.
This post contains affiliate links.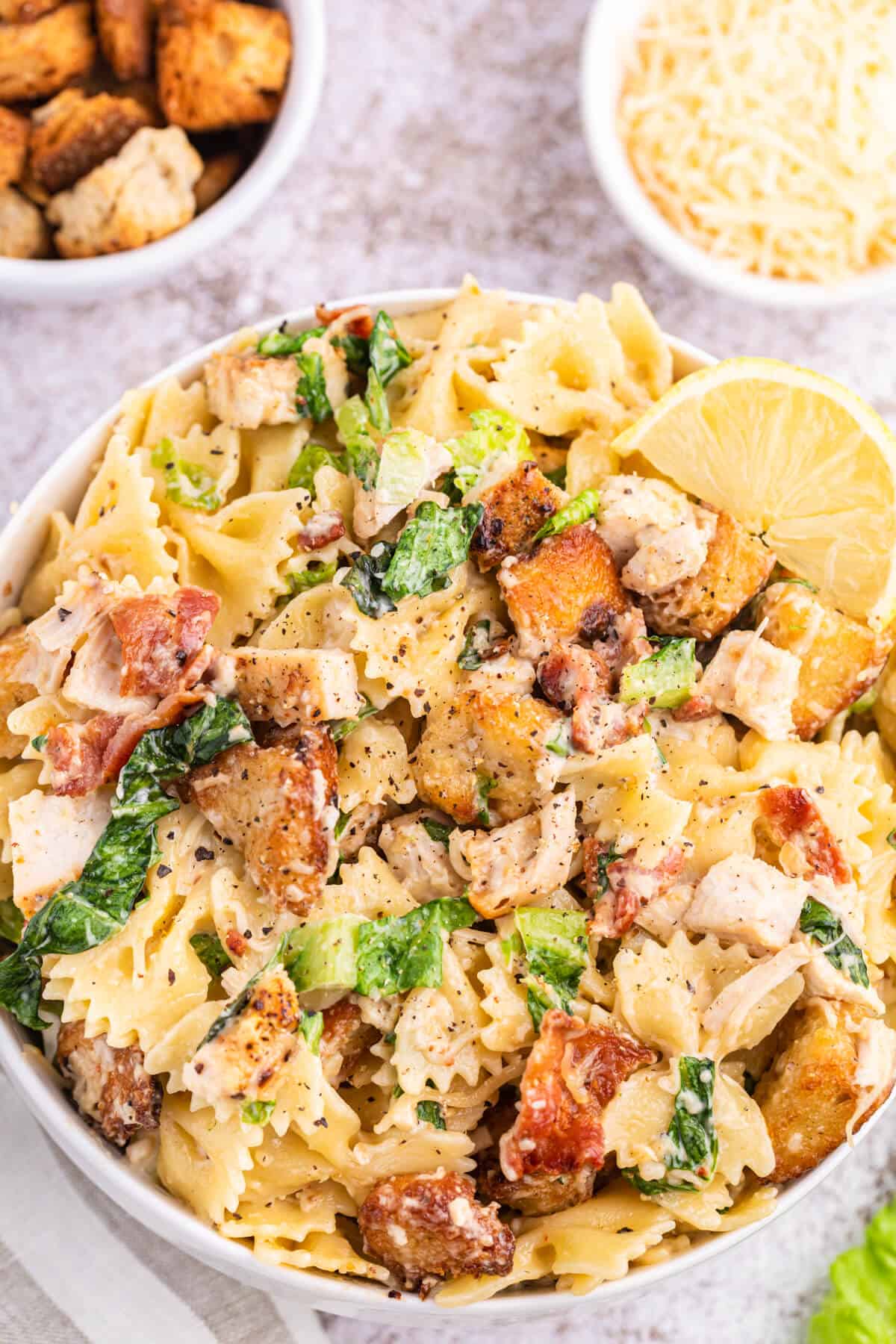 Once you've got all your prep work done, it's time to assemble the pasta salad. Add the Romaine lettuce, garlic croutons, chicken, pasta, bacon, Parmesan cheese and Caesar dressing to a large bowl and stir until combined. Put it in the fridge to chill until you are ready to serve.
When you're shopping for chicken to use in this recipe, make sure to look for the Raised by a Canadian Farmer mark. It will be on the chicken packaging. If your store doesn't have it yet, ask them about it.
There is one store in my town that carries it and hopefully more will come on board. It matters! Chicken raised in Canada follows a nationally-set, mandatory food safety and animal care standards so you can count on getting only the best quality chicken to serve your family.
For more pasta salad recipes, try my Italian Pasta Salad, Jalapeno Ranch Pasta Salad, Italian Pasta Salad, Macaroni Dill Salad, Pesto Chicken Pasta Salad, Creamy Curried Chicken Pasta Salad or Grilled Butter Chicken Pasta Salad. You might also enjoy my Greek Chicken Salad.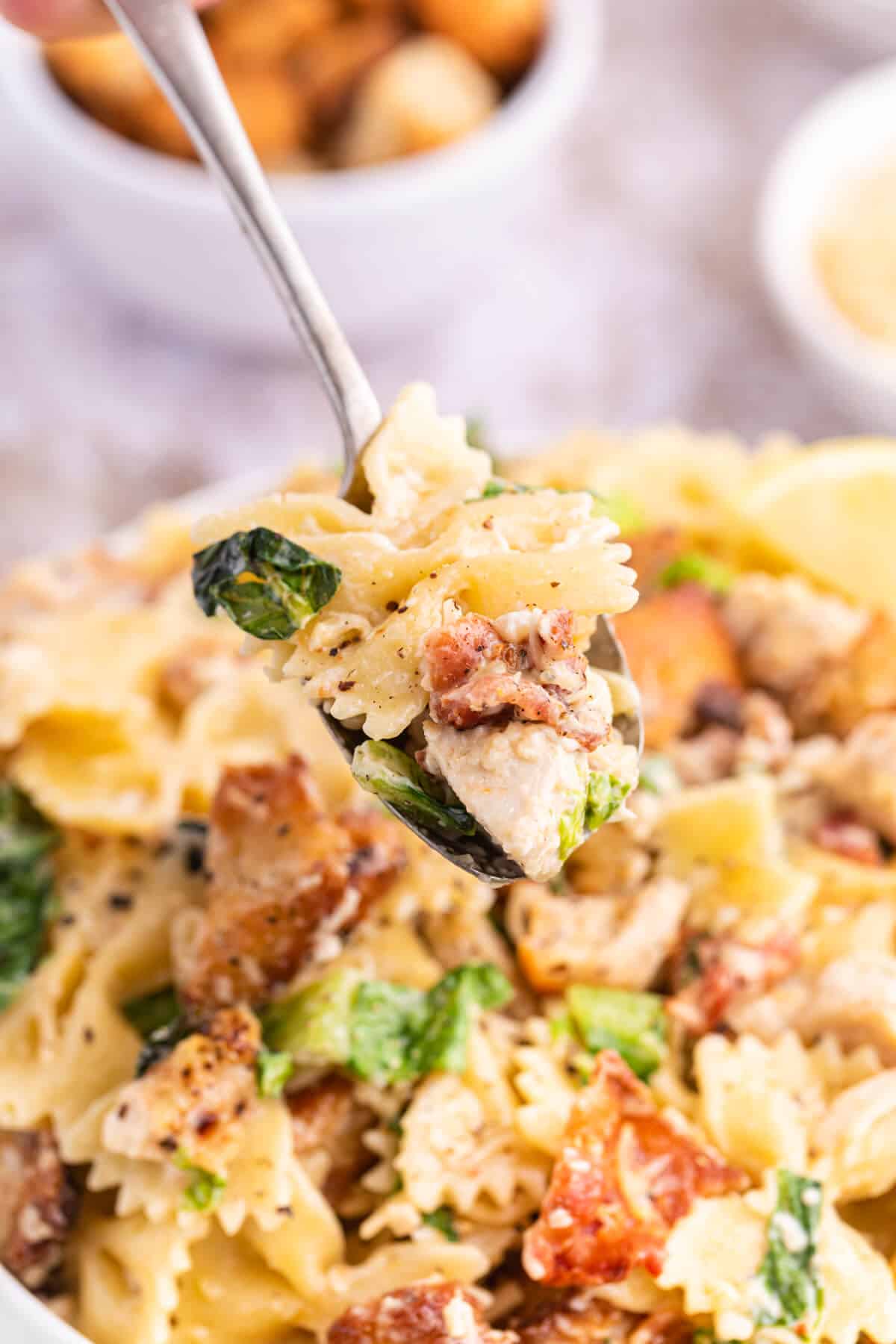 What's on your backyard entertaining menu this year? I'd love more ideas!
You might also like this Bruschetta Chicken Pasta Salad, Pizza Pasta Salad, Tuna Salad or Tortellini Salad.

Try my Chicken Caesar Pizza, too!
Connect with the Chicken Farmers of Canada on Facebook, Twitter, Instagram and Pinterest.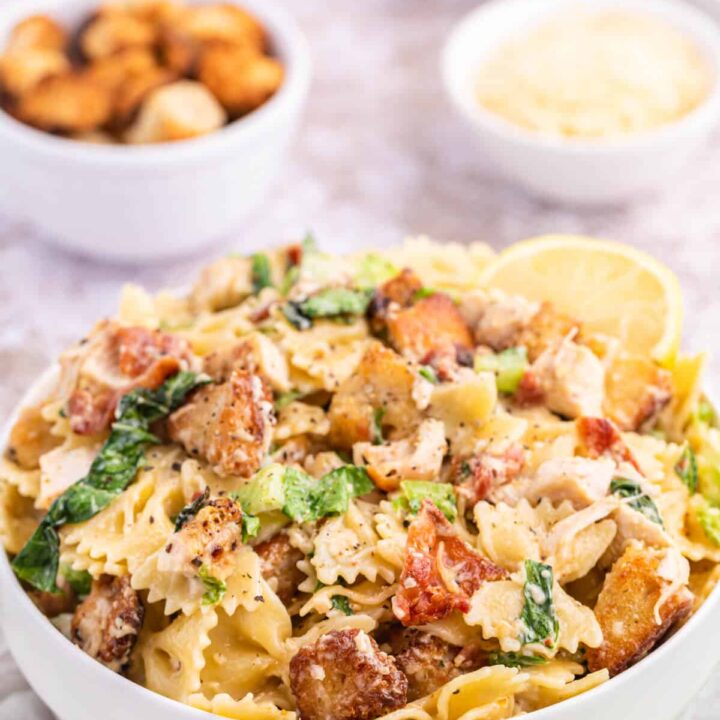 Chicken Caesar Pasta Salad
The BBQ side you'll make every summer! Take your favorite salad poolside with this spin on bowtie pasta salad with homemade caesar dressing and crispy bacon.
Ingredients
1 (16oz/410g) package Bowtie pasta, uncooked
2 chicken breasts, cooked and cut into cubes
2 cups Romaine lettuce, cut into small pieces
1 cup garlic croutons
1/2 cup bacon, cooked and crumbled
1/2 cup Parmesan cheese, shredded
1 cup Caesar salad dressing
Lemon, for garnish
Salt and pepper, to taste
Instructions
Cook pasta according to package directions. Set aside to cool.
In a large bowl, stir together Romaine lettuce, garlic croutons, chicken, pasta, bacon, Parmesan cheese, Caesar dressing, salt and pepper. Garnish with lemon wedges, if desired.
Chill in fridge until ready to serve. Stir before serving.
Notes
If you prefer a saucier pasta salad, increase the amount of dressing you use to 1 cup.
Recommended Products
As an Amazon Associate and member of other affiliate programs, I earn from qualifying purchases.
Nutrition Information:
Yield:

8
Serving Size:

1 bowl
Amount Per Serving:
Calories:

302
Total Fat:

22g
Saturated Fat:

5g
Trans Fat:

0g
Unsaturated Fat:

16g
Cholesterol:

46mg
Sodium:

639mg
Carbohydrates:

10g
Fiber:

1g
Sugar:

2g
Protein:

15g