Watermelon and Feta Salad is one incredible recipe. You have the crisp refreshing watermelon paired with onion, pumpkin seeds, fresh avocado, feta cheese and more. A sweet and salty watermelon recipe you will impress guests with.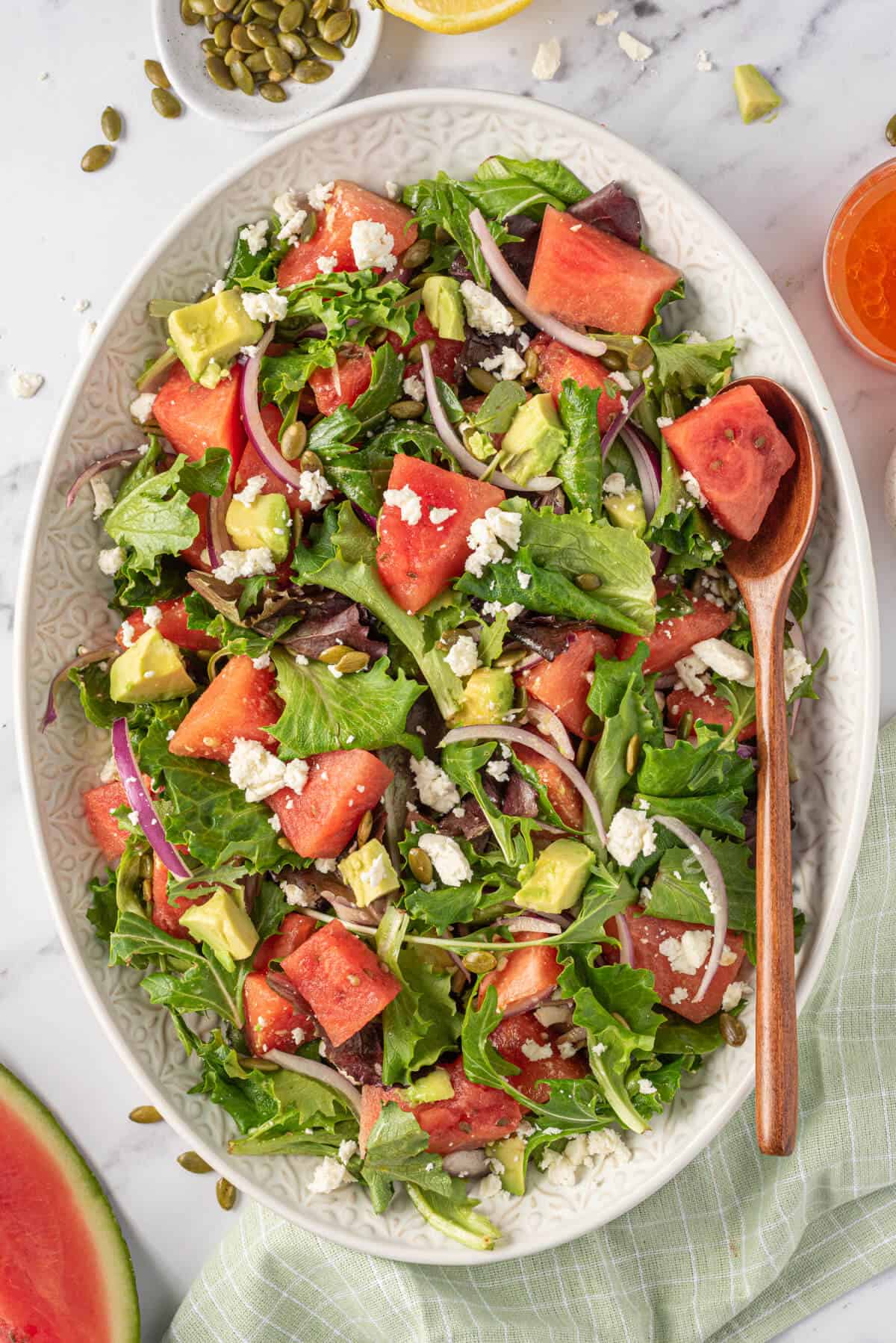 Normally, I just make a simple tossed salad or a Caesar salad, but lately, I've been experimenting with different salad ingredients. I've discovered a new found love of Curried Chicken Salad and more recently, this Watermelon and Feta Salad. I wasn't sure how it would taste since I typically associate watermelon with desserts. I was pleasantly surprised that it was actually quite good. I've been craving it daily since I made it!
Ingredients
The ingredients are a blend of textures and flavours. You have the sweet, juiciness of the watermelon combined with the saltiness of the feta cheese. Add some crunch with pumpkin seeds, creamy smooth chunks of avocado and a hint of spice + tang with the lemon/olive oil/chili powder dressing. Together it becomes a mouthwatering summer salad!
Watermelon
Red onion
Avocado
Mixed salad greens
Feta cheese
Pumpkin seeds
Extra virgin olive oil
Lemon juice
Chili powder
Sea salt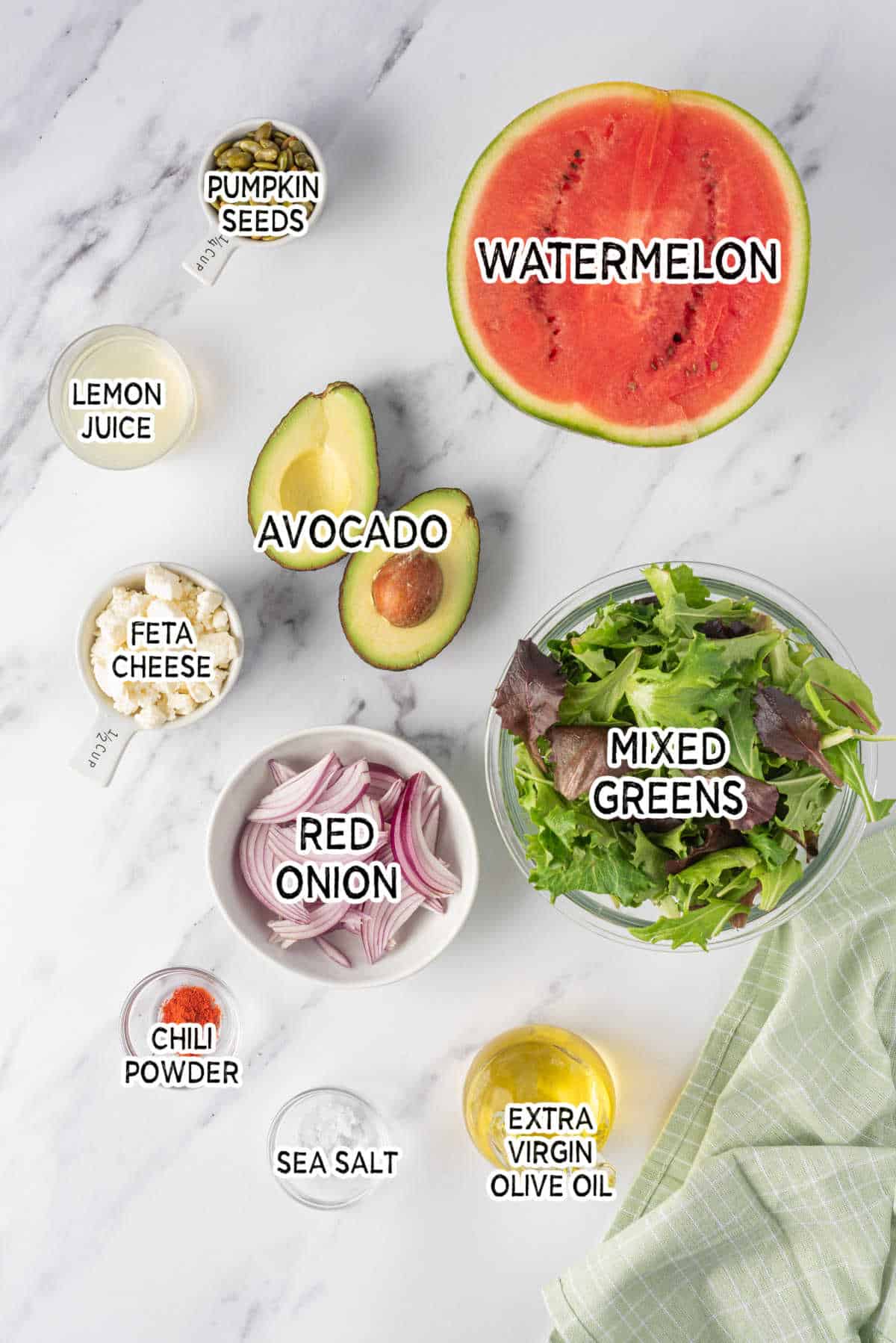 What to Serve with Watermelon Salad
Watermelons are in abundance in the summer so save some pieces and try this salad. It's delicious on its own as a lunch or pair it with some grilled chicken breasts or steak. We have paired it with so many proteins and they all work well together. I'll be making this one, again and again, I'm sure!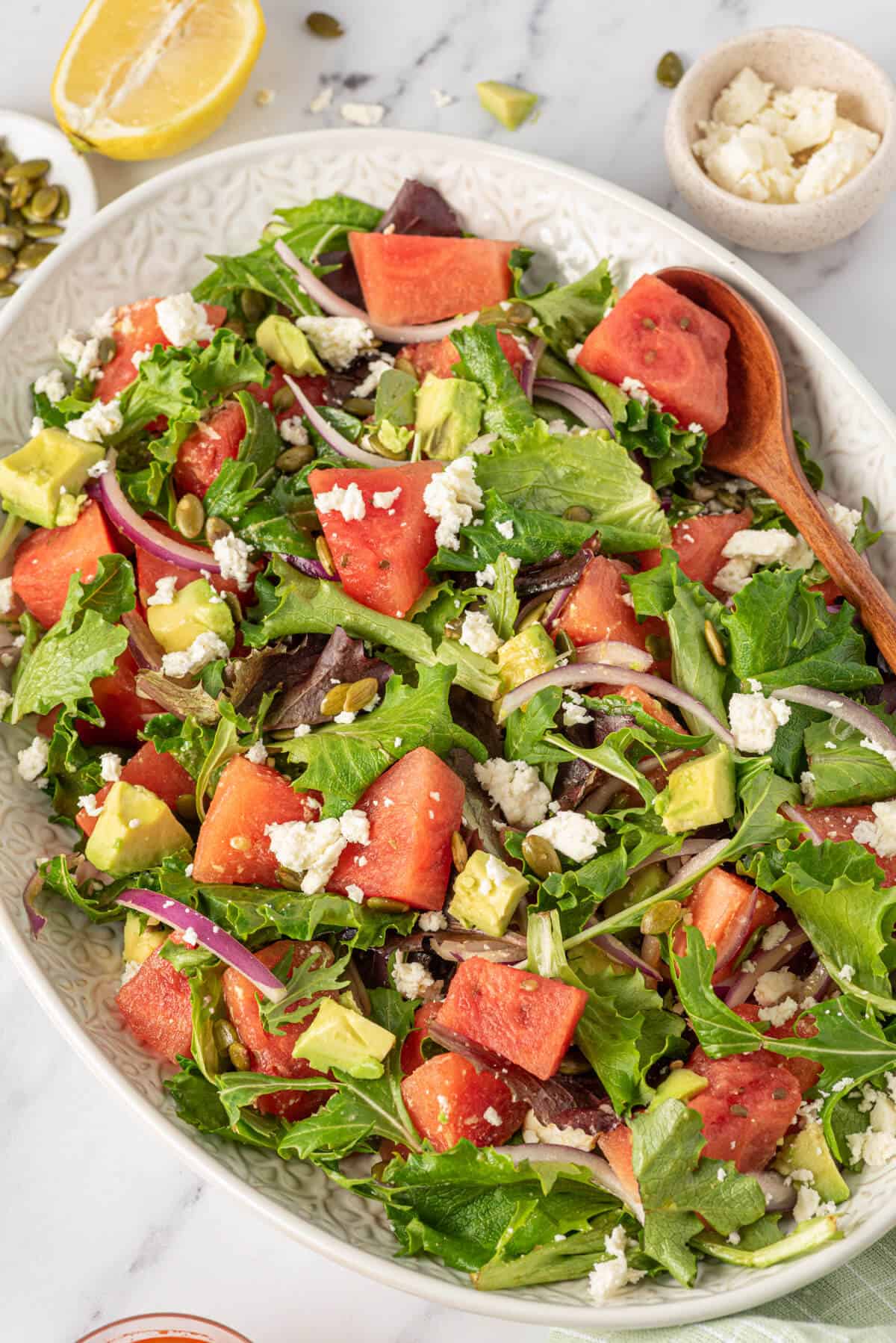 Check out these other salad recipes
Regal Chicken Salad | This is the best chicken salad recipe I have ever had. Grapes, pineapple, tender pieces of chicken in a creamy sauce. This is the cream of the crop in chicken salad recipes.
Broccoli Salad | Great for potlucks or even a holiday gathering, this salad is fantastic. Crisp, crunchy, in a slightly sweet creamy sauce.
Chicken Fajita Pasta Salad | If you love fajitas you got to try this version. This is a pasta salad with onions, peppers, and of course chicken in a flavorful sauce.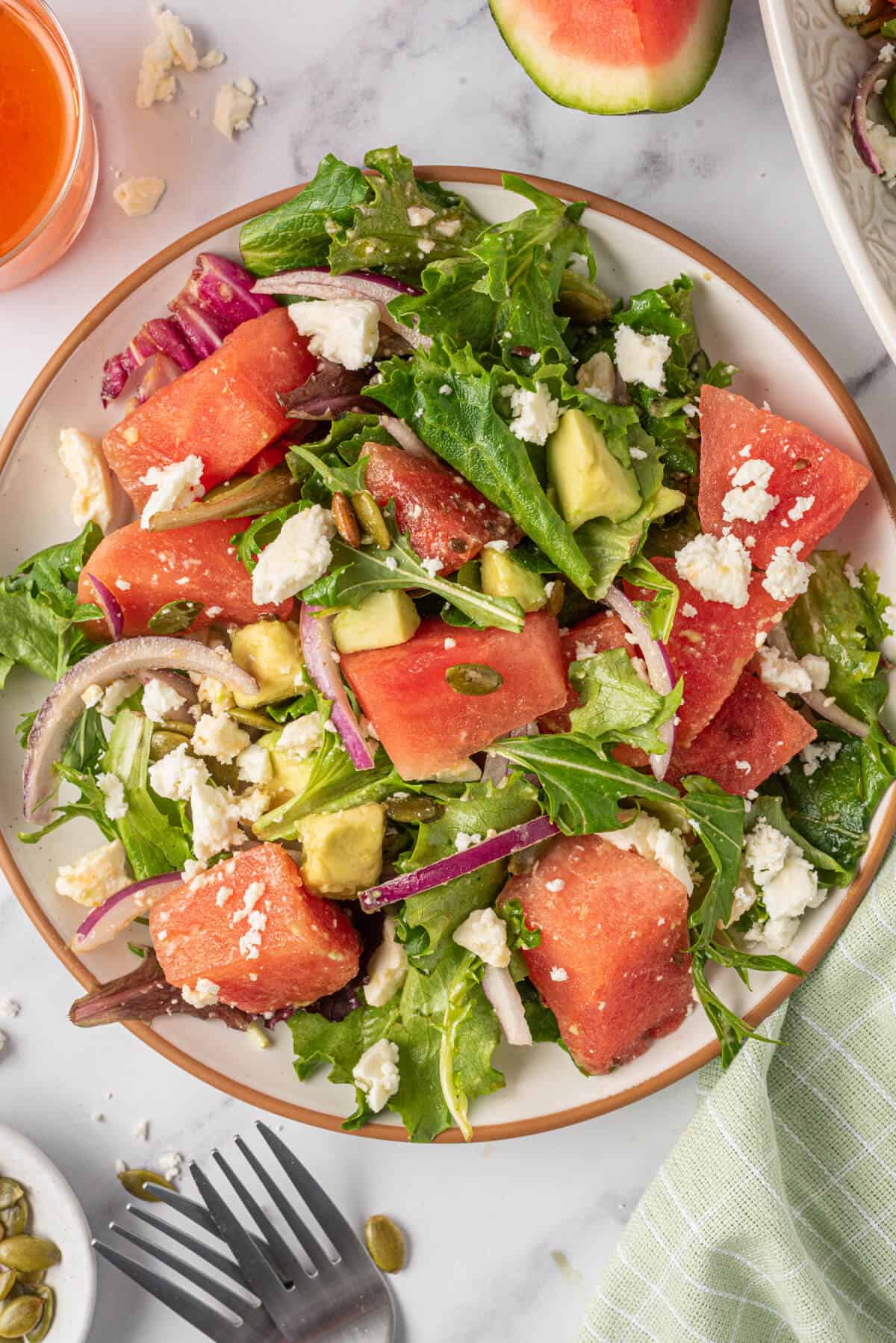 How Do You Make Watermelon and Feta Salad
Step One: In a large bowl, toss together the watermelon, avocado, salad greens and red onion. Set aside.
Step Two: In another bowl, whisk together the olive oil, lemon juice, chili powder and sea salt. Pour dressing into salad and toss.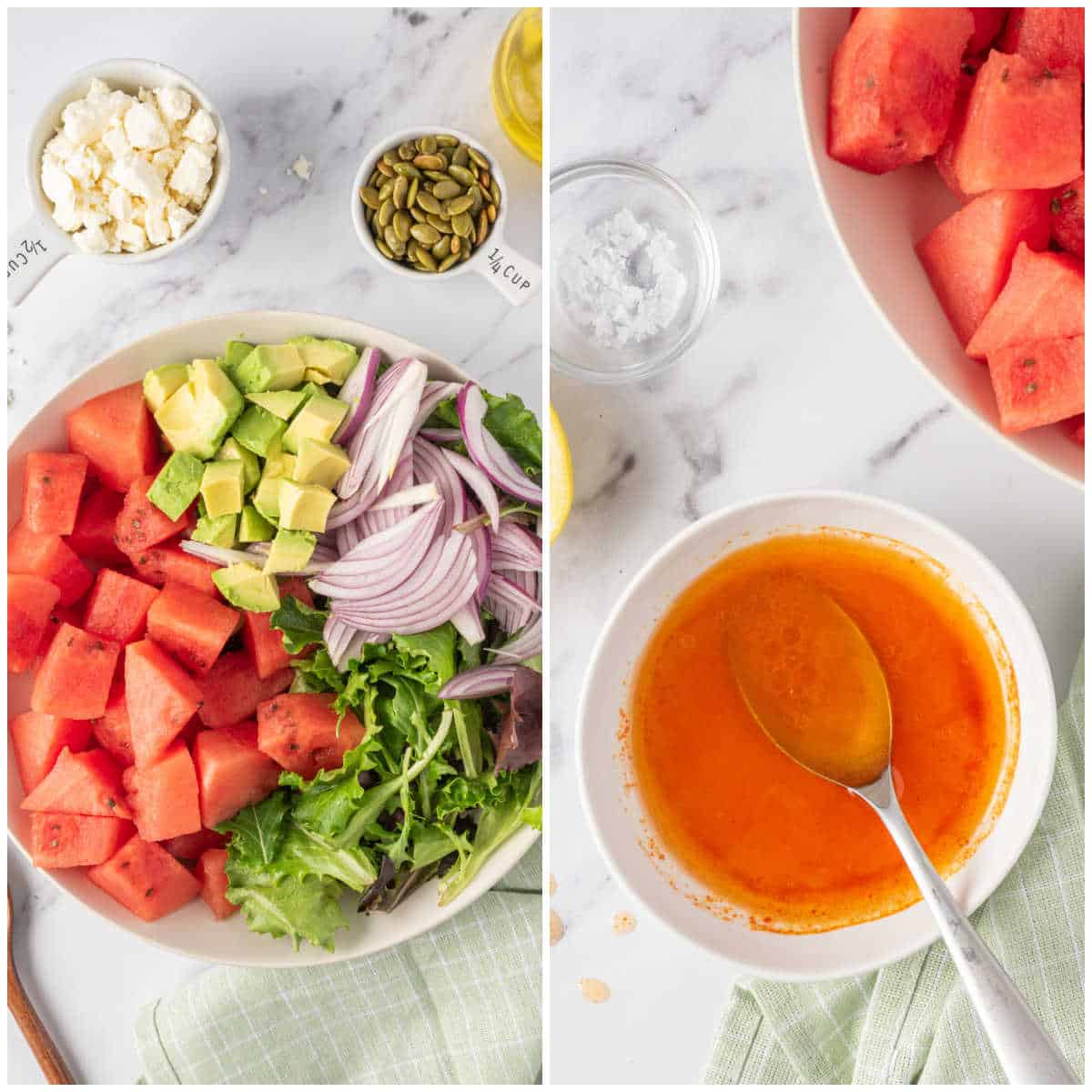 Step Three: Add feta cheese and pumpkin seeds to salad and toss together.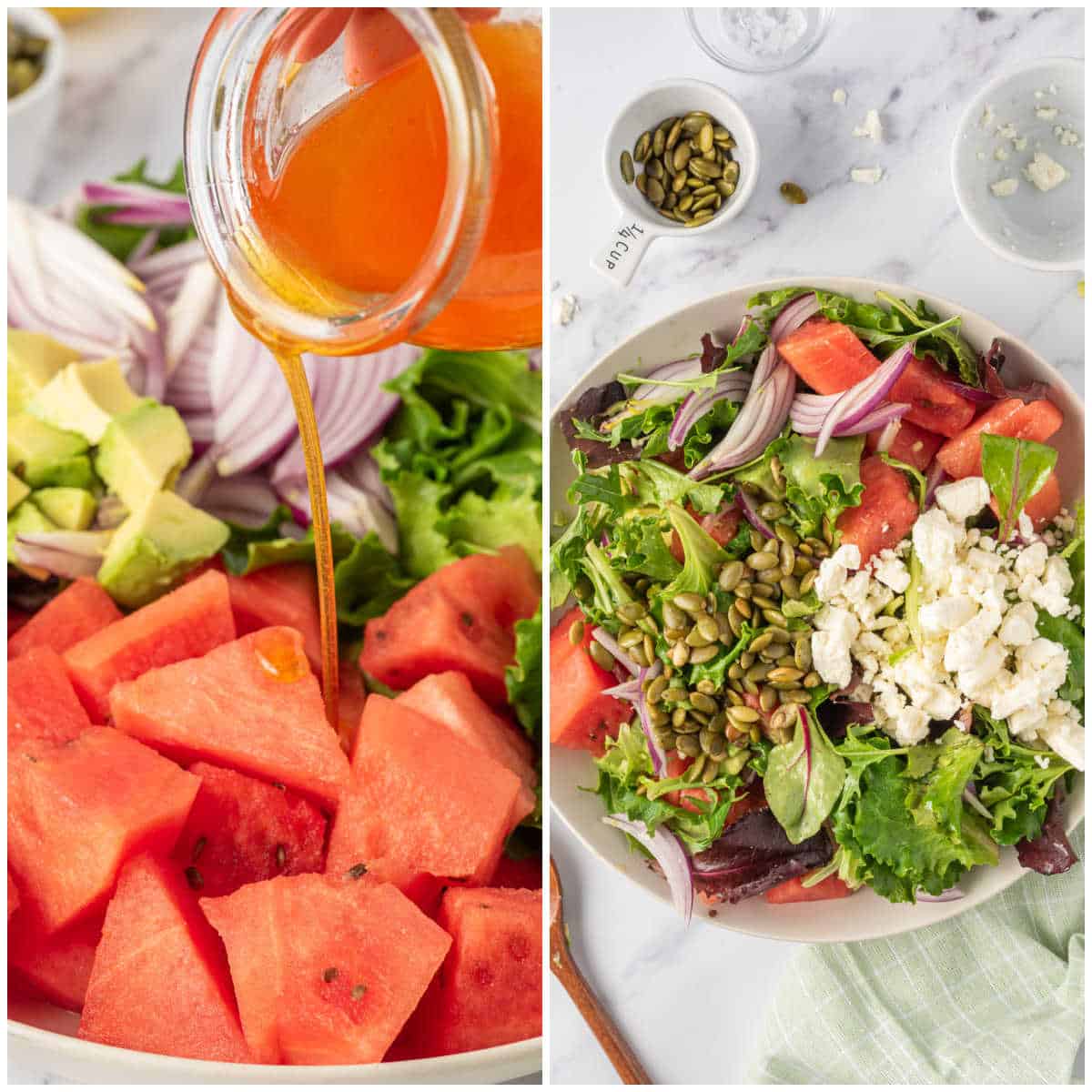 Feta Cheese for Watermelon Salad
For the feta, you have to watch when you buy containers of feta that are pre-crumbled. I find that they don't offer as much flavor. If you buy a block and crumble yourself you will find the cheese offers more flavor. If pre-crumbled is all you can find that is totally okay to use, I just find the other has more flavor.
Is Watermelon Salad Still Flavorful Without Dressing
Yes. This salad is great without dressing, but I will say that homemade dressing helps to bring all the flavors in the dish together. Without it, you won't get to experience the entire experience of the salad.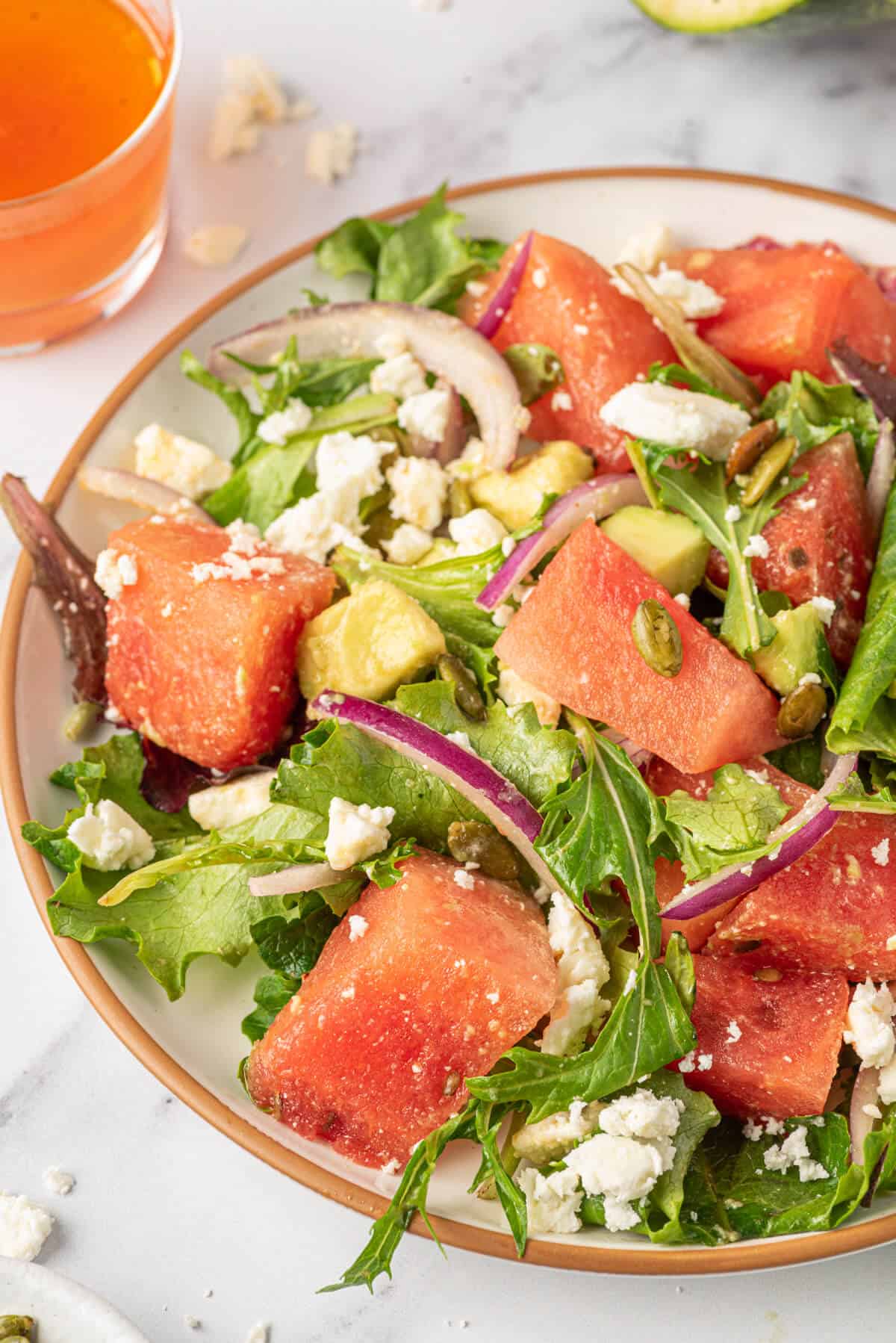 Pro Tip For Watermelon Salad Recipe
This salad is best prepped and served right away. The watermelon once sliced begins to seep. So never prep this salad ahead of time, as the fresh crisp flavor comes in those first few hours of making this salad.
If you do end up needing to save some you can place in an airtight container and store in the fridge. I will say taste test it to see how it is before serving. It will last 24-48 hours, and then after need to be tossed.
Variations for Watermelon Salad
Watermelon | Use a watermelon ball scooper to give the watermelon a fun circle design. This is a great way to serve up a colorful and bright dessert to guests.
Cucumber | Swap out the avocado for cucumber. Just deseed the cucumber and dice thinly, for a crunch factor to the salad.
Seeds | If you don't have pumpkin seeds, try salted sunflower seeds. Similar in flavor and texture, these little seeds are fantastic in this salad.
Spinach | Skip the mixed greens and reach for straight spinach leaves if you want. They offer an earthy texture and taste that pair well with the salad.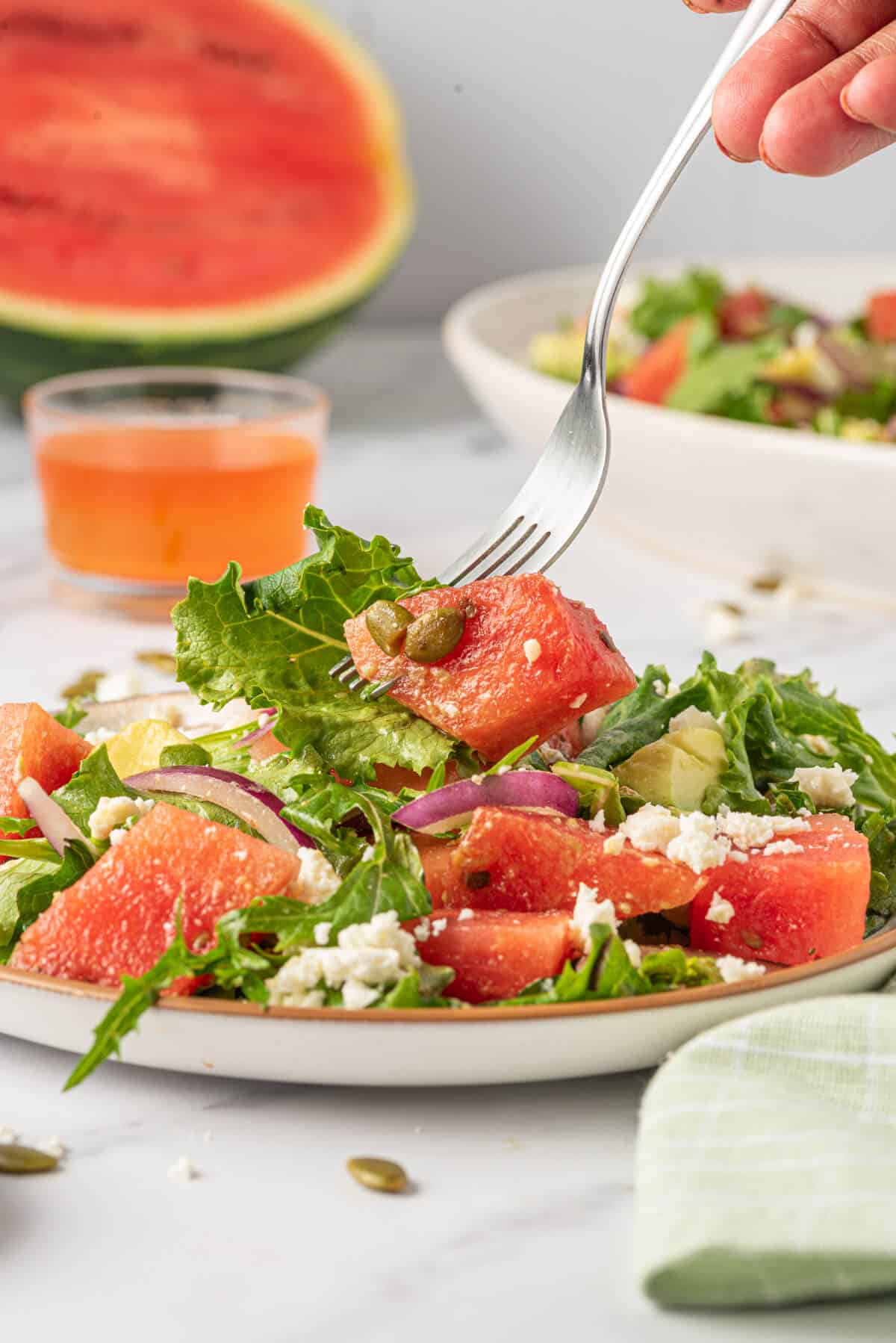 Tips for Picking a Ripe Watermelon
The biggest factor of this salad is a sweet and ripe watermelon. Let me share a few tips that I find helpful when picking a watermelon.
Weight | You want to lift up a handful of watermelons and pick one that feels heavy for its size.
Brown Spot | On the end where the watermelon was on the vine, you will see a brownish/yellow spot. This means it was ripened on the vine and picked at its peak. So I highly recommend looking for that brown spot on the bottom of the watermelon.
Those two tips help me when buying a fresh and ripe watermelon that is at its prime.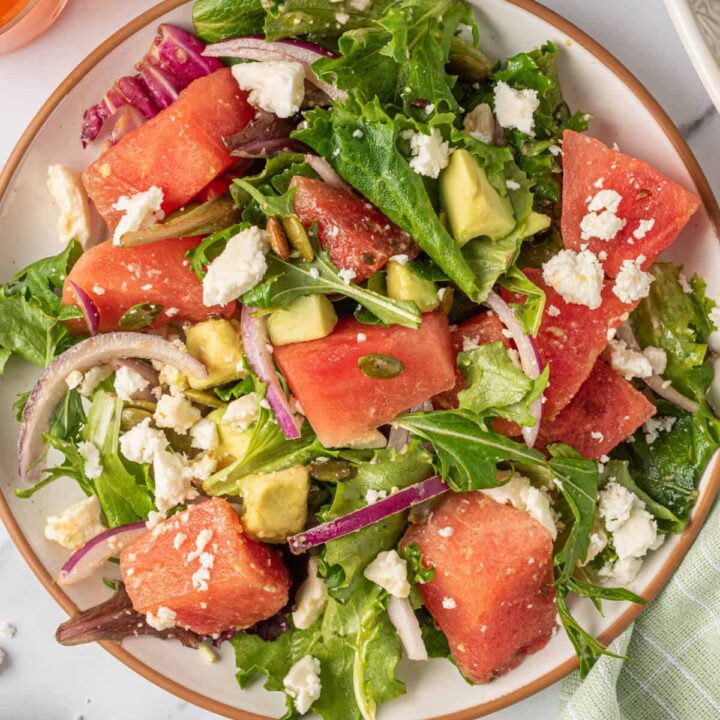 Watermelon and Feta Salad
A summer salad staple! It's filled with juicy watermelon, salty feta, red onion, avocado and pumpkin seeds in a tangy dressing with a little kick of spice.
Ingredients
2 cups watermelon, chopped
½ red onion, thinly sliced
1 avocado, chopped
3 to 4 handfuls of mixed salad greens of your choice
½ cup feta cheese
¼ cup pumpkin seeds, shells removed
¼ extra virgin olive oil
1/8 cup lemon juice
½ teaspoon chili powder
Pinch of sea salt
Instructions
In a large bowl, toss together the watermelon, avocado, salad greens and red onion. Set aside.
In another bowl, whisk together the olive oil, lemon juice, chili powder and sea salt. Pour dressing into salad and toss.
Add feta cheese and pumpkin seeds to salad and toss together.
Recommended Products
As an Amazon Associate and member of other affiliate programs, I earn from qualifying purchases.
Nutrition Information:
Yield:

4
Serving Size:

1
Amount Per Serving:
Calories:

240
Total Fat:

14g
Saturated Fat:

4g
Trans Fat:

0g
Unsaturated Fat:

8g
Cholesterol:

17mg
Sodium:

243mg
Carbohydrates:

26g
Fiber:

6g
Sugar:

8g
Protein:

7g