Disclosure: This post was sponsored by Dempster's. The opinions are completely my own based on my experience.
I strive to add veggies to my supper table with every meal. One of my favourite ways to achieve this is making a salad. Think fresh veggies, homemade vinaigrette and croutons. Sometimes, the salad will be so filling that it's a meal on its own. This BLT Salad that I created with Dempster's Honey Wheat Bread is unforgettable and tastes fabulous. Word of caution: you may never want to buy store bought croutons again after trying this recipe!
You may have noticed a new kind of bread in the bakery aisle at your local grocery store. Dempster's has recently launched its Honey Wheat Bread for a limited time. Grab a couple loaves next time you are shopping. Not only can you use the bread to make today's recipe, but you can also prepare my Honey Almond Breakfast Cups and Blueberry Brie Grilled Cheese Sandwich. Plus, it makes a delicious breakfast topped with butter or honey. Yum!

I'm a big fan of honey and use it regularly in recipes. It's definitely a trendy ingredient lately with more and more Canadians using it as a natural sweetener. Currently, Canadian production of honey is at an all-time high with 43,227 tonnes produced in 2015. I'm not really that surprised since honey is nature's perfect sweetener.
BLT Salad
My BLT Salad uses honey in a couple spots. The homemade croutons are made with Dempster's Honey Wheat Bread and I also made a honey mustard vinaigrette to pair with the salad. These finishing touches add the perfect hint of sweetness.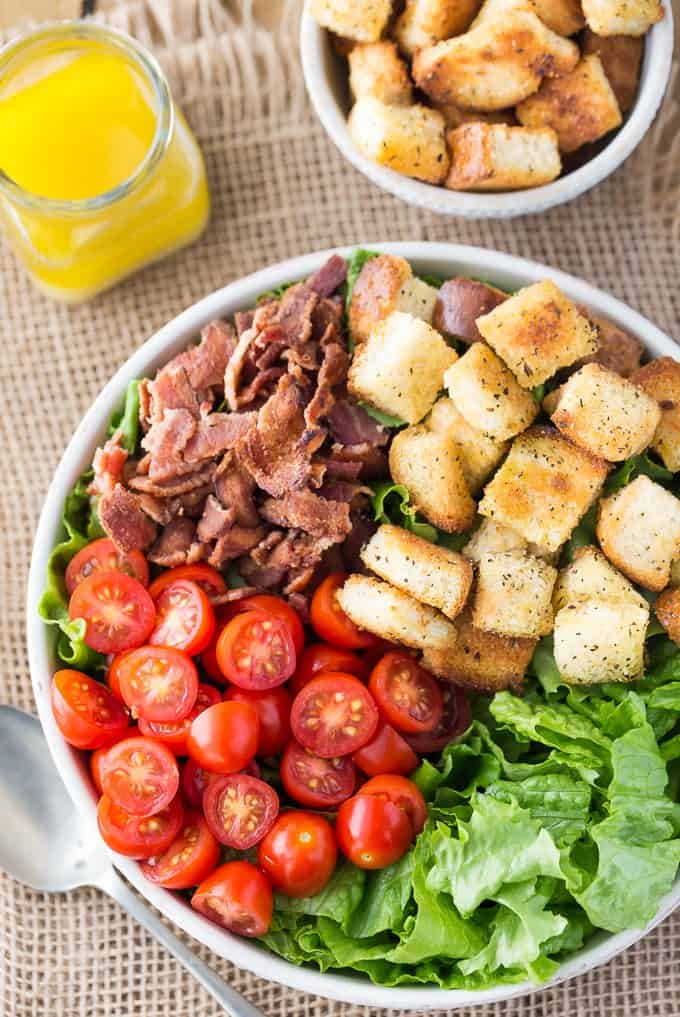 I've mentioned before that I have a couple picky eaters in my house – my two daughters. These girls surprise me with the stuff they turn their noses up at. I'm always asking them to just try it and see if they like it. Unfortunately, that never works well. The struggle is real.
When I find a recipe that they will both eat, I'll take it and run. Bonus points if it is on the healthy side, too. I knew that they both liked BLT Sandwiches. A BLT Salad was another story though. Could I convince them to try it?
Thankfully, my experiment was successful and both girls gobbled up big bowls of my recipe. Their favourite ingredient? The homemade croutons. I can't argue with them there. That was my favourite part as well!
There is so much to love about this salad with its fresh lettuce, juicy cherry tomatoes, crispy bacon pieces, savoury/sweet croutons and a mouthwatering Honey Dijon vinaigrette. We ate it for supper as the main course and found it very filling.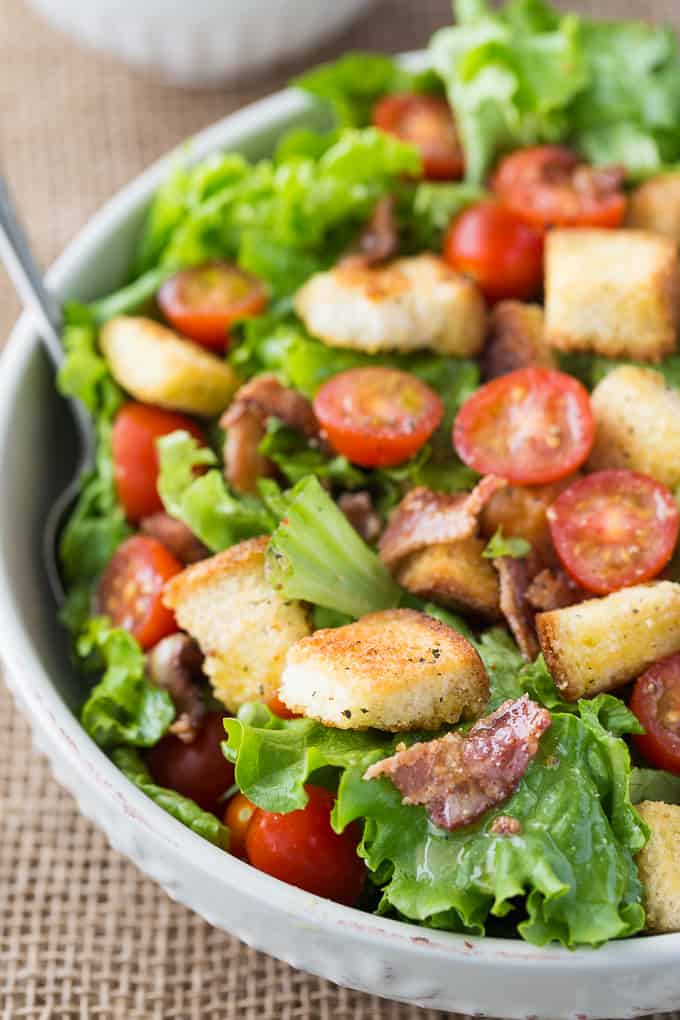 I love that everything is homemade in this recipe. Don't worry – that doesn't mean it's hard to make. I like simple recipes. You can prepare the croutons ahead of time if you like. If you have extras, simply store them in your pantry. We did not have leftovers because I ended up eating all the croutons that were left myself. It's one of those things where you can't just have one!
I felt like a mealtime hero watching my family devour their bowls of salad. What a great feeling! It's always nice to see my family ask for seconds after I've made a recipe from scratch.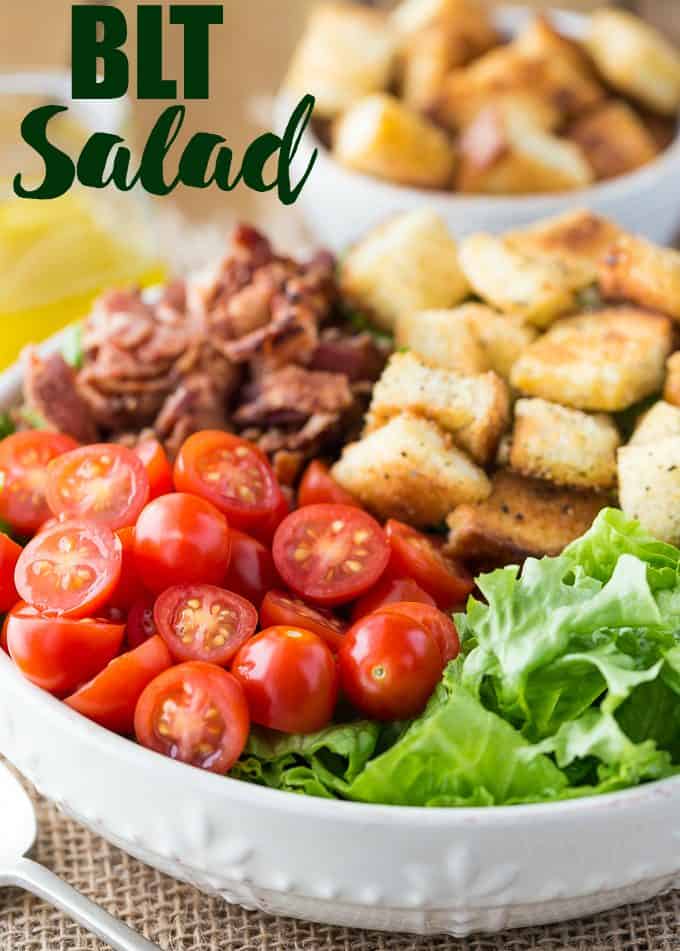 Helpful Kitchen Tools
Who knows? Maybe your family will love this recipe as much as mine and you will be a mealtime hero, too!
You'll also like this Tex Mex Lunch Bowl.
What recipes make you a mealtime hero?
Connect with Dempster's on Facebook, Instagram and Twitter.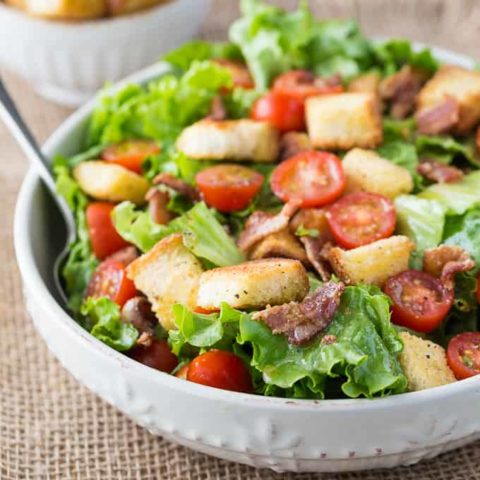 BLT Salad
Try your favourite sandwich as a salad! You'll love the fresh lettuce, juicy tomatoes and crisp bacon topped with savoury croutons and Honey Dijon Vinaigrette.
Ingredients
1 head leaf lettuce, roughly chopped
6 slices bacon, cooked and crumbled
3/4 cup cherry tomatoes, halved
Homemade Croutons
4 slices Dempster's Honey Wheat Bread, cut into 1/2 inch cubes
1/8 cup extra virgin olive oil
1/2 tsp dried basil
Honey Dijon Vinaigrette
1/4 cup extra virgin olive oil
2 tbsp white wine vinegar
2 tsp honey
2 tsp Dijon mustard
salt and pepper, to taste
Instructions
Homemade Croutons
Preheat oven to 375F. Add bread cubes to a baking sheet. Drizzle olive oil over the bread. Sprinkle on dried basil. Toss to coat and lay on baking sheet in a single layer.
Bake for 5 minutes. Toss. Bake for an additional 3 to 5 minutes, until it reaches your desired doneness. Set aside to cool.
Honey Dijon Vinaigrette
Whisk ingredients in together in a small bowl. Set aside.
Assembly
Add lettuce, tomatoes, bacon and croutons to a large bowl. Drizzle on vinaigrette and toss to combine.
Recommended Products
As an Amazon Associate and member of other affiliate programs, I earn from qualifying purchases.
Nutrition Information:
Yield:

4
Serving Size:

1
Amount Per Serving:
Calories:

381
Total Fat:

28g
Saturated Fat:

5g
Trans Fat:

0g
Unsaturated Fat:

21g
Cholesterol:

17mg
Sodium:

594mg
Carbohydrates:

24g
Fiber:

5g
Sugar:

7g
Protein:

11g