Serve up this Creamy Chicken and Vegetable Soup this week. It is a creamy based chicken soup that has hearty veggies and is loaded with rich flavor. This is a total comfort food soup that will warm you up from the inside out.
Hi Everyone, It's Nicky, calling in from Kitchen Sanctuary. Soup season is here! I hate letting food go to waste, and this is the perfect way to make the most out of your leftover roast chicken.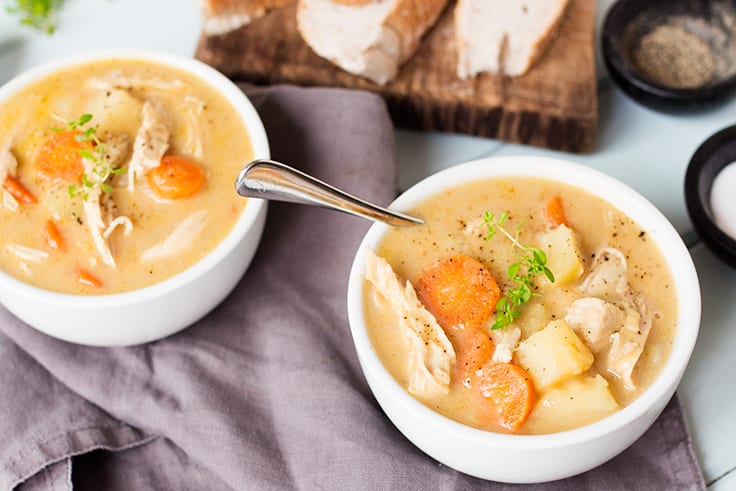 Creamy Chicken and Vegetable Soup
Take off any leftover little bits of meat from your whole roast chicken and then boil up those bones with some onion and carrot for a good few hours.
You'll be left with a deliciously flavourful stock that – with the addition of that leftover chicken, some veg and a splash of cream – makes the perfect autumn lunch.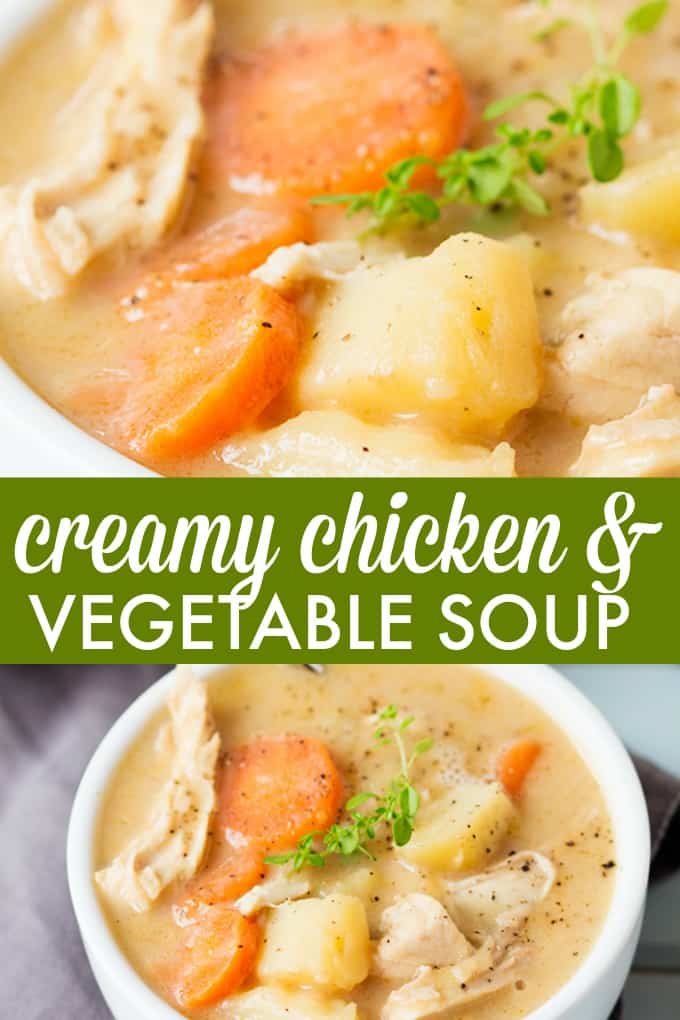 Can I Add More Veggies To This Creamy Chicken Vegetable Soup
I like to add potato and carrot, but just add whatever you've got in – broccoli, peas, cauliflower, even sprouts work!
This soup takes me right back to my childhood when my mum used to make it all the time.
It tastes amazing, and it's so healthy and nourishing that you'll be looking forward to those cold evenings, just so you can enjoy a nice big bowl!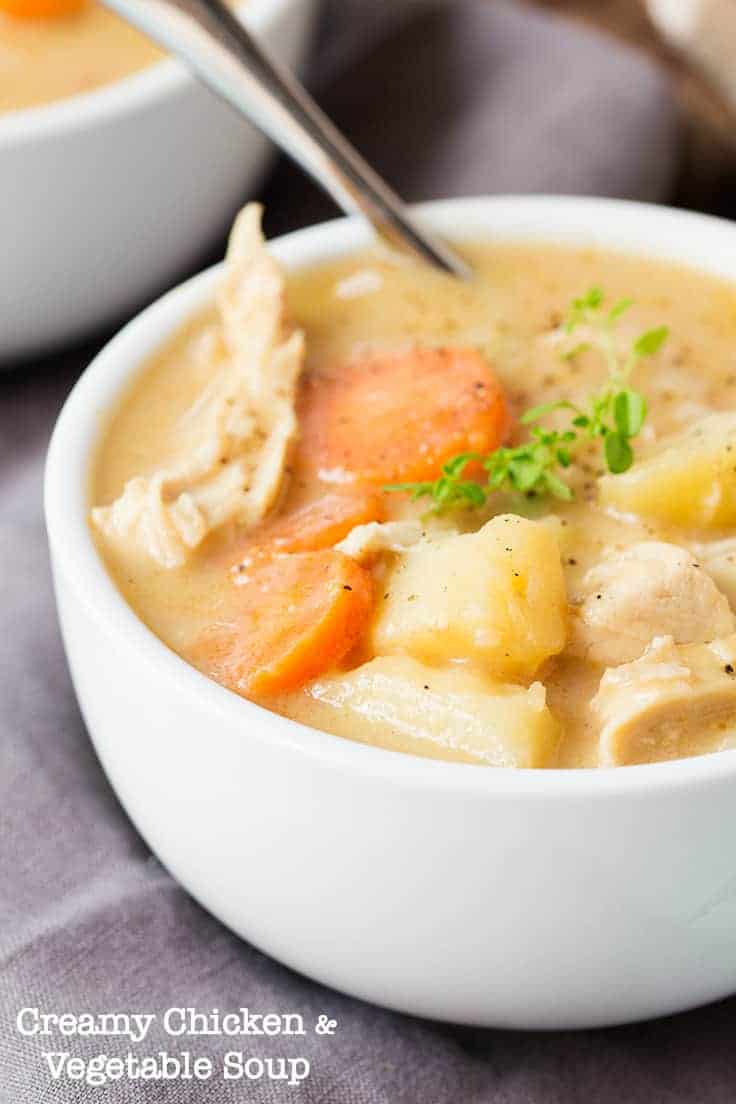 Why Do You Boil the Chicken Carcass for this Chicken Soup Recipe
I am the type that loves to really utilize all the pieces of a chicken. I have found that using the carcass will really add a rich and savory flavor to your soup and allows you to make a really nice chicken flavored broth. You won't need to buy boxed chicken stock, you will have homemade which is so much more flavorful. Plus you will gain a lot of nutrients out of the chicken.
How Do You Make Creamy Chicken and Vegetable Soup
The first thing you need to do is take your chicken carcass and remove most of the meat that is still left on it, and place the chicken pieces in the fridge for later. Then place your chicken carcass in a pan and cover with cold water. Place in your vegetables and bring to a boil and then turn the heat down to a simmer for 2-3 hours or until the water reduces by at least half.
Now strain your liquid and pour the juice back into the pan. Peel and chop the remaining vegetables and place in the pan and cook for another 20 minutes or until veggies are cooked through. Add in your chicken pieces from the fridge and the cream. Then serve up this incredible creamy based chicken and vegetable soup.
What To Serve With Chicken and Vegetable Soup
Feel free to eat this alone or pair with a side sandwich, buttered rolls or even a crisp green salad. I love this chicken soup, and it is seriously one of my go-to recipes in the winter months.
Here are more popular soup recipes to try out
Dill Pickle Soup | I know it sounds a little strange to make pickle soup, but trust me, it is fantastic. If you enjoy that salty and crisp pickle this will be a treat. Whip up this dill pickle soup and let me know what you think.
Creamy Cabbage Soup | We love cabbage, and eating it in a soup will truly give you incredible flavor. The cabbage adds a lot to soup, it gives incredible flavor to this creamy based soup.
Hamburger Soup | Here is a great way to use a hamburger in a new way. This soup is hearty, savory, and loaded with tons of flavor. An easy meal to whip up any day of the week.
How Long Can You Store Creamy Chicken and Vegetable Soup
This chicken and vegetable soup will last up to three days in your refrigerator. Because of the meat, you don't want to keep it in your fridge for too much longer. Since this is a creamy based soup you will find it does not freeze the best. If you plan to freeze some of your soup. Remove part of the soup before you pour the cream in and freeze it without.
You will find dairy products don't thaw well once being frozen and can curdle or separate. So freezing without the cream will allow you to freeze the soup for later. Thaw in the fridge the night before you plan to eat, and then mix in the cream as you are reheating it. Or skip the cream and eat without. It is still tasty that way too.
You'll also like this Instant Pot Cauliflower Soup.
Are you a fan of chicken soup?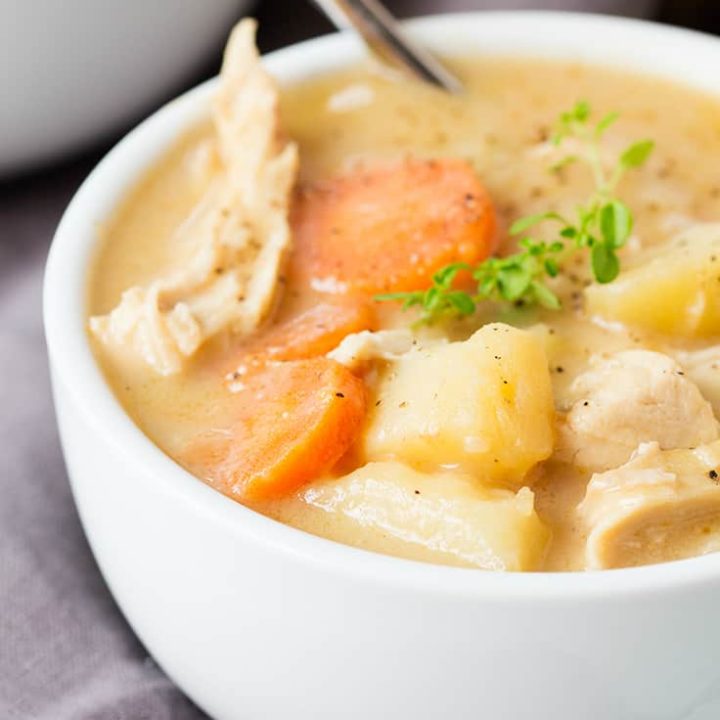 Creamy Chicken and Vegetable Soup
Cook Time:
3 hours
20 minutes
Total Time:
3 hours
30 minutes
Use your leftover chicken bones to make the creamiest soup tonight! You only need 6 simple ingredients to make this yummy and comforting chicken soup.
Ingredients
1 leftover cooked chicken carcass (with a bit of the meat still on)
Cold water
1 onion, chopped into quarters (no need to peel)
1 bay leaf
3 carrots
1 large potato, peeled and chopped into bite-size chunks
¼ tsp each of salt and pepper
2 tbsp heavy cream
Instructions
Place your leftover chicken carcass on a chopping board and pull off any meat you can find on it (pay special attention to the wings and underside of the chicken where you'll find some good pieces). Wrap the pieces of chicken and refrigerate for later.
Place all of the leftover bones and skin from the carcass in a large pan, completely cover it with cold water, so the water comes about 1 inch above the chicken.
Place the onion, bay leaf and 1 carrot (no need to peel or chop) into the water with the chicken. Bring to the boil, then turn down the heat and simmer for 2-3 hours until the water has reduced by at least half.
After 2-3 hours, place a sieve over a large bowl. Strain the chicken and veg and leave for a couple of minutes so that all the juices drip into the bowl. Pour the juices back into the pan*.
Peel and chop the remaining two carrots and place in the pan with the stock. Add in the chopped potato and then salt & pepper. Bring back to the boil, and simmer gently for 20 minutes until the vegetables are soft and tender. Add in the chicken pieces from the fridge and the cream for the last 5 minutes to heat through.
Ladle into two bowls and serve.
Notes
If you find that you don't have much liquid left after boiling up the carcass, you can add in a bit more water. Give the stock a taste, and if it still has lots of flavour then leave as is. If you think that the water has watered-down the flavour too much, you can add in a stock cube (or some bouillon for gluten free).
Recommended Products
As an Amazon Associate and member of other affiliate programs, I earn from qualifying purchases.
Nutrition Information:
Yield:

2
Serving Size:

1
Amount Per Serving:
Calories:

329
Total Fat:

11g
Saturated Fat:

5g
Trans Fat:

0g
Unsaturated Fat:

5g
Cholesterol:

57mg
Sodium:

243mg
Carbohydrates:

43g
Fiber:

6g
Sugar:

7g
Protein:

16g