Banana Cake with Toffee Frosting is the perfect way to use up those ripe bananas on your counter. A moist banana cake that is topped with a homemade toffee frosting that is rich and deep in flavor.
Hi everyone, it's Nicky, calling in from Kitchen Sanctuary.
Today I'm bringing you a recipe for a deliciously moist banana cake with a rich toffee topping.
Last time I made this, it didn't even last until the next day. It was devoured in no time!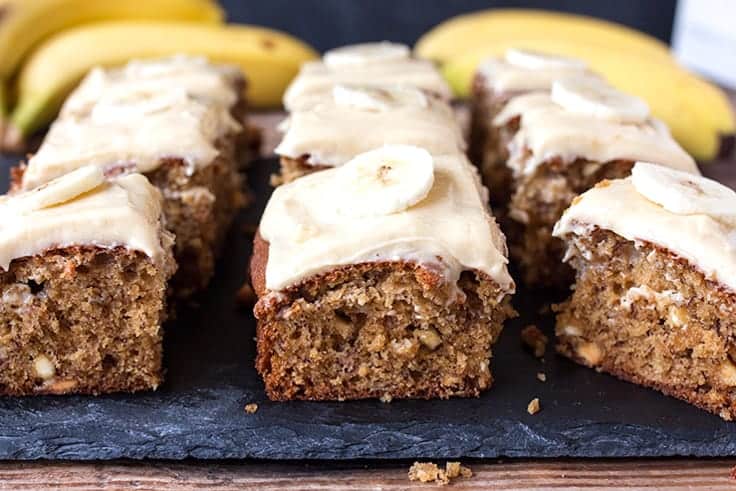 Banana Cake
A simple cake to make, it's one of my favourite ways to use up those spotty bananas. Enjoy them for a slightly naughty breakfast, or for a wonderful mid-afternoon snack – they're the perfect accompaniment to a nice cup of tea!
How Do You Make Banana Cake Moist
Using vegetable oil and bananas in the mixture ensures the cake stays beautifully moist for at least a few days. I find that the oil and bananas together will give you that ultra moist cake that you want.
I like to top my cake slices with a slice of banana, but if you do that, it's best to only put the banana slices on top right before serving – as they brown within a few hours.
How Do You Store Banana Cake
You will find storing your banana cake in the fridge will allow your cake to last the longest. Store in an airtight container in the fridge for up to five days. If you prefer to eat your cake at room temperature, just let it sit out for 30 minutes before you eat.
How to Make Banana Cake
The key to this banana cake is ripe bananas. Look for bananas that have speckles and peel and mash the bananas. Follow the steps for making the cake, and then allow it to cool at room temperature. You will know when your cake is done when you take a toothpick and stick in the center of the cake and it comes out clean.
Then start working on your frosting and topping your cake. This is an incredible cake that will win over your family or a crowd!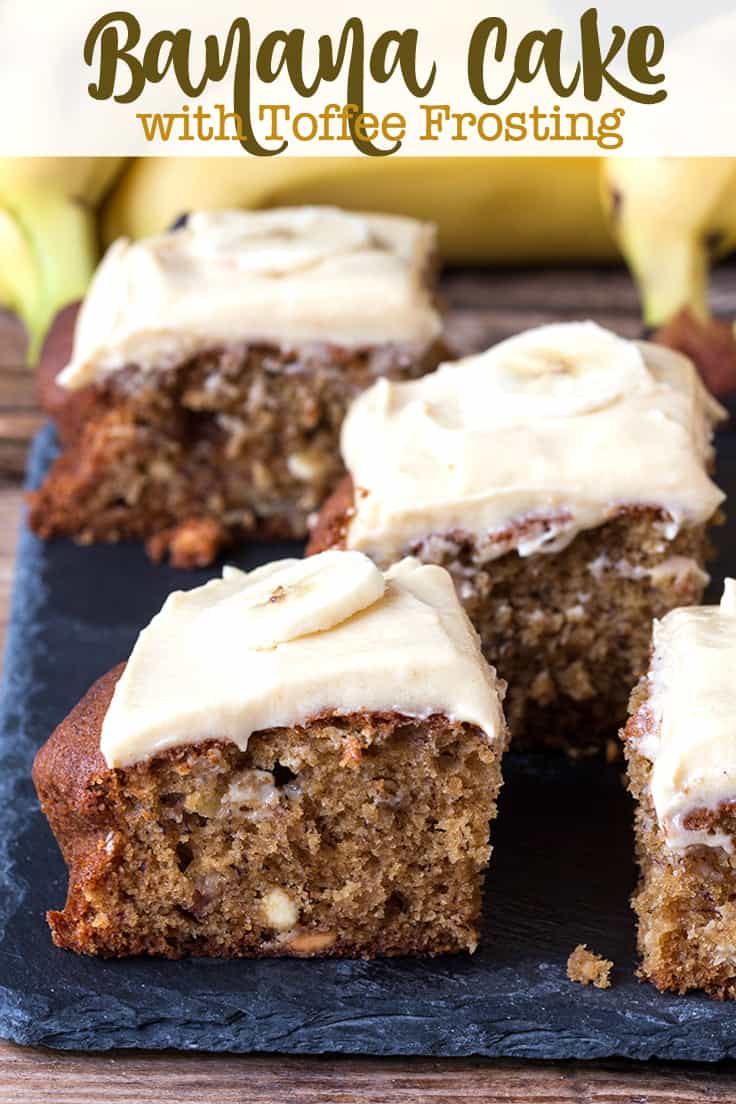 Tips for Baking Banana Cake
Room temperature ingredients are the best when you go to mix up. Let your egg sit out so it can come to room temperature.
Use ripe bananas, that have speckles. Underripe bananas will not give you the rich flavor you want.
Measure ingredients properly to get the right consistency.
Don't overmix the batter for this cake. If you do this you will get a chewy and dense cake instead of light and moist.
Always watch your cake as it bakes. Depending on oven and altitude the baking time can vary. Use the toothpick method to ensure the cake is done and remove it when you feel it is fully cooked.
How to Ripen Bananas Quickly
So you want to make this banana cake, but you don't have overripe bananas.. Let me help! Learn how to ripen bananas quickly so you can make your favorite bananas recipes anytime.
Start by taking your bananas and poke holes in the peel with a fork or even toothpick. You want to do quite a few holes so that it can work over the entire banana. Then toss it in the microwave for around 30 seconds to a minute depending on your microwave. It will then be ready to mash and use in a recipe.
Or you can do it in the oven, by placing bananas on a baking sheet that is lined with aluminum foil or parchment paper. Then cook at 300 degrees for around 15- 30 minutes. You will find that it will brown your banana.
Similar methods just the microwave is a lot fast in the process. Either works great.
Can You Freeze Banana Cake with Toffee Frosting
Sure, you can easily freeze the leftover cake. Just prepare as normal and then place it in a freezer-friendly container. Stick in the freezer and store up to three months. Thaw in the fridge the night before you plan to eat. Or allow it to sit out on the counter for around an hour so it thaws out.
This is great for having a quick snack for when you get to craving something sweet. Freezing your cake is also great when have last-minute guests coming over and you want to serve up something.
Check out more ways to use bananas in recipes
Caramel Banana Muffins | Whip up these banana muffins that have a tasty caramel flavor. Great for breakfast recipes, brunches and more.
Cinnamon Banana Pancakes | If you have never tried making homemade pancakes give this a try. Warm cinnamon, rich banana in every single bite.
25 Brown Banana Recipes | You will find tons of recipes that use brown bananas. This is a great way to gain inspiration on how you would like to use up your leftover brownies.
Are you a fan of banana cake?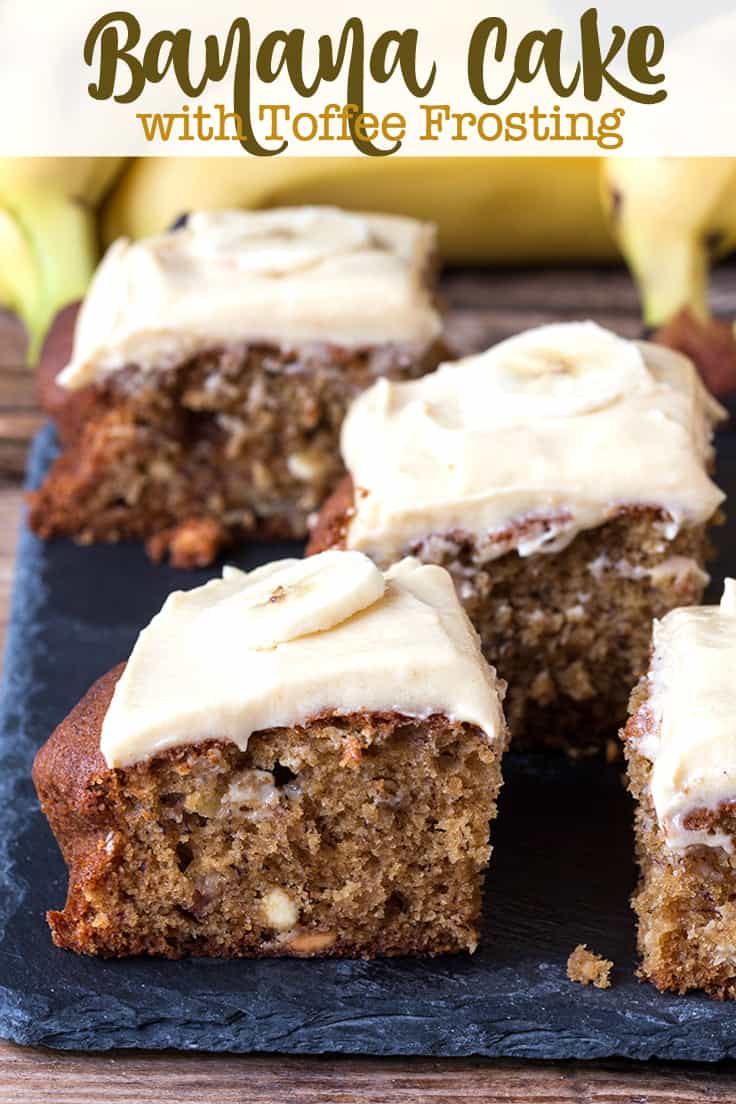 Banana Cake with Toffee Frosting
A deliciously moist banana cake with a rich toffee frosting. It's also easy to make and the perfect way to use up those brown bananas!
Ingredients
Banana Cake
1 large egg
5 tbsp vegetable oil
1/2 cup golden caster sugar (In USA & Canada, use brown sugar)
3 ripe bananas, roughly chopped
1 ¼ cups all-purpose flour
½ tsp baking powder
½ tsp baking soda
1 tsp ground cinnamon
1/3 cup + 1 tbsp rolled oats
3/4 cup white chocolate chips
Toffee Frosting
¼ cup light brown muscovado sugar (Try brown sugar if you can't find this one)
1 cup (2 sticks) unsalted butter (room temperature)
3 tbsp milk
2 cups powdered sugar
Instructions
Preheat the oven to 180c/350F and line a 20cmx20cm (8 inch) baking tin with baking parchment.
In a mixer, whisk the egg, oil and sugar until combined, then add in 2 of the chopped bananas. Whisk again until the banana breaks down and you've got a slightly lumpy liquid.
Add in the flour, baking powder, baking soda, cinnamon and oats then stir until combined. Add in the chopped chocolate and stir.
Pour the mixture into the prepared baking tin, and place in the oven for 25-35 minutes – until an inserted skewer comes out clean.
Whilst the cake is baking, make the frosting.
Place the muscovado sugar in a pan with quarter of the butter and heat, whilst stirring, until the butter is melted. Stir in the milk until the mixture comes together, then turn off the heat and allow to cool to room temperature.
Place the remaining butter and the powdered sugar into a mixer and beat until soft and creamy – about 3-4 minutes. Pour in the butter sauce from the pan whilst the mixer is running slowly. The result should be a toffee frosting that is thick, but just holds it's shape. Add a little more powdered sugar if the frosting is too runny. Put to one side.
Take out of oven once cooked, leave to cool for a few minutes, then take out of the tin and leave to cool on a cooling rack.
Once cool, spread the toffee frosting on top and cut the cake into nine pieces. Chop the remaining banana and place a slice or two on top of each cake slice, then serve.
This cake should keep for 3-4 days in a sealed container in the fridge. Take it out approx. 30 minutes before serving to allow it to come back up to room temperature.
Recommended Products
As an Amazon Associate and member of other affiliate programs, I earn from qualifying purchases.
Nutrition Information:
Yield:

9
Serving Size:

1
Amount Per Serving:
Calories:

489
Total Fat:

14g
Saturated Fat:

4g
Trans Fat:

0g
Unsaturated Fat:

9g
Cholesterol:

27mg
Sodium:

132mg
Carbohydrates:

89g
Fiber:

2g
Sugar:

70g
Protein:

4g