Banana Cupcakes are the perfect way to use up ripe bananas in your home. Light, fluffy, moist banana cupcakes and then top with your favorite frosting.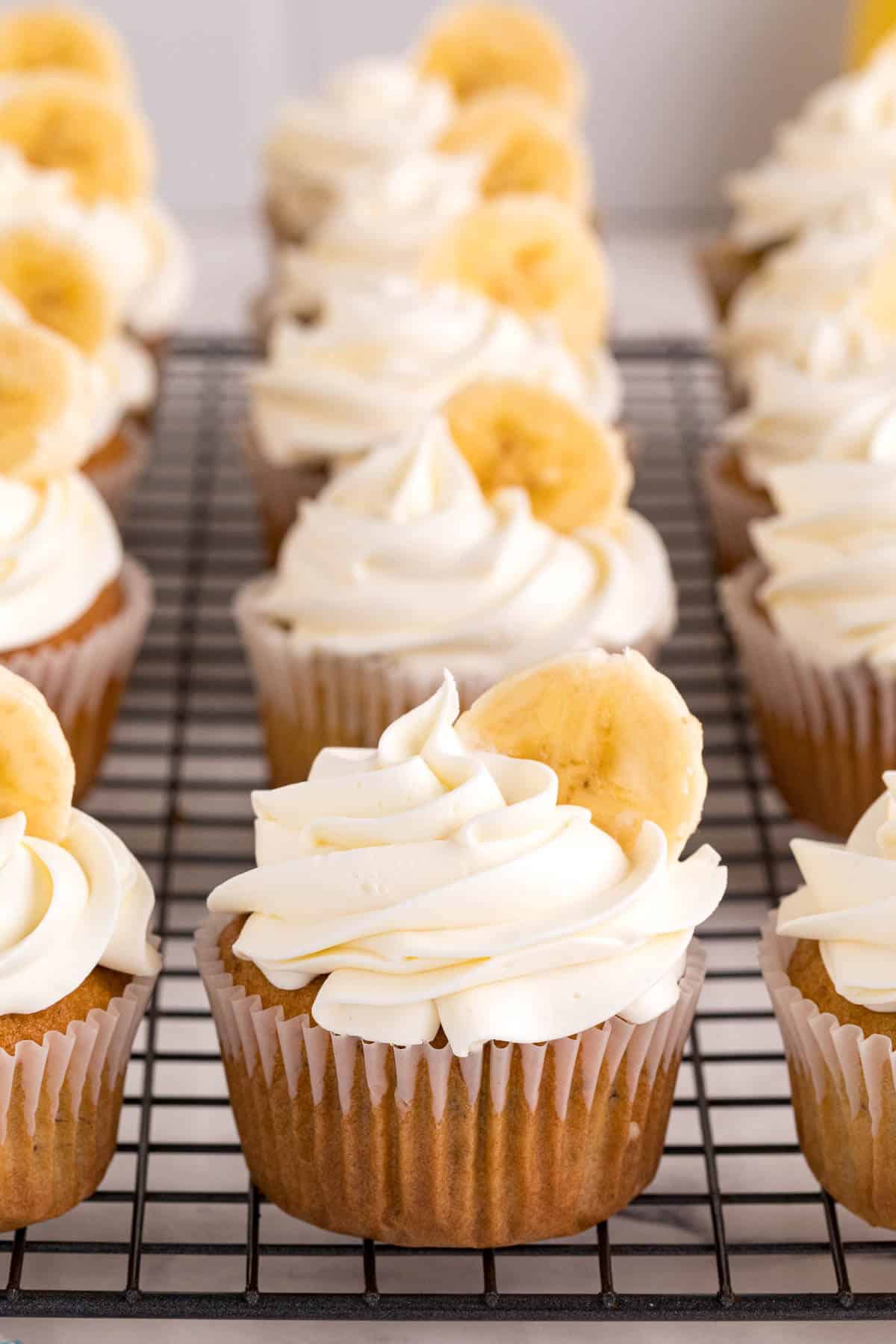 Skip banana bread this go around and dive right into homemade Banana Cupcakes. Trust me, if you have never had a fresh banana cupcake, you haven't been living. Sweet, tender, and delicious banana flavor in every single bite.
The Best Banana Cupcakes
These seriously are the best Banana Cupcakes. Frost with your favorite vanilla or cream cheese frosting. Or if you are in a hurry buy frosting to pile on top!
Even More Banana Recipes
How do you store Banana Cupcakes?
I recommend storing your Banana Cupcakes in the fridge in an airtight container. You can keep them in the fridge for 3-4 days tops. They will begin to dry out as they set. I personally think these cupcakes taste the best day two. It is like the flavors marry and blend overnight.
If you use a frosting like cream cheese or buttercream it will for sure need to be stored in the fridge. If not your frosting will spoil. But, if you prefer your cupcakes at room temperature just allow them to reach room temperature before serving yourself or friends or family.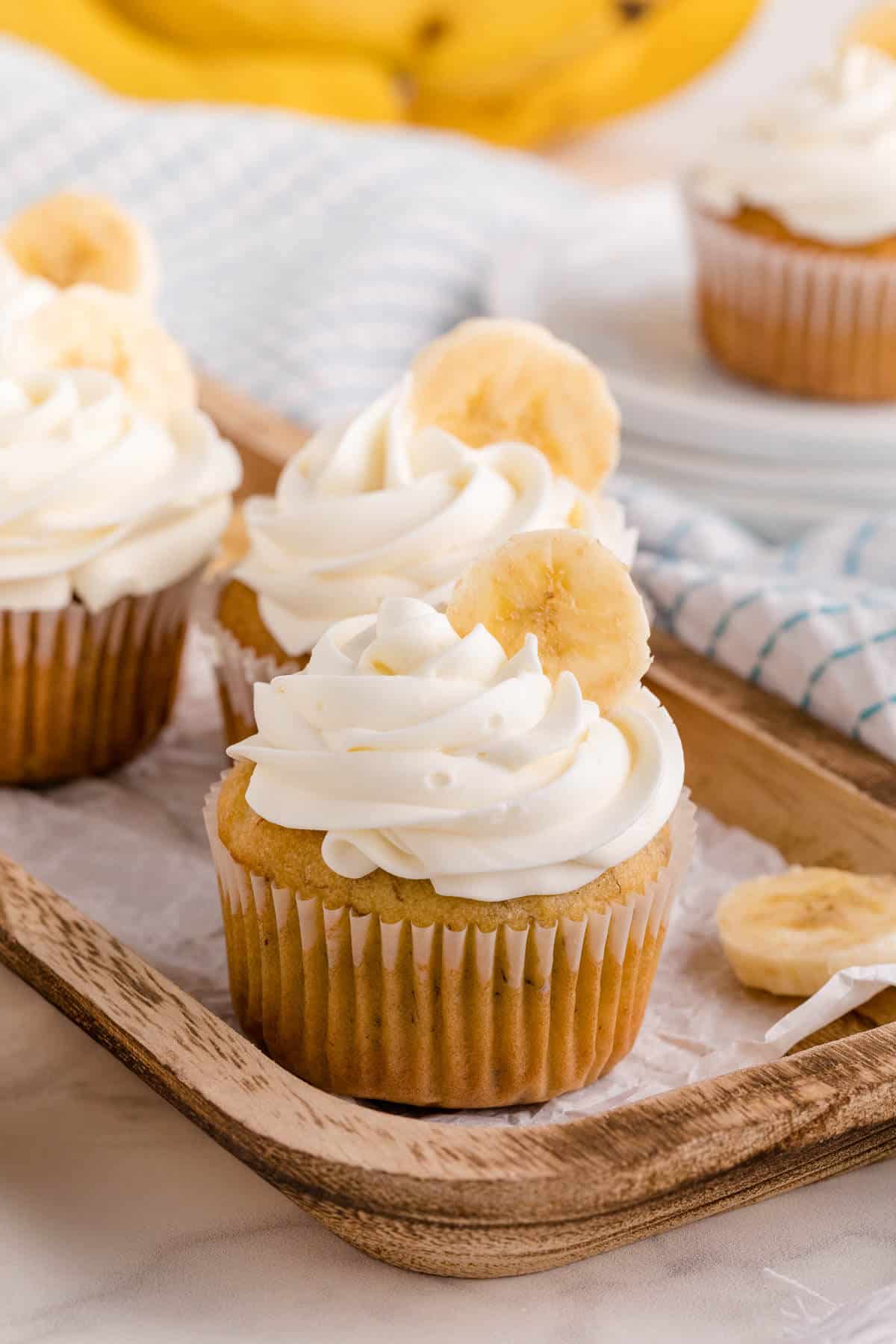 What frosting goes best with Banana Cupcakes?
Peanut Butter Frosting
Cream Cheese Frosting
Brown Sugar Frosting
Vanilla Frosting
Caramel Frosting
Milk chocolate Frosting
Truly you can pair your Banana Cupcakes with any of your favorite frostings. I reached for buttercream for this recipe, but I have used a peanut butter frosting in the past and it was a magical pairing of flavor.
Can you freeze Banana Cupcakes?
Absolutely! Just place in a container and toss in the freezer for up to three months. Thaw in the fridge the night before you want to serve, or let them defrost on the counter for a quicker thawing process!
Just allow the cupcakes to come to room temperature and fully cool before you freeze. You are welcome to leave the frosting off the cupcakes and just freeze them without. Then after they thaw top with frosting.
How can you speed up the ripening process for bananas?
If you have bananas that are less than ripe, here is a great way to ripen up bananas fast. Turn the oven on to 350 degrees. Then leave the skins on the bananas and place in the oven on a baking sheet for around 5-8 minutes. You will find the skins turn black but it will help give you that ripe banana flavor.
Let the bananas fully cool and then mash them up and follow the recipe as directed.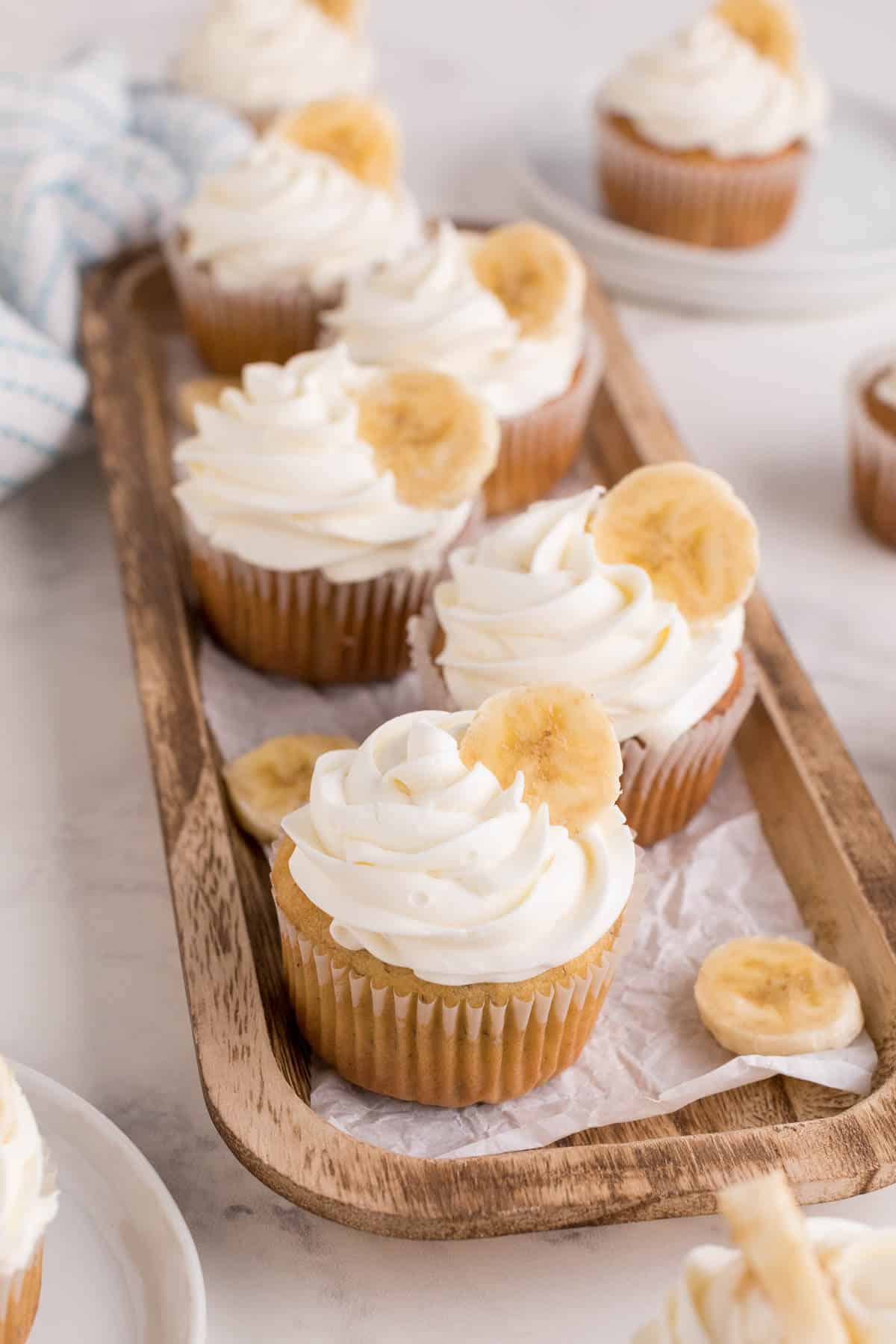 Variations for Banana Cupcakes
Looking for ways to dress up or make your banana cupcakes a bit more fun!? Here are some easy ideas to dress up your cupcakes.
Peanut Butter Frosting (for the Elvis flare)
Add in chocolate chips
Add in Peanut butter chips
Toss in some walnuts or pecans
Top your frosting with a dehydrated banana slice for decoration
Drizzle on chocolate over the top of the frosting
Can I Make Mini Cupcakes with this Recipe
Of course! If you have a mini muffin tin, feel free to make mini cupcakes. Just adjust the cooking time to ensure your cupcakes don't overbake. I would check in on them within 8-10 minutes. Then just stick a toothpick in the center and when they come out clean you know they are done.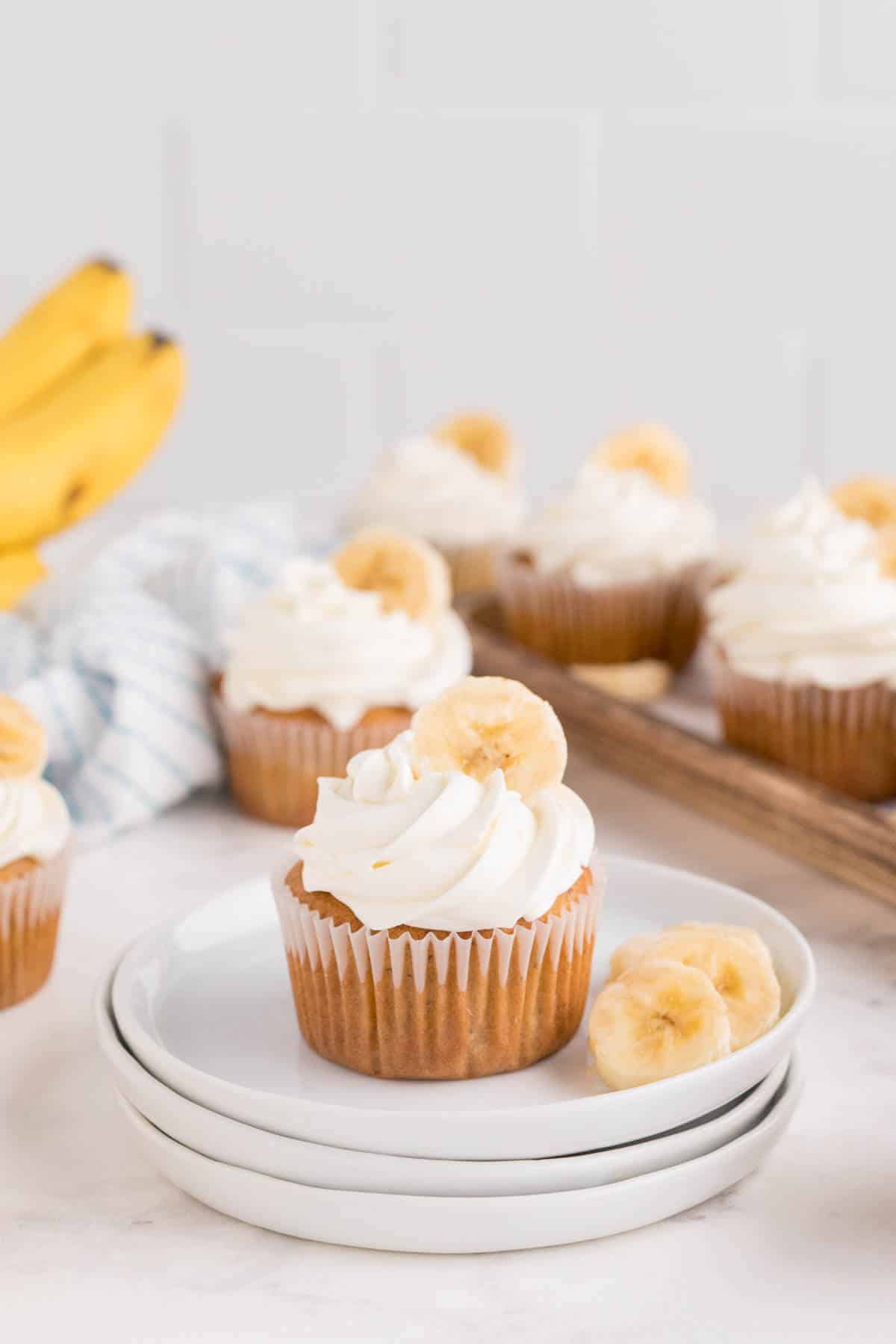 How to Make Banana Cupcakes
Start by adding your oil and sugar together and beating until light and fluffy. Then add in your egg yolks till batter is fluffy. Then in a separate bowl add all your dry ingredients.
Alternate dry and milk until you have all your dry and milk added. Add in the bananas and vanilla. Then you want to whip your egg whites until they are a stiff peak and fold that into the batter. Bake and allow to cool before frosting and serving.
We truly can't rave enough over this Banana Cupcake recipe. I love bananas, but they always tend to go bad before we get them eaten up. Having delicious desserts like this is a great excuse to get in the kitchen and make some outstanding baked goods!
Have you ever tried a Banana Cupcake before?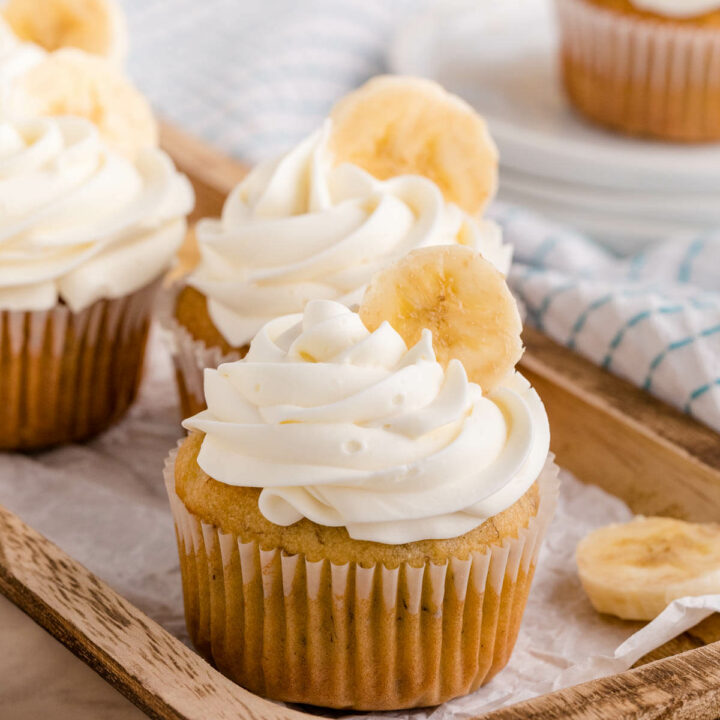 Banana Cupcakes
These cupcakes will drive you bananas! They are super versatile, and can be made extra special with cream cheese icing, and the addition of peanut butter chips.
Ingredients
1 1/2 cup white sugar
1/2 cup coconut oil
3 egg yolks
3 cups of all-purpose flour
2 teaspoon baking powder
1 teaspoon baking soda
1/2 teaspoon salt
1 cup coconut milk
4 crushed bananas
1 teaspoon vanilla
3 egg whites
Instructions
Combine coconut oil and sugar beat on low speed until completely combined.
Add egg yolks and beat on high speed until the mixture is smooth and fluffy.
In a separate bowl, combine dry ingredients.
Alternate adding dry ingredients and milk. Beating each time until it is just mixed well. Start with dry end with dry.
Mash bananas and add to batter. Add vanilla and combine.
Whip the eggs whites until they form a stiff peak add to mixture.
Bake for 35 mins @ 350F.
Notes
I tend to make my own frosting depending on what I have around.
Recommended Products
As an Amazon Associate and member of other affiliate programs, I earn from qualifying purchases.
Nutrition Information:
Yield:

12
Serving Size:

1
Amount Per Serving:
Calories:

383
Total Fat:

15g
Saturated Fat:

12g
Trans Fat:

0g
Unsaturated Fat:

2g
Cholesterol:

46mg
Sodium:

303mg
Carbohydrates:

59g
Fiber:

2g
Sugar:

30g
Protein:

6g