Banana cupcakes are a delightful treat that combines the classic flavors of banana bread with cupcakes' light and fluffy texture. If you're a fan of banana-flavored desserts, you're in for a pleasant surprise! These cupcakes, made from scratch and topped with your favorite frosting, make them perfect for any occasion.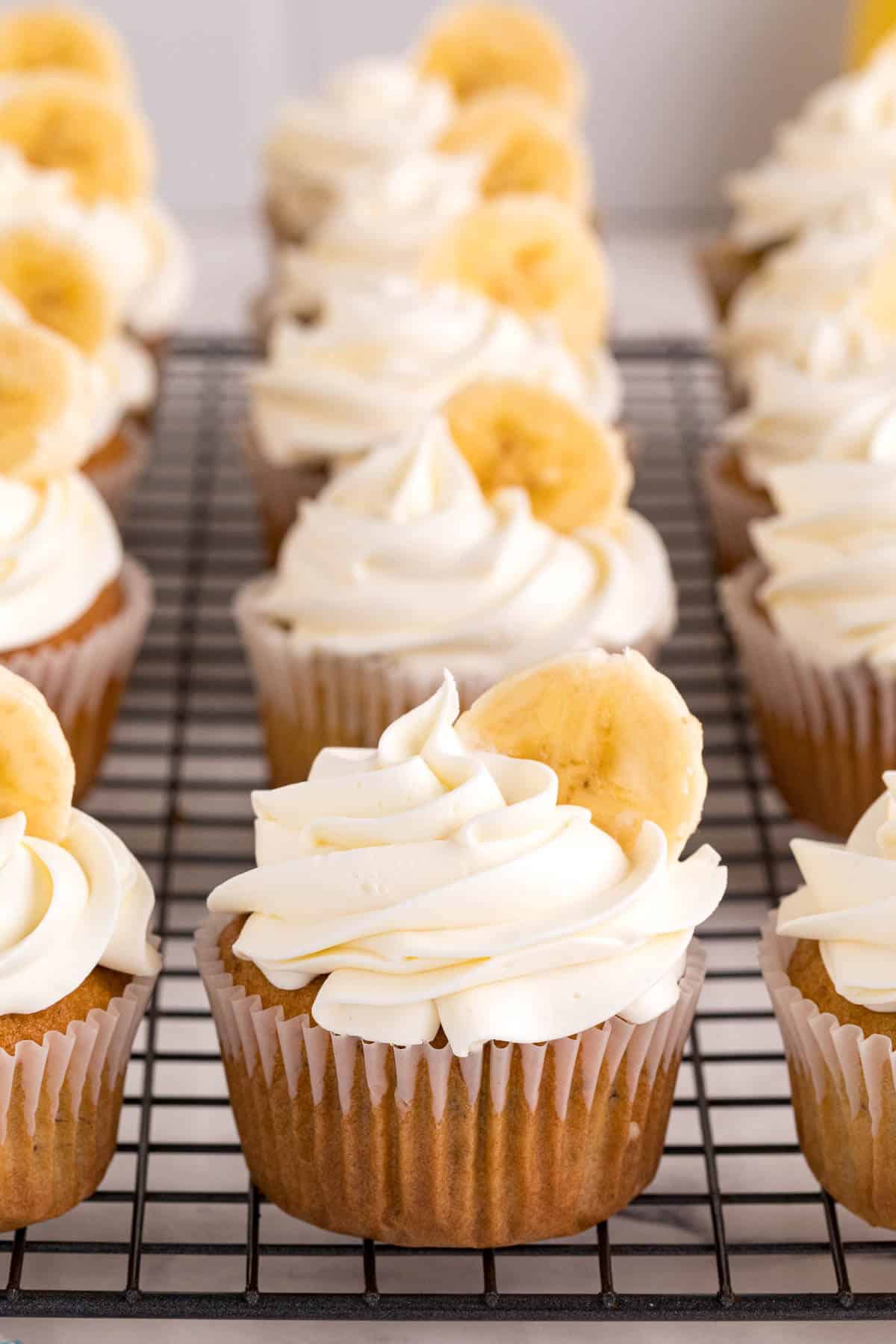 Skip banana bread this go around and dive right into homemade banana cupcakes. If you have never had fluffy banana cupcakes, you haven't been living—sweet, tender, and perfect banana flavor in every bite.
These seriously are the best banana cupcakes. Frost with your favorite vanilla or tangy cream cheese frosting. Or, if you are in a hurry buy frosting to pile on top!
The best part about these cupcakes is that loved ones at family gatherings can enjoy them, share them with classmates at school parties, or simply enjoy them as a treat for yourself after a long day. No matter the occasion, banana cupcakes are a versatile and satisfying dessert option that's sure to please everyone's taste buds.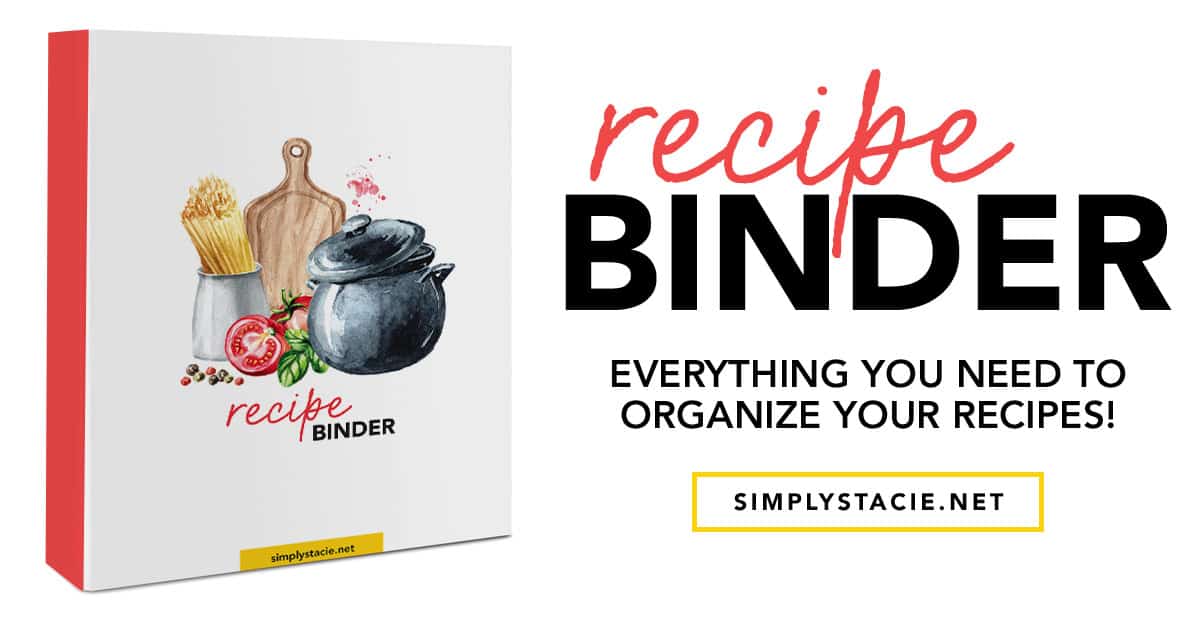 Why You'll Love This Banana Cupcakes Recipe
Super-moist texture: Thanks to the ripe bananas and other ingredients, these cupcakes have a particularly moist crumb, making them enjoyable to eat and indulgent.
Soft yet dense crumb: Coconut milk ensures a delicate crumb and enhances the overall tenderness of each bite.
Versatility: The tasty banana cupcake base pairs well with a wide range of frostings, like cinnamon cream cheese or chocolate peanut butter. The whole family can enjoy them!
Easy way to use up fresh bananas: Don't throw away those ripe bananas when you can make the best banana cupcake recipe.
Ingredients
The full printable recipe card with measurements and instructions is found at the bottom of the post.
Granulated white sugar: The sugar adds just the right amount of sweetness to your cupcakes. Be sure to measure this carefully so your cupcakes aren't overly sweet.
Coconut oil: Coconut oil provides your cupcakes with a moist texture and a subtle tropical flavor that complements the banana perfectly.
Egg yolks: Egg yolks give your cupcakes a rich and creamy texture, making them extra tender.
All-purpose flour: All-purpose flour provides the essential structure your cupcakes need to rise and hold their shape.
Baking powder: This ingredient is necessary for a gentle lift, creating light and fluffy cupcakes.
Baking soda: Baking soda contributes to cupcakes' soft, tender, and moist texture.
Salt: Adding salt enhances the natural flavors and balances the sweetness in the recipe.
Coconut milk: Coconut milk adds extra moisture and imparts a delightful coconut aroma to your banana cupcakes.
Mashed bananas: The star of your cupcake recipe, bananas give a natural sweetness and unmistakable flavor to your treat.
Vanilla extract: Vanilla extract enhances the overall taste of your cupcakes, elevating the banana and coconut flavors.
Egg whites: Whipped egg whites give your cupcakes a light and airy texture, making them even more enjoyable.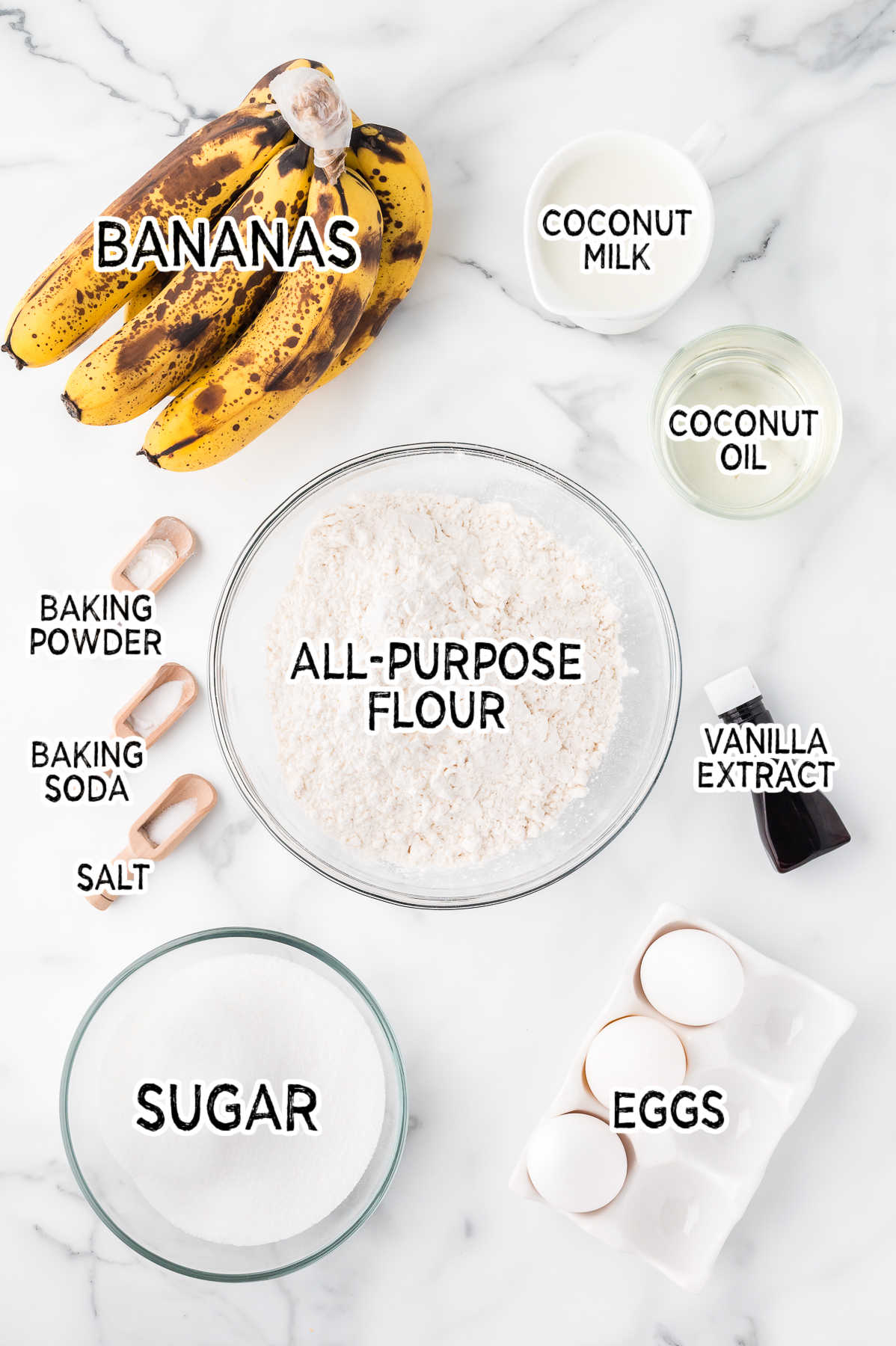 How to Make Banana Cupcakes
Step One: Combine coconut oil and sugar and beat with a mixer on low speed until completely combined.
Step Two: Add egg yolks and beat on high speed until the mixture is smooth and fluffy.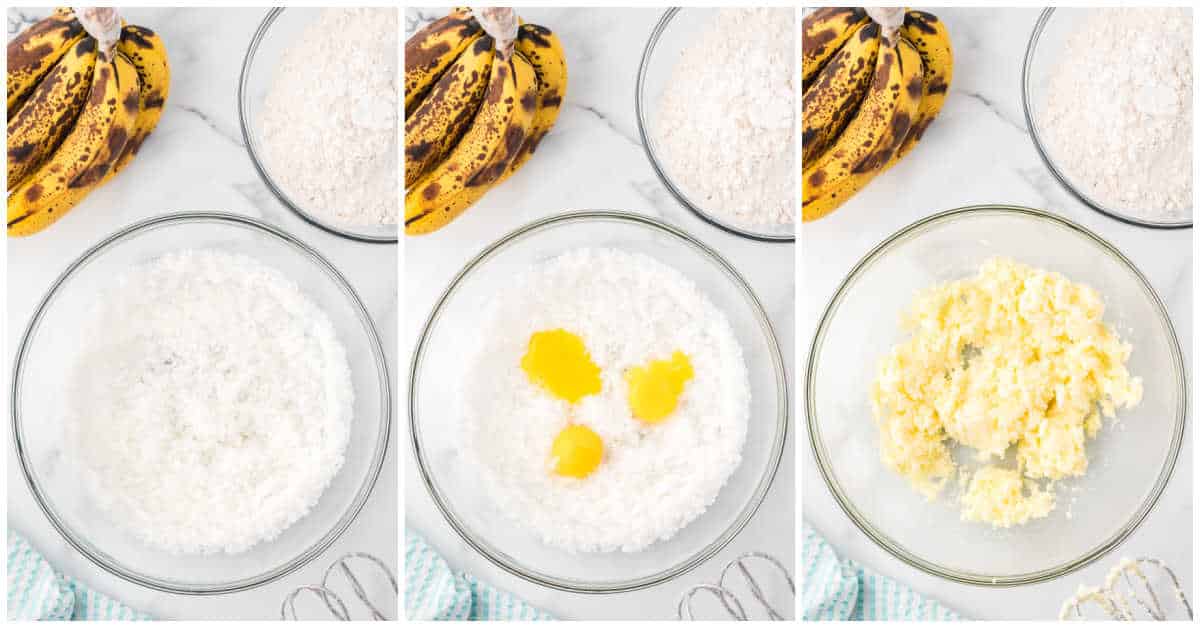 Step Three: In a separate bowl, combine dry ingredients.
Step Four: Alternate adding dry ingredients and milk. Beating each time until it is just mixed well. Start with dry and end with dry ingredients.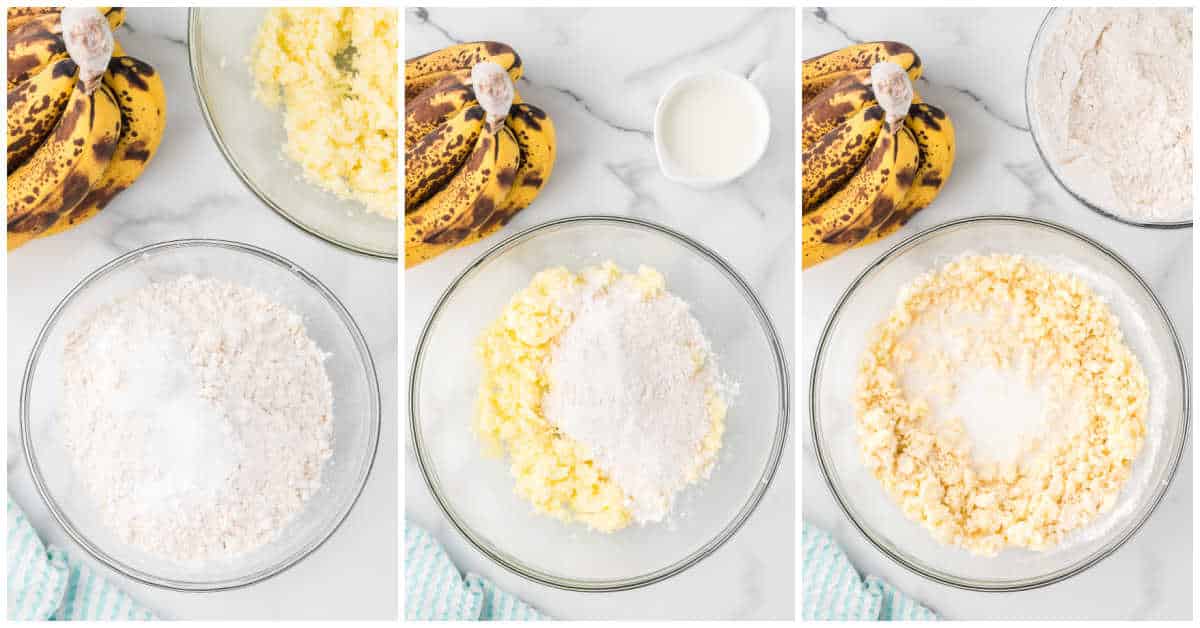 Step Five: Add mashed bananas to the batter. Add vanilla and stir to combine.
Step Six: Whip the egg whites until they form a stiff peak and add to the mixture.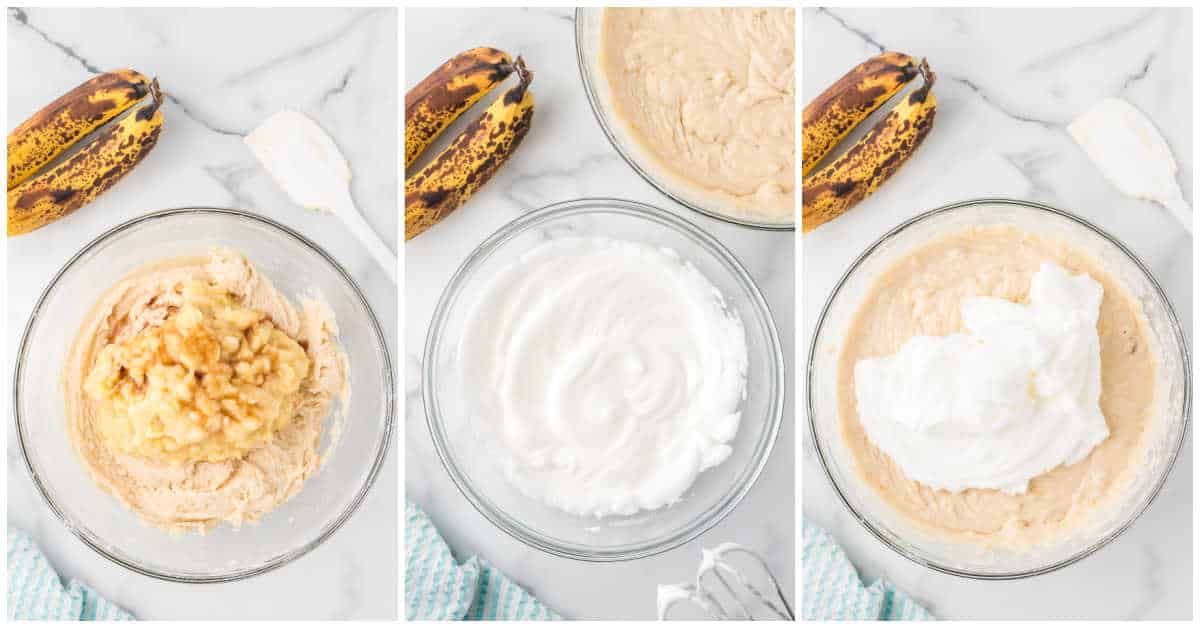 Step Seven: Add cupcake liners to a muffin pan. Fill each liner with batter 2/3 of the way full.
Step Eight: Bake for 35 mins at 350°F.
Step Nine: Let the cupcakes cool completely on a wire rack before topping with your favorite frosting.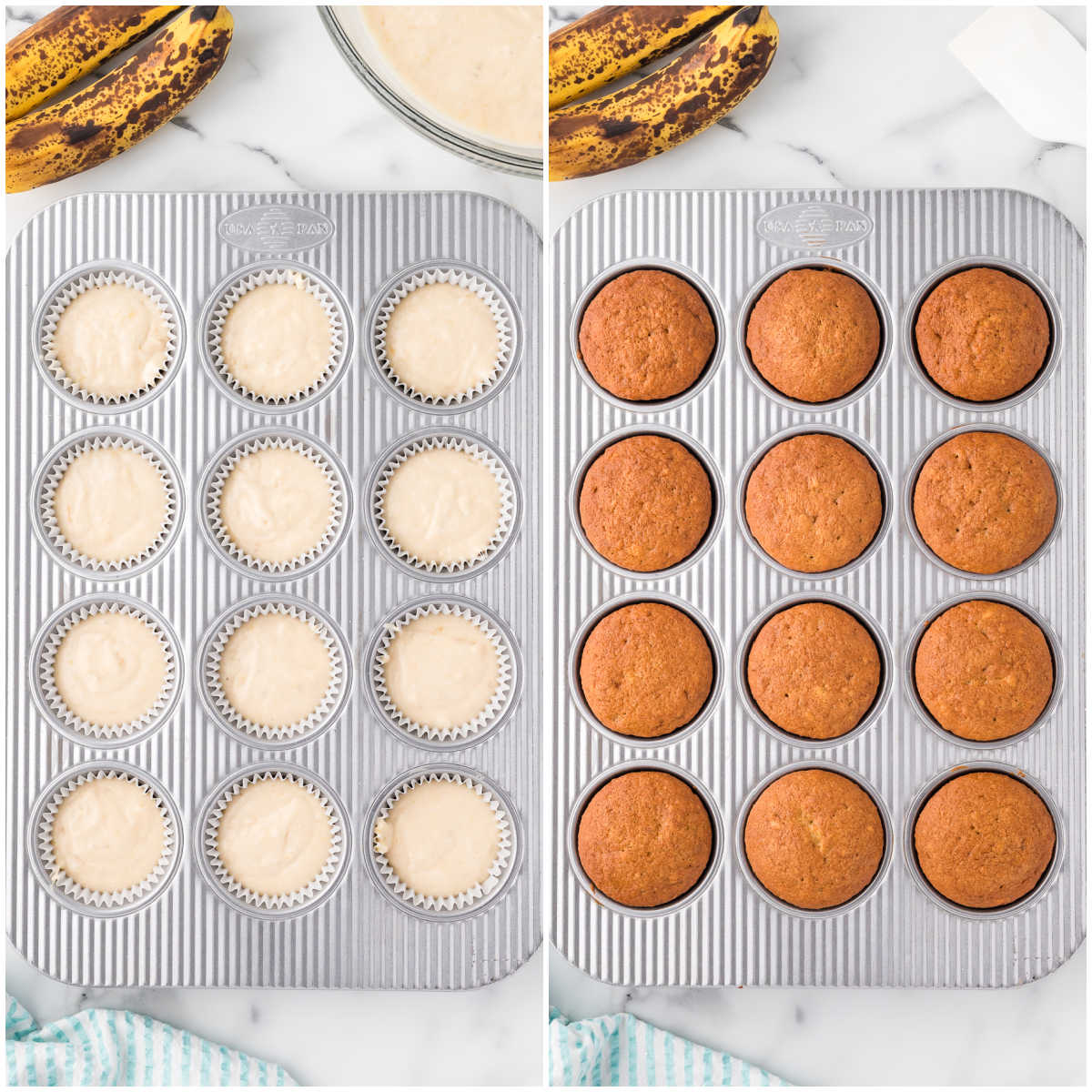 Equipment Needed
This post contains affiliate links.
What to Serve with Banana Cupcakes
Fruit Salad: A colorful fruit salad can provide a refreshing complement to the rich banana cupcakes. You can customize your fruit salad with seasonal fruits and add honey or lime for extra flavor.
Ice Cream: Offering a scoop of vanilla or caramel ice cream is a classic pairing with banana cupcakes. You can even get creative with flavors like cinnamon or coffee ice cream to add a unique twist.
Chocolate Treats: Chocolate and bananas are a match made in heaven. Bring this winning combo together by serving chocolate-covered strawberries, brownies, or chocolate chip cookies with your banana cupcakes.
Beverages: Pair your banana cupcakes with beverages that complement their sweet flavors. Chilled fruit-infused sparkling water, iced coffee, or even a sweet tea will provide a refreshing balance to the rich cupcakes.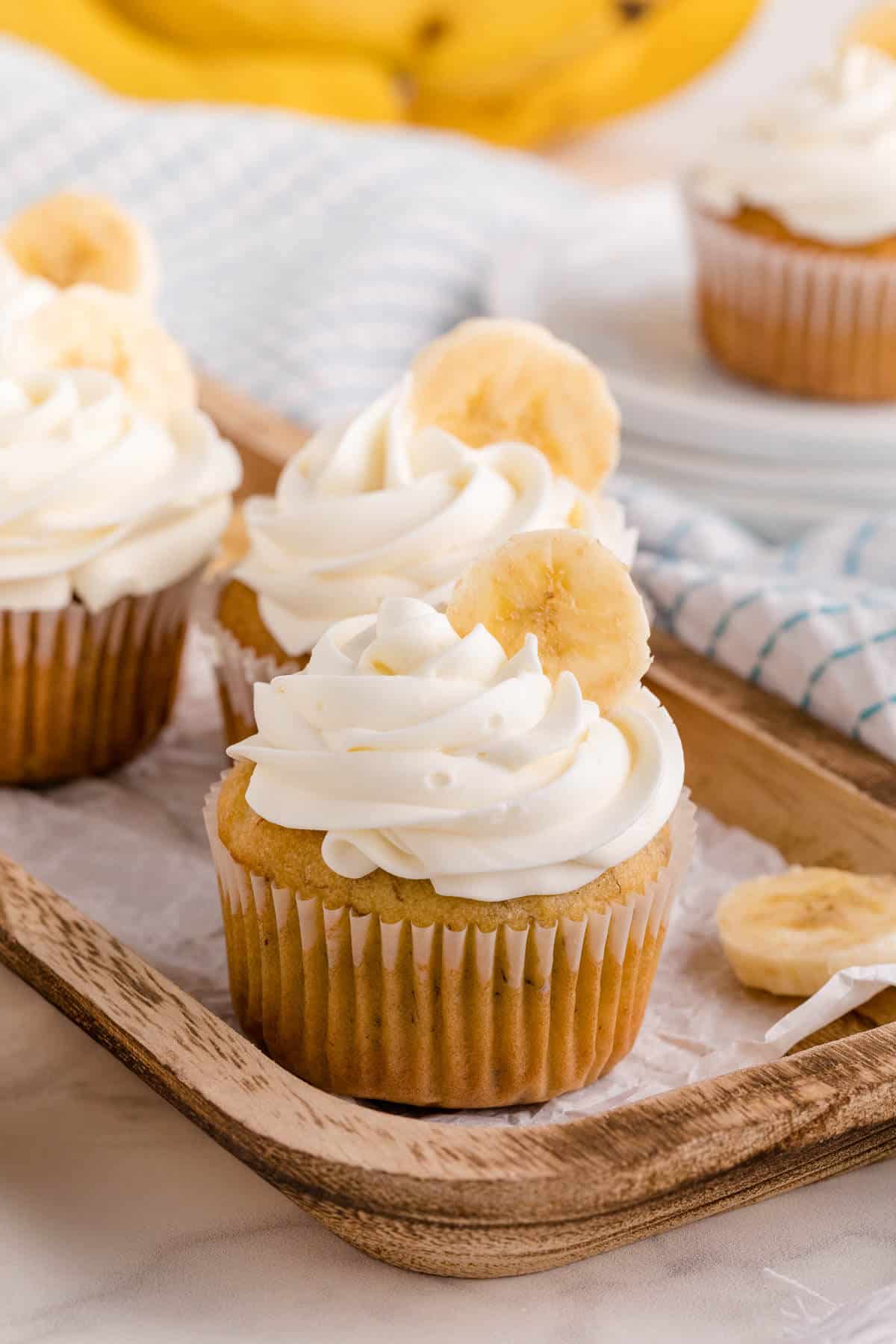 Substitutions
You can use butter or margarine as an alternative to coconut oil.
Feel free to swap granulated sugar with brown sugar, coconut sugar, or maple syrup in a 1:1 ratio.
Add warming spices like cinnamon, nutmeg, or pumpkin pie spice for a different flavor.
Use buttermilk, sour cream, whole milk, or Greek yogurt in place of the coconut milk.
Variations for Banana Cupcakes
Looking for ways to dress up or make your banana cupcakes a bit more fun!? Here are some easy ideas to dress up your cupcakes.
Peanut Butter Frosting (for the Elvis flare)
Add in chocolate chips
Add in Peanut butter chips
Toss in some walnuts or pecans
Top your frosting with a dehydrated banana slice for decoration
Drizzle on chocolate over the top of the frosting
Garnishes
Chopped nuts: Adding a sprinkle of your favorite chopped nuts, such as walnuts, pecans, or almonds, can give your banana cupcakes an extra boost of flavor and texture. They'll also add a touch of sophistication to your homemade cupcake creations.
Coconut flakes: Toasted or shredded coconut flakes are a great choice to add a tropical flair to your banana cupcakes. They go well with a cream cheese frosting for a combination that feels like a getaway to a tropical paradise.
Chocolate chips or shavings: Chocolate and bananas are a classic pairing. You can sprinkle your cupcakes with mini chocolate chips or take it further by creating delicate chocolate shavings using a peeler or grater. The pop of chocolate will complement the banana flavor beautifully.
Fresh fruit: Adding small pieces of fresh fruit like sliced bananas, strawberries, raspberries, or blueberries can bring a refreshing and colorful touch to your banana cupcakes. Combining fruit with a subtle cinnamon cream cheese frosting will create a delightful balance of flavors.
What frosting goes best with Banana Cupcakes?
Peanut butter frosting
Cream cheese frosting
Brown sugar frosting
Vanilla frosting
Caramel frosting
Milk chocolate frosting
Storage Instructions
I recommend storing your banana cupcakes in the fridge in an airtight container. You can keep them in the refrigerator for 3-4 days tops. They will begin to dry out as they set. I think these cupcakes taste the best on day two. It is like the flavors marry and blend overnight.
If you use a frosting like cream cheese or buttercream, it will need to be stored in the fridge. If not, your frosting will spoil. But, if you prefer your cupcakes at room temperature, just allow them to reach room temperature before serving yourself, friends, or family.
Can you freeze Banana Cupcakes?
Absolutely! Just place it in a container and toss it in the freezer for up to three months. Thaw in the fridge the night before you want to serve, or let them defrost on the counter for a quicker thawing process!
Just allow the cupcakes to come to room temperature and fully cool before you freeze. You are welcome to leave the frosting off the cupcakes and just freeze them without. Then after they thaw, top them with frosting.
Pro Tips for Perfect Banana Cupcakes
Planning to bake some delightful banana cupcakes? Follow these friendly tips to achieve the perfect texture and taste!
Choose ripe bananas with spots: The ideal bananas for baking are those with brown spots on their peels. The riper the bananas, the sweeter and moister your cupcakes will be.
Mash bananas using a mixer: To make the mashing process easier, you can use your mixer to mash the bananas. Just peel and break the bananas apart, place them in your mixing bowl, and turn the mixer on to medium-high speed. This will help you achieve a smoother consistency in your banana cupcakes.
Mix dry and wet ingredients separately: This is important to avoid overmixing the batter, which could result in dry cupcakes. Mix the dry ingredients in one bowl and the wet ingredients in another. Gently combine both mixtures to achieve a smooth batter.
Fill cupcake liners 2/3 full: To get evenly baked and well-shaped cupcakes, be sure to fill the liners 2/3 of the way full. This will also prevent overflowing when they rise during baking.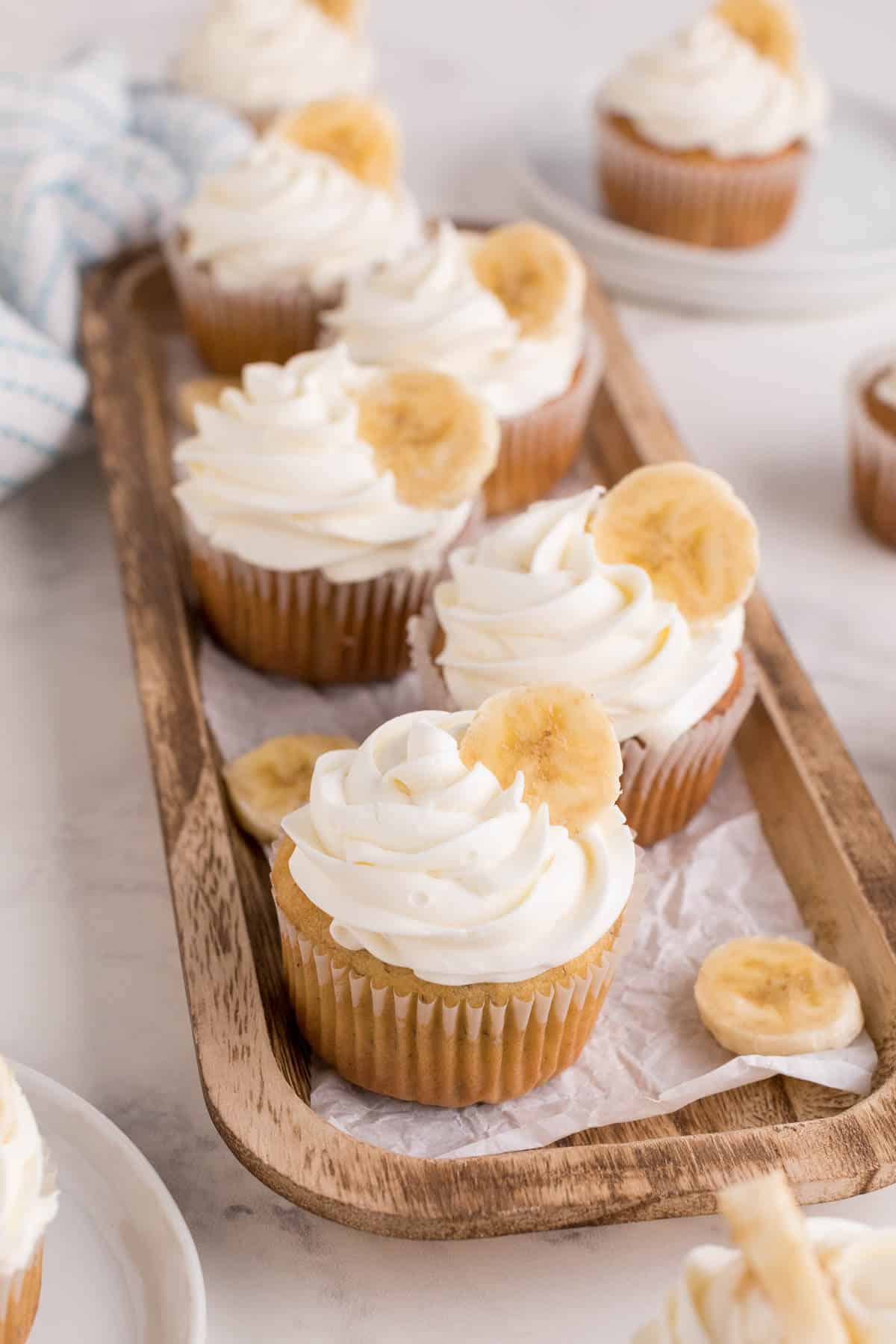 Common Mistakes While Making Banana Cupcakes
Using unripe bananas: The key to delicious banana cupcakes is using ripe bananas. Ripe bananas are sweeter and more flavorful, making your cupcakes taste better. So, use ripe, spotty bananas for the best results.
Overmixing the batter: Overmixing can result in tough, dense cupcakes. It's important to mix the ingredients just until they are combined. A few lumps in the batter are fine and will lead to tender, moist cupcakes.
Improper measuring of ingredients: Accurate measurements are crucial for baking. Use proper measuring cups and spoons and level off your dry ingredients. For example, too much baking soda can cause your cupcakes to rise too much and collapse.
Oven temperature inconsistencies: Cupcakes need to bake evenly and at the correct temperature. Ensure your oven is calibrated correctly and preheated before putting the cupcakes in. You can also use an oven thermometer to check the temperature quickly.
Overfilling the cupcake liners: When filling the liners, be sure not to overfill them. Aim for about 2/3 full to allow for proper rising and prevent the batter from overflowing. A good tip is to use an ice cream scoop to portion the batter evenly.
Skipping the frosting: Banana cupcakes are delicious, but adding a cinnamon cream cheese frosting or chocolate buttercream frosting can elevate them to a new level. Don't miss the opportunity to add that extra touch to your cupcakes.
Can I Use Frozen Bananas?
You can use frozen bananas in your banana cupcake recipe! Frozen bananas are a great option, especially if you have a stash of overripe bananas in your freezer waiting to be used. Using frozen bananas adds extra moisture to your cupcakes, resulting in a moist and delicious treat. However, there are a few things to remember when using frozen bananas.
First, properly thaw your frozen bananas before incorporating them into your batter. You can do this by transferring them from the freezer to the refrigerator for a few hours or even leaving them on the countertop for a brief period if you're in a hurry. Properly thawed bananas will be easier to mash and blend smoothly with the other ingredients in your recipe.
Remember to drain any excess liquid that may have accumulated during the thawing process, as it can make your batter too wet, altering the texture of your cupcakes. To avoid this, simply place your thawed bananas in a strainer and allow the excess liquid to drain before mashing them.
Now that your bananas are thawed and drained, you're ready to add them to your banana cupcake recipe. Just follow your recipe's instructions for mashing and incorporating the bananas into the batter. The result should be a delicious, moist, and flavorful banana cupcake that will delight your taste buds!
How to Mash Bananas
Mashing bananas can be simple and enjoyable when baking delicious banana cupcakes. First, ensure your bananas are ripe—the riper they are, the more flavorful your cupcakes will be. When you've selected the perfect bananas, begin by peeling them and breaking them apart into pieces.
Place the banana pieces inside a mixing bowl to make the mashing process even smoother. A stand mixer with a paddle or whisk attachment can make this step a breeze. Turn the mixer on medium-high speed, and watch your bananas become perfectly mashed.
Don't worry if you don't have a stand mixer! A blender or food processor can also work well for mashing bananas. Alternatively, you may mash them by hand using a fork or potato masher. Although this method requires more arm muscle and time, it can still produce great results.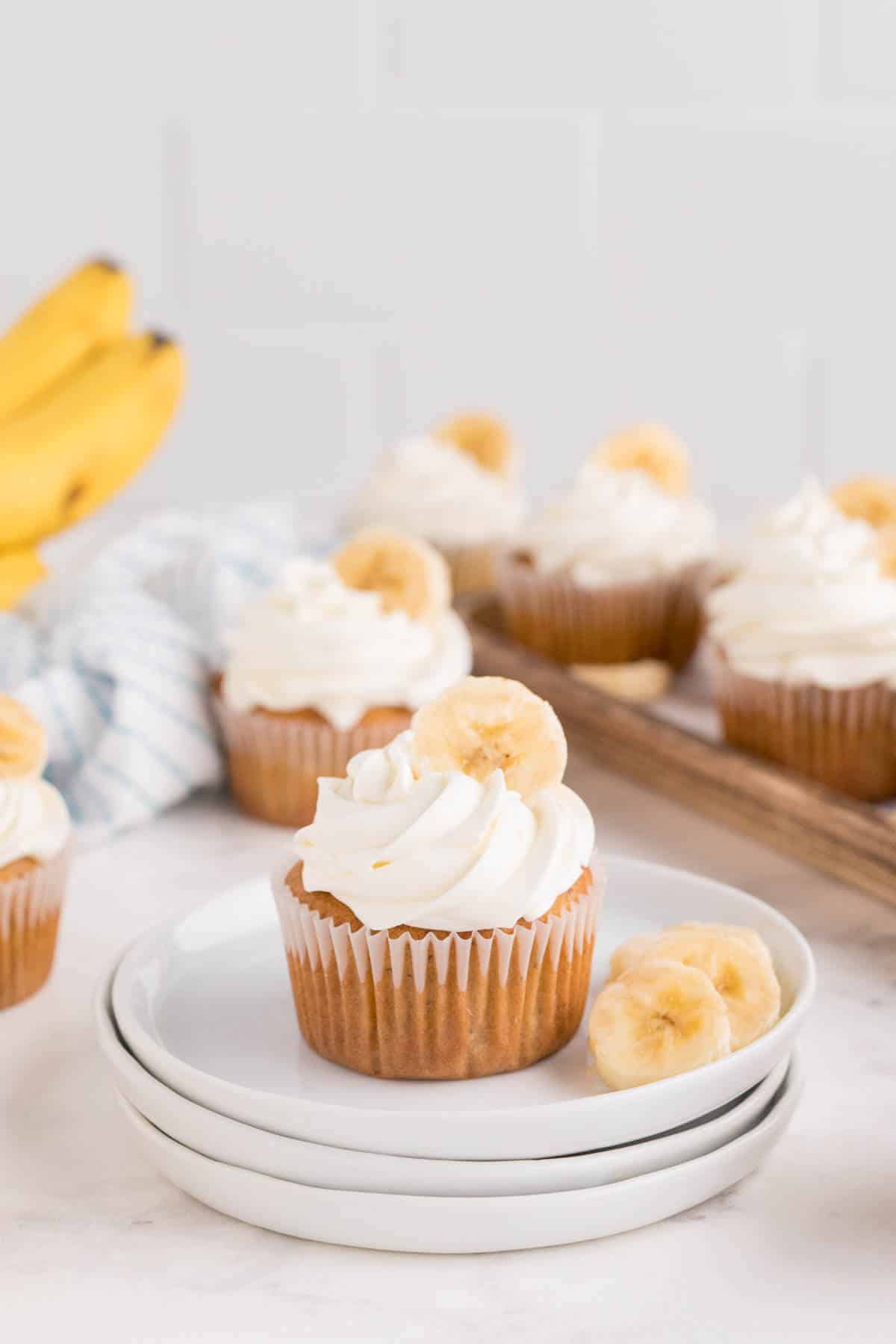 Why Are My Cupcakes Dense and Dry?
Your banana cupcakes might turn out dry and dense for several reasons. Let's break down a few common culprits and how to fix them.
1. Insufficient moisture content: If your recipe lacks enough moist ingredients, such as milk, butter, or oil, your cupcakes could become too dry. To remedy this problem, use the correct measurements for these ingredients.
2. Overbaking: Baking your cupcakes for too long or at an inappropriately high temperature can also cause them to dry out. So keep a close eye on your oven, and try using a toothpick or cake tester to check the doneness of your cupcakes. When the toothpick comes out clean or with a few moist crumbs, they can be taken out.
3. Too much flour: Using an excessive amount of flour compared to other ingredients might make your cupcakes dry. Be sure to measure your flour accurately, and if you're still encountering issues, try reducing the amount slightly in your recipe.
4. Overmixing the batter: Mixing your cupcake batter too much can cause the gluten to develop, resulting in a dense and rubbery texture. To avoid this, gently fold in the dry ingredients until just combined. It's okay if there are a few lumps left in the batter.
Why Did My Cupcakes Sink?
Sinking cupcakes can be disheartening, but fortunately, a few common reasons are easily fixable. One possible issue is your leavening agent not working. This can happen if it's expired or not used in the proper amount. Always check the expiration date and measure carefully.
Another reason your cupcakes might be sinking is due to temperature issues. Baking at too high or too low of a temperature can cause uneven cooking, leading to sunken cupcakes. Use an oven thermometer to make sure your oven is at the correct temperature, and follow the recipe's recommended baking time and temperature.
The overmixed batter is another culprit behind sinking cupcakes. Overmixing causes too much air to be incorporated into the batter, leading to rapid rising and then collapsing as the cupcakes cool. To avoid this, mix your ingredients just until combined and no more.
Finally, overfilling your cupcake liners can also result in sinking. Filling them too full may cause the batter to spill over the edges, leading to cupcakes that sink or have uneven shapes. Aim to fill your liners about 2/3 full for optimal results.
FAQ
How can you speed up the ripening process for bananas?
If you have less than ripe bananas, here is a great way to ripen up bananas fast. Turn the oven on to 350 degrees. Then leave the skins on the bananas and place them in the oven on a baking sheet for 5-8 minutes. You will find the skins turn black, but it will help give you that ripe banana flavor.
Let the bananas fully cool, then mash them up and follow the recipe.
Can I make this recipe as a cake?
Of course, you can make this recipe as a cake! Here's a simplified process to help you achieve a delicious banana cake instead of cupcakes.
First, you'll need to adjust the baking time. Cakes usually require longer baking times compared to cupcakes. Keep an eye on your cake, and test for doneness using a toothpick. Your cake is ready if it comes out clean or with a few moist crumbs.
Next, consider using a 9×13-inch baking pan for a sheet cake or two 8-inch round cake pans for a layered cake. Don't forget to grease your pans or line them with parchment paper for easy removal.
When it comes to frosting, you might need more than what you would use for cupcakes. Make sure to have enough frosting on hand to cover your cake generously.
Finally, be creative with your cake decoration! You can stick to a simple frosting application or get fancy with piping techniques. Adding nuts, banana slices, or even a dusting of cinnamon can make your banana cake extra special.
Can I make mini cupcakes with this recipe?
Of course! If you have a mini muffin tin, you can make mini cupcakes. Just adjust the cooking time to ensure your cupcakes don't overbake. I would check in on them within 8-10 minutes. Then stick a toothpick in the center, and when they come out clean, you know they are done.
Banana Recipes
You'll also like these Pineapple Upside Down Cupcakes.
Follow me on Instagram @simplystacieblog, Facebook at Simply Stacie, TikTok @simplystacierecipes or Pinterest at @simplystacie and let me know how you liked this recipe and my other recipes.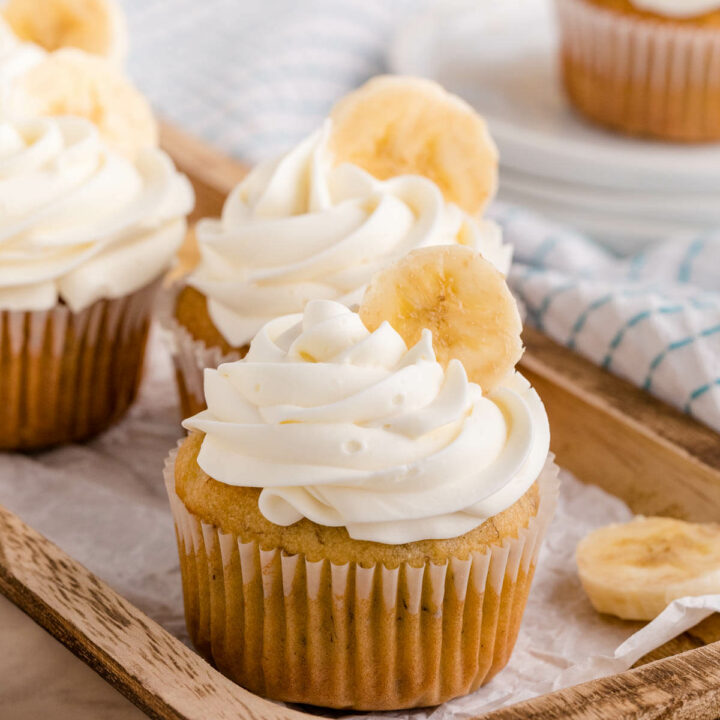 Ingredients
1 ½

cup

granulated sugar

½

cup

coconut oil

3

egg yolks

3

cups

all-purpose flour

2

tsp

baking powder

1

tsp

baking soda

½

tsp

salt

1

cup

coconut milk

4

crushed bananas

1

tsp

vanilla extract

3

egg whites
Instructions
Combine coconut oil and sugar and beat with a mixer on low speed until completely combined.

Add egg yolks and beat on high speed until the mixture is smooth and fluffy.

In a separate bowl, combine dry ingredients.

Alternate adding dry ingredients and milk. Beating each time until it is just mixed well. Start with dry and end with dry ingredients.

Add mashed bananas to the batter. Add vanilla and stir to combine.

Whip the eggs whites until they form a stiff peak and add to mixture.

Add cupcake liners to a cupcake pan. Fill 2/3 of the way full with the batter.

Bake for 35 mins at 350°F.

Let the cupcakes cool completely on a wire rack before topping with your favorite frosting.
Kitchen Tools
Notes
I tend to make my own frosting depending on what I have around.
Nutrition
Serving:
1
g
|
Calories:
383
kcal
|
Carbohydrates:
59
g
|
Protein:
6
g
|
Fat:
15
g
|
Saturated Fat:
12
g
|
Polyunsaturated Fat:
2
g
|
Cholesterol:
46
mg
|
Sodium:
303
mg
|
Fiber:
2
g
|
Sugar:
30
g
The information shown is an estimate provided by an online nutrition calculator. It should not be considered a substitute for a professional nutritionist's advice.
Love Recipes? Join our Free Facebook Group!
Join Mom's Best Recipes to find more delicious family recipes.
Save
Saved!