I've been busy in the kitchen over the past few months. Earlier this year, I hired my cousin, Allison, to help me with recipes and assist with the photos. She was shocked at how much work it was. It's been nice to have the help and we have loads of fun with lots of laughs. There's been a few recipe fails which I haven't shared on the blog for obvious reasons, but mostly, it's been a success. I'm getting lots more done in less time and she even helps me tidy up afterwards too!
This post contains affiliate links.
She helped me make these yummy Pumpkin Pie Cupcakes. I was inspired to create them after taking The Perfect Cupcake Craftsy course. Filled cupcakes are my newest obsession. Coconut Cream Pie cupcakes, anyone?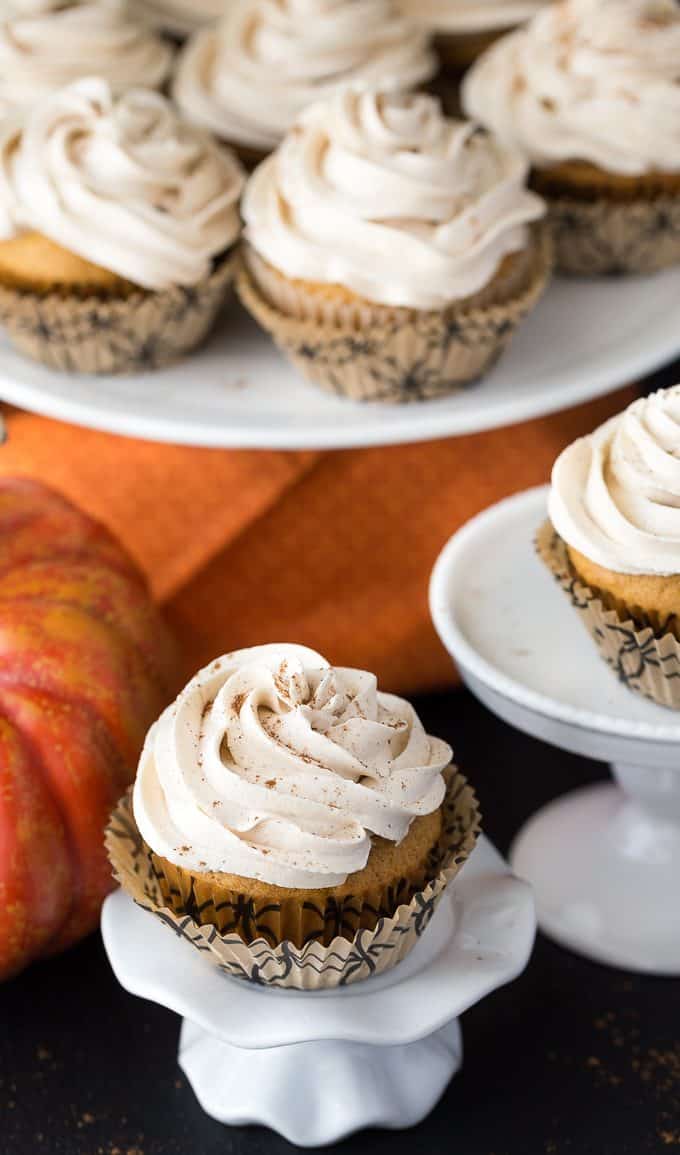 Pumpkin Pie Cupcakes
I used refrigerated pie dough to make the crust to give it a more authentic pumpkin pie vibe. It's nestled in the cupcake at the very bottom.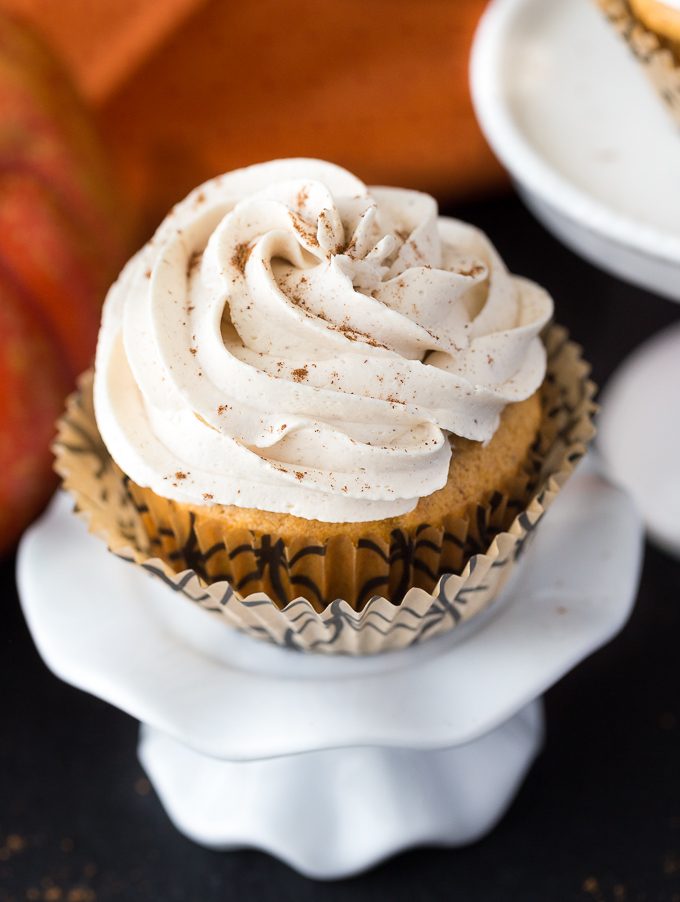 The cupcake itself is pumpkin flavoured and I filled the cupcakes with pumpkin pie filling. I recommend using an apple corer to take out the "plug". Just be careful to not push it too far or you'll hit the pie crust.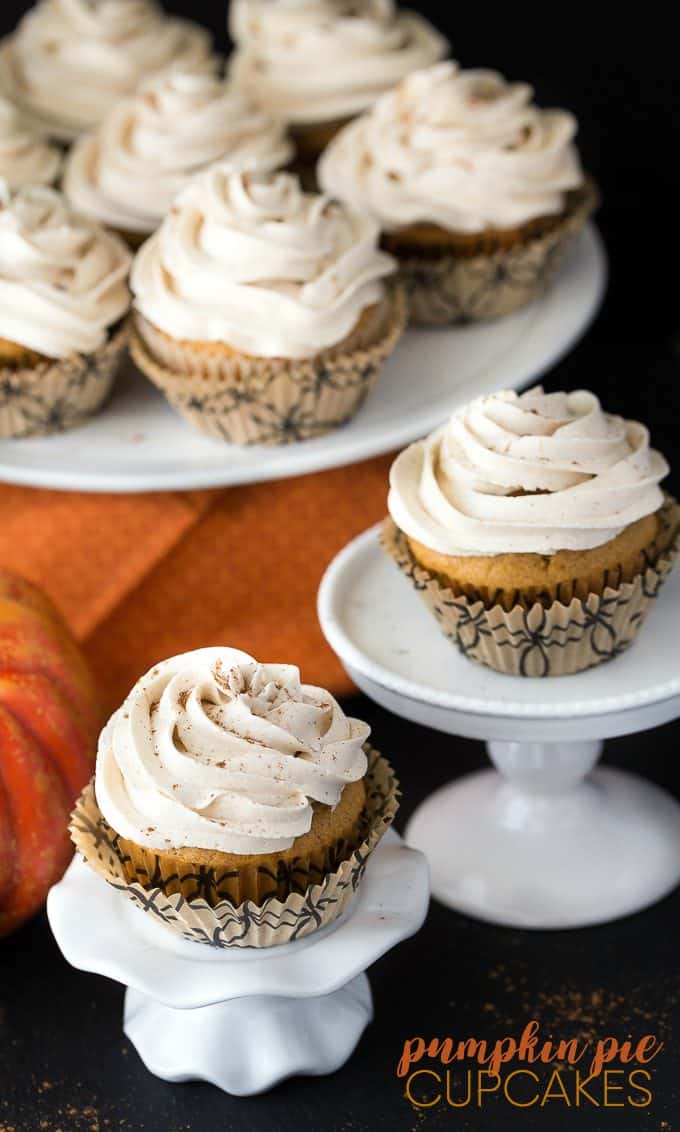 The frosting is a pumpkin spice buttercream. I made my own Pumpkin Pie spice last year so that's what I'm using in all my pumpkin flavoured recipes this year. You can buy it at the store in the spice aisle if you don't want to make your own. It's super easy though and will last you a long time!
The final result is perfection. I love the flaky, sweet crust followed by the mouthwatering pumpkin cupcake. The pie filling inside is a nice sweet surprise. And the buttercream frosting? It's that final touch that makes these cupcakes a complete hit. They were gobbled up by my brood and my cousin's family in less than a day! She couldn't believe how quickly everyone ate them.
Even though there is a few extra steps to making these cupcakes, it's still worth the effort. Plus, I used a few shortcuts by using the prepared pie crust dough and pumpkin pie filling. If you make your own, feel free to use that.
For more pumpkin desserts, check out my Pumpkin Pie Dip, Pumpkin Dump Cake, Pumpkin Breakfast Cookies, Pumpkin Gingerbread Pudding, Pumpkin Cream Cheese Wontons with Maple Glaze and Slow Cooker Pumpkin Dump Cake.
You'll also love these Death by Chocolate Cupcakes, Eggnog Cupcakes, Caramel Apple Cupcakes or Snickerdoodle Cupcakes.
Are you a fan of pumpkin flavoured desserts?
Pumpkin Pie Cupcakes
Tastes like a piece of pumpkin pie, but in a cupcake form! It even has a pie crust at the bottom and sweet pumpkin pie filling inside.
Ingredients
Pie Crust
1 package refrigerated pie crust
2 tbsp milk
2 tbsp sugar
Pumpkin Cupcakes
3 1/2 cups flour
1 3/4 tsp baking powder
1 tsp baking soda
1/2 tsp salt
1 cup milk
1 tbsp vanilla extract
1/2 cup plus 6 tbsp unsalted butter, softened
1 1/2 cups sugar
3 eggs
1 1/2 cups pumpkin puree
2 tsp pumpkin pie spice
Filling
1 1/2 cups pumpkin pie filling
Pumpkin Spice Buttercream
1 1/2 cups butter, softened
3 cups icing sugar (powdered sugar)
1 tsp vanilla extract
1 tsp pumpkin pie spice
pinch of salt
Instructions
Pie Crust
Preheat oven to 400F. Using a small glass with an opening about the same size of the bottom of a cupcake, cut the dough into 24 circles.
Brush both sides of pie crust with milk and place on a greased baking sheet. Sprinkle with sugar.
Bake for 5 to 6 minutes or until they are just starting to cook. They are being parbaked so they aren't supposed to bake completely. Place on a cooling rack.
Pumpkin Cupcakes
Preheat oven to 350F. Line a muffin tin with cupcake liners and set aside.
In a large bowl, stir together flour, baking powder, baking soda, pumpkin pie spice and salt. Set aside.
In a mixing bowl, beat butter and sugar on low speed for about a minute until smooth and creamy. Add eggs one at time and continue to mix on low. Add in milk, pumpkin puree and vanilla extract and mix to combine.
Add the dry ingredients in three parts while mixing on low speed.
Place a pie crust round at the bottom of each cupcake liner. Fill with pumpkin cupcake batter about 3/4 full. Bake for 25 to 27 minutes or until a toothpick inserted in the centre of a cupcake comes outs clean. Cool in pan for 5 minutes and then move to a cooling rack to cool completely.
Pumpkin Spice Buttercream
Beat butter on low speed with a mixer. Slowly increase the speed to medium. Add sugar, one cup at a time, on low speed. Add vanilla extract, pumpkin pie spice and salt. Beat on low until combined.
Increase the speed to medium high and beat for about 3 to 5 minutes, until it's whipped, fluffy and creamy.
Assembly
Using an apple corer or paring knife, cut a circle out for the pumpkin pie filling in the centre of each cupcake. Be careful to not go too far down or you'll cut into the pie crust at the bottom. Save the cupcake piece you removed for step 3.
Fill cupcakes with pumpkin pie filling with a small spoon.
Place the small cupcake piece you removed to close the top of the cupcake. You may need to break it in half to fit.
Using an icing bag and tip of choice, frost the cupcakes. Sprinkle with pumpkin pie spice, if desired.
Recommended Products
As an Amazon Associate and member of other affiliate programs, I earn from qualifying purchases.
Nutrition Information:
Yield:

24
Serving Size:

1
Amount Per Serving:
Calories:

373
Total Fat:

17g
Saturated Fat:

10g
Trans Fat:

0g
Unsaturated Fat:

6g
Cholesterol:

62mg
Sodium:

315mg
Carbohydrates:

51g
Fiber:

3g
Sugar:

28g
Protein:

4g