Serve up these elegant and delicious Coconut Macaroon Nutella Cookie Nests this Easter! Sweet coconut macaroons topped with a dollop of hazelnut Nutella, and candy eggs. Smooth, colorful, and sweet! Nutella and coconut lovers will jump for joy over these sweet macaroons.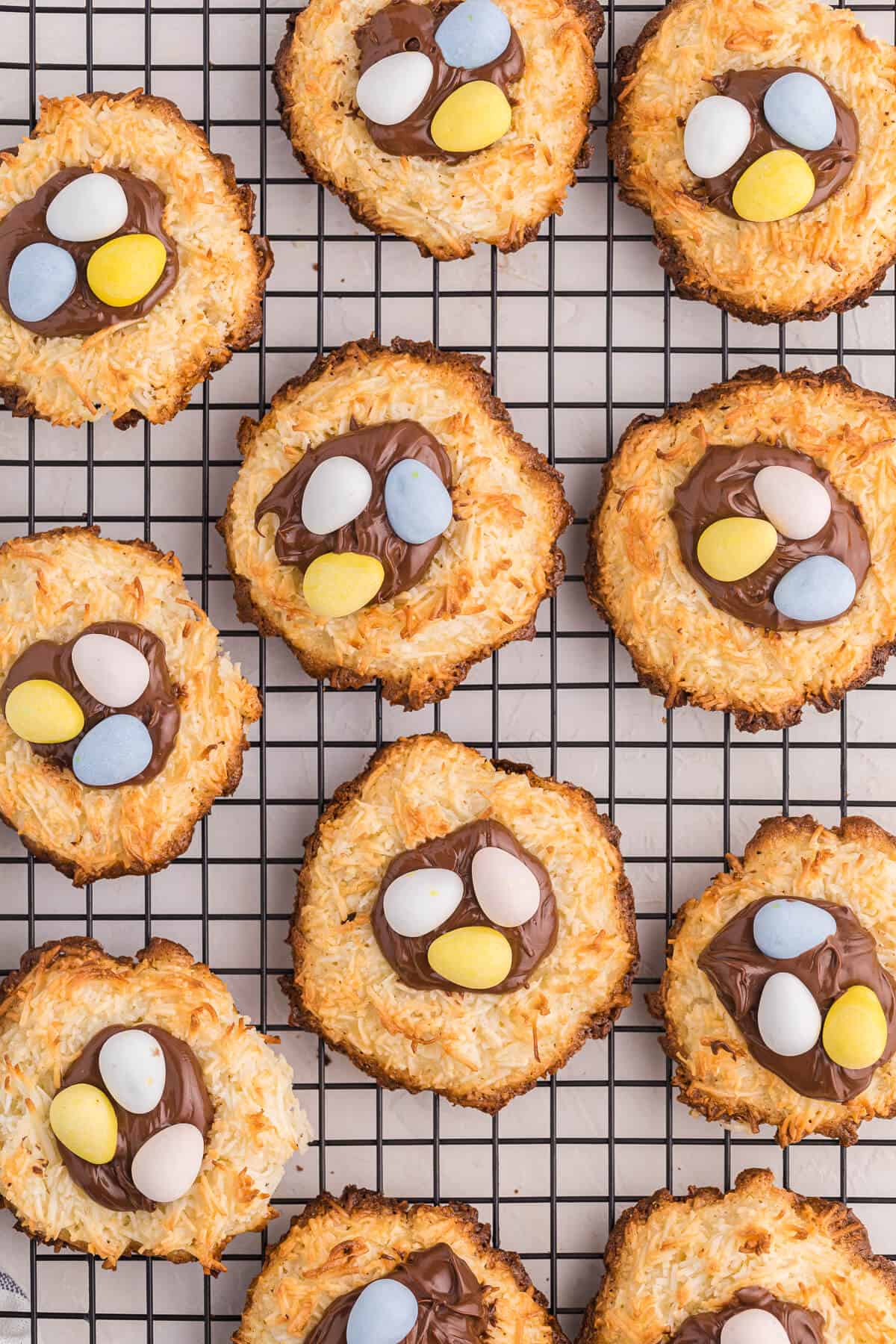 An easy Easter recipe is what you will get with these coconut macaroons. I love making these each year to dress up our dessert table. A few ingredients are all you need for this recipe. They make great desserts to serve for Easter dinner, give to guests or co-workers, or bring as a treat to daycare, school, or an afternoon snack.
The Best Coconut Macaroon Nutella Cookie Nests
The Nutella is a nice effect to transforming these coconut macaroons into nests. They are so simple to prepare, and within no time you have a dessert to serve up to guests!
More Coconut Recipes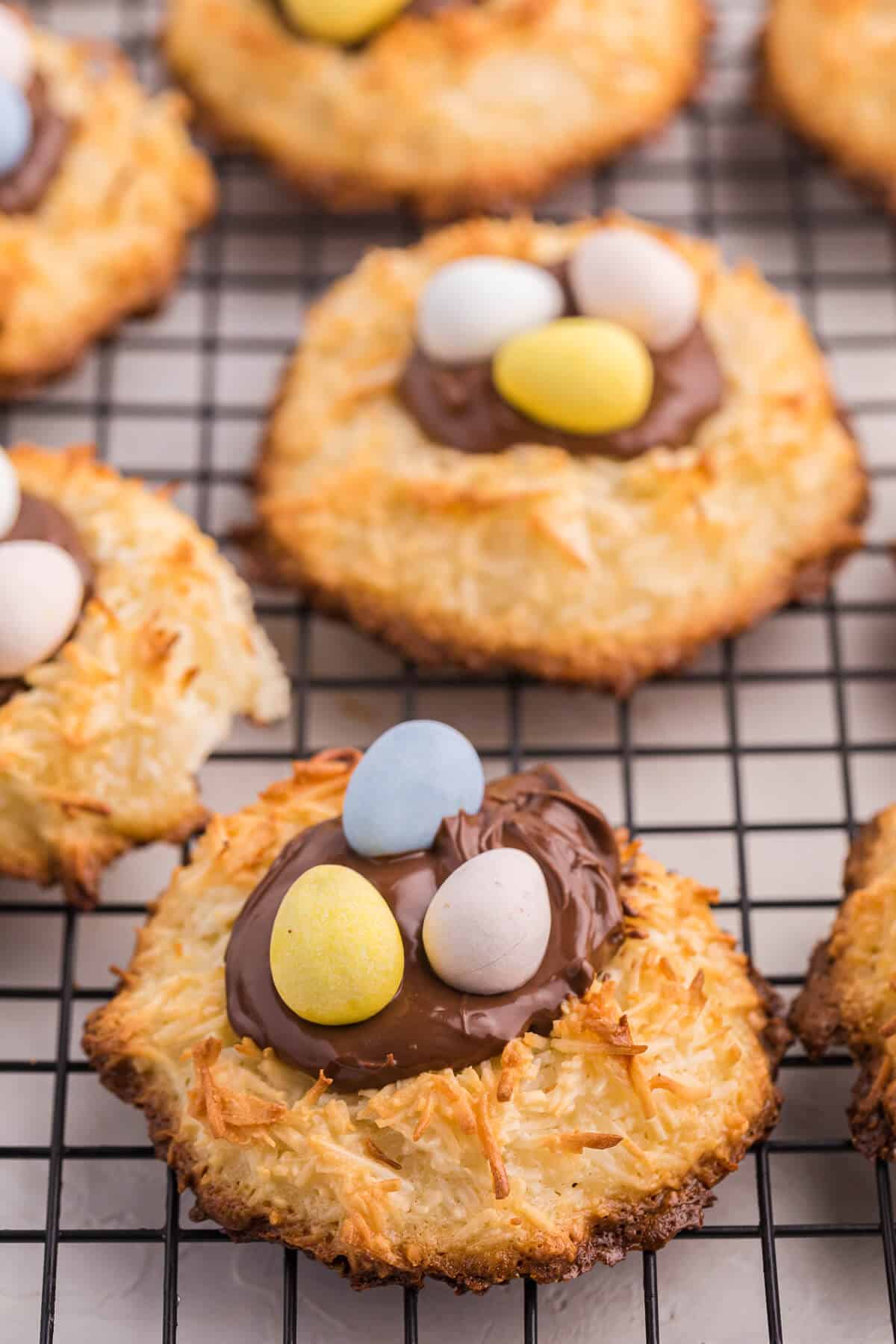 What is the difference between a macaroon and a macaron?
The spelling behind macaron and macaroons is just a simple letter, "o." A macaroon is a coconut based dessert, as to what you see here. You can use eggs, sweetened condensed milk, and you bake it into a treat. Macarons on the other hands are light and airy cookies that have a jam, cream or chocolate filling. They are a sandwich cookie. Both are magnificent.
Are Coconut Macaroons supposed to be chewy?
Yes, coconut macaroons will offer a chewy texture. The edges will become slightly golden brown and create a chewy texture. The inside is sweet and soft, and the outside is somewhat crunchy.
Do coconut macaroons need to be refrigerated?
I keep my macaroons in the fridge for freshness. I find that it helps them from drying out. If you don't want to eat them chilled, just allow them to come to room temperature and then enjoy! They will last up to one week in the fridge.
If you don't refrigerate the macaroons, you need to eat them within the day.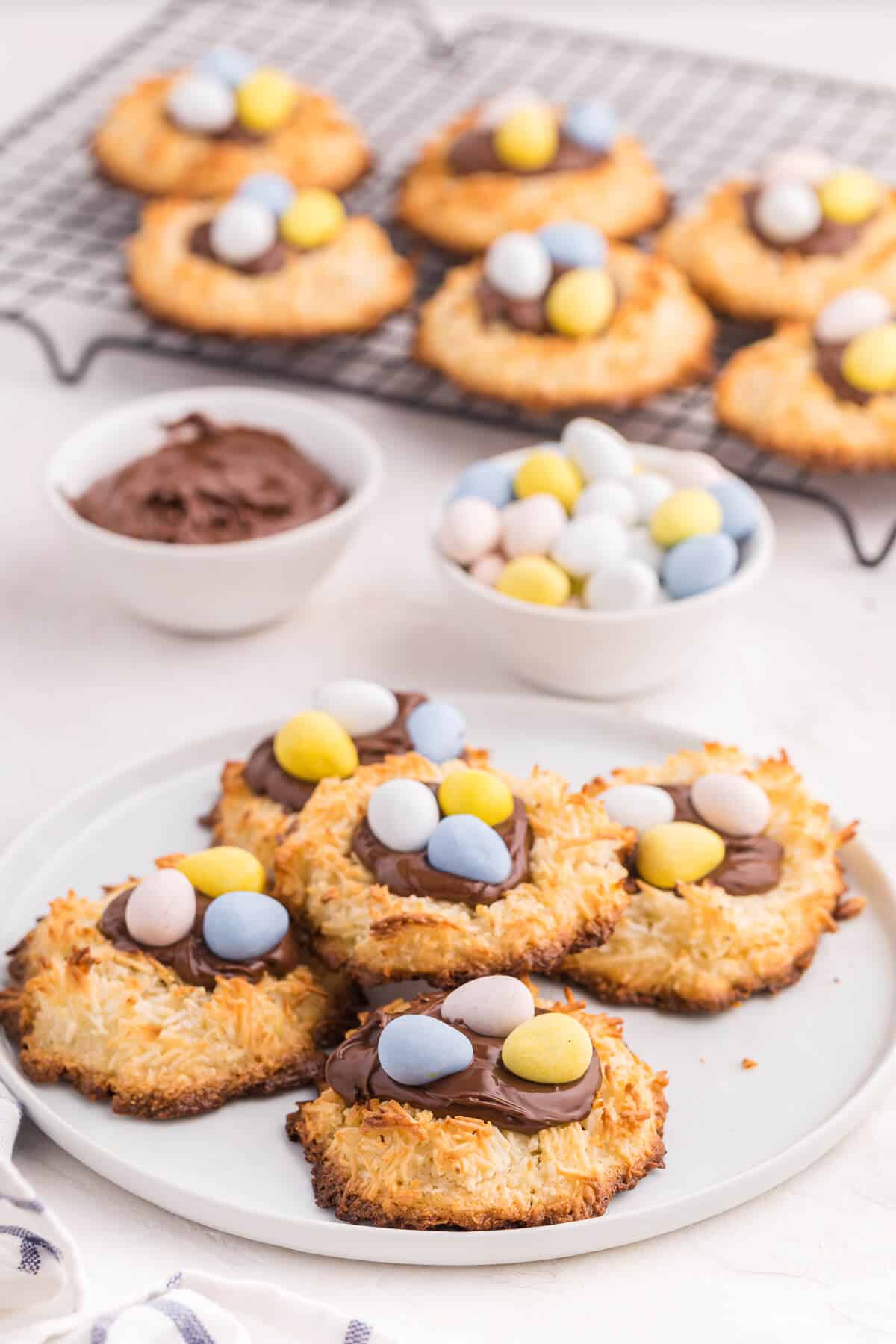 Best way to freeze coconut macaroons?
If you want to freeze these macaroons, you need to not place the Nutella on top and top with your eggs. Take your plain macaroons and put them in an airtight container, and pop into the freezer. Keep them in the freezer for up to three months.
Once you pull them from the freezer, top and then serve as you would initially! The Nutella can soak in if you freeze with it topped on it, and could get messy, is why I recommend leaving it off.
Can you sweeten unsweetened coconut?
You can sweeten unsweetened coconut. Place a water and sugar mixture in a pot on the stove and bring to a boil, add in the coconut and stir. The water will absorb into the coconut sweetening it naturally. I recommend doing about three tablespoons water and three tablespoons sugar. A little bit goes a long way.
You want to make sure all the sugar granules are melted before you add in your coconut or it will give your coconut a crunchy texture, which you don't want.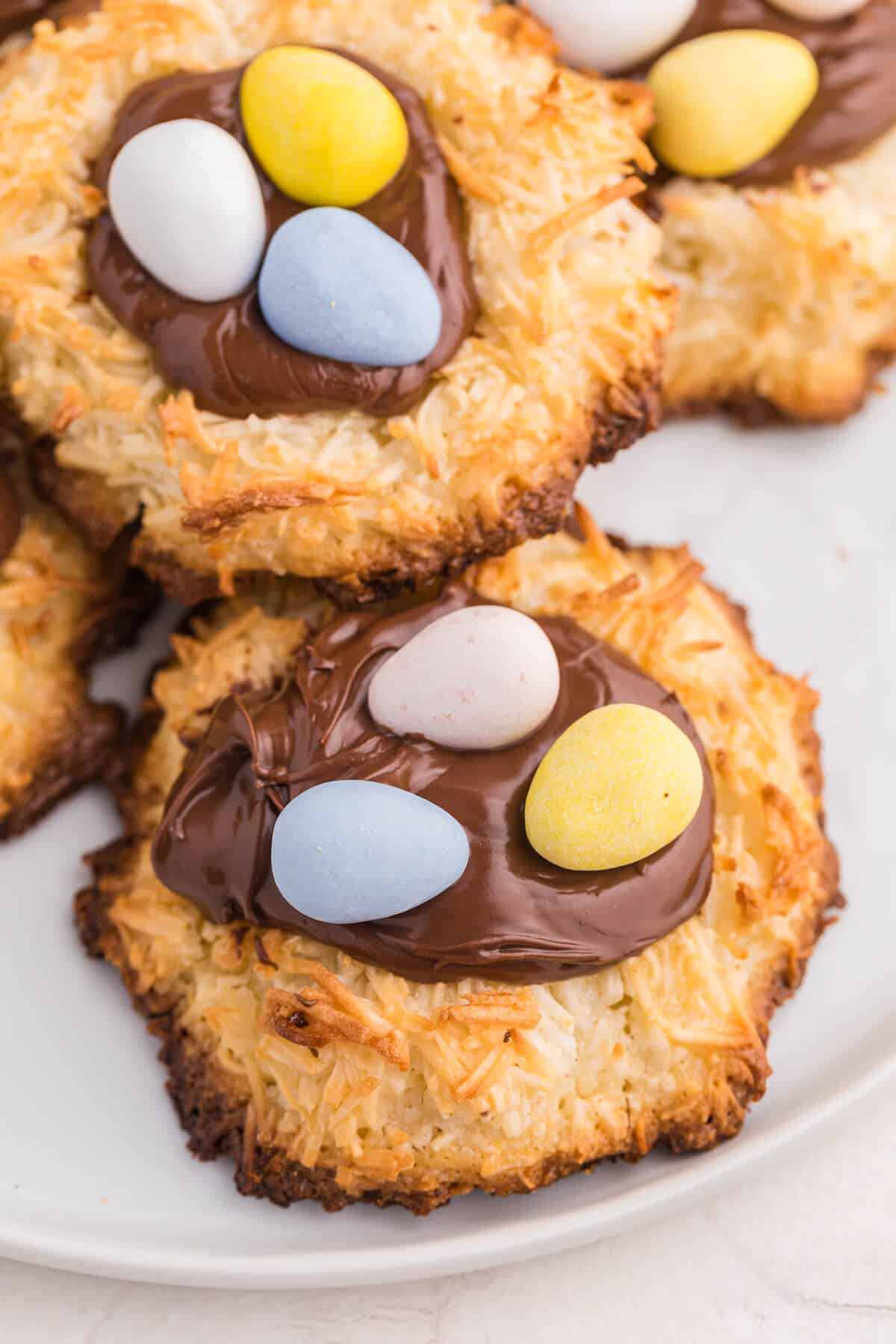 How To Make Coconut Macaroon Nutella Easter Nests
Start by preheating your oven, and greasing a cookie sheet. Or if you have a Silpat use that for a non-stick surface.
Then you want to mix your egg white, condensed milk, vanilla, and salt. Once combined mix in your coconut.
Drop your macaroons onto the pan; I do around three tablespoons of mixture each. Then shape into a birds nest, and push down the center of the macaroon.
Bake and pull out when lightly golden brown. Let the cookies cool completely before you decorate them.
Top the cookies with Nutella and add on your candy eggs. Then serve and enjoy.
Try my homemade Nutella.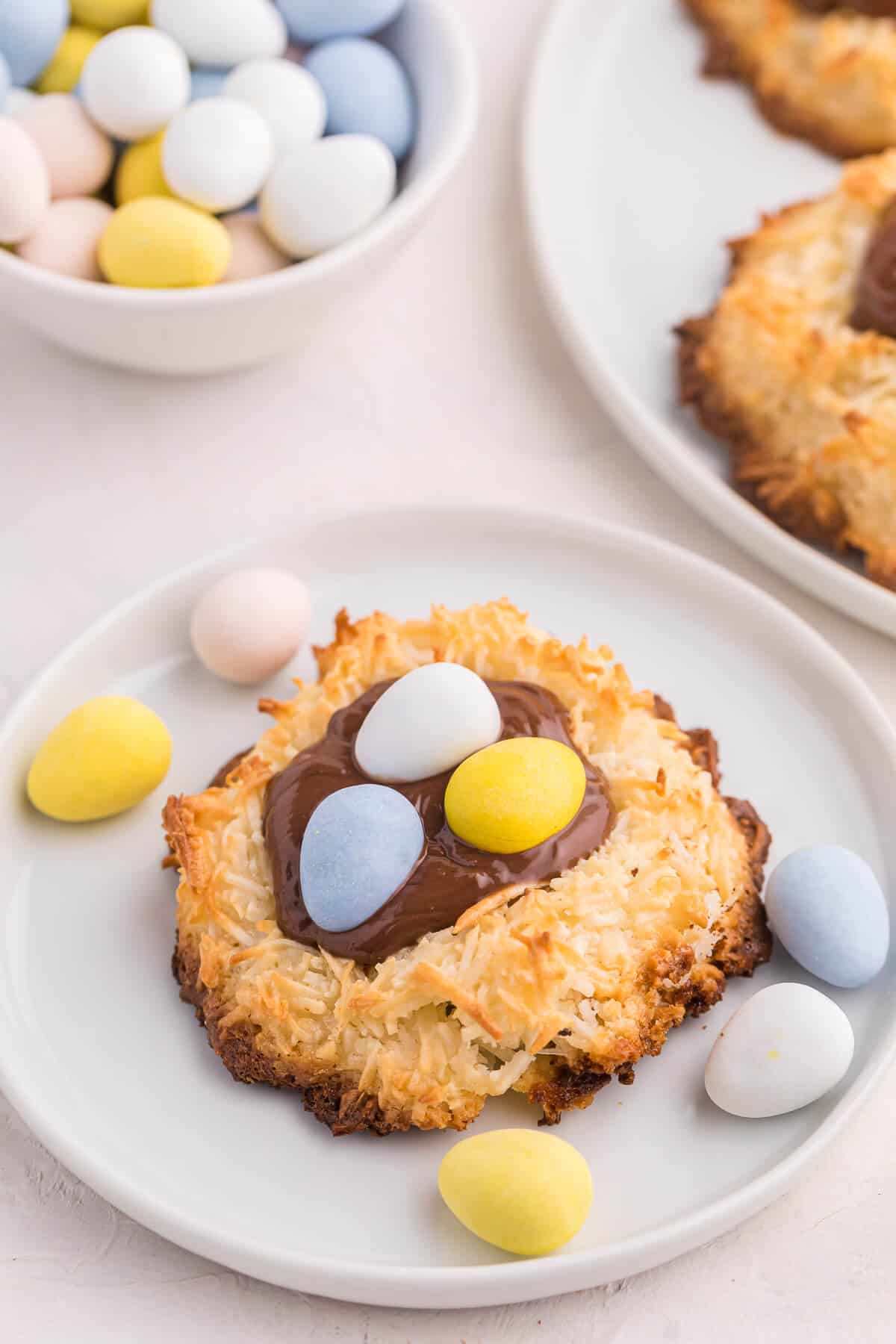 Other Candy Toppers for Coconut Macaroon Nests
Jelly Beans
Chocolate Coated Candy Eggs
Cadbury Mini-Eggs
You can find any candy that resembles an egg for this. If you buy candy in a foil wrapper, just unwrap it before you place on top of the Nutella.
I love these coconut macaroons. If you are not around Eater, feel free to make them and leave to Easter candies off the top. They are sweet, chewy, and downright addictive.
You will also like these Easter Mini Eggs Brownies, Easter Egg Stuffed Crescent Rolls or Easter Trifle.
Have you tried a Coconut Macaroon Easter Nest before?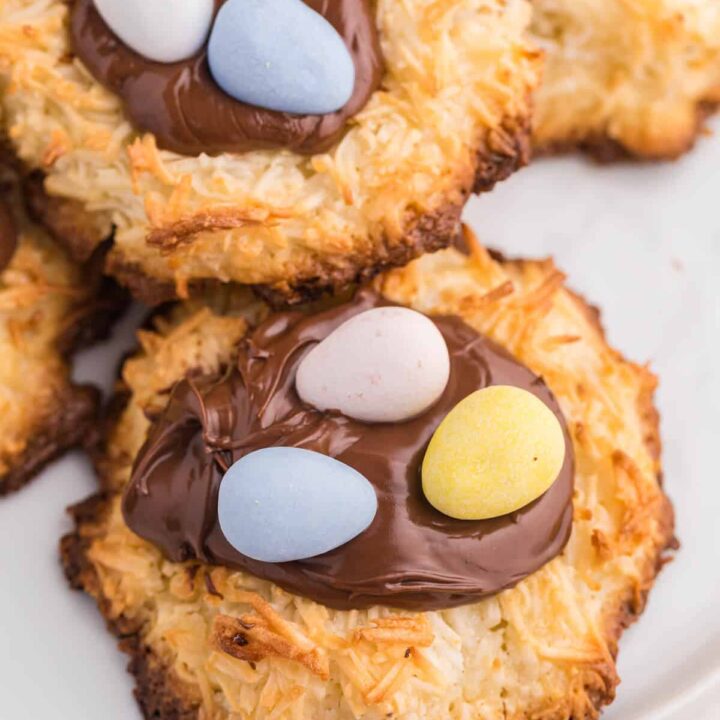 Coconut Macaroon Nutella Cookie Nests
These adorable coconut macaroon nests are the perfect Easter themed treat, but are great anytime of year. The rich coconut flavour, paired with a chocolate hazelnut spread filling are a winning combination.
Ingredients
2/3 cup sweetened condensed milk
1 large egg white
1 ½ teaspoons vanilla extract
1/8 teaspoon salt
3 ½ cups sweetened shredded coconut
¾ cup Nutella
36 mini Easter eggs
Instructions
Preheat the oven to 325°F. Grease a cookie sheet.
Stir together sweetened condensed milk, egg white, vanilla extract, and salt. Add in the coconut and mix well.
Drop about 2 tablespoonfuls of the coconut mixture on the cookie sheet and form the cookies into the shape of a bird nest. Push down in the middle to make an indent.
Bake for 20 minutes, or until slightly golden brown. Cool the cookies on the baking sheet until they are firm & set (otherwise they will fall apart). Then place on a cooling rack.
When the cookies are completely cooled, add one tablespoonful of Nutella in the center of each nest. Then add three mini eggs on top of the Nutella on each cookie.
Recommended Products
As an Amazon Associate and member of other affiliate programs, I earn from qualifying purchases.
Nutrition Information:
Yield:

12
Serving Size:

1
Amount Per Serving:
Calories:

222
Total Fat:

12g
Saturated Fat:

10g
Trans Fat:

0g
Unsaturated Fat:

1g
Cholesterol:

22mg
Sodium:

124mg
Carbohydrates:

28g
Fiber:

3g
Sugar:

23g
Protein:

3g