Cozy one-pot Italian Herb Soup that will warm your bones. Plus I share how to make homemade sage croutons to sprinkle on top for flavor and crunch. Carrots, onions, tomatoes, and Italian herbs come together for one rich and refreshing soup.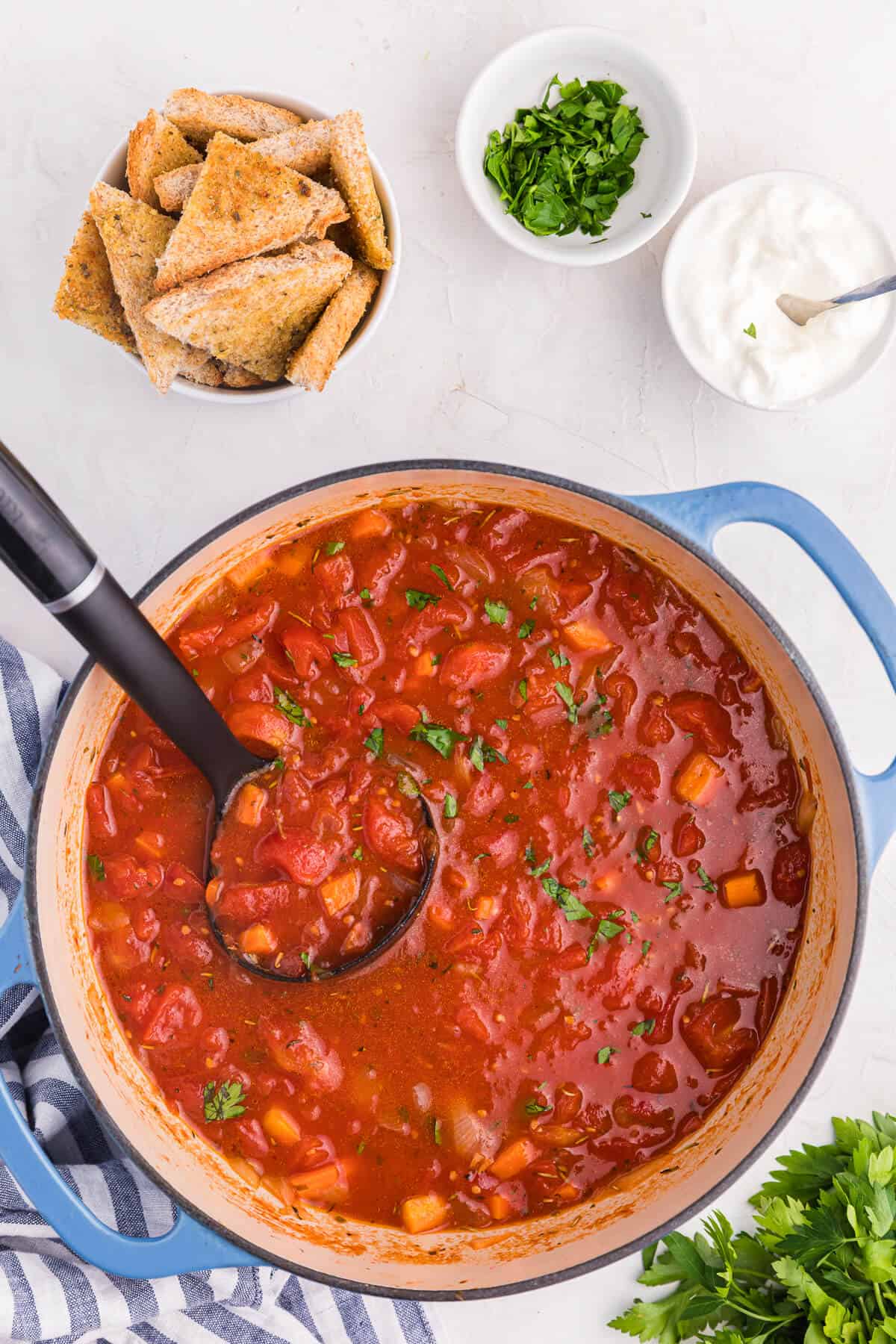 This soup is comforting, fresh, healthy, and a gazillion times better than what you can buy in a can. If you want to take a few extra minutes out of your day and make this homemade Italian Herb Soup, and thank me later! The yogurt or sour cream offers a nice creaminess when stirred into the broth.
Italian Herb Soup
This Italian Herb Soup is so tasty. I made the sage croutons to go with it, cause we love the mix. If you want to buy store bought croutons or opt out if you prefer. I find the croutons add texture but also a lot of flavors that completes the dish.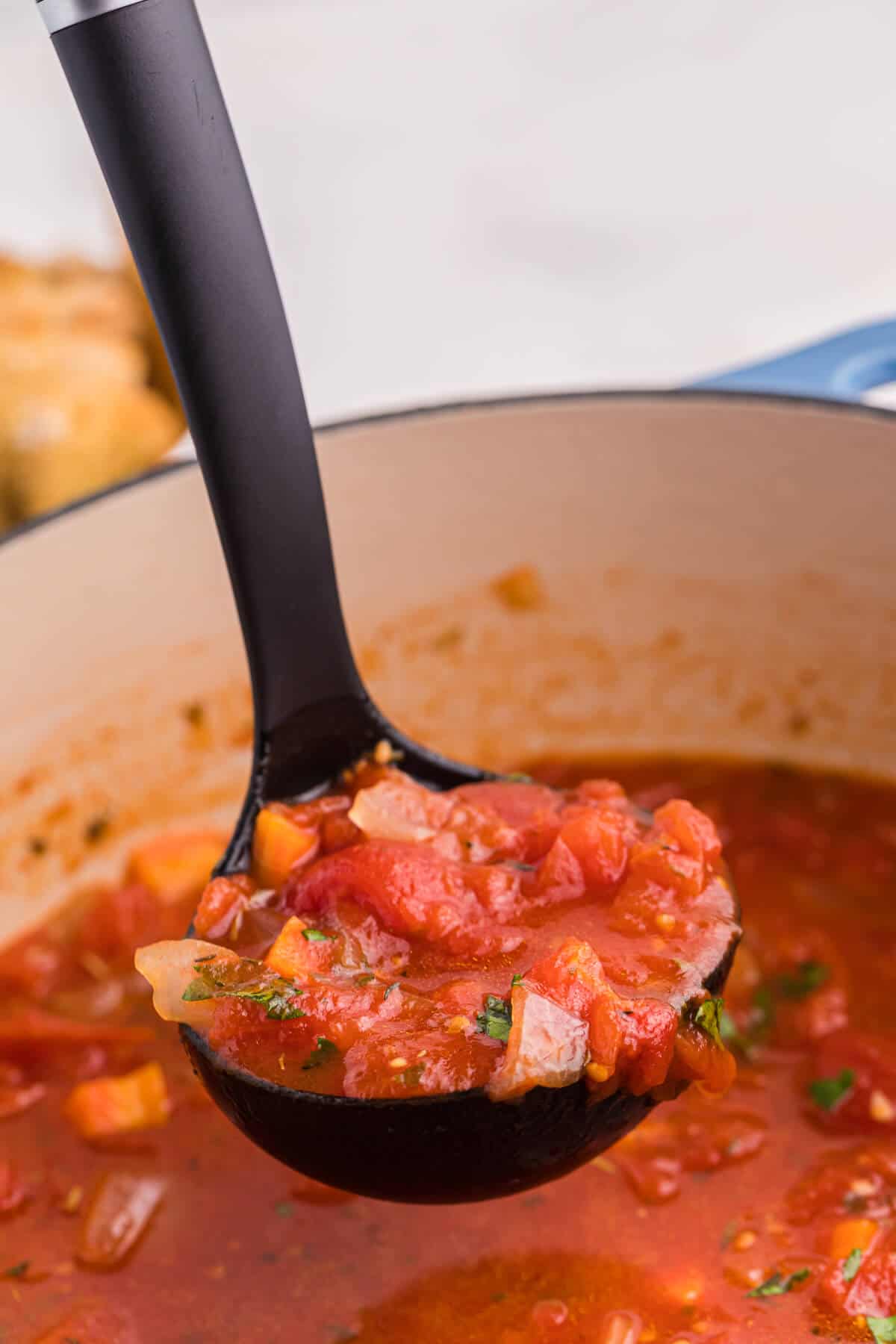 More Soups to Try
Can I Make Italian Herb Soup in the Crockpot
You can make the Italian Herb Soup in the crockpot. Follow the directions on cooking your carrots and onions on the stove top first. Then transfer to your crockpot and dump the ingredients into the crockpot. Cook on low for 6 hours.
Does Italian Herb Soup Freeze Well
This soup freezes nicely. I don't recommend adding any toppings though until you are ready to eat.
When you freeze this soup pour into sealable freezer bags or even use storage containers that are freezer friendly. Freeze up to three months. Thaw in the fridge the night before you are ready to serve.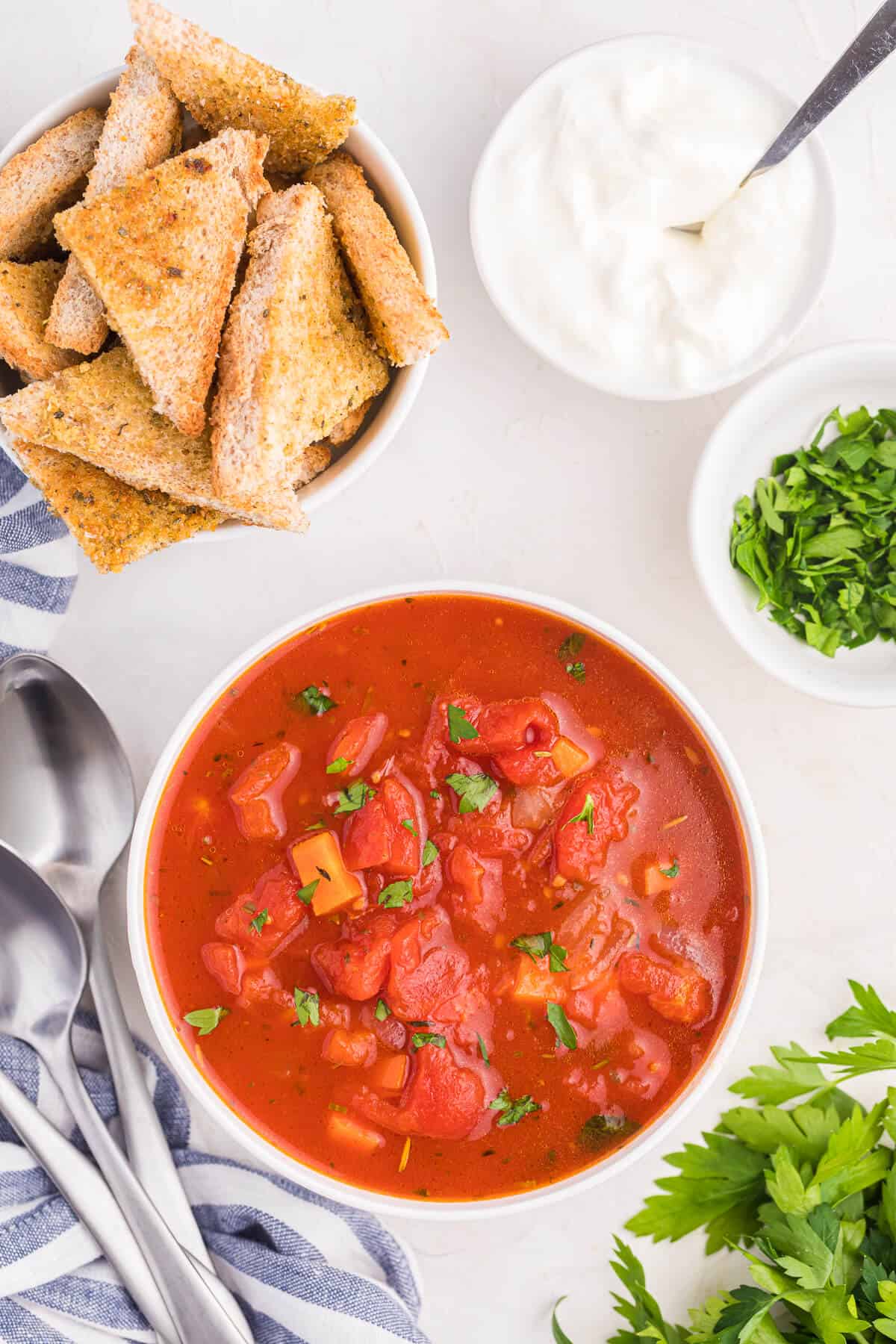 Meal Prep with Italian Herb Soup
Another great idea with this soup is to pour into single serve containers and use for meal prepping for the week. Maybe you want a light dinner or a quick lunch, just heat and eat. If you do freeze the soup, you could even use single serve containers to store your soup in, for a quick grab as you head out the door. Then by lunch, you could easily warm it up.
What to Pair with Italian Herb Soup
Generally, we eat soup and croutons alone, but sometimes we have a craving for a bit more. In those moments reach for a grilled turkey or ham sandwich, or even a salad. It pairs well with sandwiches and salads since it is such a flavorful soup.
Toppings for Italian Herb Soup
Croutons
Crackers
Shredded Cheese
A dollop of Sour Cream
A dollop of Yogurt
Chopped fresh parsley
Give the soup a taste and then see what your favorite toppings might be. We generally use Greek Yogurt, and that is it. But sometimes we change it up with items that are listed above.
How to Make Italian Herb Soup
First, start by heating oil in a pot on the stove. Add in your onions and carrots and cook for around 10 minutes, making sure you stir frequently. This will help give flavor to your soup and soften up the carrots.
Then add in your tomatoes, water and chicken broth to your pot. Add in your tomato paste, herbs and seasonings, sugar and bring your pot to a boil. Top with a dollop of Greek yogurt or sour cream and pair with croutons.
How to Make Sage Croutons
Grab some bread and trim away the crust. Add oil, garlic and sage together in a bowl, and brush it onto the bread. Bake for around 6 minutes or until crisp and golden. Cut the bread into triangles and serve.
We like to either place on top of the soup for serving or on the side. You might like to crunch it up and sprinkle over the soup, or even just dip the croutons into the soup. Either way is fantastic in flavor.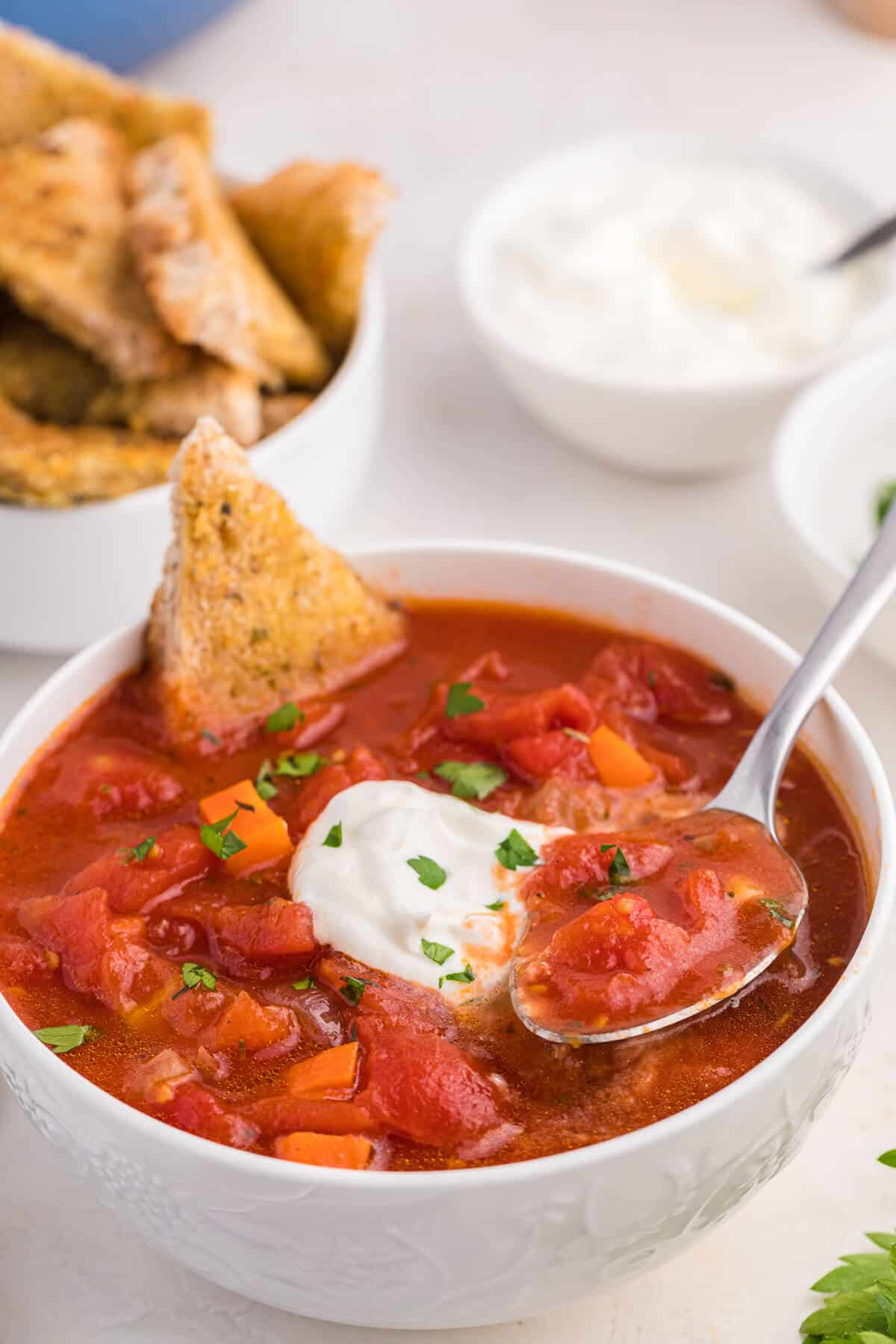 This soup is so simple to make. You can always improvise on vegetables used, or add more to it, for more layers of flavor. My whole family has enjoyed this soup as well as guests I have served it to over the years. Give it a try today, and let me know what you think!
Try my homemade Italian Seasoning.
Have you made Italian Herb Soup before?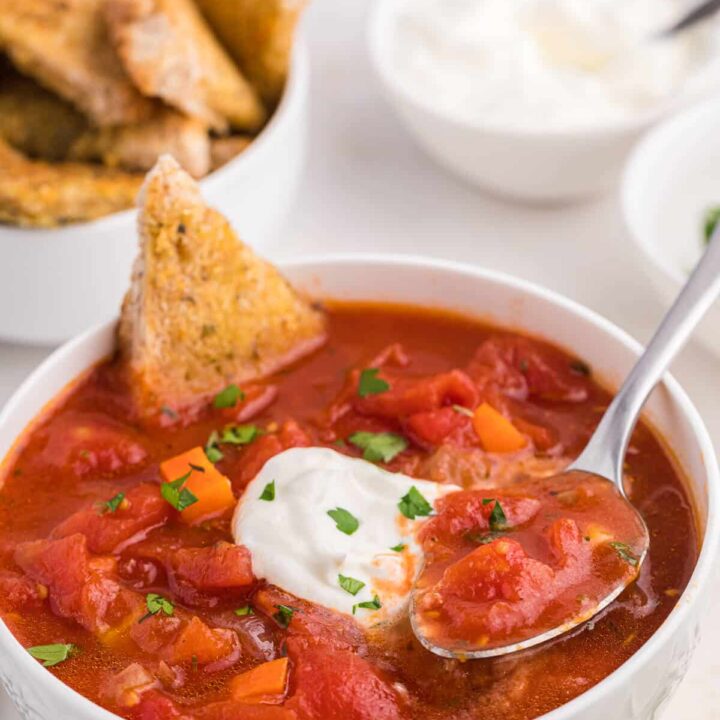 Italian Herb Soup
Hearty and delicious! This vegetarian soup is packed full of savory flavor and topped with the best homemade croutons with sage and garlic.
Ingredients
Soup
1 tablespoon extra virgin olive oil
2 carrots, peel and diced
½ large yellow onion, chopped
2 cans (28 ounces) diced tomatoes
1 can (10.5oz/284ml) chicken broth
2 tablespoons tomato paste
1 ½ teaspoon Italian seasoning
1 teaspoon sugar
½ teaspoon salt
¼ teaspoon pepper
Croutons
6 slices whole wheat bread
2 tablespoon extra virgin olive oil
2 cloves garlic, minced
1 teaspoon sage
Instructions
Heat the olive oil in a large pot on the stove over medium heat. Add in chopped carrots and onions and cook for about 10 to 12 minutes, stirring often.
Add enough water to tomatoes to make 3 ½ cups. Stir tomato mixture, tomato paste, Italian Herb seasoning, sugar, salt and pepper into the pot on the stove. Bring to a boil, then lower the heat to medium low heat. Simmer, uncovered, for 30 minutes.
Top each serving with a dollop of plain Greek yogurt or sour cream, if desired. Float herb croutons on soup or serve on the side.
Sage Croutons
Preheat oven to 400ºF.
Trim crusts from whole grain bread.
In a small bowl, whisk together olive oil, garlic and sage.
Brush oil mixture on both sides of the bread. Place on a baking sheet.
Bake for 6 minutes, flipping over at the 3 minute mark. Cut each slice of bread into 4 triangles.
Recommended Products
As an Amazon Associate and member of other affiliate programs, I earn from qualifying purchases.
Nutrition Information:
Yield:

8
Serving Size:

1
Amount Per Serving:
Calories:

137
Total Fat:

6g
Saturated Fat:

1g
Trans Fat:

0g
Unsaturated Fat:

5g
Cholesterol:

1mg
Sodium:

295mg
Carbohydrates:

16g
Fiber:

3g
Sugar:

4g
Protein:

4g