Grilled Eggplant & Yogourt Dip Recipe
I'm addicted to Astro Original Greek Yogourt! I tastes good alone, but is also delicious in recipes. I made soup the other day and added a dollop of it in the middle and it was sooo good!!
I recently held a giveaway for coupons for one reader to try out the yogourt and that winner is Rosemary! Congrats- I'm waiting on your email to confirm.
In the meantime, I'm sharing with you a delicious recipe for Grilled Eggplant & Yogourt Dip. It was amazing!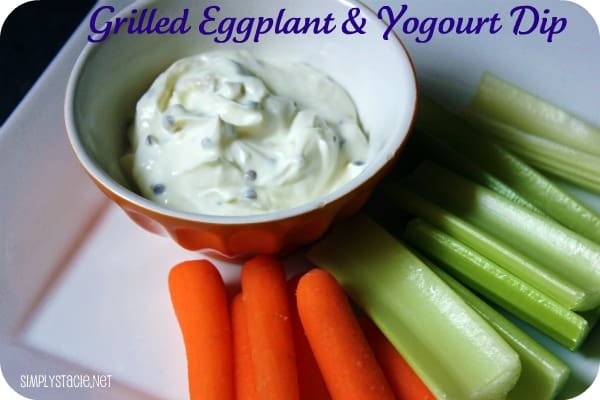 All you need is olive oil, salt, garlic, lemon juice, eggplant and of course Astro Original Plain Greek Yogourt.
Grill the eggplant.
Mash the insides all up! That part was fun.
Combine all the ingredients together.
And voila! A delicious thick and creamy dip served with some fresh veggies.
Yield: 6
Grilled Eggplant & Yogourt Dip
Ingredients:
1 eggplant (about 1 lb/450 g)
¾ cup Astro® Original Plain Greek yogourt
1 clove garlic, minced
1½ tsp lemon juice
1 tsp olive oil
½ tsp salt
1 tbsp chopped fresh parsley (I left out the parsley in my dip)
Directions:
Pierce eggplant all over with a fork. Place on a greased grill over medium heat; close lid and grill, turning once, until charred and wrinkled and flesh is softened, about 20 minutes. Let stand until cool enough to handle.
Slice eggplant open and scoop flesh into a bowl, discarding skin. Mash and let drain in fine-mesh sieve for 20 minutes.
In a bowl, combine yogourt, eggplant, garlic, lemon juice, oil and salt.
Refrigerate for 1 hour before serving.
Garnish with parsley. Makes 1½ cups.