New England Clam Chowder is full of clams, bacon, potatoes, in a creamy broth. This New England Clam Chowder recipe is going to taste better than ordering takeout from your favorite restaurant.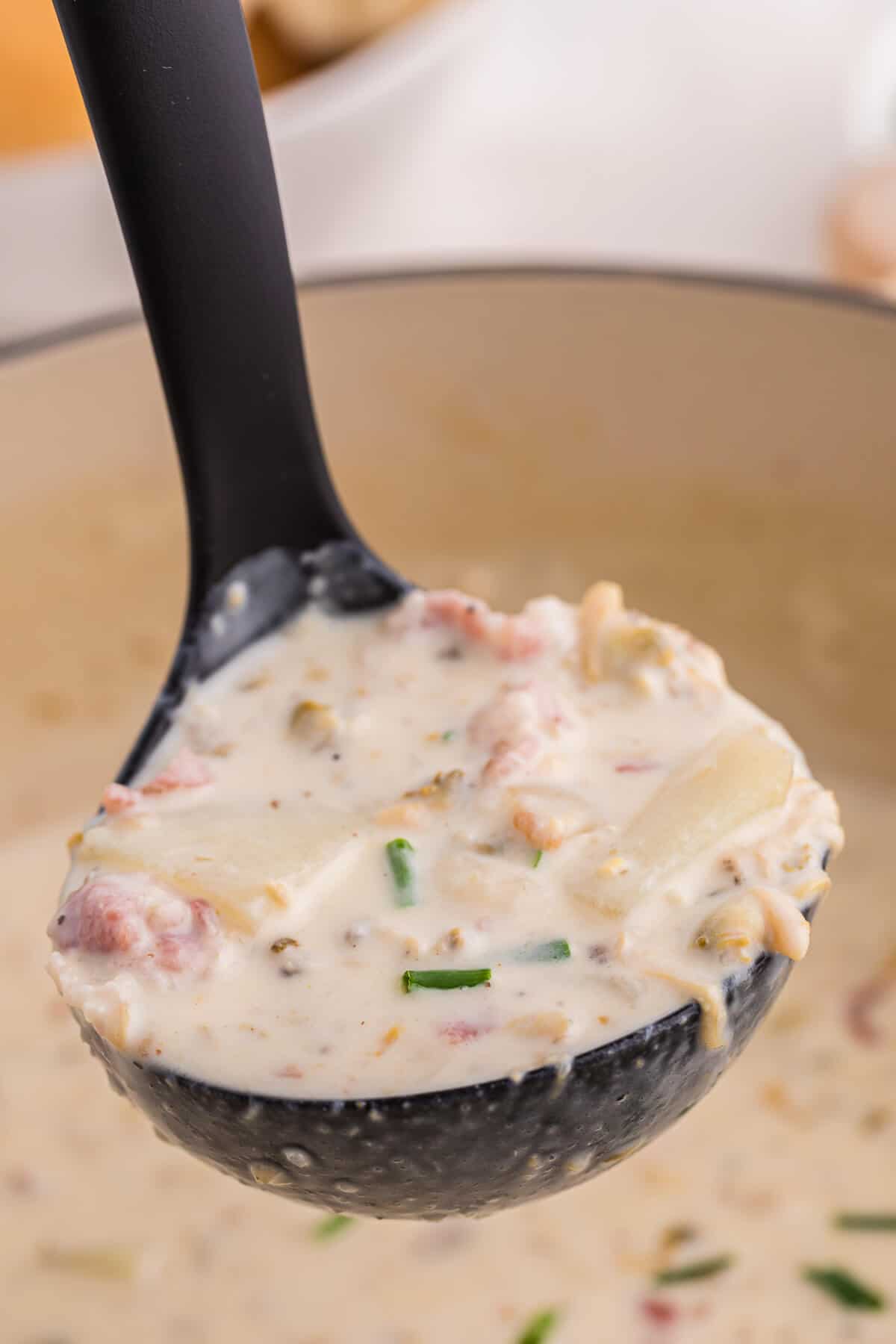 I love tasty clam chowder, and let me say canned soup just doesn't hit the spot like a homemade version. This New England Clam Chowder recipe uses simple ingredients to give you that simplistic clam chowder that you are hoping for. With a little prep work, before you know it, you will be grabbing that ladle and a bowl, and serving it up for your family.
The Best New England Clam Chowder
Soup season is here, and I just picked up some clams to make this Clam Chowder the other day at the store. Salty, creamy, and delicious down to the last drop. Plus, the smell of the soup cooking, made everyone in the house drool instantly!
Savory Soups
Does New England Clam Chowder Have Meat in it
This clam chowder recipe I use bacon and clams to help give it depth in flavor, but also add in some protein in each bite. This soup is rich in flavor and will keep you full until the next meal time arrives.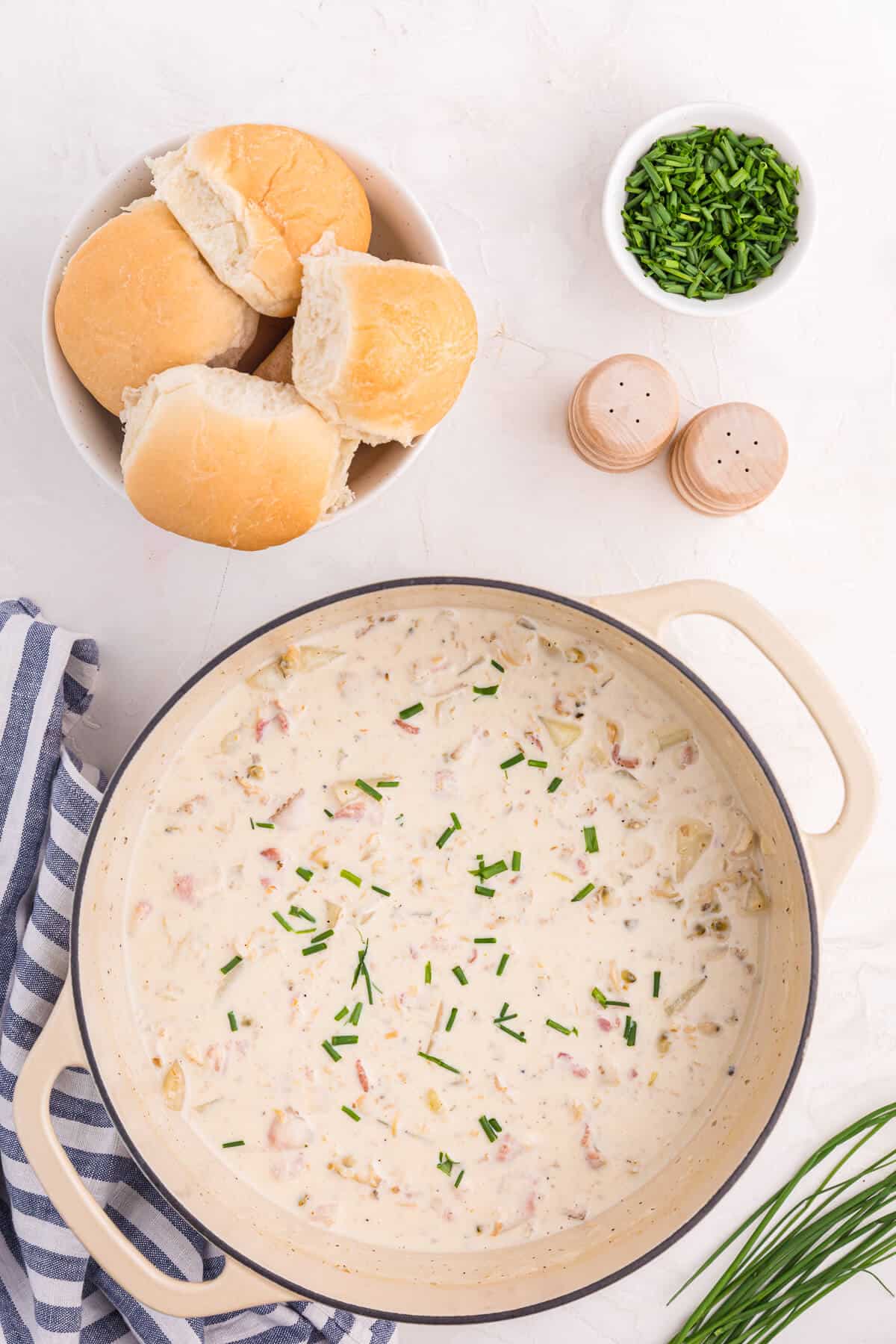 Does New England Clam Chowder Have Bacon
Traditionally you will see most clam chowder recipes will render down some type of salted pork. Bacon is generally used, as it offers a salty and savory element to the chowder.
How Long Will Clam Chowder Last in the Refrigerator
You can see that your clam chowder will last up to 3 days in the fridge when properly stored. I like to soup it into an airtight container and then place in the fridge.
If I plan to eat it for lunch, just put it in single-serve storage containers so you can grab and eat quickly.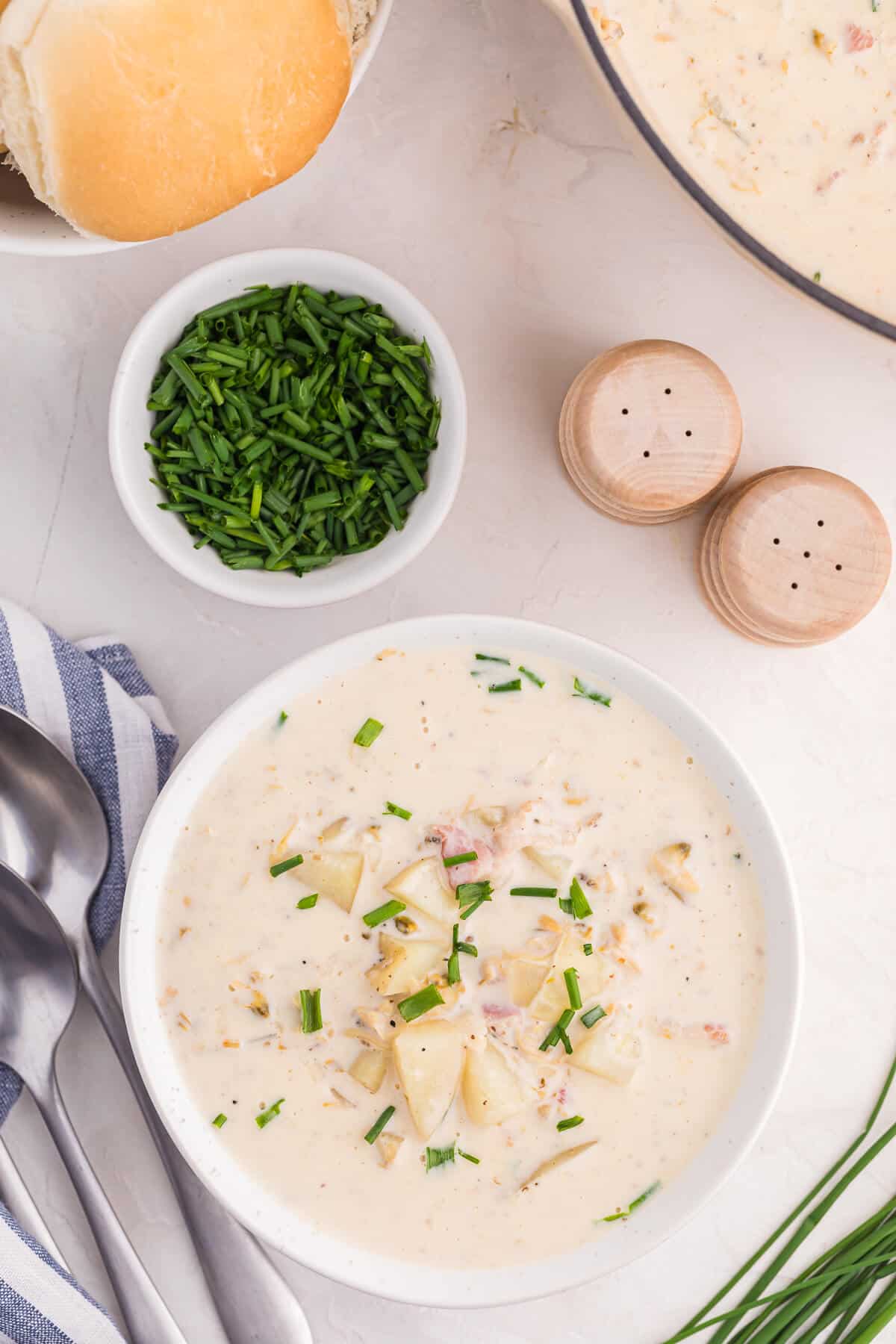 How to Properly Freeze Clam Chowder
If you want to extend the shelf life, you can freeze your clam chowder. Because of the cream in the soup, you could find it changes the texture of the soup slightly once it is thawed and reheated. One way to try to get rid of that is to use a whisk and stir it well. This can get rid of a lot of the lumps in the soup.
Merely place your soup in an airtight container and wrap with aluminum foil. Thaw in the fridge and then reheat on the stovetop when ready to serve.
What are the Different Types of Clam Chowder
You will find that New England Cam Chowder is one of the most popular recipes. This clam chowder is made with potatoes, onions, clams, and bacon in a creamy sauce.
Long Island Clam Chowder offers a twist and has a clear broth vs. creamy. Manhattan Clam Chowder is a tomato-based broth.
Each clam chowder, of course, is filled with clams in each bite, but the broth changes can transform the flavors of the soup dramatically.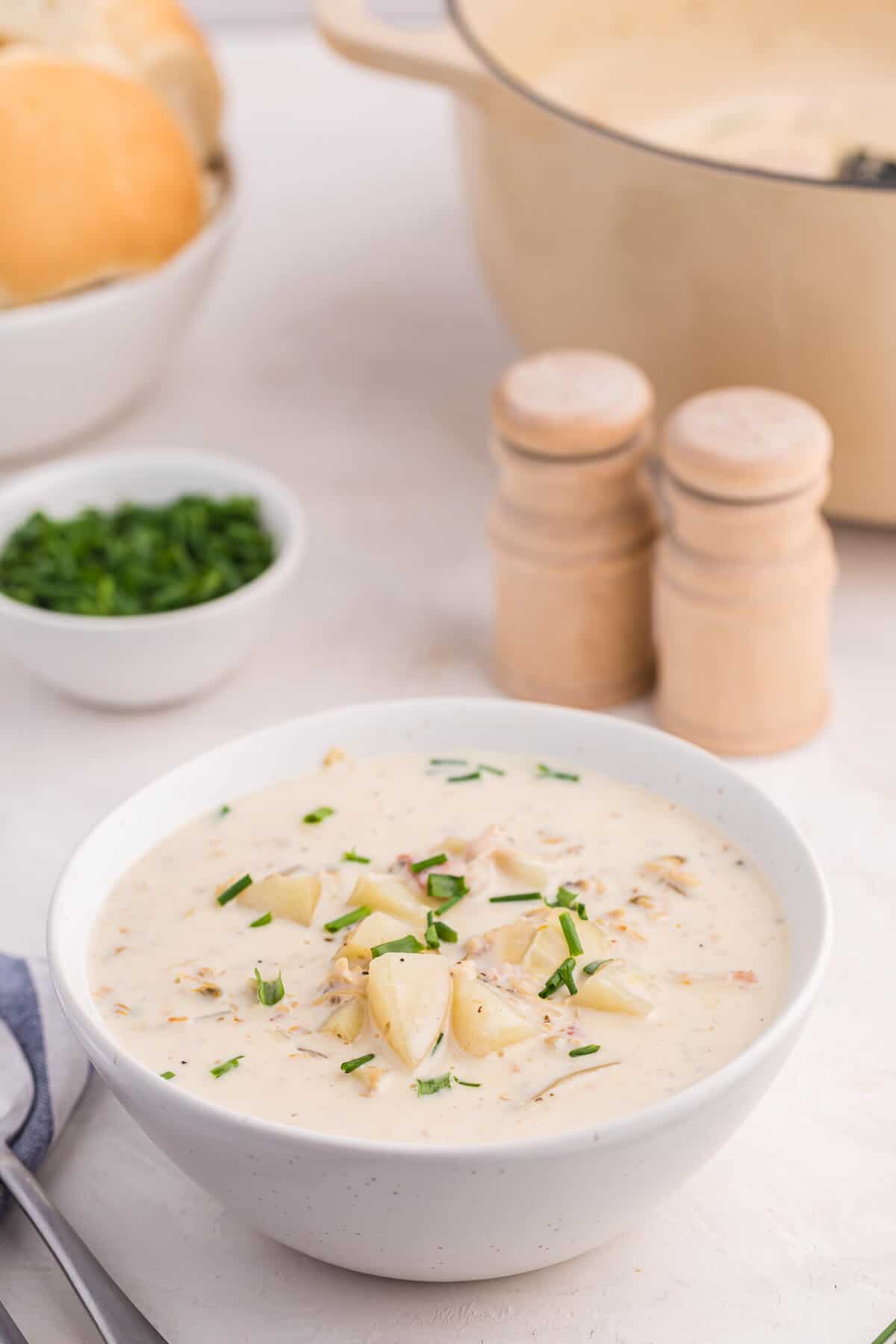 How To Make New England Clam Chowder
The first step is to cook the onions and bacon in a large pot over medium heat until the bacon is crisp and onions soft. OMG, it smelled so good!! I could just eat a bowl of bacon and onions and say screw the soup! However, I held back and continued with my recipe.
Add the all-purpose flour and stir constantly for 1 minute. This step will help thicken the soup.
Then, I added in my clam juice, clams, potatoes, salt and pepper and heat to a boil. Once it reaches a boil, I turned down the heat to a minimum to simmer for 15 to 20 minutes. It's ready for the next step when the potatoes are cooked.
Once the potatoes are cooked, I added in my 2 cups of cream and then just heat enough till the soup is hot. If you heat too long, you risk curdling your cream.
Once it is done, grab your bowls and dish it up. This is great for a weeknight meal or even serving a crowd.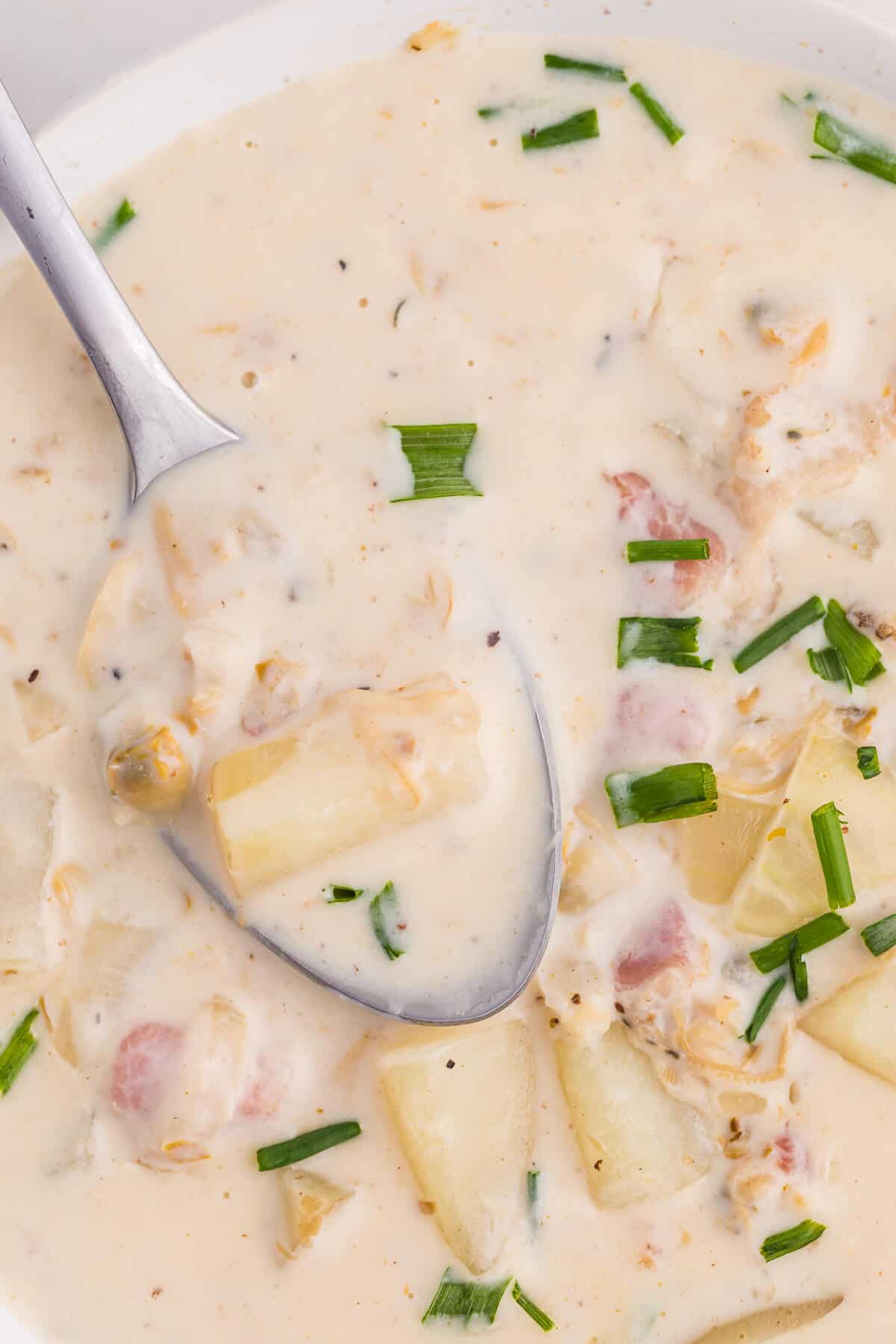 Sides to Pair with New England Clam Chowder
Crisp Green Salad | I love this for a lighter aspect to your soup. Do salad and soup for a light lunch or even dinner option.
Buttery Roll | Great for dipping in and soaking up all the glorious creamy broth.
Or eat it alone. For me soups a lot of time don't require any other pairings, except maybe some oyster crackers!
As you can this New England Clam Chowder is one comforting and easy dish to make. You will want to save the recipe to make over and over again. We love clam chowder, and every single time winter starts to arise, I make sure to grab some clams to whip up this chowder.
You'll also enjoy this Seafood Chowder.
Are you a fan of New England Clam Chowder?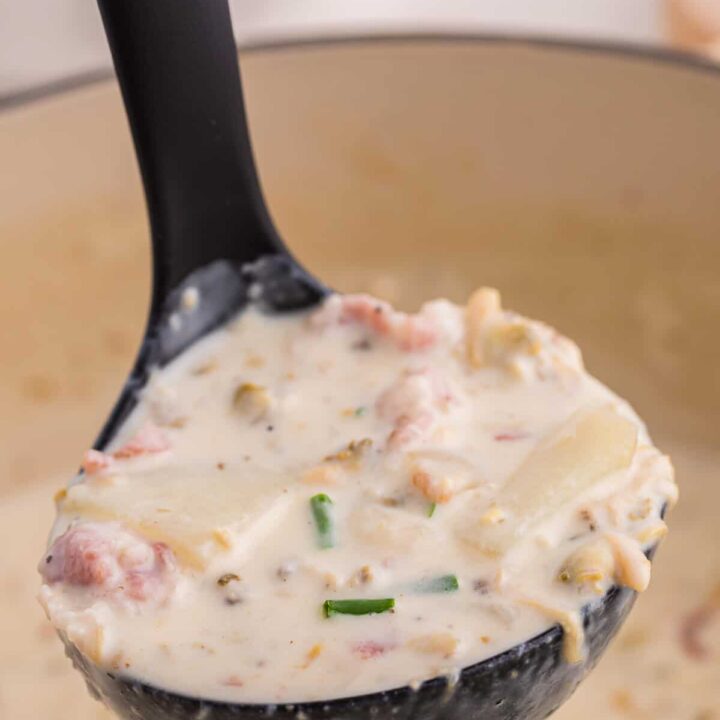 New England Clam Chowder
There's no better winter soup! Warm up with a comforting bowl of bacon, potatoes, and clams for the creamiest chowder.
Ingredients
1 cup bacon, chopped
1 cup yellow onion, chopped
1/4 cup all-purpose flour
2 cups white potatoes, unpeeled and chopped
2 (5oz/142g) cans baby clams, drained, juice reserved
1/4 teaspoon salt
Pinch of pepper
2 cups half & half cream
Instructions
In a large pot, cook bacon and onion over medium heat, stirring occasionally until bacon is cooked and onion is tender.
Add flour and stir constantly for 1 minute.
Drain clams, reserving liquid, Add enough water to clam liquid to measure two cups.
Stir clams, clam liquid, potatoes, salt and pepper into bacon and onions. Heat to boiling and then reduce heat. Cover and simmer about 20 minutes or until potato is tender.
Stir in cream. Heat, stirring occasionally, just until hot.
Recommended Products
As an Amazon Associate and member of other affiliate programs, I earn from qualifying purchases.
Nutrition Information:
Yield:

4
Serving Size:

1
Amount Per Serving:
Calories:

632
Total Fat:

51g
Saturated Fat:

30g
Trans Fat:

2g
Unsaturated Fat:

17g
Cholesterol:

169mg
Sodium:

780mg
Carbohydrates:

28g
Fiber:

3g
Sugar:

7g
Protein:

18g