Leek Cream Soup is a creamy, smooth, and light soup that is full of vibrant flavor. If you are looking for a soup that is a bit different give this creamy leek soup. A nutritious soup that will fuel you for the day.
There are many ways of eating light and yet still gaining all the healthy nutrients and energy providing elements you need to keep going. One of the easiest ways of eating healthy is in the form of soup cooked from nutritious ingredients.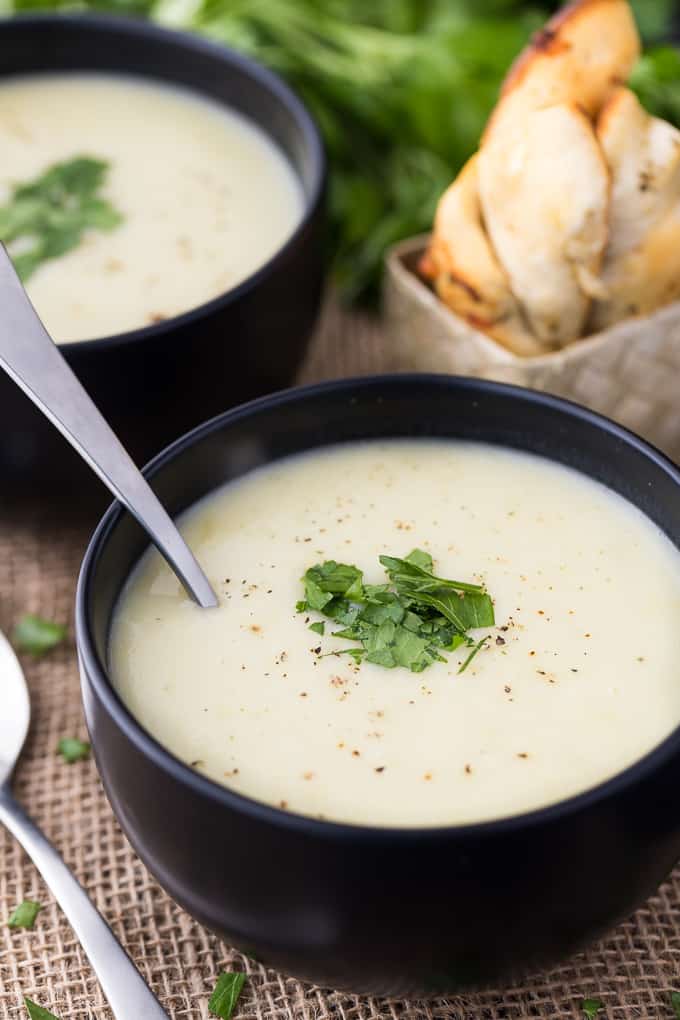 Leek Cream Soup Recipe
A soup is usually easy to make and can be given a rich and delicious taste by the addition of right ingredients, herbs, and spices. One of my favorite cream soups is the leek one! It is easy to prepare (although I am not a fan of cleaning leeks because of the dirt and sand they can contain)! Leeks are very low in calories, contain dietary fiber and taste delicious!
What Part of a Leek Do You Use for Soup
You will slice off the ends of the leeks, where it is a darker green. Discard that portion, and use the part of the leeks where it is a pale green. Then use the lighter side for the soup. The ends of leeks are very tough, and not great for soup.
Try These Other Soup Recipes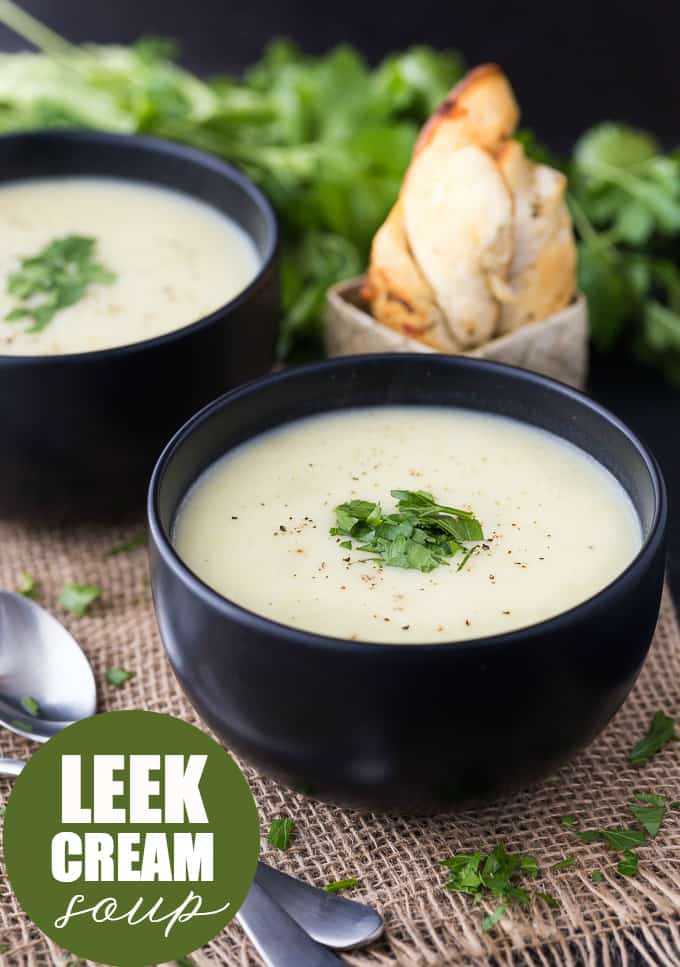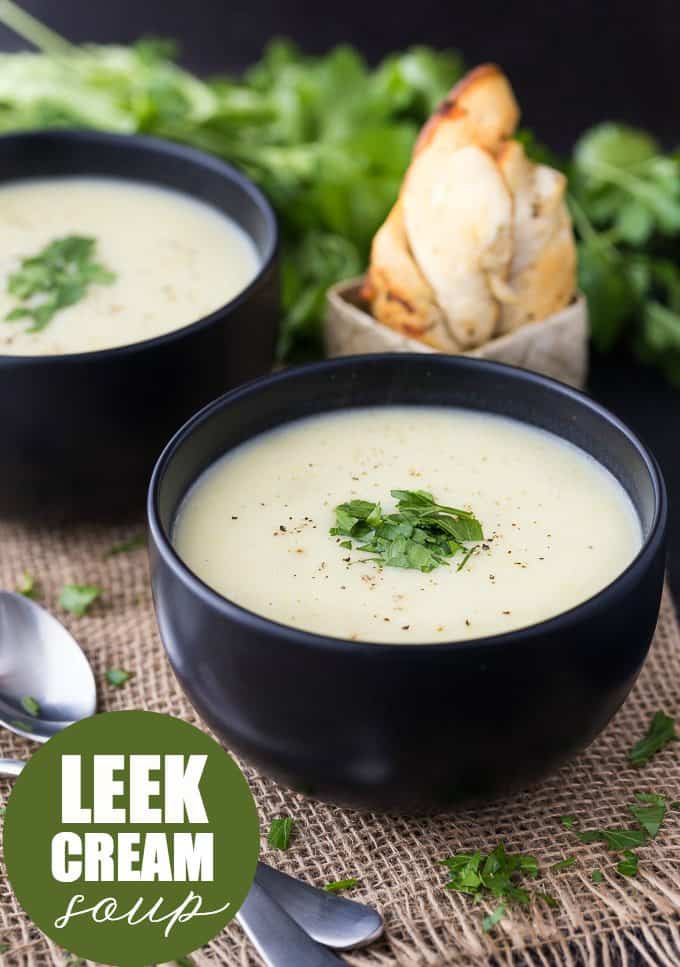 Can Potato Leek Soup Be Frozen
Yes, you can freeze this potato leek soup easily. Just allow the soup to cool a bit and then pour into containers that are freezer safe. Make sure to leave room at the top as it will expand when it freezes.
I have even frozen this in single serve containers and use this for meal prepping for quick lunches or even dinner. Then the night before you want to eat this soup, simply thaw in the fridge the night before.
What is the Best Way to Clean Leeks
Start by rinsing your leeks in cold water to help remove any dirt that is stuck on the leeks.
Dry with a paper towel.
Then remove the dark green leaves on the end and discard them.
Next, thinly slice all the areas of the leeks that are a lighter green color.
Once you have your leeks cut, soak in cold water to once again rinse away any lingering particles on the leeks.


Can You Double or Triple Leek Soup
Yes, you can. Just make sure you have a larger pot to hold the larger batch of leek soup. Then whip up as much soup as you would like to serve your family or guests.
Can I Make This Leek Soup Vegetarian
Simply use a vegetable broth in replace of chicken and you will have a vegetarian soup! So simple and it will barely change the flavor of the soup. I have used vegetable broth in the past and it was very tasty.
How To Make Leek Soup
Start by adding your oil in the pot with the onions, and cook until tender and fragrant. Then toss in your clean and chopped leeks.
Once the leeks have tender you will want to remove the pan from the heat and add in the flour. Stir constantly and make sure the flour is well mixed. When it is combined, place it back on the heat.
Add in your broth, and mix it well, and work out any of the lumps. Bring the mixture to a boil, and then pour in your cubed potatoes. Cook for 15-20 minutes or until the potatoes are cooked through.
Then grab your emulsion blender and work over the soup until nice and smooth.
Lastly, you want to add in your milk and stir, keep it on low heat, you do not want it to boil. Then toss in your parsley and serve.
What To Serve With Leek Potato Soup
In our home, we love serving our leek potato soup next to garlic bread, breadsticks, or even hot dinner rolls. Dip and enjoy the delicious flavors. Or if you want to stick to light reach for a crisp chopped salad.
Toppings for Leek Soup
Feel free to add a drizzle of cream or even milk over the soup for an even creamier texture and flavor.
How Long Will Leek Soup Last in Fridge
You can keep this soup in the refrigerator for around 3-4 days before you will need to toss it out. I just place it in an airtight container. Then just warm it up in the microwave or on the stovetop when I go to heat up a bowl.
Feel free to grab single serve containers and place them in the fridge for a quick lunch option. I have even eaten this soup chilled and found it to be a really tasty soup cold. But if you prefer it heated up, go for it.
Have you ever tried Leek Soup?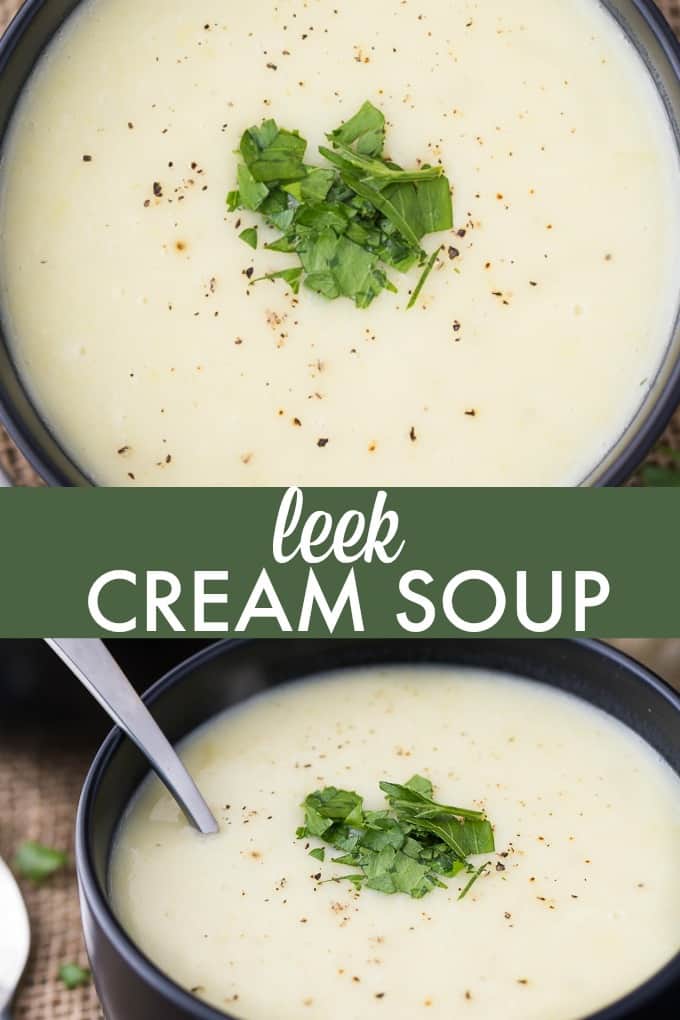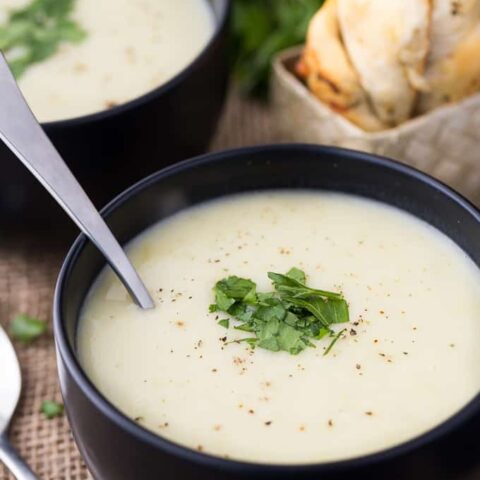 Leek Cream Soup
The perfect lunch soup! This smooth and creamy vegetable soup recipe is super light and full of flavor.
Ingredients
3 Leeks that have been washed and chopped into medium sized pieces.
1 Potato, peeled, washed and cut into small cubes
1 onion chopped
1 Cup of fat free, skimmed or whole milk
4 Cups of chicken broth
¼ Cup of white flour
2 Tablespoons of olive oil
Instructions
Take a heavy-based saucepan and put it over medium heat. When the pan is slightly hot, add olive oil into it and then put in the onion. Cook until tender then add leeks. Cook for few extra minutes.
Once the leeks are nice and tender, take the pan off the heat and add the flour to it; making sure that you constantly stir it so that it doesn't stick to the base of the pan. Once you have evenly mixed the flour, put the pan back on the stove.
Add in the chicken broth and mix it well so that you are sure that there are no lumps in the mixture. Let it come to a nice boil.
After the mixture starts to boil a little bit, add the cut cubes of potato. Let everything cook for another 15 – 20 minutes or until the cut potatoes are also tender.
With the help of your mixer, mix the soup until it is smooth.
Add in the milk and stir. Don't bring it to boil.
Towards the end, add a hint of chopped parsley (or any other herb you desire) and serve it hot with buns, breadsticks or garlic bread slices. If you don't mind the extra calories you can replace the milk with cream . If you want to keep the calorie count lower, the soup is still delicious with the milk.
Notes
Tip for the leeks: I start by trimming off the darkest portions of the leaves until I reach the whitish green part. Then I trim off the root end! I remove any damaged leaves. I cut lengthwise and rinse under cold water, making sure to unfold the leaves!
Recommended Products
As an Amazon Associate and member of other affiliate programs, I earn from qualifying purchases.
Nutrition Information:
Yield:

6
Serving Size:

1
Amount Per Serving:
Calories:

141
Total Fat:

6g
Saturated Fat:

1g
Trans Fat:

0g
Unsaturated Fat:

4g
Cholesterol:

7mg
Sodium:

643mg
Carbohydrates:

18g
Fiber:

1g
Sugar:

5g
Protein:

4g