Dessert Grilled Cheese Sandwiches are the perfect way to end a meal. Mascarpone cheese, mixed berries, a drizzle of honey, smashed in between two slices of country-style bread. Grab that napkin and dive into these Mascarpone cheese grilled cheese sandwiches.
This post contains affiliate links.
I picked up a Breville Panini Press. I'm loving it so far! There was a few recipes in the instructions booklet that came with it and I found one for Crisp Berry & Mascarpone Sandwiches that looked easy enough to make. It contains only a handful of ingredients and none too exotic that my grocery store would not carry.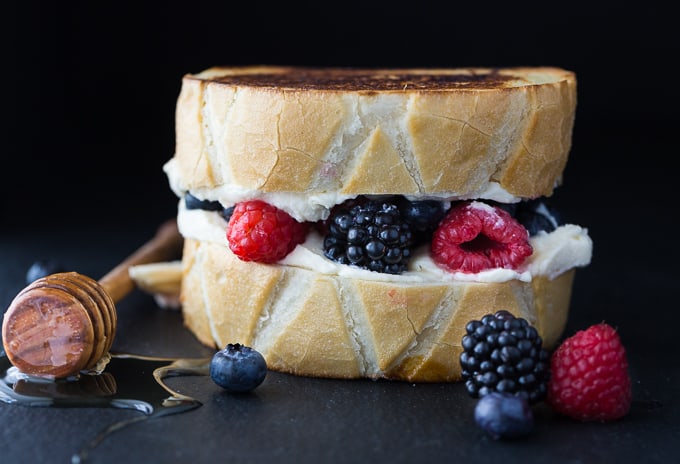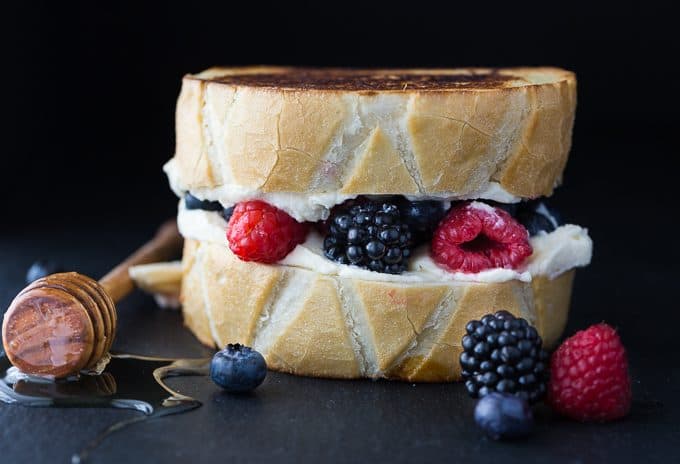 Dessert Grilled Cheese
These berry grilled cheese offer a hint of sweetness from the berries and honey and loads of creaminess from the Mascarpone cheese. I am telling you, these are such an incredible treat, I have made them over and over again.
Did you Butter the Bread for Dessert Grilled Cheese
I made my grilled cheese in a Panini Press so I did not use butter. If you are making this on a skillet feel free to slab on a little butter to the outside of the bread. It will add even more flavor to the sandwich and offer a crispy texture to the bread.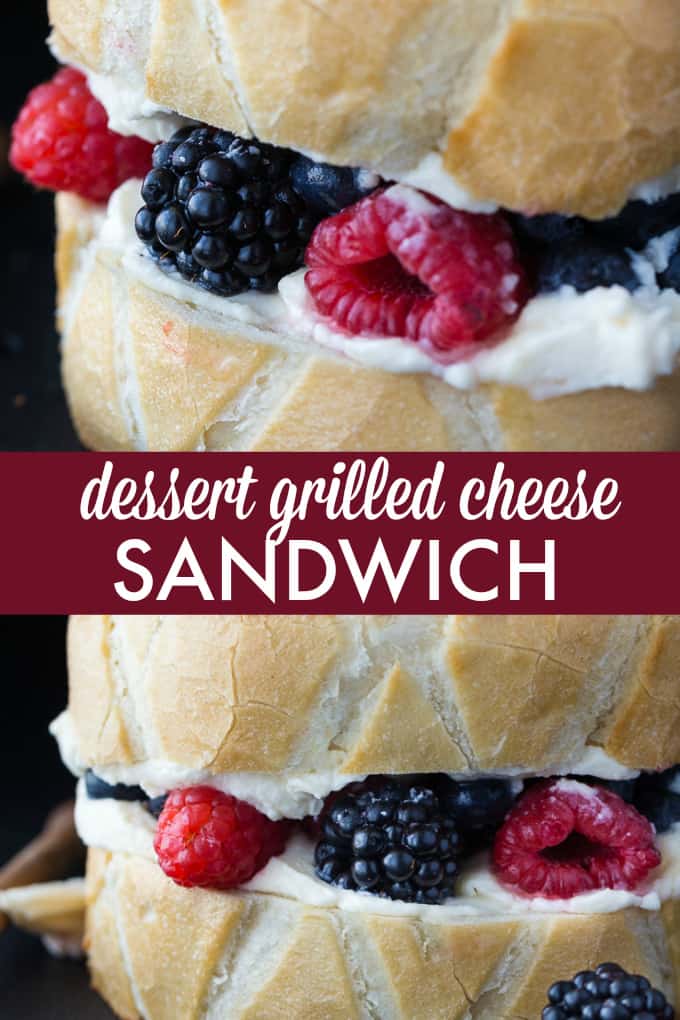 Variations to Dessert Grilled Cheese Sandwiches
Change up the berries used to add different flavors to the sandwiches
Add in pieces of chocolate for added sweetness. If you do this skip out on the honey.
Change up the bread to fit what you have, or even reach for a bagel or croissant for even more incredible texture and flavor.
Add in some slivered almonds for crunch
Zest of orange or lemon peel
What If I Don't Own a Panini Press
No fear, you can easily use a pan to make this dessert grilled cheese. I recommend reaching for a non-stick pan, if you don't own one make sure to butter the bread to prevent it from sticking in the pan.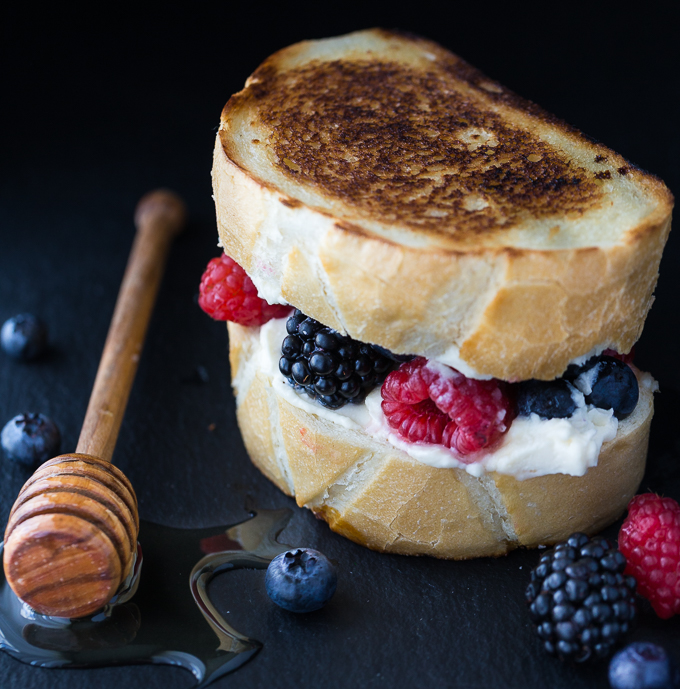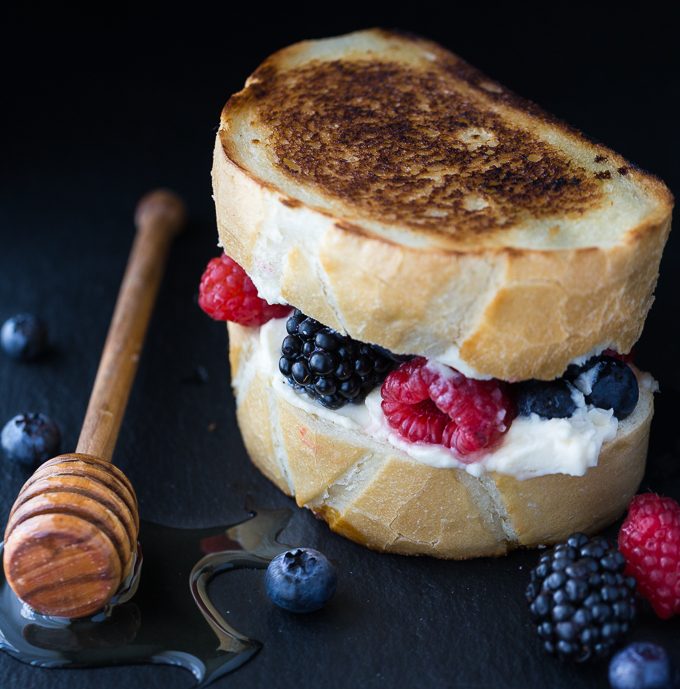 Can I Substitute Mascarpone Cheese in Dessert Grilled Cheese
If you don't have Mascarpone cheese on hand you could swap it with cream cheese. It will be different in flavor or texture, but it will pair nicely with the fruit and bread.
How to Make Dessert Grilled Cheese Sandwiches
Start by warming up your Panini Press or skillet. You want to warm it over medium heat.
Then take your bread slices and spread the cheese over one side of the bread. Lay it in the press or pan and top with berries and drizzle with honey. Then place the second piece of bread on top to make a sandwich.
Cook until it is nice and golden brown, and warmed all the way through. It is okay if some of the filling oozes out a bit.
Allow to cool slightly before biting into it.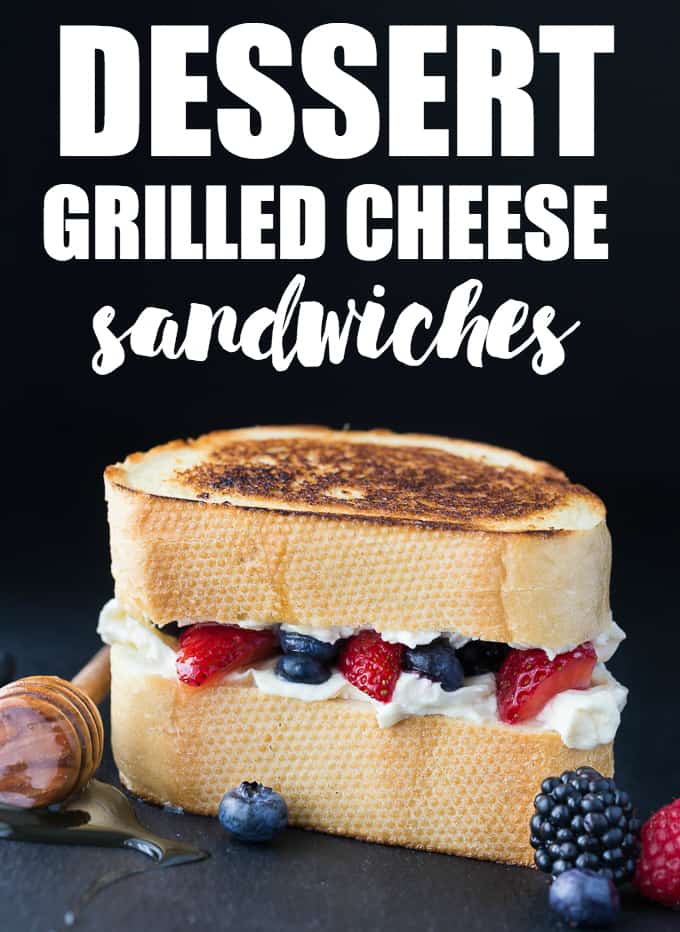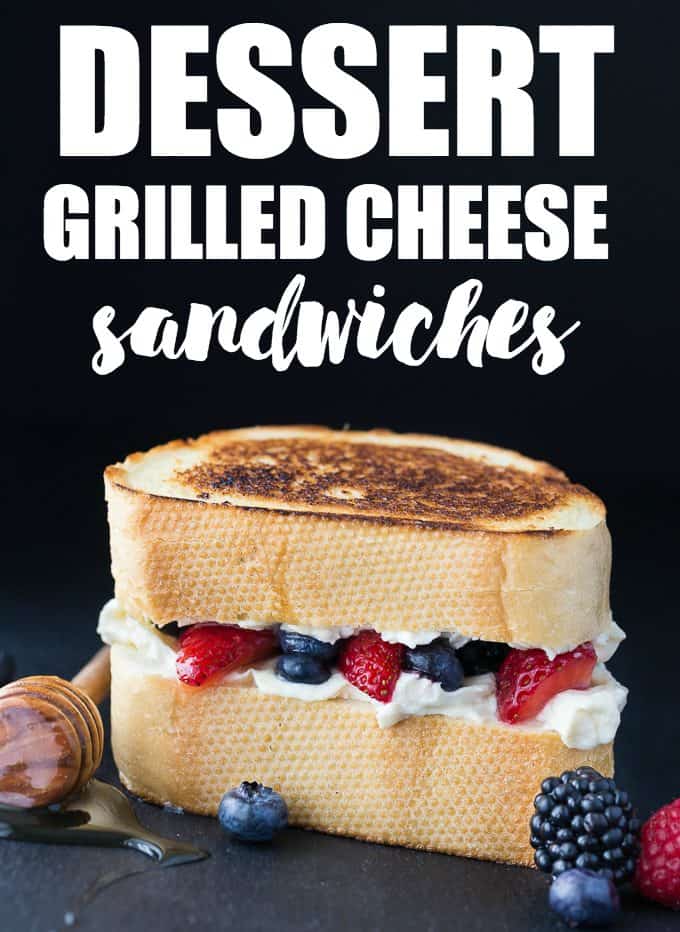 Even More Grilled Cheese Variations
Honey Banana Grilled Cheese | Another one of my favorites is this banana grilled cheese. I use mascarpone cheese in it as well to give it that silky smooth creaminess that is unbeatable. The bananas get warmed up a bit and it is perfection.
Caramel Apple Grilled Cheese | This particular grilled cheese is fantastic to make in the fall and winter. You have those vibrant flavors that scream fall. Plus the apples are nice and tender and gives you a feel like you are enjoying a slice of pie.
Blueberry Brie Grilled Cheese | You will swoon over this brie blueberry grilled cheese. It is bursting with creamy cheese and the blueberries are vibrant and delicious. Every bite feels like an incredible dessert. Best part it takes minimal time to prepare.
Do Dessert Grilled Cheese Refrigerate Well
Unfortunately, not so much. You will find that these grilled cheese will sog up after they are refrigerated. I generally only make what I know we will eat. If you do have leftovers you can place them in the fridge. But know it won't be as crisp, and you will want to eat it cold vs warming it up in the microwave.
When to Serve Dessert Grilled Cheese Sandwiches
You can serve these grilled cheese sandwiches anytime. I have made them for an after school snack for my daughter, midnight treat for myself, or even as a dessert for when guests came over. You could even make these and slice up as little appetizers for guests at a party. Just try and serve them shortly after you make them, so they are crispy on the bread portion.
If you have never tried a Dessert Grilled Cheese, you will want to pick up the ingredients and give this dessert sandwich a try. I don't think you will be disappointed at all. If you love the ingredients you will enjoy the combination.
Have you ever tried a Dessert Grilled Cheese Sandwich?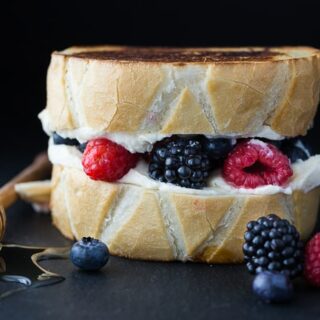 Dessert Grilled Cheese Sandwiches
This dessert grilled cheese sandwich is filled with creamy mascarpone cheese, fresh sweet berries and a drizzle of honey.
Ingredients
1/4 cup of Mascarpone cheese
4 slices of Country style bread
1/2 cup mixed berries (I used raspberries, strawberries, blueberries, blackberries)
1 tbsp. honey
Instructions
Pre-heat your Panini grill or frying pan over medium heat.
Spread cheese over bread slices. Top with berries and drizzle with honey to make 2 sandwiches.
Cook until golden, crisp and heated through (about 8 minutes). If you don't have a non-stick pan use butter or cooking spray to grease your pan before putting the sandwiches in.
Recommended Products
As an Amazon Associate and member of other affiliate programs, I earn from qualifying purchases.
Nutrition Information:
Yield:

2
Serving Size:

1
Amount Per Serving:
Calories:

333
Total Fat:

26g
Saturated Fat:

15g
Trans Fat:

0g
Unsaturated Fat:

8g
Cholesterol:

76mg
Sodium:

320mg
Carbohydrates:

22g
Fiber:

2g
Sugar:

13g
Protein:

4g