Devilish Eggs are sinfully good and loaded with ingredients that set them apart from other deviled egg recipes. A mayo and sour cream base with Dijon mustard for a little kick, and ham and green onions to boot. Trust me, these devilish eggs will satisfy your cravings real quick.
I love the classic Deviled Egg, but I was craving more. More flavor, variety, and something that would knock my socks off. I decided to try a different recipe that I discovered on theBetter Homes & Gardens Recipes app. This recipe does not have paprika! These are not your ordinary deviled eggs, and I couldn't be more glad!
Devilish Eggs
Devilish Eggs would be great to bring to potlucks, summer cookouts, family reunions, make for your weekend entertaining or just as a snack to break up the week. I have made these so many times now, I almost prefer it over the classic recipes!
Don't box these deviled eggs into just the holidays, make sure you use them for any other occasion you can think of. I have made these just because and they are a fabulous 2 pm pick me up treat!
How Far Ahead Can Deviled Eggs Be Made
You can make these up to 24 hours in advance. Just follow the directions below, fill your eggs, and then cover and store in the refrigerator until you are ready to serve. Or if you want a fresher filling, just cook the eggs ahead of time, and then mix up your base and fill the eggs as you go.
I find they are a great make-ahead appetizer that allows you to put your focus on other dishes and have this tucked in the fridge ready to go.
What Goes Well with Deviled Eggs
Deviled Eggs tend to be an appetizer or picnic food. If you are using as an appetizer pair with any other tasty appetizer you like. Or if it is more for picnic pair with your favorite picnic sides. Baked beans, coleslaw, potato salad, chips, etc.
More Appetizers to Pair Next to Devilish Eggs
Can I Substitute Miracle Whip for Mayonnaise
You are welcome to substitute miracle whip for mayonnaise in these Devilish Eggs if you prefer. It will alter the flavor, but if you prefer Miracle Whip, go for it. You are also welcome to sub it for any other brand or style of mayo to fit your dietary needs.
How Do You Hard Boil Eggs So They Peel Easily?
Place eggs in a pan and fill with water to ensure the water covers the eggs. Turn the stove on high and let the water come to a rolling boil. Once it does lower the heat to a simmer, add in a splash of vinegar (1 teaspoon) and cover and let it sit for 12-13 minutes. Then transfer into an ice water bath and let it cool for 3-5 minutes. Then crack and peel with ease.
How Do You Make Devilish Eggs
Start by making some hard boiled eggs. Then half the eggs and remove the yolks and place them in a bowl, and put whites on a plate or platter.
Then in the bowl with yolks add in your sour cream, mayo, mustard and stir until nice and creamy. Then stir in your diced ham and green onions, Season with salt and pepper to taste.
Then spoon or pipe your yolk mixture into the egg whites.
How Long Will Deviled Eggs Keep
Once you make your eggs you will want to eat them all up within 3-4 days. Never leave your eggs out at room temperature for more than two hours, bacteria can begin to grow. If that happens toss out any that are left.
Can You Add Cheese To Ham Deviled Eggs
Yes, you are welcome to add in some finely shredded cheese if you want a ham and cheese take. That would be a tasty variation. I would reach for a Monterey Jack, Swiss, or even a Pepper Jack.
Can I Double or Triple This Recipe
Absolutely! Just follow the directions and double or triple the ingredients and make as many Deviled Eggs as you would like. Remember for each dozen eggs it will make 24 appetizers to serve your guests.
Delicious Cold Appetizer
I am a huge fan of appetizers that are easy to make and then you can store in the fridge until ready to serve. The best part is it is a very affordable cold appetizer that you can whip up to feed a crowd.
You'll also love these Salsa Deviled Eggs or Bacon Ranch Deviled Eggs.
Have you ever tried Devilish Eggs?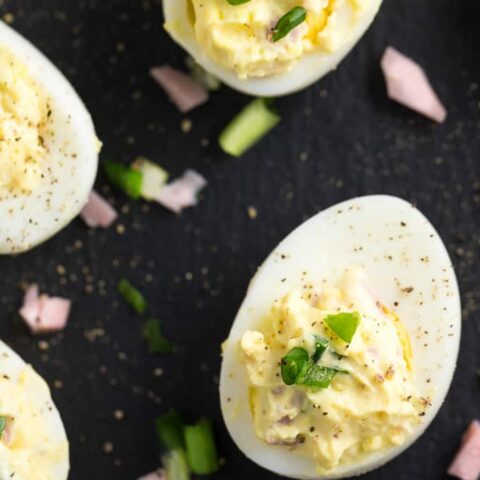 Devilish Eggs
Not your ordinary deviled egg recipe. This easy appetizer has Dijon mustard, ham and NO paprika!
Ingredients
12 hard boiled eggs
1/4 cup mayonnaise
2 tbsp. sour cream
1 1/2 tsp. Dijon mustard
1/4 cup cooked ham, finely chopped
1 green onion, finely chopped
salt & pepper
Instructions
Halve the hard boiled eggs lengthwise and remove the yolks. Set the whites aside. Put the yolks in a bowl and add mayonnaise, sour cream and mustard. Stir to combine.
Stir in ham and green onions. Season with salt and pepper.
Stuff yolk mixture in each egg white. Cover and chill until ready to serve.
Recommended Products
As an Amazon Associate and member of other affiliate programs, I earn from qualifying purchases.
Nutrition Information:
Yield:

12
Serving Size:

1
Amount Per Serving:
Calories:

117
Total Fat:

9g
Saturated Fat:

2g
Trans Fat:

0g
Unsaturated Fat:

6g
Cholesterol:

191mg
Sodium:

161mg
Carbohydrates:

1g
Fiber:

0g
Sugar:

1g
Protein:

7g