Slow Cooker Pulled Pork is so simple to prepare and an instant family favorite dinner. Tender and juicy pulled pork that is seasoned just right. Pile on a bun or create loaded baked potatoes. However you serve this pulled pork recipe, you will enjoy it.
When I worked outside of the home, I used my slow cooker a lot. It was always so nice to come home and have dinner waiting. This past summer when I was desperate to keep the house cool, I found myself using it again and haven't really stopped. Meats are so succulent and tender after being slow cooked, and my Slow Cooker Pulled Pork is one such recipe.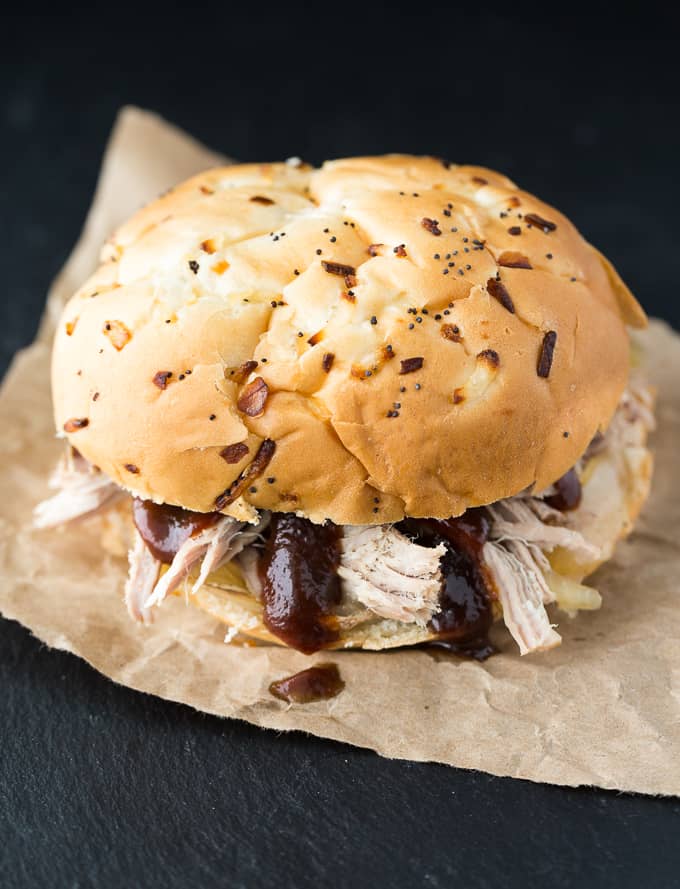 Slow Cooker Pulled Pork
This meal is perfect for any night of the week and is a Sunday game day favorite at my house. Pair with your favorite sides and dive right in.
My grocery store seems to have Boston butt, which is a pork shoulder cut, on sale every few weeks. I keep an eye out for when it's down to $2.50 a pound and grab a few. Then toss in the freezer and use later for this recipe.
What Is the Best Cut Of Meat for Pulled Pork
Pork Shoulder
Boston Butt
Picnic Shoulder
Top Loin (for a leaner cut)
Any of these work great. Since you are using your crockpot for pulled pork, it will also help tenderize other cuts of meat to still offer that tender and juicy texture.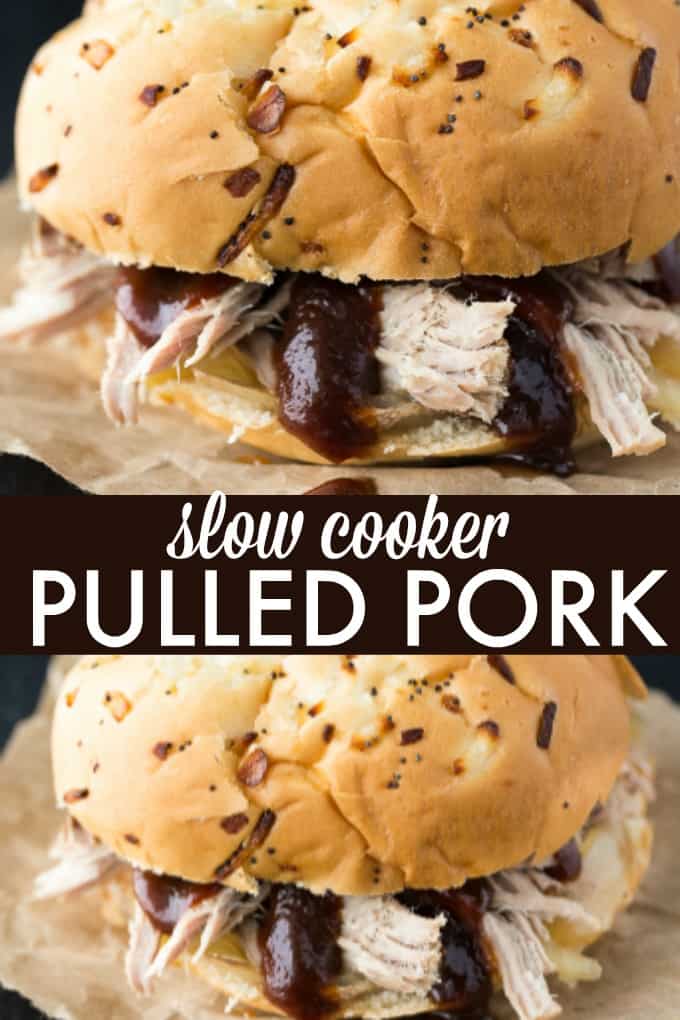 How to Make Slow Cooker Pulled Pork
First, you want to start by placing a layer of onions in the bottom of your slow cooker. This will offer moisture and flavor to the pork.
Then season your pork with salt (try copycat Lawry's seasoned salt) and pepper and then insert cloves of garlic into slits you make.
Place the pork in the crockpot and top with the remaining onions, and add in your broth or water.
Cook on low 8-10 hours. Then remove meat and allow to cool.
Shred the meat, and then serve how you desire.
How Long Do You Cook Pulled Pork
For this recipe since in the slow cooker you will cook anywhere from 8 hours up to 10 hours. You want your pork to get nice and tender so when you go to shred it, it pulls apart easily. You also want to ensure the temperature reads 190 degrees internally to ensure the pork is fully cooked.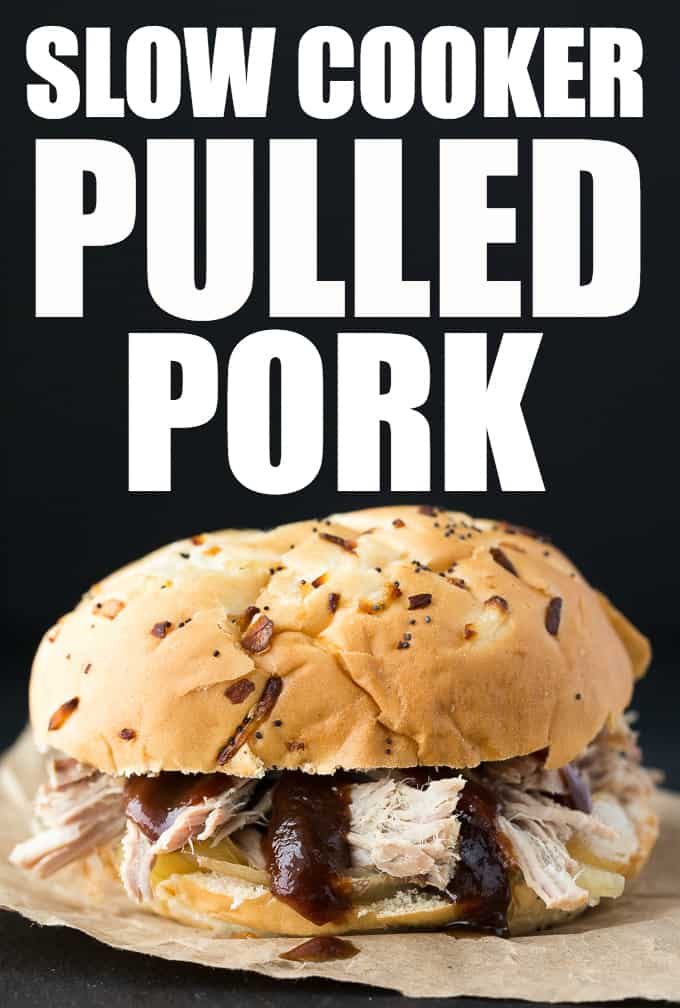 Reasons to Love this Crockpot Pulled Pork Recipe
Quick Prep | Literally minutes to prep, toss in the crockpot and turn it on. No fuss, no monitoring as it cooks.
Flavor | This is such a delicious meal, and the flavor is spot on.
Serves A Lot | Pulled pork serves a lot, so you can have a handful of people over and have enough to serve everyone.
Variety | You will find you can serve this pulled pork in a variety of ways. Plus you can dress up leftovers so it doesn't feel like you are eating the same meal over and over again.
How to Serve Pulled Pork
The biggest thing I love about pulled pork is you can dress it up in so many way. Let me share a few of my favorite ways to serve up this juicy pork.
Buns with a top of coleslaw and drizzle of bbq sauce.
Make loaded fries with cheese, green onions, bbq sauce and more.
Pair with a side of rice or cauliflower rice.
Make a grilled cheese with a layer of pulled pork in the center.
Load up a baked potato with all the fixing including your pork.
Can You Overcook Slow Cooker Pulled Pork
Yes, you can. Like any other method of cooking it is a good idea to keep an eye on your pork as it gets closer to being done. Each slow cooker varies in temperature so just monitor it to ensure it doesn't over-cook and dry out.
Best Way to Reheat Pulled Pork
You can easily warm up what you want in the microwave or even on the stove. Just pour in a little broth or water in with your pork to help keep it moisturized as it warms up. Then once warm serve however you would like.
Can You Freeze Pulled Pork
Sure, simply allow the pork to cool down, and then place in an airtight container or even a freezer bag and place your meat in it. Then when you want to serve it, just allow it to thaw in the fridge overnight. Then warm up on the stove with added water or broth to keep it moist or even the microwave.
Sides To Pair With Pulled Pork
Or any other favorite side that sounds tasty!
Easy Pork Recipe
This truly is one easy pork recipe that we have made over and over again. When summer hits and we want to be outdoors this is the perfect recipe to toss in before we head out for our next adventure. Give this recipe a try today.
You will also love Pork Schnitzel, Crockpot Italian Pork Chops, Honey Garlic Pork Chops, Slow Cooker Root Beer Pulled Pork, Slow Cooker Country Style Ribs, Slow Cooker BBQ Pulled Chicken, Slow Cooker Beef Stroganoff, Pork Gyros and Orange Mustard Pork Tenderloin.

Try it with homemade BBQ sauce.
Have you ever made Slow Cooker Pulled Pork?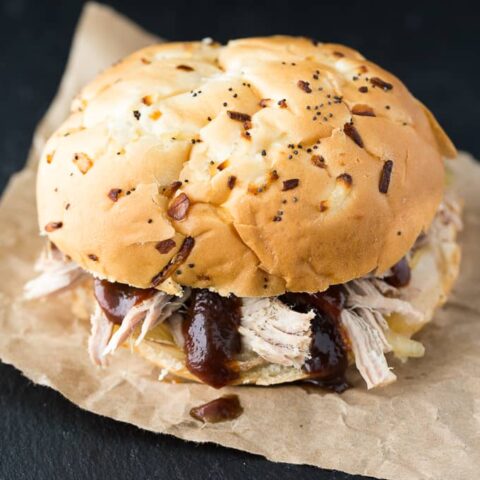 Slow Cooker Pulled Pork
Total Time:
8 hours
10 minutes
You don't need a smoker for juicy pulled pork! Make this barbecue recipe in the Crockpot for sandwiches, baked potatoes, or pork tacos.
Ingredients
3 ½ to 5 pound Boston butt (pork shoulder) roast
8-10 garlic cloves
1 large onion, thinly sliced
2 tablespoons seasoned salt, such as Lawry's
1 tsp black pepper
½ cup low sodium chicken broth or water
Instructions
Sprinkle the onions, in an even layer, into the slow cooker.
Season pork with seasoned salt and pepper. Using a knife cut small slits into the roast, and insert a clove of garlic into each slit.
Place the pork roast in the slow cooker, on top of the onions, and add ½ cup broth or water.
Cover and cook on low for 8 – 10 hours.
Remove meat and let cool. When it's cool enough to handle, shred with 2 forks into bite size pieces.
Serve with buns or rolls, and BBQ sauce if desired. I like to eat mine without sauce, instead with a little shredded cheddar cheese sprinkled on top.
Recommended Products
As an Amazon Associate and member of other affiliate programs, I earn from qualifying purchases.
Nutrition Information:
Yield:

8
Serving Size:

1
Amount Per Serving:
Calories:

18
Total Fat:

0g
Saturated Fat:

0g
Trans Fat:

0g
Unsaturated Fat:

0g
Cholesterol:

0mg
Sodium:

1147mg
Carbohydrates:

4g
Fiber:

1g
Sugar:

1g
Protein:

1g