Brussel Sprouts with Lemon and Pancetta is going to be a delicious side dish that offers a stunning presentation value. Lightly pan-fried brussels sprouts with a citrus splash of lemon and savory pancetta. Great for your weeknight meals or even serving up to guests for dinner.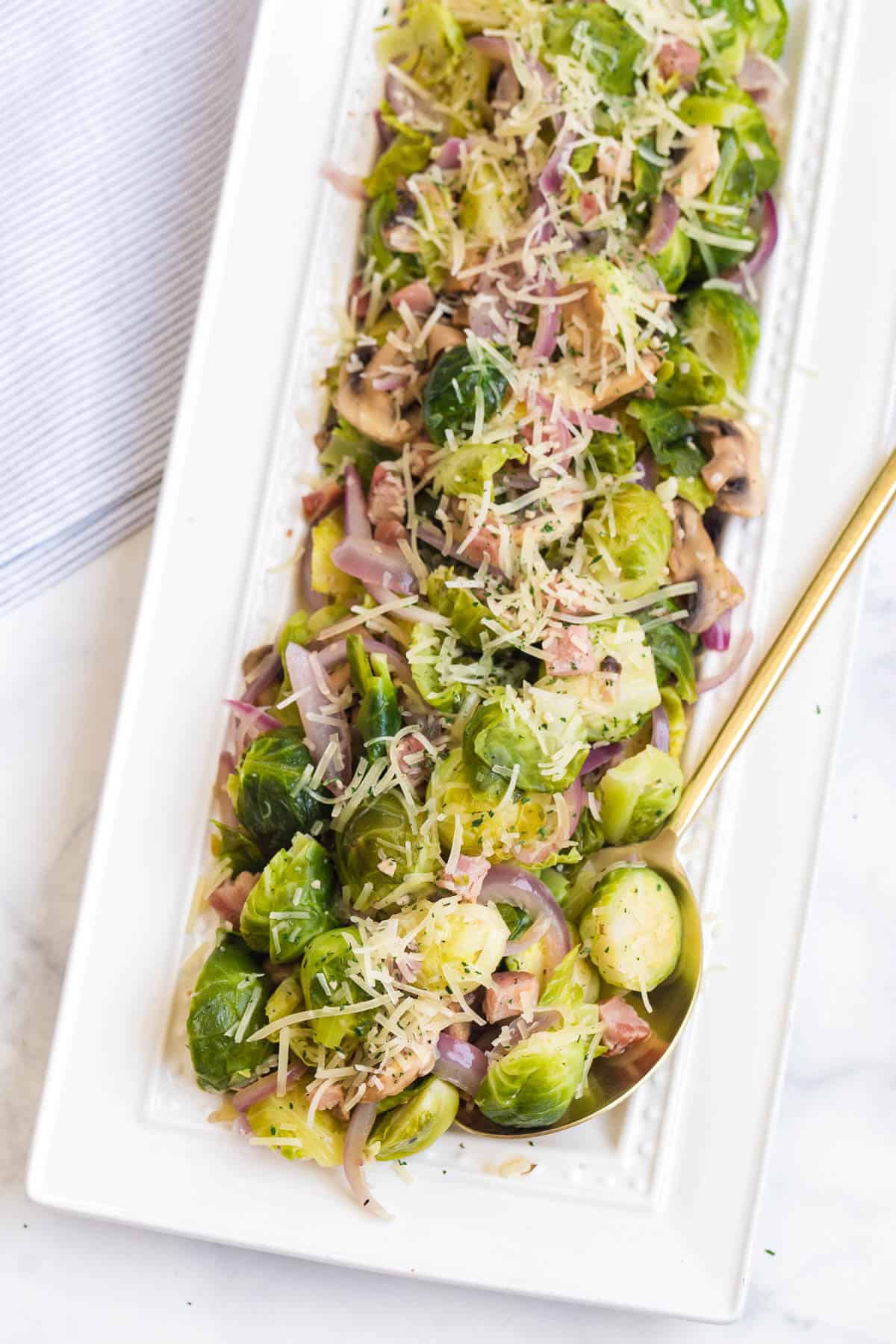 I have a confession to make. I'm 34 years old and I had never tried Brussels sprout until a few months ago. I was an extremely picky eater as a child. I never ate vegetables because I thought they smelled and tasted funny. I absolutely refused to try Brussels sprout. I thought the smell was so gross.
I recently gave them a try, and to my amazement, I love them. I've roasted them in the oven, but my favorite way to eat them is with a little bit of lemon, onion, mushrooms, and pancetta. It's delicious!
I first discovered this recipe on my Better Homes & Gardens recipes app on my iPhone. I modified it a little bit to cut down on preparation time. It takes about a half hour to prepare from start to finish.
What Can I Use in Place of Pancetta in Brussels Sprout Recipe
Not a fan of pancetta, or can't find it at your local grocery store? Here are some variations for the pancetta!
Replace pancetta for diced up pieces of bacon
Or if you want a lighter version use turkey bacon
You could also fully leave out the pancetta and not replace with meat if you want a vegetarian option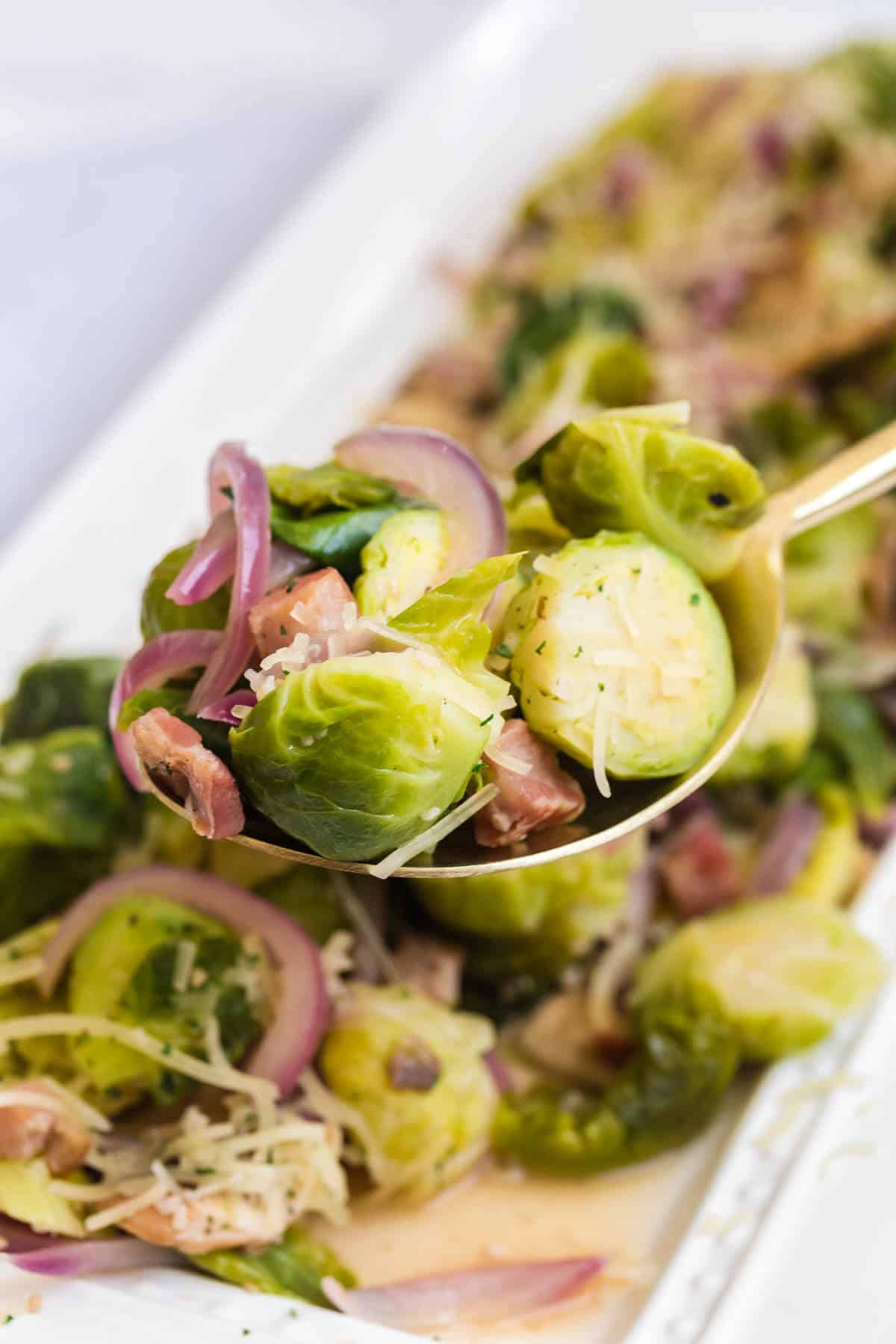 How Do You Trim A Brussels Sprouts
Take your knife and cut off the end of your brussels sprout to help shorten the stem portion. Then remove any wilted or loose leaves you might find. Do this for each sprout. I do recommend after you do this step to rinse your sprouts in water to help remove any residue left on them.
Brussels Sprouts are not necessarily a dirty vegetable, but by rinsing you remove any dust or sediments on the sprouts.
How to Pick Brussels Sprouts
One trick I have found is to look for smaller sprouts. You would think the larger ones would be best, but they offer a more bitter taste. So looking for smaller sprouts will give you a sweeter flavor in the end.
How Do You Know If Brussel Sprouts Are Bad
When you are picking out your brussels sprouts make sure you do not see any discoloration on your sprouts. If you see brown or yellow, that is a sign they are bad or on the verge of going bad. You also want to feel them, if they offer a squishy texture they are not good. You want your sprouts to be firm.
Firm, bright in color, small in size are the top components for finding tasty and fresh sprouts.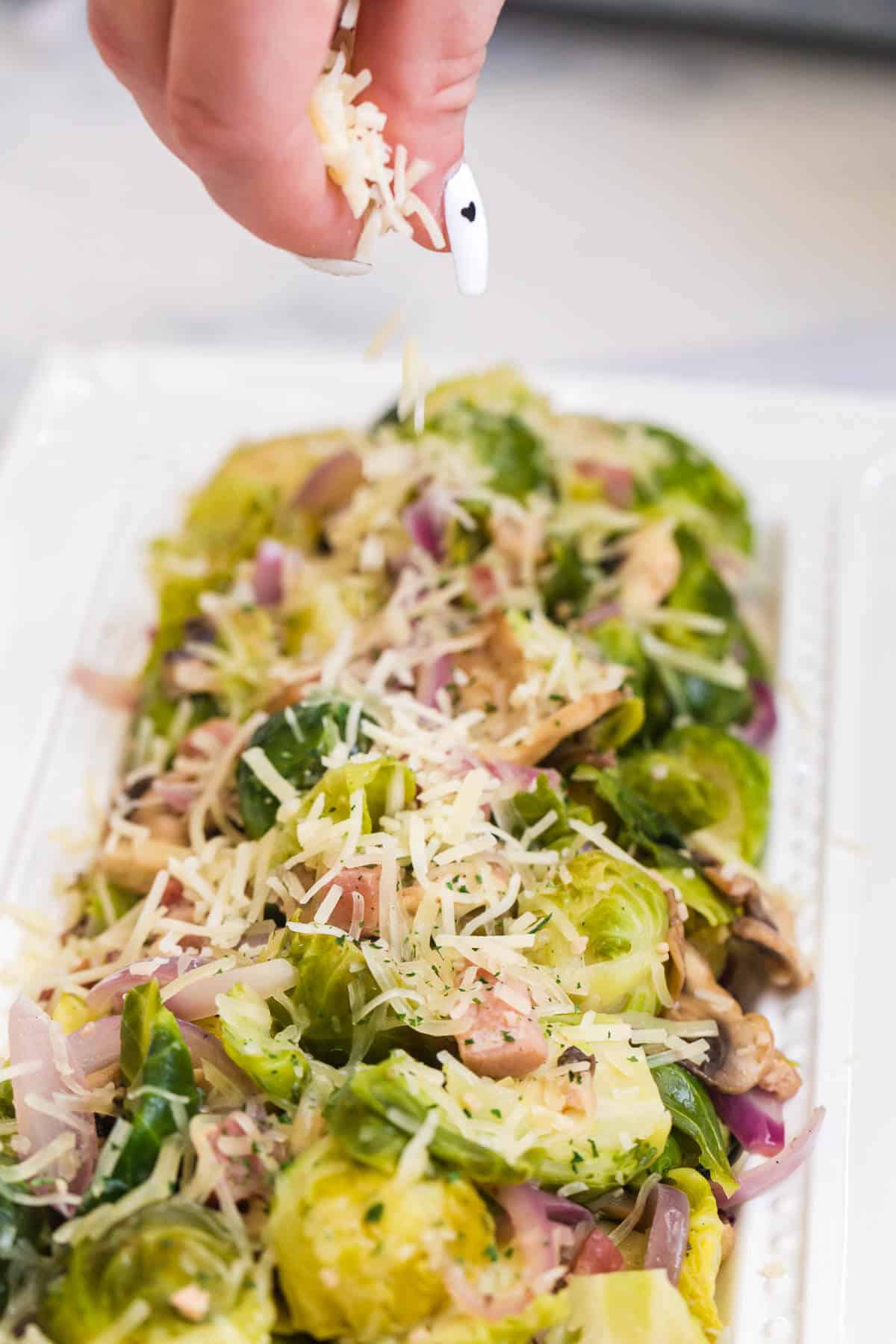 How Do I Take The Bitter Out of Brussels Sprouts
As you can see in my recipe I cook my sprouts in boiling water for around 8 minutes with some salt. This step will help to pull out the bitterness of your sprouts. After you have prepped them and then go to cook, it will help eliminate that bitter you are wanting to stay away from. It will also help to tenderize the sprouts.
Then pan searing them gives it a crispy outside, which is a great taste value.
How Do You Make Brussels Sprout with Lemon & Pancetta
Start by prepping your sprouts by removing any wilted leaves and trimming stems. Then you want to cut them lengthwise in half.
Then in a large pot, add in salt water and cook your Brussels Sprouts for about 8 minutes, and then drain and set aside.
In your skillet add in your pancetta and cook until it is nice and crispy. Then toss in mushrooms, onions, and your garlic, and cook for five minutes to allow the veggies to break down a bit.
Once that is done, toss in your Brussels sprouts, and salt and pepper to taste. Cook for around 6 minutes. Once the sprouts are done, add a drizzle of lemon juice, stir, and then sprinkle on parmesan cheese and serve.
What To Serve With Brussels Sprout with Lemon & Pancetta
Truly this Brussels Sprouts recipe is absolutely versatile. Eat as a main dish, or serve as a side to your favorite main. What I love is it is unique and different in flavor from your basic vegetable side dish recipes.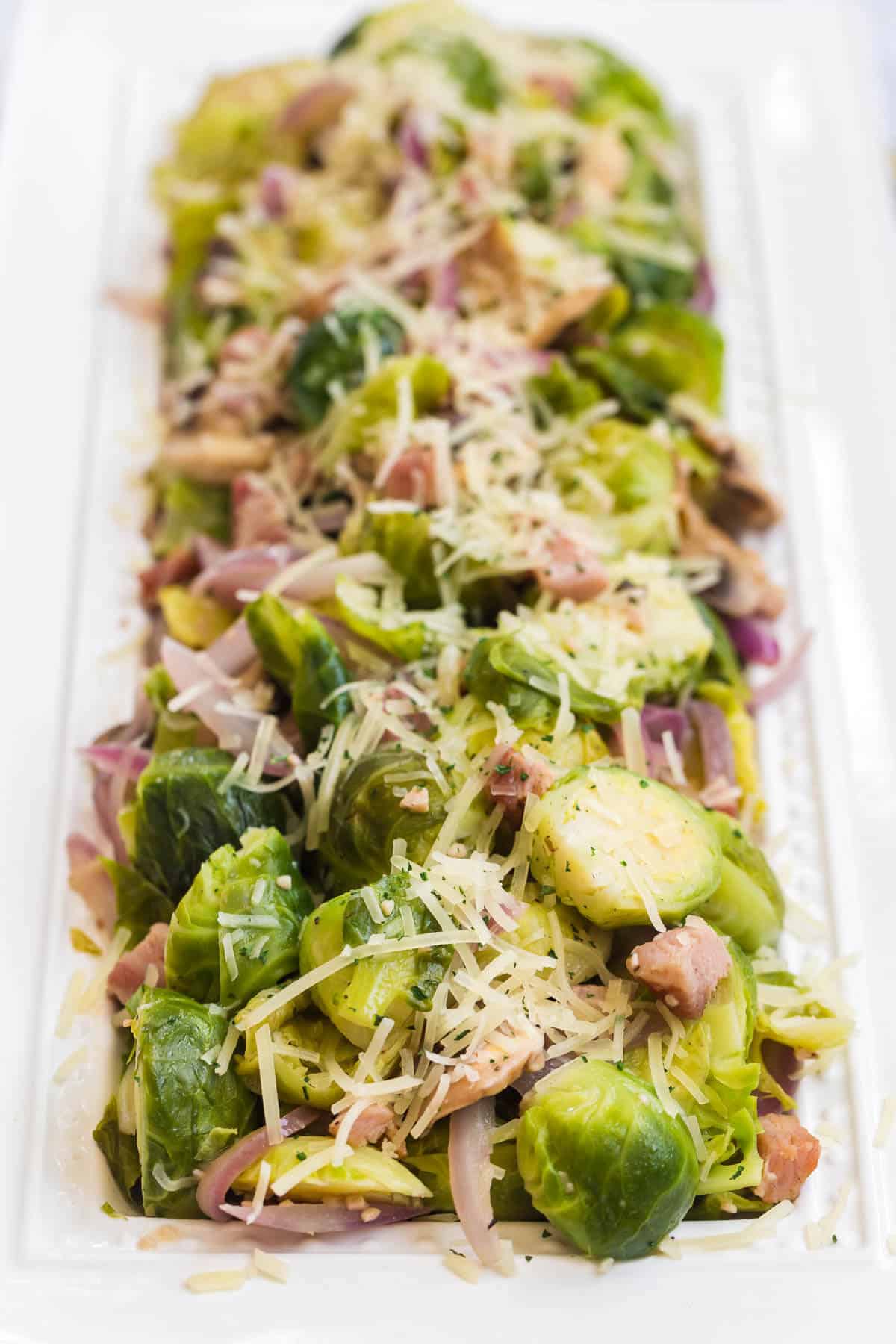 Best Way To Store Leftover Brussels Sprouts
Store in an airtight container in the fridge. They will last 3-4 days before they need to be tossed out. The best way to reheat is microwave or even the stove. If you do the stove add a dash of water to help keep them moist so they don't dry out.
Give this recipe a try today and let me know how you like it!
Have you ever tried Brussels Sprout with Lemon & Pancetta?
Brussels Sprout with Lemon & Pancetta
This simple side is so stunning! Pan-fried Brussels sprouts are mixed with crispy pancetta and zesty lemon for the best dinner party recipe or weeknight side.
Ingredients
2 1⁄2 pounds Brussel sprouts
1 tablespoon extra virgin olive oil
1⁄2 cup pancetta, chopped (or use bacon if pancetta is not available)
2 cups mushrooms, sliced
1 red onion, thinly sliced
2 garlic cloves, minced
Salt & pepper, to taste
2 tablspoons lemon juice
1⁄2 cup Parmesan cheese, shredded
Instructions
Trim stems and remove any wilted leaves on Brussel sprouts. Cut in half lengthwise.
In a large pot, bring salted water to a boil. Add in Brussel sprouts and cook for 8 minutes. Drain and set aside.
In a skillet, heat oil over medium high heat. Add in pancetta and cook until crisp. Add mushrooms, onions and garlic to skillet and cook for 5 minutes.
Add Brussel sprouts, salt & pepper to skillet. Cook and stir for 6 minutes. Remove from heat and add lemon juice. Stir to coat. Sprinkle with cheese and serve.
Recommended Products
As an Amazon Associate and member of other affiliate programs, I earn from qualifying purchases.
Nutrition Information:
Yield:

4
Serving Size:

1
Amount Per Serving:
Calories:

304
Total Fat:

18g
Saturated Fat:

6g
Trans Fat:

0g
Unsaturated Fat:

10g
Cholesterol:

20mg
Sodium:

312mg
Carbohydrates:

28g
Fiber:

9g
Sugar:

8g
Protein:

15g