Orange Mustard Pork Tenderloin is an orange mustard glazed pork tenderloin that is cooked to perfection. Sliceable and full of sweet and savory flavors in every bite.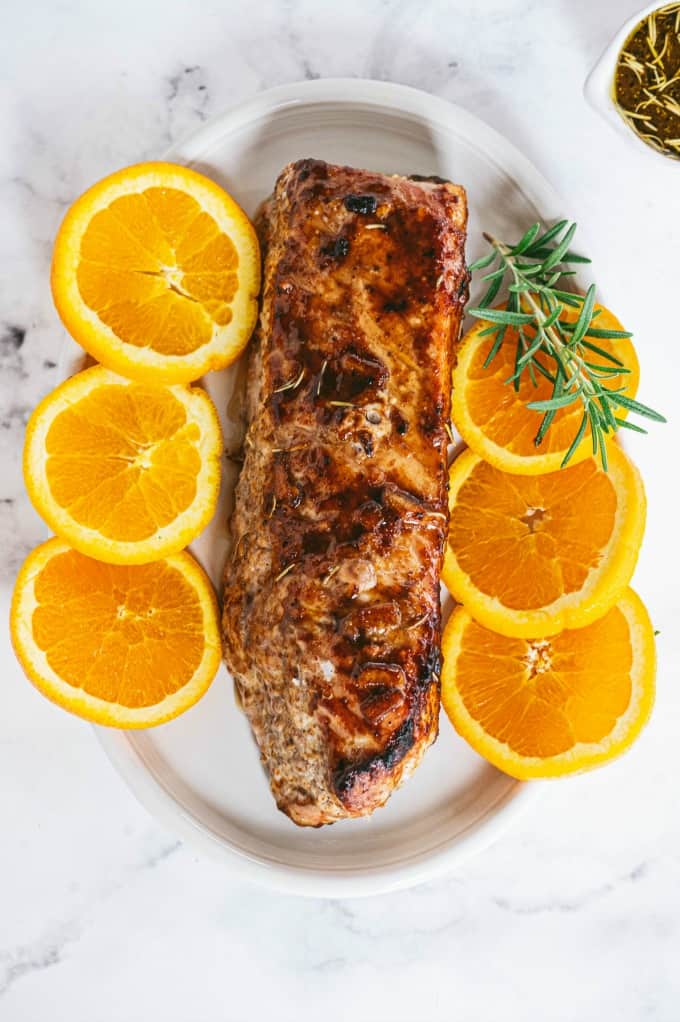 If you are a fan of pork tenderloin this citrus infused recipe is one that you will want to make over and over again. A super easy and satisfying weeknight meal the whole family will get on board with.
Orange Mustard Pork Tenderloin
Hi friends, Heather here visiting from Food Lovin Family. Today I am sharing a family favorite, orange mustard pork tenderloin. It is tender and juicy with amazing citrus flavor and on your table in 40 minutes.
My kids can be picky eaters. As a food blogger I try to expose them to different recipes but most of the time they just want plain chicken, pork or pasta.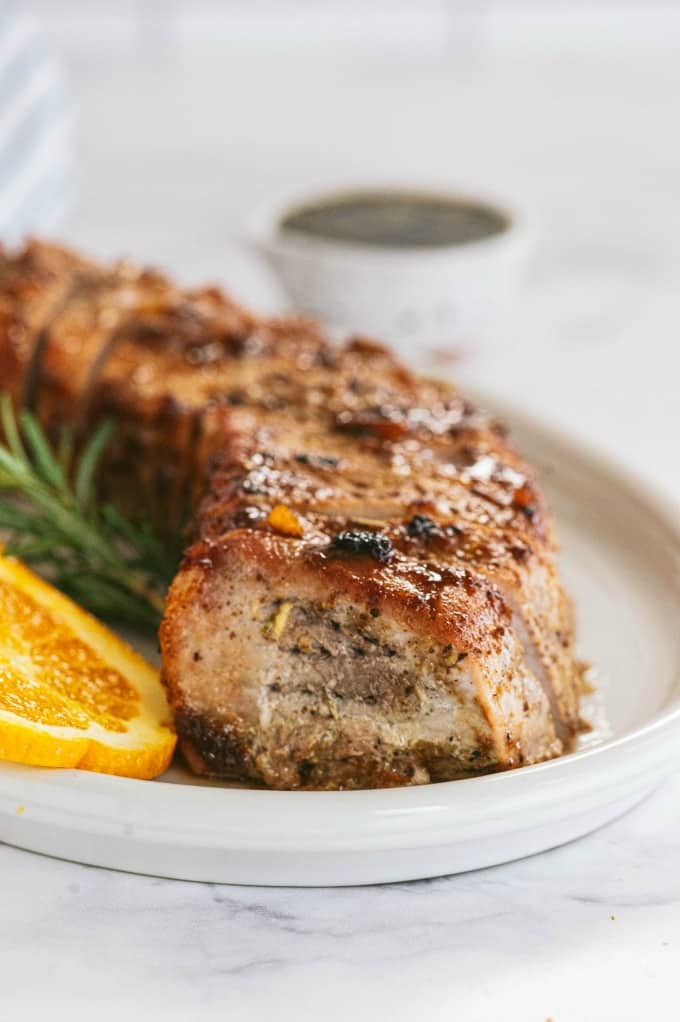 I was getting tired of making them the same thing so several months ago I came up with this orange mustard pork tenderloin for them to try. They ended up loving it and my oldest daughter even said she wanted it for dinner every night!
The best part about this dish is how easy it is to assemble. During the busy school week it is nice to have a dinner that the whole family will love and is quick to make.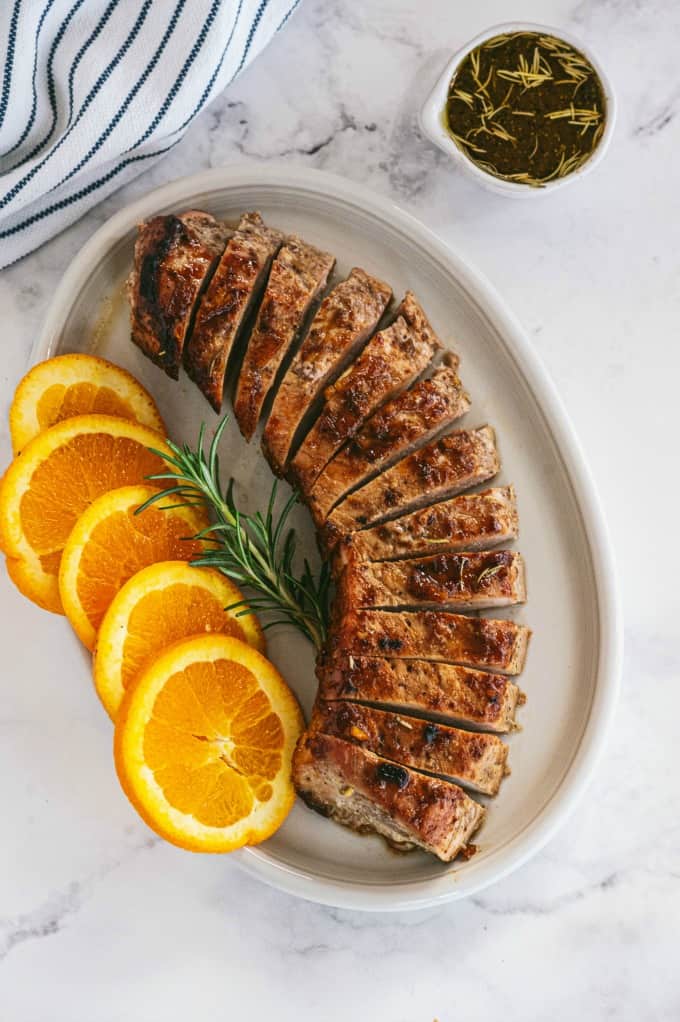 What to Serve with Orange Pork Tenderloin
That is why this orange mustard pork tenderloin has become a regular on our weeknight menu. This meal goes well with a salad, roasted potatoes or even my kids choice, pasta.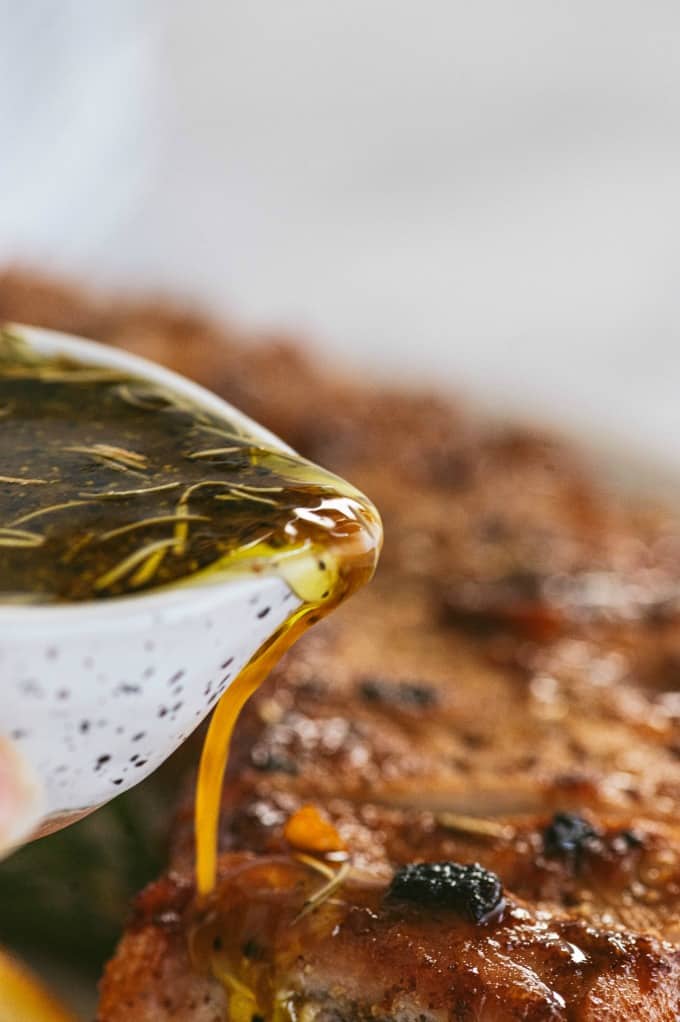 What Do You Need to Make this Tenderloin
I bet you probably have most of the ingredients on hand to make this dish. You will need orange juice, orange marmalade (or honey), soy sauce, grain mustard, olive oil, garlic powder, rosemary and of course the pork tenderloin.
How to Make Orange Mustard Pork Tenderloin
After trimming off any excess fat, place the pork in a shallow baking dish and pierce with a fork. Mix together the remaining ingredients and spoon the mixture over the pork.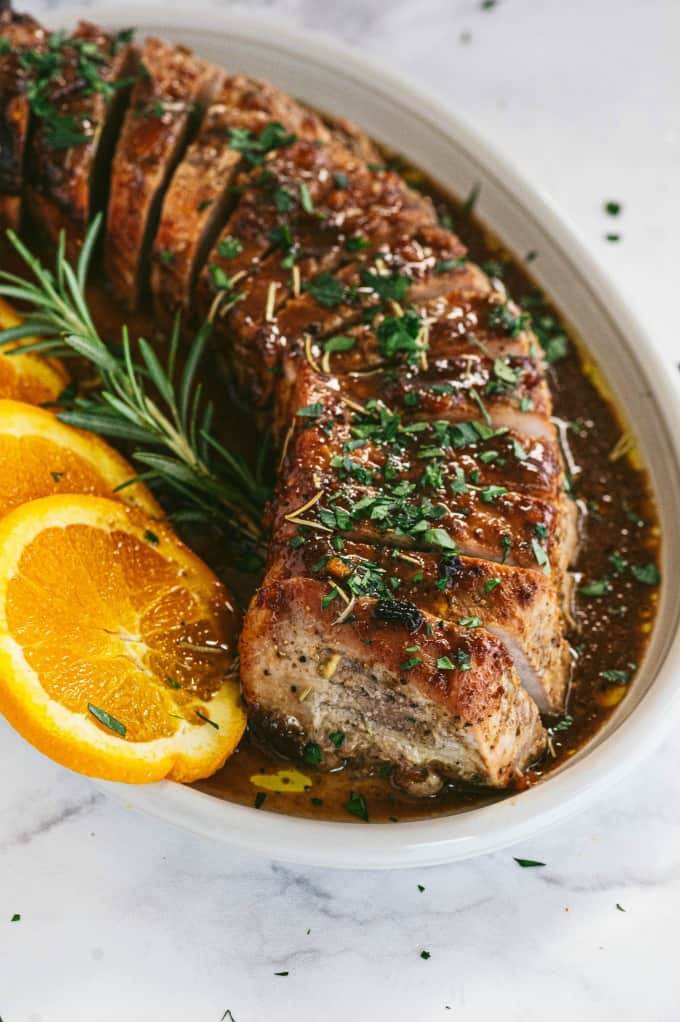 I like to reserve a little of the mixture to spoon over once cooked. Bake for 30 minutes or until the internal temperature is between 140-160 degrees. Let the meat rest for 5 minutes, slice and serve.
Why Do You Let Pork Rest Before Slicing
Allowing your pork to rest will ensure you get a juicy tenderloin. If you go and slice it right after you pull from the oven, it can leak out all the liquid and leave you with a pretty dry tenderloin.
You can add a tent of aluminum foil over your cooked tenderloin to allow it to stay warm as it sits after you cook it.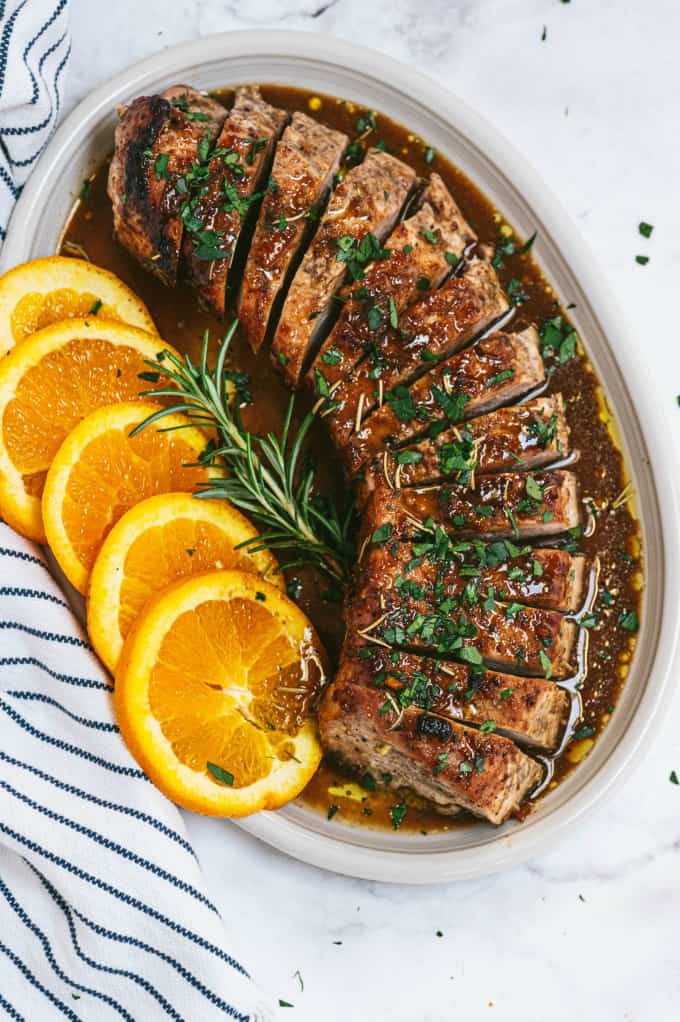 Why is my Pork Dry
One of the biggest complaints with pork is why is it so dry. Most of the time it is simply overcooking your pork. That is why I suggest you reach for a meat thermometer.
Then you can check the internal temperature of your pork. When it is ready to be pulled, remove and allow to sit for five minutes before slicing like I mentioned above.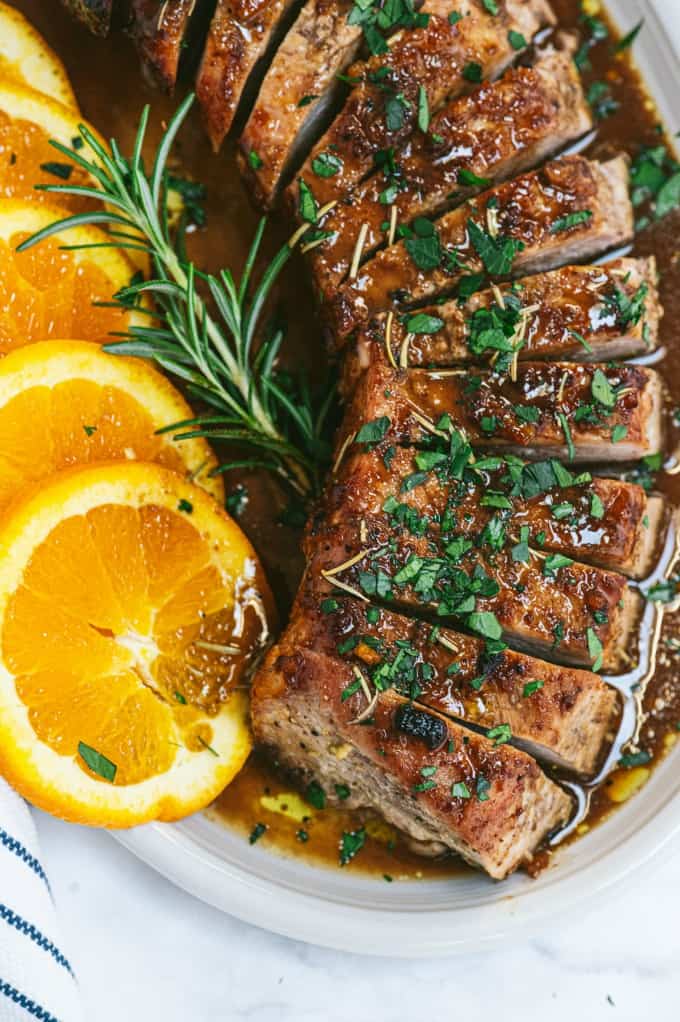 Want More Pork Recipes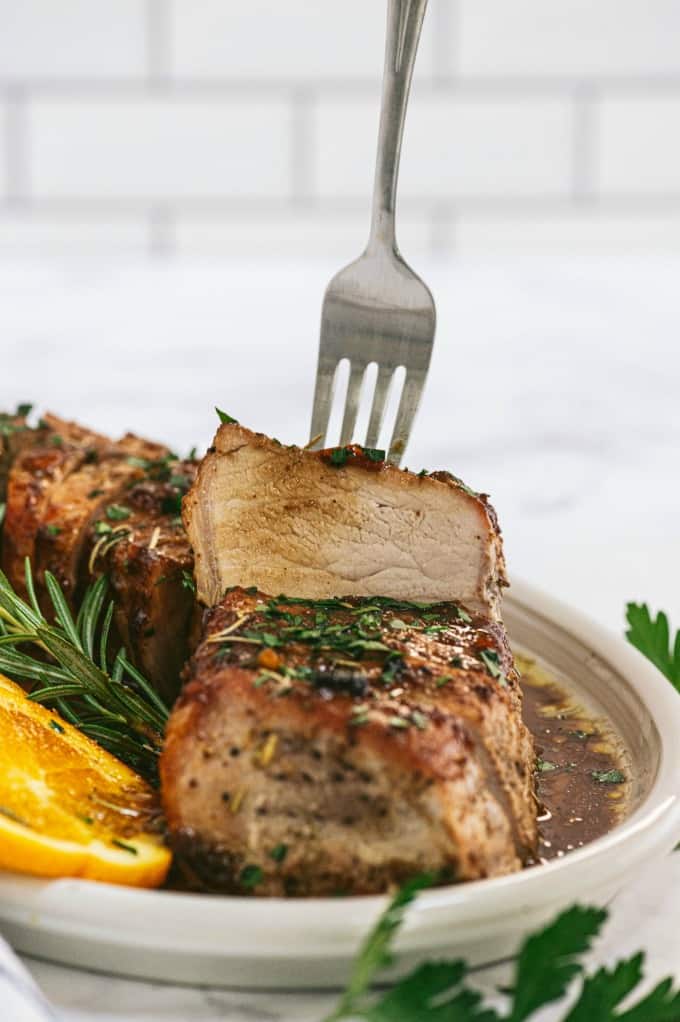 How to Store Leftover Pork Tenderloin
You will want to store your pork tenderloin in a proper container and place in the fridge. I like to push it back a bit on the shelf to ensure it stays the optimal temperature even when the doors open and close.
Then you can reheat in the microwave for a quick reheat. Or you can put some in a skillet with a little water or broth and warm it up that way. You can also reheat in the oven, if you cover it with aluminum foil.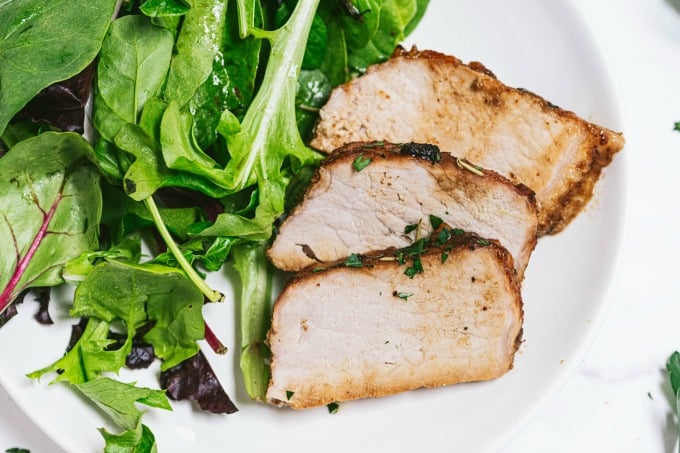 Can You Freeze Pork Tenderloin
If you don't plan to eat all this pork right away, you might consider freezing it. You can use a vacuum seal system if you have one to extend the freezer shelf life.
If you don't have a vacuum seal you can place in a freezer bag. Work at getting as much air out as you can. Or store in a freezer friendly container. This pork will freeze for up to 3 months.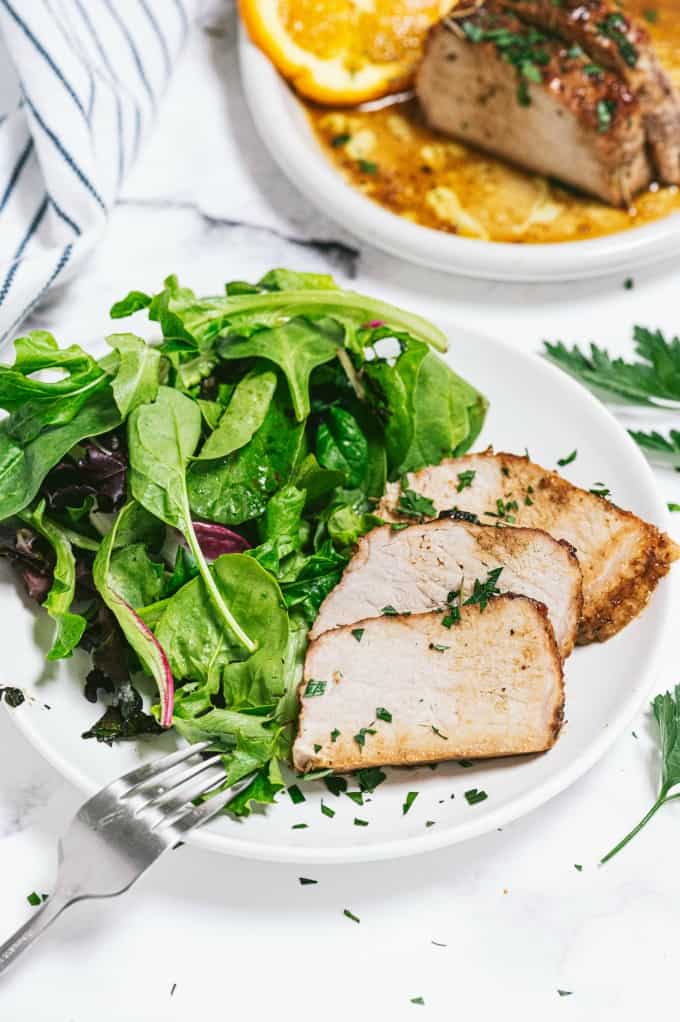 Thaw in the fridge the night before you plan to eat. Or place bag or container in cold water and store in the fridge to help it thaw faster. Then reheat however you choose.
You might also like this Brown Sugar Dijon Pork Tenderloin, Dill Pickle Roast Beef, Honey Glazed Pork Tenderloin or orange extract.
Are you a fan of pork tenderloin?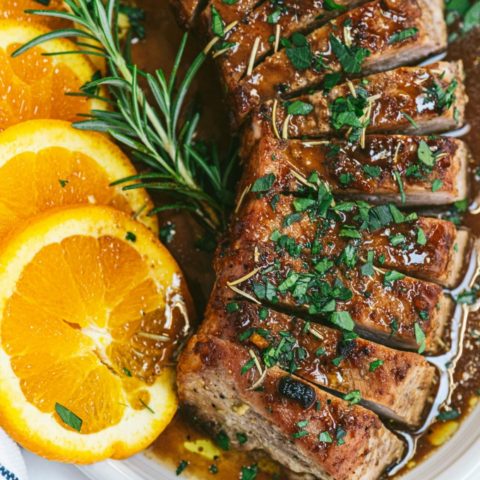 Orange Mustard Pork Tenderloin
This easy glazed tenderloin recipe is sweet and savory with orange juice and stone ground mustard. You'll never have a dry piece of pork with this homemade marinade.
Ingredients
1 pork tenderloin
1/4 cup orange juice
1/4 cup soy sauce
3 tablespoons orange marmalade
2 tablespoons stone ground mustard
3 tablespoons olive oil
1/4 teaspoon garlic powder
1/4 teaspoon dried rosemary
1/4 teaspoon ground black pepper
parsley and oranges slices for garnish
Instructions
Preheat oven 400 degrees F. Spray baking dish with non stick cooking spray.
Trim excess fat off pork tenderloin and place pork in baking dish.
Pierce pork with a fork.
In a small bowl, mix together remaining ingredients.
Pour mixture over pork tenderloin, reserving a 1/4 cup to spoon on after baking.
Bake for 30-40 minutes, or until meat thermometer reads 140-160 degrees in the center of the roast.
Remove from oven and let rest for 5 minutes.
Pour remaining mixture over pork, slice and serve.
Notes
You can substitute honey for orange marmalade.
Recommended Products
As an Amazon Associate and member of other affiliate programs, I earn from qualifying purchases.
Nutrition Information:
Yield:

4
Serving Size:

1
Amount Per Serving:
Calories:

207
Total Fat:

12g
Saturated Fat:

2g
Trans Fat:

0g
Unsaturated Fat:

10g
Cholesterol:

16mg
Sodium:

898mg
Carbohydrates:

18g
Fiber:

2g
Sugar:

14g
Protein:

8g