Honey Glazed Pork Tenderloin is a fool-proof way to get that juicy and flavorful pork tenderloin each and every single time. Pair with your favorite side dishes and serve a dinner that wows your family.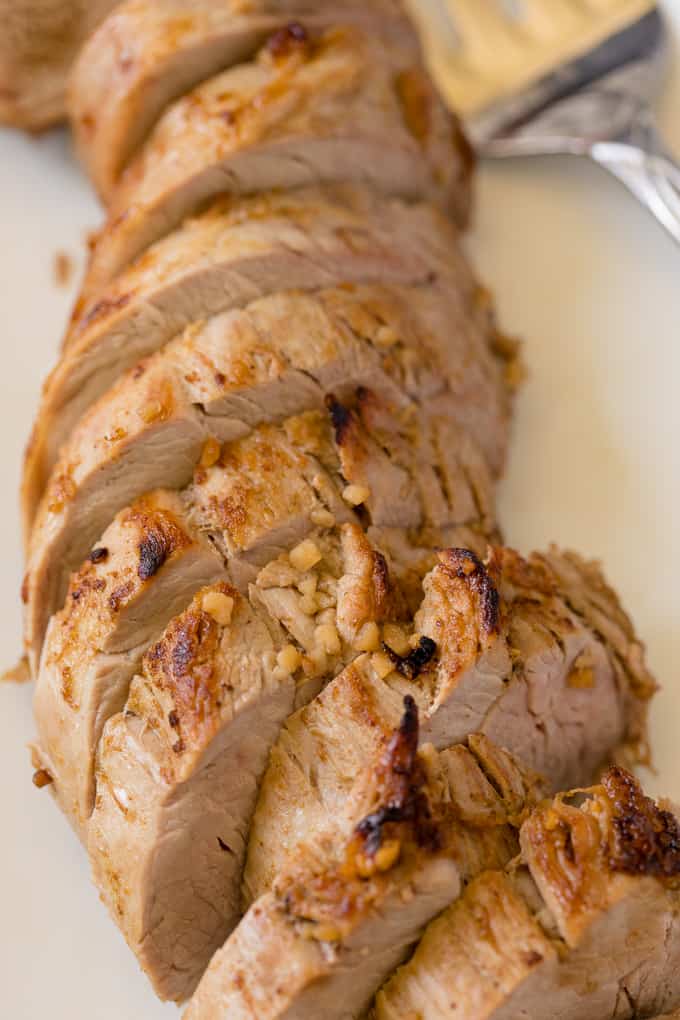 Honey Glazed Pork Tenderloin
My aunt Lori gave me her recipe for Honey Glazed Pork Tenderloin for a family cookbook project I'm working. I'll admit that I don't often make pork. We had pork chops for supper a lot when I was a child and they were never my favourite meal to eat.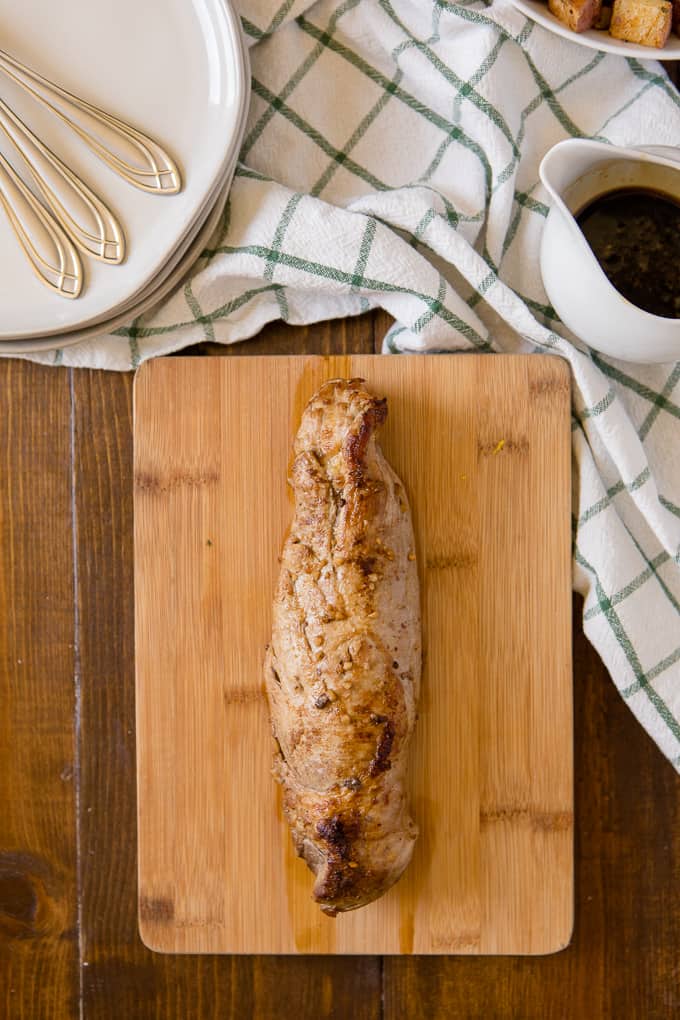 I was a fussy kid and though I've grown out of that phase, I still don't make pork that often at home. Things may change though now that I've made this recipe! It was simply divine!
What Does Honey Glazed Pork Tenderloin Taste Like
This pork tenderloin was sweet and spicy at the same time. The cayenne pepper sprinkled on the tenderloin gave it some heat and the honey glaze was the sweetness. I can see why my aunt raves about this recipes.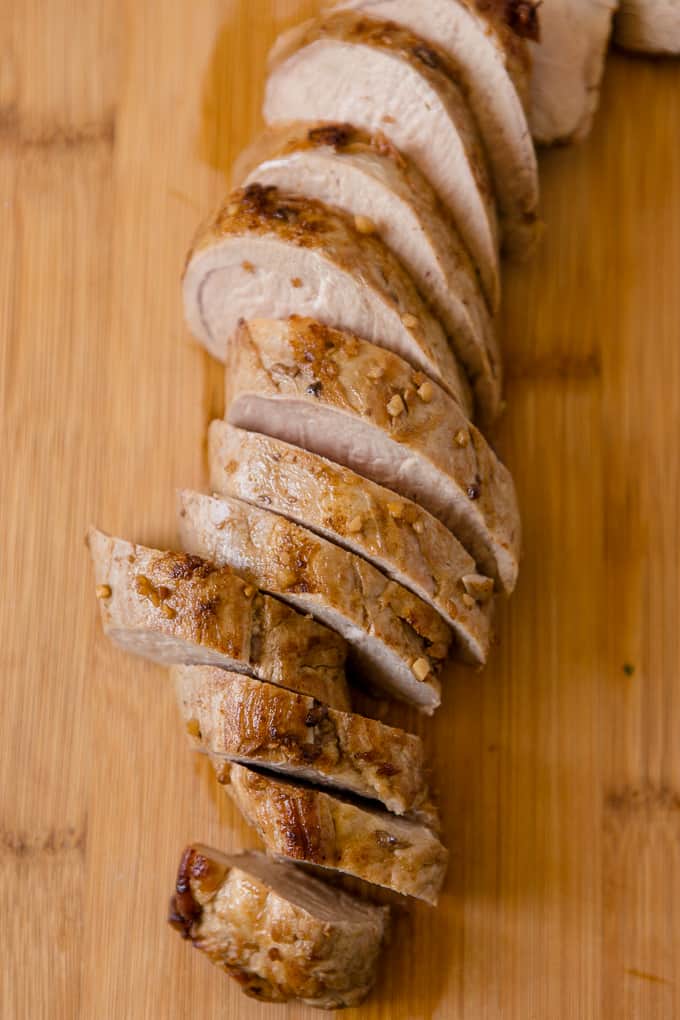 It's a keeper and one that you can bet I'll be making again. I have some pork tenderloin in the freezer for when the cravings for this recipe strike.
Why Do You Sear Pork Tenderloin Before Cooking in Oven
I sear my pork so that it helps lock in moisture but also gives an incredible flavor to your tenderloin. When you work with a larger piece of meat like a tenderloin or roast you will find searing it in oil will always elevate the overall flavor of your meat.
Here are more pork recipes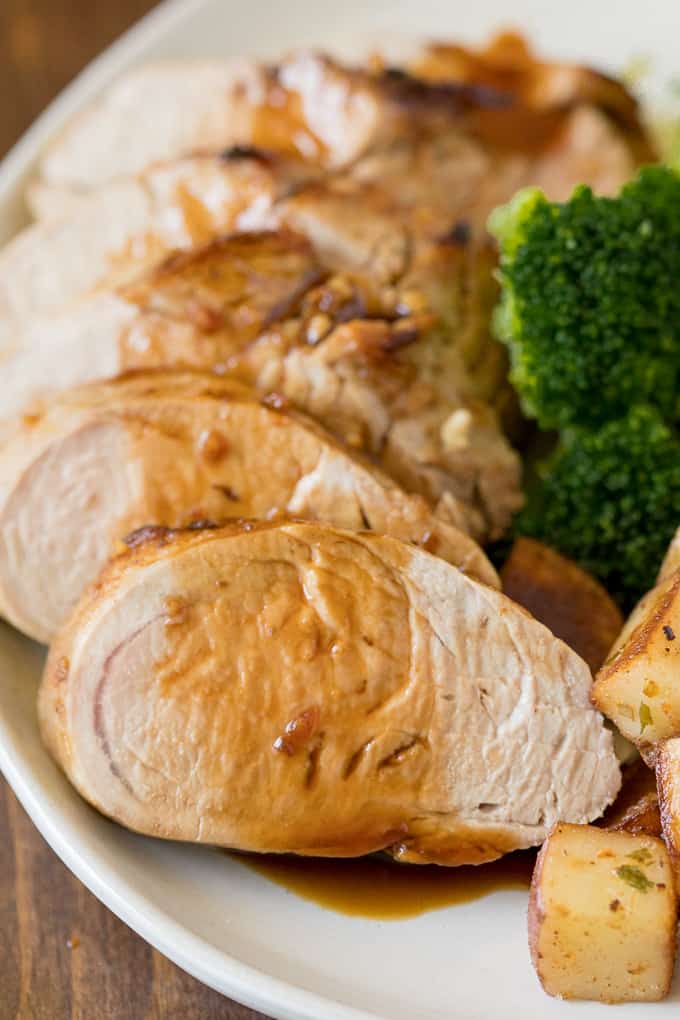 How Do You Make Glazed Pork Tenderloin
The first thing I do is preheat my oven. Then you will work on the honey glaze and then set it aside. Now sprinkle your tenderloin with cayenne. The more you add the spicier the pork will be. Go light if you prefer a milder flavor.
Sear the pork on all sides in a pan and then remove the tenderloin. With an ovenproof pan ou will place your pork tenderloin and then pour the glaze on top. Bake for around 40 minutes or until your pork is done.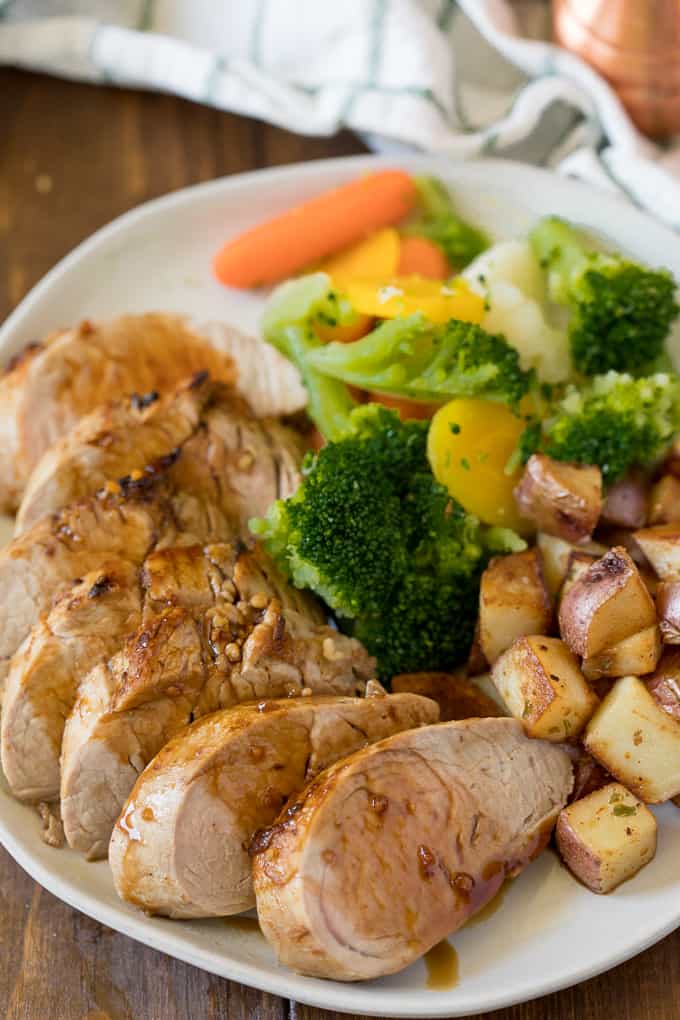 Now one your pork is done, you can cook down the juice in the pan to make a thick glaze, remove from the heat.
What to Serve Pork Tenderloin With
I tend to serve this with some roasted or steamed vegetables. Now you could also do rice, roasted potatoes or any other of your favorite side dishes.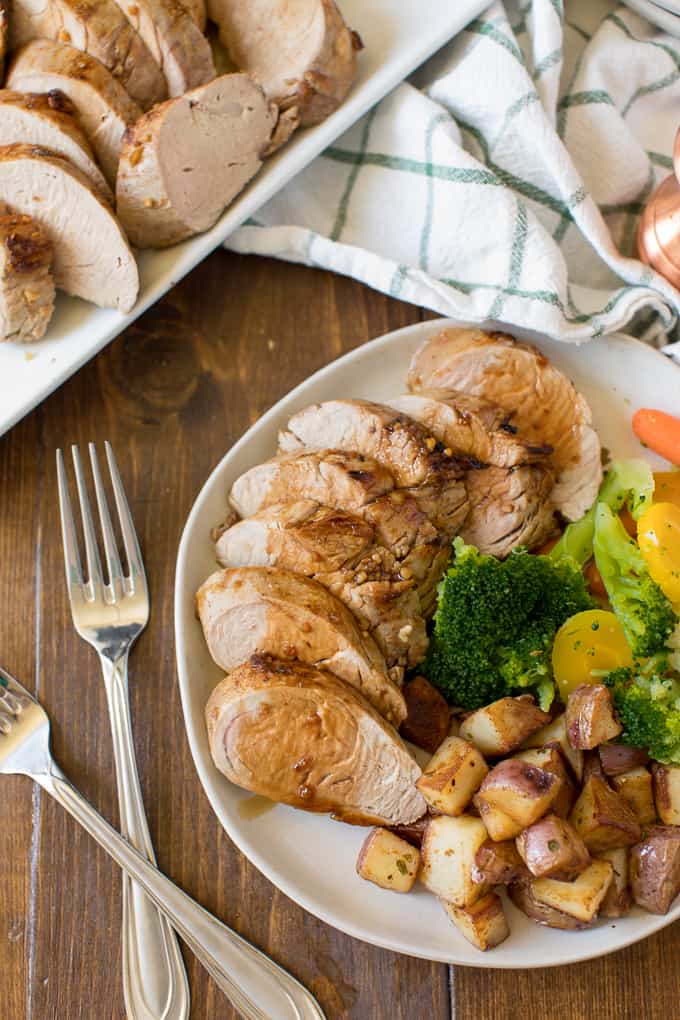 This pork recipe is incredible for a weeknight dinner or entertaining guests.
How Long Does Pork Tenderloin Store For
You will be able to store your pork for up to three days in the fridge. Anything after that you will find that you need to use your best judgment in terms of if the pork is still good.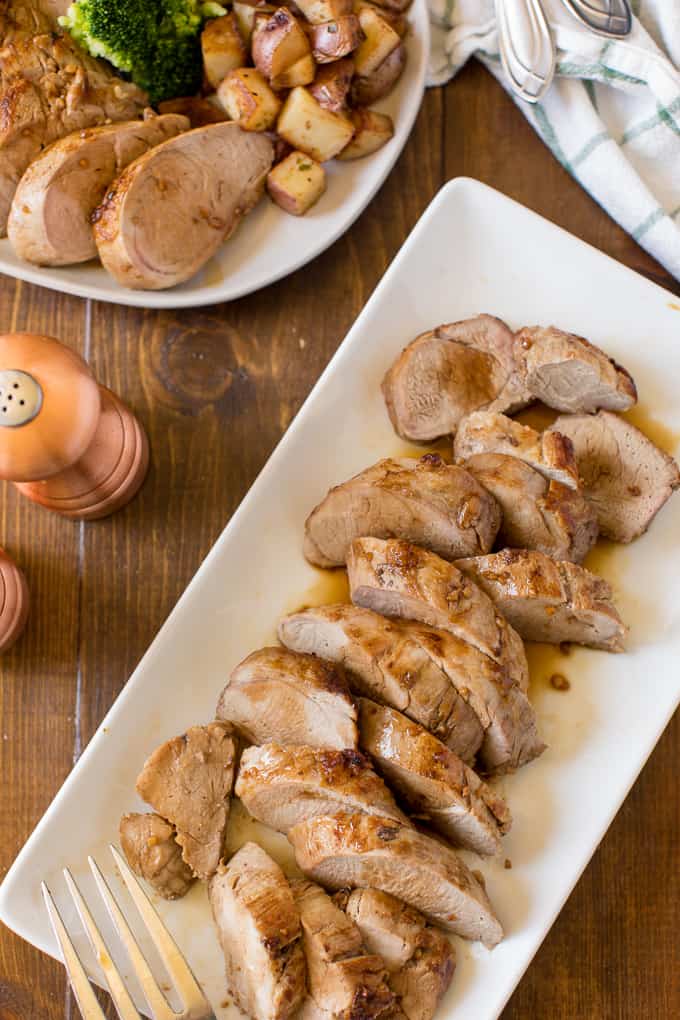 What Does Porks Internal Temperature Need To Be
You will find that depending on where you live the range of pork varies a bit. Some people prefer it to be slightly pink in the center at 140 degrees. While others swear the pork needs to be cooked till 145 degrees.
I recommend using a meat thermometer to keep track of what the internal temperature is. I cook my pork to 145 degrees to make sure it is fully cooked.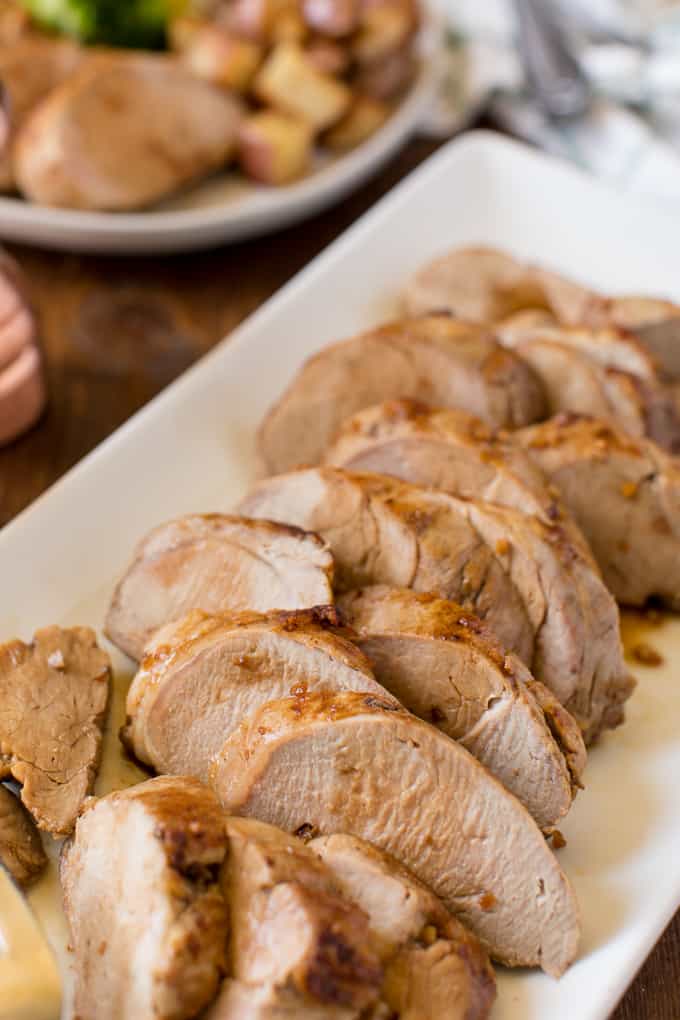 Then you can cover lightly in foil and allow it to sit for five minutes to help lock in the moisture for moist pork each and every time.
Can You Freeze Cooked Pork Tenderloin
You can freeze any leftover pork tenderloin. You will find pork is best fresh as it can dry out a bit as it reheats. You can store leftover pork in a freezer bag or airtight container in the freezer for up to three months.
Then thaw in the fridge overnight or for a few hours before you reheat it. You can do a quick reheat in the microwave, on the stove or cover with aluminum foil and reheat in the oven.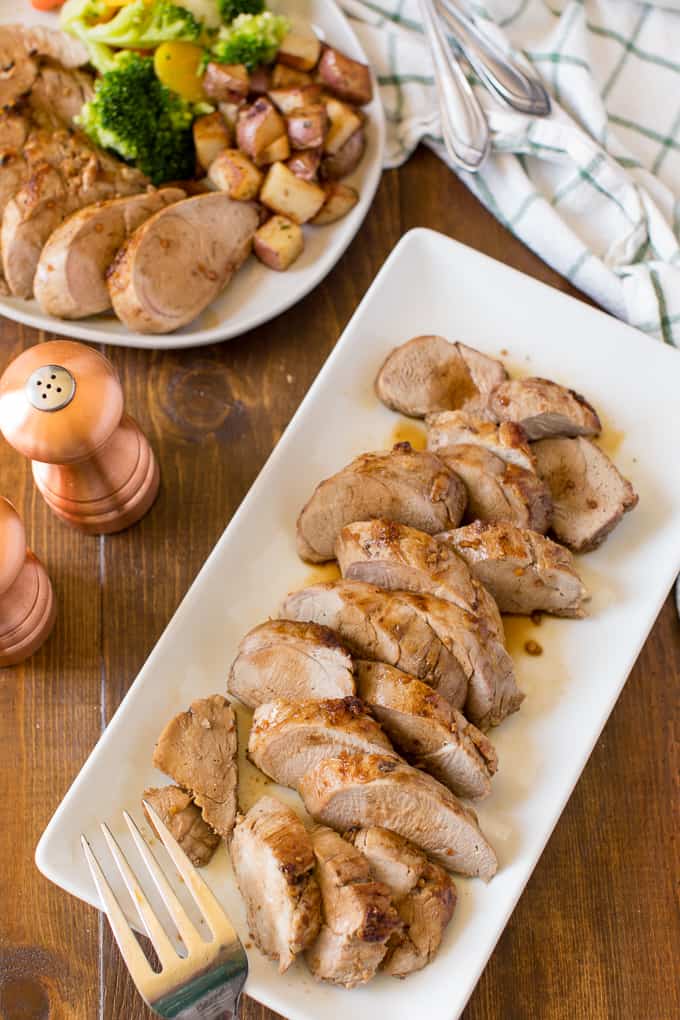 Give this sweet and spicy pork tenderloin recipe a try and let me know what you think.
You also need to try these Pork Gyros, Brown Sugar Dijon Pork Tenderloin or Honey Garlic Chicken.
How do you like your pork tenderloin?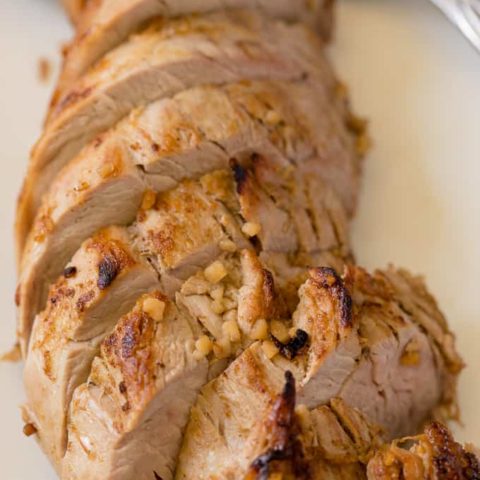 Honey Glazed Pork Tenderloin
The perfect combination of spicy and sweet! It's seasoned beautifully with just 6 pantry staples.
Ingredients
½ cup apple juice
2 tbsp honey
1 tbsp soy sauce
2 cloves garlic, minced
1 ½ lb pork tenderloin
1 to 2 tsp cayenne pepper
1 tbsp olive oil
Instructions
Preheat oven to 400°F.
Combine apple juice, honey, soy sauce and garlic in a small bowl and set aside.
Sprinkle pork tenderloin with cayenne pepper to taste (use more if you like it really spicy).
In a skillet, heat olive oil over medium heat. Add the pork and brown, about 8 minutes. Remove from heat.
In an oven proof pan, place pork and pour sauce mixture over top. Bake for 30 to 40 minutes or until pork is cooked.
Remove pork and carefully transfer to a cutting board.
Return juice to skillet and cook on medium-high heat until mixture turns into a thick glazed. Remove from heat.
Slice pork diagonally and drizzle with glaze. Serve with vegetables and potatoes.
Recommended Products
As an Amazon Associate and member of other affiliate programs, I earn from qualifying purchases.
Nutrition Information:
Yield:

4
Serving Size:

1
Amount Per Serving:
Calories:

333
Total Fat:

10g
Saturated Fat:

3g
Trans Fat:

0g
Unsaturated Fat:

7g
Cholesterol:

124mg
Sodium:

319mg
Carbohydrates:

13g
Fiber:

0g
Sugar:

12g
Protein:

45g