It's bright, healthy and light, but still packs a huge punch in the taste department! This Chimichurri Steak Salad is the perfect spring salad to whip up and enjoy for lunch or even dinner! A homemade Chimichurri that packs tons of incredible flavor.
Hi all, Nicky here from Kitchen Sanctuary. I'm cooking up steak today with an extra-large serving of garlicky Chimichurri.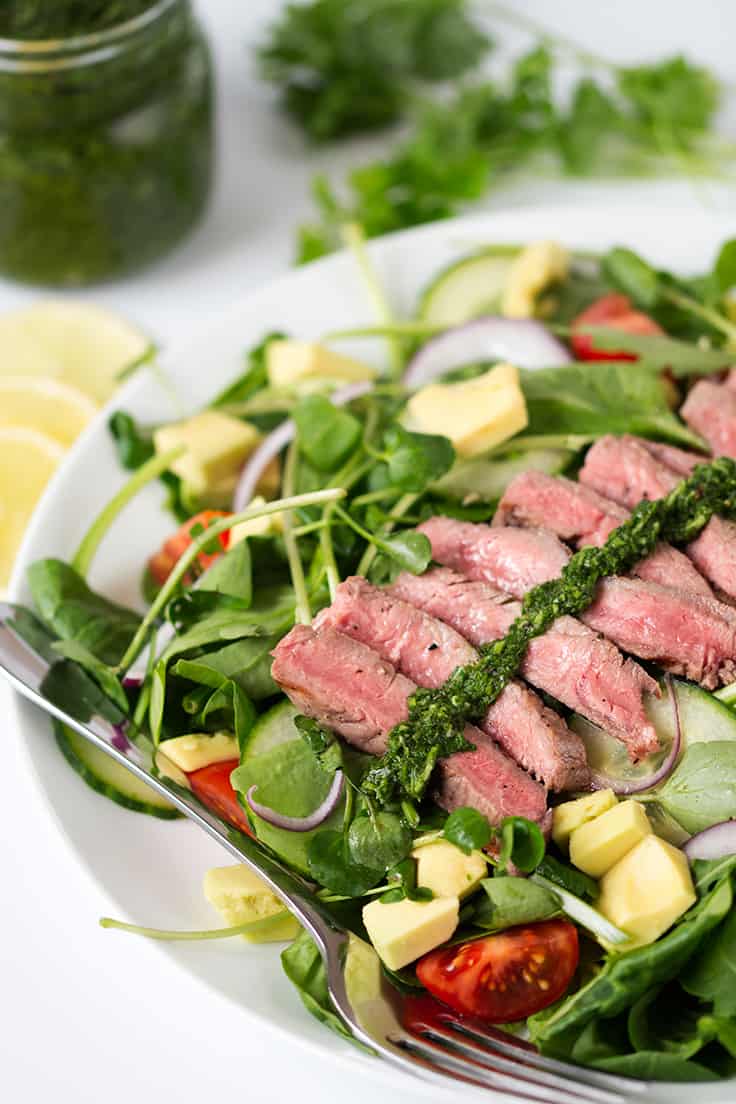 Chimichurri Steak Salad
I only really started making Chimichurri at the beginning of this year. I was attempting to make Chicken Kiev – that retro favourite with parsley and garlic butter.
The filling kept spilling out no matter how many clever techniques I tried, so I ended up making crispy chicken tenders with a side of Chimichurri. It tasted so good that I haven't looked back since!
What Does Chimichurri Sauce Taste Like
Because you use fresh ingredients to make Chimichurri you will find it is loaded with incredible flavor. Garlic, parsley, olive oil, red wine vinegar and more come together. It is strong in flavor with a bit of tang from the vinegar used. It is unique in flavor and will really make any dish stand out.
Chimichurri is great for spooning onto grilled meat or even using in a salad like this recipe here. You might even want to pour over fresh cooked green beans or asparagus. Once you see how easy it is to make, you will want to use it in every recipe, or at least I do!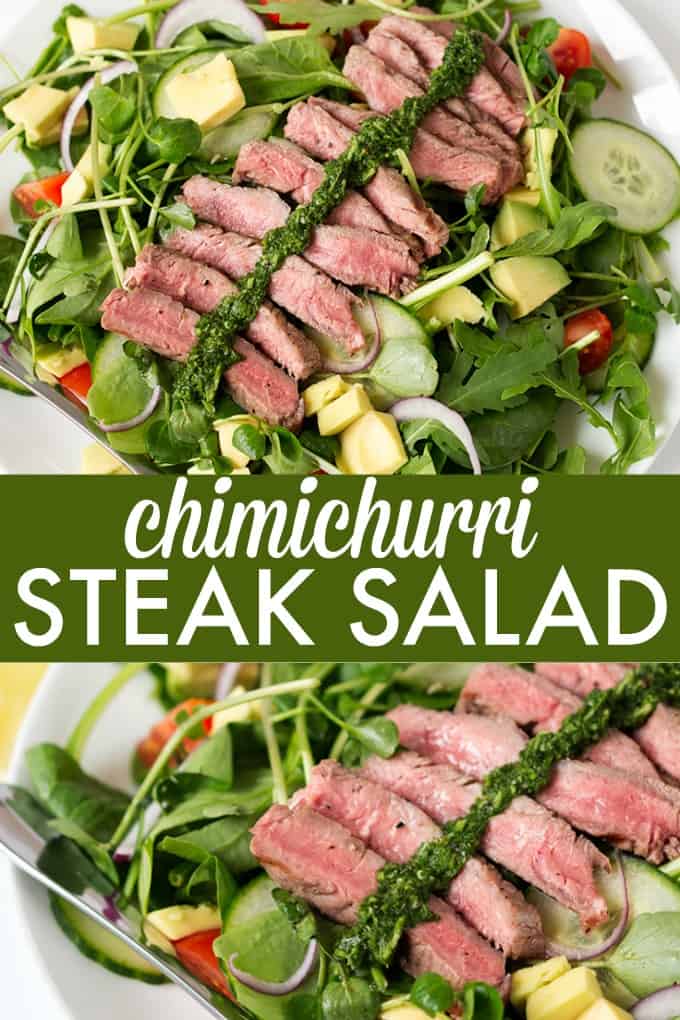 Making Chimichurri
It's so easy to make too. Just put all the Chimichurri ingredients in a mini chopper and pulse. That's it – done. You really can't beat it served on top of a juicy pink steak.
How Long Will Chimichurri Keep
It'll keep for a few days in the fridge, but will start to lose it's bright green colour after a day or so (due to the vinegar). Still tastes great though! Just ensure you store in a glass sealed jar or airtight container. This will help preserve your Chimichurri.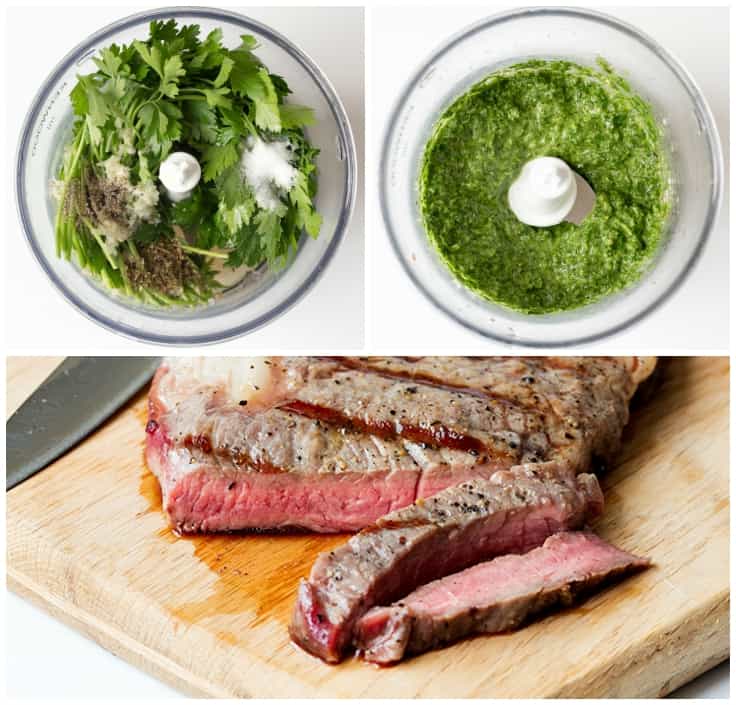 Is Chimichurri Served Hot or Cold
You want to serve Chimichurri cold. It should not be heated or it can ruin the flavor and texture. Think of it as a salad dressing in a sense, you always serve that cold. Or if you freshly make it, somewhat at room temperature.
Store in the fridge when you are not serving it to prevent it from spoiling. With all the fresh ingredients you don't want it sitting out for more than two hours at a time. If you do, before the two-hour mark, place in the fridge for at least 30 minutes, before serving again.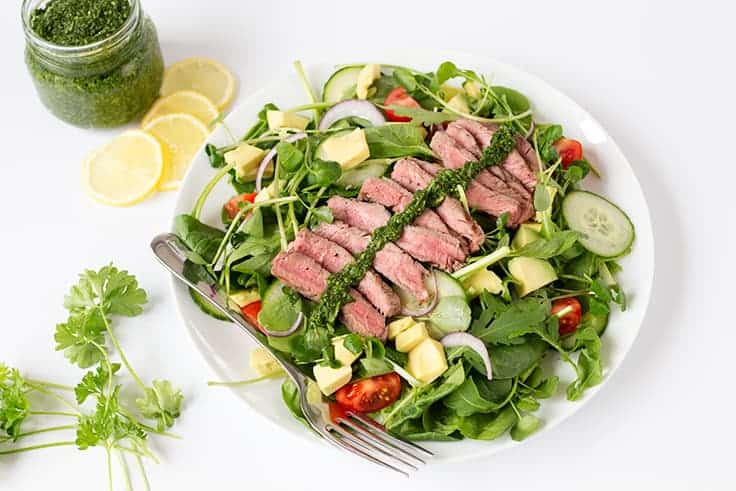 Flavors of the Salad Mix
The salad is a simple mix of leaves, cucumber, tomato and creamy avocado. I also love to add red onion with steak for a bit of crunch.
How to Make Chimichurri Steak Salad
You will start by getting your steak to room temperature. This will offer an even cook over your whole steak, so it is cooked to perfection. Then once your steak is warmed up, you will toss on a skillet or griddle that is hot. Sear your seasoned steak, and cook to the preference you want.
In a chopper or food processor toss in your Chimichurri ingredients. You want to blend or pulse until it is mixed together and the right consistency.
Then mix our salad ingredients together. Plate up or toss in a bowl, top with steak and a drizzle of Chimichurri.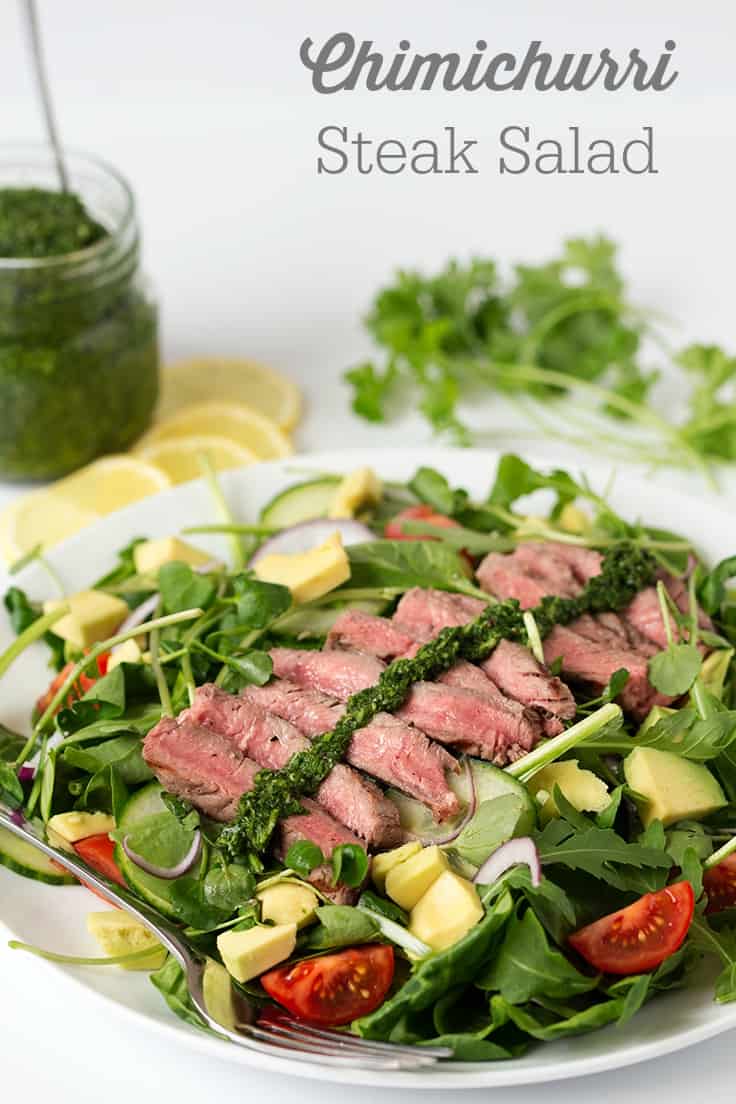 Searching for more salad recipes
Hot Chicken Salad | Dress up your dinner table with this warm chicken salad. This is a chicken salad that is served warm and loaded with flavor. A must make for any chicken lover.
Tortellini Salad| This is another favorite, especially if you are a fan of pasta. Tortellini is cheese-stuffed, with a light sauce and veggies surrounding it.
Bean Salad | If you want a vegetarian dish or looking for a side this bean salad is incredible. Colorful, bright, and loaded with flavor in a light dressing.
Can I Use Chicken Instead of Steak in this Recipe
Absolutely! I love steak but if you wanted you could cook up some chicken breasts and use that instead. Or skip the meat and just do the salad mix and Chimichurri. This recipe is rather versatile, so feel free to improvise to fit your tastebuds or what you have on hand.
The one thing with chicken is just to make sure to cook the chicken thoroughly and use a meat thermometer to ensure it reaches proper internal temperature. Unlike steak you want it to be fully cooked through.
Give this easy light and flavorful salad a try and let me know what you think! We make this often in our home for a nice treat.
You might also like this Blackened Steak and Mushroom Swiss Steak.
Do you like steak in salad?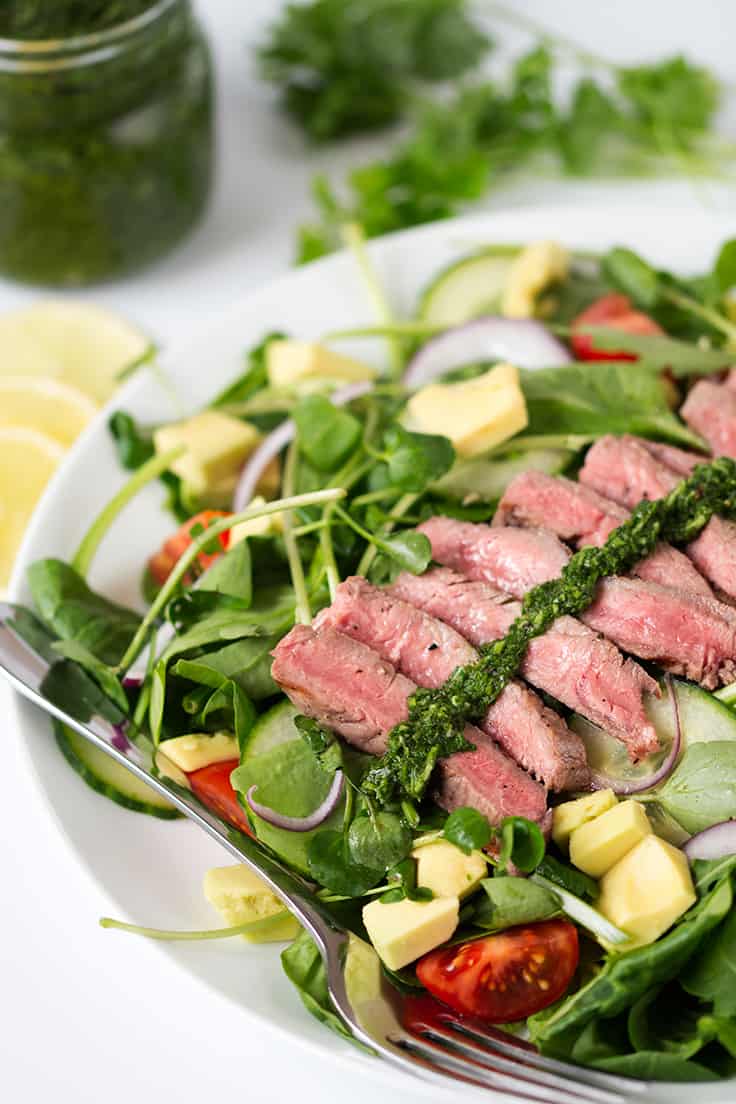 Chimichurri Steak Salad
A lighter version of your favorite steak dinner! This chumichurri recipe is so easy and goes great as a sauce or a dressing.
Ingredients
Steak
1 thin cut sirloin steak (approx 7 oz)
1 1/2 tbsp vegetable oil
¼ tsp salt
¼ tsp black pepper
Chimichurri
6 tbsp olive oil
2 cloves garlic, peeled and roughly chopped
1 large bunch of flat leaf-parsley, roughly torn
¼ tsp salt
¼ tsp pepper
¼ tsp dried oregano
2 tbsp fresh lemon juice
1 tsp red wine vinegar
Salad
Small Bag (approx. 4.5oz) mixed salad leaves – I used mixed spinach, arugula and watercress
8 cherry tomatoes, quartered
1 ripe avocado, peeled and chopped into small chunks
¼ small red onion, peeled and sliced thinly
1/8 small cucumber, sliced
Instructions
Take the steak out of the fridge and let it sit at room temperature for 30 minutes to warm up a little.
Heat a griddle or skillet until smoking hot. Drizzle the oil onto the steak and sprinkle the salt and pepper onto both sides. Use your hands to massage the seasoning and oil in. Place on the hot griddle and cook for 2 minutes on each side (cook for longer if you prefer the centre less pink). Take off the griddle and place on a chopping board. Allow the steak to rest whilst you prepare the rest of the salad.
Place the chimichurri ingredients in a mini chopper or food processor and pulse until blended together (alternatively you can just chop everything finely by hand and mix together). Put to one side.
Split the bag of mixed salad between two large bowls. Top with the cherry tomatoes, avocado chunks, red onion and cucumber.
Slice the steak very thinly and arrange the slices on top of the two salads. Drizzle over the chimichurri and serve.
Recommended Products
As an Amazon Associate and member of other affiliate programs, I earn from qualifying purchases.
Nutrition Information:
Yield:

2
Serving Size:

1
Amount Per Serving:
Calories:

774
Total Fat:

72g
Saturated Fat:

11g
Trans Fat:

0g
Unsaturated Fat:

58g
Cholesterol:

39mg
Sodium:

706mg
Carbohydrates:

21g
Fiber:

11g
Sugar:

5g
Protein:

18g