5 Ingredient Cherry Cake Cups are a super easy dessert to whip up. If you are a cherry lover you will love this cherry chip cake cup, that is filled with cherry filling.
I stock up on cake mix and pie filling when I they go on sale. They last quite a while in your pantry and they have so many uses far beyond cakes and pies. You can make cookies, dump cakes, poke cakes, cobblers and more.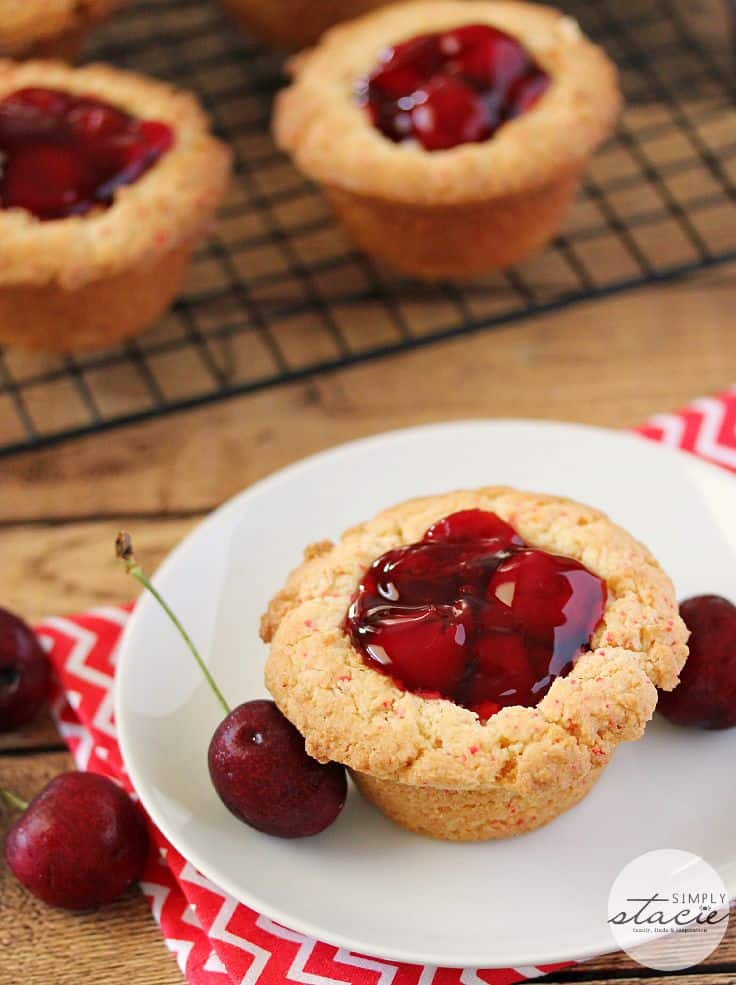 Cherry Cake Cups
Cake Cups are another one of my specialties. These Cherry Cake Cups are a quick and easy dessert to make to impress. If you have unexpected guests for dinner and nothing for dessert, whip up a batch of these!
I like the cup itself to be more cookie like. It's easy to doctor up cake mix into cookies by adding in butter and eggs. I do the same thing with this dessert to give it the texture I enjoy.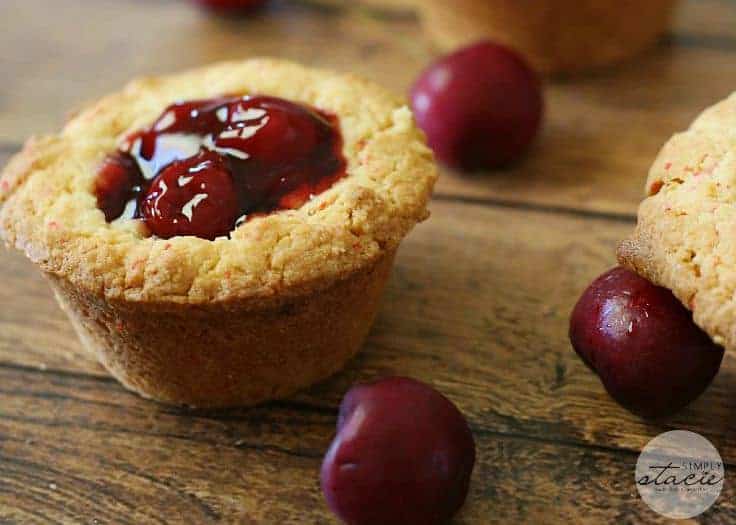 Can I Use Homemade Cherry Pie Filling
If time is on your side, feel free to use your own homemade cherry pie filling. I'm usually short on time and in a rush making dinner, so I like the convenience of canned pie filling. Either option will work for this recipe. It's more of a dessert hack when you use cake mix and pie filling though.
One thing I want to stress about making the cake cups is to not make them too thick. If the bottom is thick, it will take longer to cook and may not cook evenly. Just don't go overboard when you are filling your muffin tins. Less is more! Trust me, I've made that mistake and had raw cake mix on the bottom of my cake cups. Not the most appetizing thing to find in your dessert!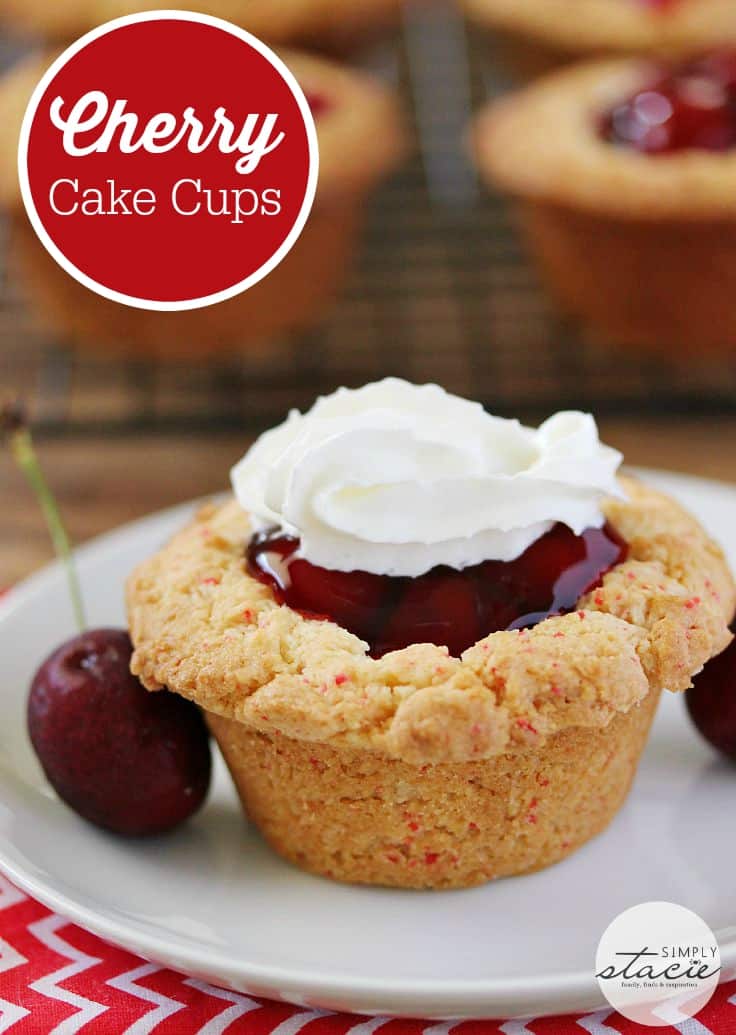 Can I Use a Different Cake Mix Flavor for Cherry Cake Cups
If you don't have the cherry chip cake mix, you are welcome to use a yellow cake mix or white cake mix. I love the aspect of the cherry chip paired next to the cherry pie filling. But, you are not obligated to use the cherry chip.
Want even more cake cup recipes
Brownie Cheesecake Cups | Here is another great cake cup recipe. This is a brownie base with a creamy cheesecake filling that is in the center.
Carrot Cake Cups | I love a good carrot cake, and these cups are a fun recipe. This is a tender carrot cake base with a creamy filling.
Pumpkin Spice Cake Cups | This will give you the flavors of fall. A tender pumpkin spice cake with a creamy pumpkin cream cheese filling.
How to Make Cherry Cake Cups
First, you start by preheating the oven to 350 degrees. Then in a bowl, you will begin mixing your cake mix, eggs, and butter together. You will take around a tablespoon of dough and place it into the muffin tin. Don't do too much or it will not fully cook.
Then you will begin cooking the cups, and after around 7 minutes you will remove and push down the center with a spoon. Then place back into the oven and cook for another five minutes. Then remove and push down the center again, and finish baking.
Once they are done remove and allow them to cool. Then spoon the pie filling into each cake cup.
Ways To Serve Up Cherry Cake Cups
Add a scoop of vanilla ice cream
Homemade whipped cream
Add a drizzle of chocolate syrup or hot fudge over the top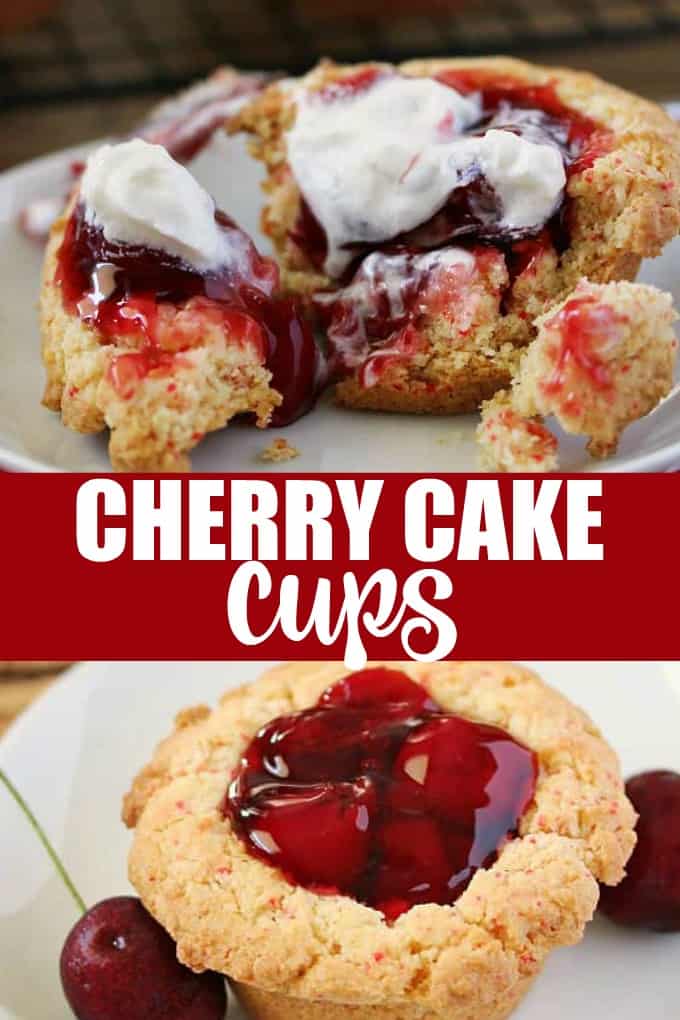 How to Store Leftover Cherry Cake Cups
This cake cup is best when you store it in the refrigerator. You can place in an airtight container and store for up to five days in the fridge. These are great chilled but you are welcome to leave them on the counter to warm up before serving.
Can You Freeze Cherry Cake Cups
You can freeze these cups. If you want freeze without the cherry filling in the center or with. Just place in a container and then freeze for up to three months.
You can thaw them on the counter or opt to place them in the fridge the night before you plan to eat them. What I do is pull one out and let it sit for a little bit and then enjoy it as a quick treat.
Can I Use a Different Flavor Pie Filling
Sure, if you don't want to use cherry feel free to reach for another pie filling. You could do a mixed berry or even strawberry and it would be tasty. Or maybe a peach pie filling. Feel free to play with what you want in terms of flavor.
These cake cups are great for parties, holidays, and more. Give this Cherry Cake Cup recipe a try!
How would you top your Cherry Cake Cups?

You'll also like these Peanut Butter Cookie Cups.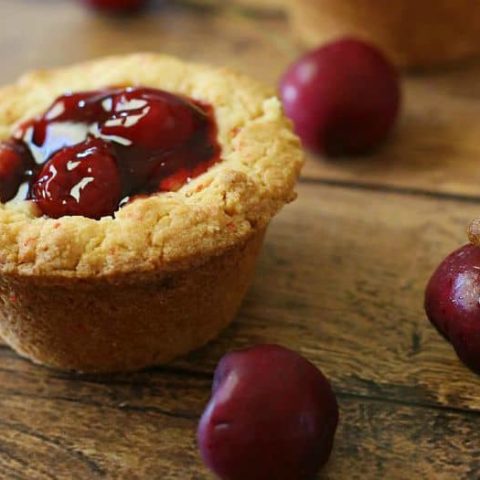 Cherry Cake Cups
These are just like handheld cherry pies, but with a cake crust! Tangy and delicious, it's hard to stop at just one.
Ingredients
1 box Cherry Chip Cake Mix
2 eggs
1/2 cup butter, softened
1/2 cup cherry pie filling
whipped cream, for garnish
Instructions
Preheat oven to 350F. Spray a muffin tin with cooking spray.
In a mixing bowl, stir together cake mix, butter and eggs.
Take about a 1 tbsp of dough and press it into the muffin tin. Make sure to not make it too thick or it won't cook entirely in the center.
Place in oven for about 7 minutes. Remove from oven and poke the center with a spoon to create your cup. Put the cake cups back in the oven for another 5 minutes and then repeat the process to create your cup.
Place back in the oven for another 5 minutes. They should be almost ready by now. Remove from the oven and use the spoon again to poke the center to make it cup-shaped. If they still need more time, put them back in the oven for another few minutes.
Remove from oven and let cool.
Once cool, add about 1 to 2 tbsp of cherry pie filling to each cake cup. Top with whipped cream, if desired.
Recommended Products
As an Amazon Associate and member of other affiliate programs, I earn from qualifying purchases.
Nutrition Information:
Yield:

10
Serving Size:

1
Amount Per Serving:
Calories:

322
Total Fat:

13g
Saturated Fat:

7g
Trans Fat:

1g
Unsaturated Fat:

5g
Cholesterol:

62mg
Sodium:

486mg
Carbohydrates:

48g
Fiber:

1g
Sugar:

23g
Protein:

4g