Brownie Cheesecake Cups are a super easy cheesecake cup that has a brownie base and filled with a chocolate cheesecake filling. If you are looking for a new way to serve up brownies, give this recipe a try.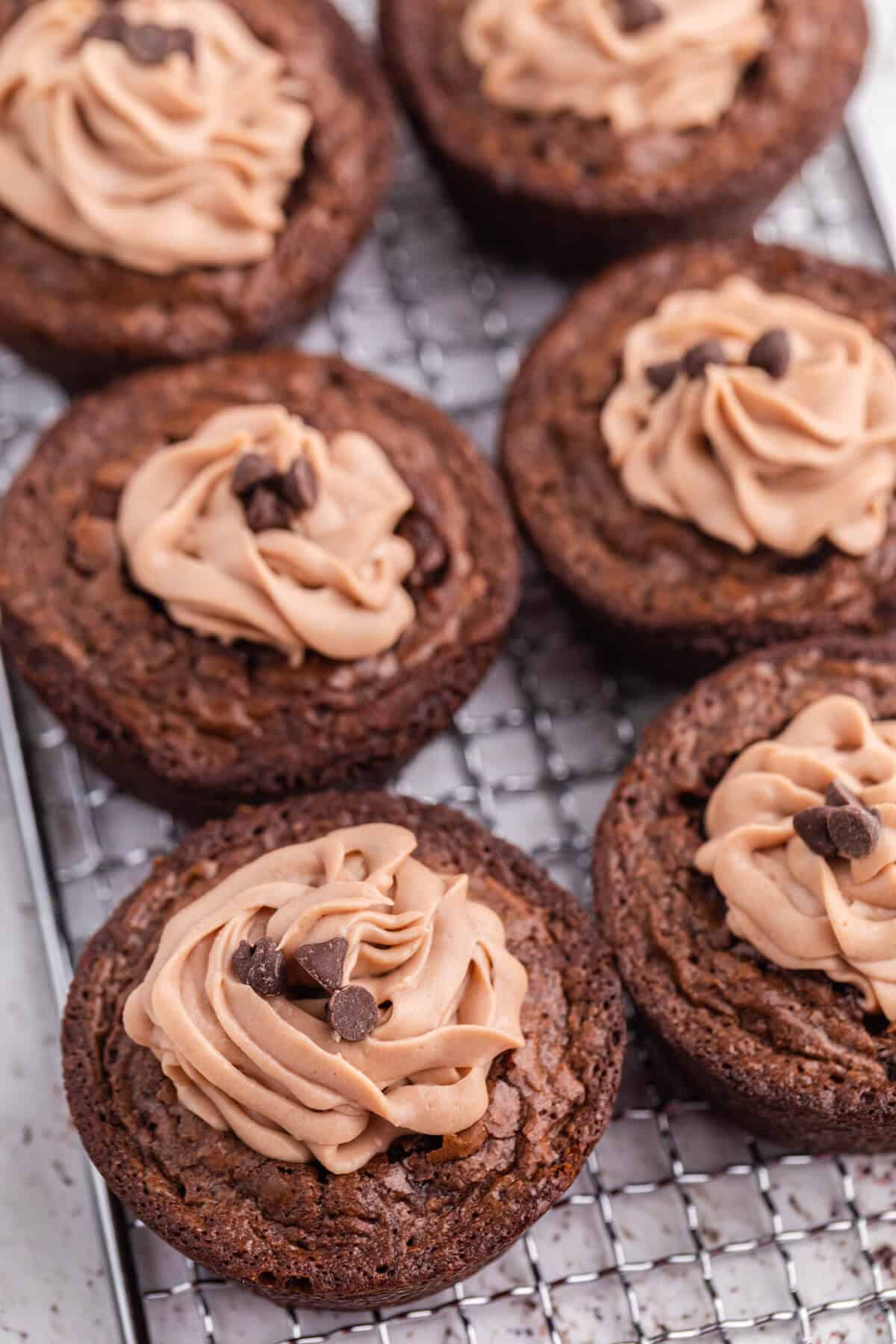 I've made cup desserts with cookie mix and cake mix. I thought I'd try brownie mix and see what happened. The result? This chewy, moist and double chocolatey bite of heaven.
At first, I wasn't sure if it would work. After 10 minutes of being in the oven, I went to deflate the center of the cup and not much happened. I put back in another five minutes and tried again. This time, I could see the cup starting to take shape. I knew then that it would probably be ok and I wouldn't have wasted a perfectly good brownie mix.
What is the Filling for this Brownie Cheesecake Cup
The filling is cream cheese, sweetened condensed milk, powdered sugar and cocoa powder. It's smooth, creamy and sweet. It is a cheesecake no-bake style that is going to really amplifies the flavors.
I shared this recipe on my personal Facebook profile and one of my friends said that she saw Mickey Mouse when she looked at my pictures. I guess I put the chocolate chips on top in a way that looks like Mickey. I didn't intend it that way, but I can see what she means now! I had a little chuckle over that.
I hope you've been enjoying all the dessert cup hacks I've been sharing. They've been fun to make (and eat!).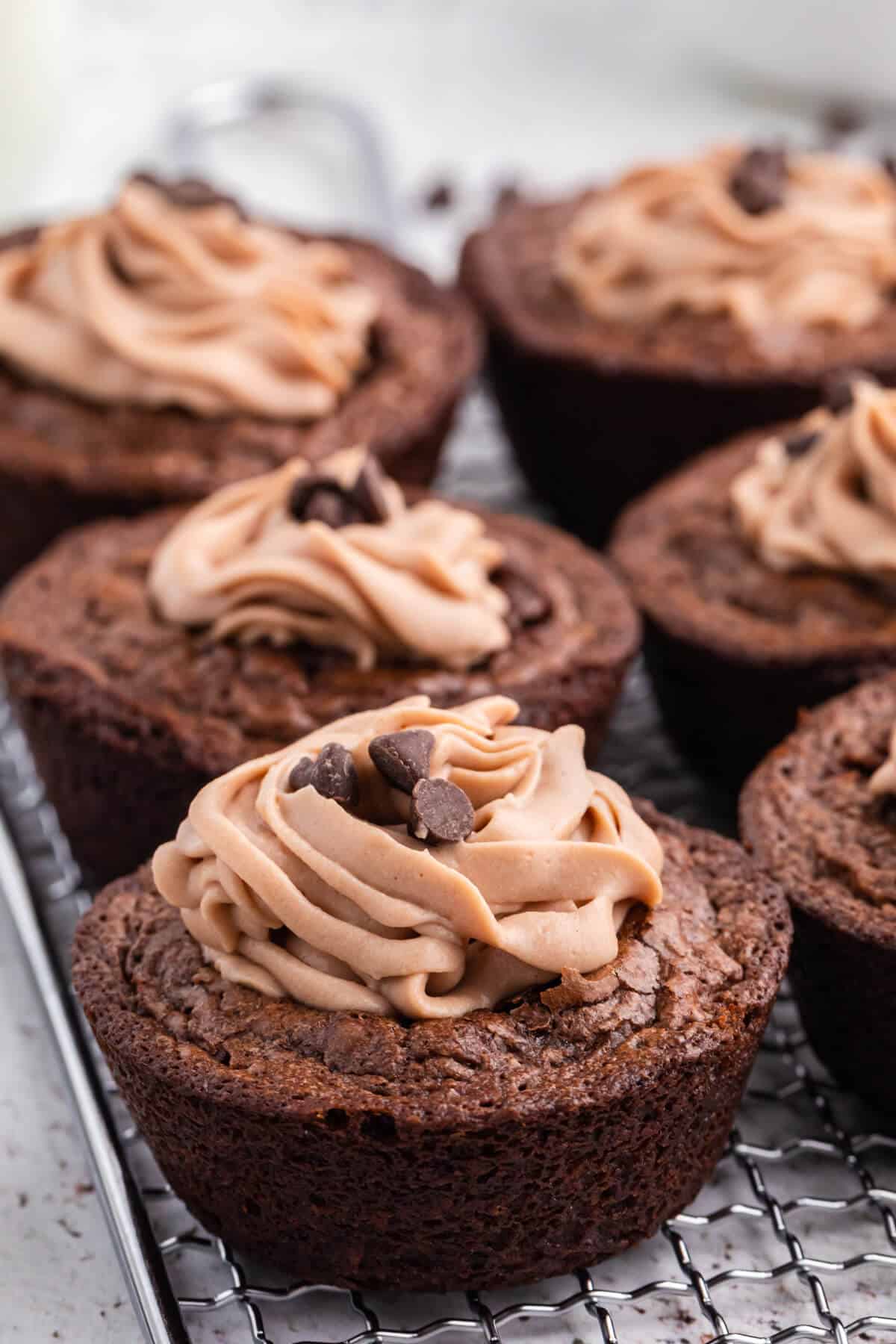 Can You Make These in Mini Muffin Tins
Yes, you can. The hard thing is to ensure the center stays down, it will be slightly harder to keep pushed down since you have less room than a bigger cup. But you can prepare them the same as the large one! Just cook for a less time frame than a larger muffin tin.
How to Make Brownie Cheesecake Cups
You will start by preparing your brownie batter and then pour it into your muffin tins. Then start cooking, and as you can see in the recipe you can see you will remove the brownie cup and push down the center. Then once your brownies are fully cooked and the center is pushed down allow the cups to cool.
Once your brownie cups are cool you will then begin working on the cream cheese filling. You will use softened cream cheese to whip up to a velvety cheesecake filling. Then you can spoon it into the center of the cups or even use a piping bag.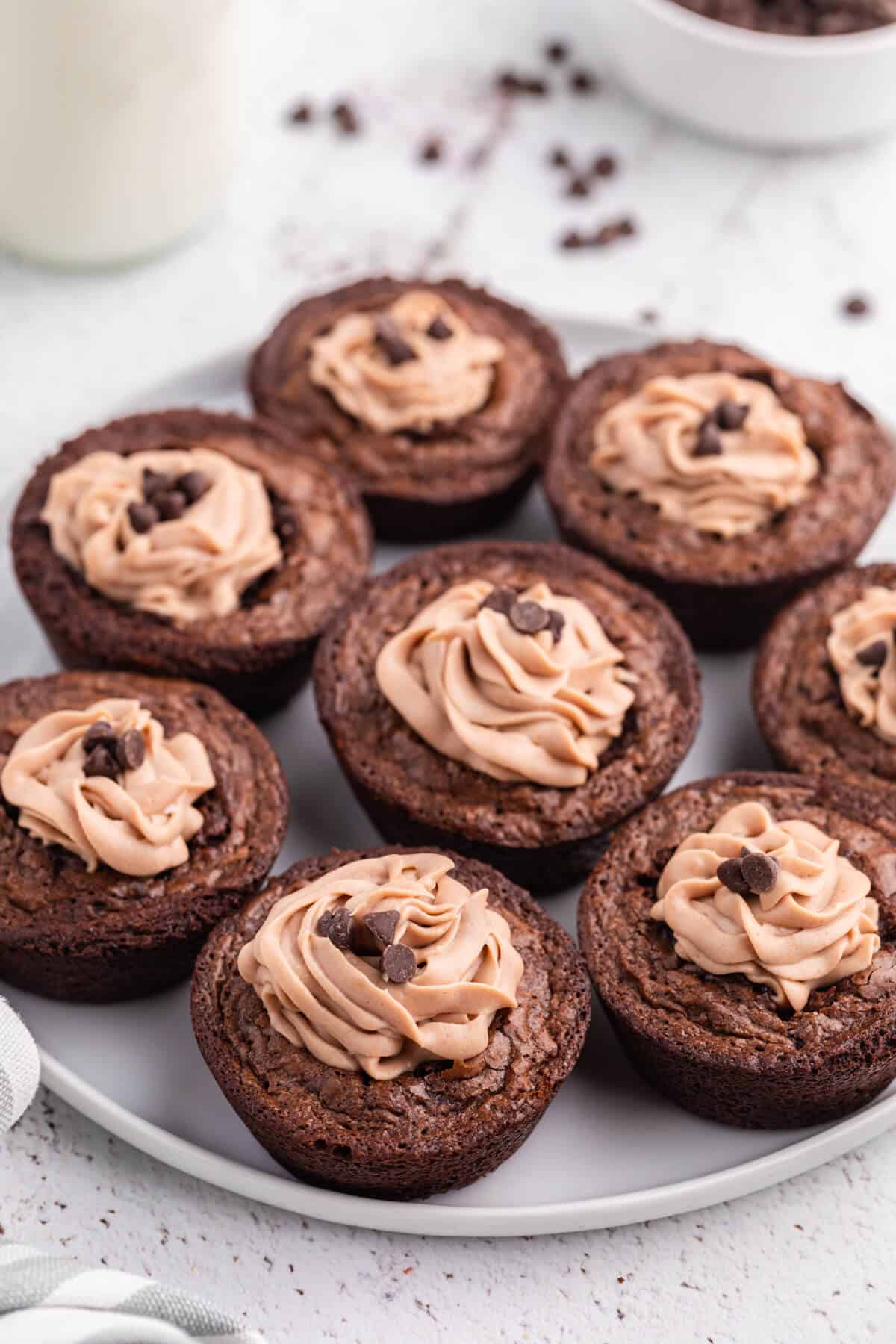 How to Store Your Brownie Cheesecake Cups
You will want to store your cups in the fridge due to the cheesecake filling. You can store them in the refrigerator for up to 5 days in the fridge.
Can I Freeze These Brownie Cups
Yes, you absolutely can. You will want to place your brownie cups in an airtight container or even a sealable freezer bag. Then store in the freezer for up to three months. Just make sure not to layer your cups, or they will stick together.
When you want one or more just place in the fridge overnight to thaw or remove and allow to thaw on the counter for around an hour and then enjoy.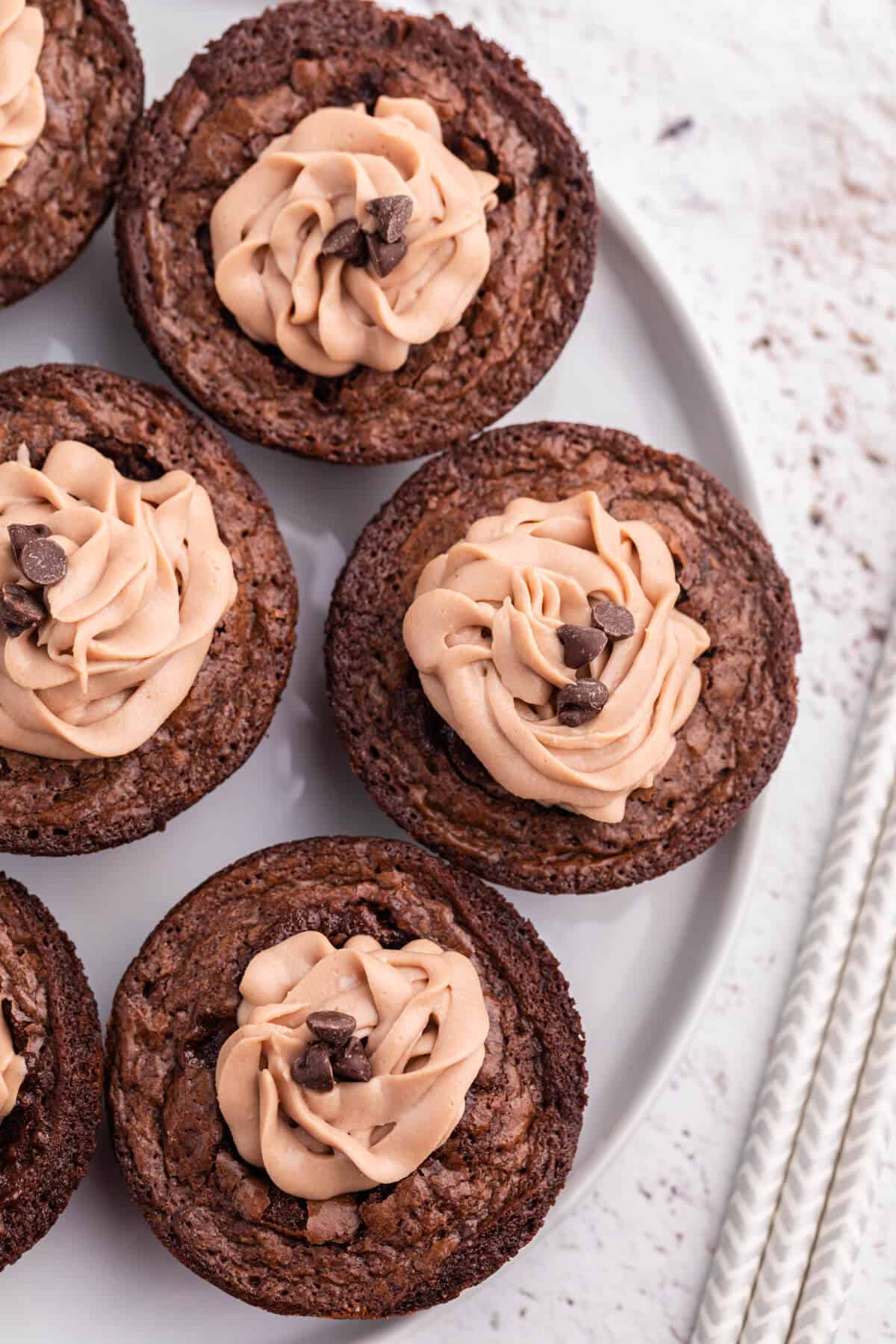 Can I Use Homemade Brownie Batter
Of course. You are welcome to use a homemade brownie mix instead of the box if you prefer. This is all about your personal preference in flavor. I find using boxed doesn't change the flavor that much, and saves quite a bit of time in the prep.
Do You Use Liners for these Brownie Cups
No, you will just grease your pan and go that route. If you do a cupcake liner you will find the brownie sticks to the liner, and you won't get a really nice edge as you want.
Looking for More Cup Recipes
Mac and Cheese Cups | Here is a savory take to the classic cup recipe. This mac and cheese cup is so easy to make and such a fun texture and flavor.
Peanut Butter Cookie Cups | This cookie cup recipe is a must. A tender and moist cookie cup that has a sweet filling in this cup recipe.
One Minute Brownie Cups | A great dessert that you can make in literally one minute. I highly recommend trying this brownie cup for a sweet dessert.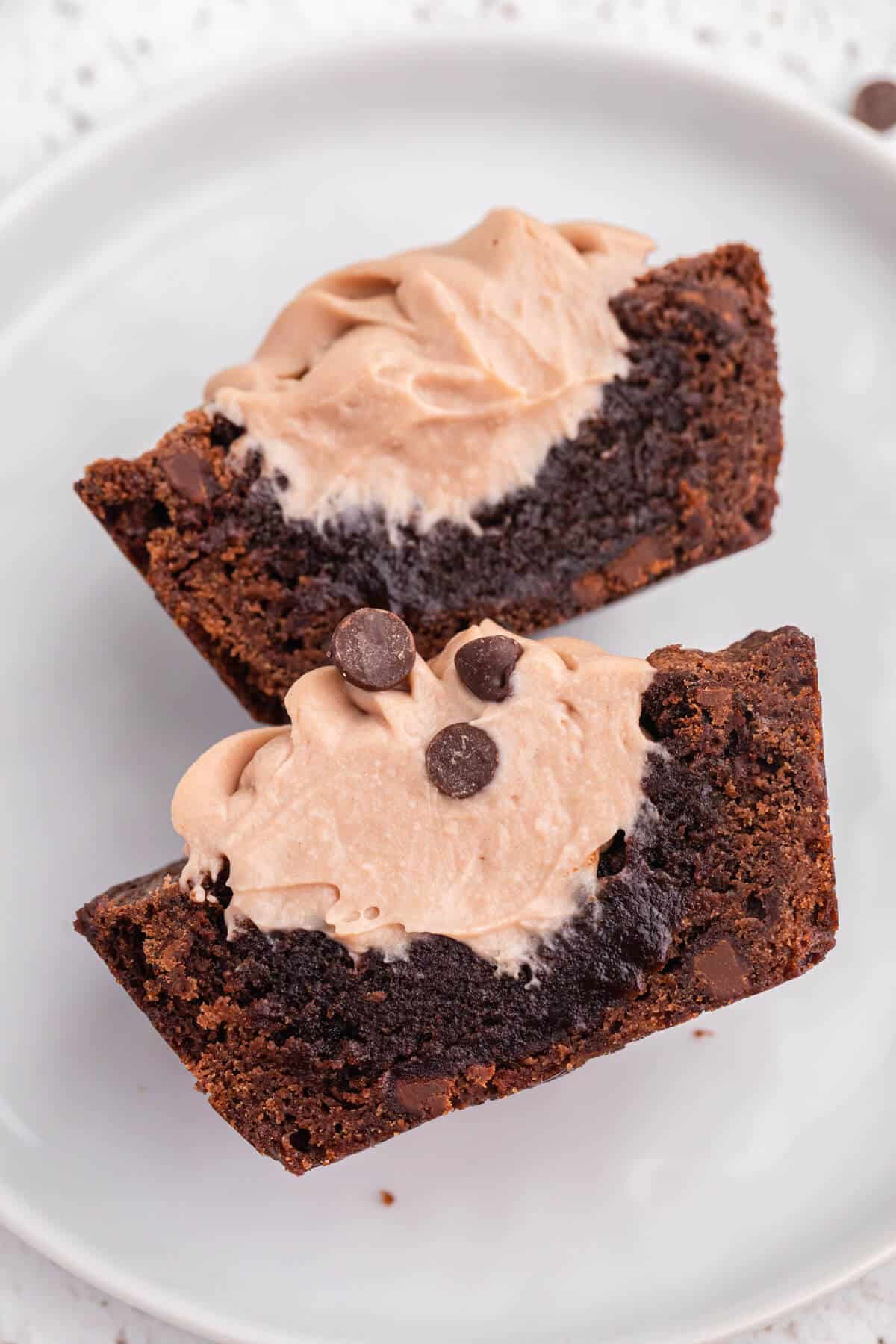 Whip these up for a quick and easy dessert for your family, friends, and even great for birthday parties and more. There is no wrong time for a cheesecake brownie cup!
You'll also like Salted Caramel Brownies, Lime Cheesecake Parfaits, Carrot Cake Cups and Cheesecake Squares with Chocolate Nut Crust.

Do you have any favourite brownie mix hack recipes?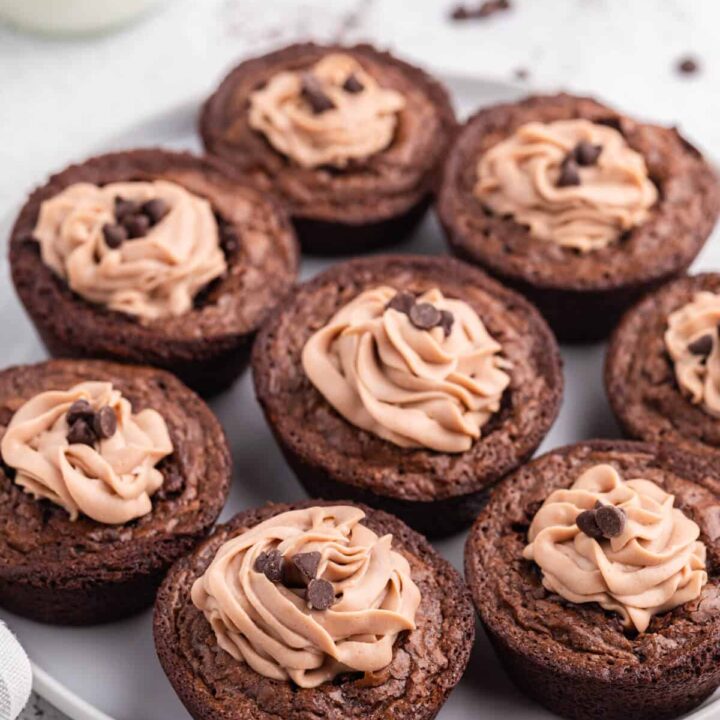 Ingredients
1

box

brownie mix

or your fave brownie recipe

1

package

cream cheese

8oz/250g package, room temperature

4

tbsp

powdered sugar

½

cup

sweetened condensed milk

1

tbsp

natural unsweetened cocoa powder

mini chocolate chips

for garnish, optional
Instructions
Preheat oven according to directions on brownie mix.

Prepare brownies according to recipe or package directions. Place brownie batter into a greased muffin tin to form a cup. Bake for 10 minutes.

Remove tray from oven when cups are rising. Take a small spoon and deflate the centers of the cups while leaving the sides of the brownie cup untouched. Put back in the oven and bake for another 5 minutes.

Again, remove from oven and with a small spoon, deflate the centers of the cups while leaving the sides of the cookie cup untouched.

Place back in the oven again and continue to check them every five minutes and deflate the middle with a spoon to give them a cup shape. Mine took a bit over 20 minutes before they were baked completely.

Remove from oven and let cool completely.

In a mixing bowl, beat cream cheese, powdered sugar, sweetened condensed milk and cocoa powder on medium speed until smooth, about 1 to 2 minutes.

Add about 1 tbsp of cheesecake filling to each brownie cup. Top with mini chocolate chips, if desired.
Kitchen Tools
Nutrition
Serving:
1
g
|
Calories:
139
kcal
|
Carbohydrates:
21
g
|
Protein:
2
g
|
Fat:
7
g
|
Saturated Fat:
4
g
|
Polyunsaturated Fat:
2
g
|
Cholesterol:
7
mg
|
Sodium:
32
mg
|
Fiber:
1
g
|
Sugar:
17
g
The information shown is an estimate provided by an online nutrition calculator. It should not be considered a substitute for a professional nutritionist's advice.
Love Recipes? Join our Free Facebook Group!
Join Mom's Best Recipes to find more delicious family recipes.
Save
Saved!