You're going to love these simple pina colada muffins with mouthwatering tropical flavors! Great breakfast on the go or a tasty afternoon snack. Perfect for lunchboxes, too!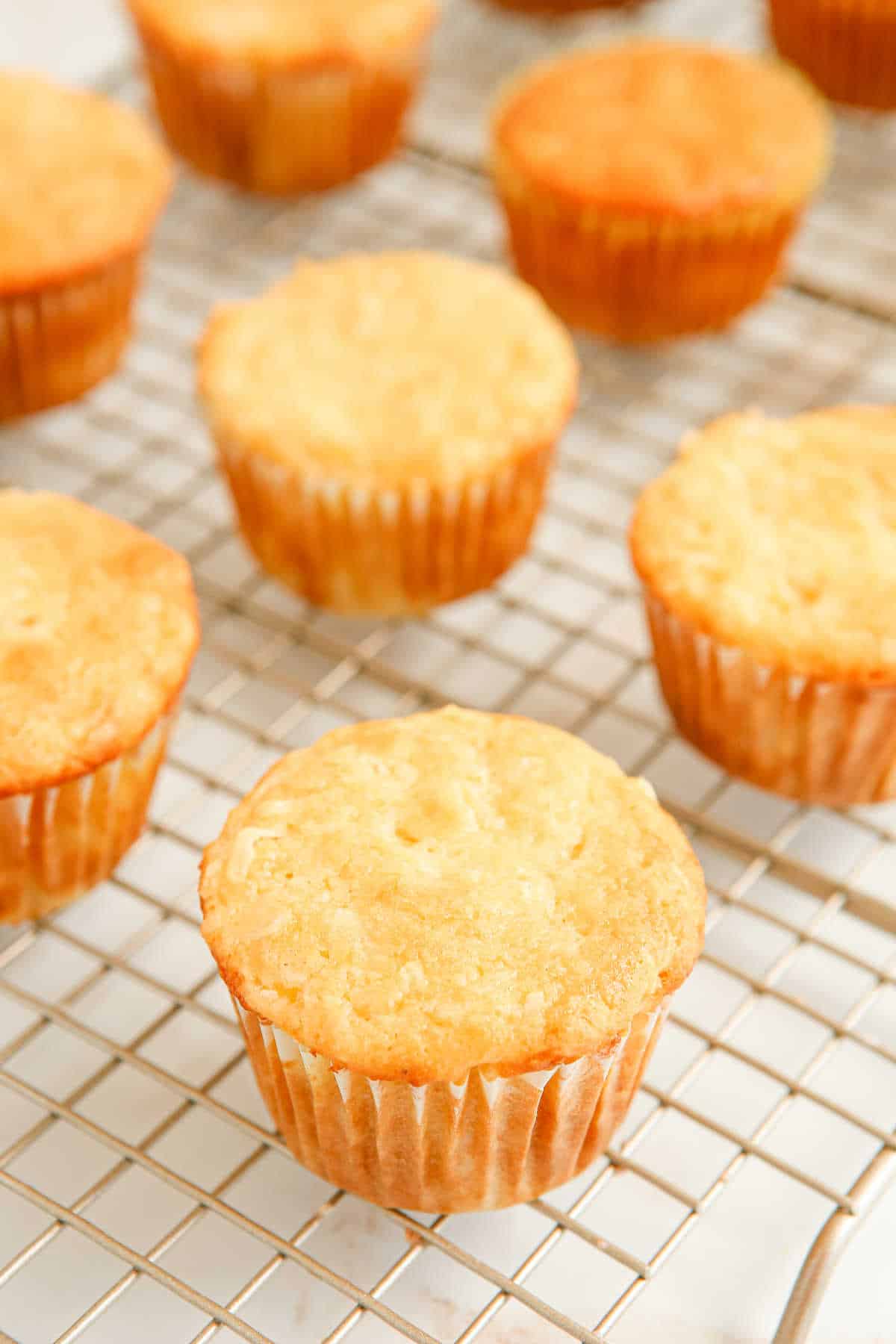 "If you like Pina Colada"… Now I have that song in my head, and so do you. I love virgin piña coladas, and these simple muffins have the same mouthwatering flavors! You'll feel like you're on a tropical vacation with every bite.
They are incredibly moist and not overly sweet, filled with pineapple and coconut flavors. These muffins make a delicious breakfast or afternoon snack. They make 24 muffins, so you can give some to friends or freeze them to enjoy later on. And if you just can't get enough of that tropical flavor, try this delicious Pineapple Pie.
Why You'll Love Pina Colada Muffins
Full of tropical flavor
Easy recipe that's ready in about 30 minutes
Yummy breakfast or snack that you can eat on the go
Makes 24 muffins, so you'll have plenty to share with friends or coworkers
Ready to get started? Grab 2 12-count muffin tins and your ingredients, and let's get to work.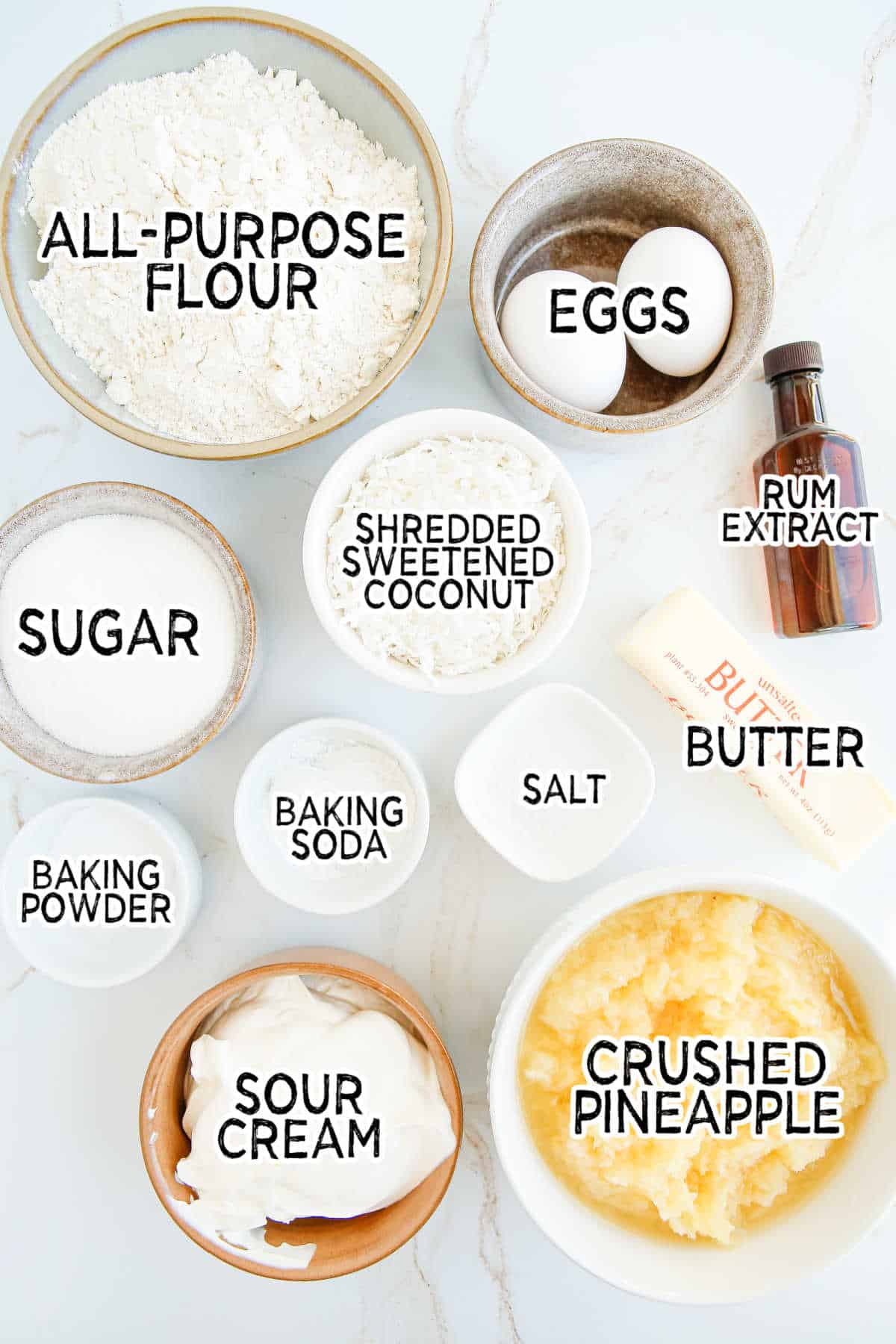 Ingredients
Sugar: I used granulated sugar, but brown sugar or a mix of the two works, too, though it will alter the taste a bit.
Eggs: The eggs serve as a binder for the rest of the ingredients and help make muffins soft and fluffy instead of tough and chewy.
Butter: Use unsalted butter, softened to room temperature.
Sour Cream: The extra fat content in sour cream versus milk makes the muffins moister and the flavor richer. You may be able to substitute plain Greek yogurt for the sour cream if you want to make them a little healthier.
Rum Extract: No flavor pairs better with pineapple and coconut than rum. Just a couple teaspoons of rum extract will do the trick. Use imitation rum extract if you want to avoid the bit of alcohol that's in pure extract.
Flour: All-purpose flour is usually the best choice for muffins although you can use pastry flour in a pinch, though they will be lighter in texture and won't hold together as well.
Baking Powder: Baking powder helps leaven the muffins and adds volume and height.
Baking Soda: This ingredient reacts with an acid to help create air bubbles, making light and fluffy muffins.
Salt: Regular table salt is used here, but fine sea salt works just as well. The salt is important for balancing out the sweet flavors in baked goods.
Crushed Pineapple: Remember to drain the pineapple before adding it to the muffin batter.
Shredded Coconut: I used sweetened shredded coconut, but if you have unsweetened on hand, that's fine. Sweetened coconut flakes work here, too.
How to Make Pina Colada Muffins
Step One: Preheat your oven to 350 degrees.
Step Two: In a large mixing bowl, beat the sugar, eggs, butter, sour cream, and rum extract together until the ingredients are combined. In another large bowl, mix the dry ingredients — flour, baking powder, baking soda, and salt. Stir the dry ingredients into the wet ingredients until just combined.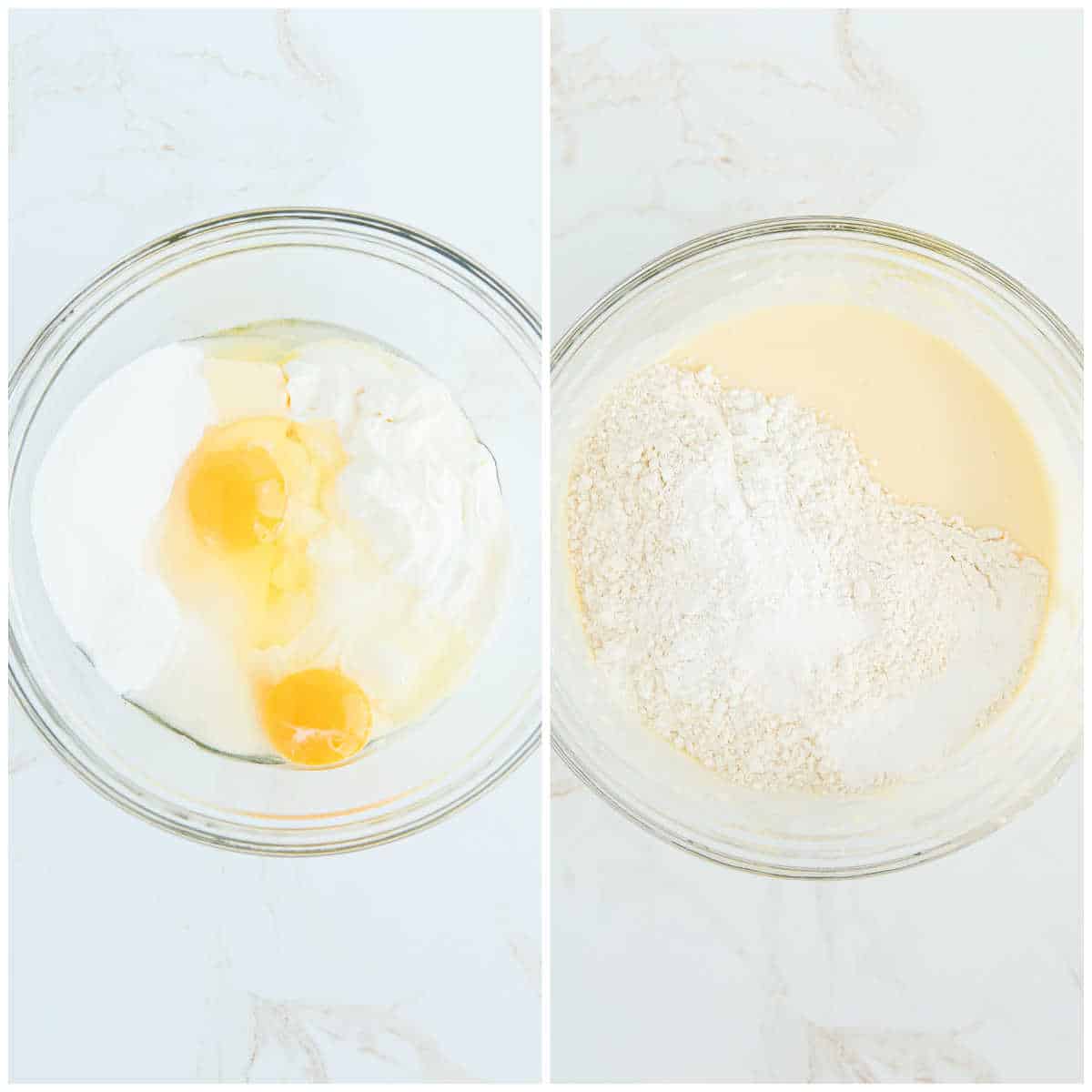 Step Three: Add the crushed pineapple and shredded coconut. Stir the mixture until just combined.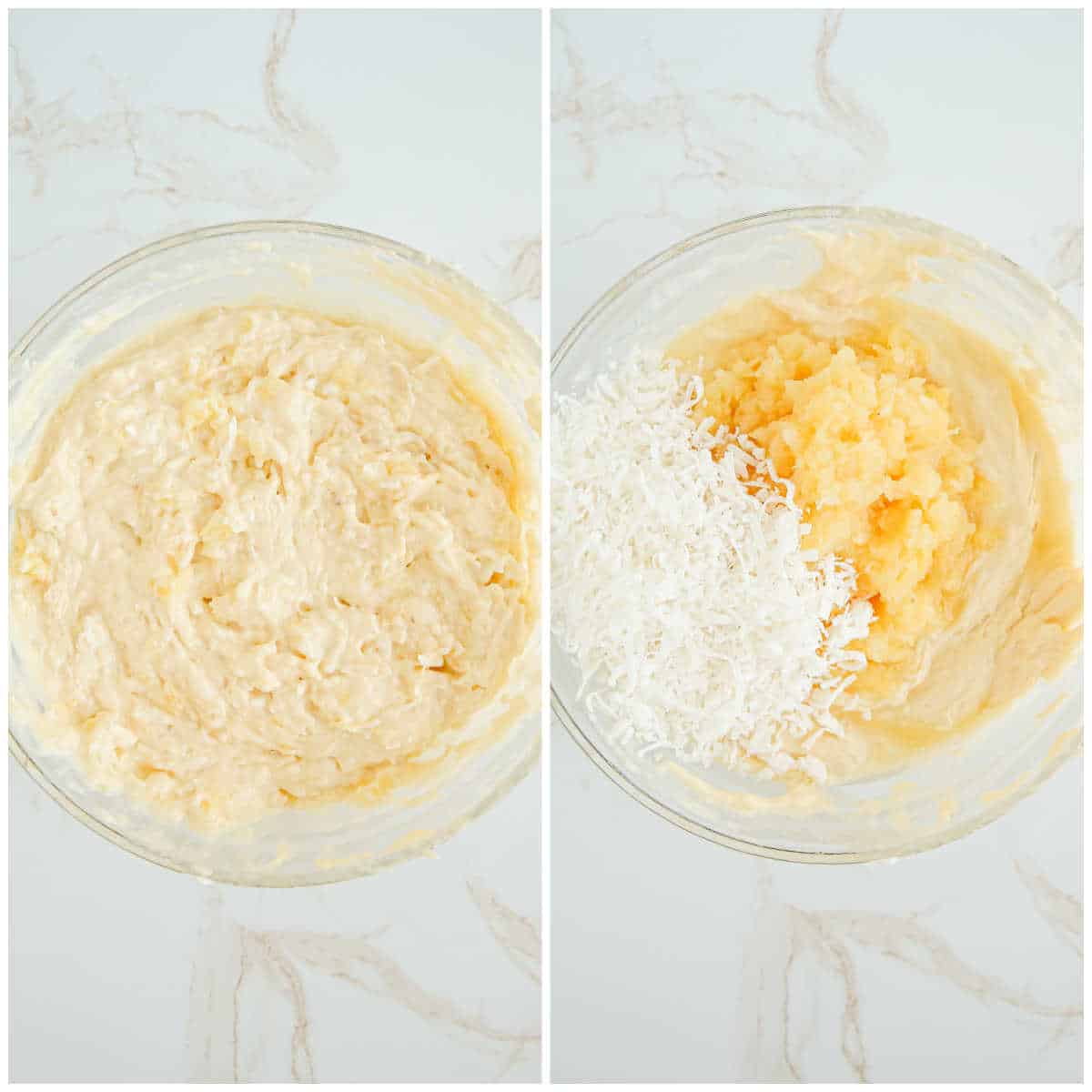 Step Four: Fill the muffin cups with paper liners. Fill the cups to about ¾ full with muffin batter. Bake the muffins for 25 minutes or until a toothpick inserted into the center of the muffin comes out clean. Cool the finished muffins on a wire rack.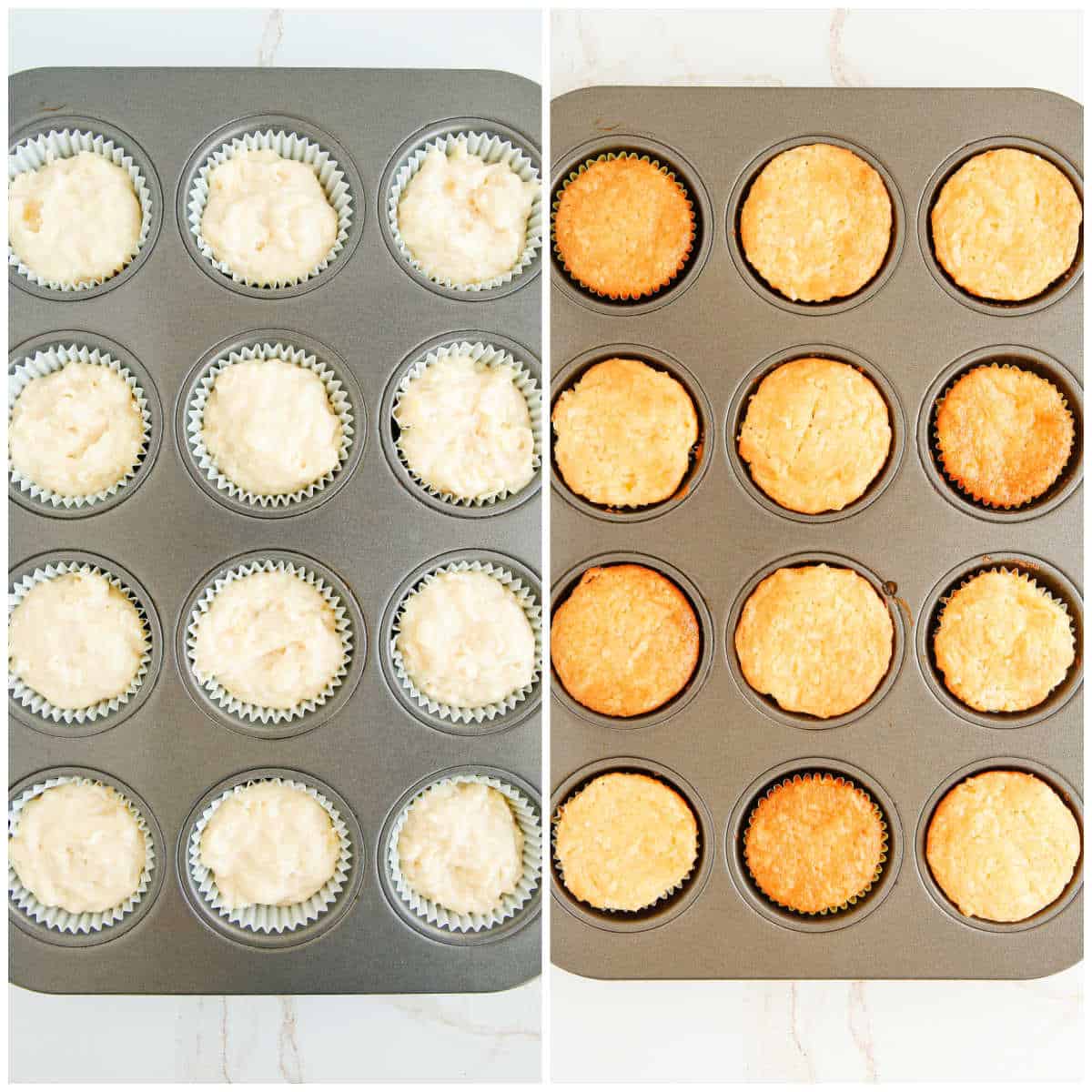 Equipment Needed
This post contains affiliate links.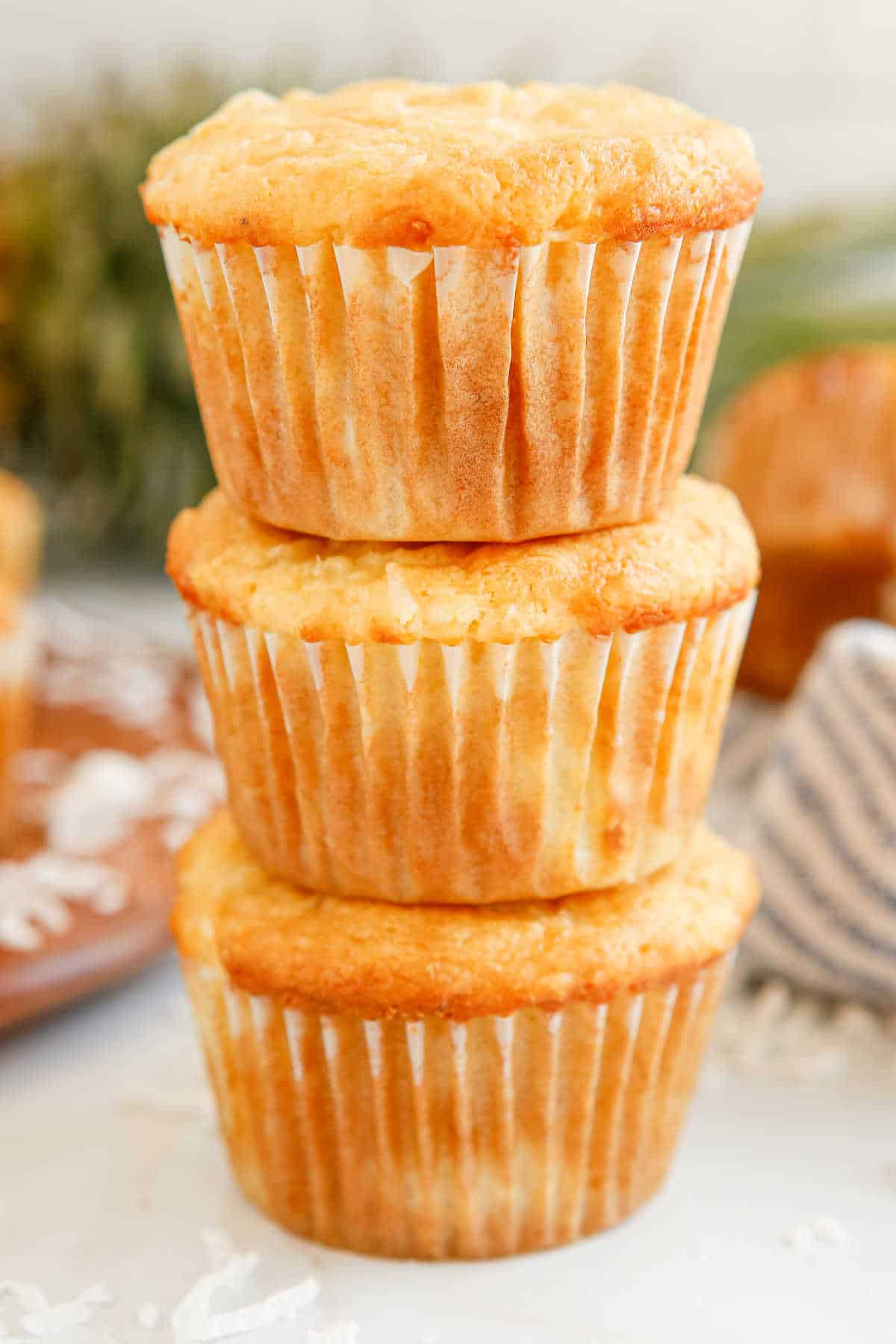 What to Serve with Piña Colada Muffins
What can you serve with these pineapple muffins? I like to enjoy one (or two, let's be honest) with a cup of coffee.
Well, sticking with the sweet pineapple and coconut theme, you could try my Pineapple Sticky Buns with Coconut Caramel. They're sticky, sweet, and perfect for breakfast or brunch. Or bring the tropics to your taste buds with scrumptious Pineapple Tarts.
But typically, I like to pair sweet breakfast foods with savory options, so you can't go wrong with these BBQ Eggs, Sausage Egg Muffins, or a protein-packed Onion, Red Pepper, and Zucchini Frittata.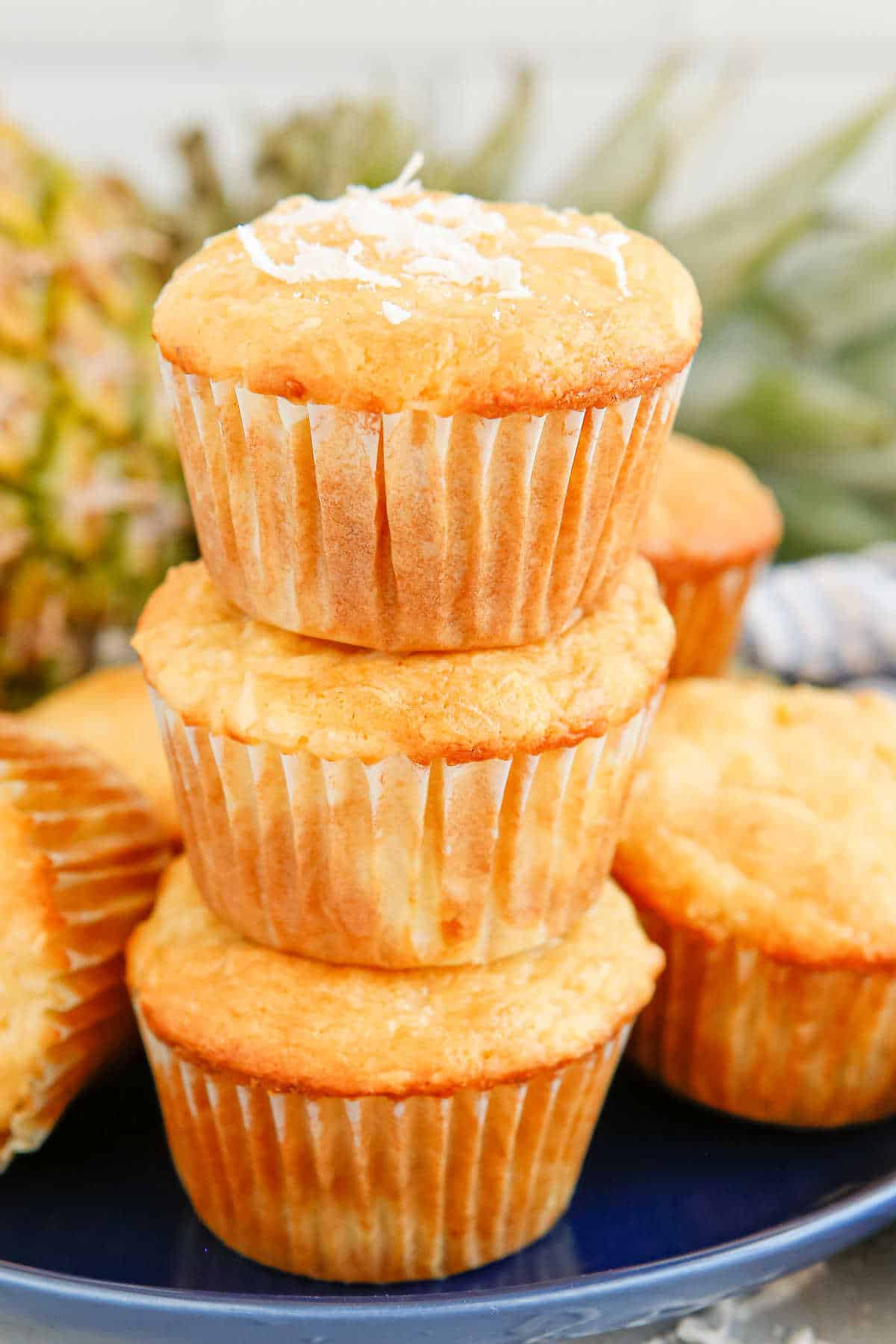 Pineapple Muffins Tips and Tricks
Do not overmix your muffin batter. You should mix until the ingredients are just blended and well combined.
Make sure you get crushed pineapple in pineapple juice, not in syrup.
Drain the crushed pineapple very well to avoid too much liquid in your muffin batter.
If you're using pineapple chunks, use a food processor to break them down into smaller pieces. You can also use a fork to crush the chunks in a pinch.
Amp up the coconut flavor with a teaspoon of coconut extract added to the muffin batter.
Sprinkle a pinch sugar on top right before baking for a little extra sweetness.
Variations and Substitutions
Add crushed macadamia nuts for crunch and a slight nutty flavor
Top the muffins with a little shredded coconut right before putting them in the oven. The coconut will get nice and toasted while baking!
Make a coconut streusel topping with some of the shredded coconut, brown sugar, butter, flour, and a pinch of salt.
Add a creamy coconut glaze made with a couple tablespoons of coconut milk, a cup of powdered sugar, and a little coconut extract and vanilla extract.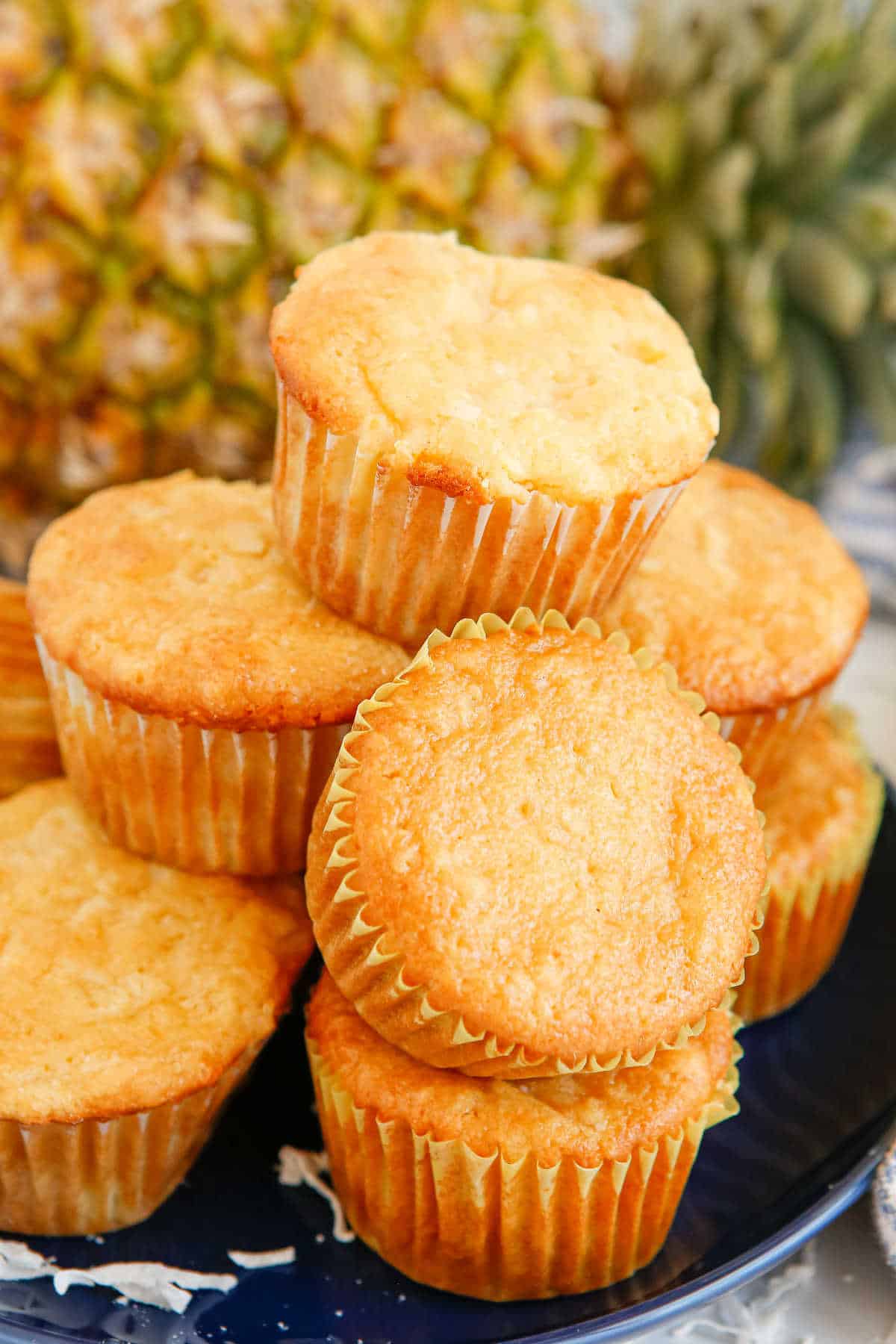 Storage Instructions
Store the cooled muffins in an airtight container at room temperature for up to 4 days. To prevent them from getting soggy, line the bottom of your container with paper towels. Place the muffins inside, and then add another layer of paper towels on top. The paper towels will absorb the moisture that comes to the surface causing sogginess.
Can I Freeze Pina Colada Muffins?
Yes, you can freeze these muffins. Wrap them individually in plastic wrap, and then place them in zip-top freezer bags. They'll keep in the freezer for up to 2 months.
Let the muffins thaw at room temperature.
FAQ
What flour is best for muffins?
All purpose flour is my go-to for muffins. While you can use pastry flour, they won't be as sturdy as regular muffins and may fall apart more easily.
Can I use fresh pineapple instead of canned pineapple?
Yes, though you will want to dice the pieces very small or pulse the pineapple for a few seconds in a food processor before adding to your batter.
Can I skip the rum extract?
The rum extract adds a lovely depth of flavor, but since there's so little of it, you can omit it, replace it with imitation rum extract, or substitute vanilla or coconut extract instead, if you prefer.
What's the secret to light and fluffy muffins?
Starting with room temperature eggs, butter, and dairy is important for great muffins. But perhaps the most important tip is to avoid overmixing the batter. Too much mixing results in tough, chewy muffins when you want the texture to be light and airy. Stir only until the ingredients are just combined.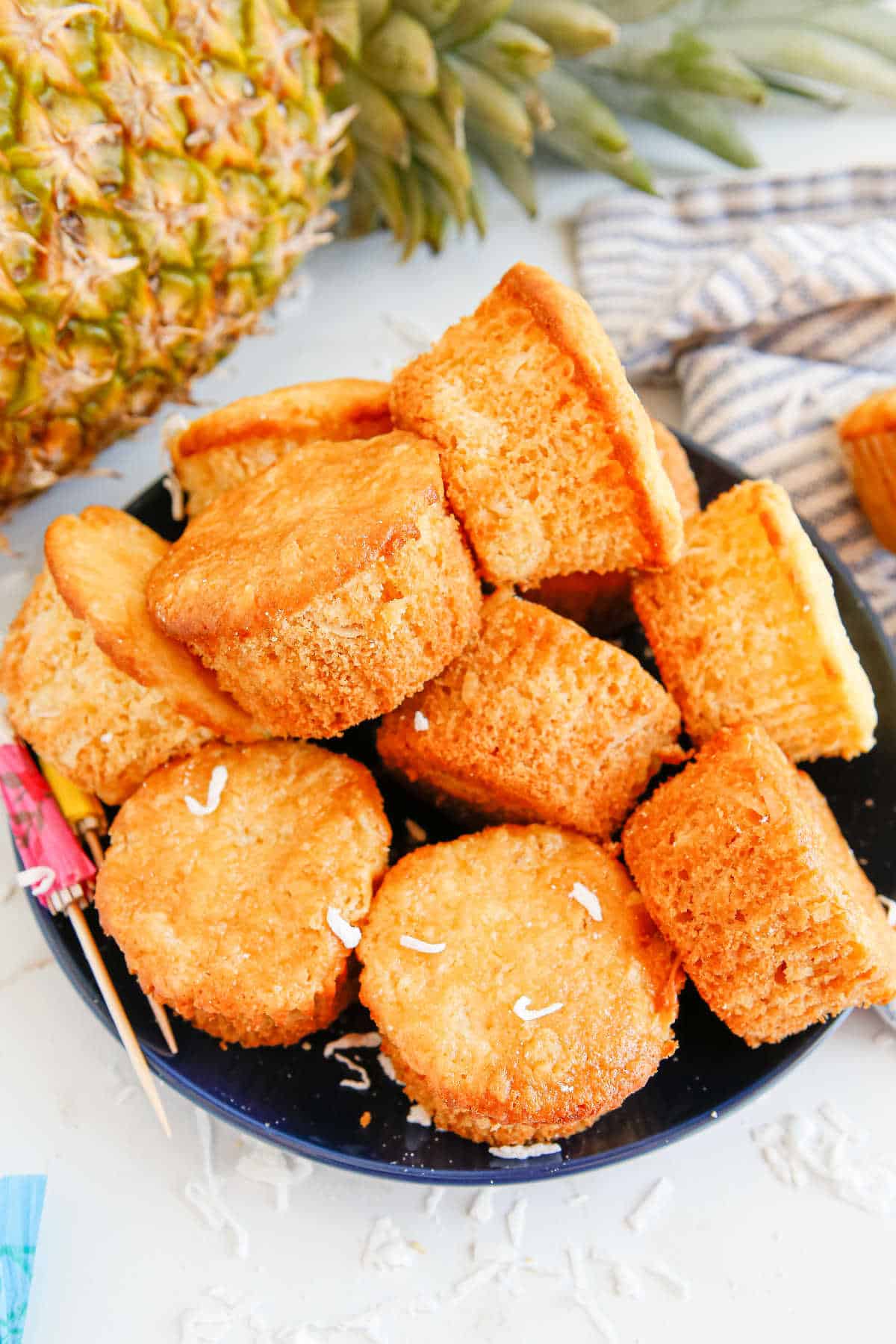 More Delicious Muffin Recipes
If you enjoyed this pina colada muffins recipe, here are a few more muffins you should try!

Follow me on Instagram @simplystacieblog, Facebook at Simply Stacie, TikTok @simplystacierecipes or Pinterest at @simplystacie and let me know how you liked this recipe and my other recipes.
If you make the recipe, rate it on the recipe card below and tag me on Instagram and use #simplystacie. I like sharing the photos on my Instagram stories!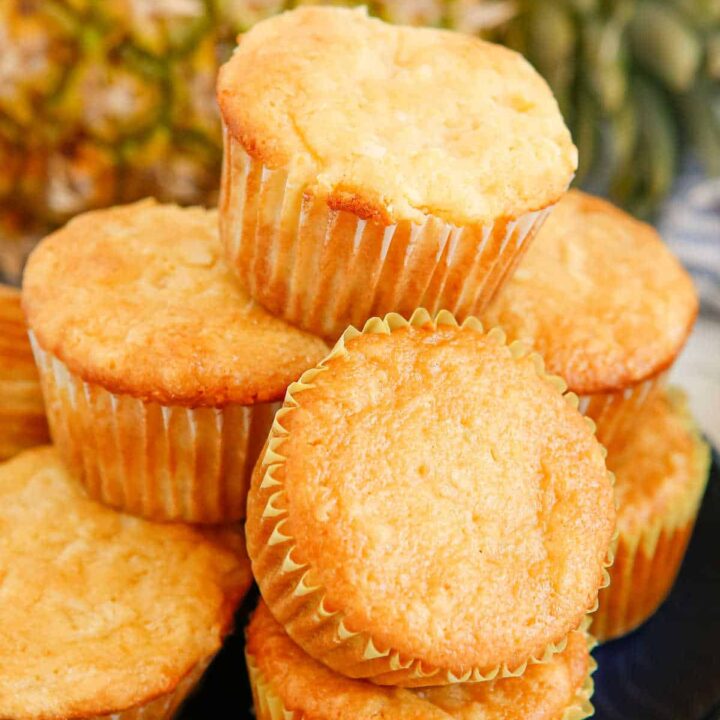 Pina Colada Muffins
Simple muffins with mouthwatering tropical flavors! Great breakfast on-the-go or tasty afternoon snack.
Ingredients
1 cup granulated sugar
2 eggs
1/2 cup unsalted butter, softened
2 cups sour cream
2 teaspoons rum extract
3 cups all-purpose flour
2 teaspoons baking powder
1 teaspoon baking soda
1 teaspoon salt
1 (14oz/398ml) can crushed pineapple, drained
1 cup shredded sweetened coconut
Instructions
Preheat oven to 350F.
Beat sugar, eggs, butter, sour cream and rum extract until combined. Add flour, baking powder, baking soda and salt.
Add pineapple and coconut. Stir.
Add 24 cupcake liners to muffins. Fill about 3/4 way full with muffin batter. Bake for 25 minutes or until a toothpick comes out clean. Cool on a cooling rack.
Recommended Products
As an Amazon Associate and member of other affiliate programs, I earn from qualifying purchases.
Nutrition Information:
Yield:

24
Serving Size:

1
Amount Per Serving:
Calories:

190
Total Fat:

9g
Saturated Fat:

5g
Trans Fat:

0g
Unsaturated Fat:

3g
Cholesterol:

37mg
Sodium:

204mg
Carbohydrates:

25g
Fiber:

1g
Sugar:

12g
Protein:

3g