Serve up this sweet Blueberry Streusel Muffins for breakfast this week! Homemade blueberry muffins with a streusel oat topping go elevate the flavor.
For an extra bit of decadence, heat them up in the microwave and add a pat of butter. They melt in your mouth!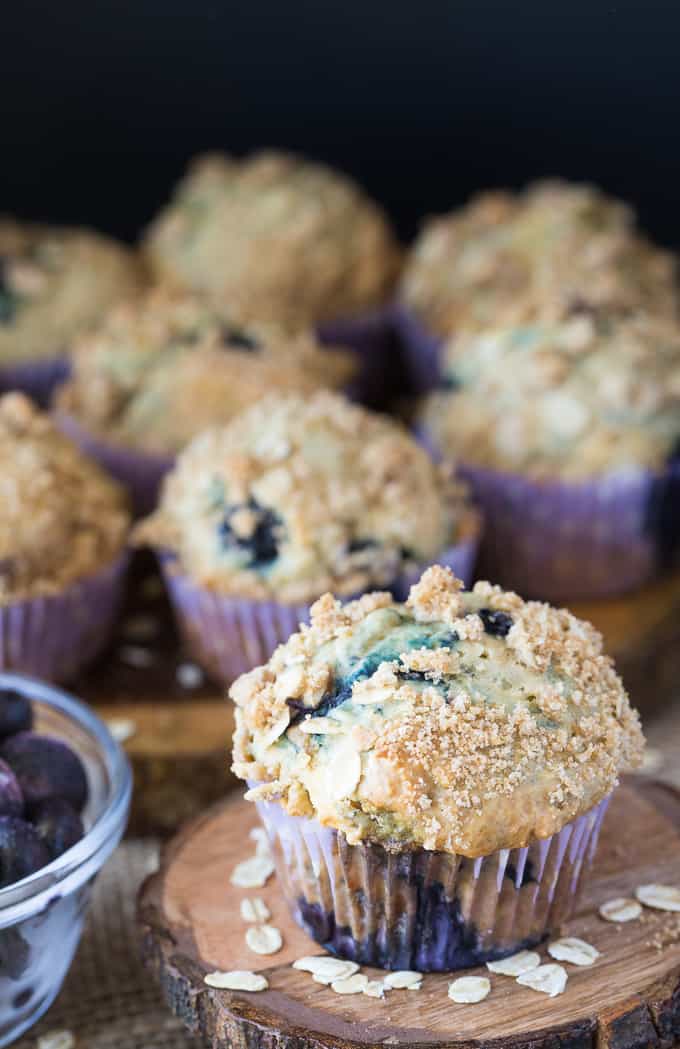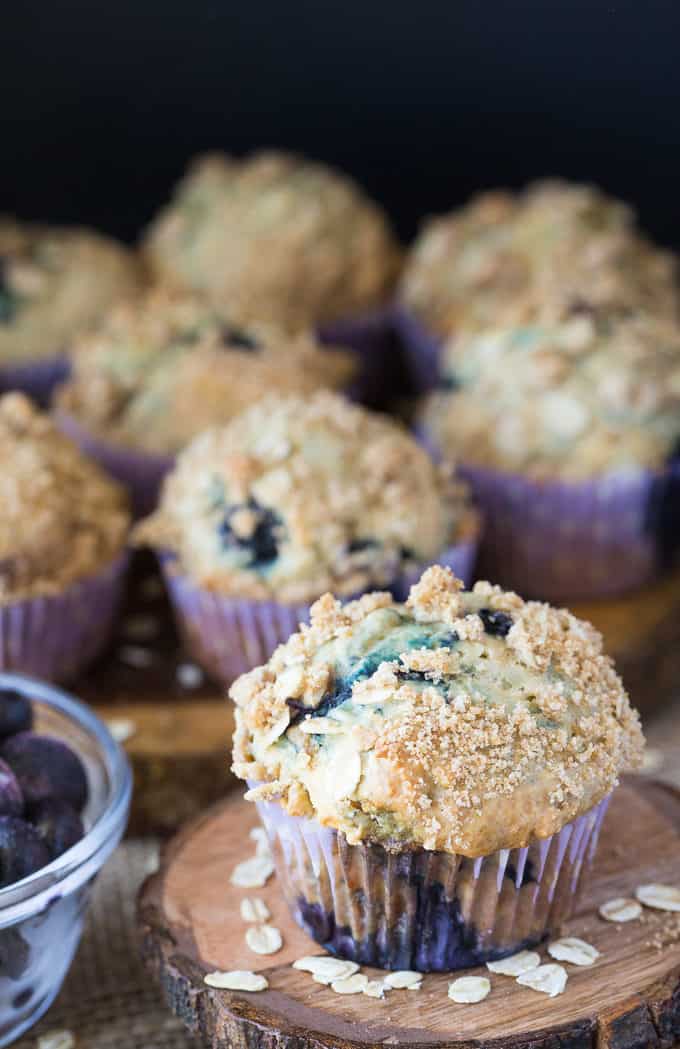 Blueberry Streusel Muffins
The cinnamon sugar topping truly elevated these muffins in the taste department. They went from delicious muffins to the best muffin recipe ever.
They are really simple to whip up. You don't need your electric mixer for this recipe. A whisk and spoon will do! This recipe makes 12 large muffins that are tasty and wholesome. I'll be making this recipe again!
Can I Use Fresh Blueberries for this Muffin Recipe
Fresh or frozen blueberries work in this recipe. The one thing you will notice with frozen is it can tend to add a blue color to your muffins. Personally, I don't mind the discoloration. The muffins taste amazing either way. If you use frozen just toss them in frozen, don't thaw first.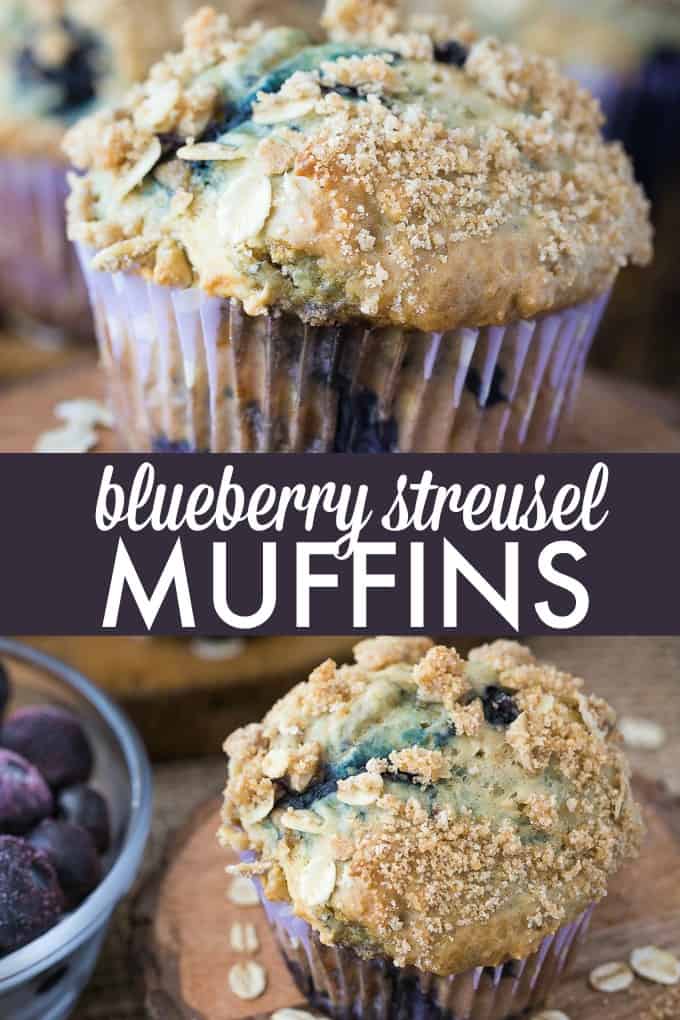 How Do You Make Your Muffins Fluffy
Measure Properly | Baking is all about following directions and not guessing. Take the time to measure ingredients properly.
Overmix | Make sure when you are mixing the batter you do not overmix it. That can make muffins flatter or feel denser. Mixing by hand helps prevent overmixing.
Leavening | I use baking powder and baking soda to help offer a rising effect to these muffins. Always make sure to see your baking soda is still good. To test – in a bowl add vinegar to a bit of soda and if it foams it's still good.
Do I Have to Add Streusel Topping
No. If you are not a fan of streusel leave it off. These muffins work either way. I find the topping adds texture and flavor to muffins but it is not a have to.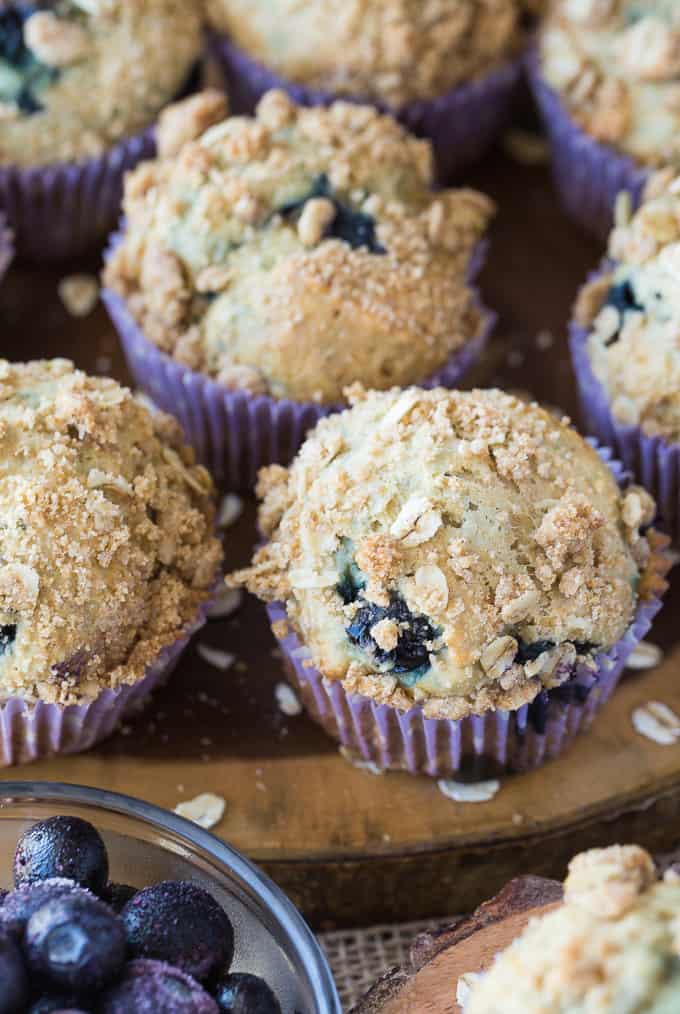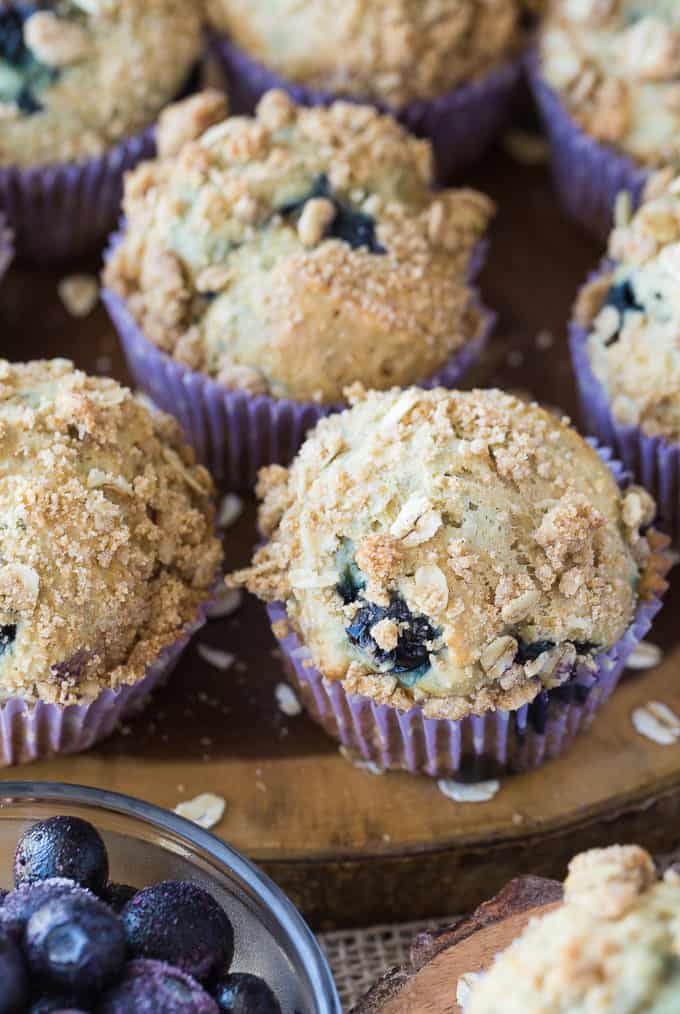 How to Store Blueberry Streusel Muffins
You can store your muffins in an airtight container for up to three days on the counter at room temperature. Or to offer a longer shelf life place in the fridge for up to five days. Just make sure either route you keep muffins covered and protected from air. Otherwise, they will dry out a lot faster,
Another note is the streusel topping will soften up as it sets. So it won't have the same texture as fresh from the oven.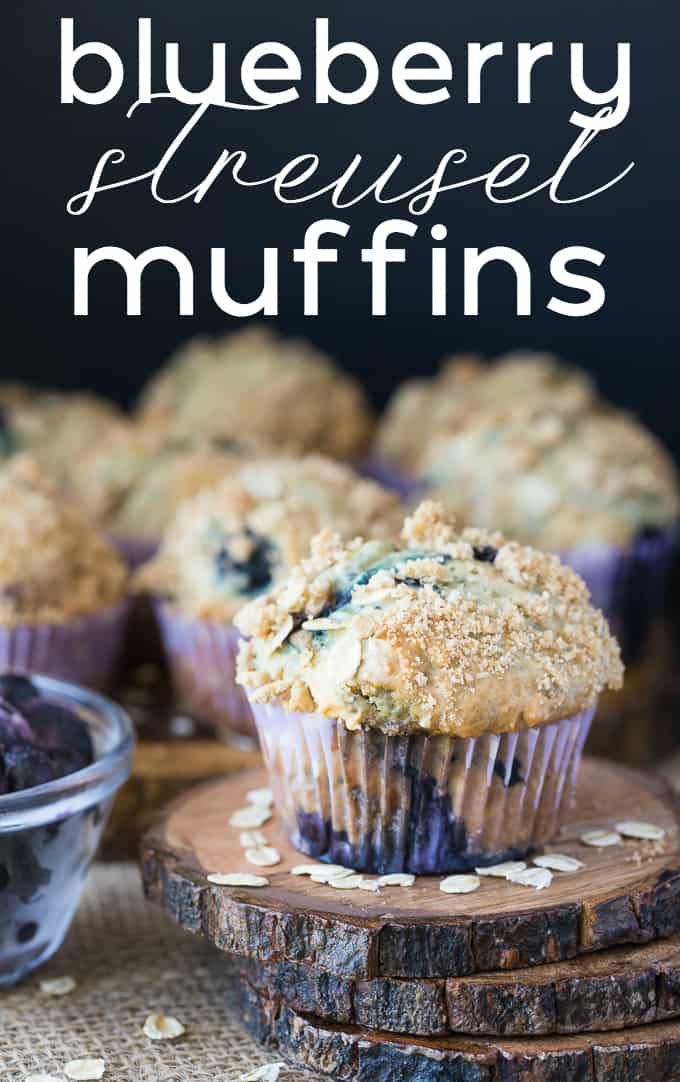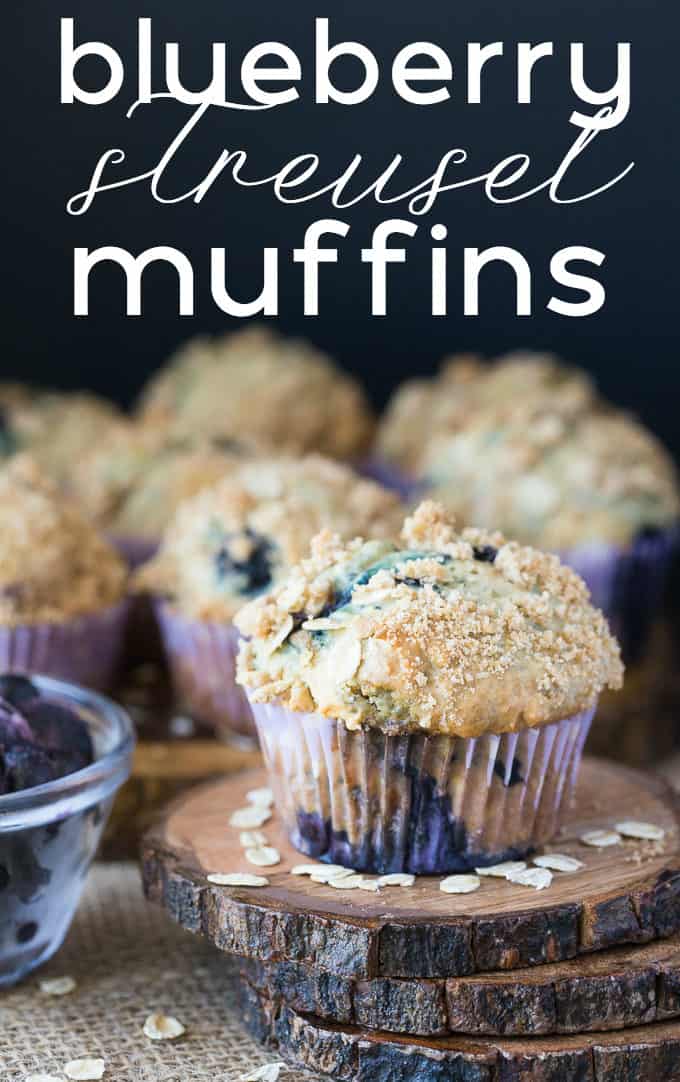 How To Make Blueberry Streusel Muffins
Start by lining your muffin pan with liners or greasing them. Then begin to work on the streusel topping. I take all the ingredients for it and mix it in a small bowl, and set it aside.
Then for the muffin portion, I start by mixing the flour, baking powder, soda, and salt in a small bowl and set aside the dry ingredients. In a larger bowl whisk your egg, buttermilk, brown sugar and oil together. Then slowly mix in the dry ingredients. Once well combined you want to fold in the blueberries, and then spoon batter into muffin pan.
Take your streusel and evenly sprinkle all over the tops of the muffins and then bake in the oven for around 22-25 minutes.
How Do You Know Muffins are Done
You can stick a toothpick in the center of a muffin and if it comes out clean with no liquid batter it is done. Also, look to see that your muffins begin to turn golden brown and are not soft to the touch.
Looking for More Easy Muffin Recipes
Can You Freeze Blueberry Muffins
Yes. I will say the streusel gets a bit soft, but you can indeed freeze these muffins. Just place in a freezer bag or airtight container and store in the freezer for up to three months. You will want to thaw in the fridge or on the counter before serving.
If you want that fresh muffin taste, just warm up a muffin in a microwave or toaster oven.
Have you ever made a Blueberry Streusel Muffin?


You'll also like this Blueberry Crackle Cake.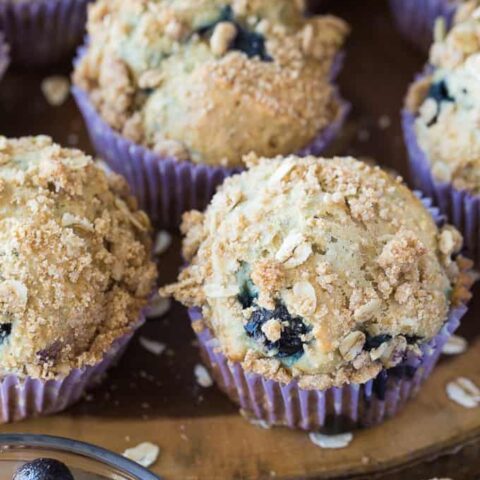 Blueberry Streusel Muffins Recipe
Cinnamon sugar topping sets these blueberry muffins apart! Packed with sweet blueberries and topped with a crunchy oat topping, these muffins are delicious fresh out of the oven with a little butter.
Ingredients
Topping
1/3 cup flour
1/4 cup oats
1/4 cup brown sugar, packed
1/4 tsp cinnamon
2 tbsp butter, melted
Muffins
2 1/2 cups flour
1 tsp baking powder
1 tsp baking soda
1/4 tsp salt
1 cup buttermilk
1 cup brown sugar, packed
1/3 cup canola or vegetable oil
1 egg
1 cup fresh or frozen blueberries
Instructions
Preheat oven to 375°F. Grease a 12 cup muffin pan or line with paper liners.
To make the topping: Mix topping ingredients in a small bowl. Reserve.
Combine flour, baking powder, baking soda and salt in a large bowl.
In a separate large bowl, whisk buttermilk, brown sugar, oil and egg
Stir into dry ingredients. Stir in blueberries.
Spoon batter into prepared muffin pan. Sprinkle with reserved topping.
Bake in a preheated oven for 22 to 25 minutes or until a toothpick inserted in centre of muffin comes out clean. Cool on wire cooling rack.
Recommended Products
As an Amazon Associate and member of other affiliate programs, I earn from qualifying purchases.
Nutrition Information:
Yield:

12
Serving Size:

1
Amount Per Serving:
Calories:

277
Total Fat:

9g
Saturated Fat:

2g
Trans Fat:

0g
Unsaturated Fat:

6g
Cholesterol:

21mg
Sodium:

260mg
Carbohydrates:

45g
Fiber:

1g
Sugar:

21g
Protein:

5g