Blueberry Buckle Cake is going to be an instant family favorite. A moist cake that has fresh blueberries sprinkled throughout with a streusel topping. The perfect treat to serve up for breakfast, brunch, or even an afternoon snack.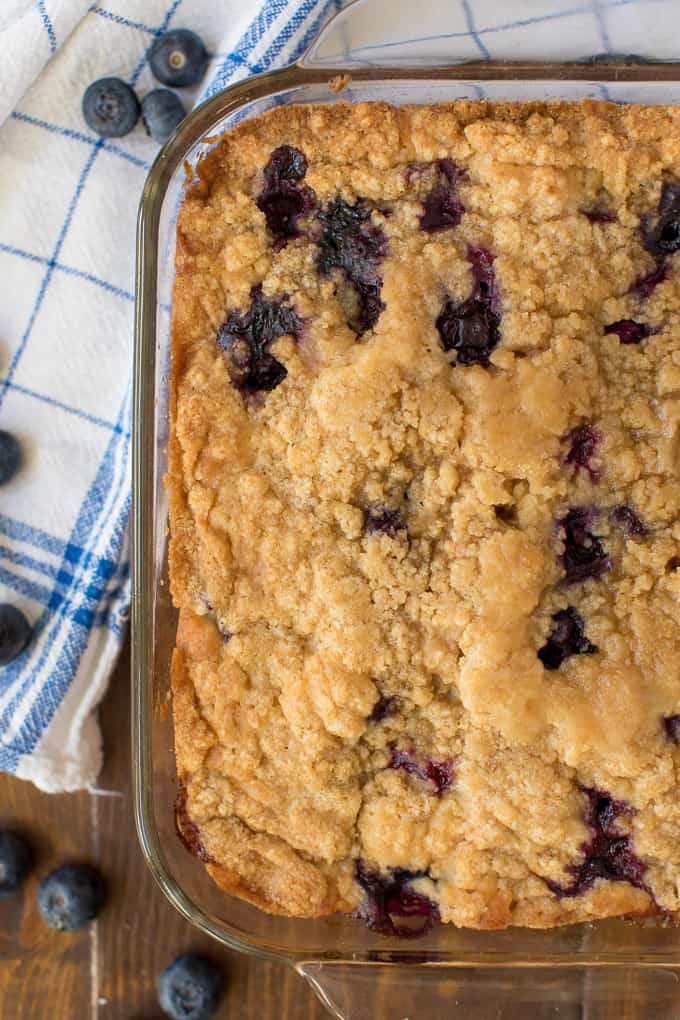 I have been making this Blueberry Buckle recipe for years, and let me say it is always an absolute delight to dish up. This is such a simple recipe that is great to make and serve for last minute guests, holiday gatherings, or a treat for you and your family. Truly, there is no wrong time to serve up this Blueberry Buckle Cake.
Quick and Easy Blueberry Buckle Recipe
You all know by now I love a good dessert! I love desserts that give you that comforting feel and can satisfy a sweet tooth in a hurry. This cake is not overly sweet, which is nice. The fresh blueberries in each bite are indeed an added treat. You won't be disappointed if you give this recipe a go.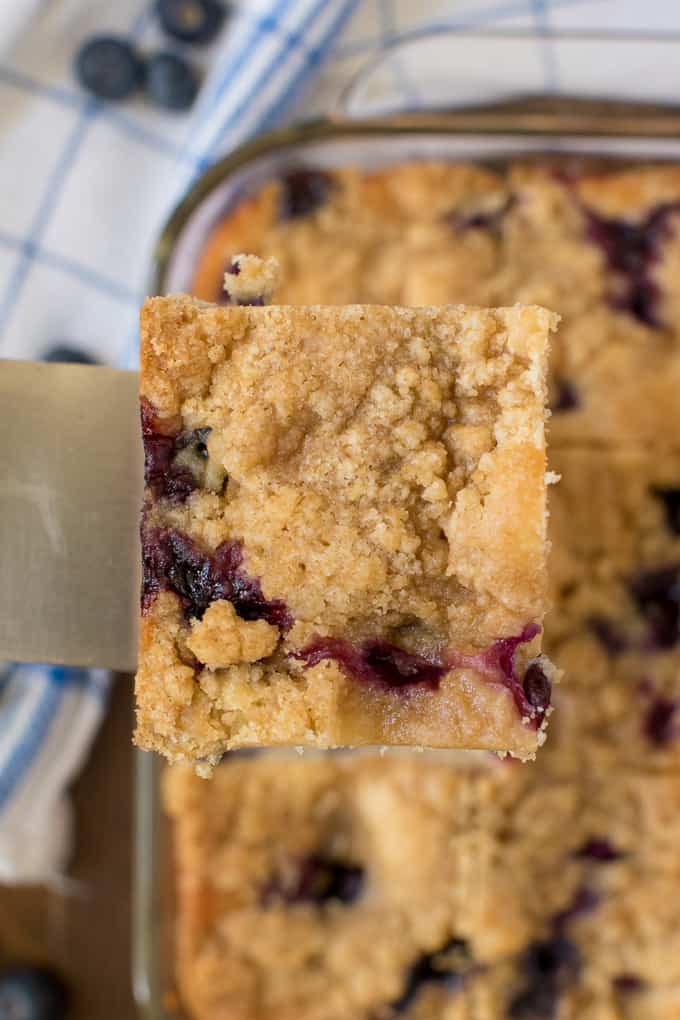 What is A Buckle Cake
Well, traditionally a buckle cake offers a cake-like batter that is filled with fresh fruit and topped with a streusel. As the cake bakes, you will see the fruit and cake transform to offer a buckle effect. The cake 'buckles" around the fruit. Hence the name.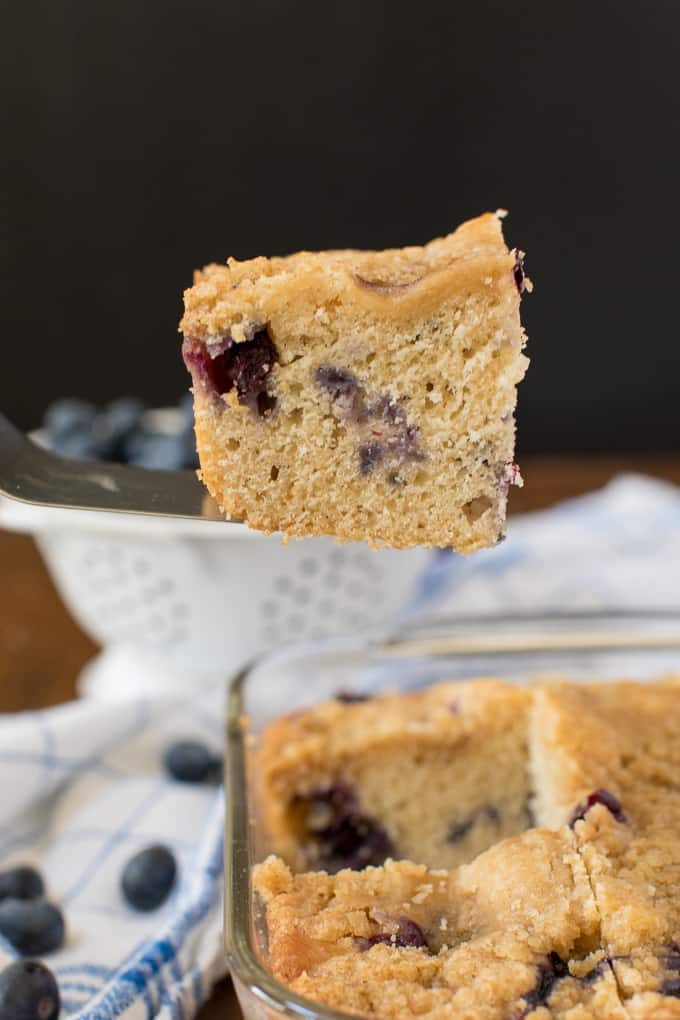 More of My Favorite Cake Recipes
Tips For Making Blueberry Buckle Cake
Fresh Is Best | I reach for fresh blueberries when I serve up this cake because it does genuinely offer the best taste and texture.
Dust Blueberries in Flour | Adding a teaspoon of flour to your fresh blueberries will help them from sinking to the bottom of the cake. Just mix four around and dust off any excess before dumping into the batter.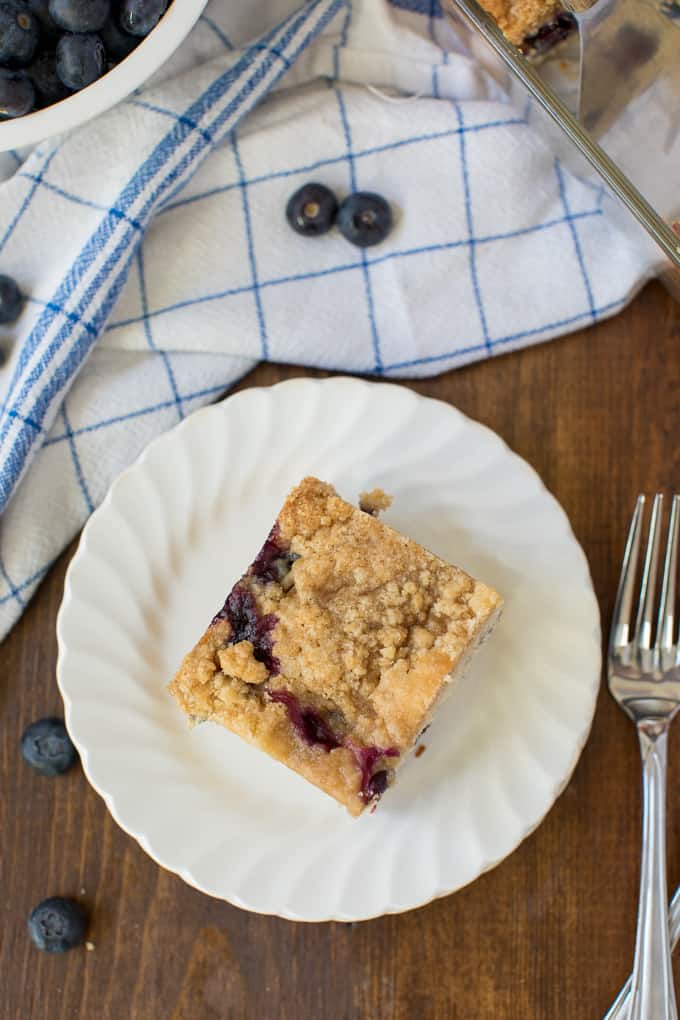 Frozen Blueberries | In a pinch you can easily use frozen blueberries. You might need to adjust the cooking time for frozen, and then also note that the more you stir, the more blue color will leak over the cake.
As you can see this Blueberry Buckle Cake is rather easy to make. With a little prep, you will have one outstanding cake that anyone could love.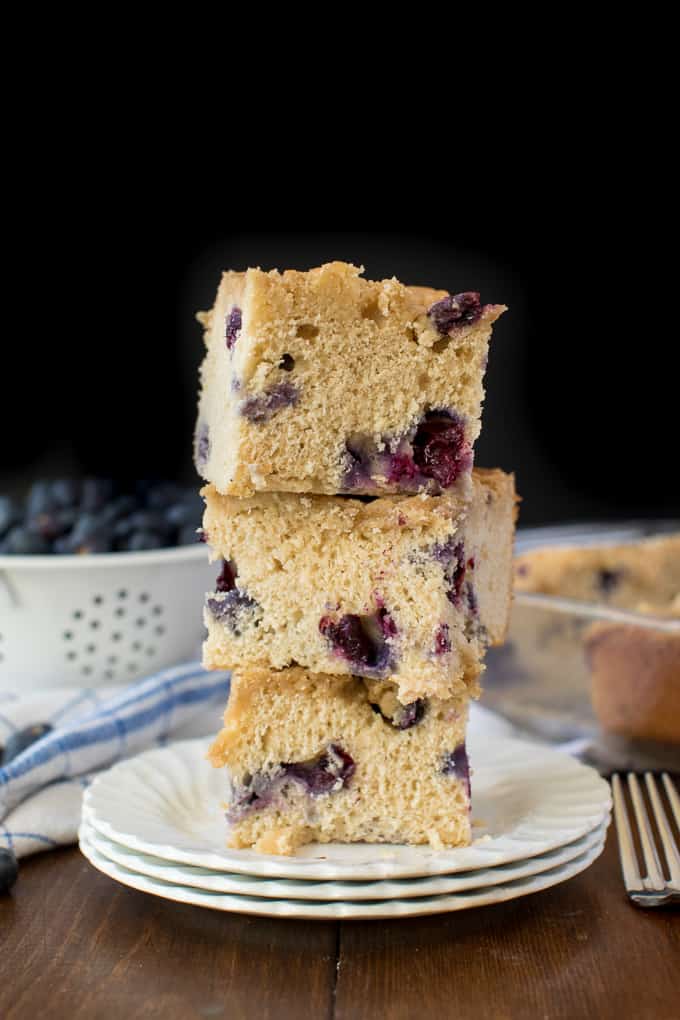 Can You Use Other Fruits In Buckle Cake
You bet! I have tried all types of fruit, and let me say the combination is always a winner. Fresh strawberries, rhubarb, blackberries, raspberries, and more. The possibilities are endless. I have even made a mixed berry buckle cake that was full of fresh and vibrant flavors.
The Difference Between A Cobbler and Buckle Cake
A cobbler is a baked dessert that offers a fruit topping with either a biscuit-like batter spread over the top. You will find all the fruit is at the bottom and then the cake-like topping baked on top.
The buckle cake is a fruit filled cake that has a streusel topping. So when the fruit bakes along with the cake it resembles a buckled look. You could also say this is very similar to a coffee cake.
Toppers for Blueberry Buckle Cake
Whipped Cream | Add a dollop of whipped cream right on top of the cake. Dust with a little cinnamon for color and added flavor and dive right in.
Ice Cream | Go all out and serve it a la mode style. Scoop up some vanilla bean ice cream and serve warm. The perfect way to treat yourself for the day.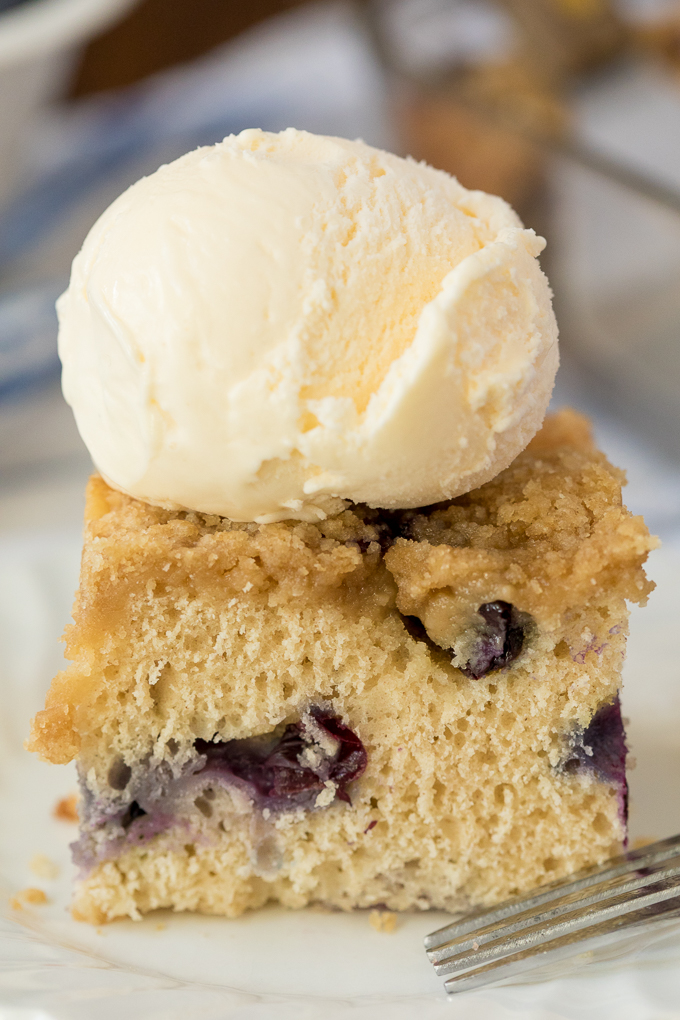 How To Make Blueberry Buckle Cake
Start by heating our oven up to 375°F. Then take your 8×8 pan and grease it. Whether you spray with a cooking spray or use butter, just make sure the pan is well-greased.
Then start by whipping up your sugar and butter until it is light and fluffy. This takes around 2-3 minutes on medium speed.
Slowly add in one egg at a time followed by vanilla. Then grab a small bowl and combine all your dry ingredients and mix. Then pour the dry ingredients into your batter.
Once it is well blended, grab a spoon and stir in your blueberries. Pour into your pan and then make and sprinkle the streusel topping on top.
Bake for 30-35 minutes or until your toothpick comes out clean.
Do You Refrigerate Blueberry Buckle Cake
I do, I find that it stores nicely in the fridge and will keep longer than letting it sit on the counter. If you don't like the cake served cold just heat it up for a few seconds in the microwave.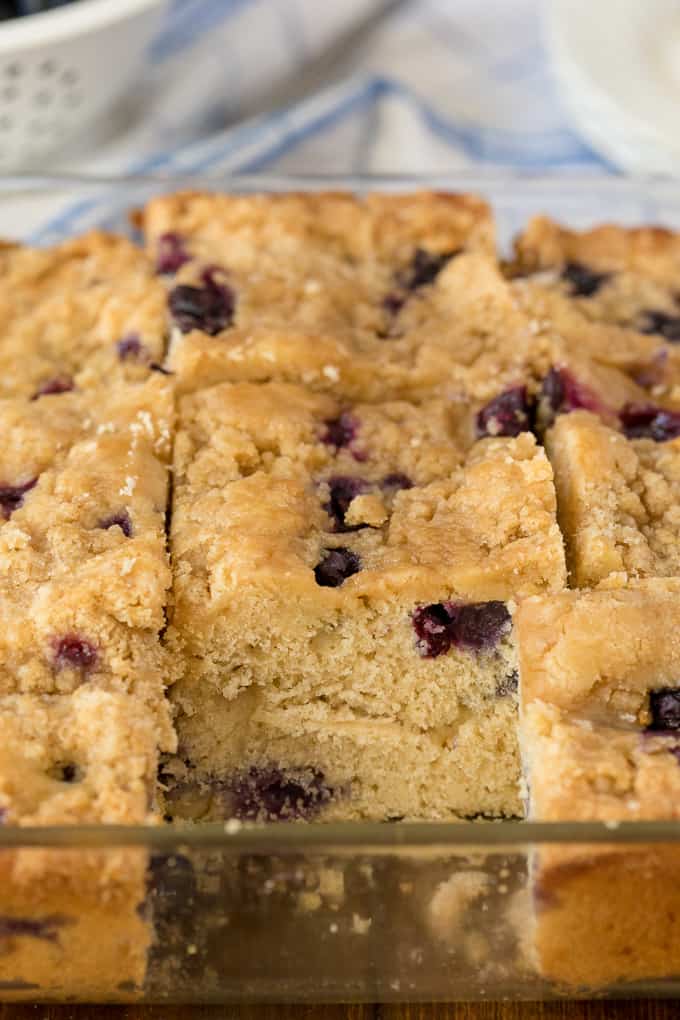 Can You Freeze Blueberry Buckle Cake
Yes! Just allow your Blueberry Buckle Cake to cool completely, and then wrap in aluminum foil and place in a sealable freezer bag or container. Then just remove and allow to come to room temperature or thaw in fridge before serving.
I hope you all enjoy this Blueberry Buckle recipe as much as my family does. You will be amazed at how easy it is to make.
You'll also like Blueberry Crackle Cake.
Blueberry Buckle
A single layer of blueberry cake with a sweet streusel topping. Serve with a scoop of vanilla ice cream!
Ingredients
¼ cup butter
¾ cup sugar
2 eggs
1 tsp vanilla
2 cups flour
2 tsp baking powder
½ tsp salt
½ tsp cinnamon
½ cup buttermilk
1 cup fresh blueberries
Streusel Topping
¼ cup flour
¼ cup sugar
¼ cup brown sugar
½ tsp cinnamon
½ cup butter (hardened butter; make sure its not too soft!)
Instructions
Preheat oven to 375°F. Grease an 8 inch baking pan and set aside.
Beat sugar and butter together with an electric mixer on medium until blended. Beat in eggs and vanilla.
In another bowl, combine flour, baking powder, salt and cinnamon.
Stir flour mixture and buttermilk into the sugar mixture until well blended.
Stir in blueberries and spoon the batter into the baking pan.
For the Streusel topping, combine all the ingredients except the butter. Add butter in and mix until it becomes crumb like. Sprinkle the streusel evenly over the batter.
Bake 30 to 35 minutes or until a toothpick comes clean from the centre of the cake.
Recommended Products
As an Amazon Associate and member of other affiliate programs, I earn from qualifying purchases.
Nutrition Information:
Yield:

8
Serving Size:

1
Amount Per Serving:
Calories:

436
Total Fat:

19g
Saturated Fat:

11g
Trans Fat:

1g
Unsaturated Fat:

6g
Cholesterol:

93mg
Sodium:

454mg
Carbohydrates:

62g
Fiber:

2g
Sugar:

33g
Protein:

6g