Jumpstart your morning with these light and refreshing Blueberry Yogurt Muffins! Nothing beats a blueberry-studded muffin paired with a cup of coffee or orange juice. Fluffy, moist, and the perfect on the go breakfast for your family.
Homemade muffins are something I will never turn down. I love all types of muffins, they are my favorite way to start the day. Pair with a sausage patty or reach for lighter for a fresh fruit salad. I find it helps me relax and get ready to tackle the day ahead of me. If you are a fan of blueberry muffins, you have to try this Blueberry Yogurt Muffin recipe.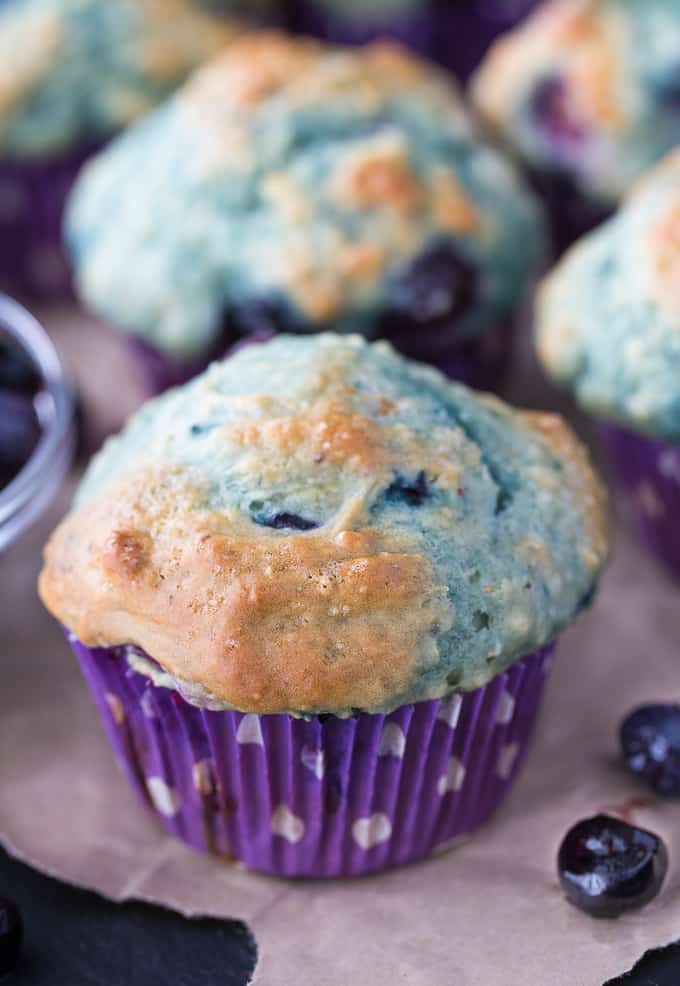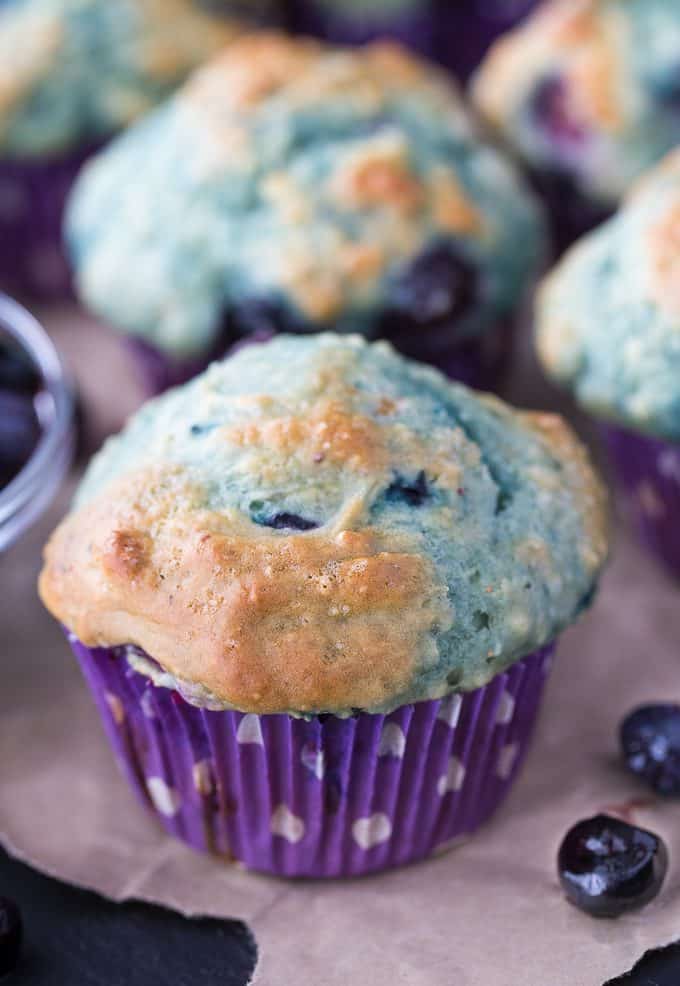 Perfect Blueberry Yogurt Muffins
I make muffins a lot and then toss them in my freezer. They are great to grab and thaw for a quick breakfast on the go, packing for a mid-day snack, and I even enjoy them as a midnight dessert. This recipe is a winner, the yogurt adds a nice lightness to the muffins that leave you reaching for one more.
I think you will enjoy these muffin recipes as well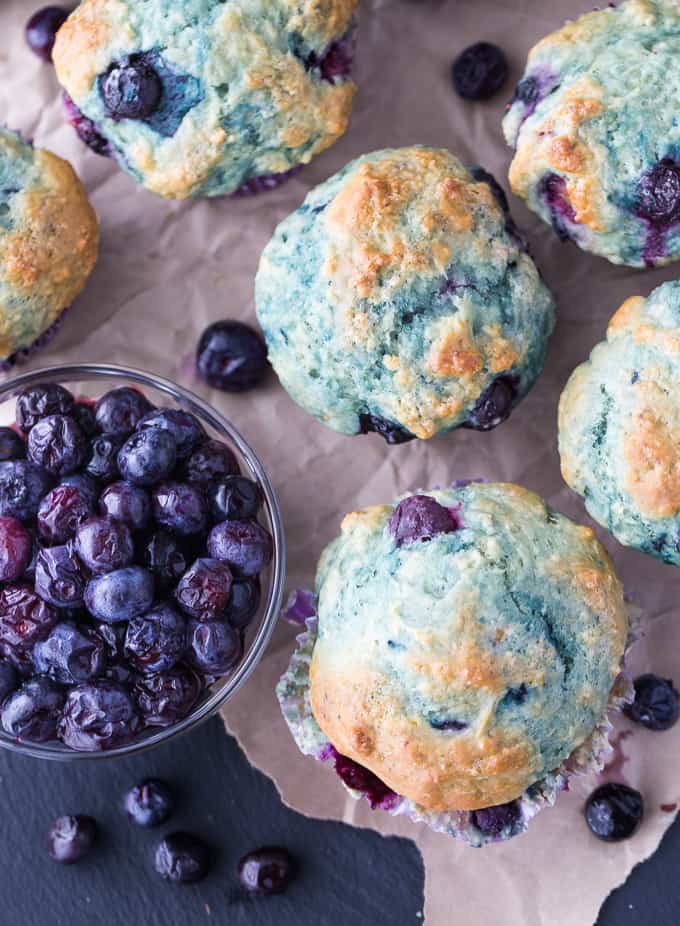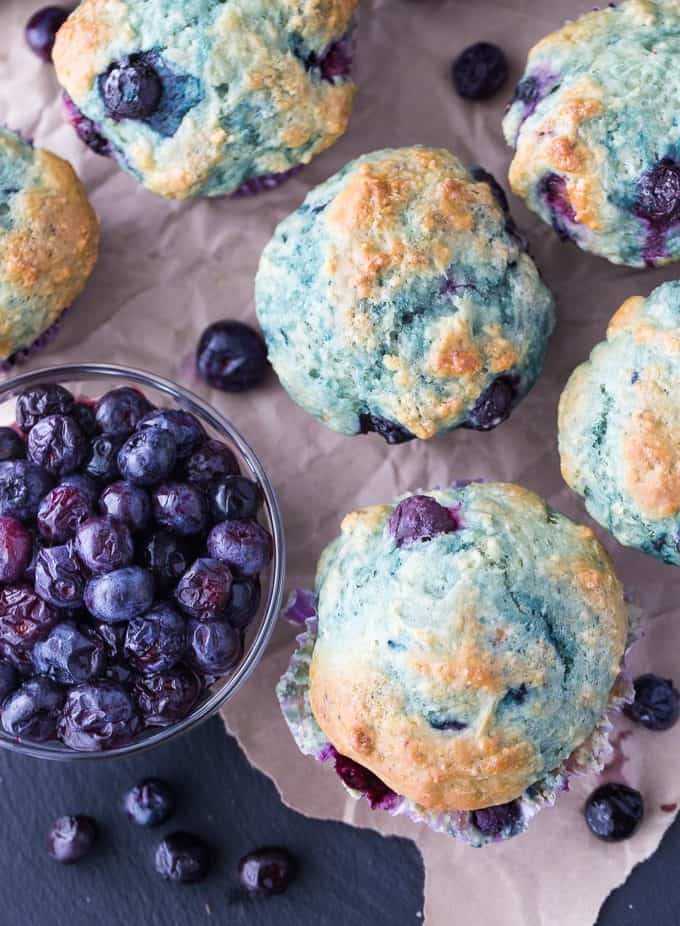 Can I Use Frozen Blueberries For Blueberry Yogurt Muffins
You can use fresh or frozen blueberries in the Blueberry Yogurt Muffins. The reason why a lot of people reach for fresh is that it won't color the batter. When you put in frozen blueberries they will bleed, and cause your batter to turn bluish toned. Some people don't like that, so they only use fresh.
But if you don't mind it changing the batter a little, go for frozen. Just try not to over mix once you pour your blueberries into the batter.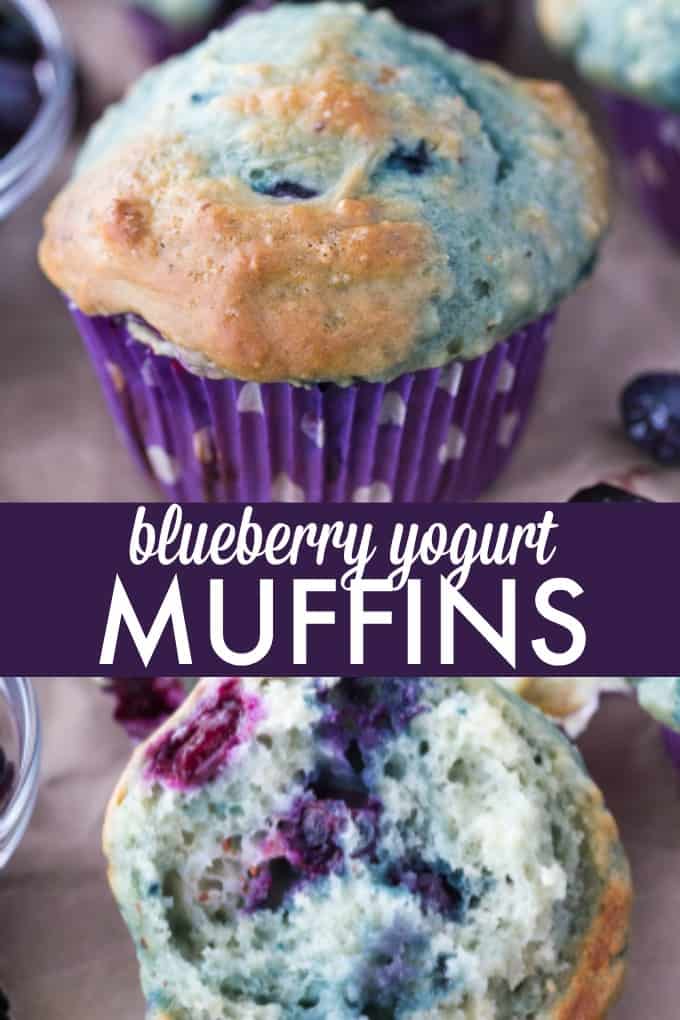 How Do You Stop Blueberries Sinking in Muffins?
Nothing is worse than sinking your teeth into your tasty muffins to find there are no blueberries except at the bottom of the muffin. Here is how you easily keep your blueberries throughout your batter.
Mix in a tablespoon of flour into your muffins, and coat them. Then fold your blueberries with the flour into the batter as the last step before you go to baking it. This will help them to float within the batter. So each bite has tender blueberries.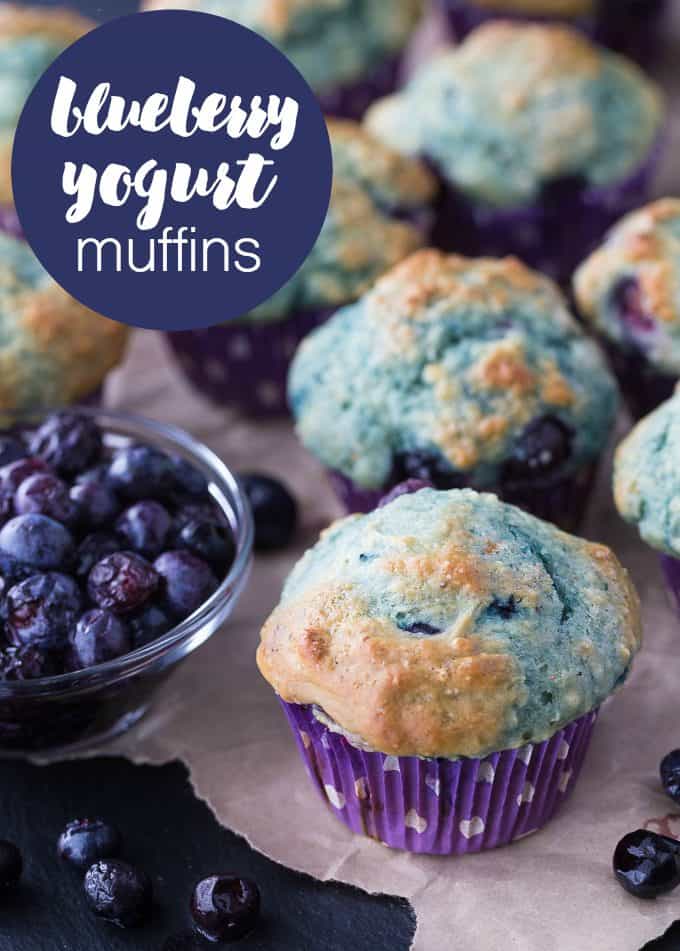 Will Greek Yogurt Work For the Blueberry Yogurt Muffins?
Yes! You can use any brand of yogurt you would like. Just reach for a vanilla yogurt as it will add some flavor to your muffins. If you opt for Greek yogurt it will add some protein to your muffins. It is a taste preference on what brand of yogurt you purchase for the muffins.
How Long Do Blueberry Muffins Last?
Once your blueberry muffins have cooled place them in an airtight container. Store them in the fridge or on the counter for up to two days. If you feel you won't eat them fast enough, put them in the freezer.
Best Way to Freeze Blueberry Muffins
The first step in freezing your blueberry yogurt muffins is to allow them to cool down from the oven. Next place in an airtight container or freezer bag and toss in the freezer for up to three months.
This post contains affiliate links.
I have a Food Saver that vacuum seals your food. This can extend freezer life up to 5 times as long. It's worth investing in.
How to Make Blueberry Yogurt Muffins
In a bowl put your flour, baking powder, baking soda, sugar, and salt. Mix it up and then create a well in the center.
Pour in your orange juice and vanilla, yogurt and eggs. Give it a good stir and then fold in your blueberries.
Spoon the batter into lined cupcake pan and then bake until golden brown and a toothpick comes out clean when poked in the center of muffin.
When to Serve Blueberry Muffins
To me, there is never a wrong time to make a muffin. If you need some ideas let me share when you can serve these up!
Whip up for a bake sale
Quick breakfast for busy mornings
Brunch
Potluck dishes
Parties and events
Gifts for neighbors, coworkers, school
This recipe is my tried and true! Anytime I want a blueberry muffin I reach for this recipe. One bowl and you can mix up the entire batter, which is a winner for me!
You'll also like this Blueberry Cobbler and Blueberry Bread.
Have your tried a Blueberry Yogurt Muffin before?


You'll also like this Blueberry Cobbler, Blueberry Buckle and Blueberry Bread.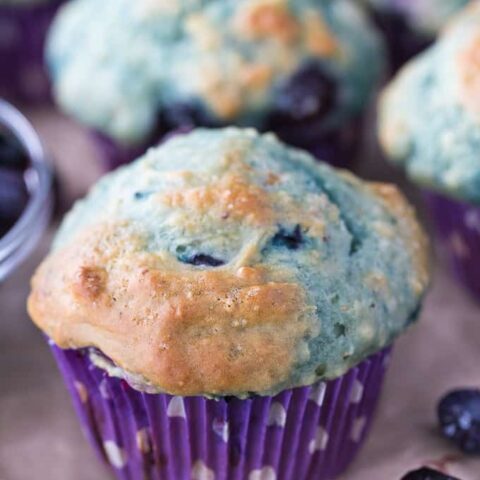 Blueberry Yogurt Muffins
These blueberry packed muffins are a perfect make-ahead for snacks and breakfast on-the-go. Using Greek yogurt in the recipe helps amp up the protein!
Ingredients
2 cups all-purpose flour
1/3 cup sugar
1 tsp. baking powder
1 tsp. baking soda
1/4 tsp salt
1/4 cup orange juice
2 tbsp. vegetable oil
1 tsp. vanilla extract
1 cup vanilla yogurt
1 egg
1 cup fresh or frozen blueberries
Instructions
Combine flour, sugar, baking powder, baking soda, and salt in a large bowl and make a well in center of mixture. Add orange juice, oil, vanilla, yogurt, egg and blueberries into the well and gently mix together until moist.
Spoon batter into 12 muffin cups coated with cooking spray; sprinkle 1 tbsp. sugar evenly over muffins. Bake muffins at 400 F for 18 minutes and remove from muffin tins right away and cool.
Recommended Products
As an Amazon Associate and member of other affiliate programs, I earn from qualifying purchases.
Nutrition Information:
Yield:

12
Serving Size:

1
Amount Per Serving:
Calories:

149
Total Fat:

3g
Saturated Fat:

0g
Trans Fat:

0g
Unsaturated Fat:

2g
Cholesterol:

16mg
Sodium:

213mg
Carbohydrates:

26g
Fiber:

1g
Sugar:

10g
Protein:

4g